What is the DND mode on Fitbit? Many people who own this brand of smartwatches have this query. If you are also one of those, you are at the right blog post. Here I will discuss how to personalise the Do Not Disturb mode and make full use of it. Let's start exploring my informative guide!
What Is the DND mode on Fitbit Devices?
DND mode stands for "Do Not Disturb" mode, which is a valuable functionality that comes built into nearly all Fitbit devices.
Credit: www.youtube.com @DIYLifeTech
It lets you quiet your device's notifications temporarily;
It stops alarms from bothering you while you have your watch on.
This way you enjoy uninterrupted peace of mind and focus. However, the above-mentioned list highlights a basic overview. Continue reading to learn more about DND functionality, a step-by-step guide on how to turn it on/off, and whether this mode affects synchronization, activity, and life rhythm tracking!
Fitbit DND Mode Activation
Listed below are easy steps you can follow to switch your Fitbit gadget into DND mode: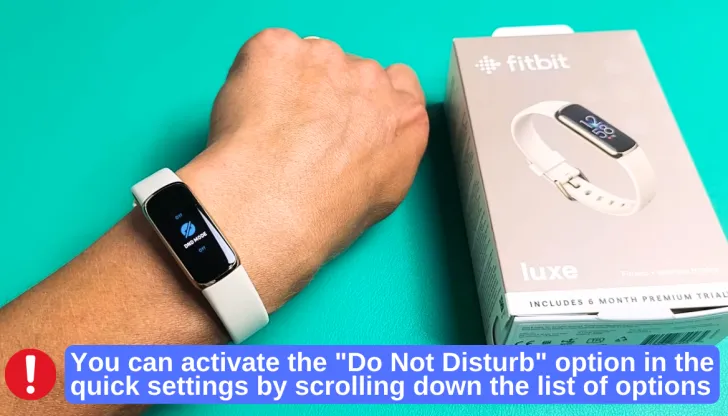 Credit: www.youtube.com @WorldofTech
Access Settings: By going into the menu, swipe down from the top of the screen on your device.
Find Do Not Disturb: Locate the "Do Not Disturb" option in the fast settings by scrolling down the list of options.
Toggle On: Turn it on by tapping the "Do Not Disturb" option. You can be asked to choose a DND mode duration.
Select Duration (Optional): If prompted, choose the DND mode duration. The possibilities are "1 Hour," "Until Tomorrow," and "Custom."
Confirm: To enable DND mode, confirm your choice.
For further insights, check out this interesting video on activating DND mode.
DND Mode Personalization
Now that the DND mode is on, let's look at how to modify its options to better fit your needs:
1. Setting Time Limits
Once you are in the settings menu, look out for the following:
Select Particular Hours: You can choose the beginning and ending times for DND mode under the "Specific Times" section. This is very helpful for ensuring restful sleep. You could, for instance, set your phone to go into DND mode at 10:00 PM and turn it off at 6:00 AM.
Save Modifications: Be careful to save your changes after choosing your preferred times.
2. Configuring Reminders
Follow these steps to establish reminders to make sure you don't forget to turn off DND mode after a certain activity:
Access DND Settings: Go to your Fitbit device's settings and find the "Do Not Disturb" section.
Set Reminders: Locate and choose the "Set Reminders" option.
Select an Activity: You can now specify which activities you wish to get notifications on when to exit DND mode. If you often utilize DND mode when working out, for instance, choose "During Exercise."
Save Changes: Don't forget to save your changes for reminders.
Activities Using Other Fitbit Features
It's crucial to know how the DND mode works with other Fitbit features in order to maximize the functionality of your device: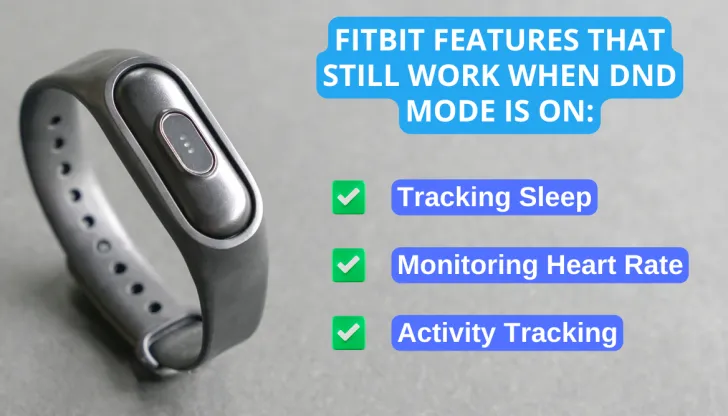 Tracking Sleep: While in DND mode, your Fitbit gadget will continue to monitor your sleeping patterns. This allows Fitbit to provide you with more meaningful sleep data and helps you make your resting habits better.
Monitoring Heart Rate: During the workout, your device will keep on collecting data like heart rate without disturbing you.
Activity Tracking: The tracking of your everyday activities, including steps, distance traveled, and calories burned, is unaffected by DND mode. As usual, your Fitbit will precisely track your progress in terms of activity.
Easy Way To Enable DND Mode on Different Fitbit Watches
To make things easier for you, I will break down the instructions on how to activate DND mode on different Fitbit models based on similar commands. Let's check them out:
For Fitbit Luxe; Ionic and Charge

1. Swipe down to access the notification section.
2. Scroll down further and open the control center.
3. Navigate to settings and activate the DND mode.

For Fitbit Inspire; Charge 3, 4; Versa 2, 3

1. Wake up your screen.
2. To access settings, swipe to the left.
3. Activate the DND mode from the settings menu.

1. Swipe right to access settings.
2. Activate the DND mode from the settings menu.
Also, keep in mind that you can turn on DND through your Android or iOS device.
For more insights, check out this helpful video.
Perks Of Using Fitbit's DND Mode
There are numerous benefits of the DND mode. Let's check them out: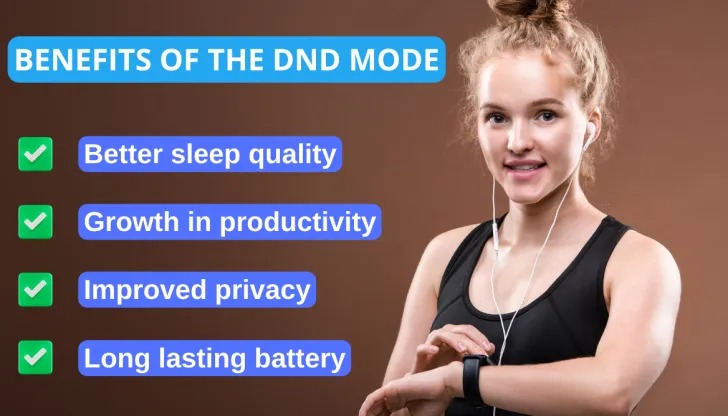 Better Sleep Quality: You can enjoy uninterrupted, deep sleep throughout the night and wake up refreshed with a sharper mind, better mood, and improved physical vitality.
Growth In Productivity: Fitbit's DND mode maximizes focus, minimizes distractions, and enhances efficiency creating a better work-life balance.
Improved Privacy: With DND mode, your calls and interactions in public spaces remain confidential keeping your personal space safe.
Long lasting Battery: Enabling DND mode conserves battery making your Fitbit last longer and reliably serve you every day.
Constraints Of Using DND Mode
Here is what you should keep in mind while enabling DND mode on Fitbit:
Emergency Call Exception: Emergency calls may still come through even when the mode is turned on.
Not Applicable For All Notifications: It doesn't block all notifications, especially alarms and fitness goal achievements.
Scheduled Silence: It operates on a preset schedule, potentially missing unexpected events.
How to Use The Fitbit's DND Mode Properly?
The choice to activate or deactivate Do Not Disturb (DND) mode on your Fitbit depends on your unique preferences and choices. Let's explore the perfect times to utilize DND mode: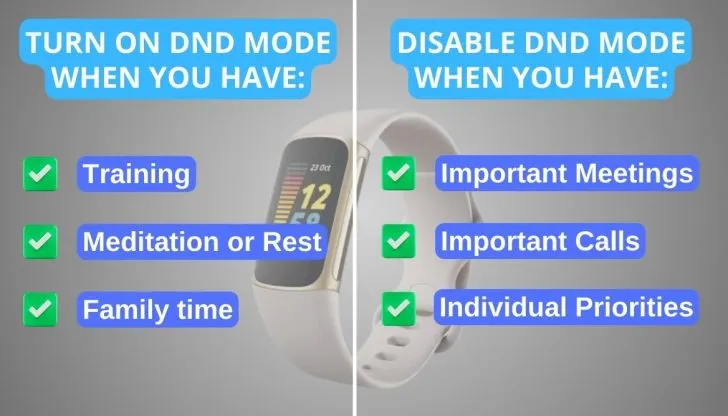 1. Turn on DND mode
Here are the preferred times for activating the dnd mode on Fitbit:
While Working Out: During workouts for focused exercise.
During Meditation: While meditating for peace.
Undisturbed Quality Time with Friends and Family: To enjoy uninterrupted moments with loved ones keep it distraction-free and fully enjoy the time together without those pesky alerts.
2. Disable DND Mode
Here are a couple of reasons why you should disable DND mode:
Important Meetings: To stay informed about important meetings or conference calls.
Awaiting important Calls or Messages: When expecting crucial calls or messages, you remain reachable and responsive.
Individual Priorities and Preferences: Ultimately, it's your decision to enable or disable DND mode, that aligns with your goals.
3 Handy Tips On How To Optimize DND Mode
Let's take a look at some handy tips to make the most of DND functionality: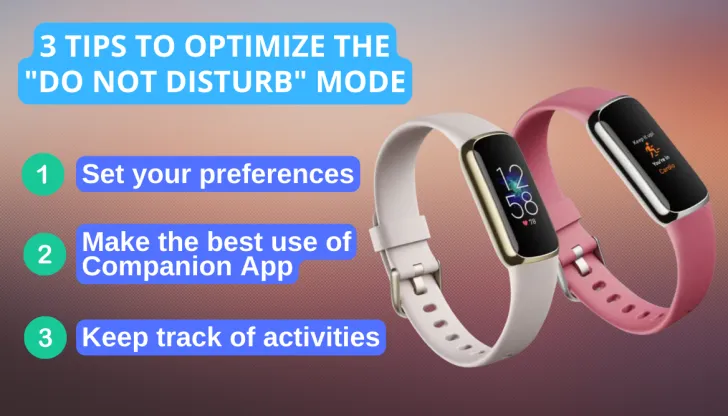 1. Set Your Preferences
Decide when you want to stay connected and when you want to disconnect. Create a priority list of the emergency contacts and notifications that you want to receive even when DND mode is activated. To ensure critical alerts are not missed while minimizing distractions during your preferred quiet times.
2. Make The Best Use Of Companion App
You can use the companion app whenever you need to use Fitbit DND mode for long periods of time. For instance, while watching a 2-hour long movie or during an important business meeting.
You need to open up the Fitbit app on your smartphone.
Now proceed to the quick settings screen.
You need to search for DND mode settings in the options.
Now you will be able to make a custom schedule DND mode that suits your needs and preferences.
3. Keep Track Of Activities
The DND mode option on Fitbit ensures your day-to-day activities and the continuous tracking of your fitness remains uninterrupted. So, you can activate it while working out or sleeping and not worry about anything.
DND mode on your Fitbit strives to strike the right balance between staying connected and enjoying focused, distraction-free moments.
Fitbit's DND mode is designed to enhance your overall experience while helping you achieve your wellness and fitness goals.
Important! Keep in mind that the Conclusion DND mode can help you avoid goal celebration notifications.
Easy Steps For Switching Off DND
Follow these steps to turn off your Fitbit's Do Not Disturb (DND) setting and start getting alerts again: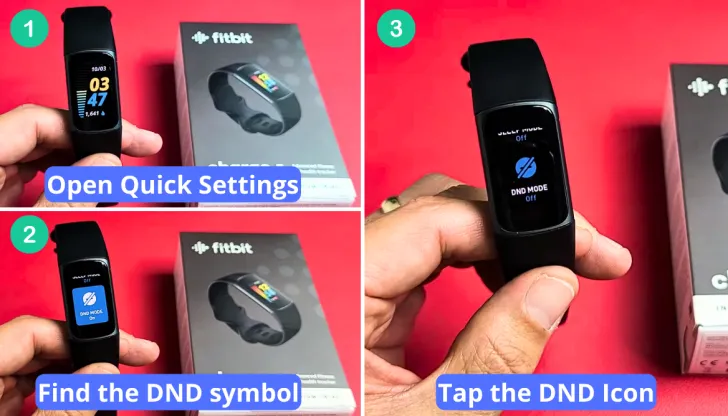 Credit: www.youtube.com @WorldofTech
Open Quick Settings: Swipe left on the clock screen to access the settings menu.
Find the DND symbol: Among the quick settings options, look for the DND symbol.
Tap the DND Icon: To exit mode, tap the DND icon.
Important! Specific Fitbit models like the Fitbit Ionic and Fitbit Charge have slightly different methods for deactivating DND. To turn off DND, you can reverse the activation steps and re-enable alerts on your Fitbit devices.
Once you have finished these steps, your Fitbit gadget will come out of DND mode and you will resume receiving alerts.
Making Exceptions for Notification
Through the Fitbit companion app on your Android or iPhone smartphone, you can set exceptions if you choose to selectively muffle some alerts while keeping others active. This is how: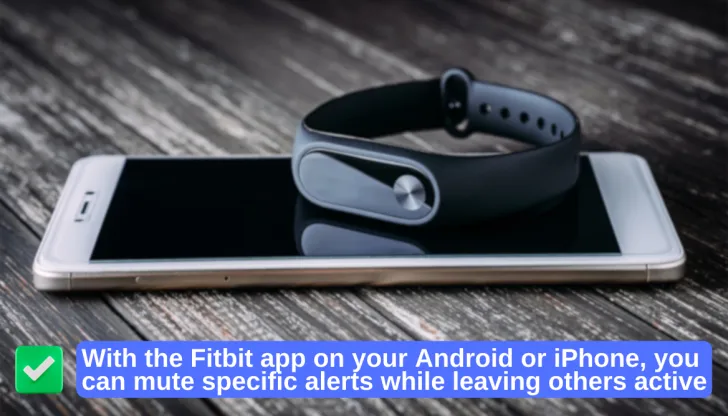 Launch the Fitbit app: On your Android or iPhone smartphone, open the Fitbit app.
Navigate to the Today Dashboard: Go to the Today's Dashboard by clicking there. The symbol for your profile should be at the top of the app's screen. Tap on it.
Select a Fitbit model: Choose the tile that is associated with your Fitbit account and matches the model of your particular Fitbit.
Access Notifications: Find and pick the "Notifications" option in your Fitbit model's settings.
Customize Notifications: Here you can choose which alerts on your Fitbit tracker or watch you wish to turn off. Choose what you want depending on your preferences.
Does DND Mode Preserve the Battery Of Fitbit's Watch?
A Fitbit tracker's Do Not Disturb (DND) option can help preserve battery life to some extent. It reduces disruptions from notifications and alerts, guaranteeing a distraction-free experience. As a result, it lessens the number of times the screen wakes up, Which eventually saves battery.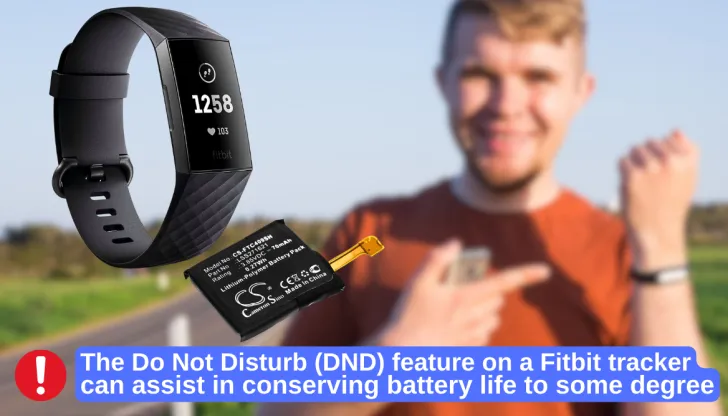 Note: However, It's essential to keep in mind that DND mode was not created primarily as a battery-saving function.
Simple Way To Fix Not Receiving Notification After Turning Off DND
Even after disabling the Do Not Disturb (DND) option, your Fitbit device might still not be getting alerts. To fix this issue, try the troubleshooting methods below: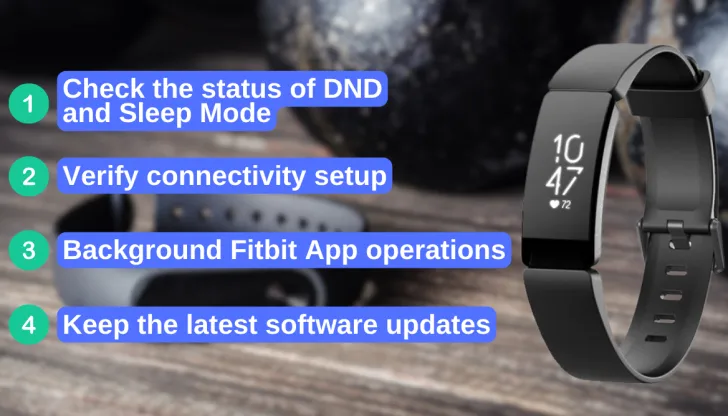 Check the status of DND and Sleep Mode: Make sure that DND or sleep mode is not active on your Fitbit tracker because these settings might disable notifications.
Verify Connectivity Setup: Make sure your Fitbit tracker is correctly connected to your smartphone to increase the dependability of alerts. Follow these steps to ensure a secure connection.
Background Fitbit App operations: Make sure the Fitbit app is running in the background on your phone. If the program is not running in the background, it is conceivable that it will not give the necessary notifications.
Keep Software Updates Latest: Your mobile phone and Fitbit device should both have the latest software versions to ensure compatibility and functionality.
How Do Fitbit's DND and Sleep Mode Differ?
The messages, activity reminders, and goal celebrations are muted while using Fitbit's Do Not Disturb or Sleep Mode. Additionally, incoming notifications prevent vibrating or waking up the screen.
But the Sleep Mode's primary points of distinction is that it:
Reduces screen brightness;
Turns off the Always-On Display;
Stops the screen from turning on when you move your wrist.
Only a double tap will cause the screen to come to life. To save battery Fitbit watch life, you can also program the Sleep Mode to come on and go off at specific times.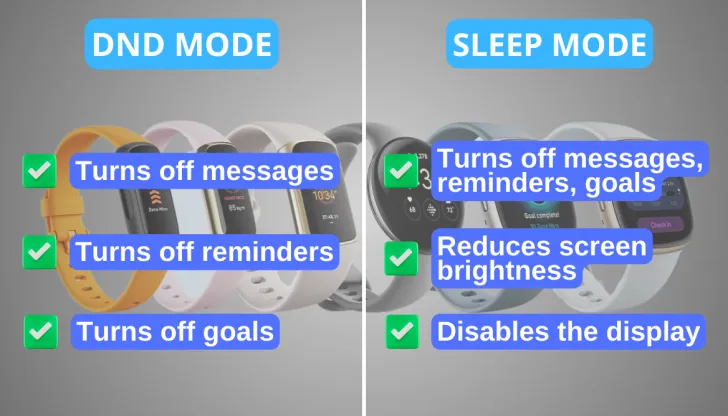 Important! However, keep in mind that you cannot simultaneously activate DND and Sleep Mode on your Fitbit.
Will Fitbit's DND Mode Interfere with Syncing?
Fortunately, no DND doesn't hinder sync. You can still use your Fitbit to track your wellness and fitness activities even when the Do Not Disturb mode is activated.
Fitbit will connect with the Fitbit App on your phone after gathering all the health and fitness data it has been tracking, providing your fitness information for the app's additional analysis.
FAQs
Can I still receive phone calls when DND mode is turned on?
Yes, you can still receive phone calls when DND mode is turned on depending on whose call you allow to pass through settings.
Will alarms still work when DND mode is turned on?
Yes, alarms still work when DND mode is turned on.
Will DND mode affect my Fitbit's heart rate monitoring or fitness tracking?
No, the DND mode will not affect your Fitbit's heart rate monitoring or fitness tracking.
Conclusion
Summing it up what is DND mode on Fitbit, it allows you to silence your paired devices and avoid any interruption you may get from any alert, call, or notification. You can simply turn it on by swiping down your Fitbit screen and tapping on the Do Not Disturb button.
You can also customize your DND mode to allow for some alarms, apps, and contacts to get through, particularly within certain time periods.