If your Amazon Fire TV has become slower over time, and you want to know how to restart Firestick, then you are on the perfect page. I'm going to explain several methods of restarting Firestick. You can refresh your Fire TV device in no time if you follow these easy methods. So, let's dive deep into the discussion!
Quick Answer
You can restart Firestick with or without a remote. Let me tell you about some of the easiest methods here. You can restart:
Using the remote shortcuts;
Unplugging and plugging back;
Installing the Fire TV app on a smartphone;
Using Settings;
Using a USB device.
But which method should you go first? Continue reading to learn the ins and outs of each method. At the end, I've also discussed how to improve performance in your Firestick. But first, let me tell you when you should restart your Fire TV.
Why Should I Restart the Firestick?
One might wonder why I should have to restart Fire TV device. There are some good reasons to believe restarting is a good idea. Let me tell you why you should reboot Fire TV sometimes.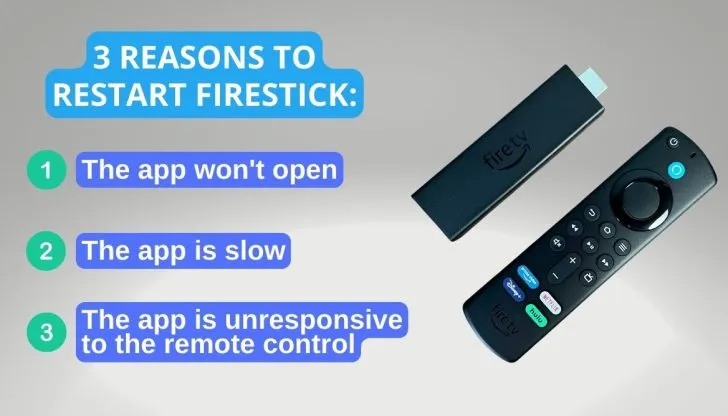 1. When It Fails to Open Apps
Though it is not a common phenomenon, you may face it sometimes. Apps cannot be downloaded or opened on Fire TV due to the slow interface. If you ever face such an issue, a simple restart would be beneficial.
2. When It's Slow
When we use an Amazon Fire Stick, it becomes slow over time. The more apps you use and install, the more slow it becomes. So, if you restart your Fire TV, it gets refreshed and faster.
3. When It's Not Responding to the Remote
When your Firestick isn't responding to the Fire TV remote, you can go for a restart. It helps to remove system glitches and improve the performance of the running apps. Note that you can restart your Firestick without remote control.
How to Restart Firestick with Remote?
When you don't want to move your limbs to restart Firestick, using the remote is the best available option. You have two ways to perform the restart. Let me explain both.
1. Using Shortcut
This is by far the easiest method to restart Fire TV devices. You just have to tap on the remote to complete the restart.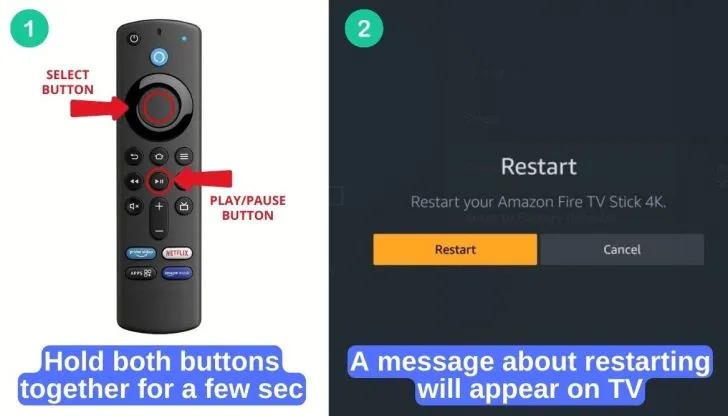 Firstly, take the remote.
Then, press the pause and select button together.
You have to press and hold them together for a few seconds.
Withdraw the press when you see a restart message on the Firestick screen.
Sometimes, this method might fail to reboot your device. In such cases, follow the next method.
2. Using Settings
Some people prefer restarting from the Settings menu. This is also an easy process when you have the remote controller at hand. Let me show you how to restart Firestick.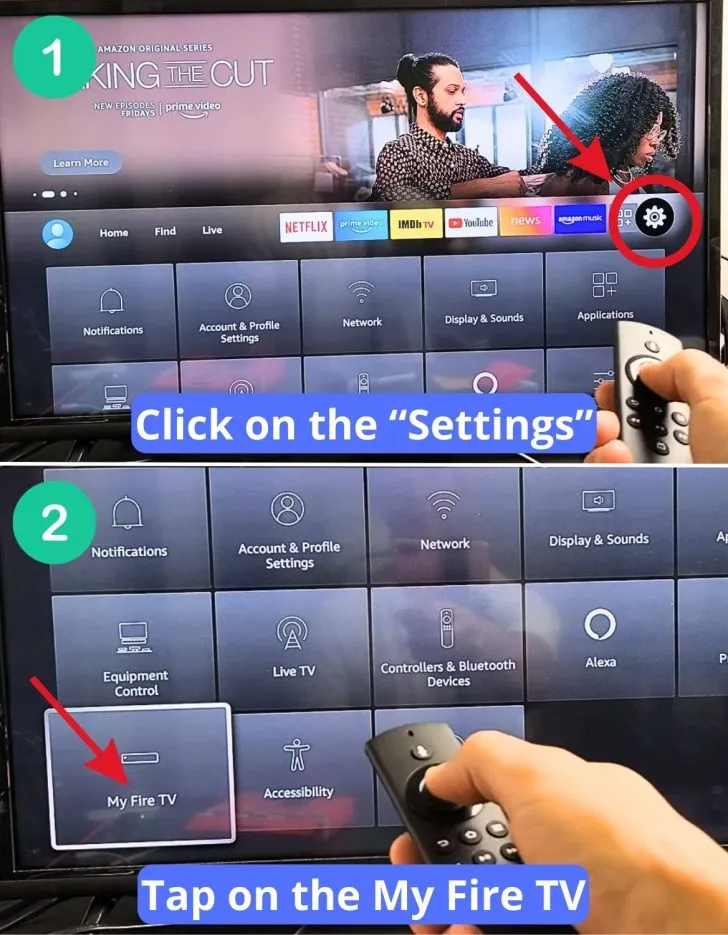 Credit: www.youtube.com @WorldofTech
Take the remote and click on the Settings.
Now, go all the way down and tap on the My Fire TV.
You shall find a number of options. Select Restart.
You shall be asked if you want to restart or cancel the process. Give confirmation.
And that's it. Your device shall start rebooting itself.
If you find the process difficult, watch this video:
How to Restart Fire Stick Without a Remote?
You can restart Amazon Firestick even when you don't have the remote nearby. I will share with you the most common methods below. So, let's get started!
1. Unplugging from the Power Source
This is a rapid process where you can simply restart the device by cutting off the power supply. You have to unplug the power cord and wait for a few minutes. Then, you just have to resume the power supply and wait for the device to be ready.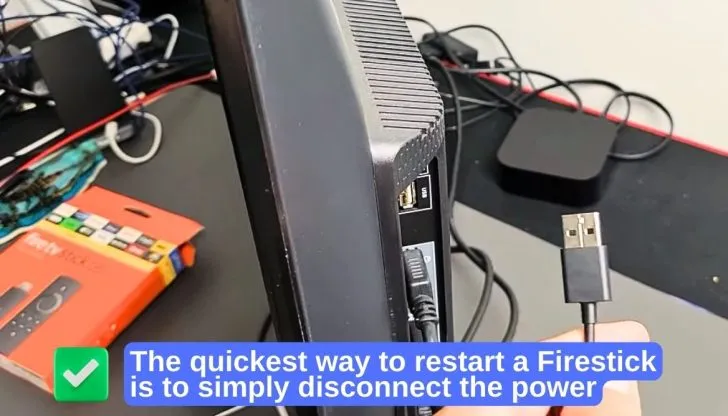 Credit: www.youtube.com @WorldofTech
Hopefully, your wall outlet is close enough to reach and perform the process. If the first method fails, you can use the following methods.
2. Using the Fire TV App
The best part of a Fire TV stick is its smart feature and excellent compatibility. You can utilize your smartphone to control other Fire TV devices. They have an IOS and Android-compatible app that lets you control the Fire TV. Let me show you how to use that app for the reboot process.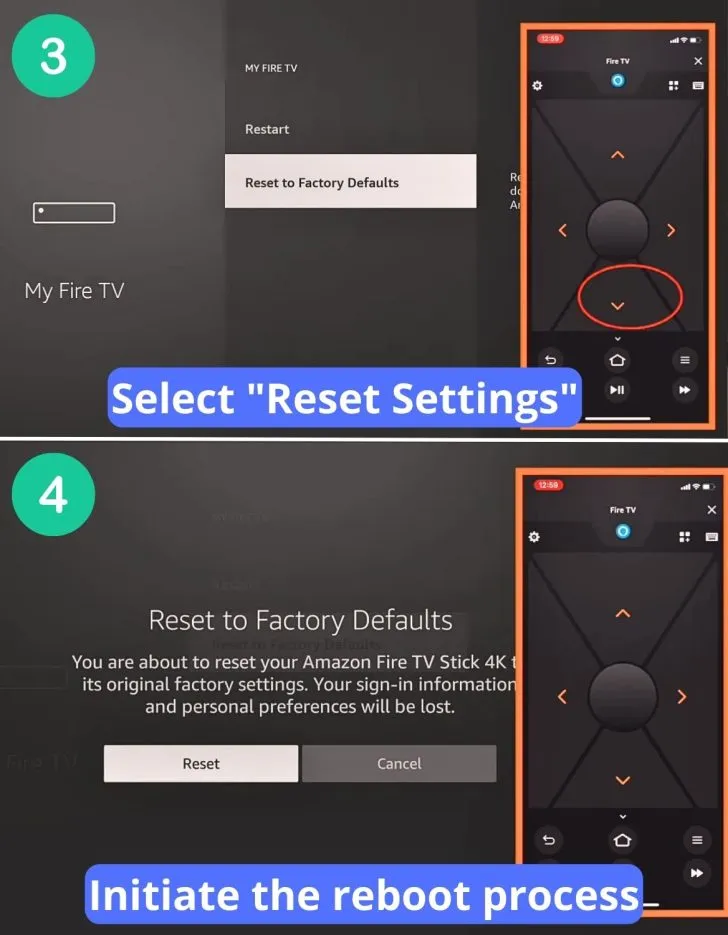 Credit: www.youtube.com @smartgeekhome
First, you have to download the application to your phone.
Once downloaded, ensure that your phone and Fire TV stick have the same network connection.
Then, open the application. You have to fill in the details of your Firestick Amazon account info.
If you have connected appropriately, you shall get access to your Amazon Firestick.
Now go to the home screen and click on the Settings menu.
As a last step, tap on My Fire TV and then on Restart.
I've found this application pretty amazing. You can download the IOS version from here and the Android version from here.
3. Going for a Hard Restart
I personally don't recommend this procedure. But when you are desperate, you can try this out.
First of all, you should switch off the TV.
Next, you have to unplug the Firestick from the port.
After that, wait for a minute or two before plugging back the Stick.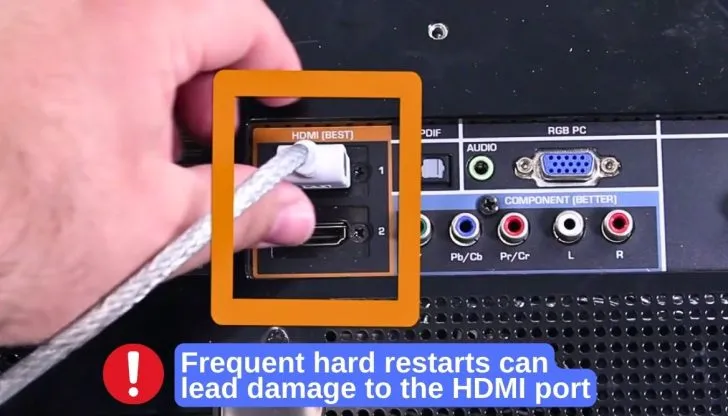 Credit: www.youtube.com @FIXNETFLIX
If you have done the process correctly, you can switch on the TV now.
Important! Performing frequent hard reboots can damage the HDMI port itself. So, don't go for this procedure if you have other means.
4. Employing USB Devices
I have found this method of utilizing a USB mouse or keyboard pretty amazing and convenient. Let me tell you how to restart Firestick in no time.
First, you should take a Mouse or Keyboard. I prefer using a mouse in such cases.
Then, connect the mouse to the port of your television.
Once connected, you can scroll your mouse to control the settings.
Follow the similar process of Settings > My Fire TV > Restart.
When no method works, contact Amazon Customer Support.
When Do I Need a New Fire TV Stick Remote?
It sometimes happens that your Fire TV Stick remote has been dead for some reason. How do you know it is not dead or malfunctioning? Well, you can confirm by taking the following steps.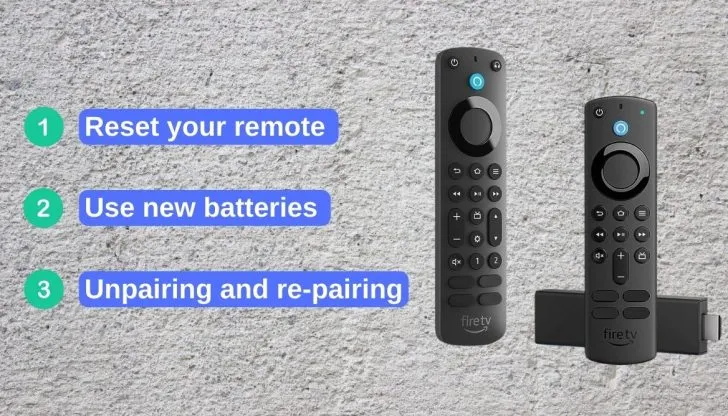 1. Reset Your Remote
If you can reset your remote before purchasing a new one, that would be far better. Here is an official guideline on how to reset the Firestick remote. After the reset, try to use that remote. If it doesn't work, try the next step.
2. Use New Batteries
If the remote is not responding properly, the probable reason might be the dead batteries. So what you need to do is to replace them with a new pair. Then, check whether the Fire TV Stick remote works or not.
3. Unpairing and Re-pairing
This is the last trick you can try. First, unpair the remote from the TV. Then, after a few moments, pair them back. If everything is okay, the remote will work properly after that. If you have a frozen Fire TV stick, I suggest you go for this trick.
When you have failed to get any plausible result from these endeavors, you should buy a new remote. Buy from here.
How to Restart Your Firestick? Video Guideline
If you have found my method complicated, you should watch this video. It explains everything within a few minutes.
How to Fix Performance Issues in Amazon Fire TV Stick?
Are you deeply fed up with the glitches and lagging of your streaming device? Then, you can either go for an update or for a factory reset. To update: go to Settings > My Fire TV > About > Check for Updates > Install.
But if updating doesn't fix your problem, a factory reset is the last hope. To reset: Settings > My Fire TV > Reset to Factory Defaults > Confirm. Note that you shall lose all your preferences and personal data afterward.
Frequently Asked Questions
What If My Firestick Won't Restart?
If your Firestick won't restart, then you should force restart it by unplugging it from the power source. After waiting for a minute, plug the power cord back.
What To Do When My Firestick Remote Is Not Working?
If your Firestick remote is not working, replace the batteries or reset the remote.
What Happens When I Restart My Firestick?
When you restart Your Firestick, it starts afresh, and some negligible issues are fixed.
Will I Lose Any Data When I Restart My Firestick?
No, you won't lose any data by restarting. However, resetting to factory defaults will erase your data.
How Long Does It Take to Restart My Firestick?
Restarting Firestick usually takes a few seconds. But it is recommended to wait for a minute before you use it again.
Conclusion
So now you have come to know all the restarting processes of Firestick. I suggest selecting restart by using the TV remote before you go for any advanced method. When the remote fails to restart and refresh, use the Fire TV application to control the device.
But when the Firestick is frozen, unplugging is the only method to salvage the situation. You can also try the easy way of connecting USB devices to restart Firestick. When all your attempts fail, a hard reset is your only option.