Do you know how to charge the Nest thermostat? Have you ever faced any battery and charging issues in your device? If you have, then you have landed on the right page. I'm going to unravel the ins and outs of Nest thermostat battery problems and their troubleshooting ideas.
Continue reading to find out the best solution for your Nest thermostat problem!
How to Charge the Nest Thermostat?
The best part of Nest Thermostats is that they can charge themselves automatically from the HVAC system. However, we often face issues with charging, don't we? It may happen that the thermostat might not charge itself due to unexpected complications like power outages or battery issues.
If you ever face such a predicament, what to do then? Well, I've come up with some decent troubleshooting ideas. Here are 5 effective steps to deal with the situation.
1. Begin with a Restart
Whenever you find any issue with the thermostat, I always suggest trying a restart first. It can potentially solve minor issues. So, let me tell you how you can restart.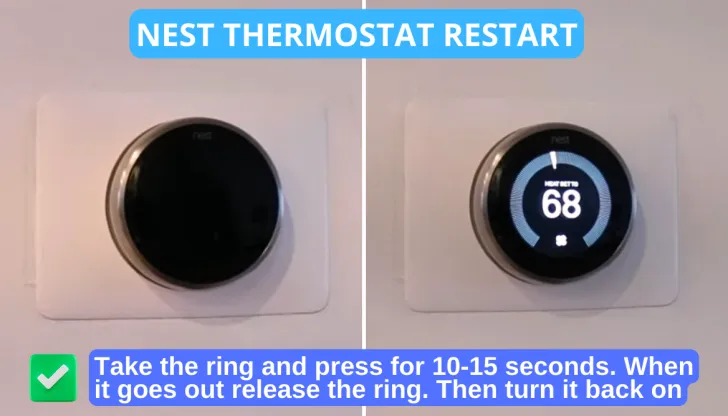 First of all, you have to take the thermostat ring.
Now, you have to press it for ten to fifteen seconds.
If you have pressed it correctly, the thermostat display will turn off.
When the display is off, release the ring.
After that, you have to press and release again to turn the device on.
This way, you can restart your device, be it a Nest Learning Thermostat or Nest Thermostat E.
2. Go for a Manual Charging
If restarting doesn't solve the charging issue, then the internal battery may be down. In such cases, you should charge your thermostat manually. If you don't know the process, follow the below instructions.
Remove the display of the thermostat.
Now you have to take a compatible USB cable
Now plug it into the USB port of the thermostat.
The cable, in turn, can be connected to a wall charger or any PC.
A blinking red light will indicate the charging progress if the connection is correct.
Once the battery level is restored, check if the thermostat is working or not.
Note: You should check the Nest thermostat USB compatibility before charging.
If you find the process difficult, watch this short video:
3. Check the Wire Connection
It is a common phenomenon that defective wires cannot charge your Nest thermostat battery. Sometimes, the wires are burned or loose. So, what you need to do is to check for any wire issues. If you find any loose wire, then: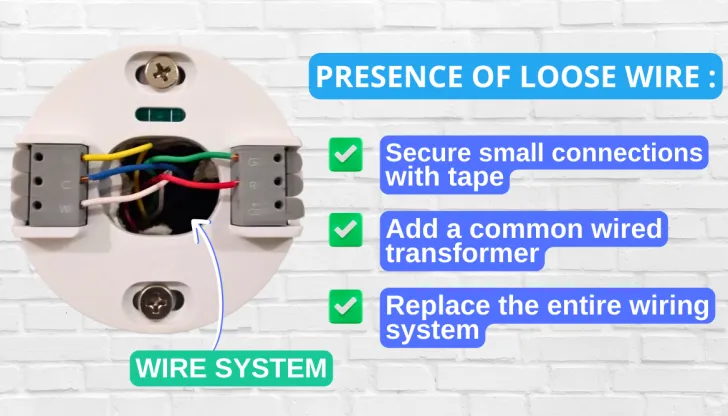 Fix minor connections using tape.
You can add a common wire transformer.
Replace the whole wire system.
4. Try out Resetting
If nothing has worked so far, resetting your Thermostat is the best option. Note that the process might delete your existing settings. Let me show you how to do the resetting.
First, you have to press the thermostat ring.
Then, go to the Quick View Menu.
Now, you have to select the Settings option.
Scroll down and select the Reset option.
Then select the All Settings option and reset your device.
Well, if you cannot understand the process, this video might help you:
5. Go for a Battery Replacement
When you are sure that your HVAC unit is okay and there is no low battery issue, then replacing the battery is the wisest solution. You should only go for the replacement when all troubleshooting steps fail and your battery life has surely ended.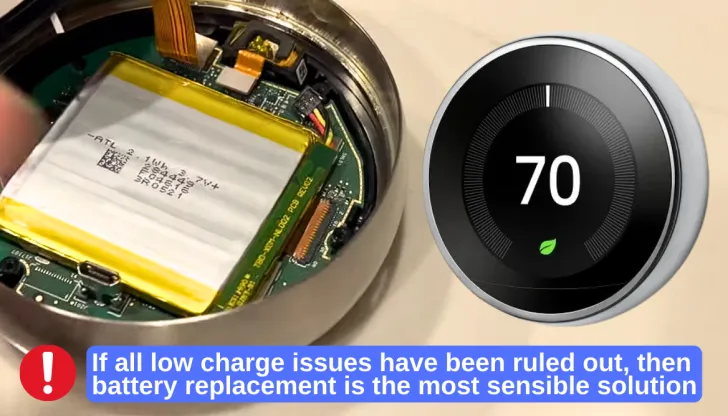 I've discussed the replacement process in the later part of this article.
How Can You Charge Nest Thermostat Without C Wire?
We all know the importance of C wire for consistent power in the Nest thermostat. However, you can use this device even without a C wire. You can use a Nest Power Connector as a cheap but effective alternative.
Moreover, you can choose a new thermostat that works without a C wire. Here are a few good options:
Sensibo Sky AC Thermostat;
Nest Thermostat E;
Nest Learning Thermostat Third Gen;
Ecobee Programmable Smart Thermostat.
How Long to Charge Nest Thermostat Battery?
Well, it's a crucial question to answer. Usually, about half an hour to an hour charge would be enough to charge AAA Alkaline batteries. But if the device has a near-dead battery, you should charge it for up to two hours.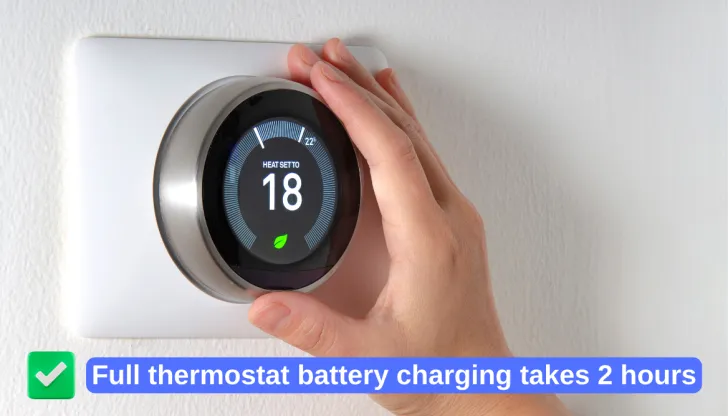 It is better to keep the thermostat connected to the power supply. You can easily check the battery level by clicking on the Quick Menu option.
Why Is My Nest Thermostat Not Charging?
There is no single reason behind Nest thermostats not charging. From my research, I've found some of the most common ones. Have a swift glance.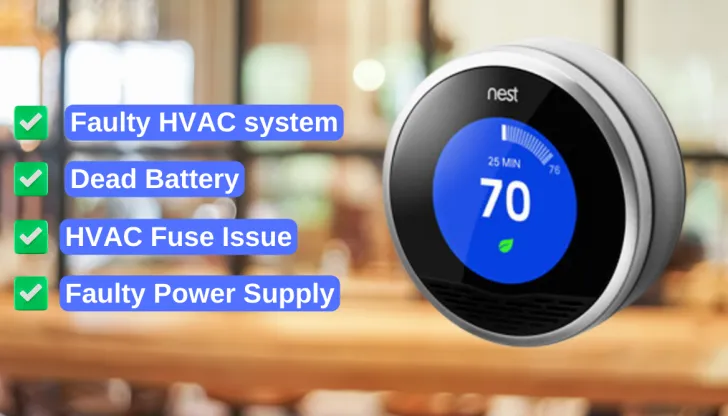 Faulty HVAC system: If the HVAC unit is faulty or broken, then you cannot charge your Nest thermostat. What I suggest is to check the HVAC system.
Dead Battery: You cannot charge a dead battery, can you? Sometimes, the battery can die for no reason. So, check out if the battery life is completely drained or not.
HVAC fuse Issue: Though it is not a common issue, it can be a reason behind the thermostat not charging. Try to find out if the HVAC fuse is okay or not. If you find any problem, replace the fuse.
Faulty Power Supply: When your power source is not providing enough power, you cannot charge the Nest thermostat battery. Find out if there is any problem with the power supply or not. Even if you don't find a problem, I always suggest using a common wire transformer for a secure connection.
How Can You Replace Nest Thermostat Battery?
Sometimes, you have no better option than battery replacement. But how do you replace your Nest thermostat battery within no time? Here's a short guideline.
First, you must turn off the Nest thermostat's display.
Now, go to the back of your thermostat and detach the old batteries.
Put new batteries into the slot. Make sure that these are AAA batteries.
Once the replacement is done and dusted, turn the display on.
Note: I have talked about changing the Nest thermostat batteries here, not the Nest Thermostat E or Nest Learning thermostat.
If you find the process troublesome, you can take detailed guidelines from this video:
How Long Can the Nest Thermostat Battery Last?
You know that Nest thermostat always regulates the heat and cold of your home. As it is attached to your HVAC system, it doesn't need to be charged separately. However, note two simple points here.
The battery of the system can last roughly 5-10 years. The duration might change based on the usage.
The battery of this device can last up to 2-10 hours without HVAC power before it is fully drained.
How Often Should You Charge Your Thermostats?
We all know that a Nest thermostat doesn't need to be charged all the time. The device has a built-in battery that keeps a considerable charge as a backup. The backup charge keeps the system running whenever your smart home faces a power outage.
What's more, the Nest thermostat notifies you when the battery is drained. When you get the message, you should put your Nest thermostat in charging.
How to Find Out When My Nest is Fully Charged?
People who have been using thermostats for a long time don't ask this question. The new Nest users often find this confusing.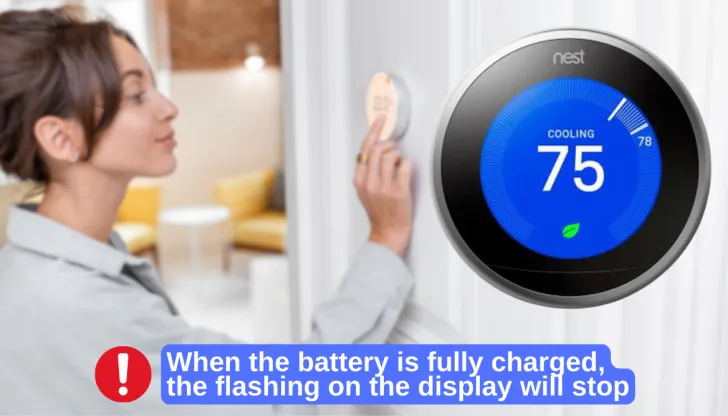 When you put your thermostat in charging, you shall find a flashing light on the display.
When your battery is fully charged, the flashing will stop.
Then, you can stop charging.
For Battery-Operated Thermostat
You cannot recharge a battery-operated thermostat. If you see a low battery status, it is a sign to replace the batteries. Note that these devices require AAA Alkaline batteries.
Frequently Asked Questions
Why Does My Nest Battery Keep Dying?
Your Nest Battery keeps dying because of the voltage coming from the RC wire or because there is no C-wire in the HVAC system.
What Does Green Blinking Light on Nest Mean?
The green blinking light means your Nest thermostat is restarting, updating itself, or turning on. Removing and reconnecting the display is the best option if the blinking light goes on for a few minutes.
What Does Red Flashing Light on Nest Thermostat Mean?
A red flashing light on Nest thermostats means a low battery or power cut.
How long Can a Nest Battery Last without a Power Supply?
Well, the Nest battery can provide at least a couple of hours of service before shutting down. The duration can be anywhere from 2 hours to ten. It will depend on the temperature settings, usage, and Wi-Fi signal.
Conclusion
So now you know how to charge the Nest thermostat. You have to remove the display from the top and take a compatible USB cable. Then, connect the cable to the USB port and check for a blinking red light.
If you connect correctly, it will take from one to two hours to fully charge. You should go to the Quick Menu to find out the battery level.
If you have tried all of the above methods and still cannot charge your thermostat, try contacting support assistance.