What is the best air purifier for Covid-19 today? Covid-19 is a fast-spreading infectious virus that can have little to massive consequences for your health. However, can HEPA filters successfully reduce infection?
Scientists have concluded that an air purifier is a great option to reduce the chance of transmission. Let's find out how.
A Quick Overview
Air purifiers can capture allergens, virus particles, dust, pollens, smoke, and whatnot. By using air purifiers, you can reduce your chance of getting infected by Covid-19. However, they cannot prevent the virus totally.
Air purifiers also reduce odor, smokes, and fume. They circulate air constantly and provide a fresh, breathing environment. Microparticles, bacterial agents, and mold spores cannot concentrate on fresh air. So an air purifier reduces the chance of asthma, allergy, and even Covid-19.
But how do you choose the most suitable purifier for you? Let me introduce you to some of the best air purifiers today. But let's start with a brief comparison.
Best Air Purifiers For Covid: A Comparative Overview
HEPA Filter, Charcoal Filter,

Pre-Filter

Washable

Pre-filter,

Activated

Carbon filter,

HEPA Filter

True HEPA,

Pre-Filter, Carbon Filter

Pre-filter,

True HEPA, Deodorization Filter

HEPA Filter, Charcoal Filter, Pre-Filter

Nanoseal HEPA filter,

Pre-Filter
1. GermGuardian True HEPA Filter Air Purifier
Sale
GermGuardian Air Purifier
Pros:
Can refresh up to 153 square feet.
Reduces airborne allergens, germs, virus particles, pet dander, and dust.
Need replacement filters after 6-8 months.
Affordable price range.
Certified by AHAM and Higher CARD ratings.
Optimal for medium-sized houses and pet owners.
Cons:
Cannot absorb stubborn odor.
Rattling sound at maximum speed.
GermGuardian is the number one air purifier manufacturer brand in the US. And this GermGuardian AC4300, with its five-in-one technology, is one of the best air purifiers in the market today.
Thanks to this air purifier, indoor air quality becomes purified and dust free within a short time. Its constant air circulation even helps to reduce the chance of Covid-19 infection.
GermGuardian Features
This air purifier has certain features. Let's now have a glance at them.
The HEPA (High-Efficiency Particulate Air) filter helps capture allergens, dust mites, and airborne particles.
UV-C Light, with the help of TIO2, kills airborne viruses and germs and decreases volatile organic compounds.
The ultra-quiet option of this air purifier doesn't cause any disturbance to its users.
The antimicrobial agents remove smoke, foul odors, and fumes with the activated carbon filter in this device.
You will get rid of you can choose between 3 different speed settings as per your room space.
With all these fascinating features, you can easily breathe in the fresh air.
GermGuardian Air Purifier Specification
Let's check GermGuardian Specification:
| | |
| --- | --- |
| | |
| | HEPA Filter, Charcoal Filter, Pre-Filter |
| | Smoke- 99, Dust-107 , Pollen-116 |
| | |
| | |
| | |
| | |
| | |
| | User Manual, UV Light Sanitizer, Air Purifier |
Recommendation: GermGuardian AC4300 is one of the best air purifiers at an affordable price. If you have a limited budget for a Covid-19 filter, you should go for this. For pet owners, it is one of the best air purifiers.
2. Coway Airmega Icon True HEPA Air Purifier
Coway Airmega Air Purifier
Pros:
Best air purifier for noiseless performance.
Three layers of the filtering system.
Maximum efficiency with smart, eco, and sleeping mode.
Prevents smaller than viruses, bacteria, and mold microns.
Wireless charging system for QI devices.
Cons:
Not suitable for complete odor removal.
Need to wash the pre-filter.
Coway Airmega is another air purifier with HEPA technology that reduces the chance of Covid virus transmission. The variety of aesthetic designs gives you several choices to suit your preferences.
This Coway Airmega Icon model is of mediocre size and can fit into any suitable room. It has accommodated some of the most innovative air purification systems for preventing viruses and bacteria concentration.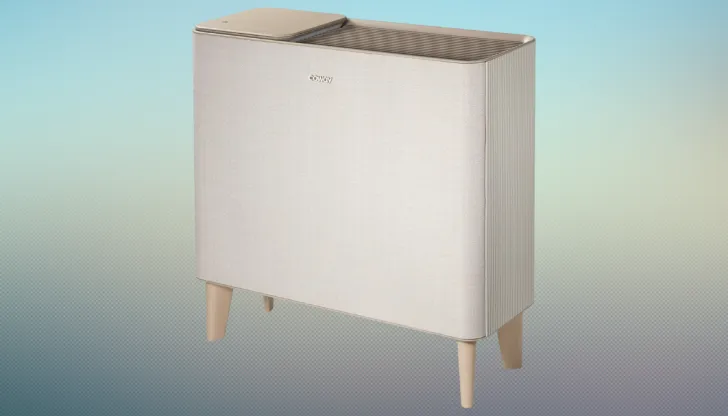 Coway Airmega Features
Moreover, Air purifiers from Conway always come with some innovative features. Here are some of the salient ones.
Coway Airmega Icon can improve air quality and remove indoor air pollution from up to 649 sq. ft.
You can set a timer to schedule air cleaning to 1, 2, 4 8 hours.
An existing pre-filter helps to remove foul odors from your room.
The HEPA filter can remove 99.99% of microparticles and reduce the chance of any possible virus particles concentrating.
You can change the fan speed into the low, medium, and high categories per your requirement.
An auto mode of filter alert tells you when the HEPA filters need to be changed and when the pre-filter requires cleaning.
The indoor air quality indicator tells you about the pollution level and adjusts the purification level.
Coway Airmega Specification
Take a look at the Coway Airmega specification:
| | |
| --- | --- |
| | |
| | True HEPA, Pre-Filter, Activated Carbon Filter |
| | Smoke-173, Dust-194.1, Pollen-235.3 |
| | |
| | |
| | |
| | |
| | |
| | Air purifier, HEPA Filters |
Recommendation: The filters in Coway Airmega are optimal for protection against any airborne viruses. If you can bear the cost, this is the best overall air purifier for Covid.
3. Winix 5500-2 Air Purifier
Sale
Winix 5500-2 Air Purifier
Pros:
Lightweight and easy to carry.
Washable Carbon filters for numerous use.
An LED indicator for air quality.
Smart and auto-functioning.
Remove odors and even wildfire smoke.
Cons:
No remote with the package.
Not satisfactory warranty service.
Down the line comes Winix 5500-2 with its Plasmawave technology that helps to capture Covid particles from the air. Looking at this air cleaner, you will find an aesthetic design and standard size.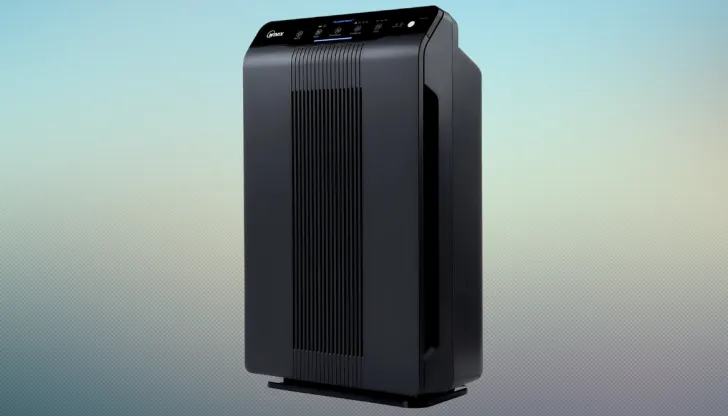 Winix Features
Though it has some premium features, you will be surprised to get it at an astoundingly lower price. However, let's have a glance at some of its glaring characteristics.
A dual auto-mode sensor automatically adjusts the fan speed according to the requirement.
The PlasmaWave technology attacks any virus and bacteria and neutralizes them.
In the dark, it goes to sleeping mode for energy-saving air purification, while in the daytime, it goes back to normal mode.
This air purifier can capture volatile organic compounds, mold spores, and even micro virus particles.
It can clean air from 360 square feet of an area quickly.
Winix 5500-2 Specification
Let's check CADR rating, coverage, and other important parameters in the specification:
| | |
| --- | --- |
| | |
| | |
| | Smoke-232, Dust-243, Pollen-246 |
| | |
| | |
| | |
| | |
| | |
| | |
Recommendation: Winiz 5500-2 is one of the best air purifiers for Covid-19 protection. But you have to change the HEPA filters every year. And the warranty service is not satisfactory.
4. Blueair Blue Pure 311 Auto
Blueair Blue Pure 311
Pros:
The lowest noise of 23 dB.
Low level of power consumption.
Suitable for asthma and allergy patients.
Auto-adjusting sensor.
Fast cleaning technology.
Cons:
Unsatisfactory customer service.
Not suitable to run during sleep hours.
Blueair Blue Pure 311 is one of the best purifiers with the lowest noise level. Blue Pure is suitable for refreshing the surroundings. The level of protection from Covid is high with this, though not absolute.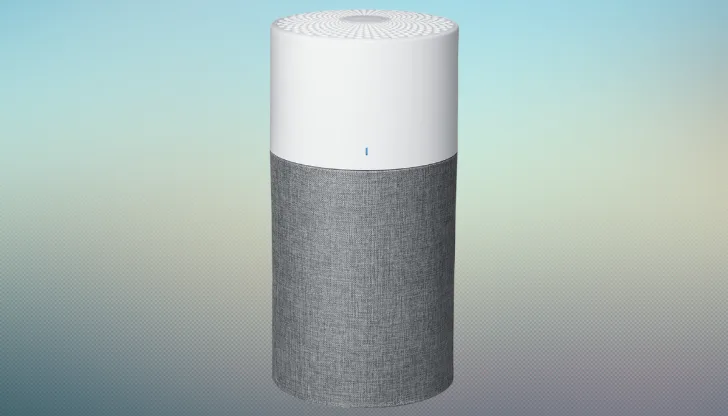 Blueair Blue Features
For a medium room, this purifier can give a maximum CADR (Clean Air Delivery Rate). Well, let's see the noteworthy features of Blueair blue pure.
The pre-filter is made of fabric, capturing large particles from the air.
Blue Pure 311 has an auto mode to survey the air quality and change the fan speed accordingly.
The electrostatic filtration makes it ideal for removing tobacco smoke, pet hair, and airborne particles.
The layer of activated carbon traps bad odors and refresh the air.
Blueair Blue Pure 311 can produce purifier air 45% faster than regular air cleaners.
Blueair Blue Specification
Take a look at the Blueair Blue specification and discover important highlights:
| | |
| --- | --- |
| | |
| | |
| | Smoke-250, Dust-250, Pollen-244 |
| | |
| | |
| | |
| | 10.2 x 20.5 x 10.2 inches |
| | |
| | Auto purifier, Pre-filter |
Recommendation: Blueair Blue Pure is most suited for allergies and asthma. It can be a good device against Covid if you are noise sensitive. But Blue Pure's customer service is not satisfactory.
5. LG AeroTower Air Purifying Fan
LG AeroTower Air Purifying Fan
Pros:
Has voice control technology.
UVnano tech for extra protection.
Smart sensor with responsive capacity.
Airflow customization for clean air.
Suitable for larger rooms and halls.
Cons:
Need some vertical space.
Quite Loud in the highest mode.
LG is a famous brand with some fascinating home air purifiers. LG AeroTower has an air purifier technology that can capture from 0.3 microns to fine particles. It prevents contagious viruses like Covid-19 from spreading.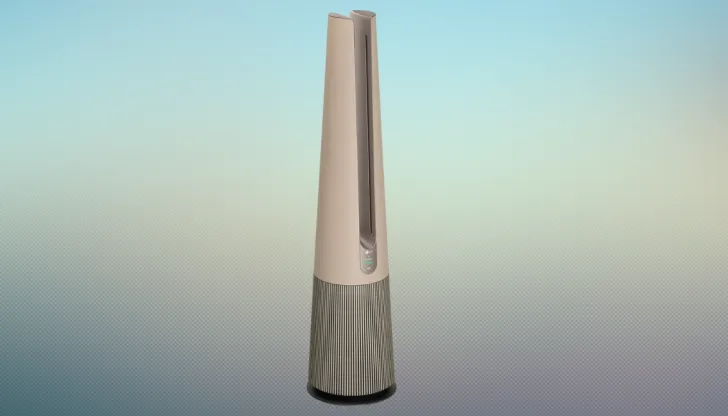 LG AeroTower Features
If you test air purifiers from LG, you will surely love them. However, let's now see what this air cleaner offers:
The deodorization filter helps reduce bad odors, smoke, and smaller particles.
LG AeroTower area coverage is around 818 square feet, suitable for large offices and conference rooms.
This air purifier can flow air in 3 different directions for a cozy environment.
The True HEPA filter provides a thorough and reliable filtration system.
You can control the purifier remotely with the help of the LG ThinQ® app.
It has a tolerable noise level of 23 dB.
LG AeroTower Specification
Let's check LG AeroTower Specification:
| | |
| --- | --- |
| | |
| | Pre-filter, True HEPA, Deodorization Filter |
| | |
| | |
| | |
| | |
| | 10.4 x 10.4 x 44.1 inches |
| | |
| | |
Recommendation: Among HEPA Air purifiers, LG AeroTower is the most suited for office and hall rooms. For Covid-19 protection in your workplace, it is definitely a good choice. The price is a bit higher, though.
6. GermGuardian AC5000 Air Purifier
Sale
GermGuardian AC5000 Air Purifier
Pros:
Decreases volatile organic compounds.
Lightweight and cost-effective.
No hassle of battery change.
Optimal for preventing germs and viruses.
Easy to hide for being slim.
Cons:
Need regular filter change.
Not suitable for a large house.
If you are searching for air purifiers for small flats or rooms, then GermGuardian AC5000 is the best option. It has all the benefits of HEPA filters but at an astonishingly lower cost.
It is a perfect air purifier for trapping germs and viruses. Though it cannot prevent Covid-19 fully, it gives a sense of purified air around you.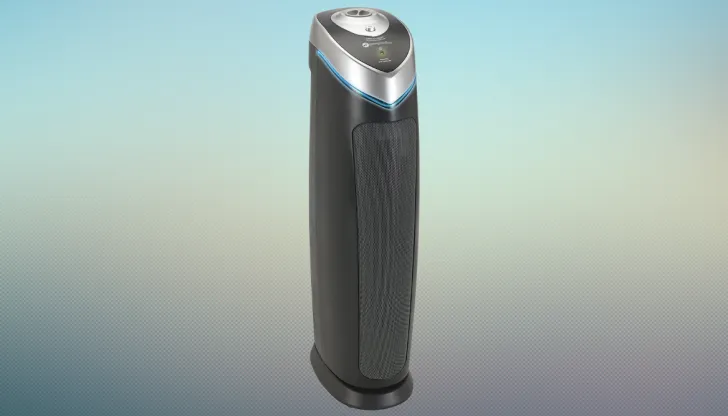 GermGuardian Features
But what features does this air cleaner offer? Let's see.
GermGuardian AC5000 is a three-in-one purifier that eliminates pet dander and airborne particles.
It has a pre-filter that traps large particles, increasing the Clean Air Delivery Rate (CADR).
The charcoal filter is an awesome addition here to eliminate odors and smog.
The corded power source makes it a perfect device to work for hours.
UV-C light kills any sort of virus found in the air.
The titanium dioxide in this filter decreases volatile organic compounds.
GermGuardian AC5000 Specification
Discover GermGuardian AC5000 specification:
| | |
| --- | --- |
| | |
| | HEPA Filter, Charcoal Filter, Pre-filter |
| | Smoke-122, Dust-132, Pollen-138 |
| | |
| | |
| | |
| | |
| | |
| | |
Recommendation: GermGuardian AC5000 is the perfect Covid-19 air purifier for a small flat or home. You can easily carry it around your home. However, it is not good for a large place.
7. Shark HP201 Air Purifier MAX
Shark HP201 Air Purifier MAX
Pros:
Powerful fan for super fast cleaning.
Easy availability of replaceable HEPA filter.
A tolerable noise production.
Intelligent sensors for auto mode.
Optimal for pet owners.
Cons:
Not satisfactory after-sale service.
Expensive replacement filters.
Shark HP201 is the last cleaner on our list. Unlike most air purifiers, it can give you a huge area coverage of up to 1000 square feet.
Shark HP201 Features
The aesthetic design is the first thing you will notice with this device. By the way, let's sum up its noteworthy features here.
Clean Sense IQ feature gives automated tracking and adjusting power to your air purifier.
The High-Efficiency Particulate Air filter is anti-allergen and can trap nanoparticles with ease.
Shark HP201 can filter all sorts of dust mites, pet dander, fumes, pollutants, and whatnot.
The display gives a comprehensive overview of the air quality.
It can purify 0.1–0.2 microns and remove bad smells.
Shark HP201 Specification
Let's check the Shark HP201 air purifier specification:
| | |
| --- | --- |
| | |
| | Nanoseal HEPA filter, Pre-Filter |
| | |
| | |
| | |
| | 10.83 x 10.83 x 22.47 inches |
| | |
| | Nanoseal HEPA filter, Air Purifier |
Recommendation: Shark HP201 can be the best option if you want an air purifier for a large area. It works against Covid virus concentration, even in air conditioning. The carbon filters of this purifier have a powerful cleaning capacity.
Can Air Purifiers Protect Against Covid-19?
An air purifier helps to reduce airborne contaminants and viruses from transmission. But is an air purifier effective enough to prevent Covid-19 transmission?
No. The best air purifier can only reduce the chance of Covid transmission by purifying the air. But it cannot prevent highly transmissible Omicron from spreading.
However, an air purifier helps to circulate stale air, refresh indoor air quality, and prevent respiratory infections. That's why it is important to have one.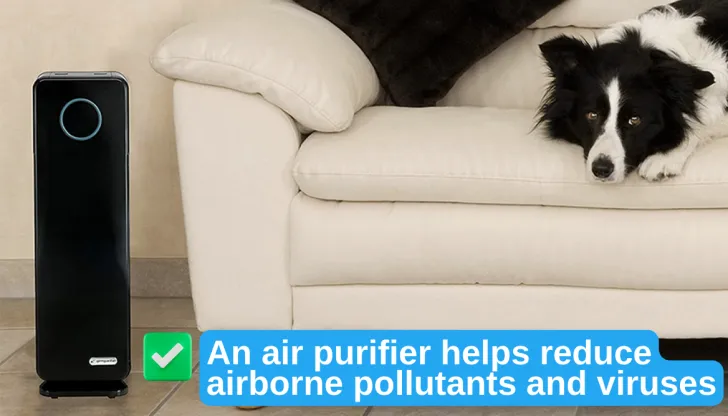 What is the Science's View on Air Purifiers for Covid-19?
The beginning of the pandemic was tumultuous, and scientists had little data about Covid-19. After that, they begin to research the level of effectiveness of air purifiers against Covid. Let's know what they have found.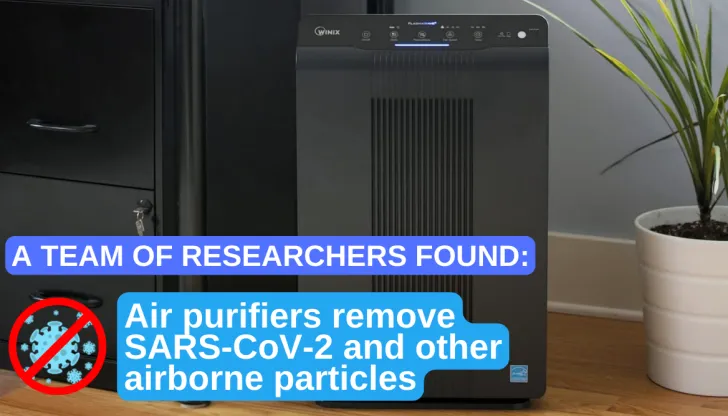 Addenbrooke's Hospital And Cambridge University
A group of researchers from Addenbrooke's Hospital conducted research in November 2021. They found that High-Efficiency Particulate Air filters can remove SARS-CoV-2 and other airborne particles.
But they conducted the research with a medical-grade filter and in a confined environment. Normal consumers use HEPA filters of 13 grade that cannot kill Covid-19.
Centre for Disease Control
The same year, CDC expressed that many air purifiers effectively reduce SARS-CoV-2.
CDC
says air purifiers: "Can help prevent virus particles from accumulating in the air in your home." But their research was also conducted in lab areas, not real-life situations.
All scientific research has clarified that only air purifiers cannot prevent Covid-19 or its transmission. Rather air cleaners can reduce the chance of exposure.
For precaution, you need to wear a mask and maintain social distancing while the air purifier is on. Washing hands regularly is also highly recommended.
Read Also: Best Air Purifier For Dust Mites: Top 10 Models for Health
Read Also: Best Air Purifier for Home: 7 Great Models for Healthy Air
FREQUENTLY ASKED QUESTIONS
Are personal air purifiers effective against COVID?
Well, personal air purifiers can effectively reduce the Covid-19 spreading. But an air purifier cannot prevent Covid altogether.
Conclusion
Among all the purifiers, I like GermGuardian AC4300 the most. Why you might ask? Because it provides the most effective defense against Covid-19, it has 3 distinct modes of operation and it is pretty affordable.
Sale
GermGuardian AC4300
GermGuardian AC4300 is great 5-in-1 air purifier. Choose it if you want effectively to reduce airborne pollutants and viruses!
But which purifier is most appropriate for your use? Do you believe in their effectiveness?
Let me know in the comment below.