Have you ever faced problems resetting Firestick without remote? Well, if you have, then you have landed on the right page. I've explained the 8 most effective ways to reset Fire TV with every ins and outs. So, let's get started!
A Quick Answer
There are some incredible ways to factory reset a Fire TV stick. Let me list the most common ones below:
The easiest way to reset is to use voice commands over the phone.
It's also easy-breezy to reset with the Fire TV app;
You can reset it with the TV navigation buttons;
You can also use another TV remote, keyboard, and even a Bluetooth mouse to reset;
Continue reading to know all these methods in detail, and additionally find some other methods as well. Also, I'll tell you how to set up your Fire TV again so that it works without any problems. Let's not waste any time and learn it right now!
8 Effective Methods to Reset Firestick Without Remote
I have listed below the 8 best methods of resetting Firestick that doesn't require Fire stick remote. Let me start with the simple ones.
1. Use the Help of Alexa's Virtual Assistant to Reset the Fire Stick
I have found this method to be the easiest one. If you have a Smart TV in your room, you can reset Firestick using just your voice command. Note that your TV must be compatible with Alexa to perform the job.
Let me show you how to reset without Fire TV remote: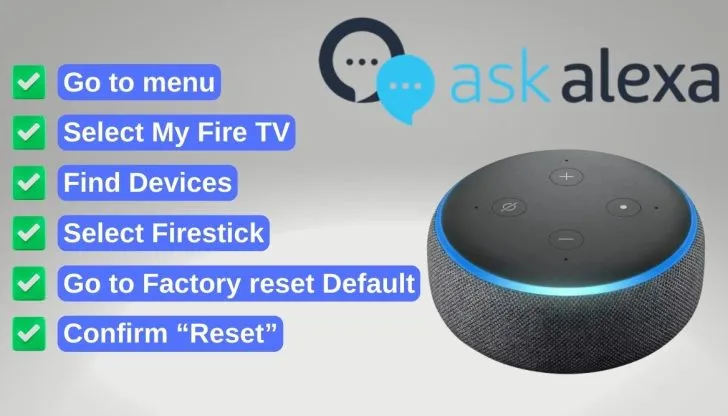 To begin the process, command Alexa to go to the Menu.
Then, you have to tell the virtual assistant to select your Fire TV option.
Now you have to give a command to select Devices.
After that, tell Alexa to select your Fire Stick.
Once selected, you have to click on the Factory Defaults.
Alexa will ask for confirmation. You have to confirm the Reset.
Note: Always remember if you reset to factory defaults, all your data, saved information, and personal preferences will be deleted. Therefore, you should perform such actions only when absolutely necessary.
2. Resetting with TV Navigation Buttons
Another great method is using the navigation buttons. You can find these buttons on your TV. Once you have found the buttons of menu, volume, up, and down, you have to follow the same process. Go to Settings, then to Device, and finally to Reset.
3. Resetting with Amazon Fire TV App
If your TV isn't paired with Alexa, or you are not sure about the TV-Nav buttons, you can still reset it with some easy methods. Using the Fire TV mobile app is the most convenient among those options.
Follow the step-by-step instructions below:
First of all, you have to install the Fire TV application.
You should make sure that your smartphone and TV are on the same Wi-Fi network.
Now open the application and scroll down. Tap on the Click Up New Device option.
The Fire TV mobile app will search for nearby devices. You have to connect with your device.
Once connected, you shall get full control of the Fire TV.
Credit: www.youtube.com @smartgeekhome
Now click on the Settings Menu and select My Fire TV.
As a last step, you have to select Reset to Factory Defaults. The reset process might take a couple of minutes. So wait till everything is sorted.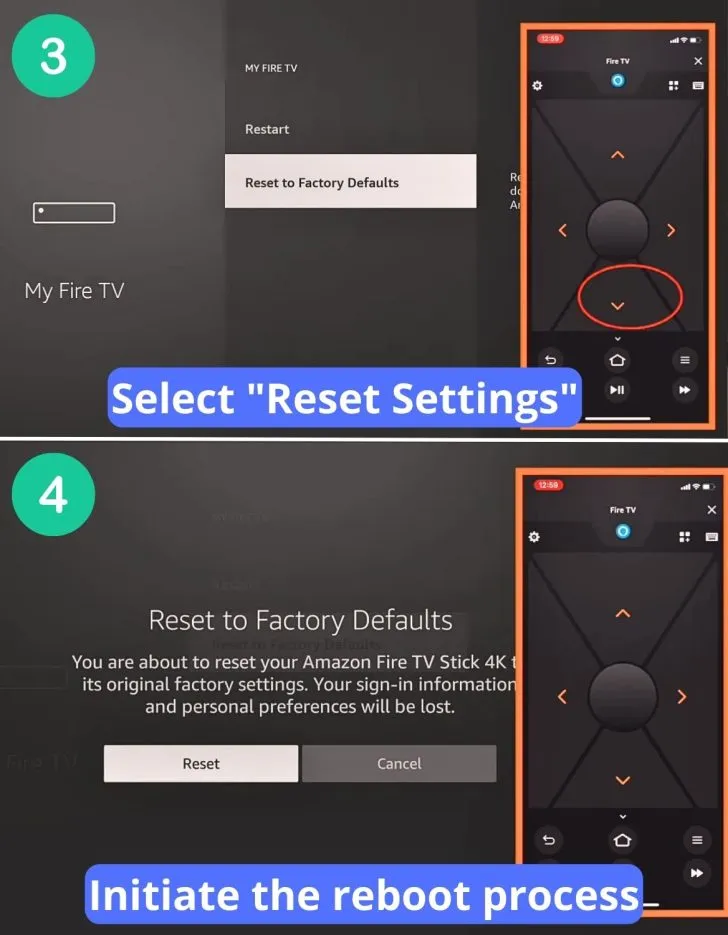 Credit: www.youtube.com @smartgeekhome
This is how you can reset your Firestick without a remote. You can find the application in the Google Play or Apple Store.
4. Reset with a Laptop
Using a laptop for resetting Firestick is similar to using the Amazon Fire TV app. Let me tell you how you can factory reset the Fire TV Stick.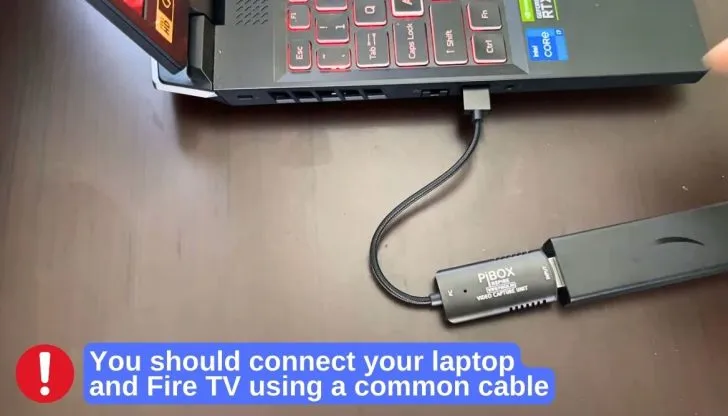 Credit: www.youtube.com @niyasc
The first step should be to connect your laptop and Fire TV with a cable.
Once connected, you must download the Amazon Fire TV app on your Windows or MAC.
Next, you should search for devices and tap on the device name.
Then, you shall get control of your Firestick TV on your laptop.
Now follow the same Settings>Device>Reset option.
Note: The power cable should be original to work properly with both devices.
5. Resetting with TV Remote
Another less effective method is to use your TV remote for the resetting process. I've found this method pretty simple as well. Mark that you must activate the HDMI consumer electronics control. If you don't know about HDMI-CED, read this article. Now let me unravel the method.
First, take your TV remote and go to the Menu.
Next, you have to tap on the Settings option.
Scroll through and search for the HDMI-CEC option. Enable this option.
Once you enable HDMI-CEC, you can control your Fire TV device with a normal TV remote.
Now, you just have to follow the previous reset process.
Take the remote, go to Settings Menu, follow the on-screen instructions, and confirm Reset.
If you find the process tough, here is a video guide to help you:
6. Reset with Keyboard and Mouse
It's an easy-breezy task to reset the Fire TV stick using a keyboard or mouse. You may know that Fire TV devices have an Add Bluetooth devices option. If you have paired the Bluetooth keyboard or mouse earlier, then you can control the TV. Then you just have to follow similar instructions to reset the Fire TV.
Important! The drawback with this method is that if you haven't paired earlier, then the process won't work. In that case, you have to go to the settings first and add Bluetooth devices like a mouse or keyboard.
Watch this video to find out more about resetting with a USB keyboard:
7. Reset with Mobile Hotspot and Smartphone
The method is a simple resetting process. You just need to use two smartphones and an advanced hotspot.
Firstly, you have to turn off the Wi-Fi.
Now, take one phone of yours and create a mobile hotspot. You should give the same password and name to this hotspot.
Take the other phone and connect with the hotspot.
Next, you have to go to the Amazon App on the later device and select your Fire TV name.
Once selected, you will be able to reset to factory defaults.
This method works because your Fire TV stick considers the hotspot to be the same Wi-Fi network. If this doesn't work, follow the last method in my list below.
8. Resetting with adbLink2 Software
My least favorite method is to factory reset using adbLink2 software and a computer. Still, this might work when your other endeavors have failed.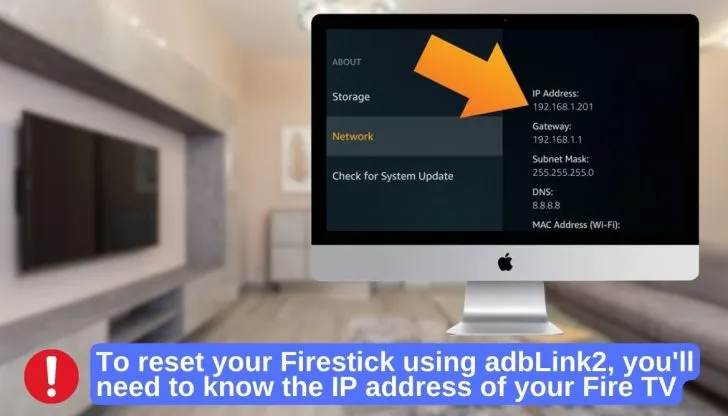 As a Fire TV stick has something similar to an Android operating system, you can control it with any computer or laptop. However, you need the IP address of your Fire TV to advance with this method.
Note: You can find the address from your Wi-Fi router. Or follow this chart: Settings > My Fire TV > About > Network.
Once you have the IP address, you can begin resetting. Here's what you have to do.
First of all, you need to download adbLink2 software from the given link above.
Once downloaded, open the application and find out the Ad Hoc IP option. Note this IP address.
Now, put the address you collected earlier and click on the Connect option.
Then, select the Keypad option to control your Amazon Firestick.
Once you have got the control, go to Home and then to the Menu.
Then, scroll and select the My Fire TV option.
At last, reset to factory defaults.
Once you have reset successfully, you can now set up your Fire TV by personal preference.
3 Easy Steps How to Set Up Fire TV Stick After a Reset
Resetting can solve many problems with your Fire TV Stick. However, you should note that you have to start everything afresh once you go for a reset. Here are some steps you need to take.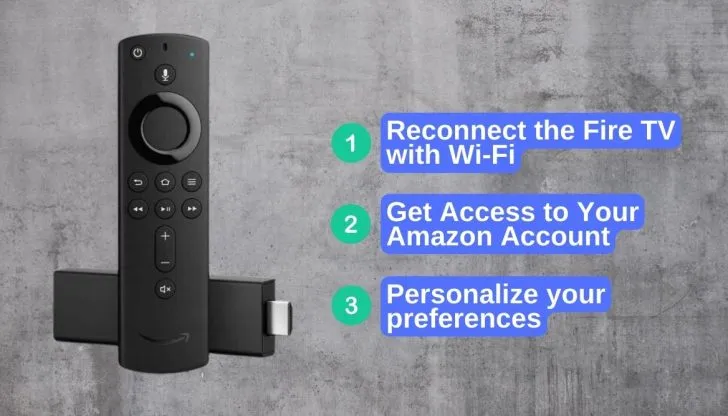 1. Reconnect with Wi-Fi
Here is how to reconnect with the Wi-Fi network:
First of all, go to the Settings Menu.
Now you have to go to Network and search for your Wi-Fi name.
Once you see the Wi-Fi name, put in your password and connect to the Internet.
If you still fail to connect, then resetting the router might be necessary.
2. Get Access to Your Amazon Account
Now you have to sign in to your Amazon account. To do so, you have to log in with the same email and password you linked before. But if you don't have a previous account linked, then sign up using your name, email, password, and other info.
3. Personalize Settings and Preferences
Now, you can personalize your preferences and change settings as desired.
You can download any preferred software and game.
If you have children, you can set up the parental control option.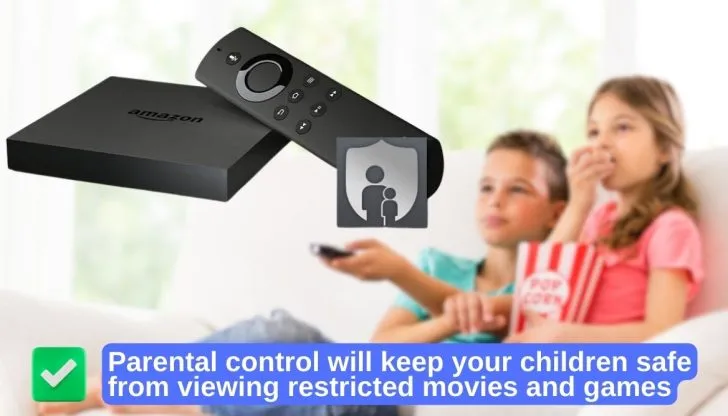 Next, you can change the audio and display settings as per your requirements.
You can also add other settings and preferences.
After you have completed these processes, bingo! Your Fire TV is ready to fire.
Frequently Asked Questions
How to Factory Reset the Firestick When Frozen?
When the Fire TV Stick is frozen, you can factory reset it using the Firestick remote. Press and hold the Right button and Back button for more than ten seconds. Then choose reset to factory defaults among two options.
Can the Amazon Fire TV Stick be Used with Any TV?
Yes, a Fire TV stick can be used with any TV with a HDMI port in it. So if your TV has an HDMI port, you can use a Fire TV stick.
How to Factory Reset the Firestick without Settings?
You can reset Firestick without settings by pressing the select and play button of the remote together for a few seconds. Then you have to select the reset option.
How to Reset the Firestick from a Phone?
To reset Firestick TV from a phone, you have to use the Amazon Fire TV app. You have to download it from the Google Play Store and pair it with the TV. Once paired, you can follow the Settings>My Fire TV>Reset.
Conclusion
So now you know how to reset the Firestick TV without the remote control. If your Fire TV is paired with smart devices, you can give it the command to reset the Fire TV. But if the TV is not paired with your smartphone, I suggest you download the Fire TV app.
If these two methods fail, then you should try for TV navigation buttons. Using another TV remote or even a USB keyboard is also a good option.
If none of the methods work, try to contact customer support. Or, you can comment below so that I can provide some easy troubleshooting ideas.