Last Updated: October 26, 2023
Do you want to know if the Starlink internet coverage map encompasses your area? Worry not here you will get your answer to this question! I recently went through the process and got the Starlink connection and know everything about this.
I will say that not everything was easy and unambiguous to realize, that's why I have compiled this informative guide, to help you understand the topic in no time! So without any delay, let's dive into it!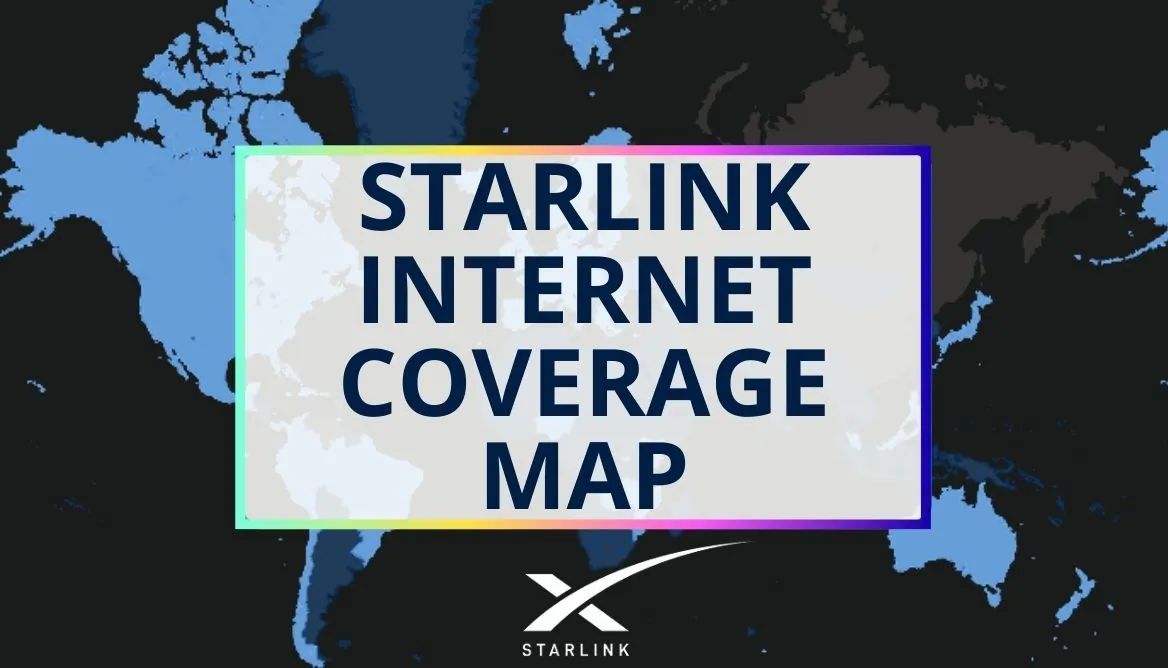 Starlink Internet Coverage Map 2023: A Quick Insight
As of October 2023, Starlink has already launched thousands of satellites into orbit to expand coverage, and it is really widening rapidly.
The company plans to have over 12,000 satellites in orbit, it currently has 4273 satellites up in the air according to Starlink internet coverage map 2023.
It offers its service in most parts of the United States, Canada, Europe, Australia, and South America.
The coverage is expected to increase substantially in the coming months, including the Central Asian countries and the Middle East.
But this is the tip of the iceberg only. Continue reading to learn whether you can avail of the service in your area now! I'll also explain the advantages and alternatives to this service and what packages you can avail of. Let's head on!
How to Know About Starlink's Availability: Is Starlink Available in My Area?
The company has a network of thousands of low-orbit satellites that promise to revolutionize internet access around the world. But is Starlink available in your area? To know this you should do the next:
Open the official site with a Starlink availability map;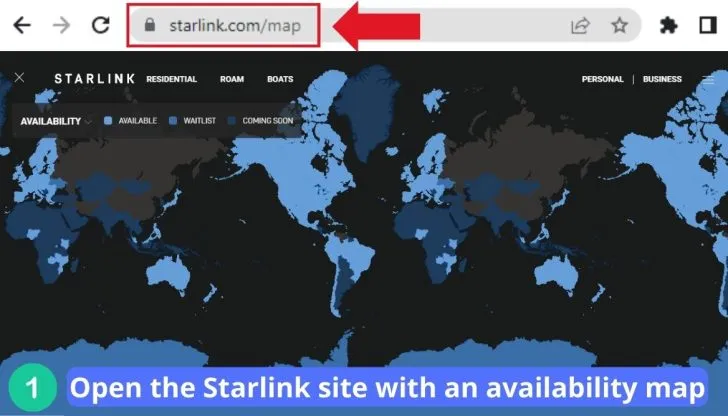 2. It will show you an interactive map;
3. Write your address to the search window "Service Adress". Google Maps and the Plus code system can help you pinpoint their exact location in just a few seconds;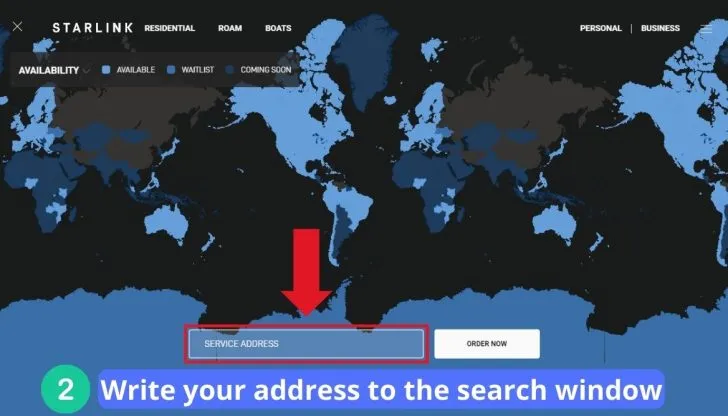 4. Select the appropriate option from the drop-down box;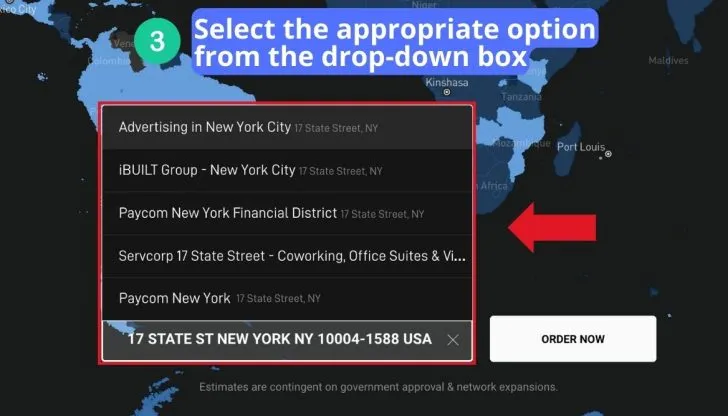 5. The current availability will display on the screen: available, waitlist, coming soon.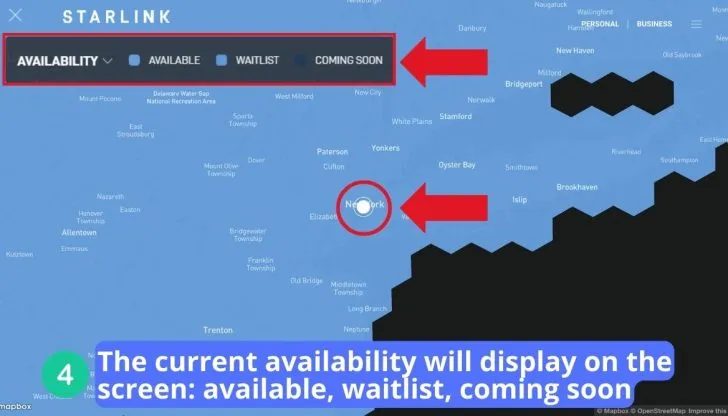 As it continues to launch more new Starlink satellites and expand its coverage, it's likely that even if your region is not currently available for connection, the situation may change in the near future.
Pro Note: When I was ordering the Starlink kit for myself, I also checked the upload and download speed from the coverage map to see if it met my needs.
But don't be in a hurry to go to Starlink's website. Let me bring you up to speed first! Trust me, it will save you a lot of time. So keep reading!
Keeping Track of Starlink Coverage Map 2023 and Updates if the Region Has a Status "Coming Soon" or "Not Available"
Here is how you can keep track of the coverage map if your region has a status "coming soon" or "not available":
Visit the website and add your address as I described in the previous section;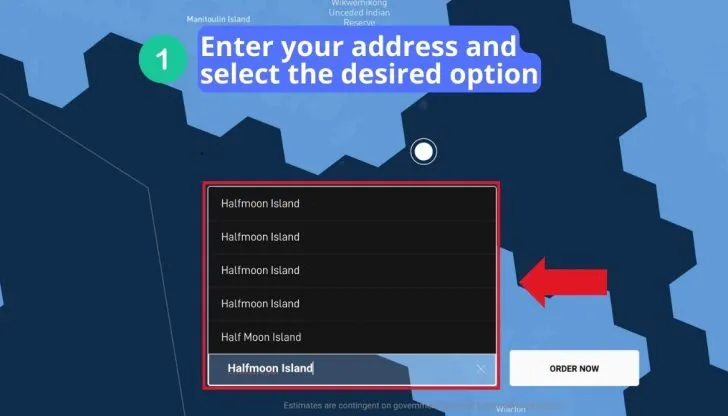 2. Press "Order Now";
3. If Starlink is expected in your area soon, the company will let you know, ask you to pay a notional amount (refundable) to reserve your spot, and fill in your personal details;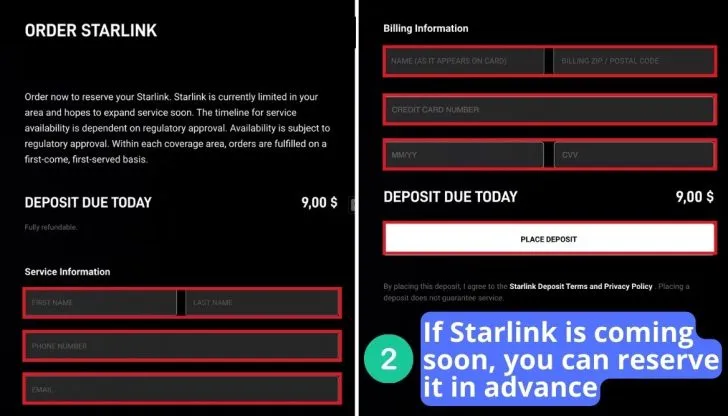 4. If Starlink internet is not yet expected in your area, the company will offer to leave a feedback email to let you know as soon as the availability status changes.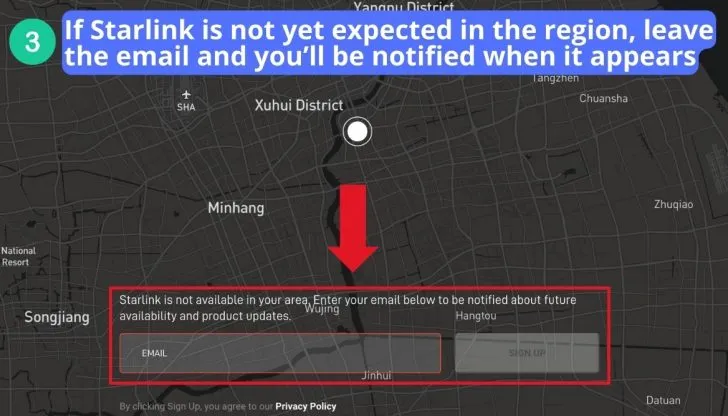 Starlink Availability Map by State
Starlink Internet is currently offering unlimited data to its customers, which is a significant advantage over traditional Internet providers. The company also promises to expand service as it launches more satellites and gains regulatory approval in more urban areas first.
Understanding Starlink's Expansion Plans
Starlink, a new satellite internet service, promises to offer faster speeds and lower latency. With Starlink network, you can expect download speeds of up to 150 Mbps (megabits per second), which the company stands by is significantly faster than other satellite internet services.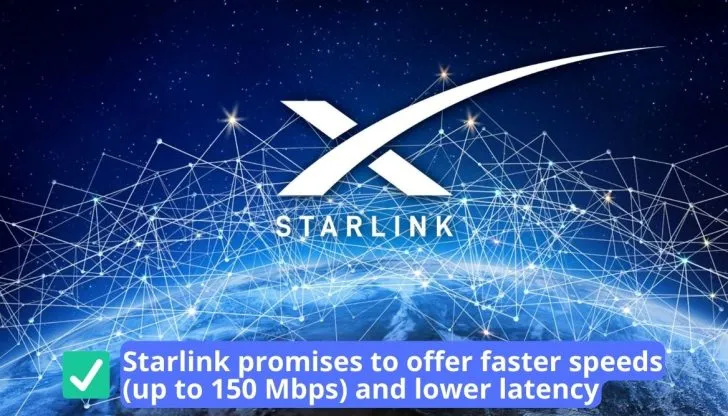 Looking Ahead: Anticipation for Starlink's Internet Coverage Map in 2023-2024
So, how can you know if your area has Starlink service? I'll now explore the Starlink availability map, which is a useful tool if you are thinking about when will Starlink be available in my area.
Let's look at the different area categories the Star map can be divided into:
| | | |
| --- | --- | --- |
| | | |
| | | Gaming, video conferencing, large file downloads, streaming |
| | | Basic browsing, video streaming, email |
| | | |
High Capacity Coverage Area
The Starlink coverage map is color-coded to show different levels of coverage.
Blue indicates high capacity coverage, which means you can expect high speed and low latency.
This is ideal for gaming, video conferencing, and large file downloads.
If your area is highlighted in blue, you can enjoy reliable and speedy internet.
Low Capacity Coverage Area
Let's see what the grey color indicates on the coverage map:
Gray indicates that the slower speeds of the network. You can change the parameters on the coverage map from availability to download or upload speed to check the maximum speed Starlink can offer.
This may be adequate for basic browsing and streaming, but may not be sufficient for more demanding online activities.
No Coverage
If your area is displayed in black, it means that there is no coverage available.
Unfortunately, you won't be able to receive Starlink internet service in this case.
But don't worry – the Starlink coverage map is constantly updated as the service expands and more regions come online.
So, if your area isn't currently covered, keep checking back periodically to see if coverage has become available.
Alternatively, you can also check for a Roam plan.
State-by-state Breakdown
Aside from the coverage map, we'll also provide you with a state-by-state breakdown of the Starlink availability map. If you're curious about the availability map in your state, here's a rundown of where Starlink is currently accessed as of the latest updates of 2023:
| | |
| --- | --- |
| | |
| | |
| | |
| | |
| | |
| | |
| | |
| | |
| | |
| | |
| | |
| | |
| | |
| | |
| | |
| | |
| | |
| | |
| | |
| | |
| | |
| | |
| | |
| | |
| | |
| | |
| | |
| | |
| | |
| | |
| | |
| | |
| | |
| | |
| | |
| | |
| | |
| | |
| | |
| | |
| | |
| | |
| | |
| | |
| | |
| | |
| | Limited Starlink Availability |
| | |
| | |
| | |
| | |
It's important to keep in mind that availability can fluctuate, and it may differ based on your location within each state. Therefore, it's advisable to verify the current status by visiting Starlink's website for the latest information.
For more details, check out this helpful video.
Additional Helpful Tips to Know Area Availability of Starlink
The availability of the internet provided by Starlink depends on several factors including:
The number of satellites present in the orbit. The more satellites are present, the better network speed will be.
The number of ground stations available. A large number of ground stations serve the users best as they are used to transmit and revive signals from satellites.
The amount of subscribers density in the specified area. In areas where the density of users is higher, speed might be affected.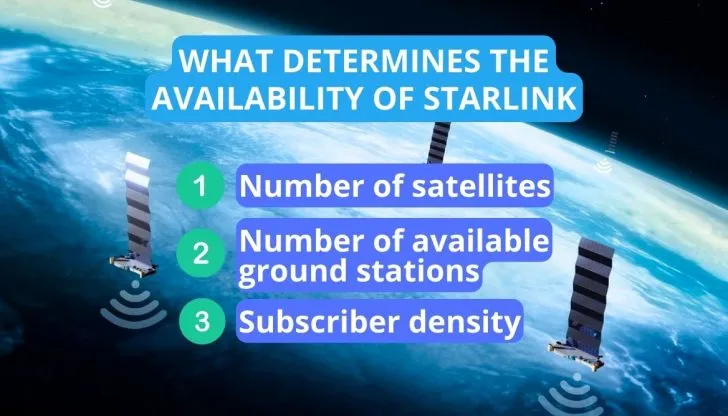 Join Process if You Have an Address
If you want to be one of the Starlink users, here is how you can check out the availability: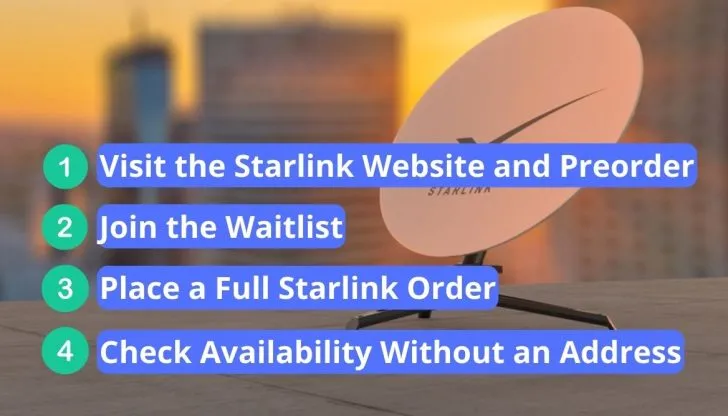 Visit the Starlink Website and Preorder: You should start by going to the official website and entering your address. If the service is available in your area, you can begin the pre-order process.
Join the Waitlist: If your area isn't covered by the service you can sign up to be notified when it becomes available. To join the waitlist, you'll be required to provide your email address and physical address.
Place a Full Starlink Order: If the service is available in your area, you can place a pre-order deposit or a full order for service, which will require payment for the equipment and service, as well as scheduling an installation date.
What to Do if You Don't Have an Address?
If you don't have a physical address or want to check for availability in a remote location, follow these guidelines:
You can utilize Plus Codes to determine if Starlink is accessible.
These Codes are a type of digital address that can be used to locate any place on Earth.
Visit the official website and enter a Code for your location.
How Also Can You Get Internet Access at This Time?
For those who frequently travel in recreational vehicles or travel through ships and are seeking internet access, the Starlink RV service and boat service might interest you.
1. Starlink Best Effort
One of the service plans provided by Starlink includes the "Best Service" plan.
This will allow you on the waiting list to gain immediate access and avoid the waiting process.
This can be a golden opportunity to leapfrog the queue.
One thing to note is that it is not something you can apply for instead, your eligibility will be checked and the company will send you an email notification.
Another option is to check via your account portal if you are qualified to avail of the Best Effort offer.
2. Starlink Roam
If you are on the move and need reliable internet frequently then Starlink is a game-changer.
Roam offer doesn't rely on the open capacity of your home address.
It will provide you with a network connection anywhere you can receive a signal.
You can check the official coverage map you help you identify areas where internet is available.
Some points to consider:
You may experience a slower speed than residential customers in the US market.
It is more expensive compared to other standard plans.
If you will be staying at one place then it might not be a good option as it can not be converted to a residential plan in full refund.
Here is a quick comparison of how these plans differ:
| | | | | | |
| --- | --- | --- | --- | --- | --- |
| | | | | | |
| | | | | | |
| | $150 (Regional) or $200 (Global) | | | Anywhere with Starlink service (Global) | |
| | | | | Fixed location with option to change once per year for free | |
3. Starlink RV Service
This service is designed to provide internet connectivity no matter where you are located, even in remote areas where traditional broadband connections or phone calls are unavailable.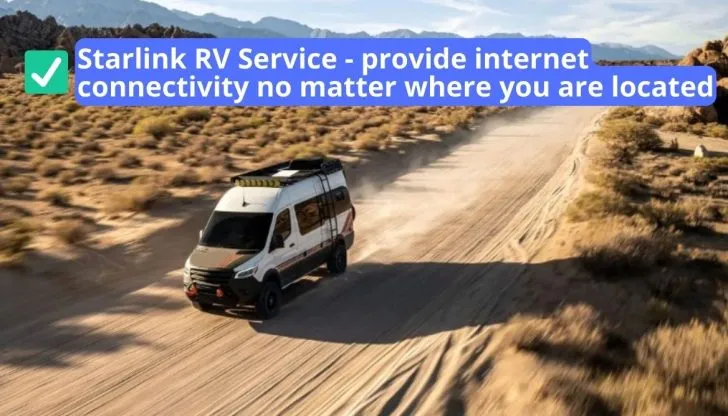 To get started with the RV service, you'll need to purchase a kit that includes a Starlink satellite service dish and all necessary equipment.
The kit alone will not be enough; a monthly subscription fee for the service will also be required.
Keep in mind that the Starlink RV service is still relatively new so availability may be limited.
To stay up-to-date, it's recommended to check their website for the latest information.
Alternatives to Starlink
Though Starlink is available, it is still a new system and is not accessible in a lot of areas. Starlink is just one of the satellite internet options present in your area.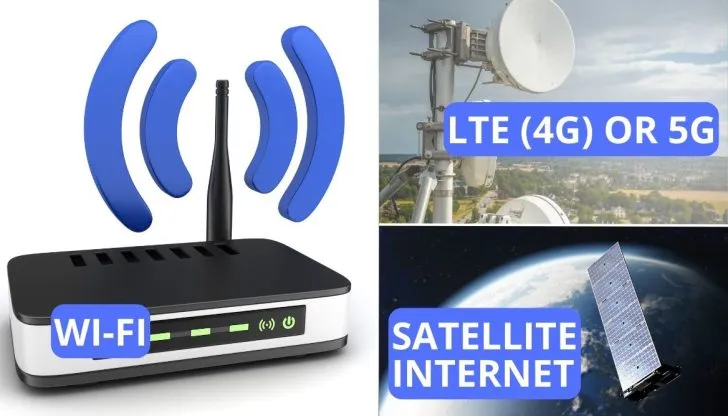 If Starlink satellites aren't currently offered in your area, it is best to monitor the coverage map for updates. As the service grows, more locations are likely to be included. In the interim, you may want to investigate alternative options for internet access, such as DSL, cable, or fixed wireless.
Here are some alternatives to Starlink:
Wi-Fi;
LTE (4G) or 5G;
Satellite internet.
FAQs
When will Starlink be available in my area?
For information on when Starlink will be available in your region, you can visit the official Starlink website. The interactive map shows in real-time all available regions, the waiting list, and those that will join soon.
Does Starlink have a coverage map?
Yes, Starlink does have a coverage map on its website which displays the areas where the service is currently available, as well as those areas where it is planned to be accessed shortly.
How long is the waitlist for Starlink?
The length of the waitlist for Starlink can differ depending on several factors, such as location and demand. It's challenging to predict how long it may take to receive an invitation to order Starlink.
How far north does Starlink cover?
Starlink covers far north and midwest and is designed to work in latitudes between 45 degrees and 53 degrees, which covers most of the United States and southern Canada. However, availability and coverage may vary within this range.
Where is Starlink coverage available?
Starlink coverage is available in Canada, the US, the UK, Germany, France, Spain, Italy, Australia, New Zealand, and other countries. You can find more info through the coverage map here.
Is there an app to check Starlink coverage?
There is an app to check Starlink coverage on a specific address. You can download it on your iPhone and Android. If you don't feel like downloading the app, you can also check the website.
Conclusion
Starlink is rapidly expanding its coverage map and revolutionizing internet access in remote areas. With its satellite technology, open capacity, and high speeds, it has the potential to improve internet connectivity for many people greatly.
If you're interested in getting Starlink internet, check the coverage map and availability for the required area, and opt for joining the waitlist or purchasing a kit for the Starlink RV service.