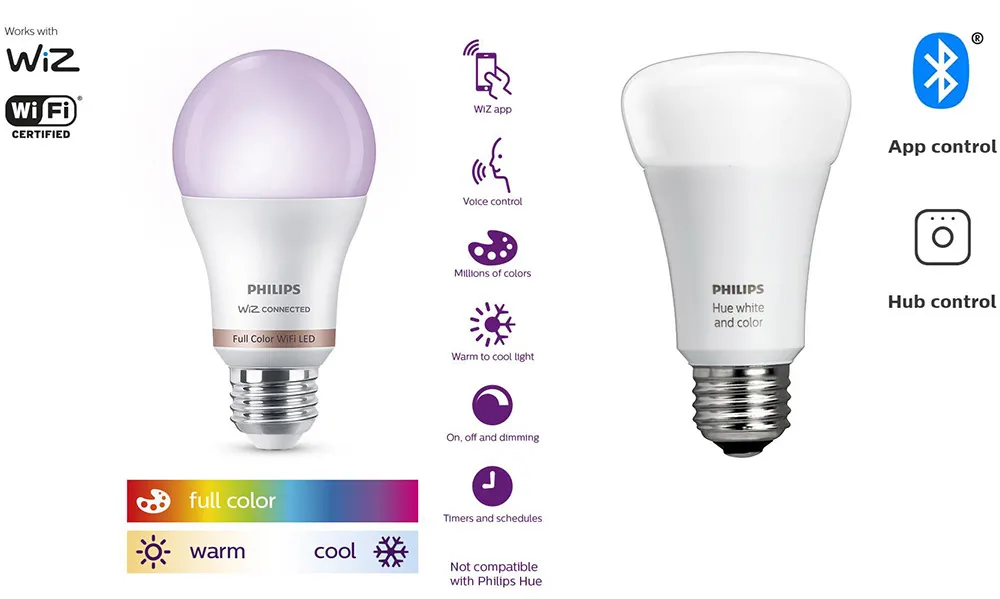 Smart home lighting has grown tremendously over the last couple of years, and so have the number of brands that are marketing their bulbs to us. For the most part, this is good news, but it does tend to create confusion among consumers in knowing what to buy. Today, we take a look at Hue and WiZ.
What is the difference between Philips hue and WiZ? WiZ uses Wi-Fi to connect to the internet, and do not require a hub or bridge. Philips Hue bulbs require a hub or Bluetooth. WiZ uses its own app and is not compatible with Philips Hue. Though Signify, who also owns Philips, bought WiZ in 2019, using a WiZ bulb would still be as if you bought lights from a different brand.
Since WiZ and Philips Hue are both owned by the same company, that raises a lot of questions. Primarily on if you can use WiZ bulbs within the Hue ecosystem. I'll try to get those questions answered in this article.
Before we get started, I just wanted to mention that I have a list of related articles at the bottom of this article. If you are interested in learning more about Philips Hue or smart bulbs, check them out.
Philips Hue and Wiz: What Is the Difference?
There were two lines of Philips smart bulbs introduced in the summer of 2019. One being Philips Hue with ZigBee, and new Bluetooth connectivity, and the other being Philips WiZ Connected. There are three big differences between the two. One is purely price, and the other two are actually technical differences.
The primary difference between Hue and WiZ is that WiZ bulbs and devices connect directly to Wi-Fi, and don't require a hub or bridge to connect to the Internet. The second difference is price. Philips WiZ Connected bulbs and other devices are targeted at entry level smart bulb users, and are therefore priced lower. Pricing isn't a technical difference, so it could change at any time. There has already been a drop in price over the years on Philips Hue bulbs.
This can be pretty confusing for people who are just looking to get the well-known Philips smart bulb. Perhaps you have done a little bit of research, or maybe a friend told you that Philips is one of the best, and you go to the store to buy yourself a few bulbs only to see all these options on the shelf. It can be hard to know which one you should buy.
Read Also: Do Philips Hue Bulbs Work with Normal Switches?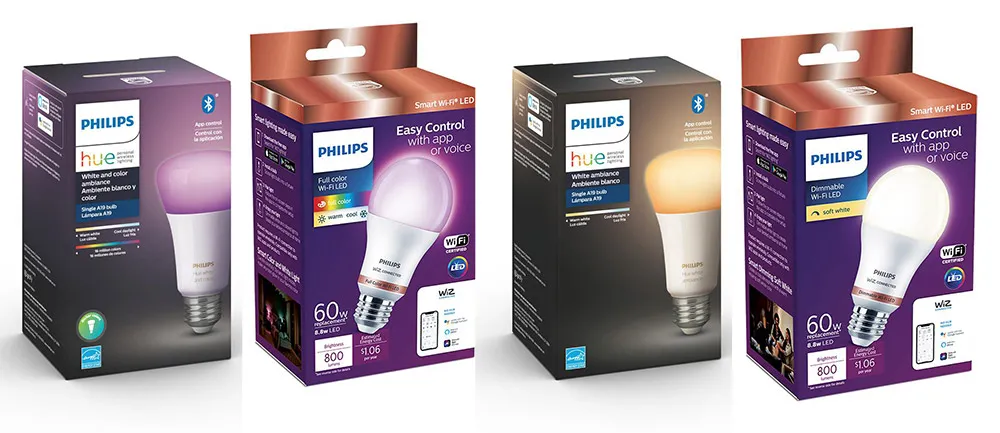 Here is an example of what the packaging looks like, so you can be prepared when you get to the store. Also, as of writing this article, The Home Depot is the only place to carry this new Philips branded WiZ Connected line-up. If you see another store with only WiZ branding on the smart bulb boxes, then you know it's an older generation of the bulb before Signify bought them. They'll still work of course, but just know you aren't getting the latest and greatest.
Let's talk about pricing for a minute. WiZ Connected bulbs are significantly cheaper than the Hue bulbs. At the time this article was written, I compared the 60W A19 White dimmable LED bulbs. WiZ Connected bulbs were $8.97, and Hue bulbs were $24.97. If you look at the same bulb type, but add in color changing, WiZ bulbs were $12.97, and Hue bulbs were $49.97.
There is certainly a mark-up when choosing Hue bulbs. It does not cost that much more for Philips to get these manufactured. Part of the price increase is paying for the name-brand, but a major part is paying for something that works with the Hue ecosystem. Falling outside of the HUE ecosystem makes WiZ bulbs much less attractive.
This last difference could quiet possibly be the biggest differences if you are already a Philips Hue user. This generation of Philips WiZ Connected bulbs are pretty much a rebranding of the older WiZ bulbs, before they were bought by Signify. That means they won't work with the existing HUE ecosystem or the Hue app, and require the entirely separate WiZ app to set them up and use them.
So why would someone buy WiZ connected over Hue? Wi-Fi connectivity is a huge advantage over the Philips HUE line. Hue bulbs either require a bridge, or a Bluetooth connection. The bridge is just extra equipment that is unnecessary if you are not a heavy smart home device user. Also, Bluetooth requires you to be relatively close to the device, meaning you have no control over the devices while you aren't at home.
Just about everyone that is looking to buy a smart bulb has a Wi-Fi router at home. If you are in the market for a new router, click here to check out my article on the best Wi-Fi routers for your home. This means the bulbs are pretty much plug and play. Just plug them in, run through a quick setup in the app, and you're good to go. The downside to using Wi-Fi becomes apparent when you start to have to many devices connected. Wi-Fi 6 helps to solve that problem, but most people don't have this new technology yet, so too many devices connected to your router can possibly slow it down to a point where it is not usable. The solution is to use a ZigBee or Z-Wave device, such as Philips Hue.
WiZ App compared to the Philips Hue App
The WiZ app and Philips Hue app are completely separate from each other. Here are a few things to take note of.
The Wiz app supports Alexa, Google Assistant, SmartThings, IFTTT, and a few others. Notice the big missing one? Apple HomeKit.
You can still use Siri Shortcuts to control these bulbs through Apple's Shortcuts app. The Shortcut's app allows for apps to be controlled in certain ways with custom Siri commands. You can't do as much as you can with HomeKit, but it covers the basics.
One of the best things about Hue isn't even the bulbs or the color changing options, but rather, the platform their built around. The strength of the Hue ecosystem is their world-leading, best-in-class platform, which works with just about everything, including HomeKit, and comes packed with useful features.
Even though WiZ was acquired some time ago, the app still has not been rebranded. This leads me to believe that Philips recognized that there are problems with the app, and don't want it associated with their brand. I suspect the problems will be worked out by the next generation of WiZ bulbs, and then everything will be re-branded.
What problems am I talking about? It seems that several users have problems setting these bulbs up initially. The problems seem to stem around getting connected to the bulb through WI-Fi on your phone. The app just can't find the bulb. Users that contacted support seem unsatisfied with the help they received.
Solutions I've read about including going into your phones Wi-Fi menu and manually choosing the bulb before continuing the setup process. Or changing the channel that your Wi-Fi is set too. These are things that shouldn't matter, and things that the app or bulb should be able to handle in the background.
Here are links to download the apps.
Hue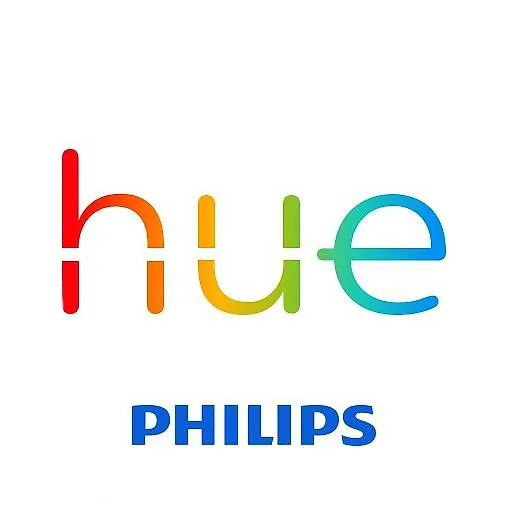 Android: https://play.google.com/store/apps/details?id=com.philips.lighting.hue2&hl=en_US&gl=US
Apple: https://apps.apple.com/us/app/philips-hue/id1055281310
WiZ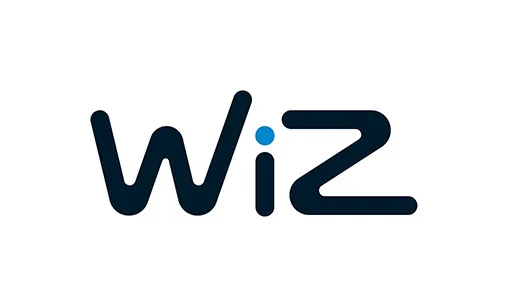 Android: https://play.google.com/store/apps/details?id=com.tao.wiz
Apple: https://apps.apple.com/us/app/wiz-connected/id1497247770
Which one is better, Philips Hue or WiZ?
I hope that discussing the differences between the Philips Hue and the WiZ line up of devices has helped you determine which one is better for you. Here is my opinion on the matter.
Which one is better, Philips Hue or WiZ? WiZ is the best option if you are just entering the smart bulb market or want to use Wi-Fi to connect the bulbs. Philips Hue is the best overall options, as it has the most variety of devices, is integrated via the Hue App with industry leading home automation services, and can have many deivces connected without disrupting your Wi-Fi network.
Does Philips own WiZ? Does Philips own Signify?
It can be confusing who owns whom, and who bought who, so let's get that straightened out. We'll start by first looking at Philips, then Wiz, and kinda getting a company history as we go along.
Philips has a long history, dating back to the 1800's. Philips was started by the Philips family, and run by one of the two Philips brothers until 1939. Philips started their business by selling light bulbs. They added more and more consumer products over time. More recently, Philips shifted their focus from consumer electronics to health care. With the shift, they decided to spin off the lighting segment. Their intention was announced in 2014, and in 2016 it was completed. The result was Philips being split into two companies; Philips Lighting and Royal Philips.
Does Philips own Signify? Philips Lighting was renamed as Signify in 2018. They continue to produce Philips brand products, as agreed to in a licensing agreement with Royal Philips. Philips Lighting, now Signify, was split off from the Royal Philips company in 2016.
In Philips Lighting's annual meeting notes from 2018, they state:
"On March 16, 2018, the company announced its intention to change its name from Philips Lighting to Signify. The choice of the new company name originates from the fact that light has become an intelligent language, which connects and conveys meaning.

The company will continue to use the Philips brand, the most trusted lighting brand in the world, under the existing licensing agreement with Koninklijke Philips N.V. ("Royal Philips").

Philips 2018 AGM
The story with Wiz a not as complicated.
WiZ was founded in 2015, and their first products were sold in 2017. They continued to grow until they were acquired by Signify.
Does Philips own WiZ? Signify, previously known as Philips Lighting, bought WiZ Connected in 2019 for an undisclosed amount. Signify purchased WiZ as an attempt to grow into Wi-Fi-based lighting and compliment their Philips Hue brand.
Eric Rondolat, Signify CEO, had his to say:
We are very pleased to join forces with the teams of WiZ Connected who have developed a great technology platform enabling us to address a larger customer base in the growing market of Wi-Fi-based lighting. It perfectly complements Signify's existing offers and will help us to continue to deliver an experience rich in light and intuitive in use for our customers."

Eric Rondolat, CEO of Signify.
Related Articles
I have a lot more articles about smart bulbs and Philips Hue if you are interested in learning about some slightly different topics.