Starlink RV vs Residential, which is better to choose? Each Starlink satellite internet package is an innovative solution for a high-speed, stable, and reliable connection. But both have advantages and disadvantages.
Let's find out the details!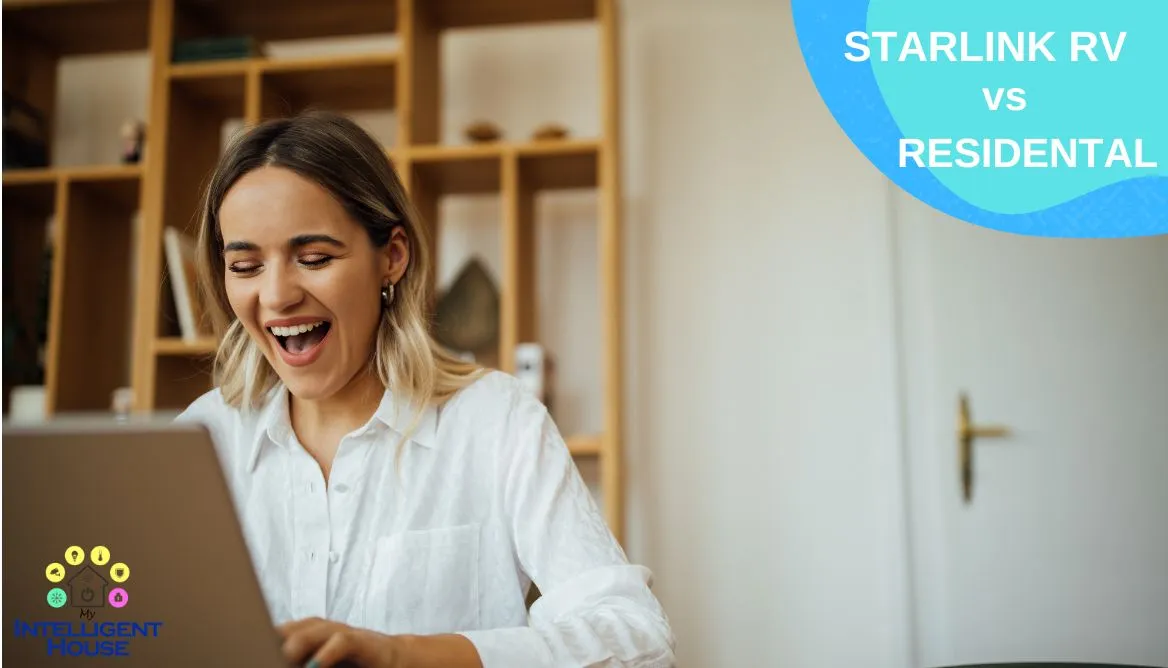 Quick Answer
Starlink Residential is a high-end internet service for users who prefer using the internet within the boundaries of their homes. Or, they have multiple residences that may share the same connection. Users have the uninterrupted advantage of getting priority high speeds and expanded data caps. They do not face any congestion during peak hours too.
Starlink RV is for those who love to travel around the world and like to carry a reliable internet connection with them. Whether you are a working professional or someone who is out touring then Starlink RV is best suitable for you.
Although you need to wait on the waiting list to get this service. It is worth the wait! Portability and reliability are guaranteed but you may face low-priority internet service during congested hours.
Keep on reading to get a detailed in-insight regarding the equipment, connectivity, installation process, prices, data caps, performance, and other advantages.
Specifications
$135 per month

(pay only for 1 month at a time)

$599.99 inc. Dish and Router

$599.9 inc. Dish and Router

There is a waitlist and every area is unique according to priority. First come first serve policy implemented.

Confirm purchases of dishes are given priority.

Easy to DIY with online professional chat support and guidelines available.

No (only professional monitoring)

Slower internet speed once users have exceeded the 250GB data per month limit.

Slower internet speed once users have exceeded the 250GB data per month limit.
How Does Starlink Work
Setting up a Starlink connection is super easy and a DIY installation can be easily done. Starlink is connected via a portable satellite dish that is known as "dishy." To make use of Starlink, you will have to physically install the dishy on the roof of your service address or at the top of your RV.
A stand or additional accessories are included in the packaging to easily mount the dishy. Ensure that the dishy has a clear view of the sky to get maximum reception of signals.
Once the dishy is set up, you need to connect it to the router and configure the rest of the settings. A 75-foot cable included in the box allows you to connect the router and the Starlink dish easily.
The Starlink dish starts moving and points itself in the most ideal direction to catch signals once you have connected everything. You get connected to the internet in minutes.
Note: Check the power source and power requirements of the router as it requires 110 volts. Some countries may have different types of power outlets/sockets that may require power converters.
Starlink Residential vs. Starlink RV: What's The Difference?
Starlink residential and Starlink RV have the same hardware but they differ in various aspects such as speed, restrictions, pausing methods, monthly/ Starlink year-round subscriptions, and waiting lists.
To have a much better understanding, let's do a detailed analysis of the Starlink plans. Read below!
Hardware
In terms of equipment, both Starlink Residential and Starlink RV kits have the same contents in the box consisting of a satellite dish, base/mount, cable, and router.
But the main difference is the availability of accessories. The biggest problem is for RV owners as Starlink does not manufacture any type of mounts or stands for an RV. Also, there are no additional accessories added to the kit for an RV. And you may have to find a DC power supply from an aftermarket supplier.
Equipment
The standard equipment included in both the Starlink residential and Starlink RV kit is the same consisting of a router, base, and dish. And the price is also the same if you opt for the residential service or the RV plan, which is $599.99.
Pricing
The monthly subscription fee for Starlink residential is $110 and $135 is the RV cost. You need to pay an upfront amount of 9.99 for the Starlink kit consisting of the satellite Starlink dish and a wi-fi router. This price is the same for the Starlink and Starlink RV.
The stand for the residential version is included in the packaging. Shipping charges vary depending on your location.
It is better to find out the charges and get an official quote beforehand by simply typing in your prioritized service address on the official website.
Performance
Starlink residential users have an advantage over Starlink RV users in terms of bandwidth priority when they are using the internet in their residences. During peak hours, RV users will face inconsistent service, high latency, and slower speeds.
Although, the residential users who make use of the portability feature will have similar internet performance to Starlink RV. The portability feature also faces de-prioritization during heavy traffic hours.
Performance Specs:
Residential users get the advantage of getting 1TB of priority access data every month which provides users with higher internet speeds. This can be availed once a month by a single user. But, once you go over the 1TB data usage then the speed is adjusted as Basic Data that will be slow during congestion hours.
Data Caps for Service Address
Starlink residential and Starlink RV greatly differ from other services in terms of data caps and internet speed. They both have no data caps and offer fantastic internet speeds.
If your data consumption is less than 250GB per month then you can enjoy excellent internet speed. But, if you exceed the limit, you might experience deprioritized service during peak hours.
The company has plans to expand its facilities even further so that all users can avail of maximum speed and unlimited data downloads.
Availability
Starlink and Starlink RV both are available easily across North America. You can order Starlink on the official Starlink website.
Starlink or Starlink residence has a waiting list in comparison the Starlink RV is an instant subscription plan that will require less formfilling and registration processes.
1. Waitlist
As the demand is high, and the number of satellites so far can only accommodate a certain number of Starlink users. Residential Starlink service is limited. The service area is slowly expanding and if you order the Starlink Residential then you may be added to the waitlist until your Starlink kit arrives.
In comparison, this is not the scene with Starlink RV. If you order the RV kit then you will skip the waitlist and you are eligible to order immediately. RV users do not have a registered service address so you can receive your hardware kit anywhere.
2. Restrictions
Starlink covers a large area but it will only be functional on the continent that you are registered e.g. if you have ordered Starlink in the US then it won't be functional if you travel to Asia. Also, this is applicable for both Starlink Residential and Starlink RV.
The RV plan is a little complicated in terms of usage. If you have ordered the RV plan in a certain country and are out of that country for more than 2 months while touring, you may have to re-register it to your new location.
Compared to the RV plan, the residential plan also has similar limitations. If you are using the internet services at another residence for more than 2 months then you will have to update the prioritized service address for the payment process.
Note: Starlink promises peak performance for the primary location. And if your stay at the secondary location longer, you may notice the slower performance of your internet service.
Features
Having a stable internet connection while you travel is a blessing and being able to access it anywhere around the globe is truly a fantastic advantage. The residential plan of Starlink and the RV plan both offer various advantages to the clients. But what additional features do these both have?
1. Pausing Service
In comparison to the residential plan, the main advantage of the Starlink RV is that you can pause service at any time and the payment plan is every month. If you do not frequently use it and want to use it during travel or a particular occasion then Starlink RV is best for you.
But with residential, you cannot pause the services instead you will have a Starlink year-round plan.
2. Transfer Service
The biggest advantage for residential users is that they can transfer the hardware to another person without any complicated process. You can easily purchase a used router, dish, or other equipment at a low price and transfer it to your name.
In comparison, Starlink RV cannot be transferred so easily. Once you have purchased it then you are the only sole owner of it. And you have to pay the full price of the equipment and internet plan.
Starlink Residential Service vs Starlink RV: 7 Must-Know Facts
Some amazing facts regarding Starlink residence and Starlink RV are as follows:
Starlink allows users to access high-speed internet anywhere in the world using a dish and router.
Starlink is an innovative service provided by SpaceX.
SpaceX orbital rockets are reusable and Starlink is the only internet provider that uses them.
60 satellites can be carried on a single Falcon 9 rocket into space.
There is a waitlist if you order Starlink.
Starlink RV is an internet service plan that gives access to the internet while you travel.
To save money, you can pause Starlink RV service at any time.
Which Starlink should I order?
Ordering a specific Starlink package solely depends on your use and how you are using it. Both Starlink RV and Starlink Residential are suited for specific needs. Read below to understand more about them!
Get Starlink Residential if:
You want a yearly subscription to Starlink.
Choose Starlink if you have multiple devices to connect and require high-speed internet.
If you rarely travel anywhere out of the city or country.
Your main use of the internet is at your prioritized service address (primary address).
Get Starlink RV if:
You need a quick and portable option for satellite internet service.
You want to get internet access as soon as possible and avoid the waitlist.
You want easy monthly payments and the ability to pause them whenever needed.
Performance and consistency are not your priority but mobile internet capability is.
You do not use the internet the whole year and require it only when needed.
You want a hassle-free subscription process that does not require providing residential addresses (shipping addresses) and other lengthy details.
FAQ
What is the difference between Starlink RV and Starlink home?
Starlink RV is for people who travel a lot and Stalink residential is a higher-bandwidth connection best suited for your prioritized service address.
Can you use Starlink RV for residential?
Yes, it can be used in your residence. Keep in mind that your residence is located on the same continent where you have subscribed to the service from and your area has Starlink service.
Is Starlink RV slower than residential?
Yes, in terms of total bandwidth Starlink residential is faster. Starlink RV is not a prioritized connection so during network congestion it may face slower speeds.
Is Starlink RV worth it?
It is worth every penny! It is a cost-effective monthly subscription that offers unlimited downloading.
Conclusion
Be it Starlink RV or Residential service, both have their benefits but which to choose depends on your needs. If you are a traveler, Starlink RV is best suited for you. And if you are a stay-at-home person then Starlink residence is the best choice for you.
Which Starlink internet plan more suits you? What features did you find attractive? Let us know in the comments!