The Apple Pencil had a great success, adding precision and convenience to those users who want to use their iPad for drawing, graphic design, or as a very expensive laptop.
It's been clear that the pencil definitely needs an update. Let's figure out why. The current model debuted back in November 2018, while its previous model appeared in November 2015. So, when we should expect a new Apple Pencil?
In this article, we're compiling rumors related to the third-generation Apple Pencil to see what we can expect and what potentially this device can hold.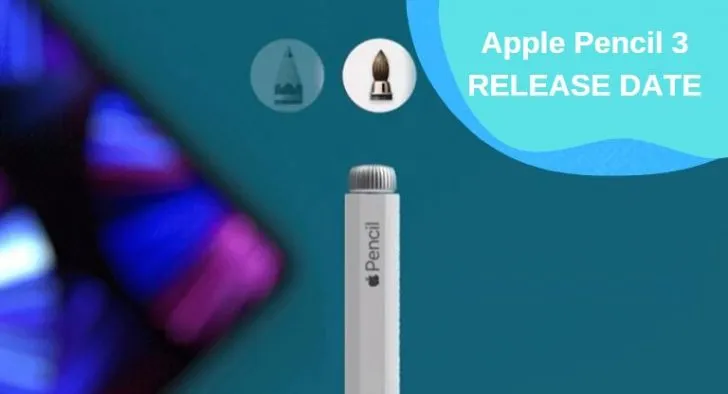 Related Article: AirPods Pro 3: Release date
Last News and Rumors about Apple Pencil 3
It looks like Apple is ready to take its digital writing tool to the next level. According to Patently Apple, the company recently filed US Patent 20220413636 A1 with the US Patent and Trademark Office for an optical sensor to be used with the next-generation Apple Pencil. The sensor will allow a pencil to copy the texture and color of the object's finish. It will also be able to wirelessly send this data to a laptop so it can be used with a drawing program.
Apple's patent application describes an Apple Pencil able to "sample" textures and colors of other items
According to the patent application, the pencil will contain a light sensor and a light emitter that will help the device "sample" the color and texture of the finish. Yanko Design has created several renders showing what the new Apple Pencil will look like with optical sensors included in the design of the new digital stylus.
Apple has filed or received a patent for other ideas and innovations related to the new Apple Pencil. In 2021, it received a patent for an Apple Pencil with interchangeable nibs. A pen can be substituted to replace a shabby one, or it can be modified to change the its capabilities based on "color, shape, thickness, size, brightness, or opacity". While you can currently replace a used tip, this does not add any extra functionality to the accessory.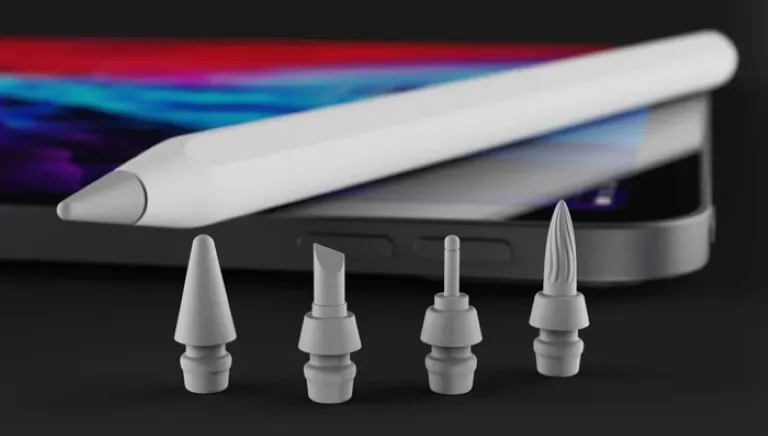 Apple Pencil 3 Release Date
We know that the first-generation Apple Pencil was introduced on November 11, 2015, whereas the second-generation Apple Pencil came out three years later on November 7, 2018. Apple hasn't confirmed anything about the third generation of its Pencil yet, but we're seeing new patent applications coming up. Therefore, we can expect the next Apple Pencil 3 release date to be as early as September 2023, at Apple's annual product launch. Come to think of it, this is the perfect time to introduce a new digital stylus.
Sale
Apple Pencil (2nd Generation)
With imperceptible lag, pixel-perfect precision, and tilt and pressure sensitivity, it transforms into your favorite creative instrument, your paint brush, your charcoal, or your pencil. It makes painting, sketching, doodling, and even note-taking better than ever.
What's the Price of Apple Pencil 3?
When the first-gen model came out, it cost $99. This was followed by a price rise for the second-generation model, which debuted at $129. Depending on some of the technology mentioned above, the third-generation Apple Pencil could very well push that amount even higher. The inclusion of touch pads and displays won't be cheap, so we won't be surprised to see a figure of $159 or more.
Check out video about Apple Pencil 3rd Generation release clues:
What Are the New Features Expected in a New Model?
Unquestionably, you want to know what new features the new Pencil will offer and whether the design will change. Nonetheless, Apple Pencil-related leaks are in deficit, they are all far between.
Apple Pencil 3 Design
One of the main rumors is that the Apple Pencil 3 will have black and gold colours. The main source of these speculations seems to come from a tweet by the mysterious user Mr.White who posts various Apple-related images.
Sometime later, the same Mr.White tweeted this photo of what is claimed to be the third-generation Apple Pencil.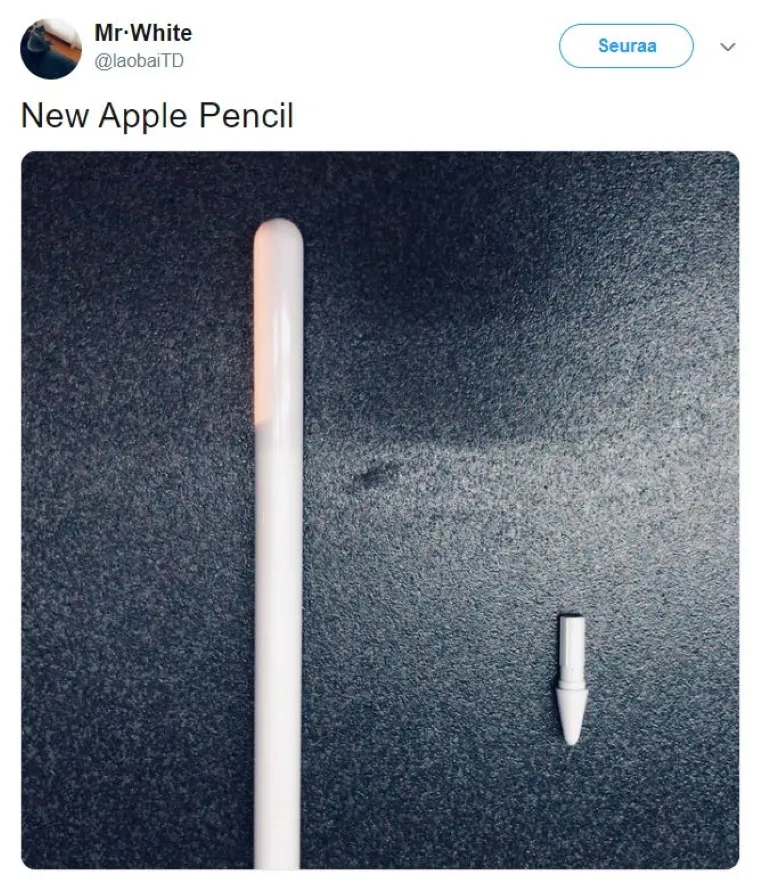 According to the image above, the new Apple Pencil will have a glossy finish rather than a matte one.
A short clip has been posted on Twitter claiming to be showing off the new Apple Pencil, and it also looks like it has a luster surface like the first generation Apple Pencil. However, one side of the pencil was flat like in the second generation Pencil.
New Apple Pencil Features
We can also get a glimpse of some of the new features that could be coming by analyzing Apple's patents. The company has a number of interesting patents related to the Apple Pencil, and some of these new features may well appear in the third-generation model.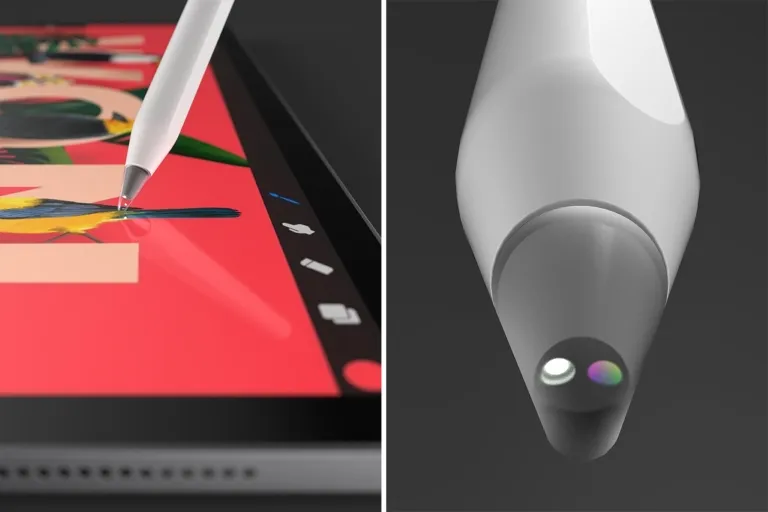 Of course, all of this must be conditioned by the fact that Apple applies for and receives a bunch of patents, but many of them never make it to the final product.
AR/VR features. We've seen in the past that Apple patented the concept of a pencil to essentially write in the air. While this might seem like a rather strange idea, when combined with virtual or augmented reality software, it could be an exciting new way to interact with digital images and data.
Color copying. A patent filed by Apple in 2020 describes how a pen tip can be used to copy colors using a color sensor. The pen tip, seen in an allegedly leaked image of the 3rd generation Apple Pencil, could indicate that the feature is coming.
Touch Bar. One of the most enticing innovations is the touch display on the side of the stylus. Now, in the diagram posted on the Patently Apple website, the windows appear to be quite small, but it is possible that they may have some contextual parameters that provide additional device functionality. The image also shows some of the Force Touch capabilities that you can use to re-add functionality to Pencil.
Zooming Features. There are also additional patents demonstrating a new pencil that can detect orientation and motion, with the pivot movement acting as a command trigger. This seems to suggest the Pencil's built-in zoom control, which will be of great interest to artists who want to work in fine detail and then zoom out to see the larger picture.
Haptic feedback. It is another feature that may be coming to the new model as reported in another patent, which refers to a pencil that will vibrate in response to input from an iPad or iPhone, creating a sensation that the user writes on paper or other textures. It's not clear yet if this would be that helpful, but it could make the drawing experience or writing one more authentic for those who prefer realistic non-technological materials.
What do Users expect?
Below is a list of what users expect from the new pencil
Instead of double tapping to erase, it would be great if you could flip it over like a regular eraser pencil. Save the double tap for "undo" and add either a gesture or a button to go back to the last used color.
More sensitivity levels.
Ability to scroll and control like a mouse.
Ability to control iPad just like Wii.
It requires a brush/pen rotation
Ability to use the pencil with Procreate or other drawing software.
Last Words
Surely, we can't expect Apple to release all of these features in one 3rd gen. Otherwise, it would be a bit overwhelming since it's just a pencil and not a separate Apple device.
All those features mentioned above are still being processed and it might take years to successfully implement them in future generations of Apple Pencils. Plus, they can't be contained in one model.
Having that said, it'd also make the new Pencil ridiculously overpriced, which is something that Apple will never accept, so they'll just have to stick with one or a few new features. Then, we can await the price of the new Pencil more reasonable.
FAQ
When is the release of Apple Pencil 3 in 2023?
The new Apple Pencil may launch in 2023 for $159. If we see a new Apple Pencil, it will happen at the same time as the 2023 iPad Pro release.
What was the release date of Apple Pencil 2?
Apple Pencil 2 was announced on October 30, 2018, and the release date was on November 7, 2018. The price of the Apple digital stylus at the time of release was $99.
What was the release date of Apple Pencil 1?
On November 11, 2015, Apple released the Apple Pencil, its first stylus designed to work with the original iPad Pro.
Related Article: Apple TV 4k 4th Generation: Release date