To have a Starlink Internet connection isn't something new, even in countries that are far away from North America. The company produces the current Starlink Mesh Router, with a Rectangular Dish to utilize and set up a mesh network. But don't worry, you won't need to ask your tech mate or call for IT service to adjust it at home. Here, we'll instruct you on what this mesh network is and how it works. Have a look below in the next paragraphs.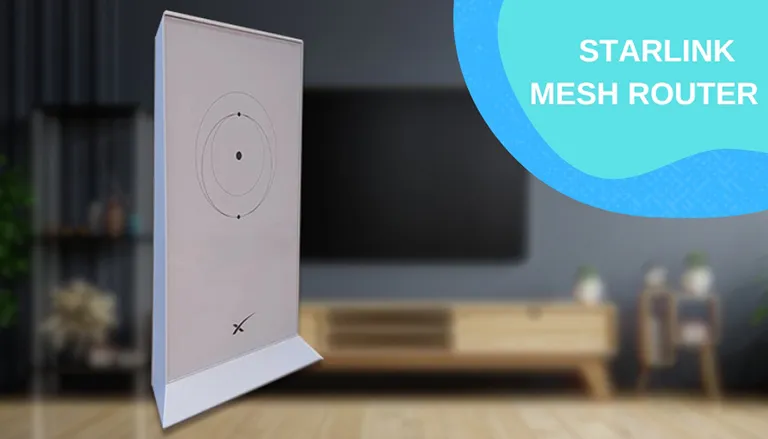 Quick Summary
First of all, Starlink customers wanted an upgrade in Wi-Fi coverage without the use of WiFi extenders. So, the company's developers provided a wireless connection by implementing the mesh network. It states for multiple access point modes that are able to provide great connection within a large area.
To make it simple: you have a 3000-4000 sq ft house full of furniture and thick walls, and only one Starlink router. (It's understandable that no one wants to have a few different ones or WiFi extenders.) You are faced with dead spots at home where no WiFi coverage is found. Starlink Mesh Nodes were invented to ease and expand the Wi-Fi signal strength of the Starlink router.
Second of all, no one wants to deal with installing complications that may arise after reading 100 pages of instruction for use. Knowing that the developers made it straightforward. To make mesh nodes work, just connect them to an AC power supply. You'll feel the difference when you walk around the house and will have a good Wi-Fi signal everywhere. So, the signal will pass from one mesh node to another and then back to the main router. That's pretty much it.
So, you still didn't get informed enough? Ok, let's get a deep look at what this system can propose to us. More information is below.
Starlink Mesh Nodes: Worth It
How Much It Costs
The Starlink Mesh Nodes work as same as other mesh nodes which were released on the market before. It's been more than half of the year since it was launched (June 2022) and the price is still the same 130$.
What's the Range of Starlink Router?
A regular Starlink router will cover up to a 2000 sq ft area and with the additional mesh node, you actually get a 4000 sq ft area connected to a good Wi-Fi signal. If you get two nodes, it's enough to cover a 6000 sq ft building which is perfect for office places. Official Starlink mesh nodes basically solve a slow speed issue of wireless Internet connection. Plus, you don't have to use multiple routers placed at different spots in your house to get access points.
What's the Wi-Fi Version of Starlink Router?
Starlink mesh nodes sadly don't have Wi-Fi 6 support. Starlink mesh product runs Wi-Fi 5 which is not the newest version and is found on any other third-party router.
Read Also: The 7 Best Wi-Fi Routers For Your Smart Home
The Router's Compatibility
Starlink system of mesh networks is a dual-band mesh access point that is compatible with Starlink Terminal. You can link up to 128 devices to one mesh node, not expecting a latency of your network or any other issues.
The Connectivity with a Rectangular Dish
The mesh node can be linked only to the Rectangular Dish and doesn't support the connection with the original Round Dish.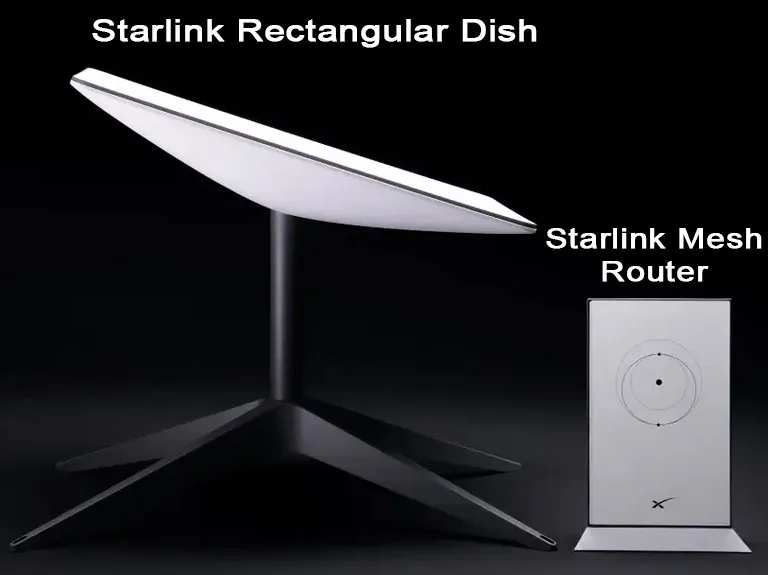 The mesh system has an Ethernet adapter input to connect the dish. All you need to do is link the Starlink Ethernet adapter to the mesh node.
The Settings
The settings are understandable and easy. There's no need to set up the Starlink router to keep the device working. The mesh networking will start operating when you simply plug the mesh node into power and connect it through the Starlink app.
So, how to properly set it up? Let's read it in the following chapter.
Set Up Starlink Mesh Network
Let's pair up the Starlink router with a mesh node:
Step 1. Plug the mesh node into the electrical power.
Step 2. Open the Starlink app and check the mesh node recognition.
Step 3. The "Pair New Mesh Node" will appear. Tap "Pair".
Step 4. On the Network settings tab, you'll see the mesh node.
Step 5. In order to connect all mesh node units, repeat the steps above.

It would've never been as easy as it's with Starlink:
make sure that you have a Rectangular Dish since it's the only one which is compatible with the mesh nodes. We tried to connect it with a Round Dish and we failed;
the space between the Starlink router and the mesh node should be around one-two rooms. It will provide the best-covered spots for the access points;
avoid placing it next to the walls and massive furniture;
change its position if you keep any other wirelessly communicating devices near (like mobile phones, GPS, other Wi-Fi devices, and satellite internet service).
before you start, make sure that your primary Starlink router (from the Starlink kit) is connected to the Starlink app.
Can You Connect the Starlink Ethernet Adapter to the Mesh Nodes?
You can connect the Starlink ethernet adapter to the mesh nodes since they have a corresponding ethernet port.
This opportunity will give you a chance to place a mesh node on the table of your personal computer and enjoy a wired connection.
Moreover, your main router can be placed at your convenience (but remember to keep a distance of about one-two rooms with mesh nodes).
Downsides of the Starlink Mesh Node
As with any device that comes to ease our life, the mesh node has some disadvantages. Some software featured are not available with this mesh network compared to the 3rd party one:
There's no possibility to see usage statistics for the gadget.
You can't set up bandwidth limitations for the device.
No Wi-Fi 6 support.
You can't configure traffic priority for the device.
There's no tri-band support. It's a dual-band gadget: one is a 2.4 GHz channel, and two is a 5 GHz channel. The desired 5 GHz band for node-to-node transmission would've allowed the fastening of network operating.
In Case of Troubleshooting…
So, in case you have some troubleshooting issues, please perform these steps:
Restart the mesh system. Disconnect the power cable and plug it in again in 10-30 seconds. Pair up the mesh node through the app.
Check the connection between the primary Starlink router and the Starlink app. They must be linked.
Allow the updates to be installed. Update the version of the Starlink app since it can cause complications in the mesh network.
If the previous steps didn't help, delete and download again the Starlink app. In this case, you'll clear your phone of all the files and unwanted bugs.
Frequently Asked Questions
Does Starlink work with the mesh router?
Yes, it does. You can link Starlink service with a mesh network. Since it works with the new Rectangular Dishes, you will need to use an Ethernet Adapter to do so.
Can I use another router with Starlink?
You can absolutely use your own router with Starlink Internet service. However, there are some limitations. First is that you can't see any of the Starlink dish connection info. Second, Starlink currently does not officially support IPv6 or offer Static IP addresses for residential service. Starlink Business offers a fully usable public IP address.
How good is the Starlink WiFi router?
Starlink router is good. It has great wireless coverage, it's perfect to have it at a regular small home. Starlink router was efficient while under heavy network loads. The router performed well while streaming shows, listening to music, and playing games.
Is Starlink mesh nodes worth buying in 2023?
Starlink mesh nodes allow for better performance and less network congestion. Sometimes, Starlink mesh Wi-Fi can allow for faster speeds, better reliability, and greater wireless coverage of your large house than a conventional router would.
How to use your own router with Starlink?
To use your own Wi-Fi router with Starlink, you need to enable bridge mode from the Starlink app. With it, connect the Ethernet cable to the WAN port of your router. Right now with the new Rectangular Dishes, you have to use an ethernet adapter to connect the router to the dish.
What is a mesh network?
It is a group of connectivity devices, such as Wi-Fi routers that act as a single network, so there are multiple nodes of connectivity in your house without dead spots instead of just a single router.
Read Also: Starlink RV vs Residential Packages
Final Words
The Starlink Mesh Node is a useful device to expand your Starlink Wi-Fi coverage in case you have dead spots in your large house or office. It is easy to use and connect and doesn't require extra tech knowledge.
If you need a wired connection, the Rectangular Dish can be connected in to the mesh node through an ethernet port.
Nevertheless, it has some drawbacks like the absence of tri-band support, bandwidth forwarding, and access to the network consumed data.