Are you unable to choose between Blink Sync Module 1 vs 2? Both modules help in connecting to a Wi-Fi network and storing videos. But which one is a better choice? I invite you to check out this comparative guide and find out this. Let's begin!
Quick Answer
Both of the Sync Modules provide help in storing surveillance videos. But some features set them apart:
Sync Module 2 boasts better convenience with improved storage options.
The Sync Module 1 costs lower than the module 2 saving you the bucks.
But that's not all! Continue reading as I will dive deep into the features of these two original Sync Modules, camera support, range, and more. Without further ado, let's go ahead so you can know which will you be going home with!
Sync Module 1 vs 2: A Comparison Chart of Major Features
The table listed below has all the essential details you should know:
| | | |
| --- | --- | --- |
| | | |
| | | |
| | Doesn't support local storage | Supports local storage from compatible devices |
| | | Black and white with a Sync Module 2 label on the top |
| | Standard performance features | Improved performance features, especially with cloud storage on the mobile device – faster and more responsive |
| | Works with all Blink cameras | Works with all Blink cameras with local storage available for compatible models |
| USB Flash drive capacity: | | 1 GB to 256 GB (must have more than 375 MB free on Blink App) |
| | 5 Volt / 1 Ampere USB-Micro connector | 5 Volt / 1 Ampere USB-Micro connector |
| | | |
| | 2.4 GHz Wi-Fi 900 MHz Blink Protocol | 2.4 GHz Wi-Fi 900 MHz Blink Protocol |
| | | USB 2.0 Type-A for Local Storage |
| | 32° to 95°F (0° to 35°C), designed for indoor use | 32° to 95°F (0° to 35°C), designed for indoor use |
| | | |
| | | |
Now that we have quickly gone through both modules, let's explore the detailed comparison.
Blink Sync Module 1 vs 2: Comparison by 5 Important Parameters
Both modules are quite similar in some aspects:
The two modules also share the feature of adding data to cloud storage;
Both feature an RGB indicator which shows the device is operational;
They operate on 5-volt power.
But what about other highlights? Let's dive into the detailed comparison by 5 important parameters!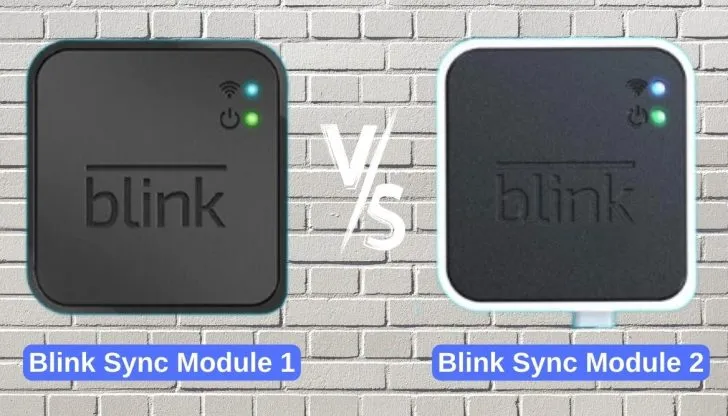 1. Cameras Support
Both modules can support up to 10 cameras at a time and are compatible with all types of Blink cameras: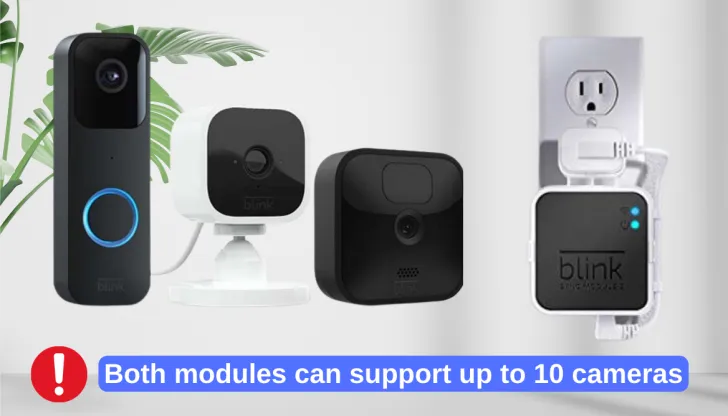 Blink Outdoor Camera 4;
Outdoor and Indoor models;
XT2;
XT;
Video Doorbell;
Mini cameras.
But Blink Mini Cameras and Video Doorbells also can be combined without a synchronization module. This is possible because they are capable of controlling their own system independently.
Winner: There is no winner in this category. Both modules offer the same camera support.
2. Range
The range is defined as the wireless communication distance between the Blink cameras and their module. Let's learn about it: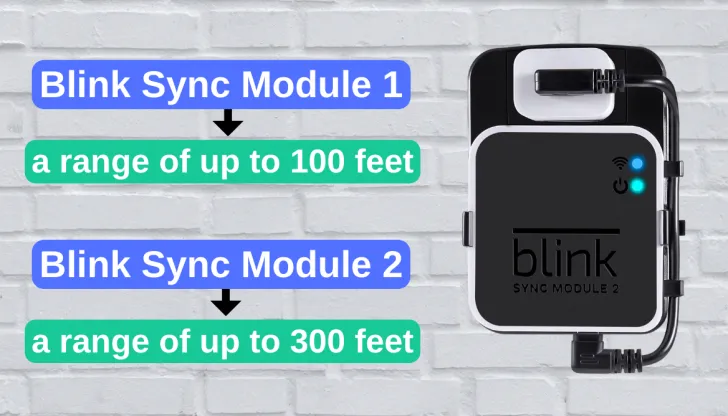 Blink Sync Module 1: This system can provide a range of up to 100 feet. This will be sufficient for any home environment, allowing you to position your cameras anywhere.
Blink Sync Module 2: In contrast, the module 2 has an extended range of 300 feet. So you will get more coverage for the outdoor cameras than the former model. For more significant residential properties, it would be a better choice to place your cameras further away while maintaining a strong connection.
Winner: Sync module 2 is in the lead providing better coverage at a longer distance.
3. Wi-Fi Compatibility
The ability of the Blink cameras to connect and communicate with a Wireless network is referred to as Wi-Fi compatibility. Both modules operate at 2.4GHz and there is no prominent difference to address.
However, if you have a 5 GHz router, you can simply add another SSID of 2.4 GHz via settings so that your cameras remain operational.
Winner: This specific category results in a draw as both the original Sync module and newer model support the same Wi-Fi compatibilities.
Here is a helpful video explaining how to enable and connect with a 2.4GHz network.
4. Storage Options
Both modules feature a USB port but don't mistake it for a connectivity option on the Sync 1. It is meant for only power purposes.
The local storage option is present in Module 2 only where you can have a copy of your surveillance tape. The storage capacity ranges from 1GB to 256 GB.
Winner: The Sync 2 wins with flying colors as it has multiple storage options.
5. Price
When it comes to price, module 1 is a cheaper option compared to module 2. However, you have to dig in to find module 1 as it is not widely available now. On the other hand, the latter module costs around $30 – $40 and has a greater availability.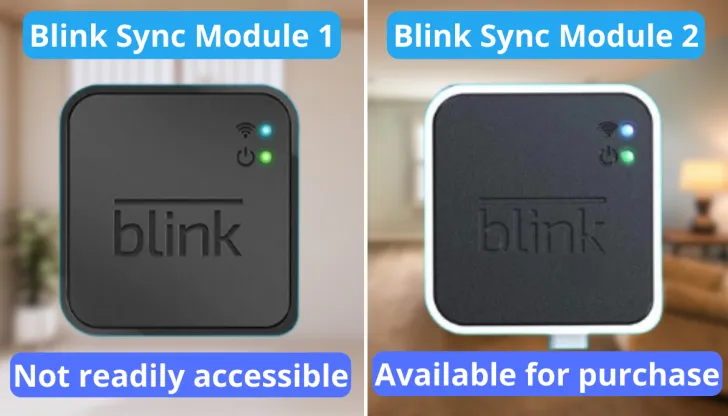 Winner: If your budget is super tight, then Module 1 is a better choice. But, if you prefer the added features, go for the second module.
These are some of the distinctions between them, so you can make the right choice and maximize the efficiency of your security system.
So Which One Should You Opt For?
Choosing between the two modules depends upon your preferences. Let's break these down, so you can see which one is the right fit for you: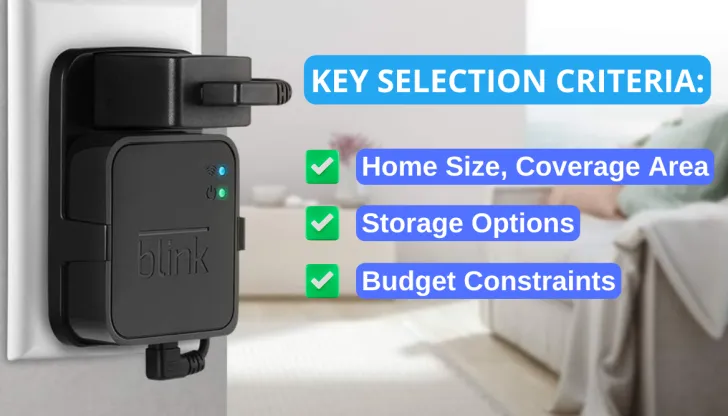 Home Size and Coverage Area: If you have a larger space, then go for Module 2 which can provide coverage up to 300 sq ft. On the other hand, for smaller coverage areas, module 1 is recommended which gives you a range of 100 feet and is better for standard residential use.
Storage Options: Both modules support cloud storage but what gives an edge to Sync 2 is that it has an additional option of local storage which can keep your video clips safe.
Budget Constraints: If you are looking for a cost-effective option, I recommend Sync Module 1 with a lower price tag while still providing you with the performance you can depend on to secure your home.
So by carefully deciding your home size, coverage points, and budget you need to look at the factors that serve you the best.
Determining The Number Of Modules Required
Now that you have decided on which Blink system module to buy. The question lies: How many do you need?
Let's quickly break this down. If you go for:
Sync Module 1 and 2: If you want up to ten devices, then both Sync Modules can support them. If you want more than that, then see the second option below.
Purchasing two modules: If you want additional support of more than 10 cameras, you can combine two modules to have support of up to 20 cameras.
So based on the number of cameras that need to be connected, the number of modules will also vary.
For further insights, check out this helpful video.
FAQs
How do I determine which Sync module I have?
You can determine which Sync module you have by looking at the label on the back of the device.
Which Sync module is better for me if I have a lot of cameras?
Both modules can accommodate 10 cameras at the same time. If you have more cameras, go for the combination of two or more modules.
Can you use 2 Blink doorbells with 1 Sync module?
Yes, you can use 2 Blink video doorbells with 1 Sync module. Just make sure that the Sync module is compatible with the doorbell blink devices.
Conclusion
Summing it up, both modules help to enhance security and performance. The ultimate choice comes down to your preferences.
If you prefer a cost-effective affordable solution without compromising on quality then Sync Module 1 is the one for you. With a supporting 10-blink camera setup and providing you with a 100-foot range, this is an excellent choice for smaller set-ups and budget-conscious individuals.
On the other hand, if you want camera support for up to 10 devices with a local storage option and a 300-feet range. I would suggest getting the Sync Module 2.
Sync Module 2
Upgrade your security system to the next level with this module. It seamlessly integrates up to 10 Blink camera clips. This makes it a perfect choice for large-scale system setup. Equipped with a 300 ft range, and a local video storage USB drive, this will surely win your heart.