Finding the best air purifier for a dorm room can be overwhelming with so many options available. Dust, pollen, and odors are common issues in shared living spaces, but worry not! I've got you covered with a curated list of the 9 best air purifiers for dorm rooms. Let's not waste any time and dive into the details!
Quick Answer
Before putting the money in a purifier for a dorm room, make sure that it has the following:
A true HEPA filter that is certified to remove 99.9 percent of pollutants.
A smart timer function to set cleaning operation time according to your schedule.
Low noise so that it doesn't create a disturbance while studying or sleeping after a long day.
But that's not all! Continue reading to learn about important considerations before buying a purifier that is suitable for the dorm. Also, get insights into the top models along with their specs and features that tick all the boxes. Let's begin!
Best Air Purifier For a Dorm Room: Comparison Table
The following table consists of all the important details:
1. Pre-filter,

2. HEPA filter,

3. carbon filter

1095 sq. ft. (1x/hour) or 219 sq. ft. (5x/hour)

1. Pre-filter,

2. HEPA filter,

3. UV-C light,

4. carbon filter

743 sq. ft. (1x/hour) or 153 sq. ft. (4.8x/hour)

1. Pre-filter,

2. HEPA filter

155 sq. ft. (5x/hour) or 465 sq. ft. (1x/hour)




1. Pre-filter,

2. HEPA filter,

3. carbon filter,

4. ionizer

361 sq. ft. (4x/hour) or 874 sq. ft. (1x/hour)

1. Pre-filter,

2. HEPA filter,

3. carbon filter,

4. cold catalyst filter,

5. ionizer

700 sq. ft. (1x/hour) or 175 sq. ft. (4x/hour)

1. Pre-filter,

2. particle filter,

3. carbon filter

Up to 219 sq. ft. (5x/hour) or up to 526 sq.ft (2x/hour)

1. Pre-filter,

2. HEPA filter,

3. carbon filter

258 sq. ft. (1x/hour) or 86 sq. ft. (3x/hour)

1. Pre-filter,

2. HEPA filter,

3. carbon filter

Up to 71 sq.ft (4.8x/hour) or up to 170 sq.ft (2x/hour)

1. Activated carbon pre-filter,

2. True HEPA filter

Up to 100 sq.ft (5x/hour) or up to 250 sq.ft (2x/hour)
Now, let's explore each purifier in detail!
1. Overall Best: Levoit Core 300S
Levoit Core 300S
First I will explore the remarkable advantages and disadvantages of this purifier.
Pros
True HEPA filtration aids reduce asthma and allergy symptoms.
Comes with an auto-mode to save up money.
Customizable filters option that suits your personal needs.
Compatible with a smartphone for you to control while sitting in your lecture.
Ultra-Quiet operation so you can study without disturbance.
Cons
Can be a bit loud on the highest settings.
With the Core 300S you not only enjoy pure air but also a restful sleep. It will do the work for you as it automatically adjusts its fan speeds according to the PM 2.5 levels around you. What's great about it is that you can control it from anywhere you want with the touch of a button or better yet voice command through Alexa or Google Assistant. You can set personalized schedules for when you go to a class or a night out with friends.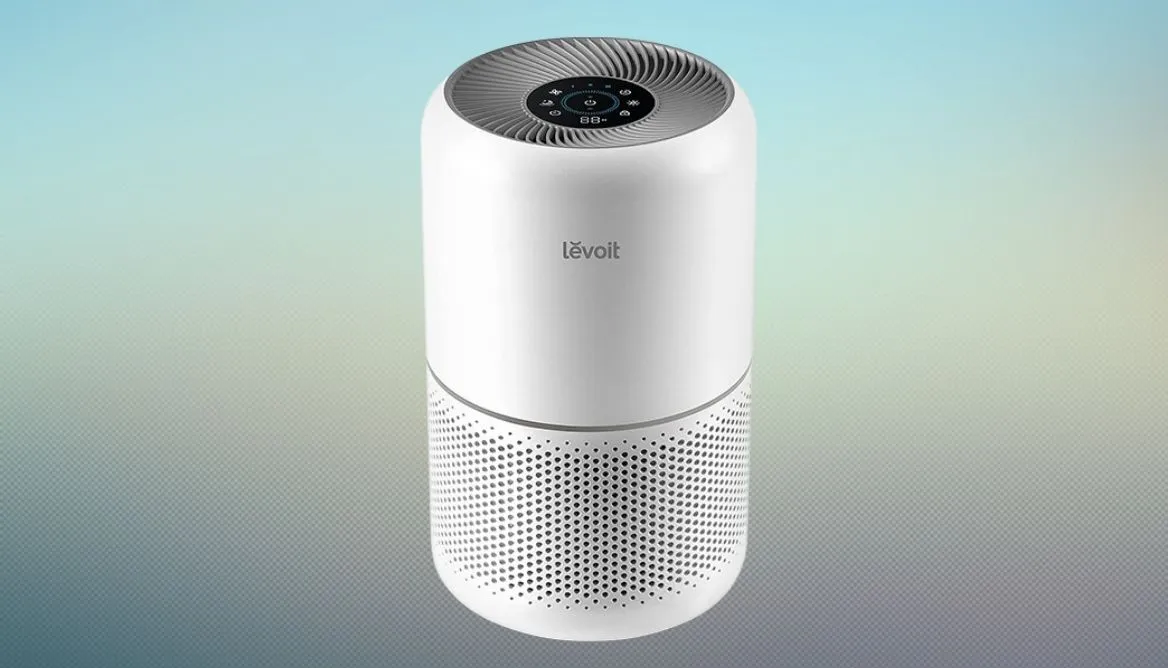 Features
Let's learn about the top features this product has to offer:
High Efficiency Activated carbon filter will neutralize any funky smell.
Filter options include pet, toxin, and smoke filters to adjust and optimize your dormitory environment.
PM 2.5 to detect and adjust fan speed automatically.
Specs
| | |
| --- | --- |
| | |
| | 140 (Dust), 140 (Pollen), 140 (Smoke) |
| | Up to 219 sq ft in 12 minutes |
| | |
| | Pre-filter, HEPA filter, activated carbon filter |
| | |
| | 8.7 x 8.7 x 14.2 in / 22 x 22 x 36 cm |
| | |
Recommendation: For anyone looking for a smart purifier that has all the tech features needed. Then I would regard it as the best choice. As it has voice command, phone scheduling, smart auto mode, and low noise. Just keep in mind that at the highest settings, it can be noisy.
2. Best Combat Against Bacteria: Germ Guardian AC4825E
Germ Guardian AC4825E
Let's look at this amazing cleaner's benefits and drawbacks.
Pros
It removes unwanted odors from your dorm rooms.
It is ozone-safe.
Protects against airborne viruses commonly found in shared spaces.
Able to purify medium to large rooms.
Cons
Consumes a little more energy compared to other purifiers.
AC4825E goes beyond the tackling of ordinary pollutants such as dust, allergens, and mold spores. It also targets viruses like influenza, staph, rhinovirus, and VOCs as well. It comes with UVC light and Titanium Dioxide that give you peace of mind with its low-noise operation. You can rest easy knowing that your dorm air is pure and germ-free.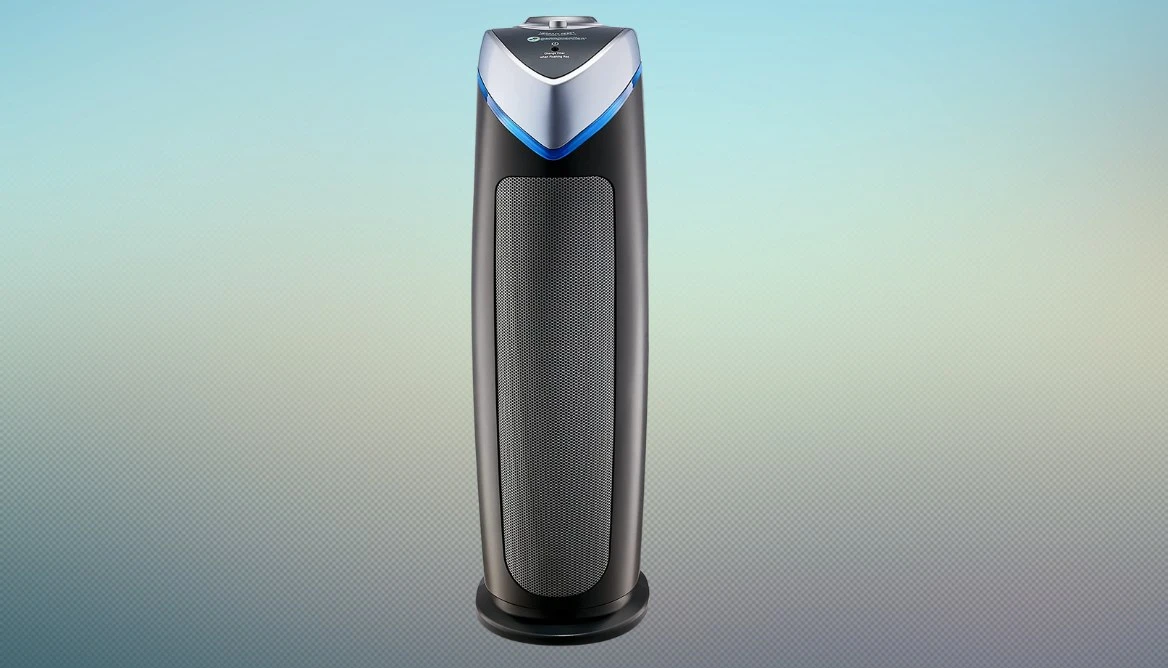 Features
Let's check out the amazing features of this unit:
UVC Technology to combat airborne particles.
True HEPA filtration to capture minute pollutants.
GermGuardian Filters protect you against poor indoor air quality.
Ultra-Queit technology lets the device operate with minimum noise.
Specs
| | |
| --- | --- |
| | |
| | 118 (Dust), 125 (Pollen), 108 (Smoke) |
| | |
| | |
| | Pre-filter, HEPA filter, UVC light, activated carbon filter |
| | |
| | 22 in x 10.25 in x 6.75 in |
| | |
Recommendation: If you're searching for a device that will add an extra layer of protection to your dorm room, then this is the perfect choice for you. Just beware that it consumes a little more energy compared to other units.
3. Best for Smoke: Honeywell HPA 100 HEPA Air Purifier
Honeywell HPA 100 HEPA Air Purifier
Let's take a look at the benefits and drawbacks of this amazing cleaner.
Pros
Comes with 4 cleaning levels to suit your air needs.
Perfect for medium-sized dormitories.
Suitable if your university town gets wildfire season.
Powerful airflow for fresher cleaner air.
Cons
Only works well with genuine filters installed.
HPA 100 is a perfect solution for medium-sized rooms. It is specially designed to cater to wildfire season and give you protection against the effects of smoke and dangerous particles. It comes with 4 cleaning options that include the Turbo Clean Mode. Furthermore, it also meets the prestigious guidelines set by EPA and is labeled as Energy Star certified. This will help you clean air while saving energy bills as well.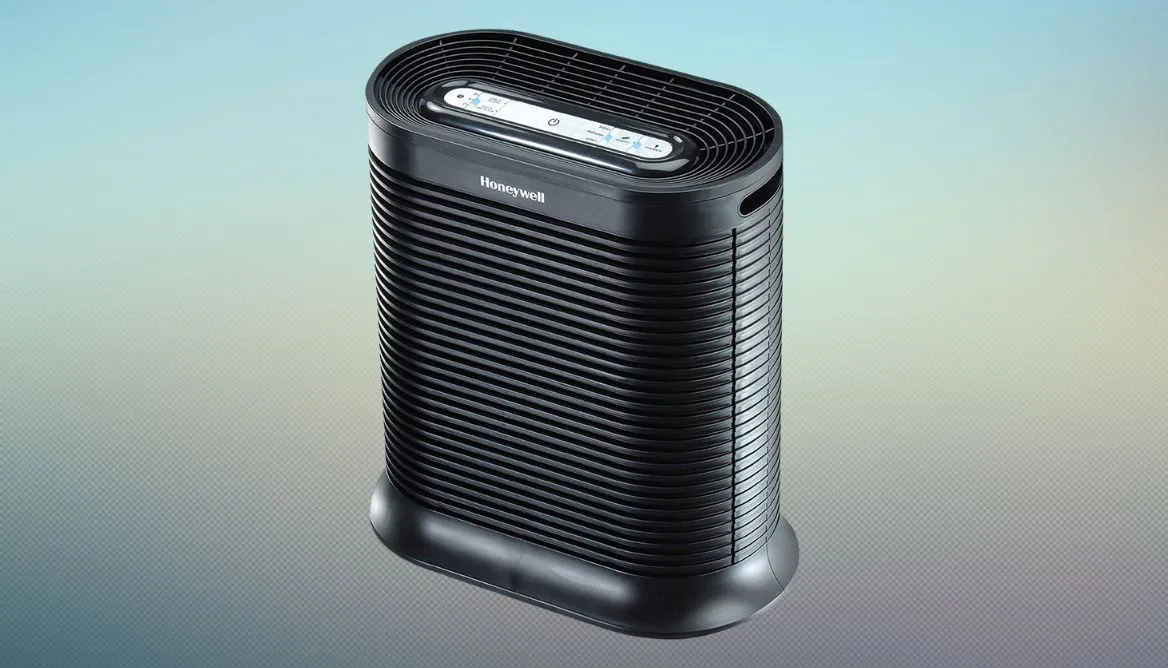 Features
Let's see what remarkable features this product has to offer.
Energy Star rating makes it a great energy-efficient option.
Perfect for people with asthma with Allergen Plus technology.
Comes with 3 Cleaning levels and Turbo Mode to clean up your living space in a matter of minutes.
Control Panel Dimmer if you find the bright lights annoying at night.
Specs
| | |
| --- | --- |
| | Honeywell HPA 100 HEPA Air Purifier |
| | 100(Dust), 100 (Pollen), 100 (Smoke) |
| | |
| | |
| | |
| | |
| | 13.9 in x 8.9 in x 13.5 in |
| | |
Recommendation: Perfect for anyone who needs to get rid of smoke, smog, wildfire smoke, or overbaked cooking odors. One thing to note is that you may want to install its original filters for maximum efficiency.
4. Best Features: Coway AP-1512HH
Coway AP-1512HH
Listed below are the positives and negatives of this purifier:
Pros
Comes with different timers to adjust to your class schedules.
The Eco Mode conserves energy saving you much more pocket money.
Different fan speeds depend on the air levels of your space.
Visual colored light to show the levels of pollutants.
Cons
Some customers reported issues with the blower.
Coway's Hyper Captive Filtration System will be your best friend as it protects you against pollutants and impurities. It is quite an efficient device as it comes equipped with Auto Mode. You can enjoy a purified dorm space and conserve energy with Eco and Auto modes. When the air quality remains good for at least 30 minutes, the intelligent sensor will automatically turn off to save power.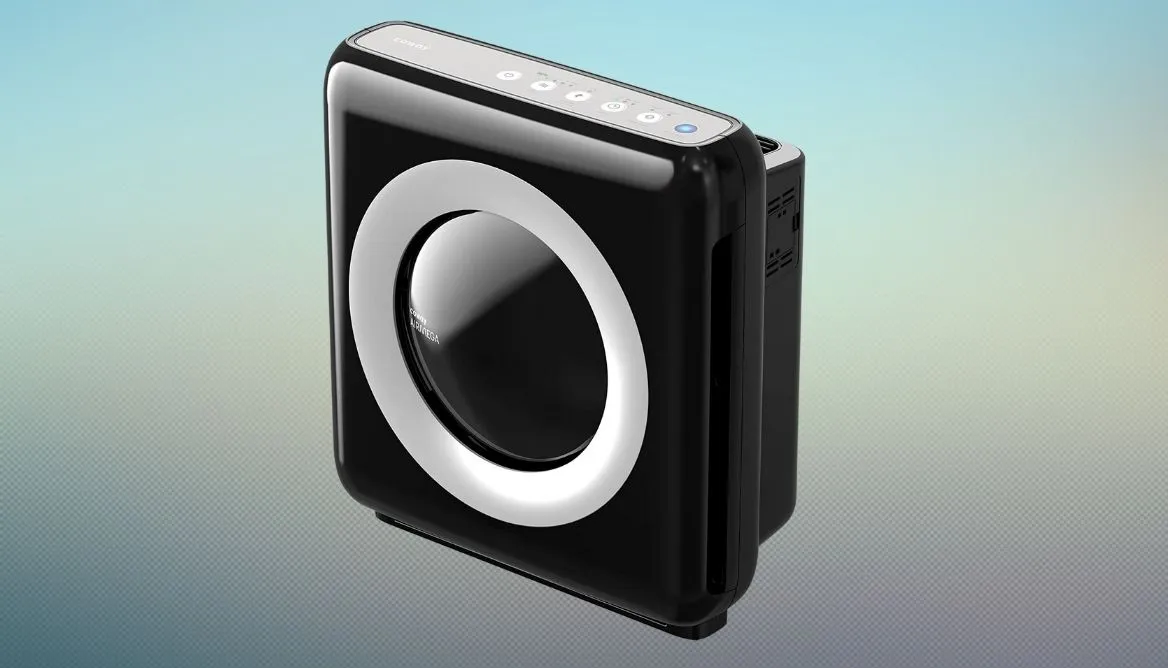 Features
Now let's have a look at its features.
3 Stage Manual Fan Speed to control your air quality.
Filter indicator to remind you when to replace it.
Pollution sensor for real-time air monitoring.
Auto-Mode to purify whenever the airborne pollutants are high.
Specs
| | |
| --- | --- |
| | |
| | 246 (Dust), 246 (Pollen), 246 (Smoke) |
| | |
| | |
| | Pre-filter, HEPA filter, Vital Ionizer, Deodorization filter |
| | |
| | 16.8 in x 9.6 in x 18.3 in |
| | |
Recommendation: For anyone looking for a decent cleaner that comes with all the features such as a timer option and real-time monitoring, then I would suggest going for this one. On the down low, the blower's performance could be better.
5. Best 5-Stage Filteration: Hathaspace HSP-001 Air Purifier
Sale
Hathaspace HSP-001 Air Purifier
Let's compare the strengths and weaknesses of this unit.
Pros
Comes with a remote control to use it from anywhere in your lodging.
The auto-mode will adjust the speed accordingly.
Provides removal of 98% of major pollutants.
Eliminates odors, smoke, and pet dander.
Cons
The airflow could be better.
The 5 in 1 filter system is able to tackle everything from dust, pollen, dander, VOC, and smoke in your living dorm. State-of-the-art fan works tirelessly without producing much sound for quiet and efficient operation. Their honeycomb filters are quite unique, filled with pelleted carbon to remove any odor you might have in your space.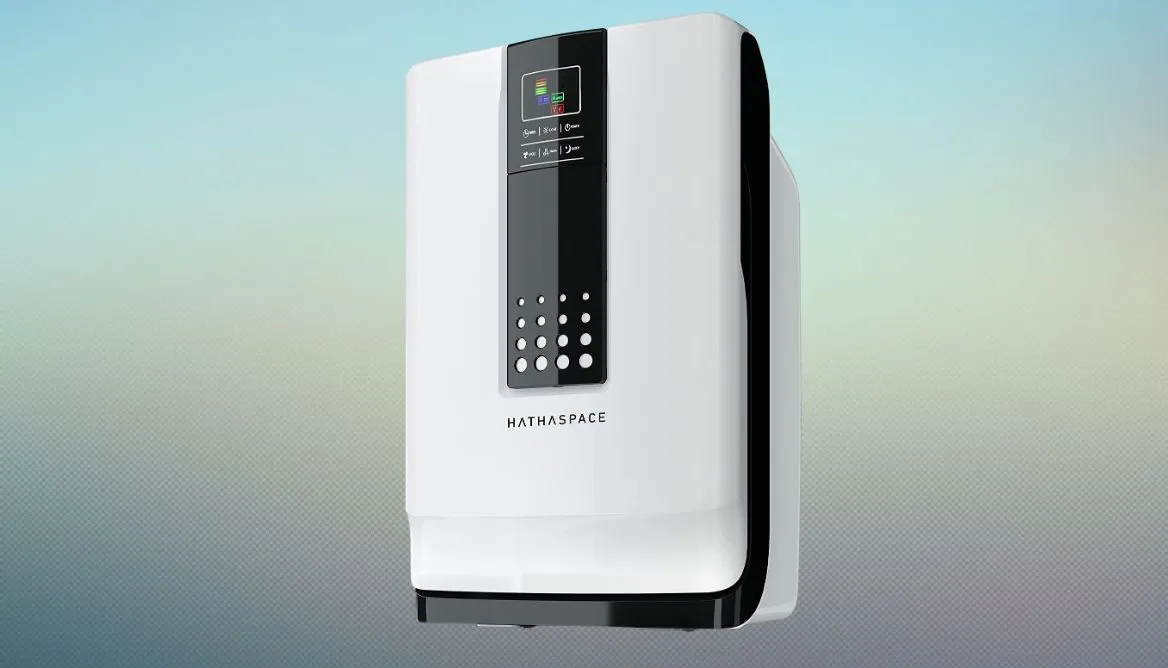 Features
Listed below are the top features of this unit:
5-stage filter technology for maximum purification.
Smart air quality sensor to monitor real-time air pollutants level.
Built-in anion ionizer to remove any odors.
The sleep mode allows it to conserve energy when the air quality level is good.
Specs
| | |
| --- | --- |
| | Hathaspace HSP-001 Air Purifier |
| | 160 (Dust), 160 (Pollen), 160 (Smoke) |
| | |
| | |
| | Cold Catalyst-filter, HEPA filter, UVC light, activated carbon filter |
| | |
| | |
| | |
Recommendation: This unit comes with all the filters, from catalyst filter to UVC light, this unit does it all. Perfect for students who are clean freaks.
6. Best AirFlow Option: Blueair 411 Auto
Blueair 411 Auto
Let's take a look at the benefits and drawbacks of this amazing cleaner.
Pros
360-degree air intake for maximum purification.
Real-time air monitoring so you can rest easy knowing it is always doing its job.
Effectively removes smoke and smog from your residence halls.
Energy efficient purifier that goes easy on your wallet.
Cons
The design-build isn't strong.
The one-touch auto mode uses a sensor for PM 2.5 detection to ensure optimal air quality at all times. The 360 intake of air allows for maximum airflow and more purified levels in no time. Because of its Quiet Mark Approval, its operation is quieter than a whisper. It is also able to tackle all your respiratory issue by capturing allergens commonly found in dorm rooms.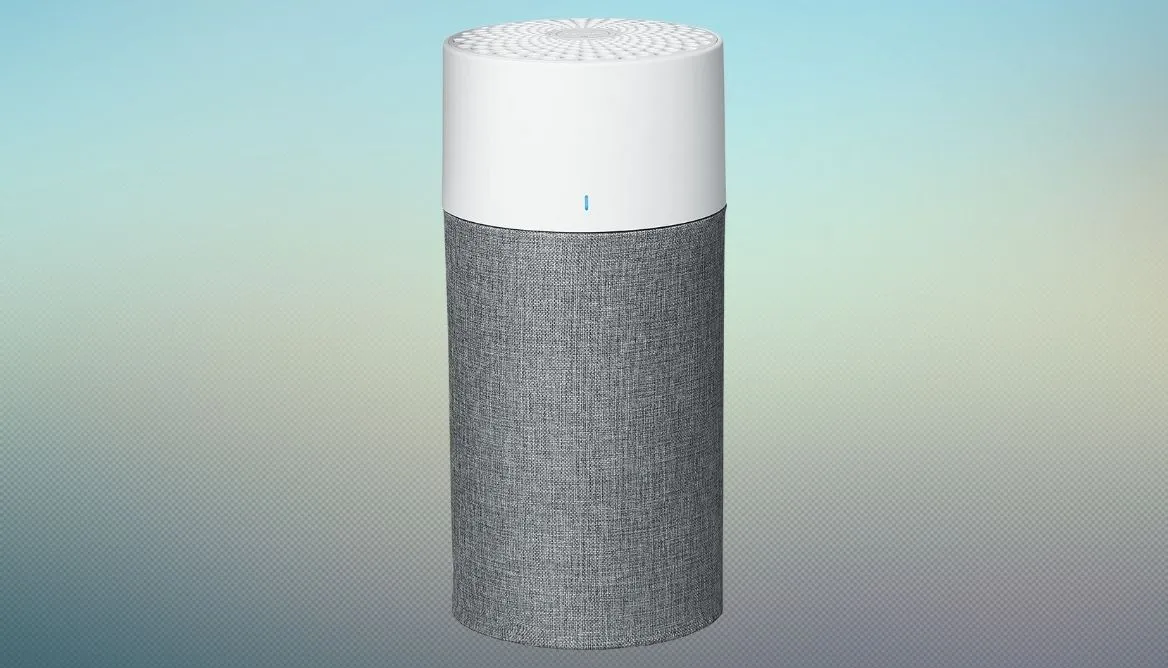 Features
Now let's have a look at its features.
Automode to adjust fan speeds according to pollutant levels.
Quiet Mark and Energy Star are approved for low noise and energy use.
HEPASilent Dual Filtration to clean air faster and better.
LED indicator to show the air quality status.
Specs
| | |
| --- | --- |
| | |
| | 107 (Dust), 96 (Pollen), 123 (Smoke) |
| | |
| | |
| | Pre-filter, HEPA silent filter, Carbon Filter |
| | Auto Mode with 3 Fan Speeds |
| | 16.7 in x 7.9 in x 7.9 in |
| | |
Recommendation:
A compact
purifier that has powerful air
circulation and comes with an air quality indicator. Certainly, a strong contender to do the job needed. Just make sure it doesn't fall or get damaged as the build isn't strong as compared to other models.
7. Best Light Purifier: Levoit LV-H132 Air Purifier
Levoit LV-H132 Air Purifier
Let's compare the strengths and weaknesses of this unit.
Pros
UVC technology is ozone free.
3 Stage filtration to breathe in the best air possible.
It is safe for asthma patients, pets, and children.
It is incredibly user-friendly for non-savvy students.
Lights on the panel can be turned off for sleeping.
Cons
The filter replacement cost might be considered a bit high.
This device will combat the asthma triggers you might have. It is your ticket to pure clean dorm air in no time at all. What makes it the ideal choice for you is that you can choose from three customizable filters which suit your need. Whether it may be a Pet Allergy Filter to get rid of that fur your roommate's canine buddy brought it or a Smoke Remover Filter for a better environment. What gives it a plus is its toxin absorber filter.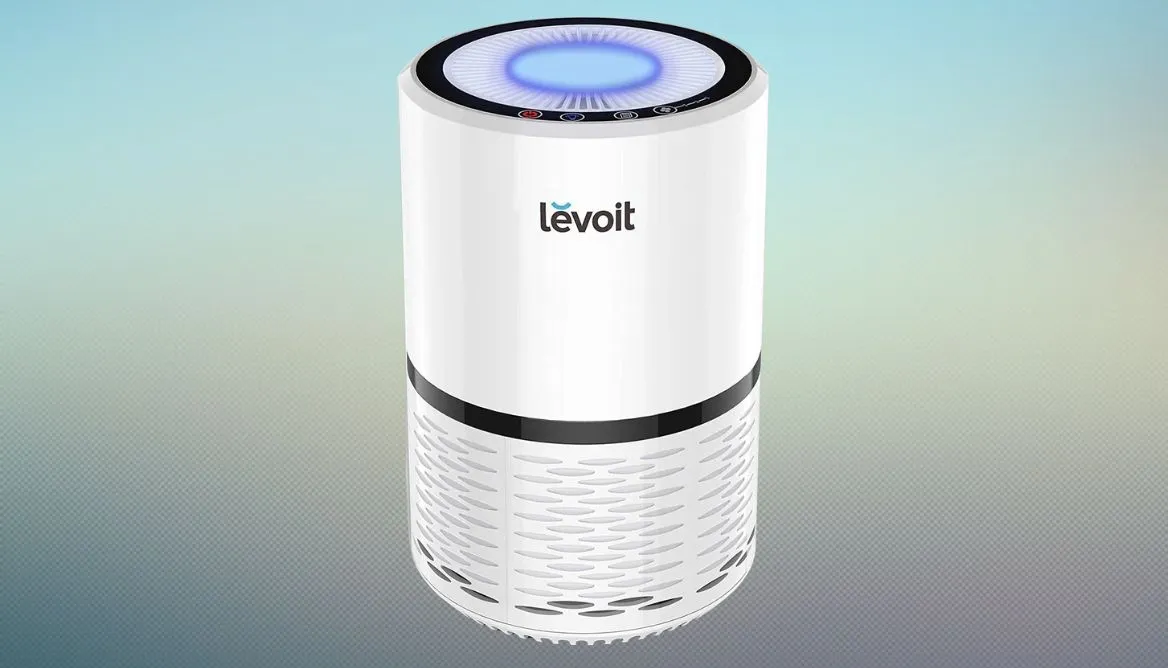 Features
Now let's have a look at its features.
Equipped with 2 optional night light settings.
Three Fan Speeds to adjust to your pollutants level in the frat house.
True H13 HEPA filter for best purification of your room.
Specs
| | |
| --- | --- |
| | Levoit LV-H132 Air Purifier |
| | 40 (Dust), 40 (Pollen), 108 (Smoke) |
| | |
| | |
| | Pre-filter, HEPA filter, activated carbon filter |
| | |
| | 8.5 in x 8.5 in x 14.5 in |
| | |
Recommendation: If you want extra germ protection, then this cleaner with UVC light is the best option to go for. On the downside, the replacement filters might be costly.
8. Best Cost Option: Levoit Core Mini
Levoit Core Mini
Let's assess the strengths and weaknesses of this unit.
Pros
You can sleep peacefully with its ultra-low noise operation.
The easy portable design will help it fit into any space.
Removes any sinus congestion you may feel at your dormitory.
Cons
Some users reported a certain smell after the first usage.
This top-notch compact unit uses 360° Vortex Air Technology and a 3-stage filtration system to make sure the air you breathe is top-notch and pristine. It is equipped with a whisper-quiet operation without making any loud sounds. You can also add a touch of essential oils to experience a delightful aroma as your purifier cleans up your dorm room. What I love about this tiny marvel is its travel-safe design which is ideal for students.
Features
Here are the features of this purifier:
360-degree vortex technology to draw in air from all corners of your room.
Compatible with essential oils to make your house smell like heaven.
3 Stage filtration provides the most effective purification.
Specs
| | |
| --- | --- |
| | |
| | 45 Dust/ 34 Smoke/ 32 Pollen (cfm) |
| | |
| | |
| | Pre-filter, HEPA filter, UVC light, activated carbon filter |
| | |
| | 6.5 in x 6.5 in x 10.4 in |
| | |
Recommendation: Suitable for those who have limited floor space in their rooms. Its compact and small size makes it perfect for dorms. One additional feature which I love is the aromatherapy option. You can add any essential oil to its filters and experience the fresh atmosphere. Don't opt for long-hour usage to avoid a burnt smell.
9. Best Desktop Option: Pure Enrichment PureZone
Sale
Pure Enrichment PureZone
Let's check out the pros and cons of this purifier:
Pros
No emission of ozone making it a safe appliance.
Automatic timer options to set your schedule and save energy bills.
3 fan speeds to adjust to your air quality levels.
Cons
With its ozone-free and energy-efficient use, the PureZone purifier is designed to keep dorm residents in mind. Its compact design fits onto any table top you want so it will take up less space around you. It is also able to create a soothing ambiance with different light settings. One of the best things is their 5-year warranty and quality service which clearly shows you can trust the brand.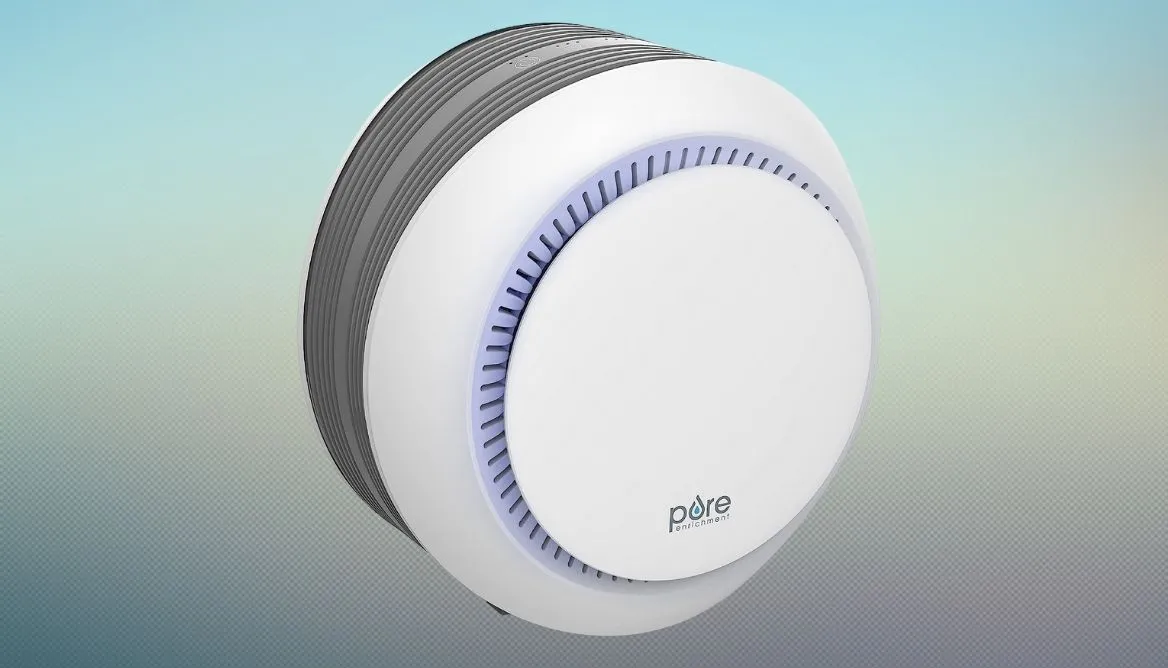 Features
Now let's have a look at its features.
2 Stage filtration to get rid of pollens, dust, and smoke in your dorm.
The touch button control panel provides seamless operation.
5-year warranty so your college years can rest easy.
2 light modes to suit your room aesthetics.
Specs
| | |
| --- | --- |
| | |
| | 60(Dust), 60 (Pollen), 60 (Smoke) |
| | |
| | |
| | Pre-filter+ Activated Carbon Filter, HEPA filter, UVC Light |
| | |
| | 10.8 in x 6.9 in x 12.1 in |
| | |
Recommendation: For people looking to save the bucks and some space, it is a great pick. You need to get yourself this desktop air purifier if you prefer saving energy. Just keep in mind that it can be a bit loud on the highest settings.
The Importance of an Air Purifier for Dorm Room
When it comes to keeping the environment clean in the dorm room, investing in a purifier might be the way to go, because it:
Tackles Dust and Odor: Since you are sharing space with other people, your indoor air will likely accumulate dust and unpleasant odors.
Improves the atmosphere of Shared Space: Ever since the pandemic, living in close quarters is scarier. Purifier makes sure that the shared space has a healthy environment.
Battles Allergens: With clean air, you will get free from blocked noses, allergies, and pollutants.
Being a student, one has already a lot on his plate from assignments to making new friends. With fresher cleaner air, there is one less thing to worry about.
The Working Phenomenon Of Dorm Room Purifiers Explained!
Dorm Purifiers rely on drawing in air from the surrounding and passing it through special filters. Here is how they work: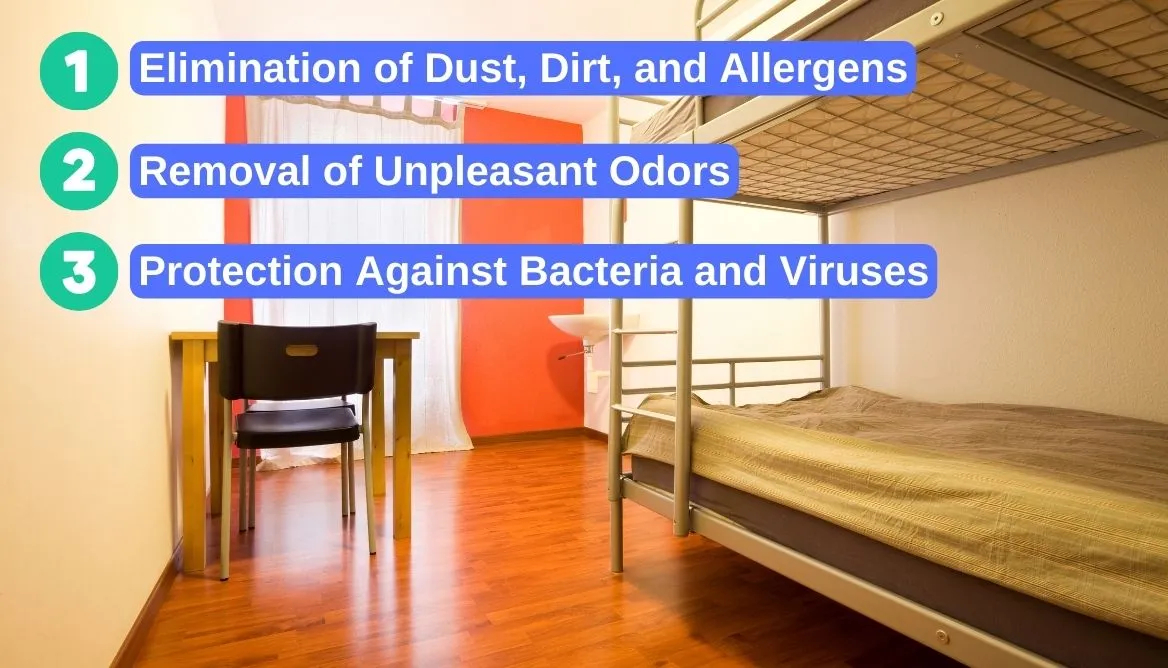 1. Elimination of Dust, Dirt, and Allergens
Dorm rooms are at high risk of capturing dust and dirt quite quickly. Thus the air purifier will help in getting rid of dust that has accumulated over time. Go for a HEPA filter which will be able to capture particles that are very small. This way you will get a room that is free from dust, dander, and allergens commonly present in dormitories.
2. Removal of Unpleasant Odors
Living in the dorm means, you will often be faced with weird smells like leftover food, sweaty jocks, and that leftover smoke smell from weed. If that is the issue, you need to invest in an air purifier with an activated charcoal filter that will be able to eradicate these odors effectively. Leaving your room a breath of fresh welcoming air!
3. Protection Against Bacteria and Viruses
Living with other people can increase the risk of bacterial infection and outspread. Many HEPA filters in purifiers come with special methods (such as antimicrobial coating) inside to kill the microorganism. Similarly, UVC lamps can also destroy the RNA of these microbes. In order to safeguard from any viruses or diseases, go for an air purifier with HEPA and a UV light to eliminate any allergens.
Important Considerations Before Choosing Dorm Room Air Purifier
Listed below are some important things to consider before putting the money in a dorm purifier: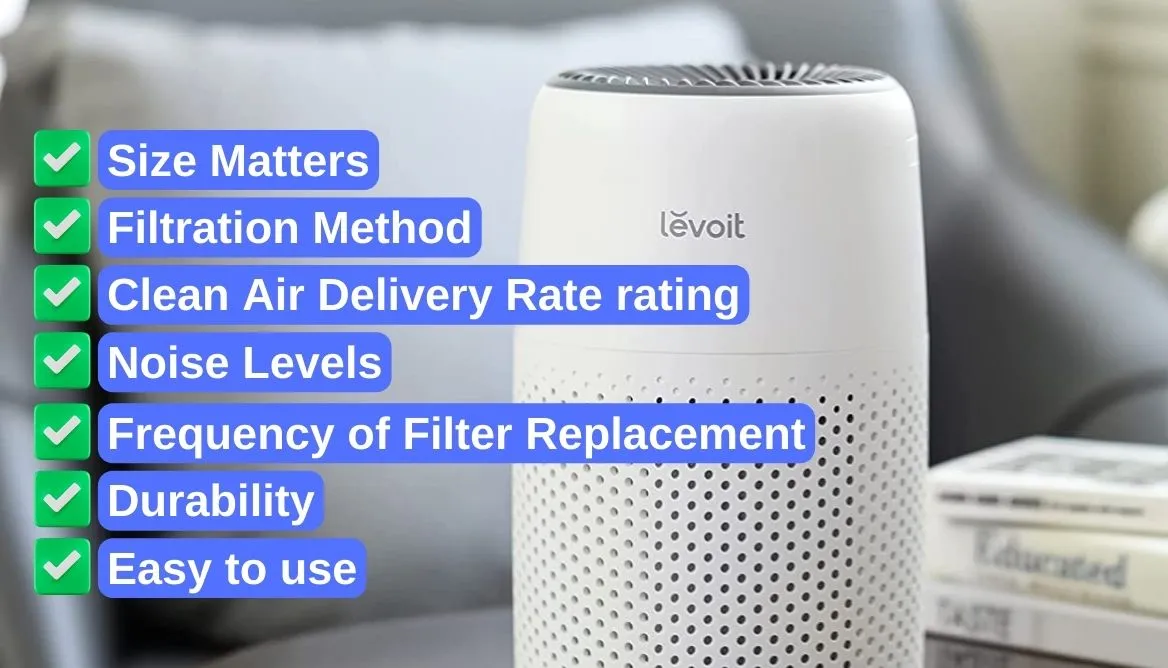 1. Size Matters
Purifiers come in all shapes and sizes. you need a cleaner that will fit into your small-sized dorm.
Go for models which are compact and vertical standing to maximize your floor plan.
It might be better to opt for purifiers suitable for desktops if you want to use them in dorm rooms.
Look for models which can cover up to 180 sq. ft to 300 sq. ft in coverage.
Although these purifiers may take some time to clean your living air. Nevertheless, this will still make a notable change in your air quality.
2. Filtration Method
Identify which specific pollutants you want to target in your dorm room:
For capturing dust particles, pollens, and smoke, HEPA filters are the best choice.
For VOCs, formaldehyde and cooking smells go for the Activated carbon filters.
If you want to remove bacteria from your room, then a UVC filter would be best.
3. Clean Air Delivery Rate rating
CADR measures the efficiency with which the air purifier cleans up the air. You should opt for a higher CADR rating score for better purification:
A good CADR rating is at least 2/3rd of the room's total area coverage.
Ideally, anything above 100 CFM is more than enough for dorm rooms.
4. Noise Levels
Dorms can get quite noisy.
You need a cleaner with low noise.
Many purifiers come with a quiet whisper technology for low disturbance.
Sleep mode is also a good option to run the device on while you are sleeping soundly.
Make sure the sound decibels of the unit's operation is below 50 dB.
5. Frequency of Filter Replacement
You need to take note that filters can last only so long.
HEPA air filters can last up to 12 months.
Activated carbon filters go for three to six months depending on usage.
Consider the cost and availability of these filter replacements before you make a purchase.
6. Durability
You need to select a device that has a long-lasting build. So you won't have to replace it more frequently. This will save you both time and money. The more durable the device, the less it will be prone to malfunctions. Also, consider the following things:
Look for devices that have quick customer service.
Long warranty time duration.
Excellent customer reviews across all platforms.
7. Easy to Use
You need a device that is easy to use. Make sure that the following things are there:
The control panel gives you plenty of options.
The user interface is user-friendly.
Go for something that synchronizes with your smartphone for easy operation.
5 Reasons for Buying a Dorm Room Purifier
Here is what makes a dorm room purifier a worthy investment: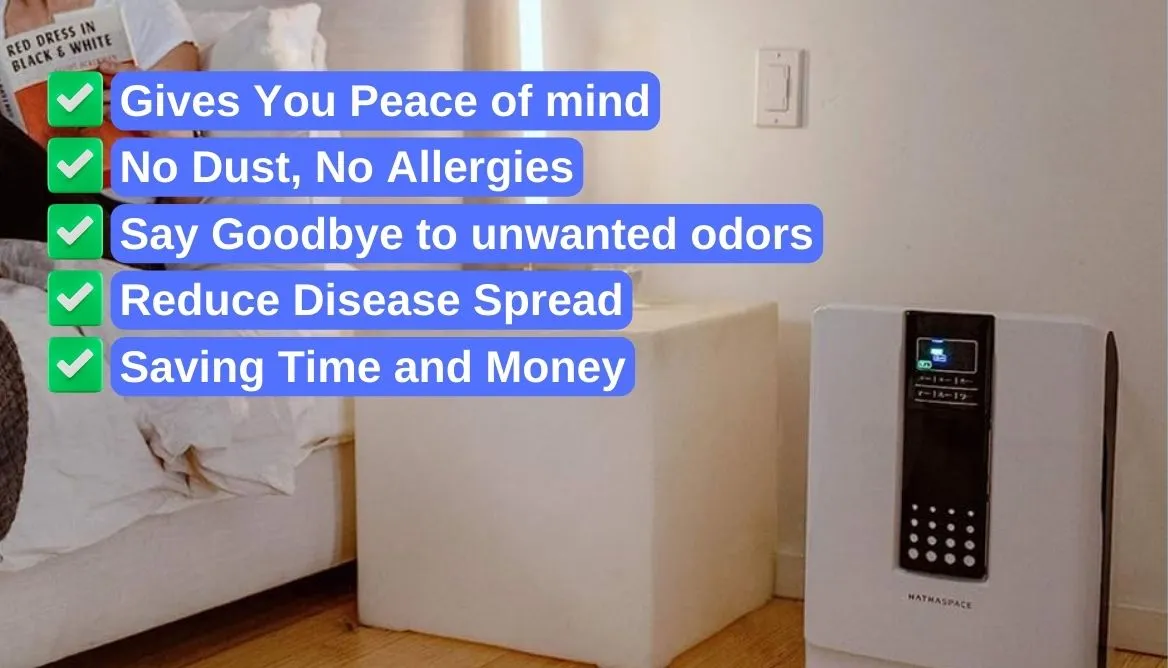 Gives You Peace of mind: Knowing that your air is clean, pure, and free from pollutants.
No Dust, No Allergies: You will be able to get rid of allergies, dust, pet dander, and much more!
Say Goodbye to unwanted odors: With an air purifier, you will not have to deal with any lingering smells in your room.
Reduce Disease Spread: With effective purification, you won't have to worry about colds, flu season, or COVID.
Saving Time and Money: You will save money on buying expensive vacuums and cleaning supplies as this will be a one-time investment.
Why Dorm Room Air Purifiers May Not Be for You
Here are a couple of reasons why an air purifier may not be the best choice for you.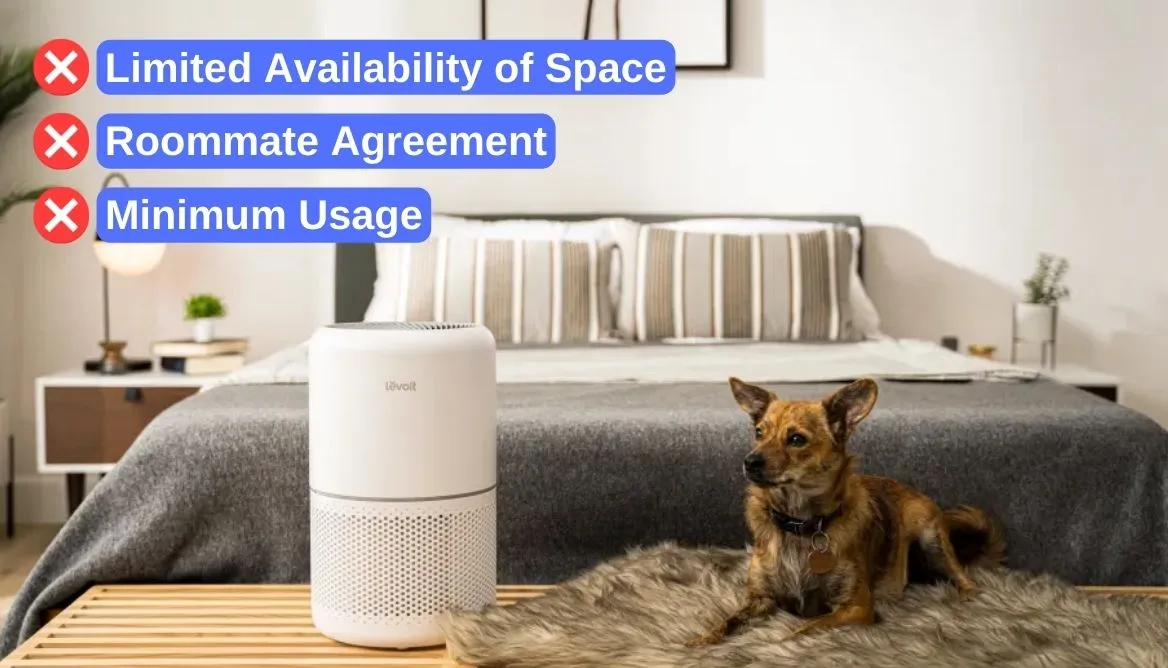 Limited Availability of Space: If you live in tight quarters, then adding a purifier to your floor plan may not be such a good idea. For a clutter-free space, the purifier might get in your way.
Roommate Agreement: Since you live together, it is best to agree on buying a cleaner for the shared space.
Minimum Usage: If you intend to not use it greatly then it may compromise its efficiency as most devices are meant for continuous use.
Things to Keep in Mind For Optimizing the Performance of Your Air Purifier
Here is how to get the best out of your purifier:
Remove Wrappers: Before you set up the device you need to remove any covering there is inside the device for maximum use.
Proper Placement: As you decide the position for the unit, make sure to put it at least 18 inches away from walls or any other obstruction. This will ensure proper circulation of the air.
Timely Filter Replacement: Do take note of the warranty of filters and when it is time to replace them. Usually, most purifiers come with a built-in filter replacement indicator that turns red when it needs to be replaced.
Read Also:
Quietest Air Purifier: 9 Best Models To Buy in 2023
Best Air Purifier and Dehumidifier All in One: 6 Top Models
Best Budget Air Purifier: 9 Pocket-Friendly Picks For 2023
FAQ
Do air purifiers work in dorm rooms?
Yes, air purifiers work well in dorm rooms.
Where should I put my air purifier in my dorm?
You should put your purifier in your dorm where there is optimal airflow and no obstructions. So it can do its job.
Are air purifiers good for college?
Yes, air purifiers are good for college. They help remove dust, pollen allergen, and odors.
How do I control dust in my dorm room?
You can control dust in your dorm room by buying an air purifier equipped with H13 HEPA filters to maximize purification.
Conclusion
Dorm room air purifiers can significantly improve the air quality of your space. It is essential to look at the noise level, space availability, filter costs, and CADR rating before making a purchase.
If you ask me, the Levoit Core 300S is the perfect choice for air purifiers for a dorm. It not only has incredible coverage, a high CADR rating. But also comes with voice command and the VeSync feature is compatible with your phone.
Levoit Core 300S Air Purifier
Filtration for up to 219 sq ft in just 12 minutes. Perfect for small dormitories. State-of-the-art smart features. Compatible with Alexa and Google Assistant.