If you are searching for the best ozone generator, then you are on the right page. I have researched the market and picked out the 12 greatest available options today. Let's find out the perfect one for your needs right now!
A Quick Overview
Ozone generators usually release ozone and negative ions to deodorize, sanitize and ionize the pollutants. By doing so, the generator provides the following:
Odor-free and cleaner air;
Safety from microorganisms like viruses and bacteria;
Better breathing space.
But how do you choose the best ozone generators matching your requirements? Well, continue reading to find out the top 12 models compared below. You can also get great help from the buying guide section. So, let's dive deep into the details!
Best Ozone Generator: Comparison Chart of 12 Models
Let's compare all the selected models in a table.
| | | | | |
| --- | --- | --- | --- | --- |
| | | | | |
| | | | | |
| | | | | |
| | | | | |
| | | | | |
| | | | | |
| | | | | |
| | | | | |
| | | | | |
| | | | | |
| | | | | |
| | | | | |
| | | | | |
1. Best Overall: AIRTHEREAL MA5000
Sale
AIRTHEREAL MA5000
Let's find out the benefits and drawbacks of this ozone generator. You shall find out why it's at the top of my list.
Pros
Highly effective in mold, smoke, and odor removal.
Compatible in all settings, including home, restaurant, and offices.
Comparatively lower pricing.
Long-lasting ozone plates.
SGS laboratory air disinfection test certified.
A tolerable noise level of 40 dB or less.
Cons
Doesn't provide the best result for cigarette smoke.
AIRTHEREAL MA5000 is one of the best ozone generators on the market today. It has a powerful ozone output that deodorizes any unwanted odors, smoke, foul smell, and even VOCs. This device can cover a large 2000 square feet space and works wonderfully within an hour. With more than 5 years of dominance in making commercial ozone generators, you can surely rely on Airthereal products.
Important! All ozone generators should be used in free places only. People and pets should enter only when the ozone molecules are neutralized. It usually takes half an hour to revert the ozone to oxygen molecules.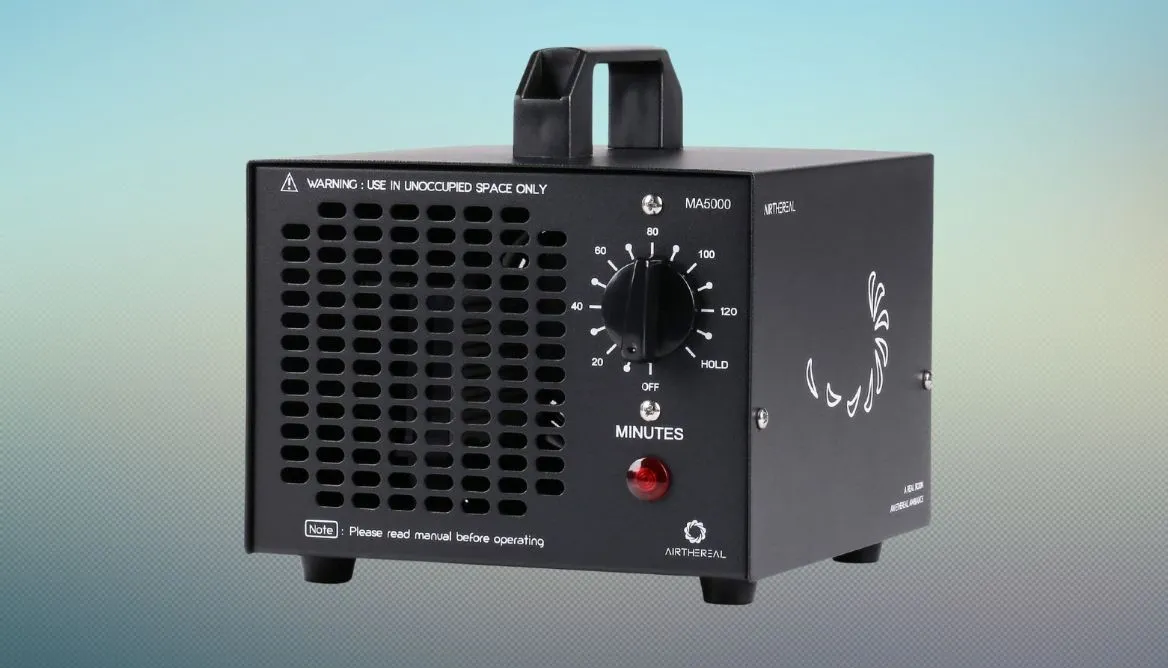 Features
Let's find out what intriguing features this ozone generator offers.
The 5000 mg/h ozone gas output makes mold, odors, and musty smells impossible to disperse and grow.
This device suits living rooms, kitchens, basements, office rooms, and whatnot.
There is an adjustable timer option that works up to 2 hours. You can also set the device in the "HOLD more" for continuous ozone production.
The ozone plates have a lifespan of 5000 hours.
Specifications
It's time to have a closer look at the specs. Have a glance.
Recommendation: I highly recommend this powerful ozone generator for homes, hospitals, offices, basements, cars, and other places. Its timer option, compact, lightweight design, and above all, powerful ozone oxidation process makes Airthereal MA5000 a perfect package. However, it works on average around chain smokers.
2. Best for Commercial Use: Enerzen Commercial Ozone Generator
Enerzen Commercial Ozone Generator
First of all, let me show you the positive and negative sides of this Enerzen ozone generator.
Pros
Powerful ozone output and faster ozone gas release.
Highly effective in removing pet odors and cigarette smoke.
Provide more oxygen atoms and, therefore, better breathing space.
99.99% bacteria elimination rate.
Pre-installed ceramic ozone plates.
Cons
Strong and annoying after smell.
Down the line comes another ozone generator with some incredible air purification capacity. This Enerzen O-888 model is an industrial ozone generator that works faster than others. Unlike an air purifier, it doesn't require any air to pass through the machine. Rather, it can eliminate odors and air pollutants by releasing ozone gas.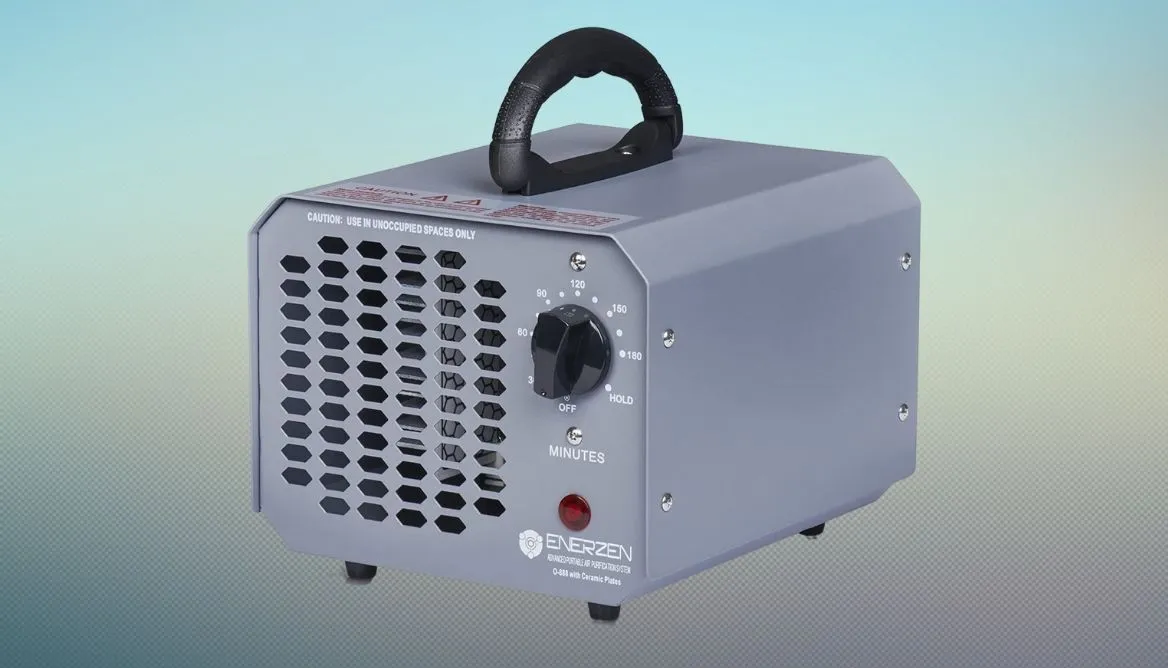 Features
Why did I put this device in the second place? See the features, and you will know.
This air-ionizing machine has a massive ozone output of 20000 mg/h.
It also provides a timer option of 0 to 3 hours so that you can focus on other things. The HOLD option gives uninterrupted ozone production.
It effectively eliminates old, musty, and trapped smells from various places.
A ceramic ozone plate is installed for mold, bacterial agents, and virus removal.
Specs
It's time to have a glance over the specs.
Recommendation: Enerzen O-888 is one of the best ozone generators with powerful performance. It can be a perfect machine for medium and larger areas. Moreover, it neutralizes any organism near the device. But, the downside is you need to give the machine more time than average (30 min+) to dissipate its strong smell.
3. Best Durable and Long-Lasting: Alpine Air Ozone Generator
Sale
Alpine Air Ozone Generator
What are the pros and cons of this machine? Let's find out.
Pros
Easy-peasy maintenance within one minute.
Industrial exterior coating for increased durability.
Lower price and maintenance cost.
Greatly effective in dealing with pet odors and kitchen smells.
Cons
Might make an annoying noise.
Another best ozone generator you can consider for your indoor or outdoor space is the Alpine Air commercial. It is a durable device that can remove odors from a large area. Alpine brand has been running its business for over 10 years now with a good reputation. So you can rely on ozone generators from Alpine.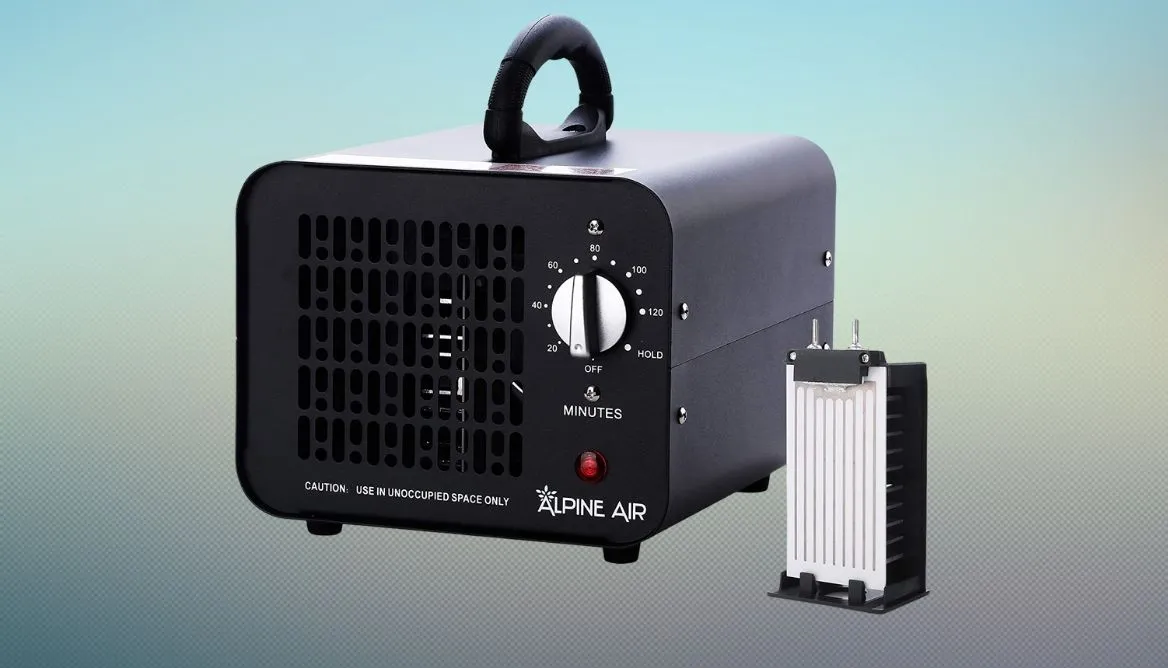 Features
It's time to explore the key features of this device.
It works as an ozone sanitizer, cleaning up fumes, paint smell, and unpleasant odors.
The cold plasma ozone output of this machine is 6000 mg/hour.
Unlike most ozone generators, high-output ozone plates are simple to remove and rinse in this device.
It offers a timer and HOLD option for optimizable ozone generation.
Specs
Just have a glimpse of this ozone machine.
Recommendation: I highly recommend this as a great budget ozone generator. This is one of the best ozone machines for pet odor removal. It is worth every single penny you spend. Note that the sound it produces can be disturbing.
4. Best Budget-Friendly: Ivation Portable Ozone Generator
Ivation Portable Ozone Generator
What benefits and drawbacks this ozone machine offers? Let's have a look.
Pros
Compact and portable design.
Optimal result for smaller spaces.
Serve multiple purposes.
Easy mountable on the wall and can be set in the corner.
More than budget-friendly.
Cons
Not suitable for large spaces.
If you want multifunction ozone generators for your place, there is no better choice than Ivation portable ozone generators. The device is so light that you can carry it when you travel. It is safe to use as no chemicals are used for ozone production. It is a great product to eliminate odors and purify the air.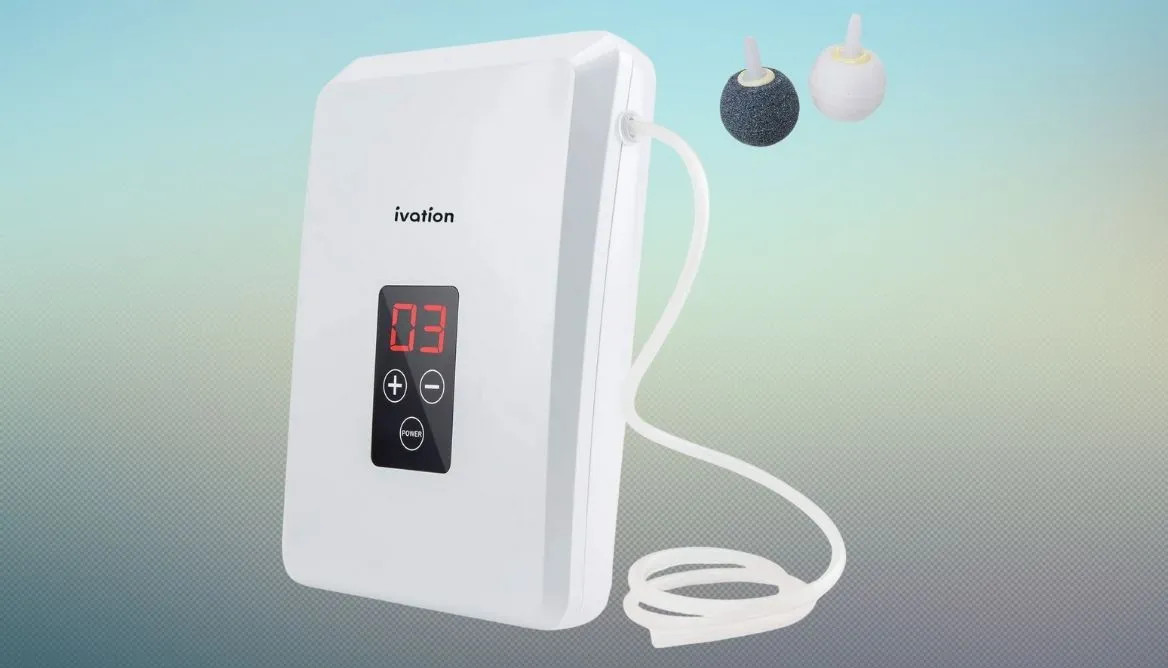 Features
Let me review the major characteristics of this device.
The 600 mg/h ozone production levels make it perfect for smaller rooms, kitchens, and cars.
Two detachable oxygen tubes are given in the package to purify foods, water, toys, utensils, and similar items.
You can set a 5 to 30-minute timer on this device.
Unlike other ozone generators, you can simultaneously deodorize, freshen, and sanitize with it.
Specs
Let's know what key specs it has.
| | |
| --- | --- |
| | Ivation Portable Ozone Generator |
| | |
| | |
| | |
| | |
Recommendation: Among portable ozone generators, I like Ivation most. I highly recommend this device for traveling people and for concentrated areas. It's extremely lightweight to carry and cheap to buy. However, you cannot use them for office settings and hall rooms.
5. Best for Larger Spaces: Airthereal MA10K-PRODIGI Digital Ozone Generator
Sale
Airthereal MA10K-PRODIGI Digital Ozone Generator
Let's explore the positive and negative sides of this device.
Pros
Perfect for restaurants, classrooms, gyms, and other big spaces.
Suitable for all sorts of smells, be it stale or musty.
1 to 12 hours long timer.
Made out of stainless steel and, therefore, anti-corrosive.
Cons
No timer option under an hour.
Among ozone generator models from Airthereal, this one is one of the best. Airthereal MA10K is a powerful ozone generator with a solid, hardy crust and maximum O3 output. You may find the design to be great as it contains a handle on the top for carrying. This corded electrical ozone generator can remove not only unpleasant odors but also eliminate other volatile organic compounds.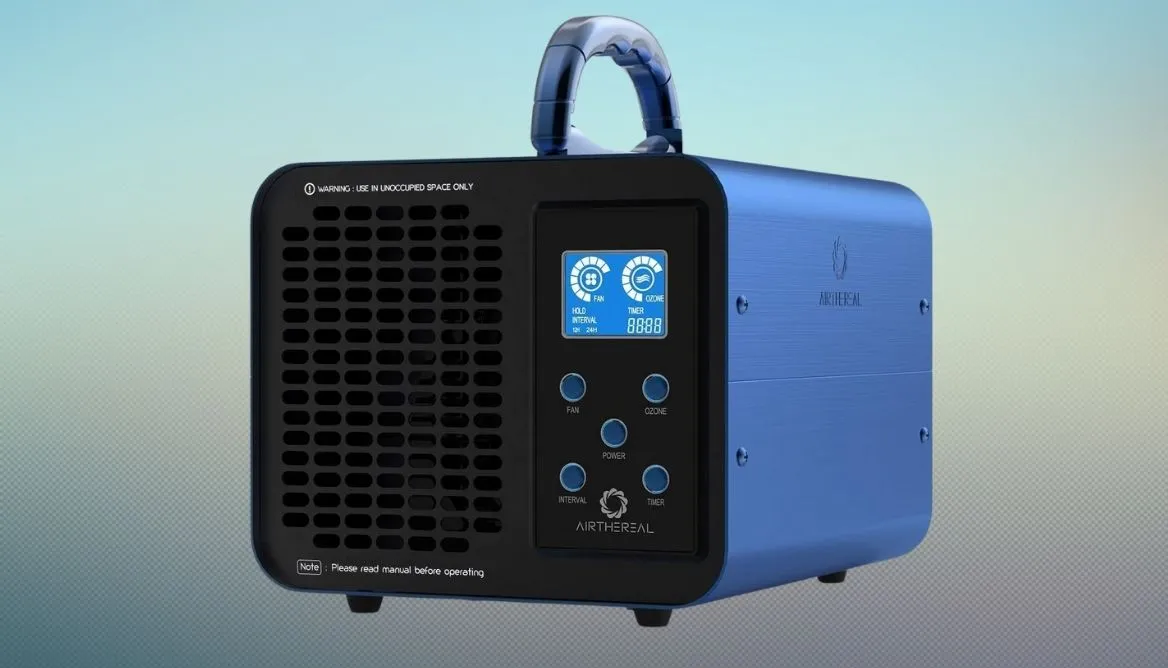 Features
Check out the key features of Airthereal MA10K.
The device has five different buttons for utmost optimization.
The LCD display provides better control over this device.
You can set the fan speed and the timer according to your requirements.
The case is made of bulletproof 304-grade steel. So it won't break even if you drop this.
Specs
Recommendation: I highly recommend this device as a commercial ozone generator. It works great in larger spaces and has various timers and settings, giving it an extra edge. The design is hardy and awesome. However, it would have been great if there was a timer option of less than an hour.
6. Best for Odor Removal: OdorStop Ozone Generator
OdorStop Ozone Generator
I've listed below the pros and cons of this ozone generator.
Pros
Best for stubborn and old odors.
An excellent choice for vehicle odor elimination.
Great, responsive customer support.
Long 5-year warranty.
Cons
OdorStop OS2500UV is one of the best ozone generators for medium areas. It has the capacity to eliminate odors of all types, including tobacco, cooking, and pet. You might be surprised that this device's cold plasma ozone output is only around 1200 milligrams/hour. But it works pretty faster in medium and larger spaces.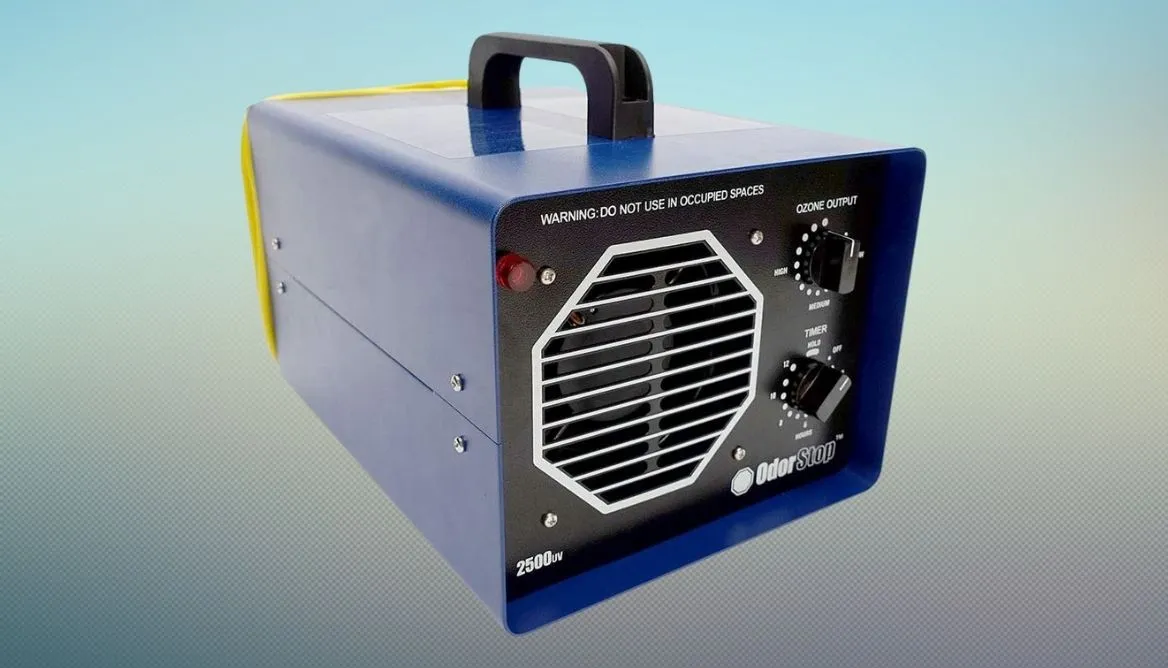 Features
What are the noteworthy features of this generator? Let's find out.
OdorStop OS2500UV has two ozone plates for faster oxygen molecules production.
The CFM fan and the UV radiation ensure extra cleaning and purification. You don't need an air purifier if you get this.
There is a washable filter, and the plates are easily removable. So the maintenance is quite simple.
Specs
Let's sum up the key specs of OdorStop OS2500UV.
Recommendation: I recommend this professional-grade ozone generator for medium-range rooms, basements, and all types of vehicles. It combines a number of technologies to produce more ozone and, therefore, more oxygen atoms. Its longer warranty period shows the confidence of the manufacturer. It's a bit pricey, though.
7. Best for All-in-One Use: OdorFree Villa 3000 Ozone Generator
OdorFree Villa 3000 Ozone Generator
The pros and cons will give you some basic idea about this machine.
Pros
Highly effective in old odor elimination.
Suitable for small to bigger spaces.
Massive five-year warranty.
Certified by Environment Protection Agency (EPA).
Cons
The smell of ozone lingers for some time.
OdorFree Villa 3000 is another great ozone generator with a high capacity for air purification. The brand has been dominating for more than 20 years. So you can rest assured that their generators will be pretty amazing.
Important: ALA has suggested vacating the ozone zone for two hours after using this device.
Features
I have listed the key features below. Have a swift glance.
It provides different levels of ozone output–from low to high.
There is a 0-12 hour timer option.
The device is quite effective in vehicles, boats, RVs, and cruise ships.
Specs
Here are the specifications of this ozone generator.
| | |
| --- | --- |
| | |
| | |
| | |
| | |
| | 11.1 x 14.5 x 10.9 inches |
Recommendation: This can be one of the best ozone generators for old, musty smell removal. It has a powerful ozone output, which you can use for all sorts of places. However, you should run it for a couple of hours to get better results. Also, wait for 2 hours before entering the treatment area.
8. Best for Odor and Dust: Ivation Ozone Generator
Sale
Ivation Ozone Generator
Let me point out the benefits and drawbacks of this generator.
Pros
Reinvigorate and refresh the air, removing the odors.
Easy ceramic ozone board cleaning.
Affordable pricing.
Several fan speeds for customized cleaning.
Cons
Another great device that works both as a generator and an air purifier is Ivation Generator. It releases negative ions to ionize and purify the surrounding air. What's interesting is that it helps to remove dust from the air to a substantial level.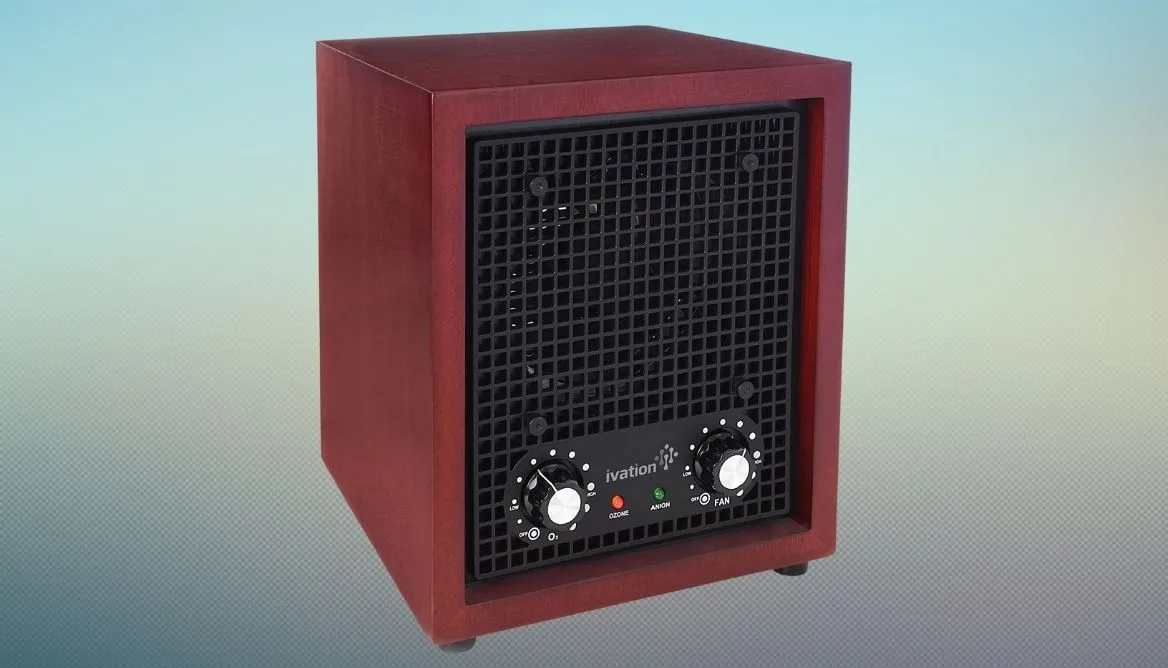 Features
Listed below are some of the crucial features.
You can use the different fan speed options to dissipate the ozone quickly or slowly.
The machine is built of stainless steel. So, it's pretty durable and solid.
A high area coverage of 3500 square feet is pretty impressive.
Specs
Here are the key specs of this generator.
Recommendation: It is perfect for people who want a powerful, budget-friendly generator that simultaneously removes odor and dust. However, there should have been a timer setting for great output.
9. Best for Multipurpose Use: Green Air Classic Air Purifier Ozone Generator
Green Air Classic Air Purifier Ozone Generator
Take a look at the advantages and disadvantages of Green Air Classic.
Pros
Longer-lasting PCO Cell for pathogen removal.
UV lamp system for ionization.
Impressive display quality.
Electrical Testing Laboratories (ETL) certified.
Timer option of 2 to 10 hours.
Cons
Green Air Classic is an extraordinary machine that can work as an air purifier and an ozone generator. It has a carbon filter that pulls and refreshes the air. And it contains a ceramic ozone plate to deal with any sort of odors, germs, and smoke.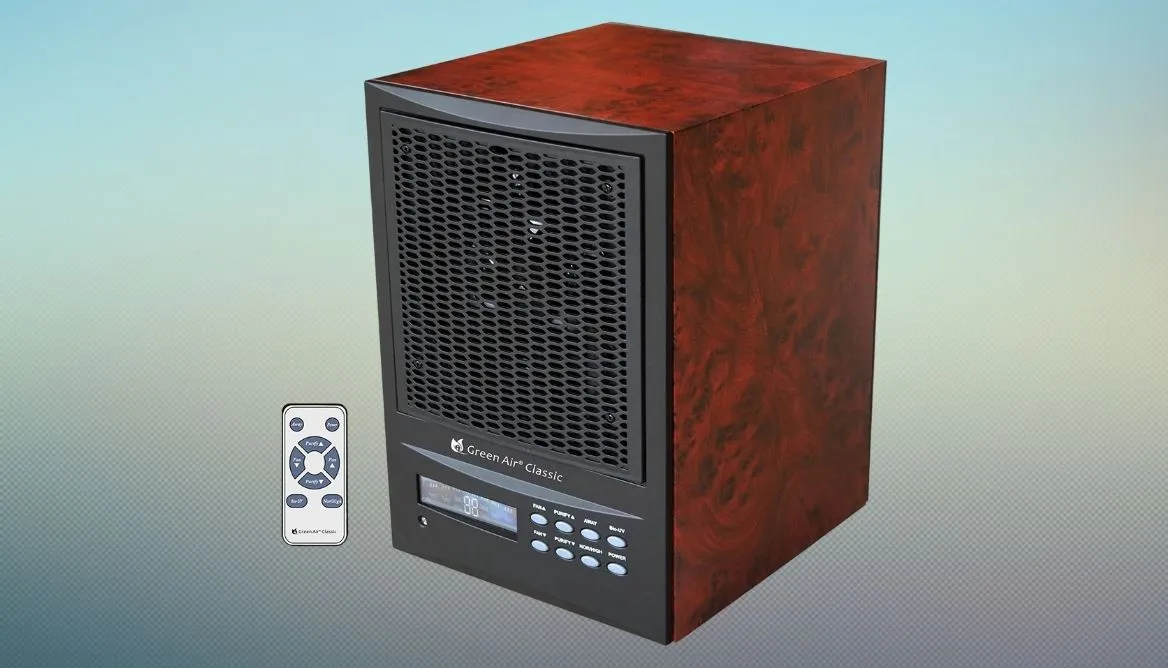 Features
The package has a remote control that allows you to control the device from a few feet distance.
It has an expected area coverage of 3500 square feet. Though, it works better in medium-sized rooms.
The upgraded carbon filter offers great ozone oxidation, smell elimination, and airborne particle removal.
Specs
Recommendation: I recommend this Green Air Classic model as one of the best ozone generators with multipurpose use. It has combined the traditional look and innovative technology. However, I found the price range a bit high.
10. Best for Smaller Space: Airthereal AH1000 Portable Ozone Generator
Airthereal AH1000 Portable Ozone Generator
Let's check out the positives and negatives of this generator:
Pros
Concentrated ozone production for faster cleaning.
Most suitable for smaller spaces.
Wall mounting for better access.
Multipurpose cleaning, including air, water, clothing, etc.
Reasonable price and portable.
Cons
Faulty LED display with number flashing.
Another excellent compact ozone machine is Airthereal AH1000. It is a great device to not only remove odors from the air but also to clean veggies, fruits, clothing, toys, and whatnot. This generator releases negative ions in the air and neutralizes them quickly.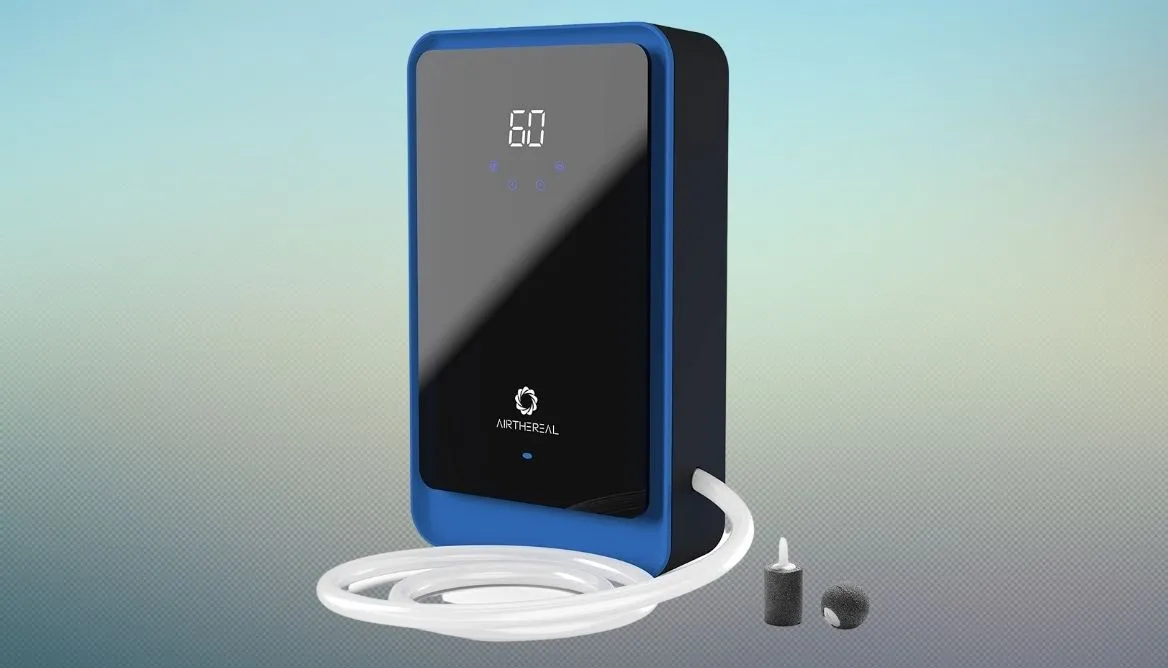 Features
I've mentioned here the noteworthy features of Airthereal AH1000.
It sterilizes water so that no bacteria or viruses can grow.
There is a timer option of 5 minutes to 1 hour.
It works with a replacement tube and diffuser stone. It can ionize the air and sterilize the water.
Specs
Let's know some specs of this device:
Recommendation: If you are looking for ozone generators for smaller rooms, kitchens, cars, and other smaller spaces, this should be on your top priority list. The design is compact and portable, and the price is affordable. The downside is that you need to unplug each time to turn off the blinking light.
11. Best for Pet and Basement Odor: OdorStop Professional Grade Ozone Generator
OdorStop Professional Grade Ozone Generator
Let's delve into the strengths and weaknesses of the OdorStop Professional.
Pros
Ergonomically designed that goes with the home setting.
Replaceable filter for more durability.
30-day money-back guarantee and 5 years warranty.
Impeccable customer service.
Cons
Not suitable for cigarette smoke removal.
OdorStop Professional is also a good ozone generator that you can rely on for long-term use. It deodorizes and sanitizes the pollutants from the air and gets rid of unpleasant odors. OdorStop has a patented design for each generator with an aluminum frame. So the ozone generators are pretty durable from this brand.
Features
Let's explore the noteworthy features of this generator.
Timer option of 0-2 hours, including HOLD button for continuous ozone production.
The CFM fan and the ozone plate dissipate the ozone gas pretty faster.
The folding handle and lightweight design give superb portability.
Specs
Have a look at the key specs:
Recommendation: This is one of the best ozone generators for strong odor and foul smell removal. It works pretty well for pet odor removal as well. However, it's a bit less effective for cigarette smoke.
12. Best for Sanitization: Home Sanitizer Solutions Ozone Generator
Home Sanitizer Solutions Ozone Generator
Let me sum up the pros and cons here.
Pros
Work as an air purifier and an ozone generator.
Highly effective in virus and bacterial removal.
Cleans the air and sanitizes the surface.
Easy to set up and clean.
Portable and lightweight design.
Cons
Not suitable for pet odors.
Home Sanitizer Solutions is the last ozone generator on my list. It is a powerful device with extra sanitizing power. The handle on the top makes it moveable from one place to another. Moreover, its compact size makes it a suitable choice to use in cars, RVs, and boats.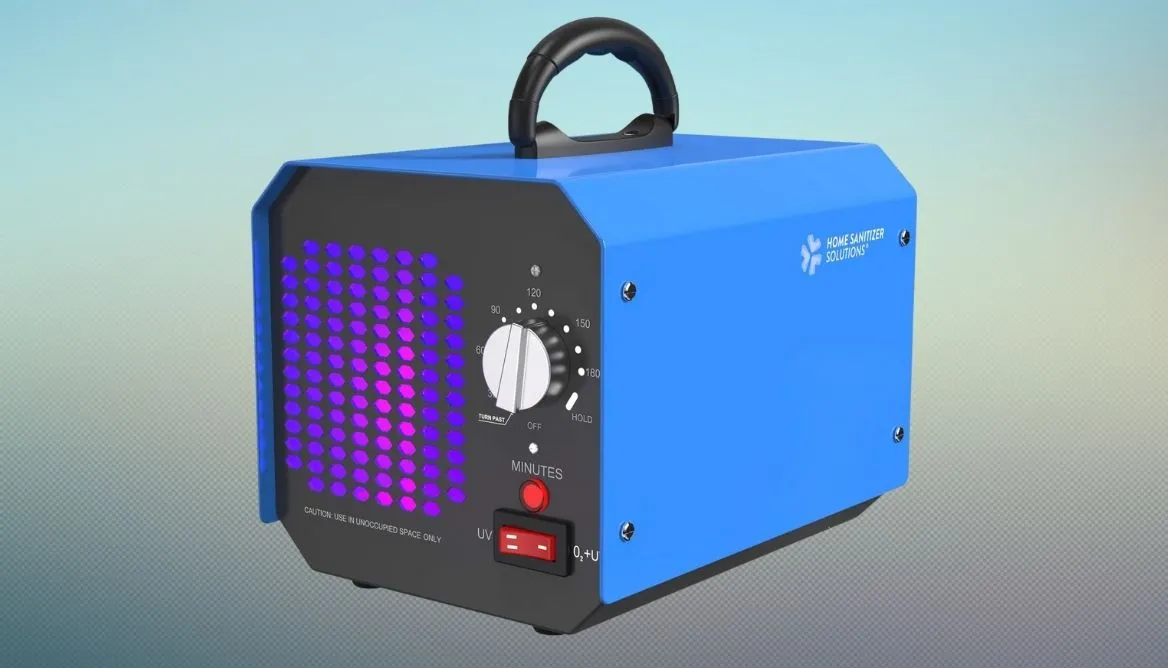 Features
Let's have a look at the most unique features of this generator.
There are UV lights included for better air cleaning.
The timer option is adjustable for up to 180 minutes.
The ozone plates are easy to remove and clean.
Specs
Look at the key specs here:
| | |
| --- | --- |
| | |
| | |
| | |
| | |
| | 7.09 x 9.33 x 6.89 inches |
Recommendation: I highly recommend this ozone generator for its 2-stage cleaning process. You can use it in your kitchen, living room, basement, and new room. However, it is not much effective against pet smells.
The Simple Science Behind Ozone Generators
When you want to use an ozone generator, you might want to know the science behind this. So how do ozone generators work? Let me explain.
The device releases ozone gas into the environment.
The ozone reacts with odors, dust particles, and harmful bacteria.
The ozone then neutralizes and ionizes the molecules. In some cases, the composition of the molecules is altered.
Next, the ozone (O3) turns into oxygen molecules.
Well, there are two common ways to create ozone in generators. Most ozone generators usually use any of the processes for ozone generation.
1. Corona Discharge Process
You have seen a thunderstorm, haven't you? During a thunderstorm, ozone is produced with the lightning. That's why you feel the air so fresh after a flash of lightning. An ozone generator uses an electrical discharge to produce ozone. Then you feel the smell so rejuvenating.
2. Ultraviolet Radiation
It is a common phenomenon that UV light splits up the oxygen molecules and creates oxygen atoms. The UV light-powered unit produces fresh oxygen this way and deodorizes any bad odors and volatile organic compounds. However, InterNACHI regards this UV light radiation as a weak process.
How to Choose the Perfect Ozone Generator? A Comprehensive Buying Guide
It's an easy-peasy task to choose a random ozone generator. However, it's quite hard to find the perfect match. Here are a number of things you should consider before you purchase an ozone machine.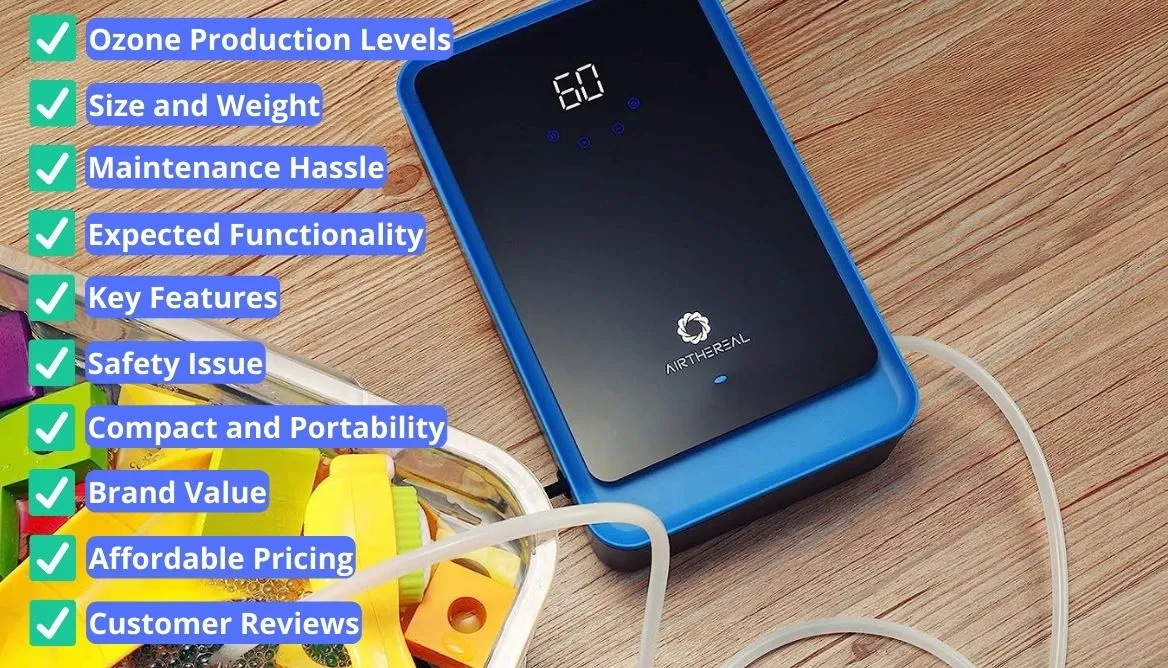 1. Ozone Production Levels
It is one of the most important factors to take into account. The standard way to measure the ozone level is by how many milligrams of ozone gas it generates within an hour. The ozone output of the device should be proportionate to your room.
The minimal ozone production should be 400 mg/hr in a device.
A 500-5000 mg/hr ozone level is suitable for home, private rooms, and kitchen odor removal.
You need an industrial ozone generator for larger spaces like hotels, hospitals, classrooms, and conference rooms.
Ozone generators with 10000-20000 mg/hr ozone radiation are perfect for bigger spaces.
A small room can be purified faster if you use an ozone generator with higher output.
2. Size and Weight
The best ozone generators are not usually heavy or bulky. Make sure your device complies with the following points.
An ideal ozone device must be anything between 2-12 pounds.
It should be compact and sleek to fit in any suitable place.
It should have holdable grips to carry it from one place to another.
Don't buy bulky generators unless you intend to use them in an industrial setting.
3. Maintenance Hassle
The best ozone generators should be easy to clean and maintain. Most generators have plates that can be removed and cleaned without unscrewing the whole device. So make sure the generator can be cleaned easily before purchasing.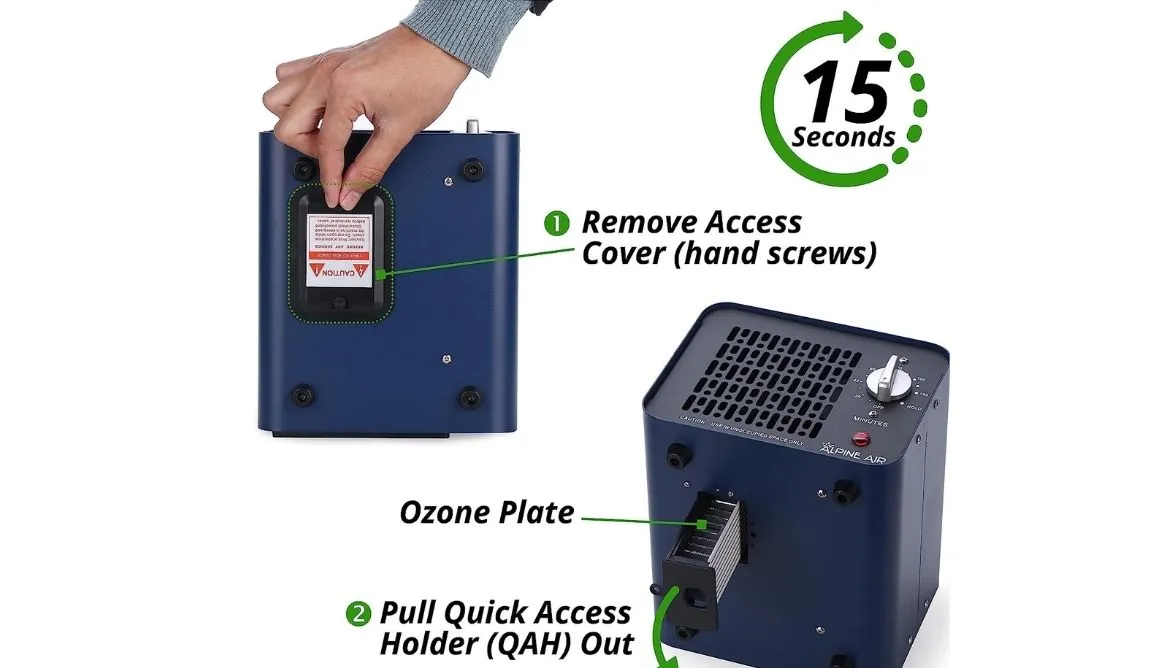 Important! Cleaning the plates routinely will increase the overall lifespan of the machine.
4. Expected Functionality
The functionality should go hand to hand with your necessity:
If you expect to deodorize and ionize your basement, pick the one that serves the purpose most.
If your primary target is car odor removal, then pick the one suitable for this job.
5. Key Features
Ozone generators should be replete with a lot of features. If the generator has the following features, consider it a good machine:
The device should have a high output of ozone.
It should have a timer anywhere between 30 minutes to 12 hours.
A fan should be inside to disperse the ozone gas into the surrounding.
It should be able to remove dust particles and allergens.
Remote control is a plus, though not necessary.
6. Safety Issue
Another serious thing to consider before buying an ozone generator is to confirm the safety issue. As ozone gas harms your health, you should not expose yourself to it. Moreover, mark the following points in the unit:
The device should be able to dissipate ozone faster.
It should be programmed to turn off automatically.
The manufacturer has maintained all the safety standards.
7. Compact and Portability
If you have frequent travel, portability should be an important factor in a generator. Portable generators should be compact and lightweight. From my experience, the ideal weight should be less than 7 lbs. If there is a handle on the top, it provides an extra edge.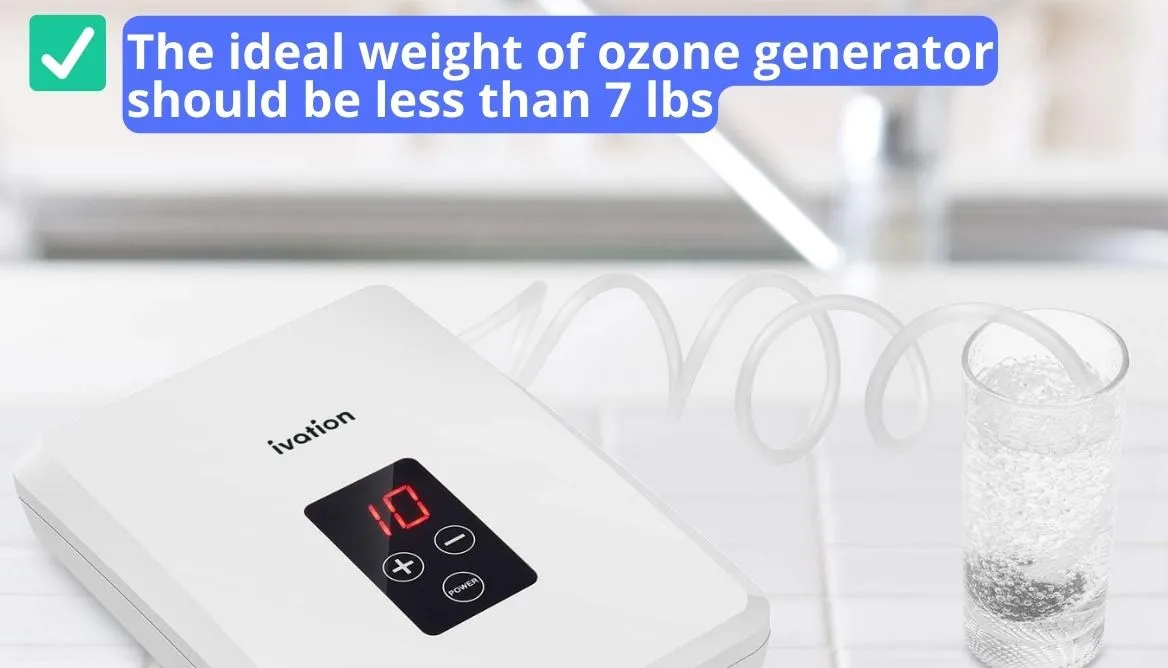 8. Brand Value
Don't go for some unknown brands with fancy features on the board. It is always better to purchase from a reliable, trusted brand. However, don't compromise your requirements for brand value.
9. Affordable Pricing
The price of an ozone generator widely varies from brand to brand and from model to model. You should check the three-four top models and compare their pricing. Don't rush for the cheapest or the most expensive one. Choose the one you can afford and that has your expected features.
10. Customer Reviews
It is very crucial to know the feedback from a real user.
See the Amazon review page of the expected generator.
Consult a real friend who has used an ozone generator before.
Take help from experts if needed.
If you consider all these factors, you shall get the most suitable ozone machine for you.
The Advantages of Owning an Ozone Generator
There are some significant benefits of using an ozone generator. What are they? Let's sum up the advantages in a list.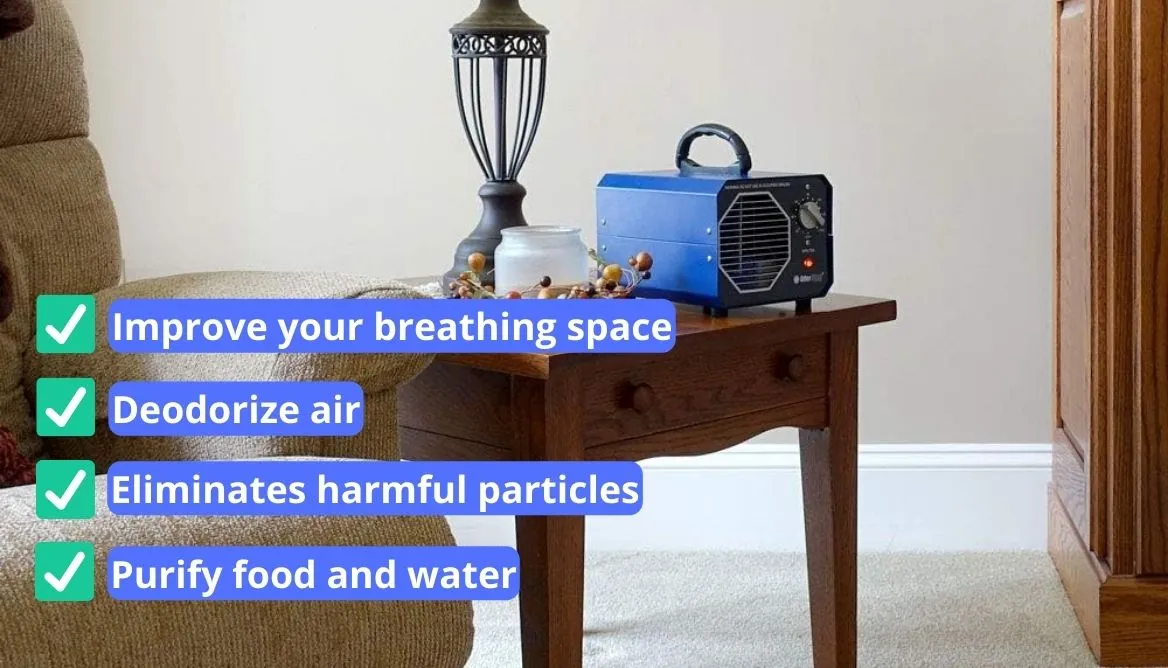 An ozone generator can greatly improve your breathing space.
It deodorizes air and removes stubborn odors.
It eliminates harmful molds, bacterial agents, and viruses.
It can purify food and water as well.
Read Also:
The Best Air Purifier With a Washable Filter: Top 11 Models
Best Ionic Air Purifiers: 11 Top Picks Reviewed
Frequently Asked Questions
Do Ozone Generators Really Work?
Ozone generators really work. They are greatly effective in odor removal. However, they cannot deal with chemical pollutants like air purifiers.
What Odors Does an Ozone Machine Remove?
An ozone machine can remove cigarette smoke, cooking smells, stale stench, old odors, mold spores, and whatnot. It also removes odors from volatile organic compounds.
How Long Can You Safely Run an Ozone Generator?
You can safely run an ozone generator for 3 to 6 hours at a stretch. More hours than that can be harmful to any user. Take safety precautions before running the device for so long.
Conclusion
So now you know about the best ozone generators available today. Make sure your chosen generator has powerful ozone production, timer options, air purifying capacity, a washable filter, and an affordable price. Also, pick the one with the least maintenance hassle.
If you ask my opinion, I would definitely pick the Airthereal MA5000 model. It has a fascinating ozone level, a compact design, and all the desired features of ozone generators. The price is also within range.
Sale
AIRTHEREAL MA5000
Airthereal MA5000 is one of the best ozone generators with modern features, powerful odor removal technology, and lasting durability. It provides you with the best possible breathing space within a short time.