Are you struggling to decide which is better in competition Dyson HP01 vs HP07 air purifiers? Choosing between these top models can be challenging. Each of them has many features and specs. Allow me to assist you in finding the perfect one for you.
Keep reading and I will compare them side-by-side and explain what's similar and unique about each. Along with who should go for HP01 and who are HP07 buyers. Let's get right into it!
Quick Comparison
The common features between Dyson HP07 and Dyson HP01 are:
Heating, cooling, and air purification functions.
Jet Focus technology for adjustable airflow.
Night Mode option for quieter operation during sleep.
A remote control that allows easy adjustment of settings.
The difference between the two are:
HP07 has real-time air quality assessment, while HP01 lacks this feature.
The HP07 offers Wi-Fi connectivity and app control, while HP01 does not.
HP01 does not support voice control with Amazon Alexa. Hp07 has voice control.
Continue reading to have an in-depth analysis of dissimilarities in design, price, features, and controls that will help you determine the right model for you. Scroll below right now!
Comparison Chart
The table listed below has all the essential details:
| | | |
| --- | --- | --- |
| | | |
| | | |
| | Purifier Hot+Cool Purifying Fan Heater HP07 | |
| | | |
| | 360 Combi Glass HEPA + Carbon air purifier filter | |
| | | |
| | | |
| | | |
| | (Amazon Alexa, Google Assistant, Apple Siri) | |
| | | |
| | | |
| | 2 years (Including parts and labor) | |
| | | |
| | | |
| | | |
| | | |
| | | |
Dyson HP01: Positives and Negatives
Sale
Dyson HP01
Let's start by exploring the pros and cons of this unit:
Pros
Portable and lightweight for easy movement between rooms.
Convenient remote control for effortless mode and fan speed adjustments.
Designed to reduce energy consumption and save on electricity bills.
Auto mode adjusts settings based on real-time air quality.
Effective air purification as it captures 99.97% of particles for improved indoor air quality.
Costs less as compared to other triple-function models.
Night-time mode enables quiet operation and dimmed display.
Has tip-over and overheating protection.
Cons
It does not support Wi-Fi connectivity
It can not be controlled by an app.
Dyson HP07: Positives and Negatives
Sale
Dyson HP07
Now let's look at the benefits and drawbacks of this purifier:
Pros
Combines heating, cooling, and air purification functions in a single device.
Offers real-time and comprehensive air quality feedback.
Efficiently circulates air throughout the room.
Purifies particles as small as 0.3 microns with a 99.97% efficiency, as claimed by Dyson.
Both the filter and the machine adhere to the HEPA H13 standard.
Auto Mode continuously monitors and adjusts settings based on air quality.
Features a 360° oscillation that can be adjusted using the remote control or app.
The backward airflow function allows for purification without direct heating or cooling.
Cons
The heating function can only be operated by the remote control.
Regular filter replacement is necessary for optimal performance.
1. An Insight Into Room Area Coverage & Capability
Let's learn how HP01 and HP07 differ in terms of performance, recommended area size, and airflow range: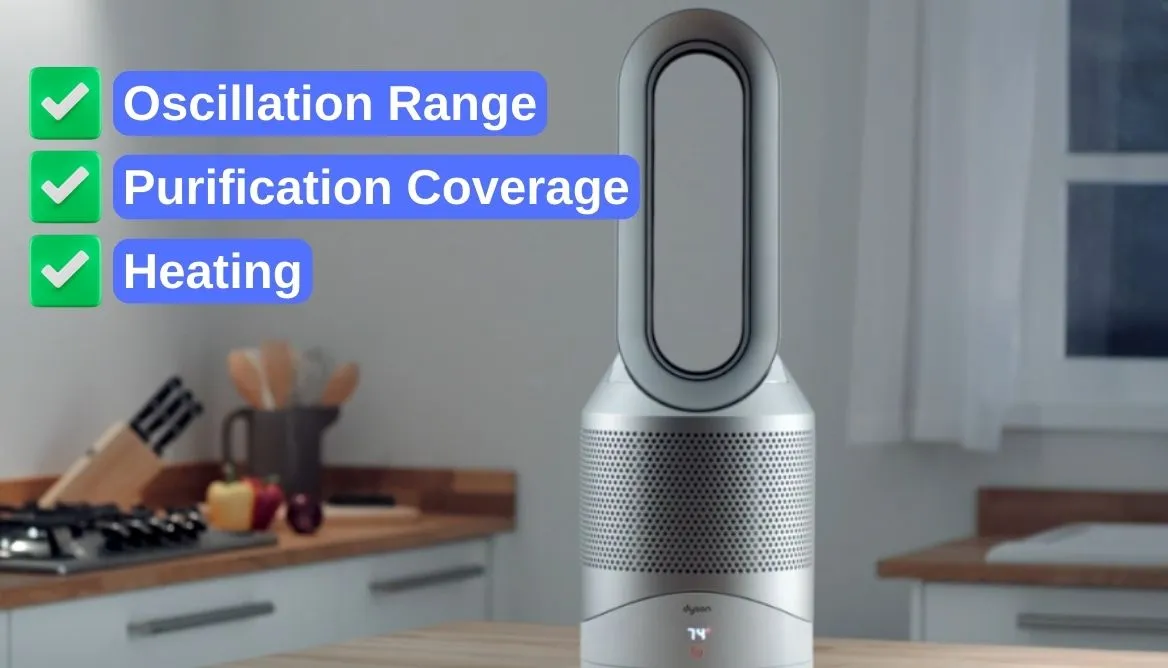 Oscillation Range: The HP01 covers up to 70 degrees. While the HP07 provides impressive coverage of the entire room with its adjustable oscillation angle of up to 350 degrees.
Purification Coverage: The HP01 is designed for slightly smaller areas, and filters an area of 73 m³ (2610 ft³). While its successors, the HP07, boast a larger purification coverage of 81 m³ (2860 ft³).
Heating: Dyson recommends using the HP07 in rooms of approximately 35 m³ (1236 ft³). On the other hand, no specific information was available for the recommended room size of the HP01.
Winner: The HP07 takes the lead when it comes to coverage and capability.
2. Filtration Systems and Clean Air Delivery Rate Explained
Let's learn about the filters and CADR below:
Dyson Air Purifier Hot + Cool HP01
The Dyson air purifier hot cool model is equipped with a remarkable 360-degree replaceable glass HEPA filter, ensuring superior air quality in your space. This filter guarantees the removal of up to 99.97% of contaminants present in the room's air, effectively combating particles as tiny as 0.3 microns.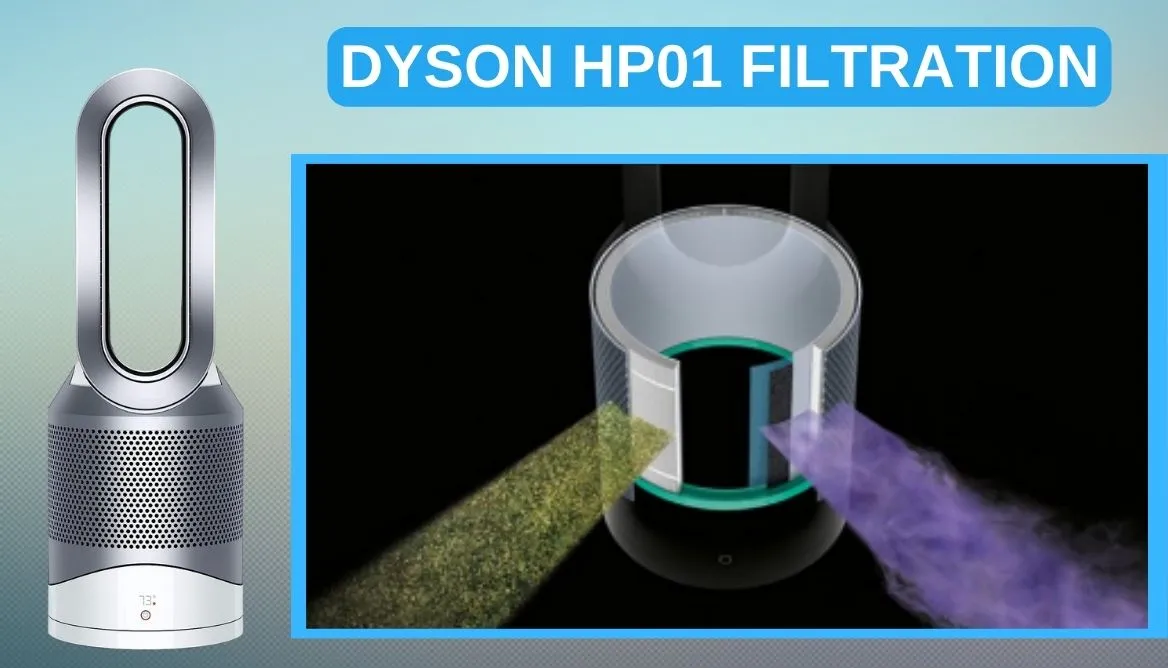 It is Dyson's second-generation glass filter, which contains:
Twenty feet of borosilicate microfiber to catch every last particle in the air.
Three times more graphite material than the first generation.
It is pleated exactly 333 times for optimal filtration.
Instead of a carbon filter, it utilizes Tris-coated graphite, effectively eliminating odors, fumes, and gases.
The filter has an airflow of 200 l/s at the max setting. Meaning the CADR is 424 CFM. Internal sensors detect pollutants, gases, and odors, ensuring they are trapped inside the filter. The result is pure, clean air that is odorless and safe for all family members to inhale.
Dyson Air Purifier Hot + Cool HP07
The HP07 includes a Combi 360° Glass HEPA and Activated Carbon Air Purifier Filter. It is two pieces that snap into place around the base for complete air purification of the area. The unit is fully sealed, meeting HEPA H13 standards. This ensures that captured contaminants remain trapped inside.
Due to an integrated design, replacing the filters has become easier. This is how it works:
The purifier base draws untreated air in, passes it through both filters, and releases purified air through the radial amp.
The activated carbon filter effectively reduces gases and odors, including VOCs, by capturing substances like formaldehyde, benzene, and nitrous dioxide.
The glass HEPA filter utilizes borosilicate microfibers pleated over 200 times to capture 99.97% of particle matter down to 0.3 microns in size.
The unit features a backward airflow mode that directs purified air through the back of the machine instead of toward the user.
When it comes to the capability of cool air or heating performance, Dyson states that HP07 has 290 l/s at max. setting. As a CADR it would be equal to 614 CFM.
Winner: HP07 is a stronger model and a winner in this category!
3. HP01 Vs HP07: A Detailed Overview Of Controls
Let's shed light on the controls of these two devices.
HP01
The Dyson HP01 air purifier offers convenient control options for a customized experience. The buttons on the front of the base allow you to:
Power On / Off the device.
Adjust the fan speed to suit your preferences.
Set the sleep timer for automated shut-off.
Change the mode between purifier, hot, and cold functions.
Control the oscillation feature to distribute airflow.
Remote Control
Additionally, the HP01 comes with a remote control that replicates all these features. The amplifier has built-in magnetization, allowing the remote to securely attach directly to the machine. It is designed curved to prevent misplacement.
Fan Speeds and Air Circulation
The HP01 boasts 10 different fan speeds. Meaning a wide range of options to find the optimal speed and temperature combination for creating the desired ambiance in the room. It can rotate up to 70° in either direction, enhancing air circulation. The tilt feature further adds to the versatility of the unit.
I would advise you to have a look at this video and learn more about this incredible device.
HP07
The Dyson HP07 air purifier offers multiple methods to operate and control the device. Have a look at the list below. Also, go display Screen/Physical Unit. The LCD screen on the base provides information on:
Current air quality,
Humidity,
Temperature,
Particulate matter,
VOCs/formaldehyde Readings,
Remaining filter life.
Remote Control
With the remote, you can:
Turn the unit on or off,
Control heating,
Set Auto Mode,
View sensor readings,
Adjust oscillation rotation (up to 350°),
Set airflow direction,
Activate the sleep timer and Night Mode,
Adjust fan speed (1-10),
Use the custom mode for more direct control over settings.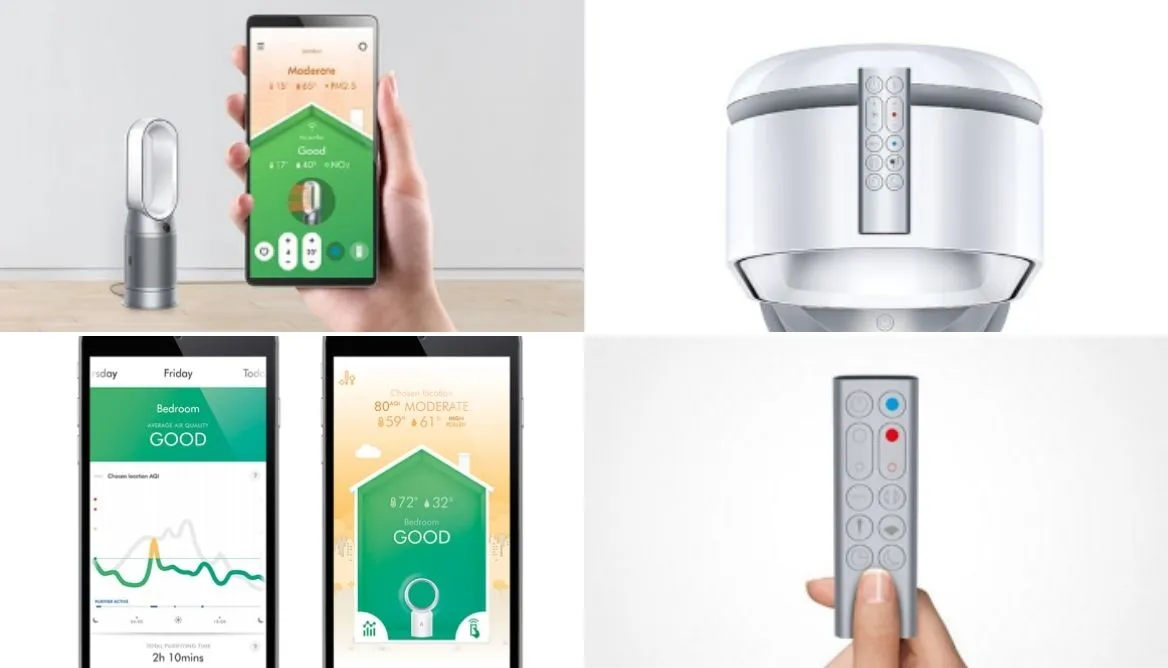 Dyson Link App
The app allows you to perform all the functions available on the remote control. You can:
Monitor air quality and change settings from anywhere using your smartphone.
Access real-time outdoor air quality monitoring based on your location,
Connect to compatible devices like Amazon Echo for voice commands,
Update the unit's software,
Set schedules,
Check sensor data readings,
Control all settings and operations.
Note: Heating cannot be controlled through the app due to safety standards.
Smart Home Connection
The HP07 can be connected to:
Amazon Alexa,
Google Assistant
Apple Siri
It enables you to control the device through voice commands. You can control all settings except for heating, which must be controlled using the remote.
Winner: With multiple control options, HP07 is a winner in this category!
For more information, I recommend going through this helpful video.
4. Various Modes and Temperature Settings
Moving on to our next section, let's check out both models in terms of modes and temperature settings.
HP01
The HP01 comes with various modes and settings. This allows for operating the purifier according to the cleaning and ventilation needed. Let's check them out:
Jet-Focused Mode: This mode is perfect for directing airflow over long distances, providing personalized heating or cooling based on individual preferences.
Diffuser Mode: By selecting this mode, you can disperse airflow at a wider angle, effectively heating or cooling the entire room while still maintaining control over the temperature.
Sleep Mode: If you plan to use the Dyson Hot + Cool in a bedroom, the sleep mode feature is particularly useful. It offers preset time frames, allowing you to choose when the air purifier automatically turns off, ensuring a peaceful night's sleep.
In all of these modes, you can choose the desired room temperature needed. The fan will blow hot or cold air till the temperature is achieved and then continue to purify the air. The current temperature is also displayed on a LED for you to note.
HP07
The HP07 has a higher price point but it is only due to the many features it offers. You must learn what gives it an edge over the competition. Read below.
Smart Control
The Dyson Purifier Hot Cool HP07 offers versatile control options through Wi-Fi connectivity. You can utilize the remote control or Dyson Link app on your smartphone. It also offers control by voice commands for seamless operation via Amazon Alexa/Siri.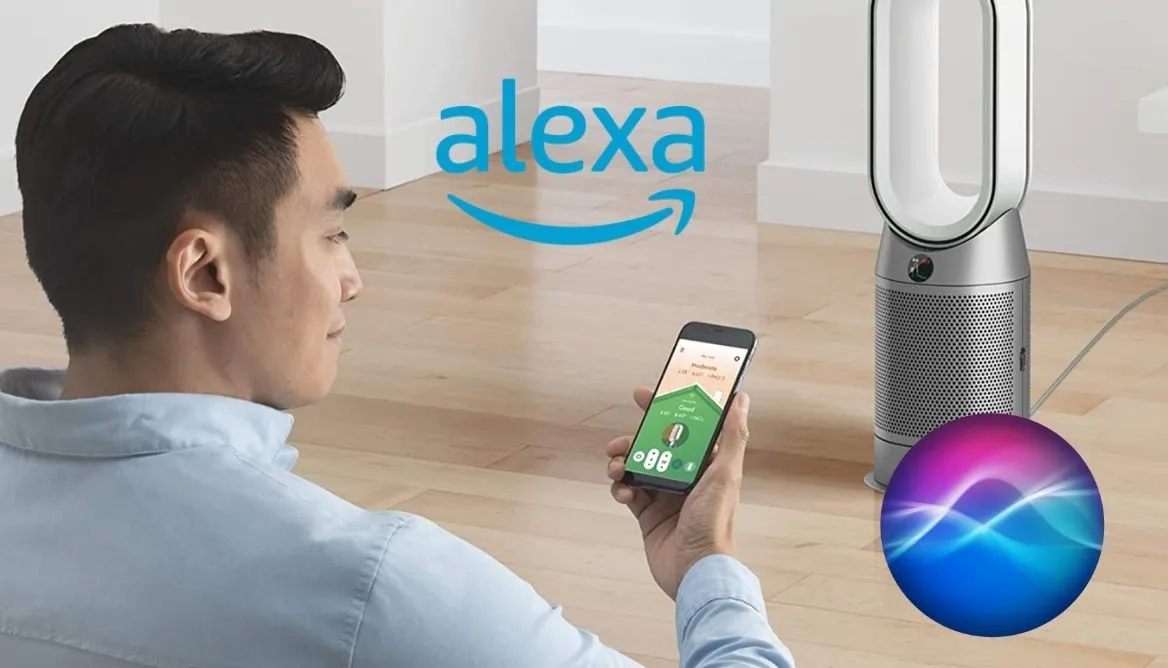 Heating Function
By using the heating function, it acts as space heaters and you can enjoy warmth in your room with air that has already been purified. The HP07 is equipped with both heating and cooling fan functions, making it suitable for use throughout the year. Having all these capabilities in a single device helps minimize clutter and the number of cords in your home, while also reducing the need for off-season storage.
Mode Settings
Let's explore different modes below: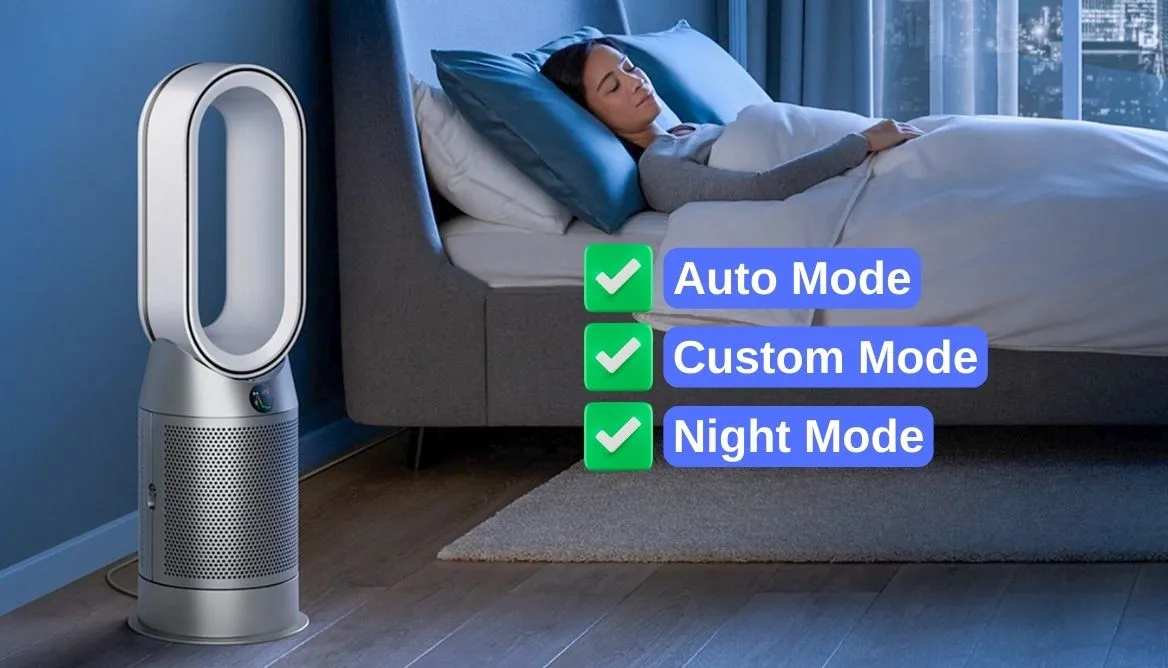 Auto Mode: The HP07 Cool air purifier comes with smart sensors that continuously monitor air quality inside your home. It adjusts the fan speed accordingly. It stops blowing air when the desired purification is achieved. This helps save energy, reduce utility bills, and prevent unnecessary wear and tear.
Custom Mode: The Custom Mode provides users with enhanced control over the device's settings. It allows for precise adjustments of the oscillation angle (ranging from 0° to 350°), airflow direction, and fan speed to suit individual preferences and specific requirements.
Night Mode: The Night Mode offers convenient features such as a programmable sleep timer, a dimmable LCD screen, and reduced noise levels. Even in this mode, the purifier functions and adjusts automatically in response to changes in air quality.
Air Quality Index in HP07
The unit is equipped with three intelligent sensors that continuously collect data on air quality. This information is then presented in the form of live air quality reports. You can view a graphical representation of the air quality changes over a specific period of time.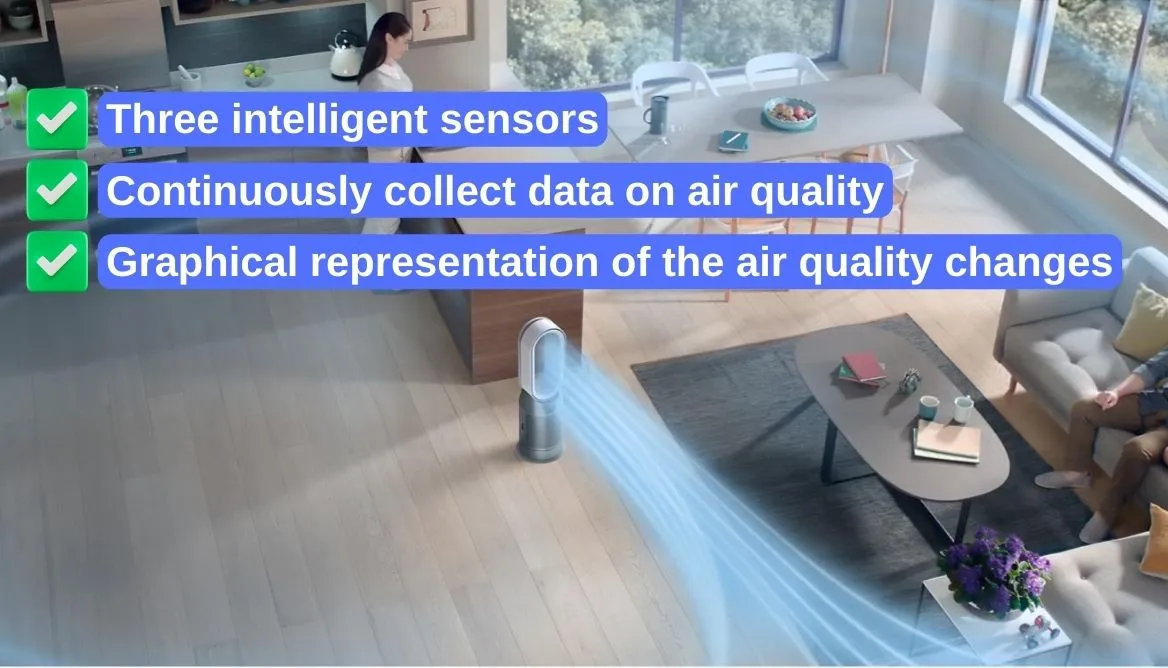 Let's learn why is Air Quality Assessments Beneficial:
Visuals of indoor and outdoor air quality fluctuations guide informed decision-making.
Help in adjusting settings and controls for energy and utility bill savings.
Aid in determining the appropriate settings to apply in Auto Mode.
Winner: With the added smart controls, HP07 takes the lead and is hence declared the winner in this category!
5. Dyson Air Purifiers Sizes
Dyson HP01 is a compact air purifier and can be easily placed in tight corners. It can be placed on tabletops and shelves. If needed, you can place it on the floor too. Here are its dimensions:
Height: 24.9" tall
Length: 6" long
Width: 8.7" wide
Weight: 8.6 lbs
Cord length: 5.9 ft long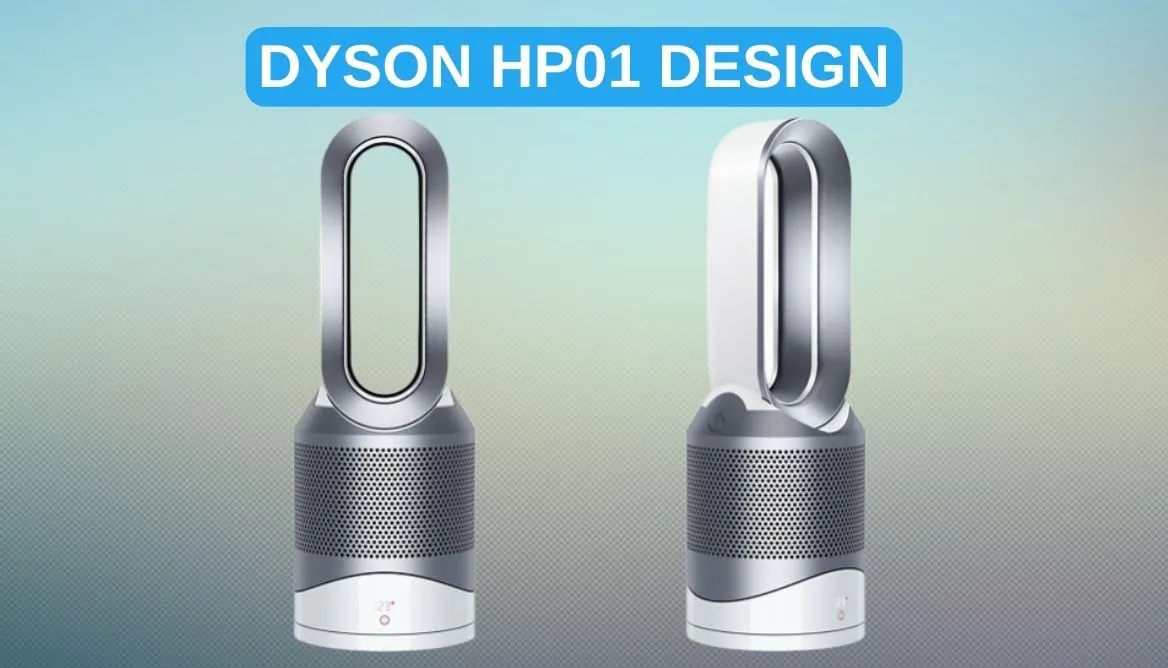 Dyson Purifier Hot + Cool HP07 has a medium height as compared to other models. It is thinner so placing it in corners will not be an issue. It has one inch thicker than its non-space heater counterpart. View its dimensions:
Height: 30 in
Length: 5.12 in
Width: 8.1 in
Weight: 12 lbs
Cord length: 6 ft long
Winner: If your preference is being lightweight, then go for HP01. It has less height and its weight is manageable.
6. Body Style and Visuals
Dyson HP01 and HP07 are similar in design visually. They both have an oblong shape that sits on a round base. The controls, digital display, and filter are housed on it. However there are a few differences, let's check them out:
HP07 features a larger base compared to the HP01, which accommodates advanced features and controls.
The color options for the HP01 include White/Silver and Iron/Blue. It also has Iron/Silver, and scandium that are Dyson.com exclusive.
The color variants for Dyson HP07 are Black/Nickel, as well as White/Silver.
Winner: When it comes to visuals, I will call it a draw!
7. Accessories & Parts
When it comes to parts and accessories, the Dyson HP01 and HP07 are quite the same. The main difference is their filters. Have a look at the list of HP01 first:
Dyson Pure Hot + Cool HP01 air purifier
360° Glass HEPA filter
Power cord
Remote control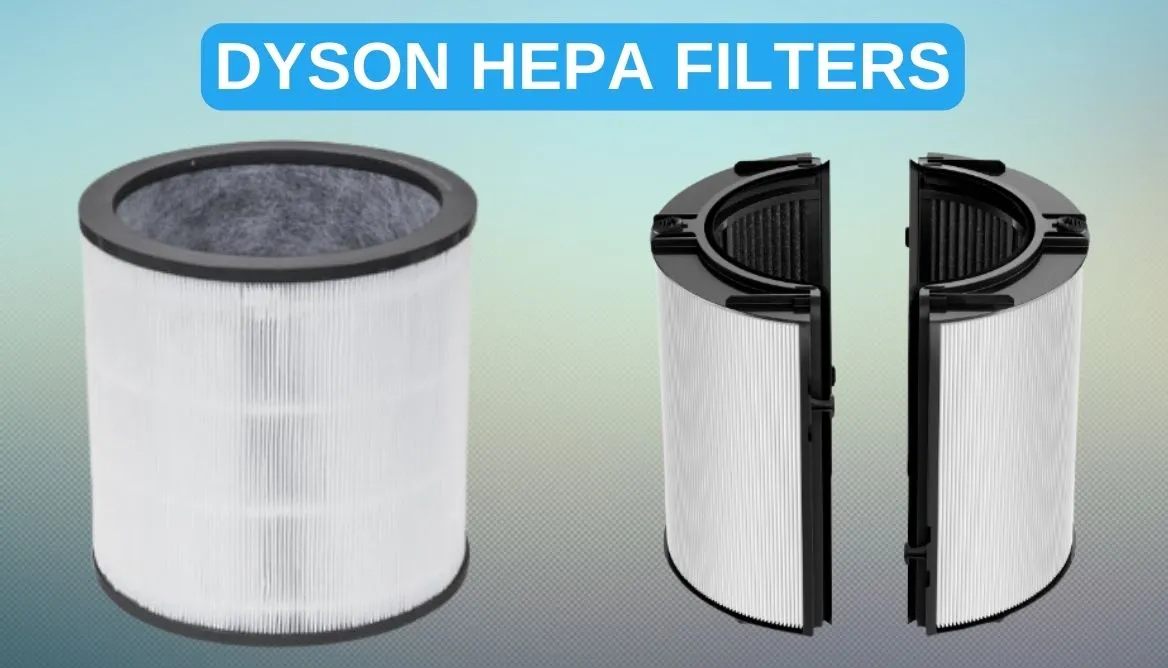 Now compare it to those of HP07:
Dyson Purifier Hot + Cool HP07 Purifying Fan Heater
Dyson 360 Combi Glass HEPA + Carbon air purifier filter
Remote Control
Power Cord
Winner: Both purifiers are equal here too.
8. Preparing Purifiers For the Usage
Now let's have a look at the similarities between both purifiers when it comes to setting up:
Both models have a straightforward and intuitive setup process.
The units need to be lifted using both hands, holding them by the base to ensure proper handling.
Both models require inserting the filter into the outer cover and securing it onto the base.
Dyson HP01
Here are the dissimilarities of the Dyson HP01:
The remote control needs to be placed on top of the machine with the buttons facing down of the Dyson HP01
The machine can be powered on by pressing the On/Off button.
Dyson HP07
Check out the difference in setting up Dyson HP07 to completely grasp how the models differ:
The machine can be connected to the Dyson Link app for full control, which requires downloading the app from the App Store or Google Play.
The Dyson app allows users to adjust settings, access support, and monitor air quality.
The heating feature is accessed through the remote control.
Winner: Setting up HP01 is a little more quick process as it boasts a very simple procedure. Whereas in the other model, you would have to go through the hassle of downloading the app. But, it's a close call!
9. Maintenance
The maintenance of both units is the same. It involves two major things. One of them is filter replacement. Here is how it is done:
Wait for the filter indicator light to illuminate, indicating the need for a new filter.
Open the base of the purifier.
Insert the replacement HEPA filter into the designated area.
Close the base securely.
Wait until the filter indicator light signals that it's time to replace the filter in the future.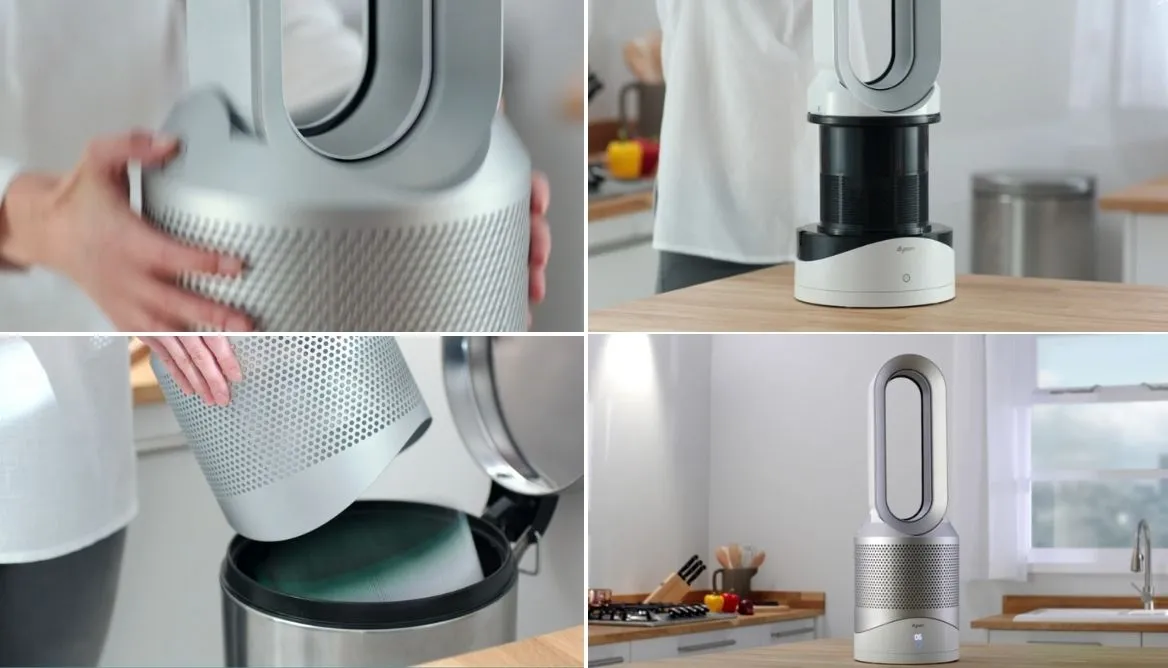 Next comes cleaning. It is quite simple and easy. Just follow these steps:
Take a damp cloth or duster.
Wipe down the exterior of the air purifier as needed.
Pay attention to any visible dirt, dust, or smudges.
Ensure thorough cleaning of the surface to keep it looking nice and tidy.
Winner: It's a draw as there is no difference in them considering maintenance.
Who Should Opt For the Dyson Pure Hot + Cool HP01?
The following is a checklist. This will help determine if the Dyson Pure Hot + Cool HP01 is suitable for you. Let's evaluate if you should buy it: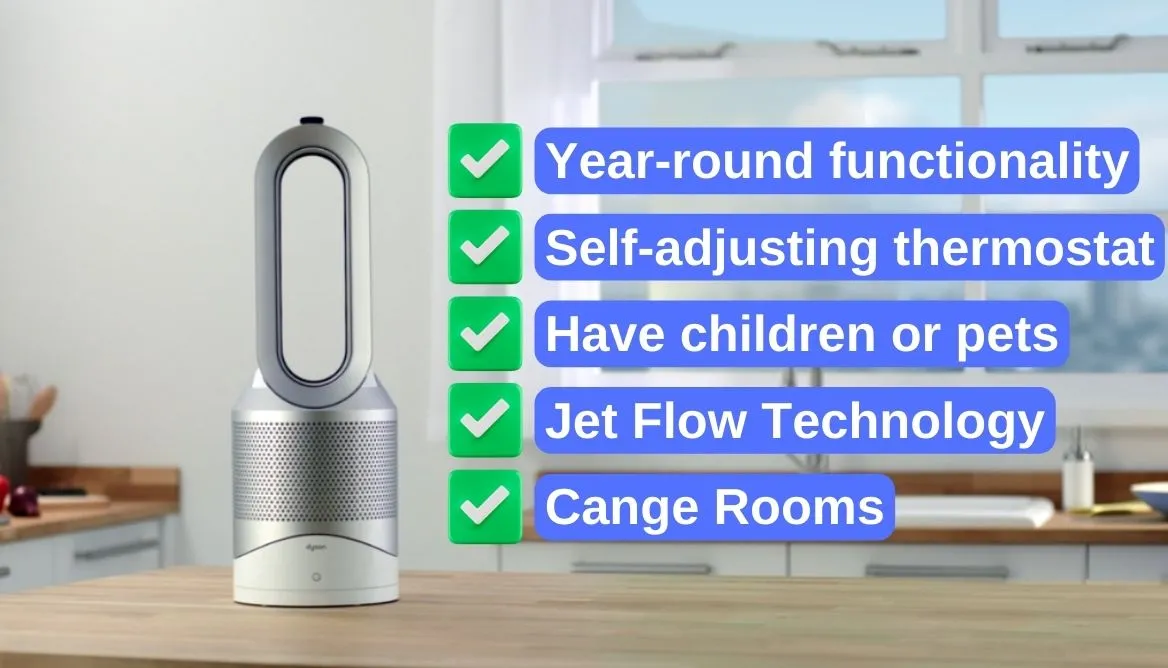 If you need a year-round functionality: It blows hot air, and cool air, and purifies the environment in one unit, making it suitable for year-round use.
Need for a self-adjusting thermostat: Set your desired temperature, and the unit will automatically adjust the heat or cooling, ensuring a comfortable environment.
Have children or pets: The bladeless design of Dyson air purifiers eliminates the risk of accidents, ensuring safety.
Benefit from Jet Flow Technology: This way you can have a personal air purifier, heater, or fan, or switch to the dispersed mode for larger room coverage.
If you need to change rooms: The lightweight design allows for easy portability.
Who Should Opt For the Dyson Purifier Hot+Cool HP07?
You can judge if this model is more suitable for you or not based on the following checklist. Let's assess: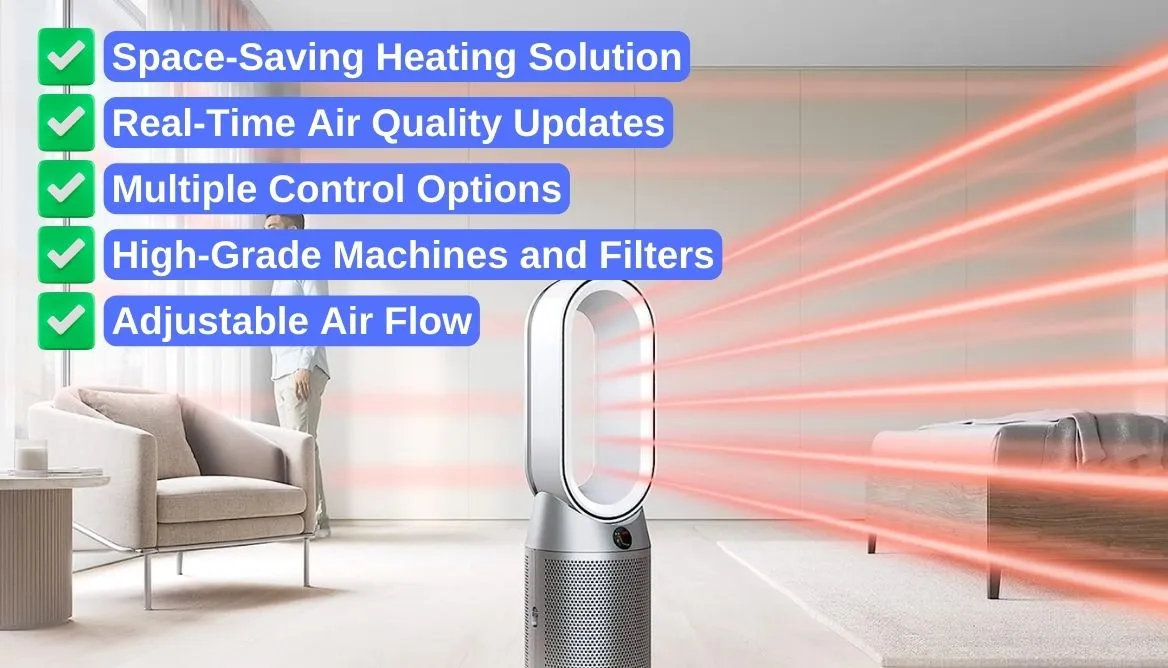 Need a Space-Saving Heating Solution: Combine heating and air purification in one device. This minimizes the need for multiple devices and reduces space, clutter, and storage requirements.
Real-Time Air Quality Updates: Constantly monitors indoor and outdoor air quality. Then it automatically adjusts settings in Auto Mode for optimal air purification performance.
If you prefer Multiple Control Options: Offers a range of control methods, including a traditional remote control, smartphone control, and voice control via Wi-Fi connectivity, providing convenience and flexibility.
If you require High-Grade Machines and Filters: Utilize high-grade HEPA filters to effectively capture and trap pollutants. This ensures clean and healthy air in your environment.
Adjustable Air Flow: Allows customization of fan speeds (1-10), airflow direction (forward or backward), and oscillation (0-350°). It helps enable you to personalize the airflow to suit your preferences and needs.
Read Also:
Best Air Purifier for Home: 7 Great Models for Healthy Air
Best Dyson Air Purifier: 9 Great Models For Healthy Air
Dyson TP01 vs TP02: Which One is Better for Your Needs
Dyson TP07 vs TP09 Air Purifier: Which One Is Better
FAQ
Which Dyson HP is best?
The best Dyson HP depends on your specific requirements and preferences. However, The Dyson HP07 is often regarded as one of the top choices due to its advanced features like real-time air quality assessment, Wi-Fi connectivity, and multiple control options.
What is the difference between the Dyson hpo4 and the hpo7?
The difference between the Dyson HP04 and the HP07 is that the latter has better airflow. HP07 also has a fully sealed HEPA filter and is quieter in comparison.
What is Dyson HP07?
The Dyson HP07 is a multi-functional air purifier with heating, cooling, and air purification capabilities. It features real-time air quality monitoring, Wi-Fi connectivity, voice control, and additional modes like Jet Focus and Night Mode.
What is the difference between HP01 and HP02?
The difference between HP01 and HP02 is that the latter includes an air quality sensor and Wi-Fi connectivity with the Dyson Link app. It is also compatible with voice control through Amazon Alexa.
Conclusion
The best air purifier among the Dyson HP01 and HP07 depends upon your requirements and budget. Of course, HP07 is the newer model so it comes with more functionalities. However on its own HP01 is an incredible air purifier, cooler, and heater. If your budget is less, then go for it rather than HP07.
Yet still I believe the Dyson HP07 stands out as a top contender in its category. Its impressive array of features, including real-time air quality assessment, Wi-Fi connectivity, and flexible control options, place it at the forefront of air purifier technology.
Sale
Dyson HP07
It has an air purifier that clears airborne pollutants and unpleasant smells. It consists of a cooling fan and a heater with Jet Focus. Additionally, it has fantastic features like real-time air quality assessment, Wi-Fi connectivity, and easy control options.
Sale
Dyson HP01
Dyson HP01 is a great air purifier that is affordable and effectively purifies the air. It is capable of auto-changing the fan based on the environment and shifting the mode between purifier, hot, and cold functions.