Are you searching for the best air purifier and dehumidifier all in one? Look no further! I'm here to tell you about the top 6 models that will not only improve your indoor air quality but also prevent excessive humidity. So do not waste time and find your dehumidifier and air purifier combo by reading the guide below!
Quick Answer
To settle on the best dehumidifier air purifier, determine your requirements and priorities. Once you have that in order look for the following before purchasing:
Room Size and Coverage Area: Consider the dimensions of your room and choose a unit with an appropriate coverage area. This is important for effective air purification and dehumidification.
Dehumidification Capacity and Moisture Removal Rate: Ensuring it can efficiently reduce excess humidity and prevent mold or dampness issues.
Air Filtration System: Evaluate the air purifier's effectiveness in capturing pollutants, allergens, and particles. A multi-stage setup with a HEPA filter is considered ideal.
Energy Efficiency and Power Consumption: Opt for an energy-efficient unit with lower power consumption. You can check for Energy Star verification to make sure it does not bill much.
Automatic Features: Select a unit with features such as automatic shut-off and timer settings to enhance convenience. This way you will not have to monitor the machine much.
I analyzed all the crucial factors and came to the conclusion that the best dehumidifier and air purifier include Afloia Q10, Vremi 22 Pint, hOmeLabs Energy Star Dehumidifier, and 3 more models. Continue reading to learn about their pros, cons, and specs. Also, get insights into important considerations before buying.
Best Dehumidifier and Air Purifier Combo: Top 6 Models
Let's take a look at the top 6 dehumidifiers and air purifiers combo models:
| | | | | |
| --- | --- | --- | --- | --- |
| | | | | |
| | | H13 HEPA filtration system | | |
| | | | | |
| | | Removable Washable Filter | | |
| | | | | |
| | | | | |
| | | | | |
1. Best Overall: Afloia Q10
Afloia Q10
Let's examine its upsides and downsides:
Pros
Option to use air purifier dehumidifier combo function together or separately.
The 13 HEPA filter captures pollutants as small as 0.1 microns such as dust, pet dander, and smoke.
It removes 750 ml per day when it is 86 degrees Fahrenheit with 80% relative humidity.
Ultra-quiet operation so your peace and lounging are undisturbed.
Cons
Need to care for the hose plug so that kids or pets do not mess with it. If you lose it the water will leak.
Afloia Q10 deserves to be on top of the list. It combines the benefits of an air purifier and a dehumidifier hence you will get cleaned air with extra moisture removed.
It features auto shut-off, a drain hose for continuous drainage, a filter change alert, a three-speed mode, and a timer setting for convenience. Additionally, it has a rounded design with touch buttons for easy maneuvering and adding aesthetic to the interiors.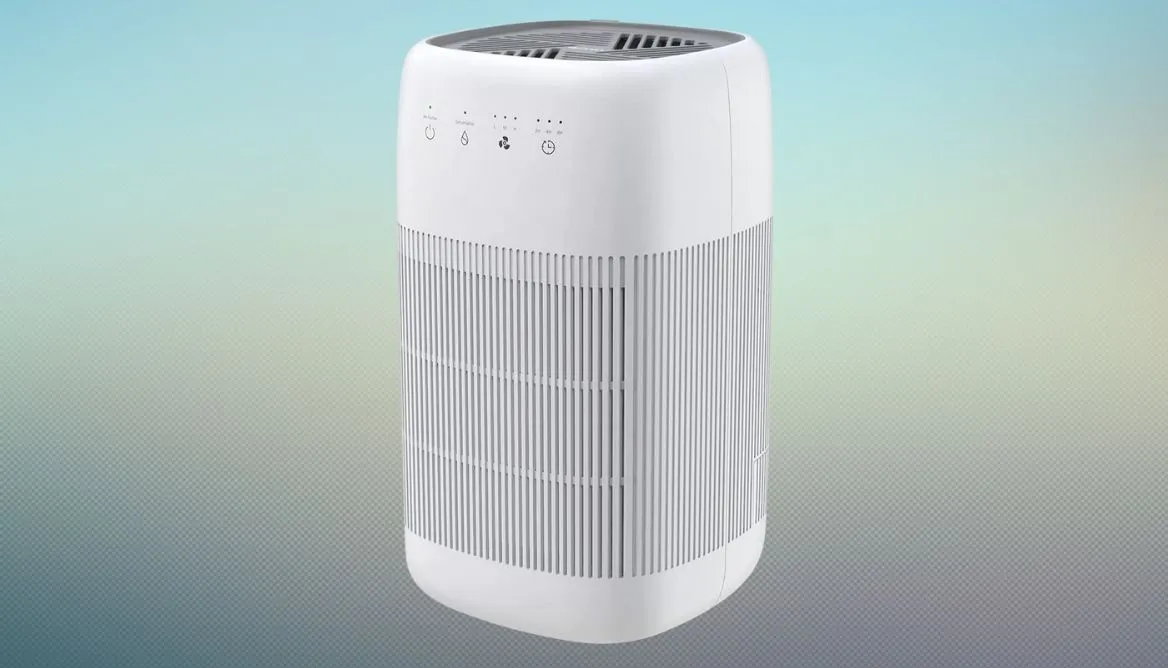 Features
Explore its exceptional features and highlights to grasp why it's truly outstanding.
3-stage fan speeds to get the desirable clean indoor air and non-humid environment.
Comes with a 6.56 feet drain hose so the stored water is easily cleared out.
Water tank Capacity and Filter replacement indicator to help you with the maintenance.
3 timer settings (2, 4, 8 hours) so you can leave it running unmonitored.
Specs
| | |
| --- | --- |
| | |
| | |
| | |
| | H13 HEPA filtration system |
| | |
| | FCC Certified, ETL Listed, RoHS certified |
| | |
| | |
| | |
Recommendation: It is a portable dehumidifier + air purifier used for small spaces. It has the necessary certifications and a 2-year warranty hence there are no risks. It has a HEPA filtration hence 99.97% of the air particles are trapped while you can remove moisture to clear musty odors produced by molds. You will need to keep an eye on the drain stopper because if you lose it, water is going to come out.
For more insights, check out this video to understand why this device is at the top.
2. Best CADR: Midea 50 Pint
Midea 50 Pint
Let's check out its positives and negatives:
Pros
The Turbo Mode has an enormous airflow that changes air extremely fast.
Has an auto comfort mode to adjust the dehumidifying according to the moisture levels indoors.
Consists of a massive 1.6-gallon bucket capacity so you do not have to change often.
Has a digital LED display to show the humidity level of the room.
Cons
It is suitable for people needing to use it in large rooms. For smaller areas it is expensive.
The Midea Dehumidifier with Air Filtration offers energy-efficient operation. It includes a 1.6-gallon built-in tank and innovative features like auto-restart after power cuts. Additionally, it has a powerful turbo mode for enhanced performance. Due to its modern design, it's a perfect fit for living rooms.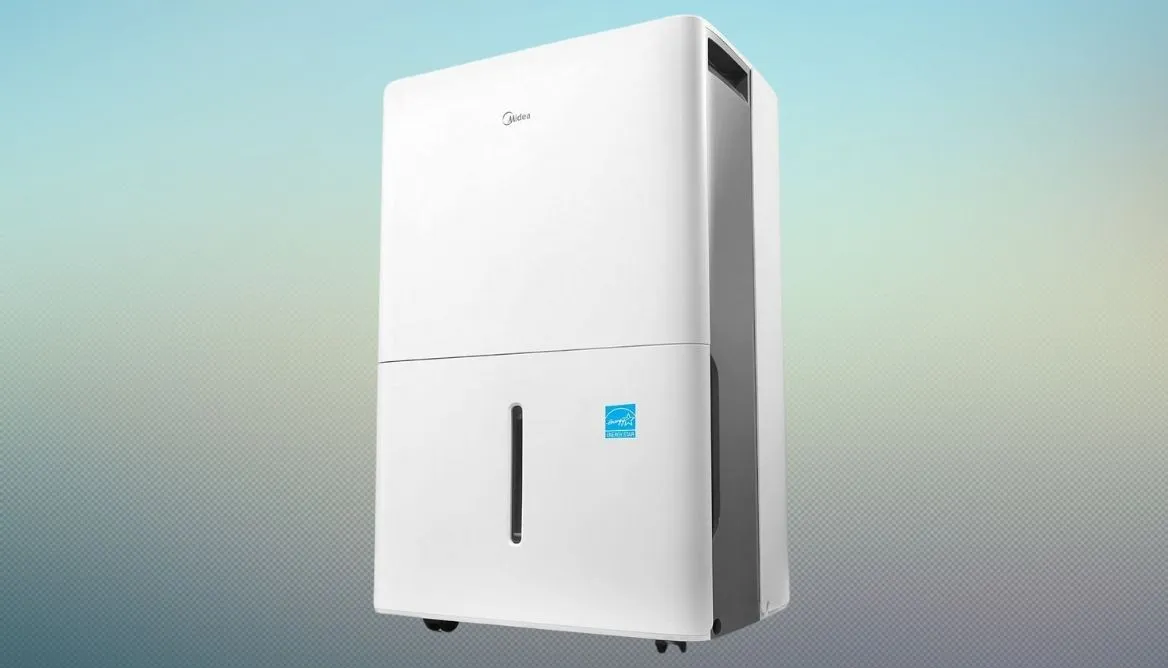 Features
Here are some of the great features of this purifier:
Filter Change and Bucket full indicator lights
Upto 24-hour timer settings.
Auto Defrost eliminates the frost that builds up on the evaporator coils.
Specs
| | |
| --- | --- |
| | |
| | |
| | |
| | |
| | |
| | |
| | |
| | 1 Year Parts & Labor Warranty |
| | 15.43" W x 11.1" Dx 24.25" H |
| | |
Recommendation: Buy this air purifier dehumidifier combo unit if you need to cover a large space swiftly. You will not have to worry about constant monitoring as it has a timer, filter, and bucket full indicator. Comfort mode and Turbo mode will help you maintain desired humidity levels and cleaning speeds. However, keep in mind it is cost-effective for smaller rooms only.
3. Best For Larger Coverage: hOmeLabs Energy Star Dehumidifier
Sale
hOmeLabs Energy Star Dehumidifier
Let's examine the stronger and weaker sides of this unit:
Pros
Comes with a continuous drain option if you do not wish to empty the bucket.
It is Energy Star meaning better for the environment and even costs less to operate.
Has a 6ft long cord to make it easy for placement in rooms.
Comfort mode adjusts humidifying levels to maintain the optimal percentage of moisture.
Cons
It won't work in the same room as an evaporative cooler.
The hOmeLabs is perfect for large rooms and home basements. It effectively removes up to 50 pints of moisture per day, reducing excess humidity and preventing mold and allergens. It boasts a massive coverage area. It is approved by Energy Star for saving energy and less power consumption. It offers user-friendly controls and built-in mobility features for convenience and safety.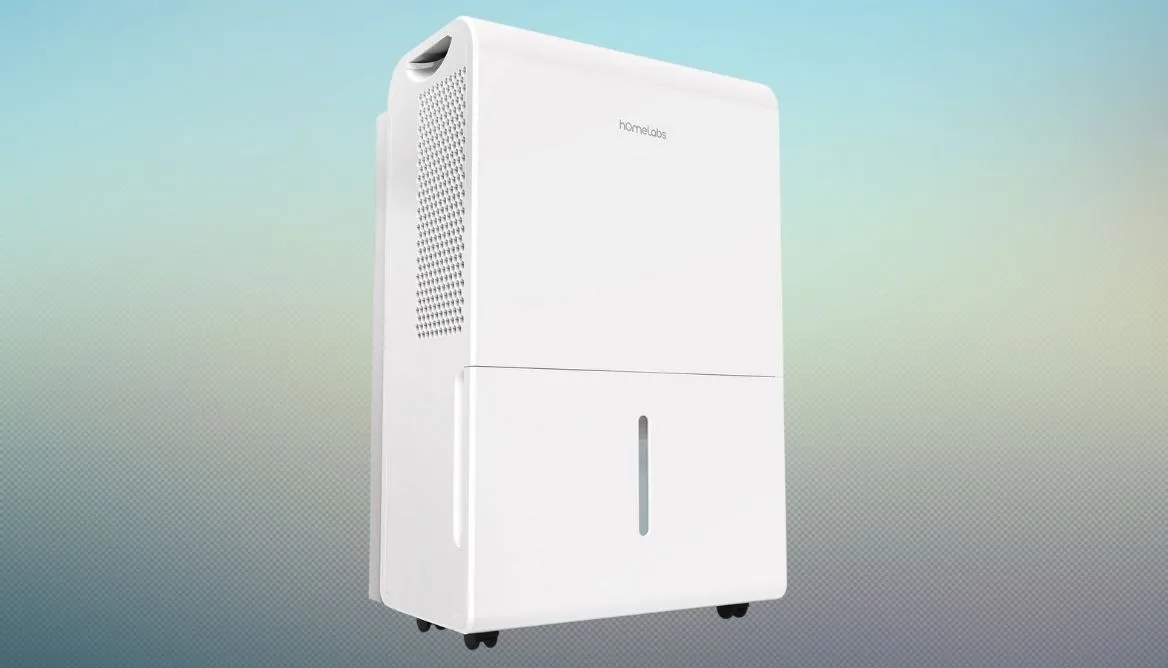 Features
Let's check out some of the amazing features of this device:
Auto shutoff suspends operation when the tank is full.
Auto-Restart detects the humidity levels increasing in the atmosphere and starts the machine.
Continuous button for consent dehumidifying operation till the water tank capacity is full.
Specs
| | |
| --- | --- |
| | hOmeLabs Energy Star Dehumidifier |
| | |
| | |
| | |
| | Removable Washable Filter |
| | |
| | |
| | 1 Year Parts & Labor Warranty |
| | |
| | |
Recommendation: You need a powerful dehumidifier air purifier if you have a whole house or massive space to cover. This is a great solution to that! It even uses only 322 watts which is less for a machine of this size. Continuous operation, auto restart, water tank indicators, and more smart features add to its amazingness. But place it away from the wall so that the intake air has space to go into the machine.
4. Best Moisture Removal Rate: Vremi 22 Pint
Vremi 22 Pint
Let's go through its pros and cons:
Pros
Turbo mode can remove air pollutants and 4 gallons of moisture from the indoor air.
Comfort Mode and Continuous Mode together keep the dehumidifier air purifier on and adjust according to the atmosphere.
Designed to compliment and enhance home interiors.
Has two handles for maximum portability.
Cons
Increase the temperature of the house a bit.
The Vremi 22 Pint Dehumidifier air purifier combo is designed for medium-sized spaces and basements up to 1,500 sq ft. It has an Energy Star rating, ensuring energy efficiency during operation. This dehumidifier effectively removes excess moisture from the air, helping to prevent mold, mildew, and allergens for a healthier living environment.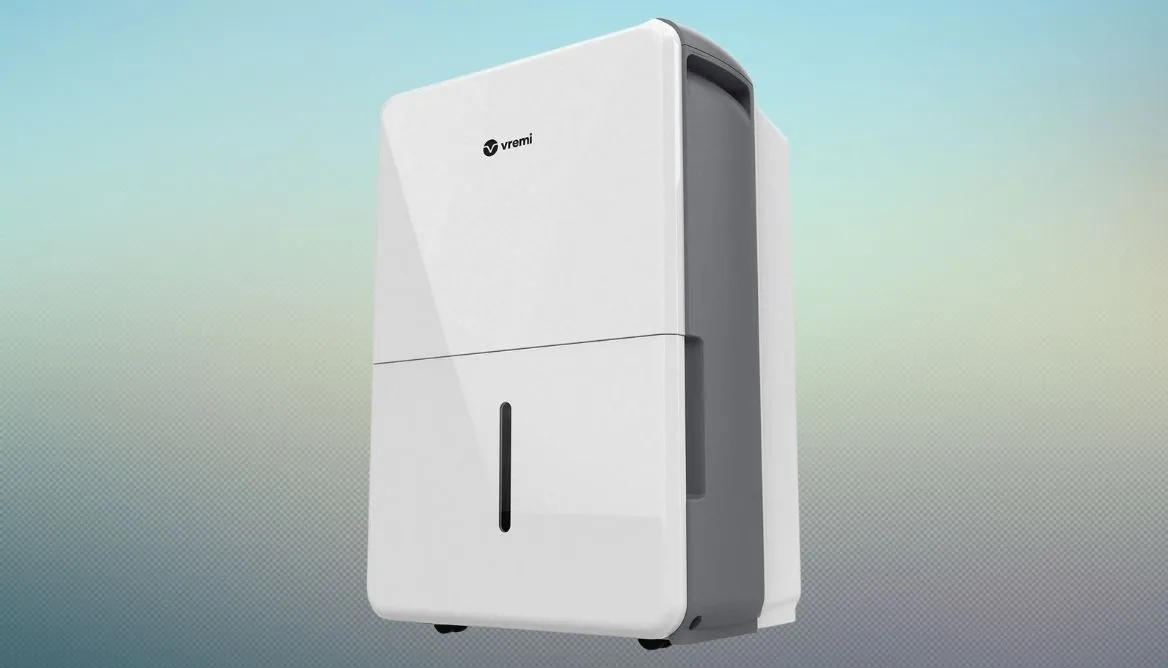 Features
Listed below are the top features of this device:
Memory Feature remembers the last settings in case the machine accidentally shuts off.
Visible Water Level to help you when it is drainage time.
Auto Defrost to prevent coils from freezing.
Specs
| | |
| --- | --- |
| | |
| | |
| | |
| | Removeable and washable filter |
| | |
| | |
| | |
| | |
| | |
Recommendation: If you can not compromise on the efficiency of the air purifier and dehumidifier then invest in this. The Turbo mode is able to sweep away the excessive moisture (22 pints per day) from the air. Which is much less time than average machines in the market. But it does increase the temperature a little of the surrounding air.
5. Best Smart Features: Amazon Basics Dehumidifier with Drain Pump
Amazon Basics Dehumidifier with Drain Pump
Let's check out the pros and cons of this purifier:
Pros
It operates dependently on the temperature and humidity to provide the optimum comfort for the user in auto mode.
Option for both continuous drainage and bucket filling.
The defrost function turns on at regular intervals according to the ambient room temperature.
Has both on and off-timers (30 minutes to 24 hours) so you can leave it unmonitored for hours.
Cons
The pump takes more time than average to drain the water tank.
The Amazon Basics Dehumidifier removes excess moisture, prevents mold spores, and purifies air particulates. With a 50-pint capacity and Energy Star certification, it ensures efficient and eco-friendly operation. The built-in drain pump offers convenience for continuous draining. It comes with the comfort mode, continuous operation, overflow protection timer, and more.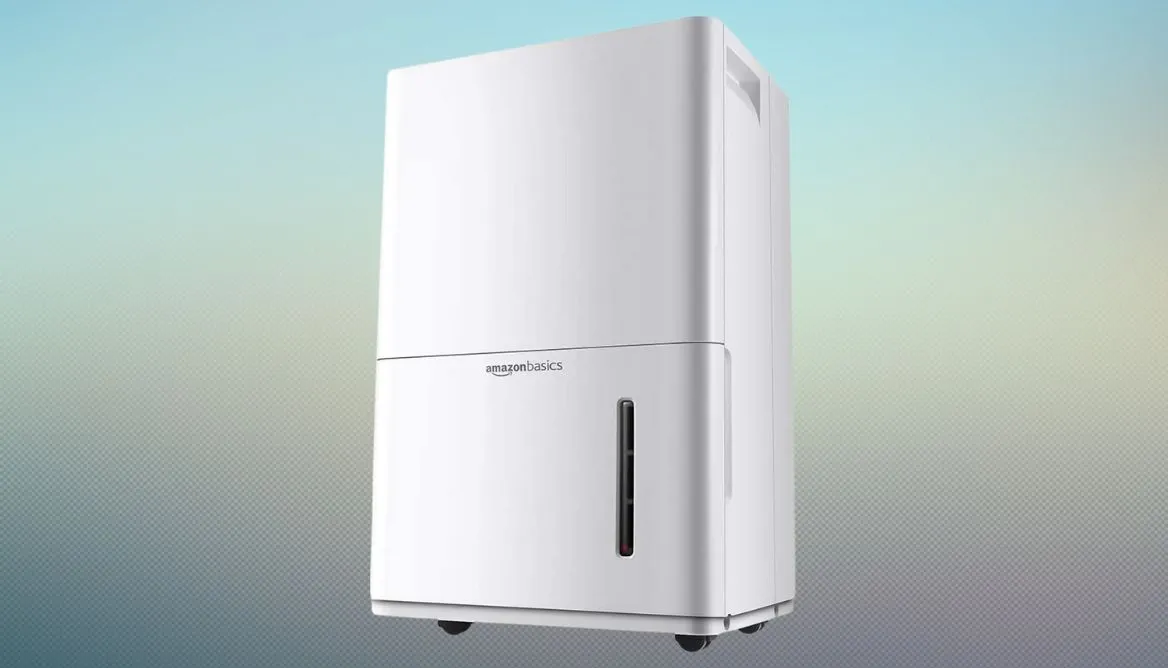 Features
Let's check out some top highlights of this device:
Filter change notifier so you can wash and reuse it.
The water tank capacity light helps you know when to drain the bucket.
Cord storage place so you do not have a mess on the floor.
Specs
| | |
| --- | --- |
| | Amazon Basics Dehumidifier with Drain Pump |
| | |
| | |
| | |
| | |
| | |
| | |
| | 11.1"D x 15.43"W x 24.25"H |
| | |
Recommendation: If you are looking for dehumidifier air purifier combos that support smart features, then look into Amazon Basics Dehumidifier. It has a filter change reminder, a timer, an auto-defrost function, and more. It also has a continuous draining option however you will need to wait for the pump to fully empty.
6. Best Filtration System: Tenergy Sorbi 1000ml Air Dehumidifier
Tenergy Sorbi 1000ml Air Dehumidifier
Listed below are the positives and negatives of this unit:
Pros
It comes with a replaceable HEPA filter that captures 99.99% of air pollutants to enhance indoor air quality.
It is able to decrease moisture levels up to 750ml per day.
Tenergy Sorbi dehumidifier air purifier combo has a quiet operation for a peaceful environment.
It is certified by ETL and CARB for safety and efficiency.
Cons
Does not have a comfort mode.
Sorbi air purifier dehumidifier combo can remove up to 750 ml (1.6 pints) of moisture per day. While the HEPA filter catches air pollutants. It has a water tank with a capacity of 1 liter with a full indicator and automatic shut-off for convenience. It is designed as an energy-efficient unit and is certified by ETL and CARB for safety.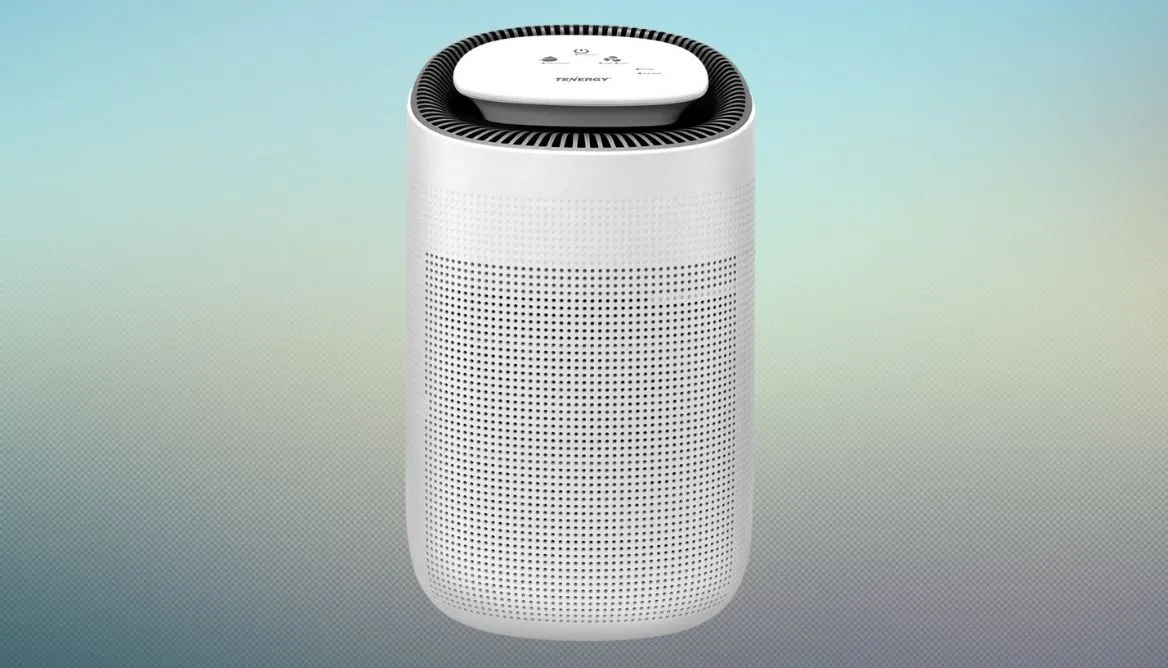 Features
Explore its exceptional features and highlights to grasp why it's truly outstanding.
2 fan speeds so you can get the air purification and dehumidifying according to the need.
Designed to be compact with a 5ft long cord so you can place it easily in rooms.
Auto shut option so the tank capacity to not exceed.
Specs
| | |
| --- | --- |
| | Tenergy Sorbi 1000ml Air Dehumidifier |
| | |
| | |
| | |
| | |
| | |
| | ETL Listed, CARB certified |
| | |
| | |
| | |
Recommendation: If you experience poor air quality and must have a high-grade HEPA filter then buy this unit. The dehumidification functions do not fall short of either. It is compact in size and can be placed in the bedrooms as it is designed to operate quietly. The operating temperature range is between 45ºF to 122ºF. You will need to keep an eye on it as it does not have comfort mode.
Perks and Downsides of Dehumidifier and Air Purifier Combos
Now that you have the gist of the top-performing models in the market, let's look at the benefits of dehumidifiers and air purifier combos. Here we go: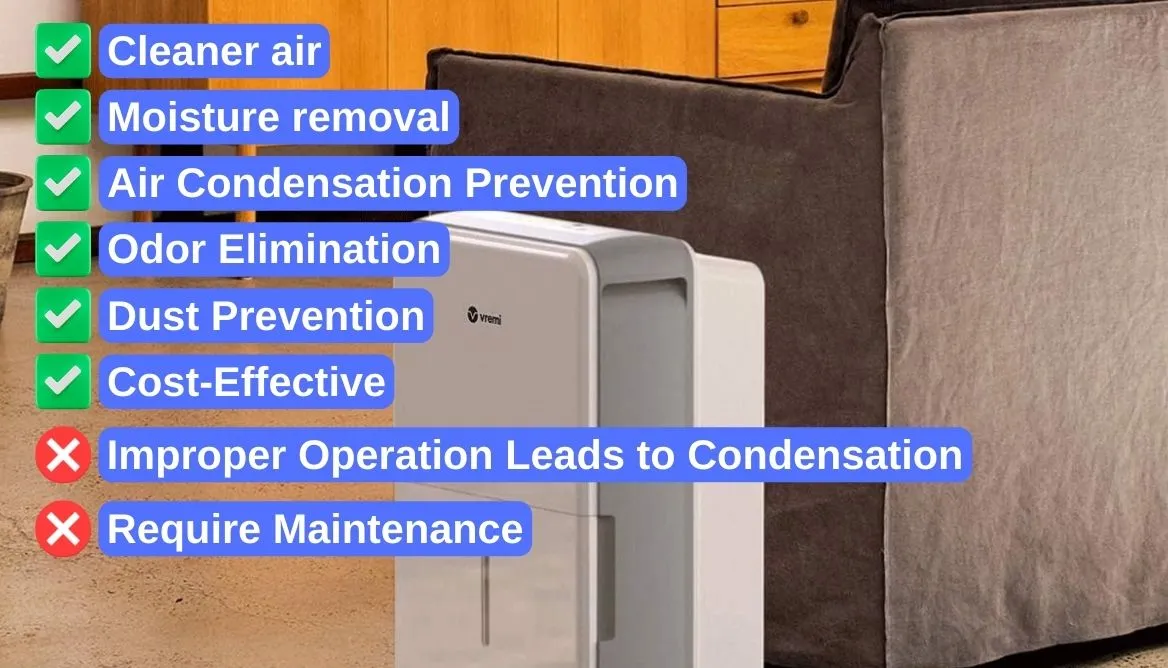 Advantages
Here is the list of benefits you will be able to enjoy when you own air purifier dehumidifier combos:
Cleaner air: Experience improved air quality, free from unwanted particles such as allergens, pet dander, and dust mites.
Moisture removal: Effectively eliminates moisture to prevent the growth of mildew and mold.
Air Condensation Prevention: Minimize air condensation for enhanced comfort and a healthier environment.
Odor Elimination: Eradicate unpleasant odors coming from stagnant vapors. This promotes a fresh and pleasant atmosphere.
Dust Prevention: Safeguard household items from dust settlement, ensuring a cleaner living space.
Cost-Effective: Achieve cost savings and optimize indoor space utilization with this efficient solution.
Disadvantages
Now let's look at a couple of drawbacks that you should know:
Improper Operation Leads to Condensation: If the device is defective it can lead to condensation that will result in the growth of mildew and dampness in indoor spaces.
Require Maintenance: Extended operation without proper care may result in mold development. You must keep an eye on water levels and filter change indicators.
Dehumidifier Air Purifier Combos: Working Phenomenon Explained!
It's quite groundbreaking that an air purifier can also function as a dehumidifier. Let's deep dive into how it works side by side to give us healthy, clean air.
1. Air Purifying Function
Listed below is how the HEPA filter in the dehumidifier air purifier combo unit works:
Air Circulation: The combo machine initiates the process by pulling the air from the target space into the unit.
Filtration: The air is then forced through installed filters within the combo machine. These filters are designed to effectively trap and remove harmful particles from the air, such as dust, molds, etc.
Clean Air Recirculation: This clean air is then recirculated back into the target space. This promotes a fresher and healthier environment.
Read, the next steps below.
2. Dehumidification
While the filters catch dirt particles from the air the combo machine functions as a dehumidifier. It uses absorption and refrigeration methods. Note that depending on the combo model, dehumidification can also occur before or after particle filtration.
3. Absorption
Next comes absorption of the vapors sucked in from the air. This is what happens:
Absorption: Upon passing through the dehumidifier section of the combo machine, the air's moisture is absorbed.
Drying by Wheel: The air then encounters a material wheel that effectively extracts the moisture.
Heaters dry the Wheel: Then an electric heater dries the now-moist material wheel. This results in hot and humid air being expelled through a duct.
4. Refrigeration
The refrigeration process involves cooling warm air as it is drawn into the combo machine. It entails:
Condensation: Moisture condenses and turns into a liquid.
Tank filling: The liquid is collected in a water tank.
Hot Air Excreation: The dehumidified air is recirculated back into the room, free from excess humidity.
Important Considerations Before Buying the Best Dehumidifier And Air Purifier Combo
Knowing about the best dehumidifier air purifier in the market is not enough. You should know what to look for in each model to find the right fit. Let's have a look at the factors you need to consider when buying it.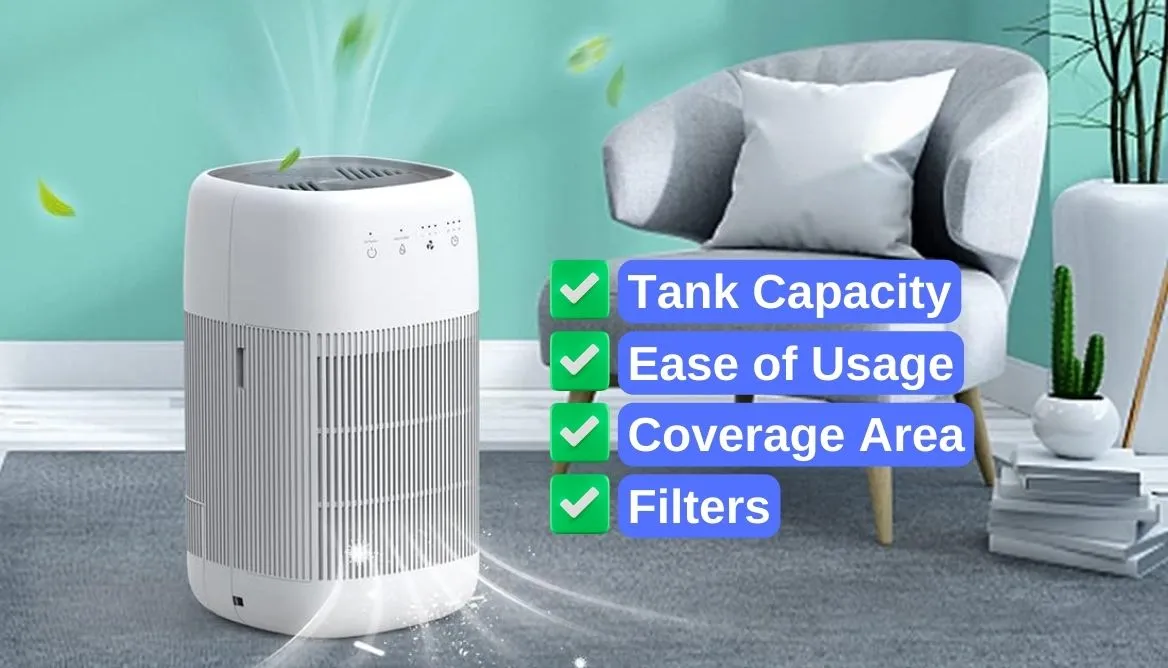 1. Tank Capacity
Consider the water collection capacity when choosing a dehumidifier air purifier combo. The minimum capacity should be 0.3 Gallons (1 liter) or more. Keep the following things in mind when assessing your machine's ability:
A larger reservoir capacity allows for longer use without emptying collected water.
The combo's water tank capacity indicates its moisture removal ability, depending on the target space size.
Auto shutdown when the tank is full is essential for optimal dehumidification benefits.
The humidity removal rate is measured in pints per day. It should match your room size to determine the ideal dehumidifier with an air cleaner.
2. Ease of Usage
A user-friendly dehumidifier air purifier combo should offer automatic functions for ease of use. Features like:
Timer: A timer setting allows the machine to operate within specified time frames. This eliminates the need to manually turn it off.
The Automatic shut-off feature: It ensures worry-free operation, preventing water tank overflow.
The comfort option: It adjusts the speed settings of dehumidifying and air purification.
Indicators: The filter and water tank indicators help with the maintenance and upkeep of the machine. This ensures its long life.
3. Coverage Area
The coverage area determines the device's effectiveness in your space:
A combo unit with a coverage area too small won't purify or dehumidify adequately.
While one too large may waste energy.
Choosing the right coverage area ensures optimal performance and efficient operation. As well as desired air quality and humidity control.
A good coverage area for a small dehumidifier and air purifier is 200 sq. ft. While the large ones can start from 1500 sq. ft and go beyond 4500 sq. ft.
4. Filters
When deciding between HEPA filters and washable filters for a Dehumidifier and Air Purifier Combo, it is advisable to choose a unit with a True HEPA filter. It offers superior air purification by capturing particles as small as 0.3 microns, making them highly effective in removing allergens and pollutants from the air.
But if you are looking for a cost-effective purification solution, then you can also choose washable (reusable) filters. They are not as powerful as True HEPA but get the job done by trapping airborne particles.
Also read about:
Best Air Purifier For a Dorm Room: 9 Top Picks For 2023
Quietest Air Purifier: 9 Best Models To Buy in 2023
FAQ
Can you get a dehumidifier and air purifier in one?
Yes. You can get a dehumidifier and air purifier in one. The models that are top performing include Afloia Q10, Amazon Basics Dehumidifier, and Tenergy Sorbi Dehumidifier.
Is there an air purifier that is also a dehumidifier?
Yes. There are many air purifiers that are also dehumidifiers. Top models include Afloia Q10, Tenergy Sorbi 1000ml Air Dehumidifier, and Midea 50 Pint.
Should you have a dehumidifier and an air purifier?
Yes. You should have a dehumidifier and an air purifier if you experience impure air and excess humidity. It will eliminate allergens and reduce respiratory issues. While the dehumidifier will prevent mold formation and odd smells.
Do humidifier-dehumidifier combos exist?
Conclusion
When choosing the ideal dehumidifier and air purifier combo unit, consider your room size and opt for one with matching area coverage. Then look if the per day moisture removal rate is according to your requirements. Check if the machine has necessary features such as a large water tank, timer, auto shutoff, etc.
My personal choice is Afloia Q10. It has a HEPA air filter and comes with a dehumidifier combo. Various certifications such as FCC Certified, ETL Listed, and RoHS Certified are great advantages. It operates quietly and has an auto shut-off, a drain hose for continuous drainage, and a filter change alert.
Afloia Q10
Afloia Q10 has HEPA filtration that can trap particles as small as 0.1 microns.
It also removes 750 ml per day to reduce humidity.
You can use these functions together and separately.
It operates quietly and has 3 timer settings.