Are you stuck in the Shark air purifier 4 vs 6 dilemma? Both air purifiers are great products, and it is quite difficult to choose the best. So how do you select your pick?
Well, let's dive into their certain differences that can help you decide which provides an extra edge!
A Quick Comparison
Shark air purifiers 4 and 6 have many things in common. Let's have a brief look:
Similar air filtration technology.
Same auto function and timer option.
Similar unit design and sensors.
Same interface and operation mode.
However, there are certain differences as well. The followings make these two purifiers different from each other:
Shark air purifier 6 can filter larger rooms than Shark 4.
Shark air purifier 4 provides less noisy operation, unlike Shark 6.
Shark 6 costs you more money than its competitor.
However, these are just the tip of the iceberg. There are lot many subtle differences. Continue reading to find out the pros and cons of each air purifier!
Comparison Chart of Shark 4 vs 6
Let me compare and contrast the important factors of both purifiers in the following chart:
| | | |
| --- | --- | --- |
| | | |
| | | |
| | | |
| | | |
| Clean Air Delivery Rate (CADR Rating): | | |
| | True HEPA filter+ Odor Guard | True HEPA filter+ Odor Guard |
| | | |
| | | |
| Replacement filters cost: | | |
| | | |
| | | |
| | | |
| | | |
| | | |
| | | |
| | | |
| | | |
| | | |
| | | |
| | | |
Pros and Cons of Shark 4
Sale
Shark 4
Shark Air Purifier 4 has some advantages and drawbacks. Let's have a brief look at them.
Pros:
The HEPA filter improves substantial air quality.
Pretty easy to use and maintain.
Sleek and compact design compatible with home furniture.
Sensor to auto-adjust fan speed.
Suitable for asthma and allergy patients.
Comparatively, the noise level is not annoying.
Cons:
Not suitable for pet dander.
No Wi-Fi connectivity.
No pre-filter.
Pros and Cons of Shark 6
Sale
Shark 6
Like most air purifiers, Shark 6 has some fascinating pros and a few disappointing cons. I have listed them below.
Pros:
Can purify the air from 1200 square feet within an hour.
6 micro fans provide faster cleaning and better air circulation.
The remote control gives easy control.
The noise level is bearable unless it is in the highest mode.
Advanced odor lock option, especially for odor elimination.
Cons:
A bit expensive.
No pre-filter.
Main Differences Between Shark 4 and Shark 6
Now it's time to know the key differences between Shark 4 and 6 air purifiers. I'm mentioning each feature of both purifiers with their respective differences.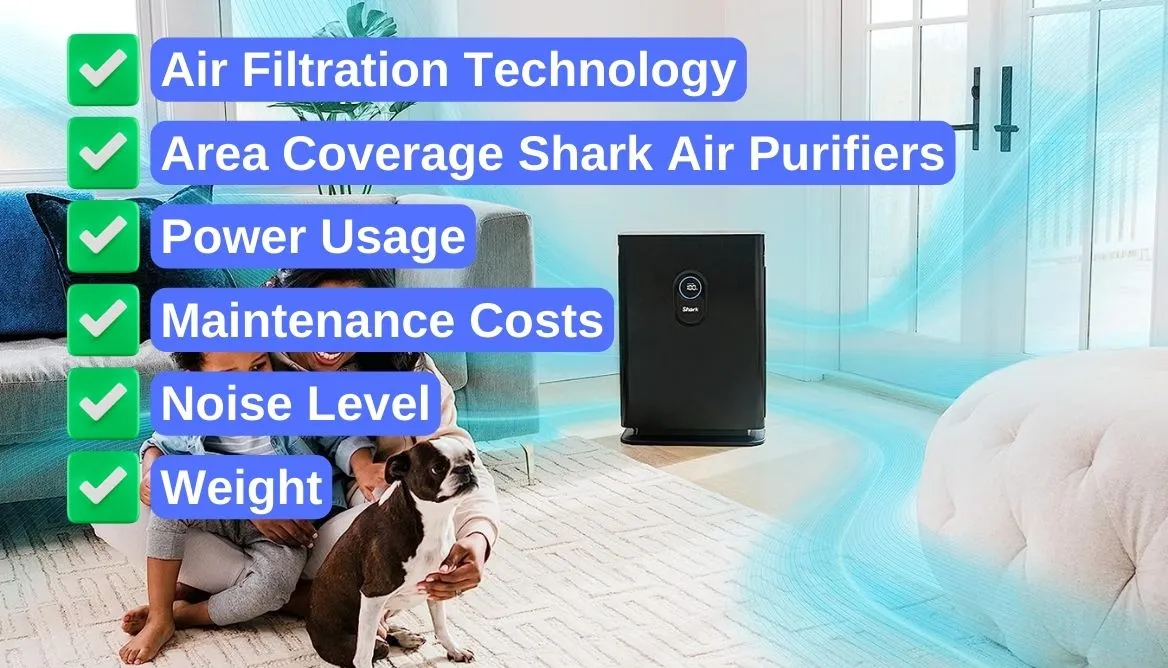 1. Air Filtration Technology
Both air purifiers have certain things in common, but their differences are not much here. Let's see.
Shark 4 and 6 purifiers have True HEPA filters for airborne particles, volatile organic compounds, and dust removal.
The activated carbon filter is best for odor and smoke removal. However, both purifiers lack a carbon filter. Instead, they have Odor guard filters to eliminate the foul smell, household odors, and unwanted smoke. I must assure you this filter works similarly to a carbon filter.
Both purifiers lack a pre-filter to capture larger particles. Apparently, the reason for this is to increase the lifespan of the HEPA filter.
However, Shark air purifier 6 has a better and stronger filtration power.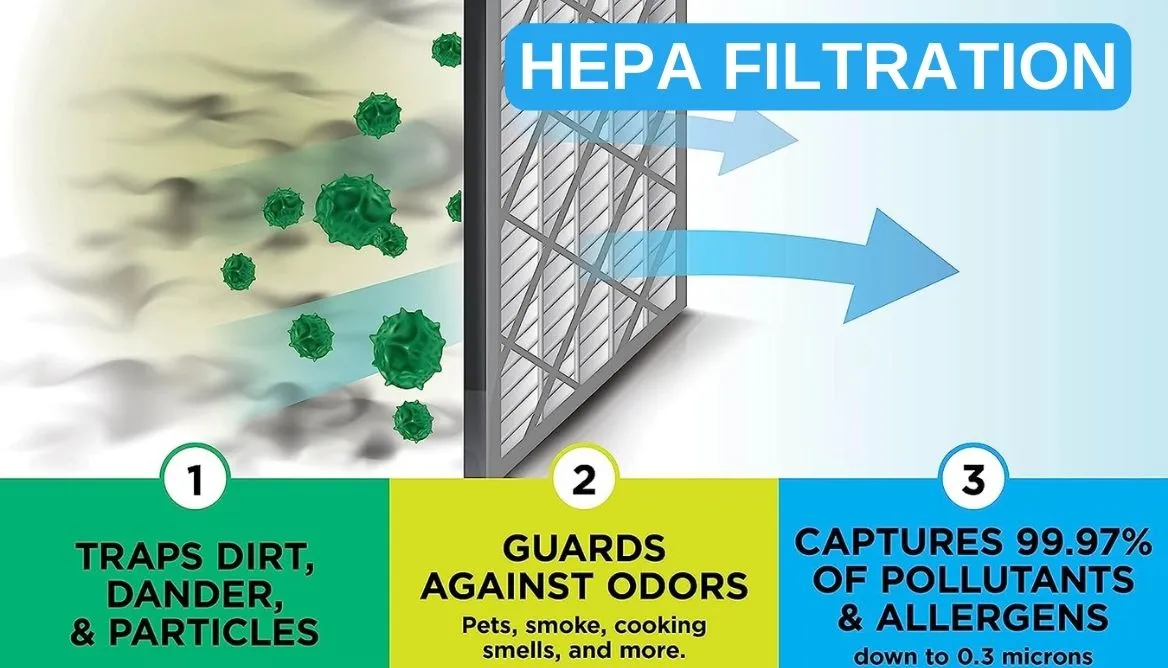 Winner: Shark 6 has stronger high-efficiency particulate air, and you can get maximum airflow from it.
2. Area Coverage Shark Air Purifiers
It's an important factor to know which purifier is best for which room.
Shark Air Purifier 4
Let's see how much area it covers:
Shark 4 purifier can provide purified air in 1000 square feet within an hour, and the air will be refreshed twice within this time.
This purifier can clean 500 square feet within half an hour.
It can purify 200 square feet of room within just 12 minutes. So, air changes will be 5 times an hour in a room like this.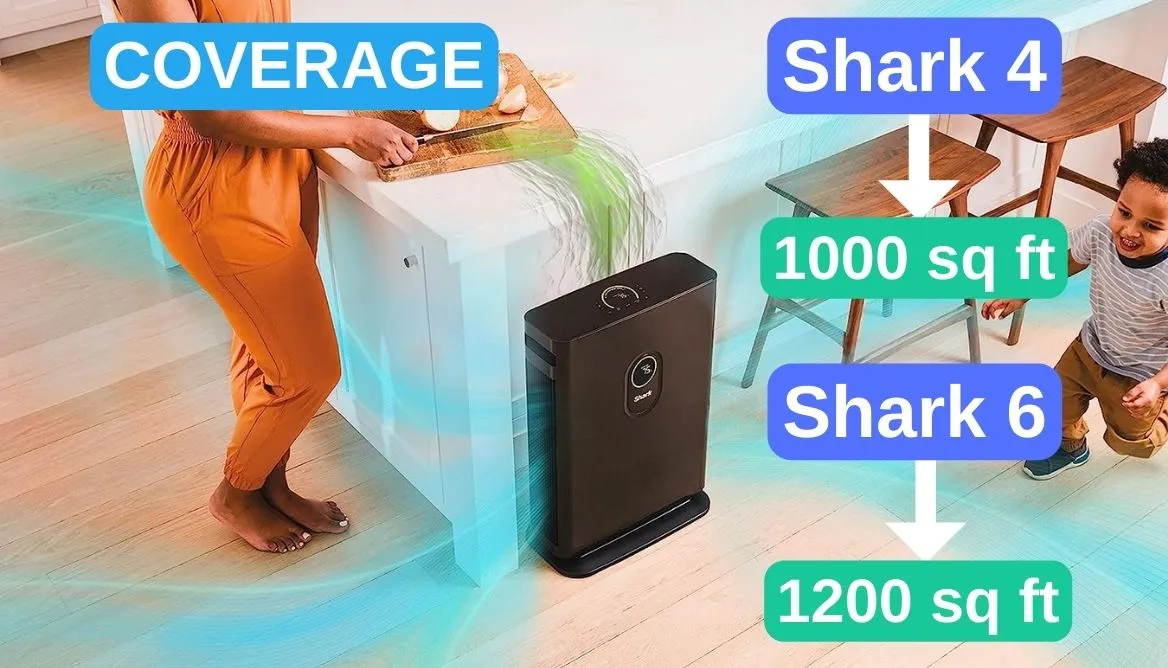 Shark Air Purifier 6
And is it any better or not? Let's find out:
Shark air purifier 6 can filter 1200 square feet of room within an hour.
It can clean 600 square feet of area within half an hour.
And it can clean 250 square feet area within just 12 minutes. The air changes will be 5 times in such a room.
Note that these purifiers are optimal for medium-sized rooms. You can also use them in your standard room.
Winner: Shark 6 is the winner in area coverage.
3. Power Usage
The electricity costs depend on the power usage. It is a common phenomenon that a great air purifier would run effectively without consuming loads of energy.
Let's see who is the winner here:
The Shark 4 model has a maximum power use of 120 Wattage.
And Shark 6 model consumes power at a maximum of 121 Wattage.
Winner: No clear winner. Same power consumption.
4. Maintenance Costs
This is one of the crucial factors to take into account. It can be a real annoyance if you need to spend a lot of money every now on then. An ideal purifier should not be a white elephant, right?
Shark Air Purifier 4
Let's find out how much it would cost yearly to maintain this device.
The replacement filters of Shark 4 cost around 80 bucks.
The electricity cost is around 40-50 bucks a year.
So the yearly cost is approximately: $200-210.
Find out more about Shark air purifier 4 in this review:
Shark Air Purifier 6
The replacement filters of Shark 6 will cost you around 100 bucks.
And the energy cost is 50-60 dollars a year.
The yearly cost of this air purifier is around $260.
Find out more about Shark 6 purifier in this review:
Winner: I don't think $50 yearly is a big difference. However, the trophy goes to Shark 4.
5. Noise Level
If you are a noise-sensitive person, this should be your concern. Usually, an air purifier has a noise level of 40-50 dB at its peak fan speed. And the noise becomes 20-40 dB when fans run at medium speed. This level of noise is okay to have around. At the lowest fan speed, the noise is even lower than 20 dB.
Now comes the crucial question: which Shark air purifier provides quieter operation?
Shark 4 has a noise level of only 45 dB at its peak. It's comparatively bearable.
Contrarily, Shark 6 has a noise level of around 60 dB. It's a bit hard to adjust.
Winner: Both purifiers can make irritating sounds when you run them at the highest. But if we compare their level, Shark 4 is the best air purifier for noiseless cleaning.
6. Weight
Weight is not a great factor to consider unless you have to move the device off and on. Shark 4 air purifier has a weight of 17.92 pounds, whereas Shark 6 has a weight of 20 pounds.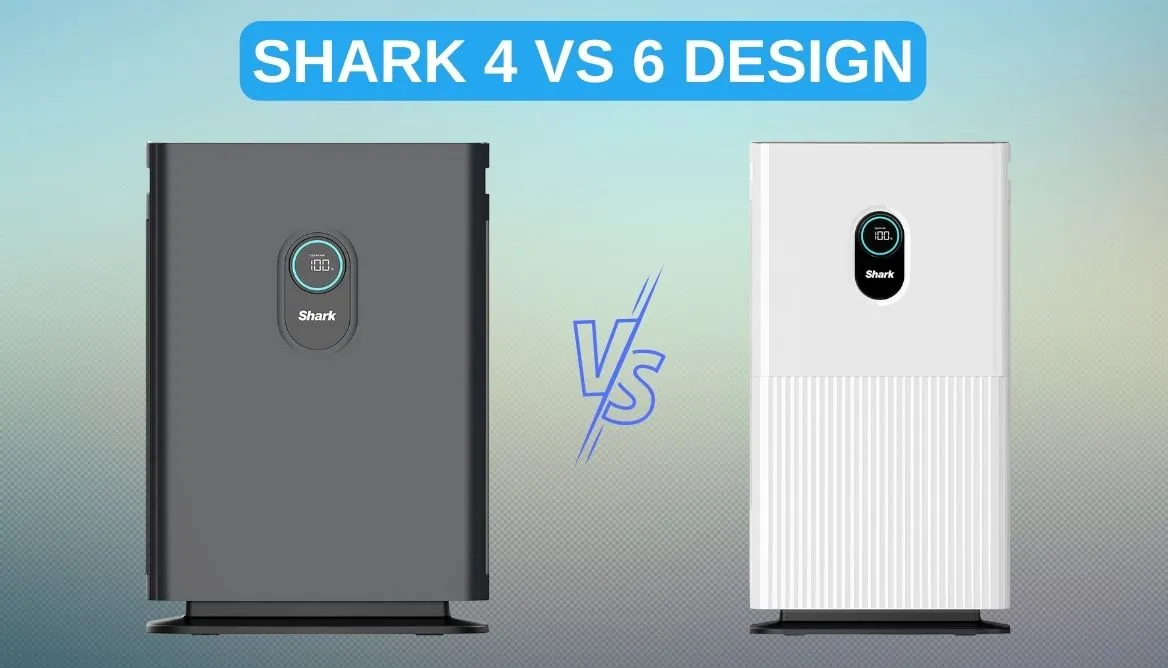 Winner: There is no big difference here.
Features of Shark Air Purifiers
Some amazing features in shark air purifiers will draw your attention. I'm listing them one by one.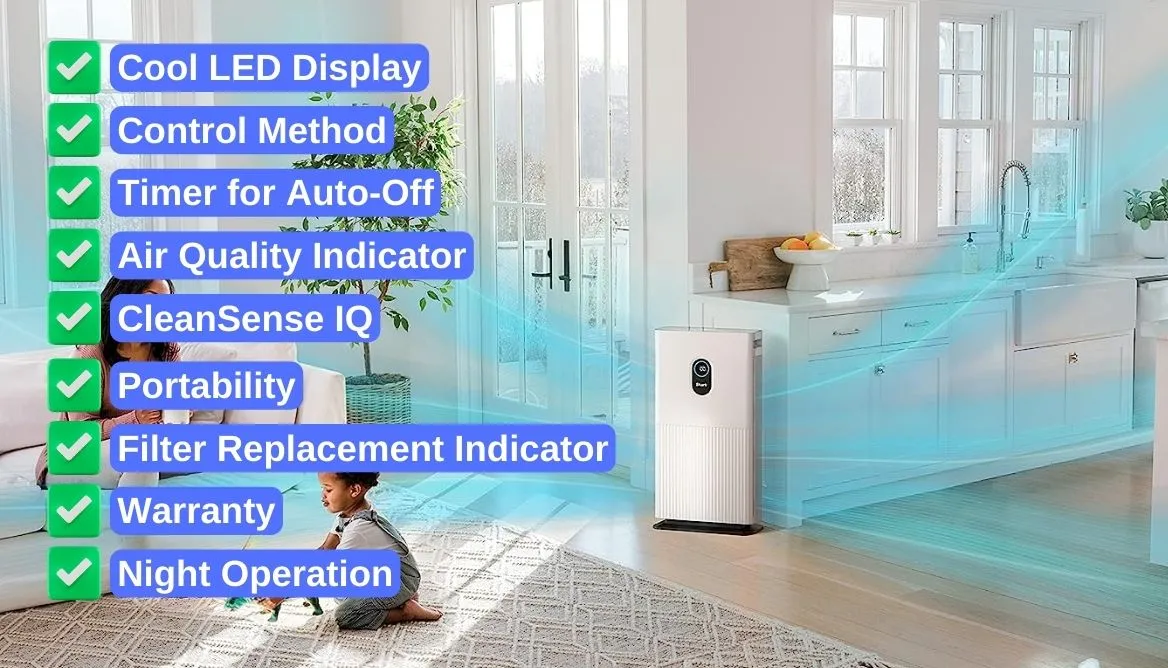 1. Cool LED Display
The display in Shark Air Purifier 4 and 6 is pretty cool, to be honest. The display informs you about the real-time air quality around you. It gives you constant updates about the pollution level,
The display can be turned off during sleeping hours.
2. Control Method
In a Shark air purifier package, you always get a remote control. You can control your purifier from a distance of 15 feet. That's a great privilege.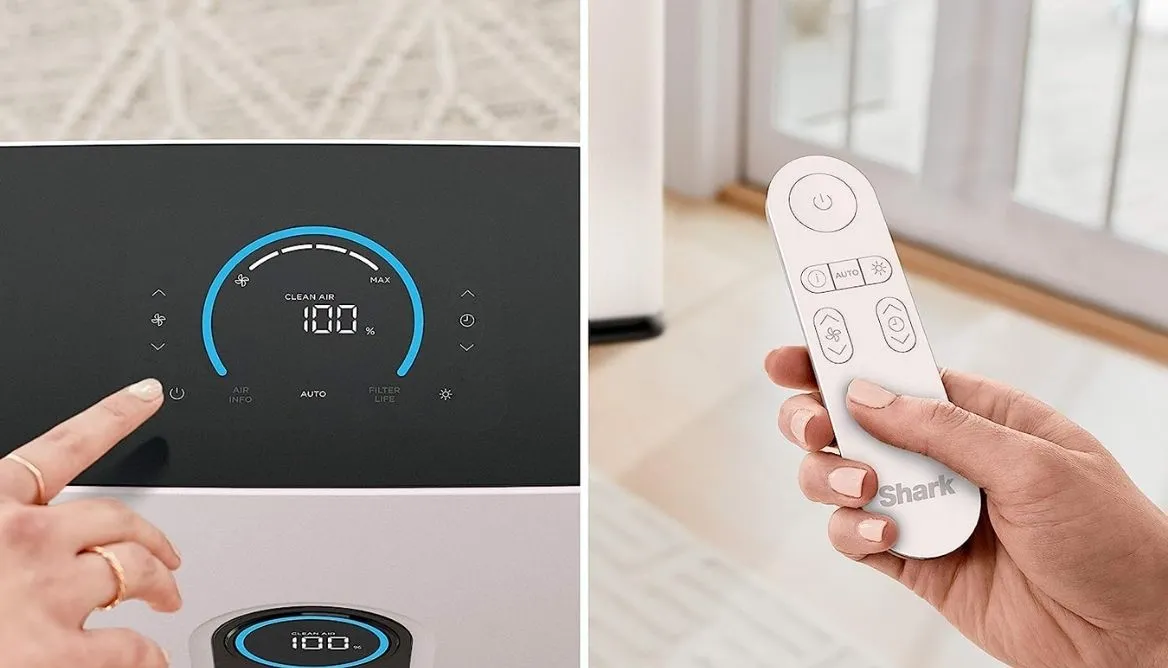 3. Timer for Auto-Off
This is a great feature for busy people. You can set a timer of 2,4, and 8 hours and then leave your office or home. The device will be turned off automatically as per the pre-set time.
4. Air Quality Indicator
There is an air quality indicator on the top control panel of Shark air purifiers. It tells you the real-time air quality of your home. If the air is all purified, the indicator will show 100%. But when dust and debris begin to accumulate, you can see the number dropping.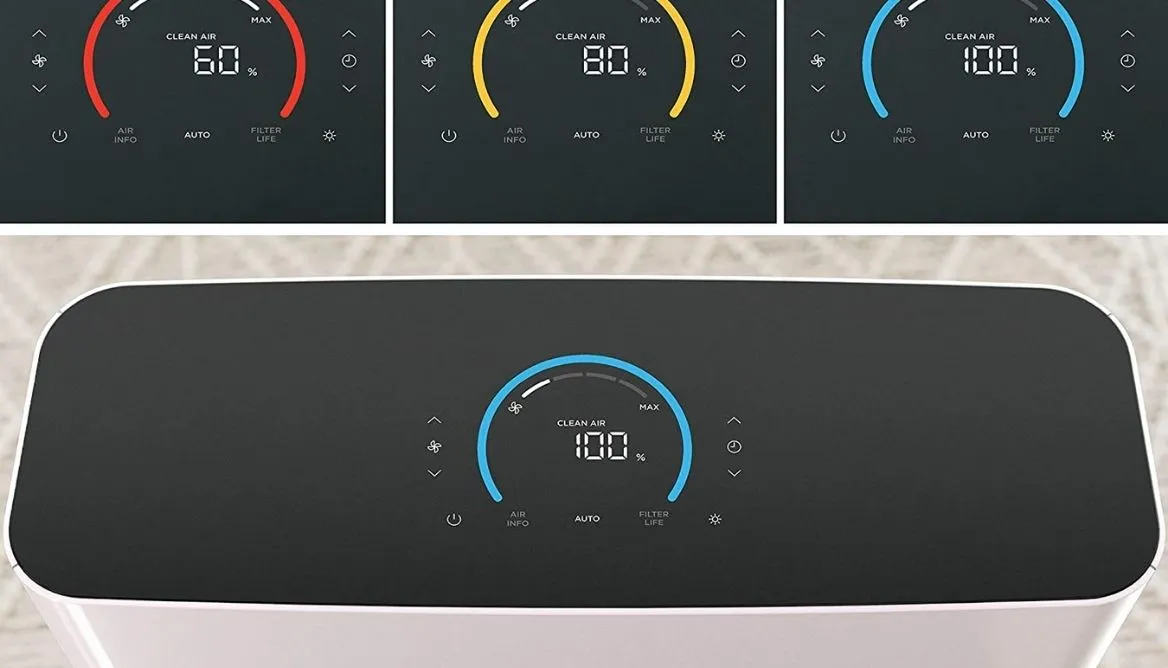 5. CleanSense IQ
Shark purifiers have a CleanSense IQ sensor that automatically detects particles from the air. Then this IQ technology adjusts the fan speed as per the requirements.
6. Portability
Both Shark 4 and 6 air purifiers are easy-peasy to carry and move from one place to another. They are compact and lightweight. It comes in very handy when you have big walls between rooms.
7. Filter Replacement Indicator
Interestingly, Sharks 4 and 6 have an indicator for filter replacement. So you can know in advance when to buy replacement filters. When the indicator turns red, it means now is the time to substitute the old filter with a new one.
8. Warranty
Shark air purifier 4 and 6 offer a 2-year warranty period from the purchasing date. You can claim their service if there is any problem with the purifier. Moreover, Shark's official website offers a 60-day money-back guarantee.
9. Night Operation
At night, you can turn off the LED display. So you won't be bothered by the radiated light. Moreover, you can keep the fan at lower levels for sleeping hours so that the sound cannot disturb your dreams.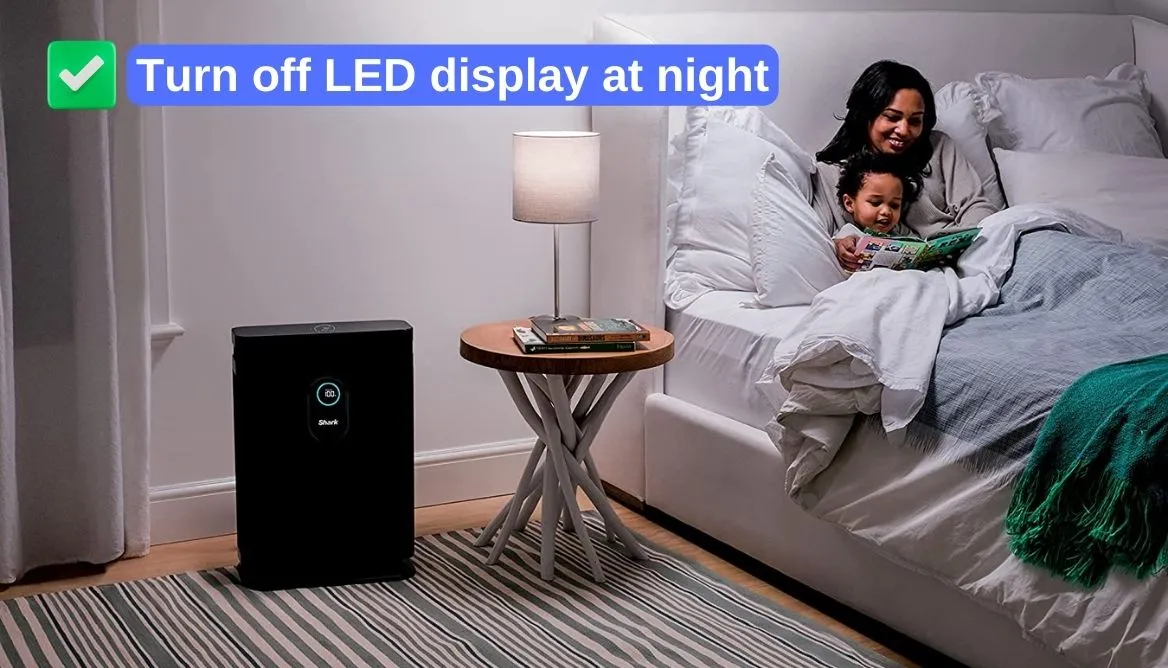 Shark Air Purifier 4 vs 6: Which One Should You Pick?
Shark air purifier 4 and 6 are both optimal for removing airborne particulates, allergens, and foul odor.
You should go for Shark 4 if:
Your room size is medium and no larger.
You have a tight budget.
You are a noise-sensitive person and want quiet filtration.
You should purchase Shark air purifier 6 if:
Your room size is medium and large.
You want faster air cleaning.
You don't have a limited budget.
Now the choice rests on you. Pick the one you find most suitable.
Read our other popular posts:
Levoit 300s vs 400S: Which One is the Best For Your Needs
Quietest Air Purifier: 9 Best Models To Buy in 2023
Best Air Purifier for 1000 Square Feet: Top 10 Reviewed!
Best Budget Air Purifier: 9 Pocket-Friendly Picks For 2023
Frequently Asked Questions
How Long Does a Shark Air Purifier 6 Filter Last?
Shark air purifier 6 can last anywhere between 6 to 12 months. The filter life depends on the pollution level, running hours, etc.
How Long Does the Shark Air Purifier 4 Filter Last?
Shark air purifier 4 can last 6 to 12 months as well.
How Many Square Feet Does the Shark Air Purifier 4 Cover?
Shark air purifier 4 can deliver clean air up to 1000 square feet of area.
Are Shark Air Purifiers Good?
Yes, Shark air purifiers are good enough for your home and office. Though a bit expensive, they are worth buying.
Conclusion
Both air purifiers have great filtration technology, remarkably easy interfaces, and effective sensors. They can automatically detect and deal with pollution when you are not around.
Both devices have matching features like design, weight, filters, and whatnot. Their control method, LED display, and indicators are even the same. However, Shark 6 provides you with more benefits than Shark 4.
So, I would suggest you pick Shark 6. Only if you don't have enough budget, I would recommend Shark 4. Voila! It's your turn to choose!
Sale
Shark air purifier 6
This purifier has a powerful HEPA filter, auto mode option, particle sensors, and remote control. It can be optimal for medium and large rooms. It may cost some extra dollars, but it is worth every penny.
Sale
Shark air purifier 4
This purifier is also a great option for medium-sized rooms. It has a similar easy interface, powerful HEPA and Odor Guard filter, and other necessary features. It produces less noise, and it's less expensive.