Are you facing difficulty in determining the superior air purifier between the Dyson TP01 vs TP02? Both a top-performing machines and are packed with features. So which one should you buy? Check my side-by-side comparison guide to know which has an edge over the other. So in order to make your decision process easier, read on!
Quick Comparison
The most common features between Dyson TP01 and Dyson TP02 are filtration performance and design. There are also differences between both Purifiers. Some of these are the following:
Oscillation Range: The TP01 can rotate to 70 degrees while TP02 moves to 180 degrees.
Wifi Connectivity: The TP02 supports the My Dyson App which enables usage and monitoring via smartphone. TP01 does not have this option.
Home Assistant: TP01 can not be controlled via Alexa, Siri, or Google Home. TP02 on the other hand offers a voice command feature.
Price: TP01 costs less than its successor the Dyson TP02.
You now have a gist of how they are similar. Continue reading to find a thorough comparison of the differences in design, price, features, and controls. This analysis will help you choose the best Dyson air purifier. Let's dive into the details!
Comparison Chart – Dyson Air Purifiers (TP01 vs TP02)
The table listed below covers the important aspects one should know:
| | | |
| --- | --- | --- |
| | | |
| | | |
| | | |
| | | |
| | | |
| | | |
| | | |
| | | |
| | | |
| | | |
| | | |
| | | |
| | | |
| | | |
| | | |
| Wi-Fi connectivity, Dyson Link App, and Alexa compatibility: | | |
| | | |
| | | |
| | | |
| | | |
| | | |
| | | |
Dyson TP01: Positives and Negatives
Sale
Dyson TP01
Let's look at the benefits and drawbacks of this purifier:
Pros
The compact remote allows you to conveniently adjust settings from a distance.
The slim design seamlessly integrates into any room decor, making it visually unobtrusive.
Designed to operate quietly, even when set to higher fan speeds or purification levels.
Night mode dims the display creating a more subdued and sleep-friendly environment.
Oscillates up to 70 ̊ to maintain the airflow in the room.
Gives out a powerful stream of cool air to keep the temperature low.
Cons
Not features Dyson link app connectivity.
It lacks an auto mode.
Dyson TP02: Positives and Negatives
Sale
Dyson TP02
Now let's look at the advantages and disadvantages of this unit:
Pros
Distributes airflow throughout the room due to its 180-degree oscillation.
Excellent performance in purification tests, reducing PM2.5 to 0.2, PM10 to 0.2, and AQI to 0
3rd highest air flow among all Dyson air purifiers (at 410 liters/second)
Dimmed display and quiet operation for a peaceful sleep environment with Night Mode
Get real-time air quality reports.
Compatible with the MyDyson app so you can change settings via Voice control or the app itself.
Cons
Digital Display doesn't exhibit modern features like newer models.
TP02 is a premium product, which means it can be relatively expensive.
What Set Them Apart
Let's go in-depth into how TP01 and TP02 differ from each other:
The TP02 offers a wider oscillation range of 180 degrees, while the TP01 has a narrower range of 70 degrees.
Unlike the TP01, the TP02 has built-in WiFi capabilities, allowing for wireless connectivity.
TP02 supports Alexa integration, while TP01 lacks this feature.
The Dyson Link App allows for convenient control of the TP02, whereas the TP01 lacks compatibility with the app.
The TP01 is the more economical choice if we compare TP01 and TP02.
In contrast to the TP01, the TP02 offers a greater range of modes.
What Attributes Are Similar
Now that we know their difference, let's have a look at their shared features:
TP01 and TP02 utilize Dyson's Air Multiplier Technology to circulate purified air in the room.
Models TP01 and TP02 are fitted with advanced filtration feature that is 360 Glass HEPA and Activated Carbon combo.
They share the iconic bladeless design characteristic of Dyson products.
Both units are designed as tower-shaped fans. They have the same height and weight specifications.
Remote controls for convenient operation are available in the duo.
Both units can be cleaned without any hassle.
Now, let's compare them in 14 parameters in detail: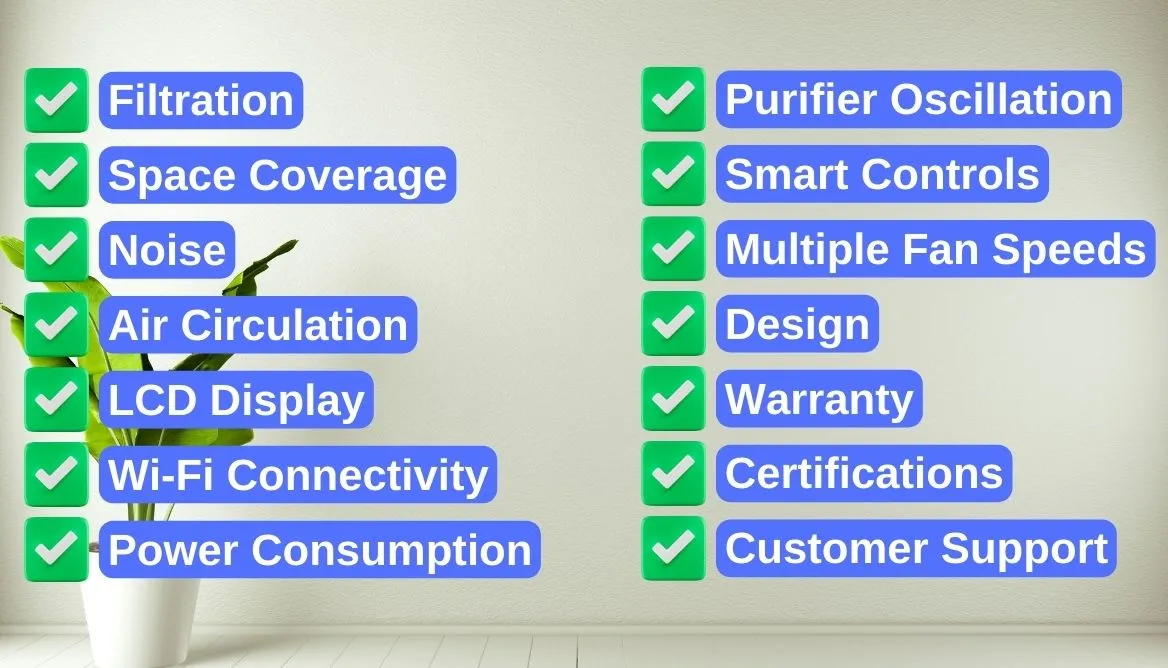 1. An Insight Into Filtration
The TP01 and TP02 have a similar air filtration system. Both have an integrated True HEPA filter and an activated carbon filter. Let's see what these filters do: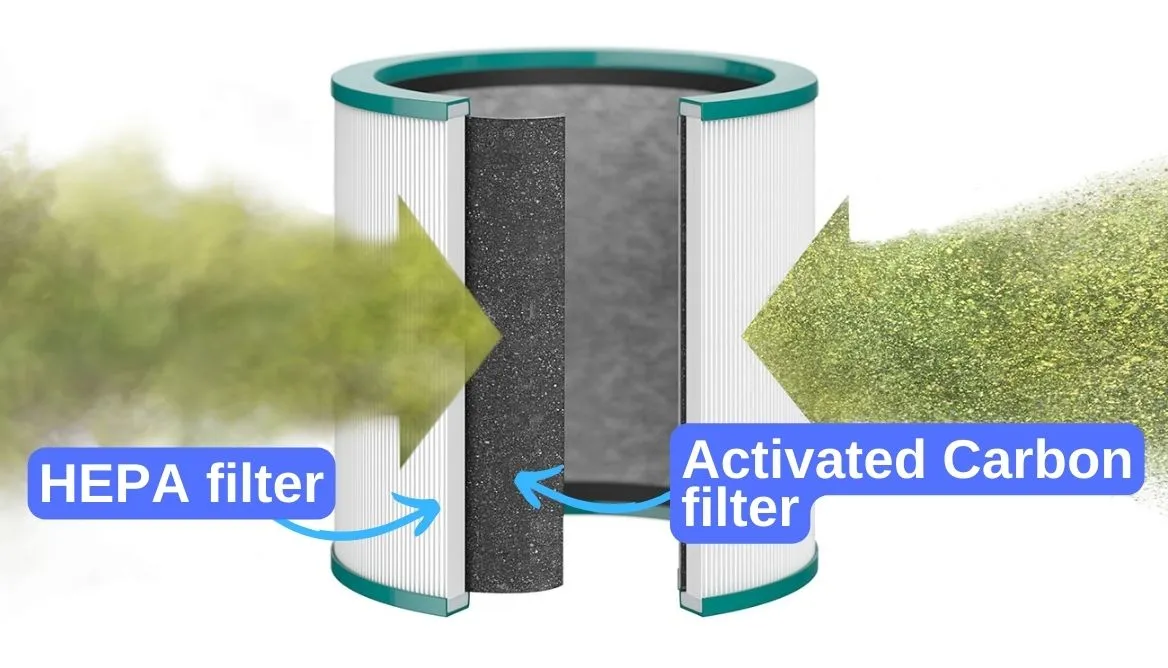 True HEPA filter: It is capable of effectively eliminating tiny airborne particles. It could include bacteria, pollen, mold, and pet dander, as small as 0.3 microns in diameter. Enabling it to capture 99.99% of allergens found in the air.
Activated Carbon filter: It efficiently removes odors, smoke, and gases present in the air.
Winner: So as both the Dyson Pure Cool models share the same filtration systems, they both stand victor in this term.
2. Space Coverage
Space Coverage refers to the volume that a purifier is designed to effectively purify. The TP01 has a coverage area of 300 ft² while its counterpart, TP02 boasts a maximum area of 400 ft².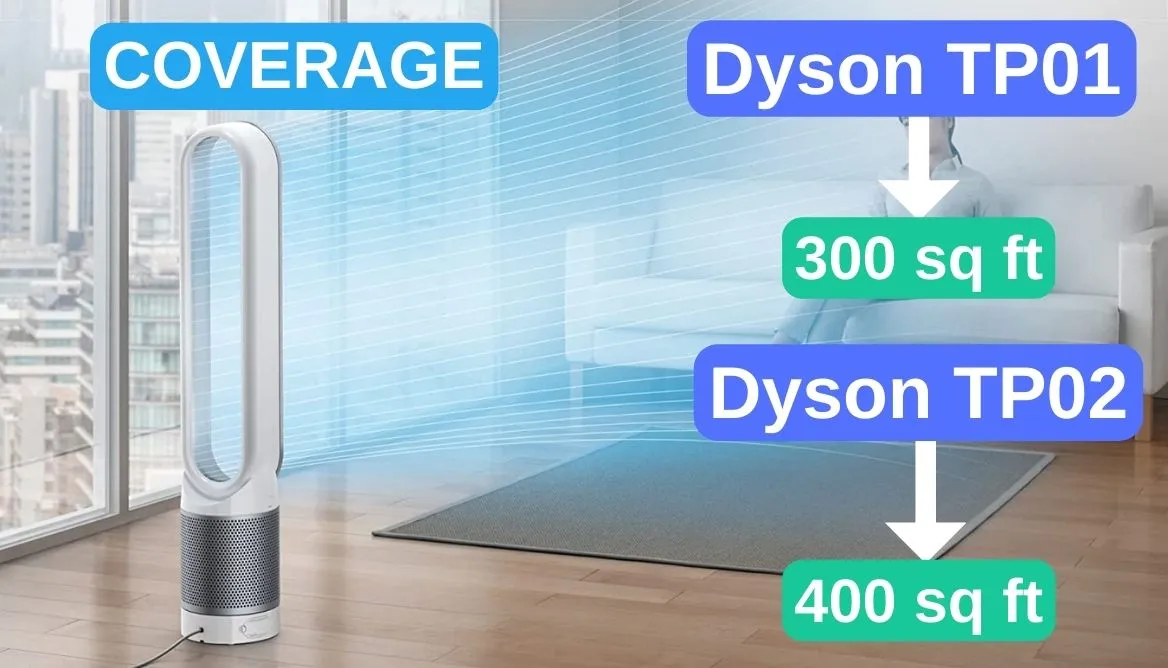 Winner: With a margin of 100 ft², TP02 stands victor in this category!
3. Noise
Dyson's both units incorporate bladeless fan technology, which helps maintain their low noise levels. Official noise data is not available for Dyson's traditional air purifiers. However, after using them I realized that these models generally produce noise levels ranging from 40 dB to 62 dB.
Winner: Due to the same fan speed settings, both models are similar when it comes to noise levels. Although TP02 features a night mode which automatically puts the appliance on low settings, making it a winner.
4. Air Circulation
The TP01 air purifier offers an airflow rate of 114.7 gallons per second, while the TP02 has a minorly lower airflow rate of 108.31 gallons per second. It's important to note that a higher airflow rate generally allows for faster air purification within a room.
Winner: The TP02 air purifier has a slightly lower airflow rate compared to the TP01. It may require a bit more time to improve the indoor air quality. Hence, TP01 stands victor here.
5. LCD Display
The TP01 air purifier from Dyson enhances customer comfort by featuring a digital LCD display located at the front bottom, below the air intake grill. The Dyson TP02 also comes equipped with it. It is used for monitoring fan speed control, timer settings, WiFi strength, and sleep mode.
Winner: Both air purifiers use remote control to operate the LED setting but TP02 also has an added app option. Considering this, TP02 stands as the winner.
6. Wi-Fi Connectivity
The TP01 doesn't feature WiFi connectivity and can solely be operated using the manual remote control.
In contrast, the TP02 is equipped with WiFi connectivity, allowing for remote control and additional features through a wireless connection. Additionally, the TP02 is compatible with Alexa, enabling voice control functionality.
Winner: TP02 is the clear victor here since its counterpart does not have this function.
7. Power Consumption
Both the TP01 and TP02 air purifiers have comparable power consumption to that of a standard ceiling fan. It is around 56 watts. Considering how powerful the models are this is impressive. This indicates that both units are energy-efficient and consume a reasonable amount of electricity, resulting in similar operating costs.
Winner: Since both utilize a moderate amount of power, I will call it a draw.
8. Purifier Oscillation
Dyson has incorporated an oscillation feature in its air purifiers, similar to a pedestal fan, to disperse fresh air in multiple directions. Using their air multiplier technology, the bladeless fan design of Dyson allows for focused airflow.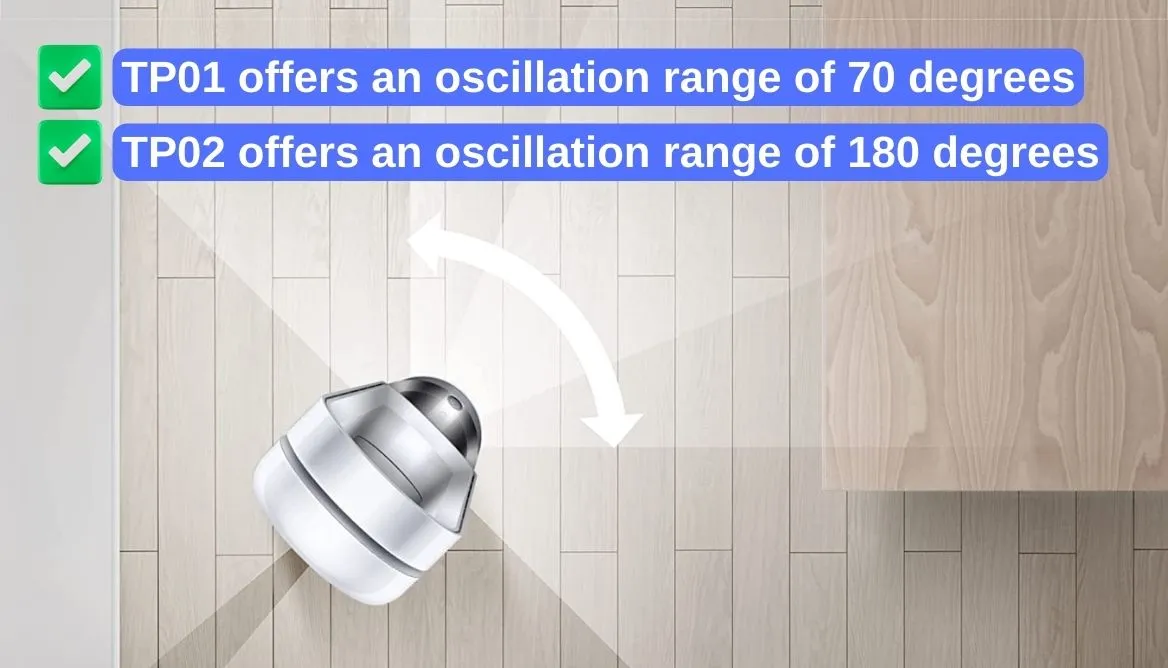 The TP01 offers an oscillation range of 70 degrees, which is approximately three times narrower compared to the TP02.
In contrast, the TP02 provides a significantly wider oscillation angle than the TP01, with a range of 180 degrees.
Winner: The TP02 stands tall in this category due to better oscillation.
I recommend you watch this video, to further learn more about the Dyson TP01 air purifier. It will give you a precise idea of the machine's capabilities.
9. Smart Controls
TP01 and TP02 are equipped with some of the industry's best features. Let's take a look at how they compare with each other. Firstly the TP01 has:
Comes with a timer function.
Remote control option for changing settings from a distance.
In contrast, TP02 has the following offerings:
Shares common features with TP01, such as remote control and timer functionality.
Has an air quality sensor and night mode for automatic adjustments.
Provides convenience with a single-touch dimming feature for lights.
WiFi and app connectivity give it a plus.
Winner: Evaluating the smart controls provided by TP02, it stands as the winner. Auto mode and wifi connectivity give it a huge edge.
Go through this video of Dyson Pure Cool Review of TP01 to know more about the model
10. Multiple Fan Speeds
Having various fan speeds is an important feature to consider when choosing the best air purifier. The fan speed directly affects the purification process:
With higher speeds providing a faster air purification process.
Lower speeds offer a quieter operation.
In the case of TP01 and TP02, both have 10-speed settings.
Winner: As both models have the same settings they stand equally. However, in TP01 you have to change fan speeds directly from the remote. Whereas in TP02 you can set it on Auto and night modes. This makes it a winner
11. Design
Both purifiers have nearly identical physical appearances: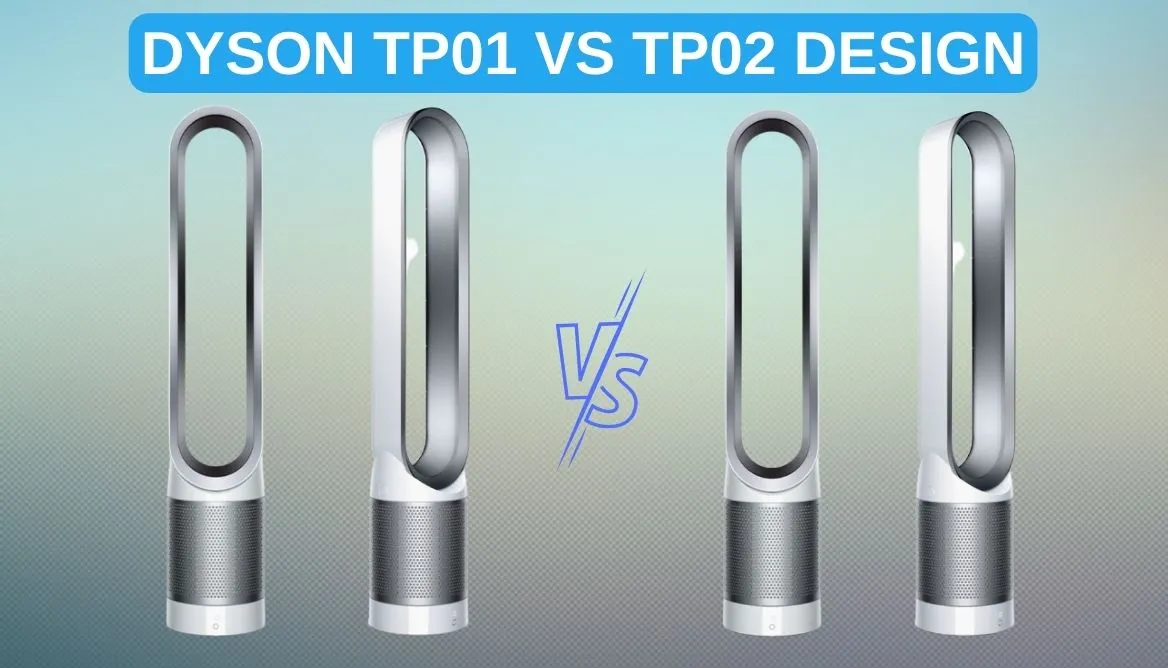 TP01 and TP02 possess an amp shape that is oval in nature.
In terms of height and width, Dyson's 'TP' series of purifiers stands out with measurements of 40 inches and 7.5 inches respectively.
The air is pulled in from all directions through a perforated grill positioned at the base of the air purifier.
Upon entry, the air is directed into the filtration chamber where a series of filters efficiently eradicate germs and capture undesirable particles.
After the air is purified, it is released back into the room through perforated holes situated at the upper front section of the purifier unit.
Winner: Similar designs, hence equal points. TP01 and TP02 are the same when it comes to the air purifier body design.
12. Warranty
Dyson offers a two-year warranty for both the TP01 and TP02 air purifiers, which includes: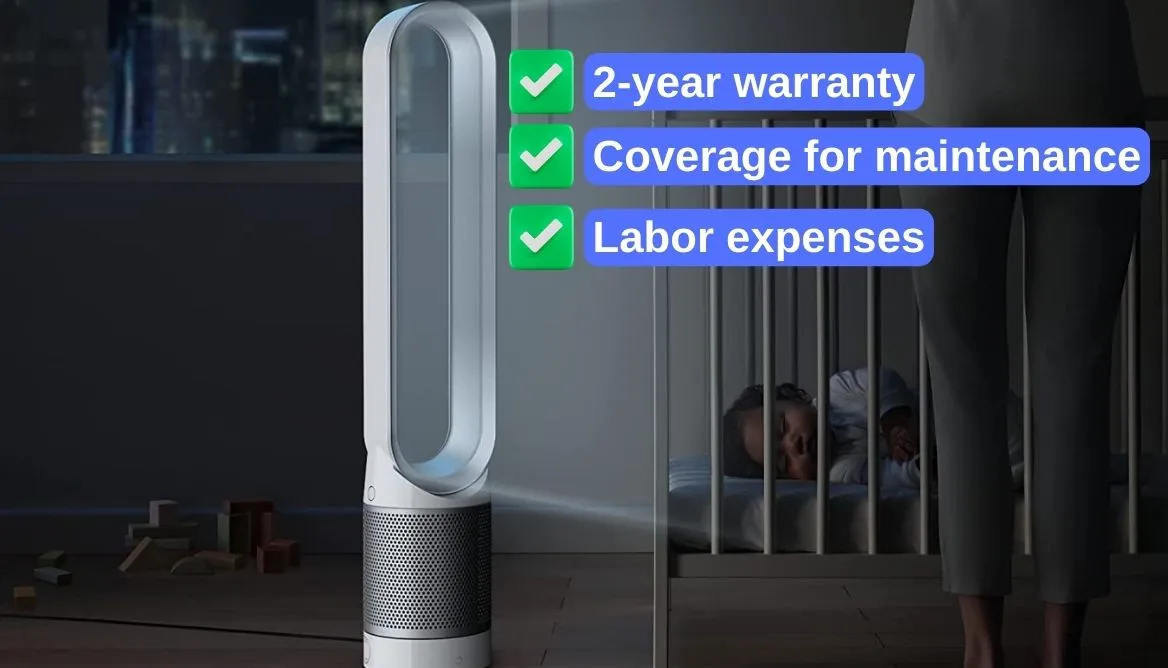 Coverage for maintenance costs,
Labor expenses.
Their warranty service is backed by responsive customer support, ensuring that you won't encounter extended waiting periods when filing a warranty claim.
Winner: Both units have a 2-year warranty, hence this category also leads to a draw.
13. Certifications
Both the TP01 and TP02 have received certification from:
Asthma and Allergy Foundation of America: Making them excellent choices for individuals with asthma or allergies.
PTPA (Parent Tested Parent Approved): This recognition is given to only a select few air purifiers after undergoing rigorous testing and evaluation, highlighting their effectiveness and performance.
Winner: As both models are certified by notable organizations, you can be assured that both are great.
14. Customer Support
Users have praised Dyson's customer support. It excels compared to other reputable brands. Following are some of the reasons why:
Their customer support is responsive and helpful, assisting with questions and warranty claims.
The customers have praised their support goes beyond the warranty period.
Quick shipment of replacement parts is ensured, reducing waiting times.
Dyson's customer support is available 24/7, allowing for assistance at any time of the day.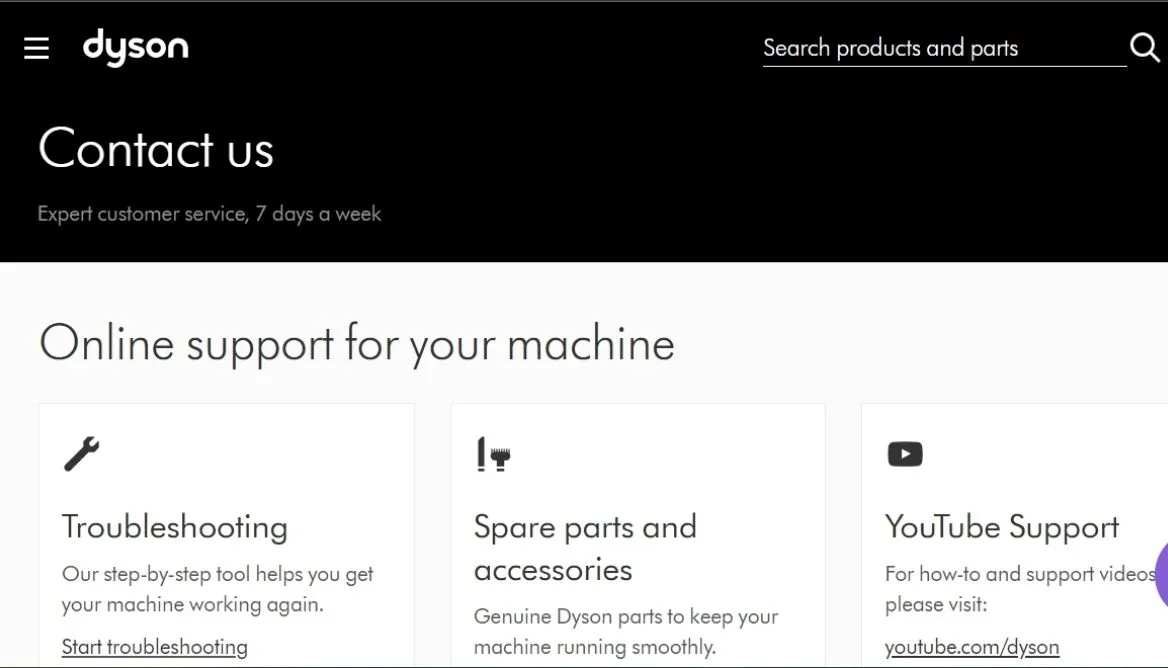 Winner: Dyson is helpful with buyers of both models hence both stand equal here.
Who Should Invest In Dyson TP01?
The Dyson Pure Cool TP01 is an ideal choice for individuals who:
Sale
Dyson TP01
Need an air cleaner that removes 99.99% of airborne allergens as small as 0.3 microns.
Want an air purifier that thoroughly removes odors and VOC such as paint fumes.
Have asthma or allergies, as the TP01 is certified by the Asthma and Allergy Foundation of America.
Require an air purifier with a moderate-sized coverage area.
Prioritize a reliable brand known for its quality and innovation.
Prefer a tower-style air purifier with a sleek and modern appearance.
Need a convenient remote control for easy operation.
Seek a timer function for setting specific operating durations.
Value excellent customer support and warranty coverage.
Who Should Invest In Dyson TP02?
The Dyson Pure Cool TP02 is a great pick for individuals who:
Sale
Dyson TP02
Suffer from seasonal allergies. They can benefit from TP02's ability to reduce 99.99% of pollen, dust, pet hair, and other allergens in the air.
Need a fan with cooling functionality that also improves air quality.
Have infants or young children who need clean air in their nursery or play area.
Are sensitive to odors, such as VOCs, cooking smells, or cigarette smoke. Need to rid of these harmful pollutants and smells.
Need an air purifier that can be controlled hands-freely via voice command. Has compatibility with Alexa, Google Home, and Siri.
Would like air quality updates and stats on their mobile app.
Require an automatic mode that adjusts fan speed and air purification based on air quality. This provides a hands-off experience for optimal comfort and cleanliness.
Need an energy-efficient air purifier without much carbon footprint.
FAQ
What is the difference between Dyson pure cool link TP01 and TP02?
The difference between Dyson Pure Cool Link TP01 and TP02 is that the latter offers wider oscillation and built-in WiFi. While the TP01 has a narrower range and lacks wireless connectivity. TP02 supports Alexa integration and can be controlled through the Dyson Link App, unlike TP01. Although T01 is priced less.
Did Dyson discontinue the TP02?
Yes. Dyson discontinued the TP02.
Is Dyson TP01 worth it?
Dyson TP01 is definitely worth it. It has a cooling fan and air purifier both. It ventilates while cleaning any bothersome allergens such as pet dander, pollen, dust, etc. The filter replacement is easy and cleaning is simple as well.
Is the Dyson TP02 worth it?
Dyson TP02 is worth it. It is a HEPA air purifier with a cooling fan. Not only it maintains the temperature of the room but it cleans 99.99% of airborne particles. It has a Dyson Link App control and voice command. The air quality sensors adjust the fan speed in auto mode hence it sits on top of the smart air purifier list.
Read our other popular posts:
Dyson TP07 vs TP09 Air Purifier: Which One Is Better
Best Dyson Air Purifier: 9 Great Models For Healthy Air
Dyson HP01 vs HP07: Which One is the Best Choice
Best Budget Air Purifier: 9 Pocket-Friendly Picks For 2023
Conclusion
The choice between the Dyson TP01 and TP02 air purifiers depends on what you need. But mainly how much you can spend. The TP02 has more features since it's newer. Although the TP01 costs less fortune, it has all the necessary features so go for it if you have a limited budget.
Sale
Dyson TP01
The Dyson TP01 is an excellent cooling fan and air purifier combo. The HEPA filter and Carbon filter capture the tiniest particles. It includes dust, pollen, smoke, and paint smell for clean air. You can easily operate it from afar via remote control.
But personally, I prefer the Dyson TP02 as the best option. It has impressive options like auto mode, Wi-Fi connectivity for app and voice control, and wider oscillation.
Sale
Dyson TP02
The Dyson TP02 is a smart air purifier and cooler fan. It circulates up to 180 degrees to fresh air. It thoroughly cleans via its HEPA and carbon filters. You can control the device by remote control, Dyson App, or Smart Home Assistant.