Is choosing the best air purifier while comparing the Dyson TP07 vs TP09 proving to be challenging? No need to worry! You are at the right spot. Check out this detailed comparison review and make the decision process easier. Let's dive into the details!
Quick Comparison
The Dyson TP09 and TP07 both are excellent purifiers. They are known for their performance and features such as!
Advanced filtration technology.
Effective and guaranteed capturing of unwanted particles and airborne contaminants.
Real-time air quality readings are accessible with a few taps on the touch screen.
Easy to use and connectivity with your smartphone to provide remote access anytime and anywhere.
However, TP09 offers extra amenities such as:
A formaldehyde filter that breaks down harmful gases and odors given off by paints, furniture polish, and similar products.
A quieter performance.
More powerful motor for increased air cleaning capabilities.
But, there's more to this comparison. Continue reading to learn about the detailed specs of both purifiers, their positives and negatives and which unit stands tall in 7 different parameters. Let's find out!
Detailed Comparison Chart
Here is a compilation of the specs and features of both purifiers. Go through the information and learn more!
| | | |
| --- | --- | --- |
| | | |
| | | |
| CADR(Clean Air Deliver Rate): | | |
| | | |
| | | |
| | H13 HEPA+Catalytic Oxidation filter+Activated carbon Filter | H13 HEPA+Catalytic Oxidation filter+Activated carbon Filter |
| | | |
| | | |
| | | |
| | | |
| | Onboard button, Remote control, App, and Voice assistant (Alexa, Siri, Google Assistant) | Onboard button, Remote control, App, and Voice assistant (Alexa, Siri, Google Assistant) |
| | | |
| Formaldehyde destruction: | | |
| | | |
| | | |
| | | |
Positives and Negatives of Dyson TP07
Sale
Dyson TP07
Let's take a look at the outstanding pros and cons of this unit!
Pros
The 360-degree HEPA filter is manufactured using recycled and environmentally-friendly materials.
The oscillating fan is large-sized for increased area coverage.
The machine is seamlessly sealed by HEPA 13 standards.
Features smart options such as voice control, control via app, and scheduling, auto mode.
The remote is magnetized and can easily latch onto the machine.
Easy to use and install.
Cons
Can produce a whining sound after long usage.
This unit is a bit heavier on the purse.
Positives and Negatives of Dyson TP09
Sale
Dyson TP09
Let's uncover the advantages and demerits of this purifier:
Pros
Ability to perform double duty via a cooling fan.
Equipped with an advanced formaldehyde sensing and exterminating system.
Aesthetic and modern design.
It has features such as auto mode (automatic mode), night mode, and more.
Cons
Unboxing and installation are time-consuming.
Expensive filters.
Dyson TP07 vs TP09: 7 Key Difference Highlighted!
Dyson TP07 and TP09 are both excellent air purifiers but they have striking differences in many aspects which are the following: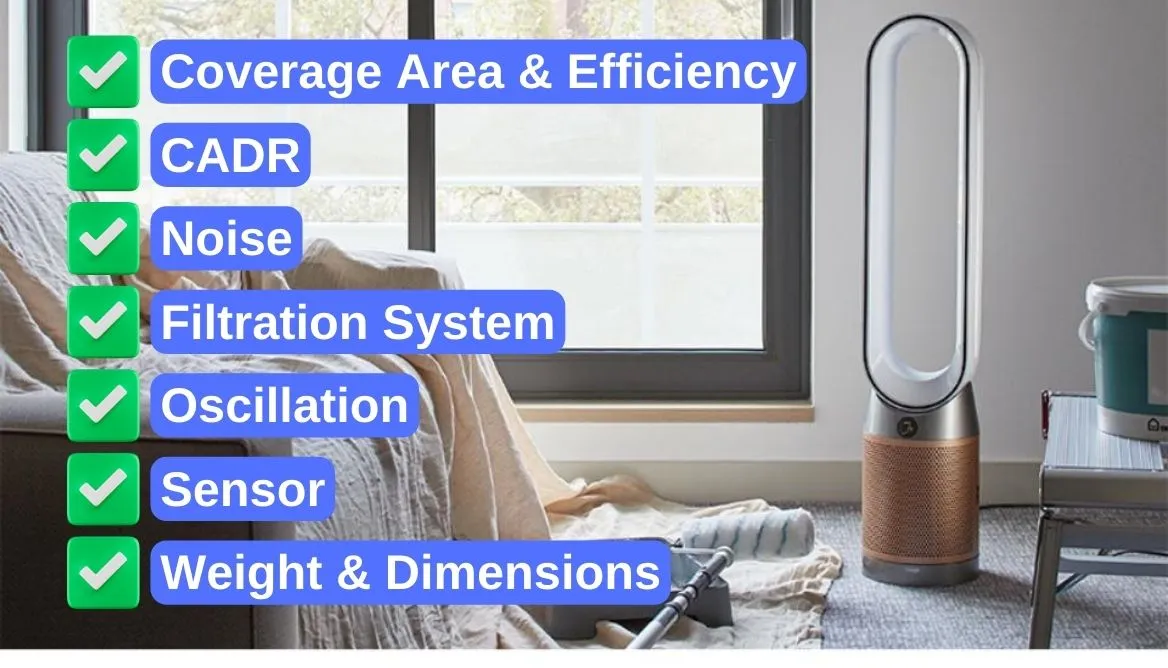 Coverage Area & Efficiency
Clean Air Delivery Rate
Working Noise
Filtration System
Oscillation
Sensor
Weight & Dimensions
Let's learn about them in detail:
1. Coverage Area & Efficiency for Better Air Quality
First and foremost, let's highlight the coverage of these purifiers. They perform exceptionally in small and medium-sized spaces such as a bedroom, an office room, or a corridor.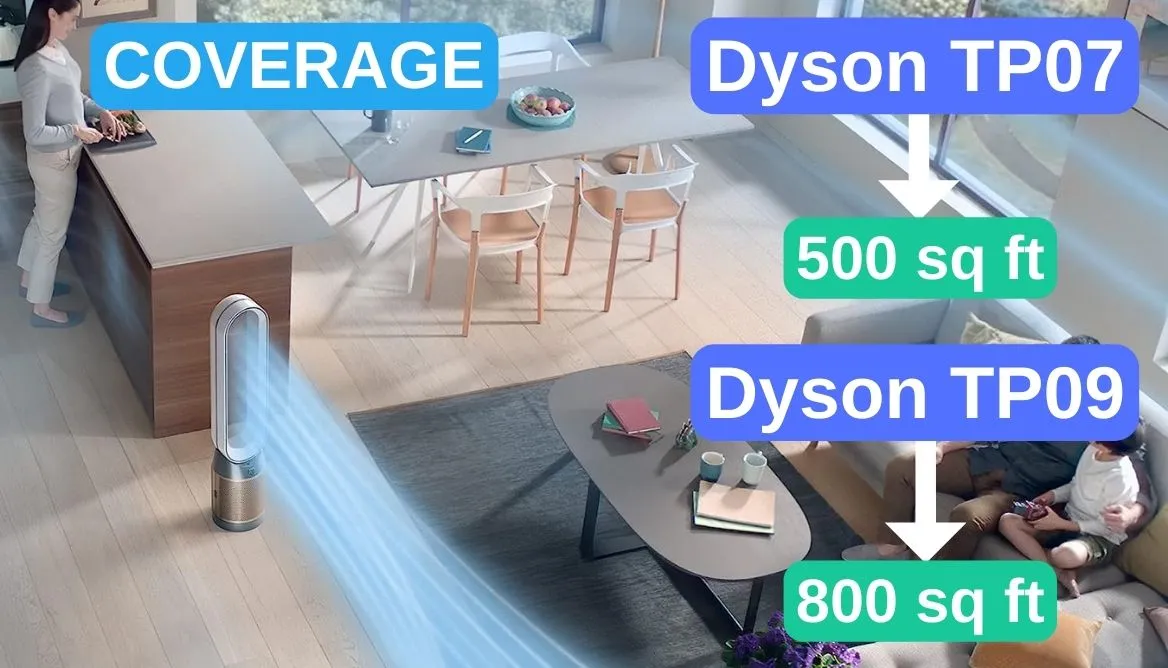 Both the Dyson TP07 works well at 46 m² (500 ft² )and Dyson Purifier Cool Formaldehyde TP09 is excellent in 74 m² (800 ft²) spaces.
The duo features an oscillation of 360 degrees and Dyson's Air Multiplier technology that circulates the airflow evenly in the whole room.
Other amazing features to enhance the airflow in both these models are: Focused mode (direct and prioritized airflow), Diffused mode (covers more area), and Backward mode (focuses airflow to the back of the machine)
Winner: Both units do a great job but the extra coverage of TP09 makes it a winner in this category.
2. Clean Air Delivery Rate (CADR)
Now let's shed some light on the CADR rating of these models. The efficiency of removing unwanted particles and air pollutants from the environment is known as the Clean Air Delivery Rate (CADR). It is denoted with a measure of CFM, the higher the value, the better the model is considered.
The TP09 is capable of removing 99.95% of pollutants such as allergens, pollens, dust, pet dander, and other particles that can be 0.1 μm or smaller with its HEPA filter. Also, the activated carbon efficiently gets rid of gases, odors, and VOCs. The TP09 also can destroy formaldehyde from the air.
Let's discuss what both models are capable of.
Features fully sealed HEPA 13 standardization.
The pollutants captured effectively stay trapped inside the machine.
The TP07 can deliver clear air at the rate of 290 liters (77 gallons) per second while the TP09 has a maximum potential of 390 liters (103 gallons).
Winner: The TP09 stands tall in this category too as it can deliver clean air more quickly to ensure a healthy indoor environment!
3. Noise Levels while Operating
Air purifiers can produce sound while operating. The noise level can vary depending on the build and functionality of the machines.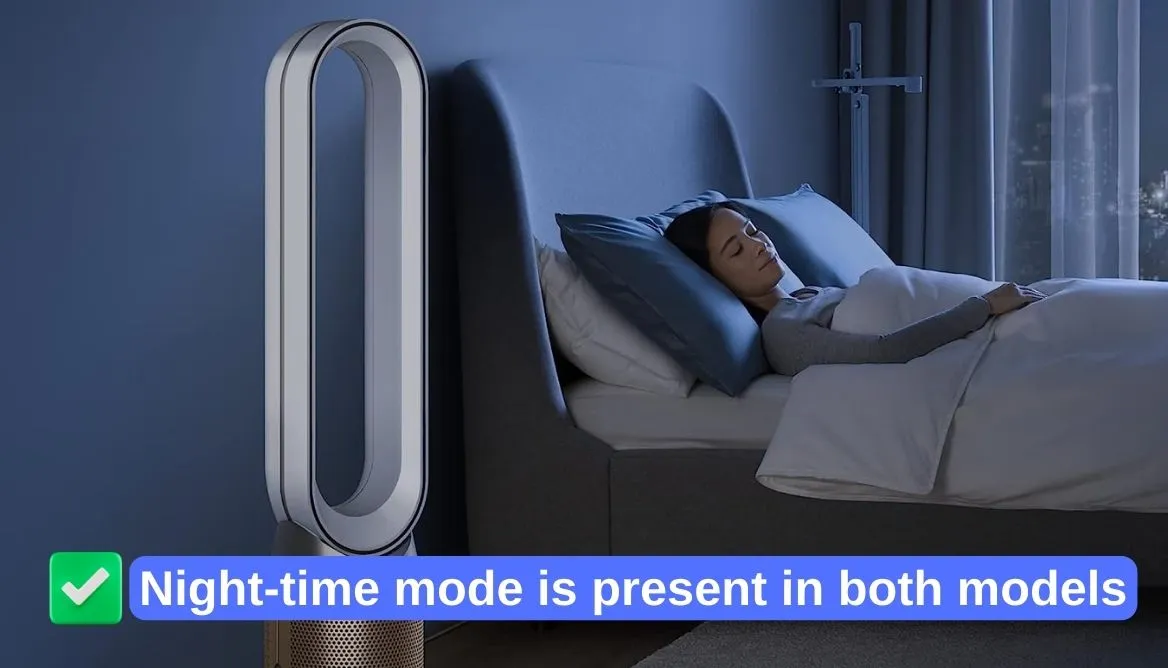 The TP09 has a high level of airflow but it still does not produce too much noise and goes a maximum of 60dB. While the TP07 produces around 62 (dB).
Night-time mode is present in both models that control the speed to Level 4 out of 10.
You can set them both to an automatic mode which maintains the speed and noise to a consistent level and guarantees indoor air quality.
Winner: The TP09 wins with flying colors as its noise level is lower than its counterpart.
4. Filtration System to Maintain Indoor Air Quality
The filters of an air purifier decide how effective the device will be in clearing out pollutants or unwanted particles from the air. A purifier with multiple filters and the latest filtration technology ensures that the air is efficiently cleaned.
The Dyson TP09 and TP07 feature some impressive filtration capabilities.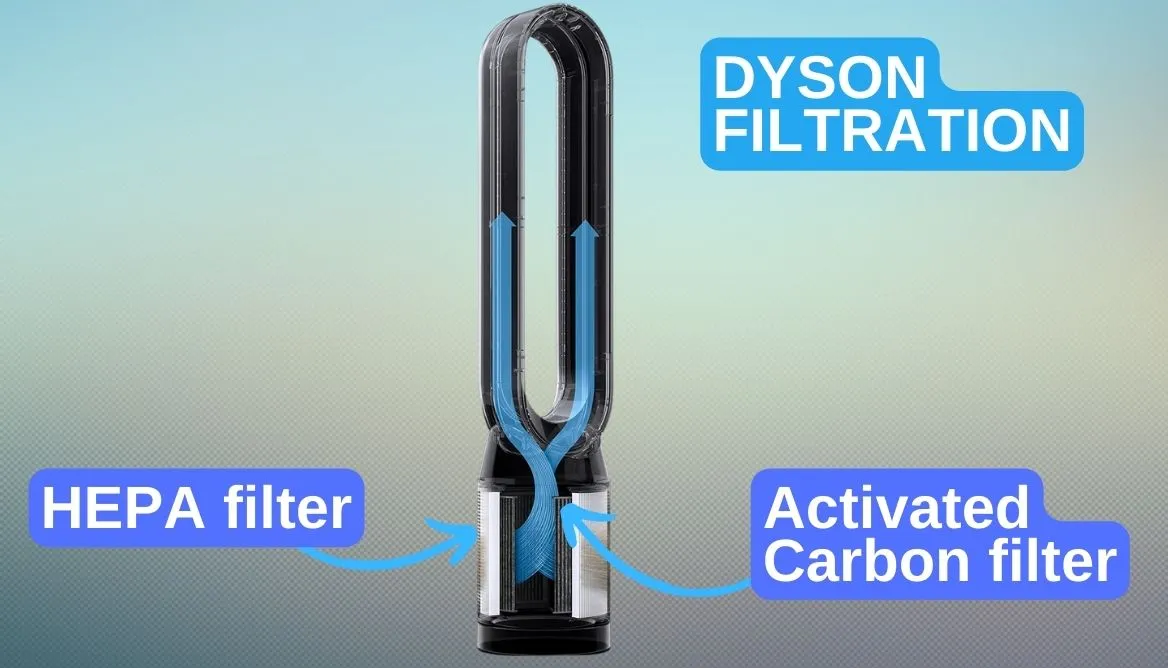 Both the Dyson TP07 and TP09 air purifiers have an H13 HEPA full-sealed filter.
The H13 HEPA full sealed filter captures 99.95% of particles as small as 0.1 microns, effectively removing airborne pollutants, allergens, and microscopic irritants.
Both models utilize a Catalytic Oxidation filter to break down and destroy formaldehyde molecules.
The duo feature an Activated carbon filter, which helps remove VOCs gases from the air, ensuring a healthier environment.
Furthermore, the TP09 features Cryptomelane catalytic filters that help to break down the formaldehyde into non-toxic components.
Winner: Both units have similar filtration capabilities but the catalytic filter gives the TP09 an edge in the competition.
5. Oscillation Feature for Additional Coverage
How well a purifier distributes the airflow in a wider area is known as oscillation. This quality of the unit can also enhance purification and ensures that clean air reaches all the corners of the room. The Dyson TP07 and TP09 also have this ability.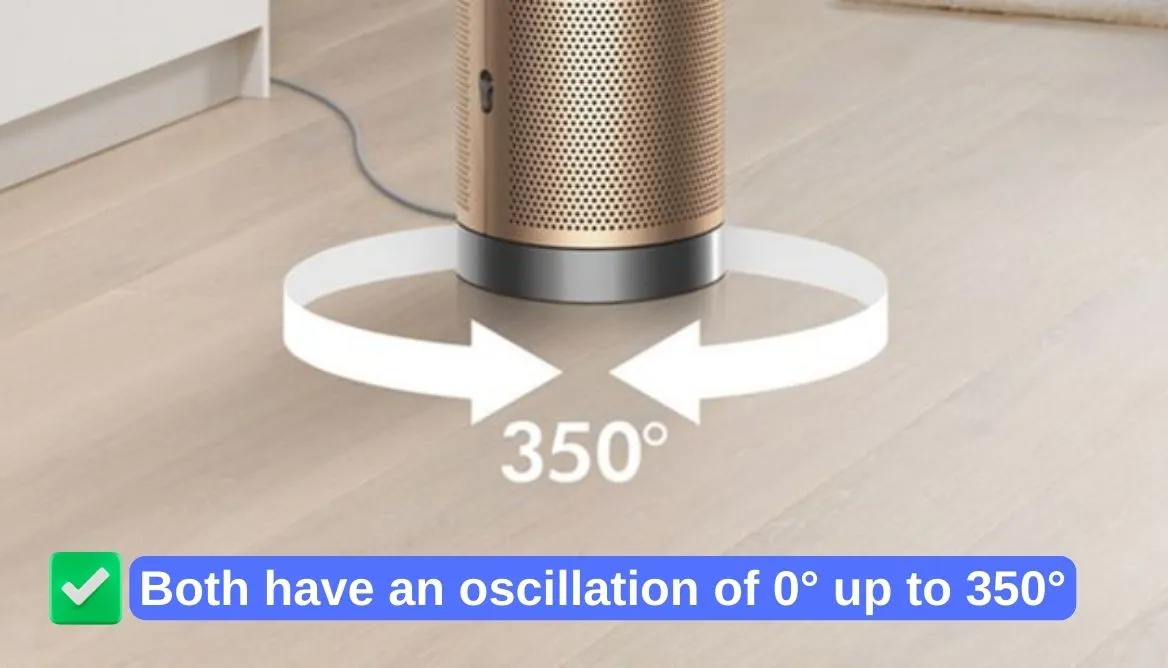 They both have an oscillation of 0° up to 350° and a 10-fan speed. But, some differences can be listed. Let's check them down!
The fan in both models varies in type which makes it suitable for different situations.
TP09 features a reliable and powerful motor that is ideal for larger spaces and quick circulation of airflow.
TP07 is more focused on precision in controlling the airflow direction and you can twist the base to set the direction as needed by moving the entire fan.
Winner: The TP09 is a preferable choice due to its strong motor which results in speedy airflow!
6. Sensors
Sensors in a purifier help to detect changes in the environment and adjust the unit's settings accordingly. Also, they can perform other tasks related to the functionality.
Both models are capable of measuring real-time air quality and the sensors can present readings of 24-hour AQI, PM 2.5, PM 10, and VOCs. But, some differences make each stand apart. Here is a detailed analysis of the sensors of both models.
The TP07 is equipped with 3 sensors and they are:
Particulate Sensor
Gas Sensor
Humidity and temperature sensor.
The Dyson Purifier Cool Formaldehyde TP09 is fitted with the above three sensors and an added sensor namely: A formaldehyde detector.
Winner: The TP09 wins here as it is equipped with a formaldehyde sensor that can remove colorless and flammable gases given out by paints, polishes, and similar products. Hence, it is hailed as a superior choice in this category.
For more insights on sensors, check out this video.
7. Weight & Dimensions Specifications
In the end, let's talk about the weight and space occupied by a purifier. This can be a major factor in selecting any of these models. Lightweight and easy-to-carry machines are preferable. Let's see how it goes for these two models.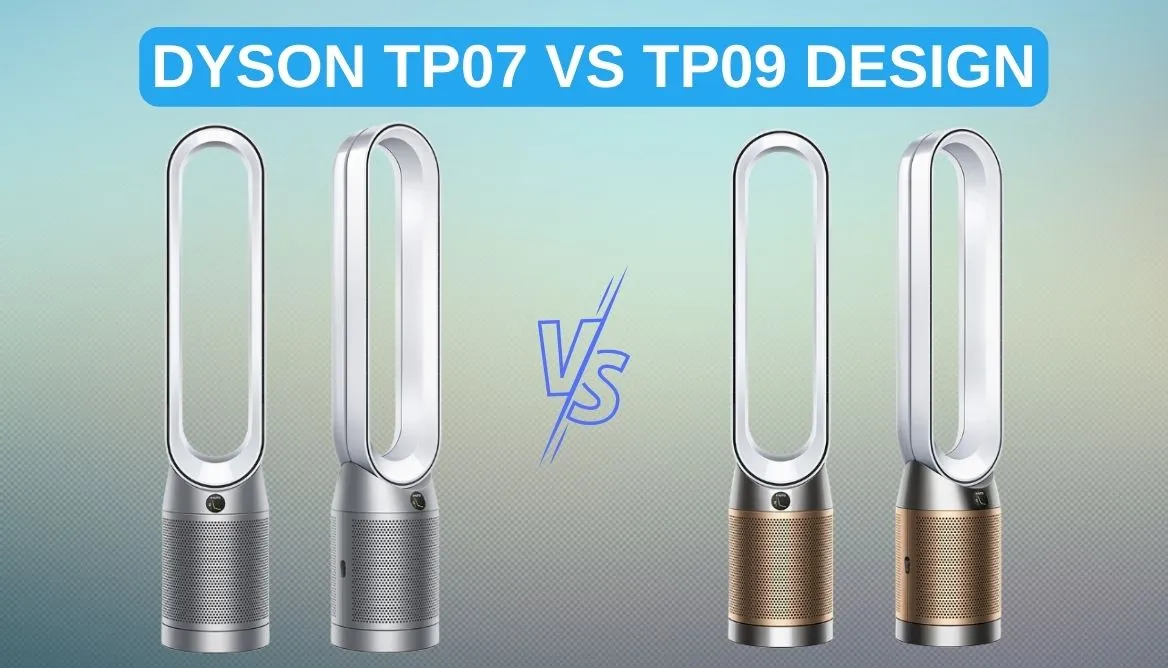 | | | |
| --- | --- | --- |
| | | |
| | | |
| | 4.72L x 8.7W x 41H inches | |
Both purifiers feature almost similar values in this category.
Winner: The last category results in a draw as both are nearly the same. But if even the slightest values matter to you, then go for TP09.
For further insights, check out this helpful video.
Dyson TP07 vs TP09: Similarities Between the Two Devices
Let's uncover the shared perks of both purifiers which are the following:
Display Screen
Connectivity & Compatibility (Dyson Link App)
Backward Mode
Diffused Mode
Focused Airflow
Now, I will take a deep dive into these similarities:
1. Display Screen of the Smart Air Purifiers
The Dyson Purifier TP09 and TP07 have a display screen that presents essential data such as current air quality, temperature and humidity levels of the room, and settings/functions of the fan. You can access these readings anytime on the screen with a few taps.
You can also access different readings from sensors in real time which include:
Particulate sensor
Gas sensor
Humidity and temperature sensor
What makes the display so special? Here are the reasons!
The display is very easy to understand as everything is mentioned in an organized way.
You can navigate to different options and features with ease.
It presents accurate readings that inform about air quality in the environment.
2. Connectivity & Compatibility Options
Connectivity ensures that you can remotely access the air purifier from a great distance or fully remotely if you are outdoors. Here are three ways to connect to the Dyson Purifier TP07 and TP09!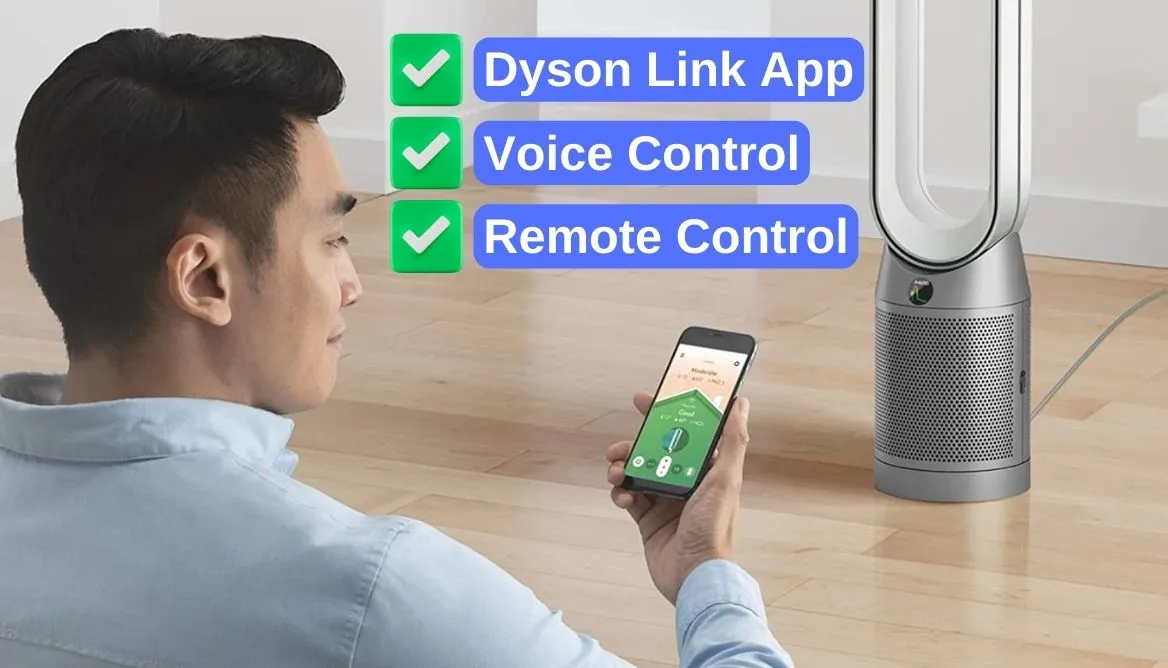 Dyson Link App: Installing the Dyson Link app on your phone allows you to monitor real-time data of air quality. It also allows you to operate the unit from anywhere remotely and also notifies you about the filter replacement.
Voice Control: Do you prefer giving commands to the device from a distance? Both models have Alexa, Apple Siri, and Google Home support allowing you to adjust the settings with voice commands.
Remote Control: You can turn on or off the unit, adjust the oscillation, change speed levels, set a timer, and swap different modes.
The easy-to-use capabilities and assistance options make both the Dyson Purifier TP07 and TP09 ideal choices for your home or workspace. They also ensure that the maximum amount of particles are screened out from the environment with just a few taps or voice commands.
3. Backward Mode for Better Air Purification
Backward mode is an innovative feature allowing the fan to re-distribute clean air back into the room. The TP09 and TP07 have this feature! Here is how it works: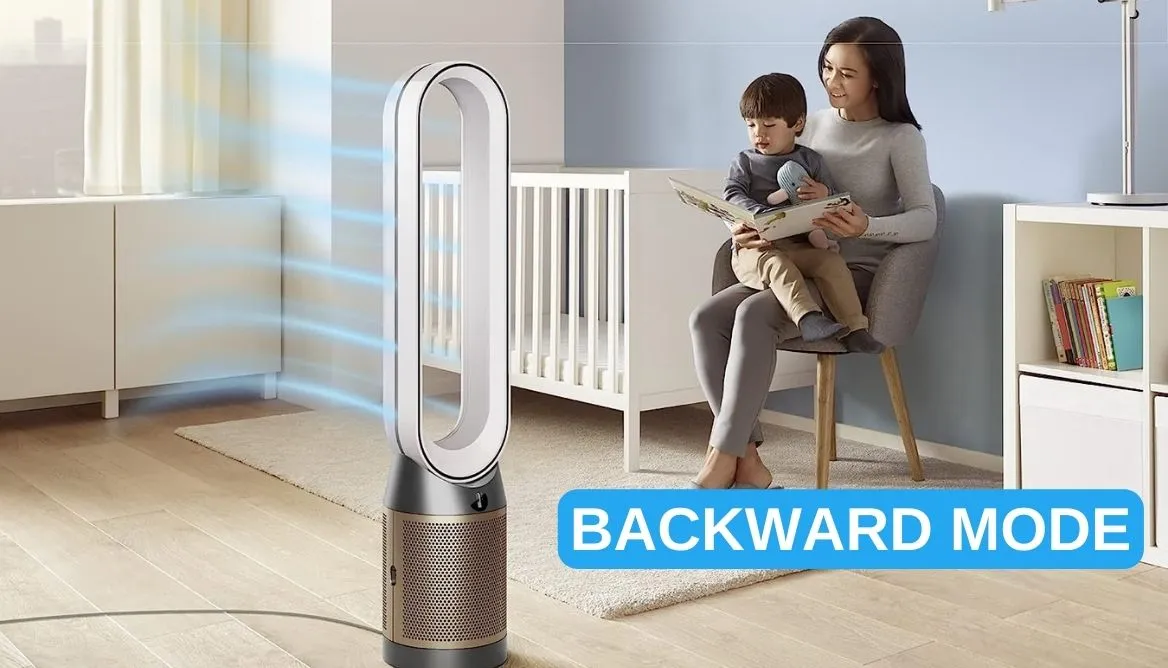 Power consumption is efficiently reduced by this mode as it recirculates healthy air instead of drawing in air from other sources.
The fan adjusts automatically to provide you with maximum air circulation.
The blades of the fan adjust the pitch resulting in increased air pressure in the space it is installed. This reduces energy consumption and distributes more filtered air.
If there is no need to change the temperature settings of the cooling system and only air circulation is required then this is the ideal mode to use.
The backward mode also ensures that the environment is more comfortable by reducing humidity via the constant circulation of air.
4. Diffused Mode for More Purified Air
Improving the overall air quality in the room is the main goal of installing a purifier. This can be achieved more easily with the help of diffused mode.
This "mode" is present in both the Dyson TP09 and TP07. It helps in improving the overall air quality in the space it is installed. Let's uncover its functionality!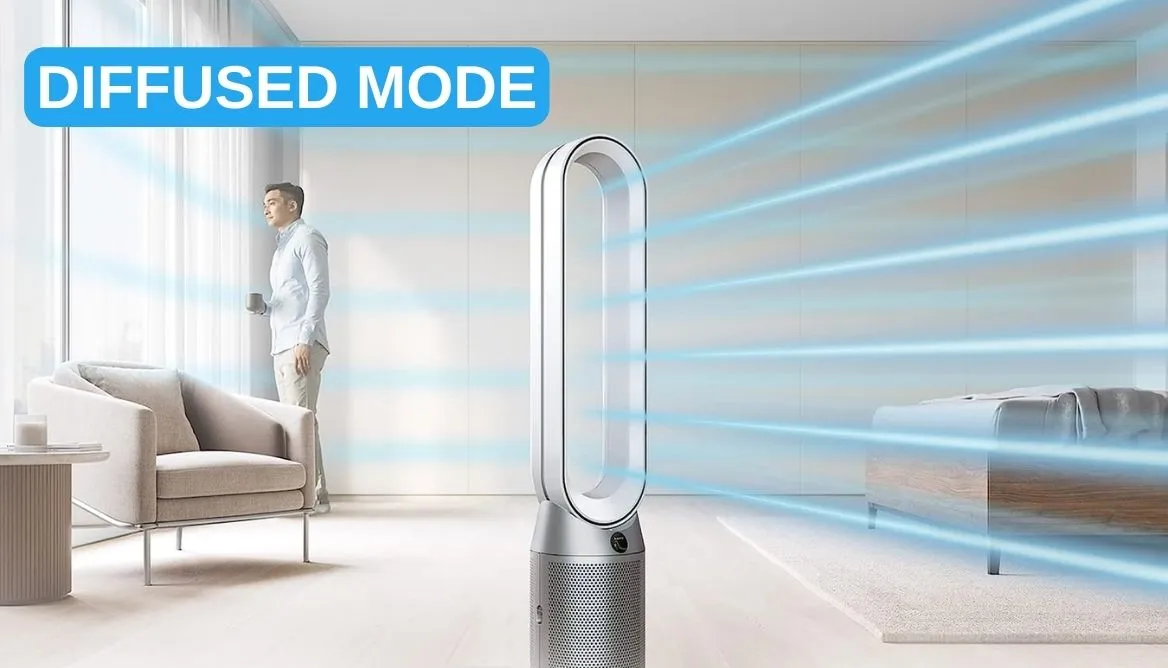 It forces clean air through a setup of large diffuser holes perfectly aligned around the fan head.
The air passing through these holes is consistently spread throughout the whole room. Clean air, enhanced circulation, and distribution of air quality are achieved this way.
While most air purifiers spread air in one direction. The diffused mode spreads in the whole room efficiently.
The air remains fresh and free from allergens, microscopic particles, irritants, pollutants, pet dander, and dust.
5. Focused Airflow for More Air in the Specific Area
The Dyson TP09 and TP07 feature an option known as "Focused Airflow Setting". It helps to focus on cleaning the air in a certain direction. Here is how it helps in the filtration process:
It directs clean air in a specific direction to ensure that the area is rid of pollutants. If extra purification is needed or the area is crowded then this is the ideal setting.
In a enclosed space it helps to direct the airflow to specific locations that may otherwise take time.
The pollutants and other microscopic particles are removed from the air quickly and with precision.
Adjusting to this setting, users can achieve the same result as cleaning a smaller space with the air purifier.
If you are busy at work and need clean, efficient air purifying, and want to save time then this mode is a blessing for you.
Handy Tips Before Investing in a Dyson Air Purifier
Here are some things you have to consider before buying a Dyson air purifier. Let's delve in!
There is a filter replacement alarm that notifies you if you need to change the filter.
If your everyday use is between 8-10 hours then the filter will last a maximum of 1 year.
Keep in mind the cost of replacement which can vary for every model depending on the type of filter.
Dyson air purifiers can supply a cold breeze during a hot day but that does not mean they are a permanent replacement for an air conditioner.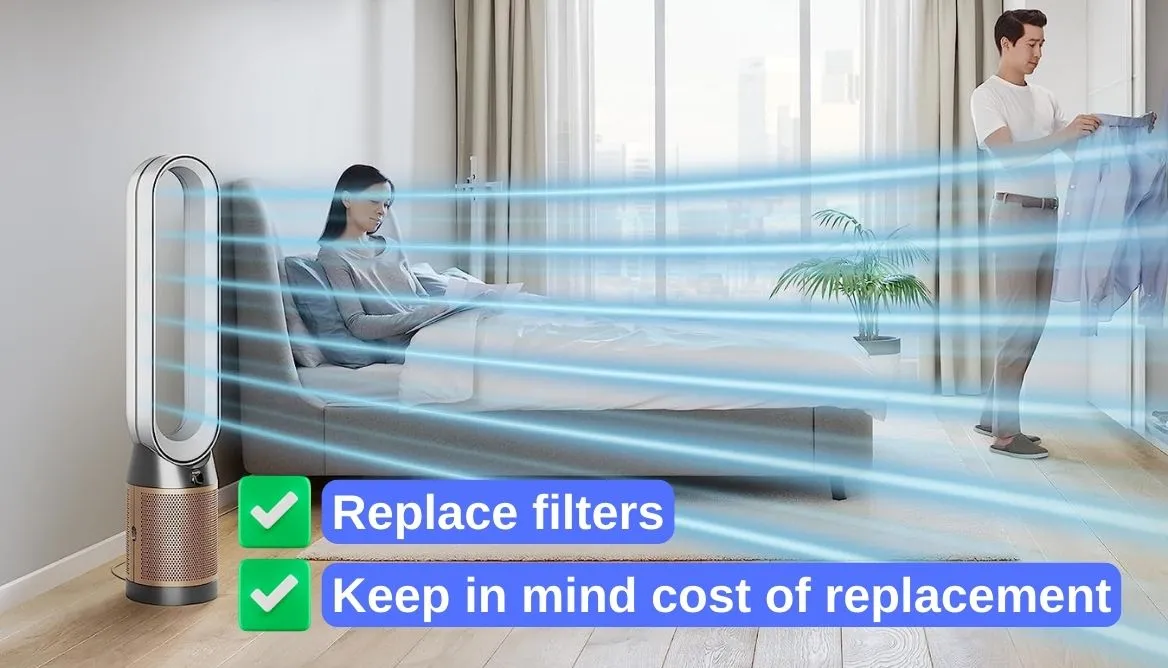 Some other things to keep in mind when buying an air purifier are mentioned below!
The purpose of the unit for example, for home or office use, location of installation (home, hospital, office, etc).
Always check if the purifier you have selected is suitable for the room size.
Checking the air filtration technology can be a huge plus point if you want a better unit.
Noise levels are important if you want to install one in your bedroom. Everyone wants a quiet and smoothly operating model.
The more features an air purifier has the better it is! You would want as much accessibility and performance for the price you pay.
Installing an air purifier that consumes a lot of energy is not a smart investment. Check for a model that has energy certification and requires less electricity to run for long hours.
Read Also:
Dyson TP01 vs TP02: Which One is Better for Your Needs
Best Dyson Air Purifier: 9 Great Models For Healthy Air
Dyson HP01 vs HP07: Which One is the Best Choice
Best Budget Air Purifier: 9 Pocket-Friendly Picks For 2023
FAQ
What is the difference between Dyson TP09 and TP07?
The difference between Dyson TP09 and TP07 are be broken down into various factors. The most notable are coverage area, noise level, sensors, and filtration.
Is the Dyson air purifier TP07 worth it?
The Dyson air purifier TP07 is worth the investment. Some notable features that it possesses are functionality as a fan while taking less space, Wi-Fi connectivity for easy remote access, and voice control via phone.
What is Dyson TP09?
The Dyson TP09 is a cool air purifier that features Cryptomelane catalytic filters that help to break down the formaldehyde into non-toxic components like water and carbon dioxide. It efficiently cleans the air ensuring fresh and healthy indoor air quality.
When was Dyson TP07 released?
The Dyson TP07 was released in 2021 and it is a good air purifier that performs exceptionally in small spaces.
Conclusion
Both the Dyson TP09 and TP07 are excellent air purifiers built for removing pollutants efficiently. Before you make up your mind in investing in any of these models consider factors such as filters, coverage area, features, maintenance, and price.
The TP09 has an edge in terms of performance and coverage area. It features an extra filter (formaldehyde filter) for efficient performance! You will fall in love with the features that it brings along to make your life easier.
Sale
Dyson TP09
Dyson TP09 is Equipped with an advanced formaldehyde sensing and exterminating system. It boasts great coverage and effectively removes allergens and harmful particles from the air. Its smart features are also a plus point.
But, if you are tight on the budget, then TP07 is not a bad investment.
Sale
Dyson TP07
The Dyson TP07 is an advanced air purifier and tower fan that combines cutting-edge technology with a sleek design. With its HEPA filter and activated carbon filter, it efficiently captures and removes pollutants, allergens, and odors from the air, providing a cleaner and healthier environment.