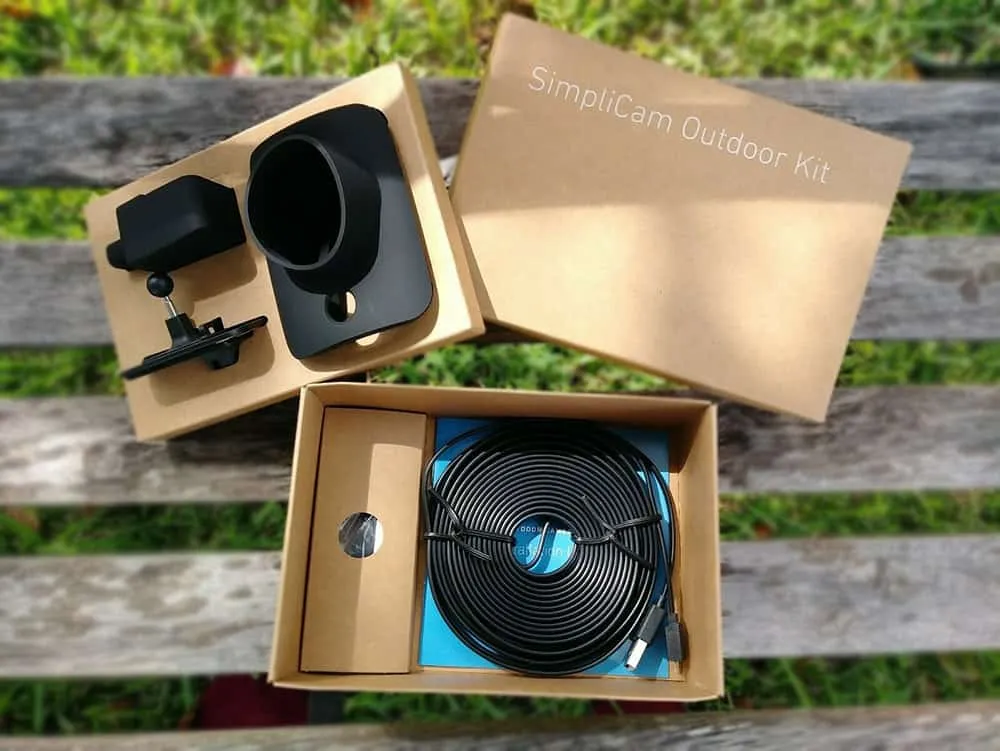 SimpliSafe is a leader in the home security industry and well known for its affordable home security systems. SimpliSafe has a variety of sensors that can be used to detect home invasions and alert police, with the SimpliCam being one of them.
However, you may be interested in protecting your home before a break-in occurs. If you are looking at SimpliSafe, you may be wondering does SimpliSafe have an outdoor camera?
UPDATE: SimpliSafe Outdoor Camera has been released. See product details here.
SimpliSafe did not sell an outdoor camera until 2021. SimpliSafe does sell an outdoor kit that can cover the indoor SimpliCam to protect it from the weather and prevent the warranty from being void. The SimpliSafe Video Doorbell is made to be used outdoors to monitor your entry area.
Outdoor security has a different set of requirements than indoor security, so let's take a look at the features of SimpliCam, the Outdoor Kit, and the Video Doorbell Pro to see if they are sufficient for outdoor usage.
Related Topic: Can WYZE cameras be used outdoors? Only Certain Versions!
SimpliSafe Outdoor Camera Solutions
SimpliSafe has stated that they are working on a dedicated outdoor camera, but nothing else. An example of that promise can be seen in the SimpliSafe forums here:https://simplisafe.com/forum/customer-support-forum/getting-simplisafe/outdoor-cam
They haven't mentioned features or a possible release date. Given SimpliSafe's reputation and past history, I'll believe it when I see it.
In the past, they've made promises, and then backtracked. For example, being able to disarm your security system remotely. They previously claimed it was in the works, but now claim it is a security feature to now have that option.
UPDATE: SimpliSafe Outdoor Camera has been released. See product details here.
SimpliSafe offers two options for outdoor cameras currently:
SimpliCam with the Outdoor Kit
The SimpliCam is an HD 1080p camera with one-way audio, meaning it will record through its microphone, but it doesn't have a speaker. The requirements specifically state Indoor-use only, but it can be used outdoors with the addition of the Outdoor Kit.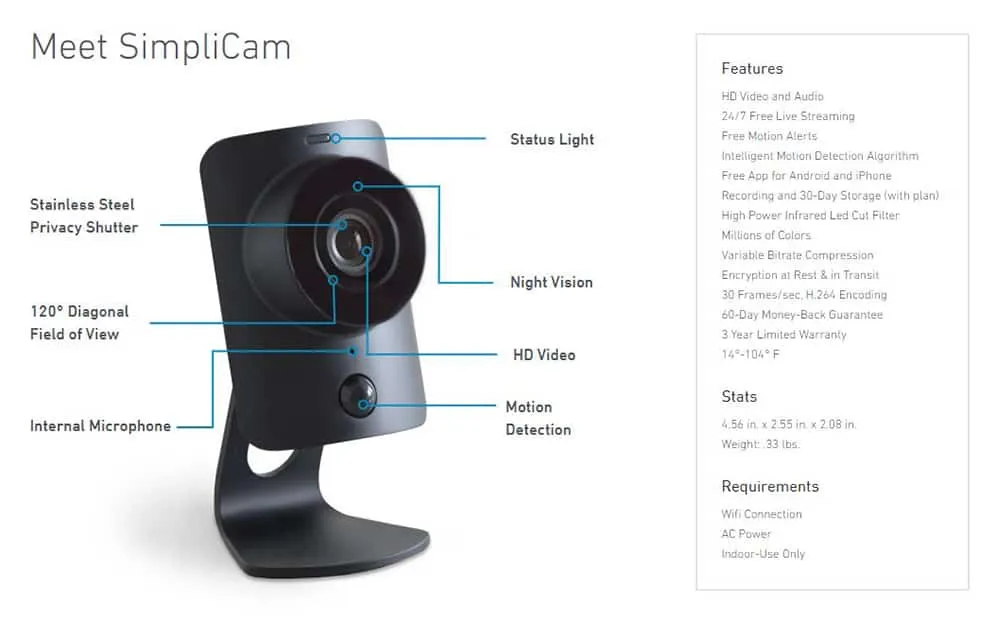 Source: https://simplisafe.com/simplicam-security-camera
The SimpliSafe Video Doorbell Pro had an HD 1080p camera and two-way audio. You can listen and speak to visitors. The wide-angle 162-degree camera allows you to see most of your entryway.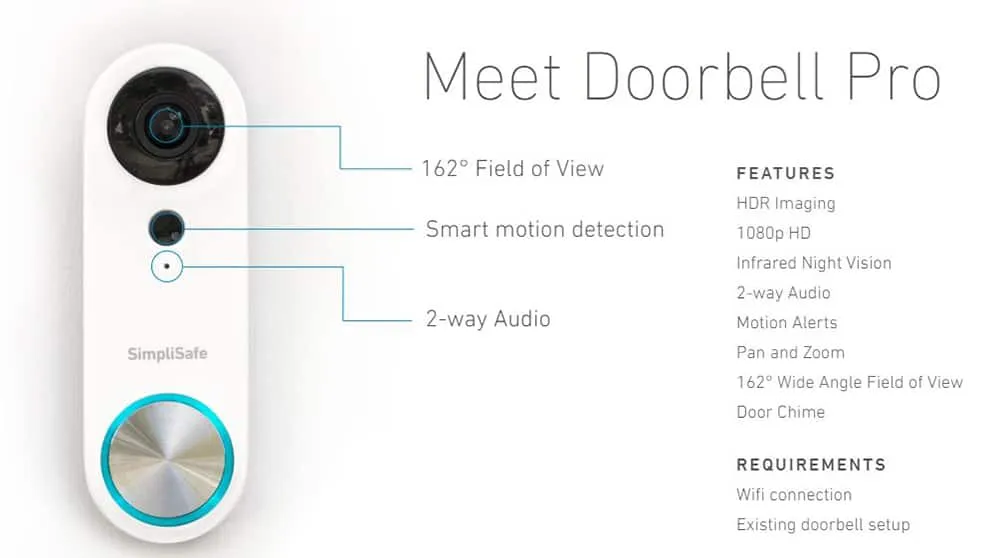 Source: https://simplisafe.com/video-doorbell-pro
If you would like to see which video doorbell I recommend, check out Best Smart Video Doorbells.
SimpliCam Outdoor Kit Information
Now you know a little about the cameras, let's learn about the kit that makes it so you can use the SimpliCam outside. SimpliSafe describes the Outdoor Kit as a wetsuit for the camera. It's also important to note that your SimpliCam warranty is void if you use the camera outside unless you use the Outdoor Kit.
SimpliCam Outdoor Kit Features
SimpliSafe really doesn't give a lot of details about their outdoor kit. Here is literally all the information SimpliSafe gives about the Outdoor Kit:
"Start using SimpliCam outside with a waterproof, weather-ready sleeve and 25 ft. power cable. Works from -4° to 114°F."

SimpliSafe
The outdoor kit doesn't even have its own product page!
Here is that same information with some more useful info added, in an easy-to-read bullet format:
waterproof
weather-ready sleeve
25 ft. USB power cable
Works from -4° to 114°F.
Includes ball & socket wall mount
Here are a few pictures of what to expect, as it comes in the box.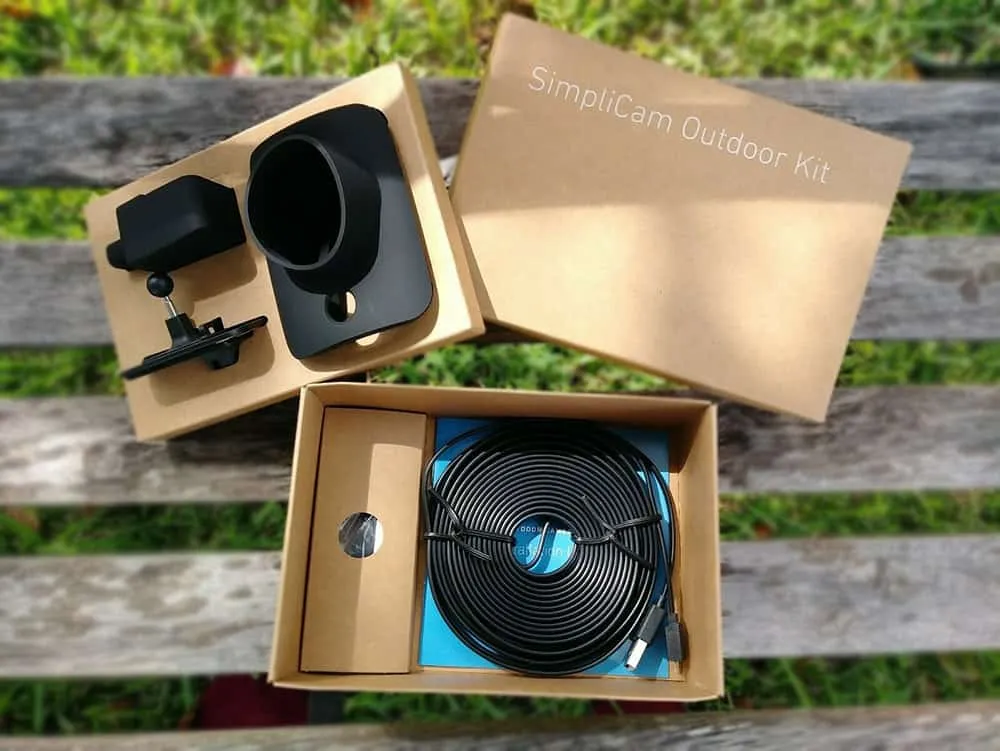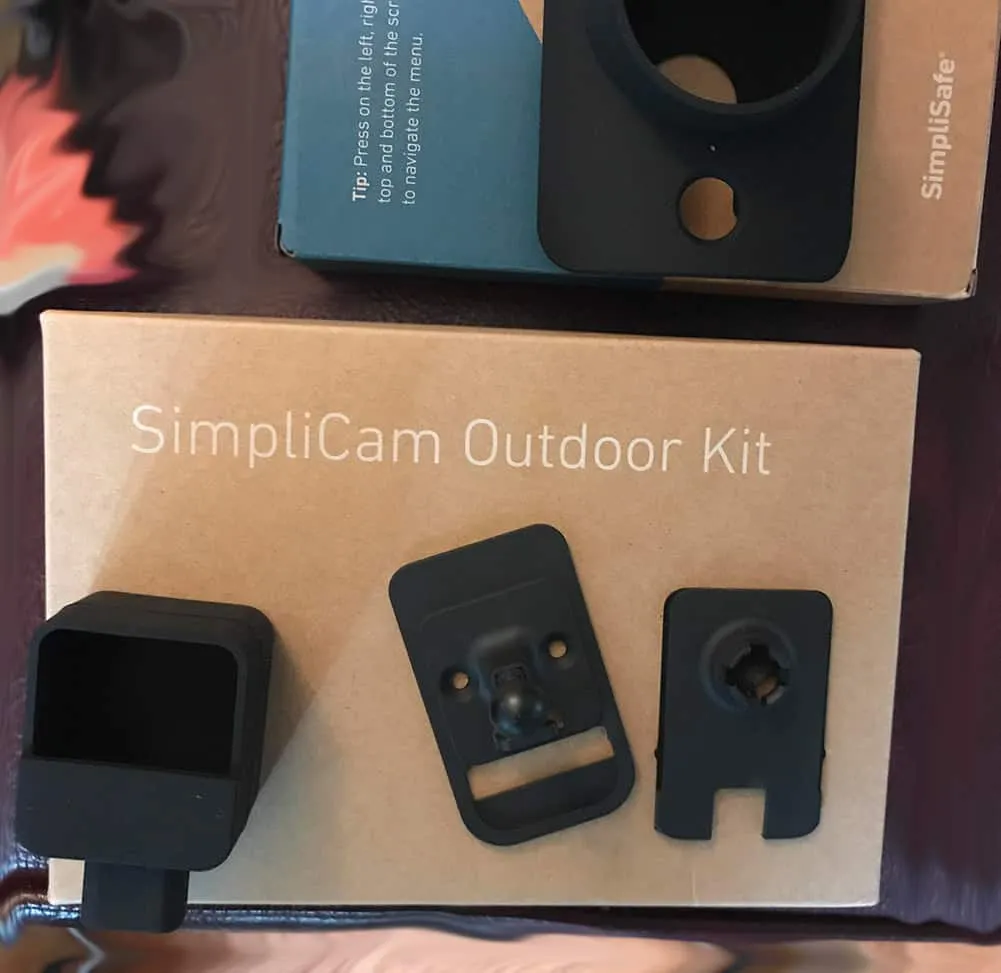 How Do I Set Up My SimpliSafe Outdoor Camera?
Here are the steps to mounting your SimpliCam outside.
Make sure there is a strong Wi-Fi signal where you plan to install
Make sure there is an outlet within 25 feet.
Test the camera angle
Drill 2 Holes & Screw in the Mounting Bracket
Insert the SimpliCam into the Outdoor sleeve
Attach SimpliCam to the wall maount
Can I Use SimpliSafe Camera Outdoors?
Now, just because you can mount the SimpliCam outside, does it mean you should?
SimpliSafe's SimpliCam can be mounted outside using the SimpliSafe Outdoor Kit. However, the SimpliCam was designed to be used indoors and may not work as well outdoors due to issues with the Wi-Fi signal and motion detection. SimpliSafe has stated they are working on an outdoor camera.
First, let's take a look at SimpliCam's features.
24/7 live streaming (Not 24/7 recording)
1080p Full HD video
Night vision
Motion Detection
Two-way audio
Android & iPhone apps available
Now those all sound like useful features to have in an outdoor security camera, and you'd be right. They are! Aside from not being able to record 24/7.
The problem is in how those features were implemented.
Specifically, motion detection and night vision. They were designed to be used indoors, not outdoors.
The motion detection is designed to detect a heat signature of a body, not necessarily motion. Part of SimpliSafe's marketing of the camera states,
"SimpliCam's intelligent detection algorithms are calibrated to detect the unique heat signature of humans."

SimpliSafe
Therein lies the problem. The cameras detect changes in temperature using PIR sensors. The temperature outdoors Is drastically different. Outdoor temps vary more than indoors, which confuse the SimpliCam and cause false alerts or missed alerts.
Speaking of IR, that is another issue. Night vision relies on IR. The infrared emitter is not designed to emit enough light for use at night time outdoors. The SimpliCam may have great picture quality during the day, but fail to see much at night. Outdoor security cameras have much stronger IR lights usually.
Now combine those motion detection issues with not being able to record 24/7. This means that the SimpliCam is failing at its job as a security camera. An attacker could easily get past the outdoor SimpliCam without ever being detected, especially at night.
SimpliSafe Outdoor Camera Alternatives
We've established the SimpliCam is not the best outdoor security camera. If you want an all-in-one solution for your home security, both indoor and outdoor, you will need to look somewhere else. You can't be waiting years for SimpliSafe to release their outdoor camera. Who knows when that will actually be?
You may be thinking, can I use another camera with SimpliSafe? The short answer is No!
What outdoor cameras work with SimpliSafe?
SimpliCam with the Outdoor Kit is the only outdoor camera option that works with SimpliSafe. SimpliSafe does not offer any Third-Party camera integrations.
Here are some SimpliCam alternatives to consider:
| | | | | | |
| --- | --- | --- | --- | --- | --- |
| | SimpliSafe SimpliCam | Wyze Cam Outdoor | Ring Floodlight Cam | Nest Outdoor Cam | Vivint Outdoor Camera Pro |
| Cost | $ | $ | $$$ | $$$$ | $$$$ |
| Weatherproof | Yes, with Outdoor Kit | Yes | Yes | Yes | Yes |
| Video Quality | Full HD – 1080p | Full HD – 1080p | Full HD – 1080p | Full HD – 1080p | Full HD – 1080p |
| Power | Wired | Battery | Wired | Wired | Wired |
| Facial Recognition | No | No | No | Yes | No |
| Link to Buy | Buy Directly From SimpliSafe | See Below | See Below | See Below | Buy Directly From Vivint |
Looking at the specs, it seems that SimpliCam has many of the same features as it's competitors. However, it's important to note that the quality of those features differ. For instance, the night vision we talked about earlier. It was designed for interior use and not outside.
If you want a good quality outdoor camera that integrates with a home security system, I'd recommend going with Google Nest and the Nest Outdoor Cam. The Nest has a broad ecosystem that promises a seamless integration and ongoing future support.
Related Topic:
Can You Use Google Nest Mini Without Wi-Fi? Bluetooth Is an Option
Do Ring Cameras Record All the Time: The Truth Revealed!
How Many Blink Cameras Can You Have on One Module? Revealed!
Can I Use Blink Mini Without A Subscription? Is A Subscription Required?
Arlo Pro 4 vs Pro 5: Which One is the Best Security Camera