Have you stuck between the Arlo Pro 4 vs Pro 5 model? Then you have landed on the right page. It's quite difficult to choose between these two security cameras as they share almost similar features.
So, if you are facing trouble choosing the perfect pick, your worry ends here. I am going to compare each feature and let you know which one is the ultimate winner. Let's get started, buddy!
Quick Answer
Arlo Pro 4 and Pro 5 are two of the best cameras available on the market today. They share some impressive security features and similar performance. However, their differences are few. Here are they:
Arlo Pro 4 is cheaper compared to the Pro 5 model.
The Arlo Pro 5 provides better battery backup than its competitor.
Arlo Pro 4 doesn't support the 5.0 GHz band, while the Pro 5 does.
These are just some differences. Please continue reading to find out the ins and outs of both cameras and also dive into their comparison by features, video quality, battery life, and others.
Note: The Arlo Pro 5 is known as Pro 5S in the US region.
Arlo Pro 4 vs Pro 5: Comparison Chart
The comparison chart will provide a glimpse of the difference between the security cameras.
| | | |
| --- | --- | --- |
| | | |
| | | |
| | | |
| | | |
| | | |
| | | |
| | | |
| | | |
| | | |
| | | |
| | | |
| | | |
| | | |
| | | |
| | | |
| | | |
Arlo Pro 5S: Pros and Cons
Arlo Pro 5S is one of the most advanced home security cameras on the market today. Like any other device, it has certain benefits and drawbacks. Let's list them one by one.
Sale
Arlo Pro 5S
Pros
High Dynamic Range: The HDR technology in Arlo Pro 5S offers a natural and vivid video quality. You can rest assured that the footage will be detailed and precise, be it the dark or bright time of the day. This feature ensures impeccable home surveillance regardless of the lighting condition.
2K Resolution: We all know how important it is to have higher resolutions in security cameras. The Arlo Pro 5S has a 2K resolution that can capture every single detail and specific facial expression. If anyone tries to trespass on your boundary, you can easily record their faces as evidence.
Color Night Vision: This is one of the most important pros of Arlo Pro 5S. The color night vision technology is highly beneficial for nighttime security. Unlike the black-and-white footage of the past decades, you can get colored visuals of the intruder in case of break-ins.
160° Field View: Another great benefit of Arlo Pro 5S is the wide-angle view of the horizon. The view is impressive and wide if you compare it with other models. There will be little to no blind spot where an intruder can hide. I can personally assure you that this feature is highly useful when observing an outdoor space or lawn.
Cons
Limited Battery Life: What I don't like about Arlo Pro 5S is its short battery life. The difference is stark and clear compared to other home security cameras. However, the good thing is that if you need extended battery life, you can go for the low-power mode.
Arlo Pro 4: Pros and Cons
Another great device for home security systems is Arlo Pro 4. It has some formidable features that you should take into account. But first, let me tell you about its pros and cons.
Sale
Arlo Pro 4
Pros
Storage Facility: The Arlo Pro 4 model provides the facility with local storage so that you don't have to rely on cloud storage alone. You can connect your SD card whenever required to the base station. So when you have an untenable internet service, you don't need to worry. The recorded footage remains always available for use. That's a pretty cool feature, isn't it?
2K Resolution: The Arlo Pro 4 also offers a higher resolution so that you can rest assured about the security of your property. With this feature, you can identify the clear face of intruders and the number plate of a vehicle. So, if you feel threatened, you will always have the identity of the person. It helps a lot in crime investigations.
Spotlight facility: Another important benefit of Arlo Pro 4 is its built-in spotlight. In case there is motion detection, the camera throws light on the spot. If someone tries to trespass, they will be unsettled by the sudden encounter. Moreover, this integrated spotlight provides better footage quality, even in low light.
160° Field View: Unlike previous Arlo models, Arlo Pro 4 can capture 160° field view. It provides satisfactory surveillance boundaries, and trespassers won't find enough blind spots to hide their faces. That means you feel pretty secure with the wide-angle view.
Cons
Extra Costs: While the price of the Arlo Pro 4 is similar to the Arlo Pro 5, it doesn't come with free video storage. Though you get the extra local storage facility, you need to spend some money to get it. Also, note that sometimes the after-sale service is pretty frustrating for this particular device.
Arlo Pro 4 vs Arlo Pro 5- Head-to-Head Comparison
Both the Arlo Pro models have almost the same features. But the Pro 5S model has some minor upgrades and might cost you a few extra bucks.
But is it worth spending extra money on Arlo Pro 5? We shall find out soon. Let's have a close inspection of both the Arlo models.
Design Comparison
If you ever see both the Arlo cameras, you shall notice how similarly they are designed. Both models have a black-and-white design, and both have rounded looks. As they are wireless cameras, you don't need to worry about making any wired connection through your walls.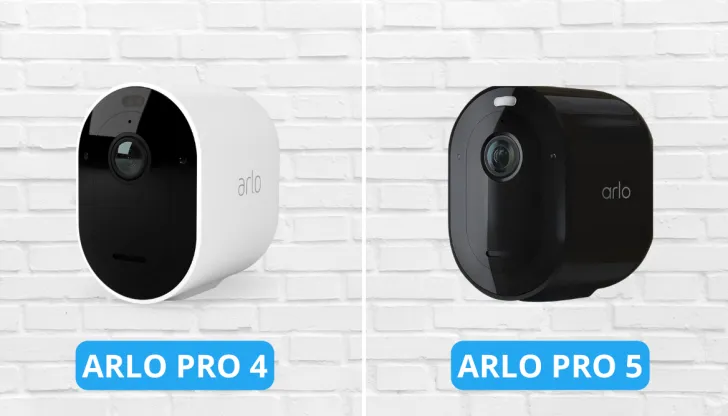 Winner: Draw as there is no noticeable difference in design.
Features Comparison
If we really want to compare the features, we won't find many differences. Both models are great for:
Clarity of footage;
Higher resolution;
Rechargeable battery;
Color night vision;
Whatnot.
However, the Arlo Pro 5 has some extra features that should be noted.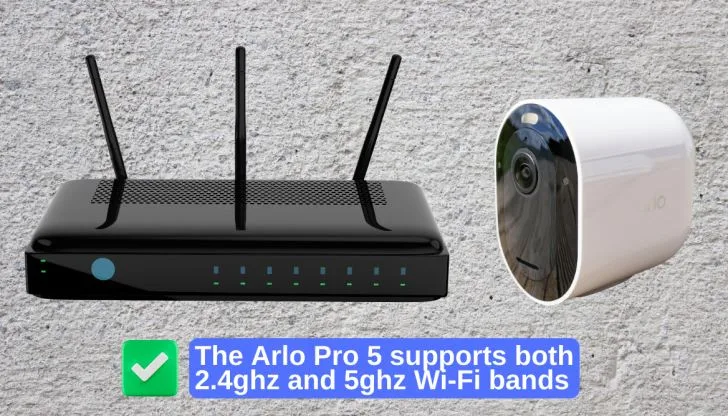 The Arlo Pro 5 has dual-band Wi-Fi support. That means you can use this device on both 2.4ghz and 5ghz.
Another upgrade is the longer battery life with the low-power mode.
Moreover, Arlo Pro 5 offers an extra layer of security with Arlo Securelink.
Winner: Arlo Pro 5, as it offers some extra features.
You can find out the features of this security camera Arlo Pro 5 in this in-depth video review:
Ease of Installation And Setup
To be honest, both cameras offer easy installation and breezy setup:
Both cameras have a magnetic mount, and you can easily install them anywhere you want.
Once the installation is complete, download the Arlo app from the Play Store and connect the device to the Wi-Fi.
The app offers remote access and easy control of the camera.
When everything is set up, you just need to replace the battery after a couple of months.
Winner: Draw. Both feature similar installation and setup.
Video Quality Comparison
I've already mentioned that both models provide 2K resolution and high dynamic range footage. Their performance is pretty same in both bright and dark areas. The clarity and the video quality are satisfactory for both models.
Winner: Draw. They both offer similar footage quality.
Connectivity Issue
They are quite similar in connectivity, but there are some differences. SmartHub requirement is optional in both devices. Connecting directly to the Wi-Fi network is simple with the app. The stark difference is in the GHz:
While the Arlo Pro 5S has dual-band Wi-Fi connectivity, the Arlo Pro 4 supports only 2.4 GHz.
The Pro 5S provides better data rates.
Winner: Arlo Pro 5, for its 2.4GHz and 5GHz support.
Extended Battery Life
Both the Arlo Pro models offer a satisfactory battery life: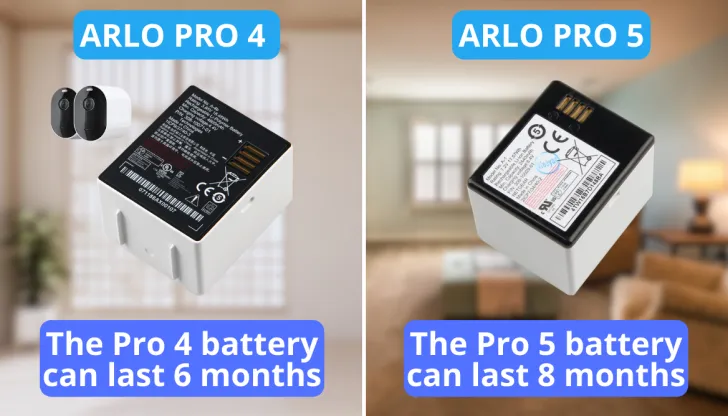 The Pro 4 battery can last 6 months at best;
While the Pro 5S can last up to 8 months.
However, mark that the expected battery life can vary as per the position of your camera. When you put it in a busy area, your battery life will be drained soon. The battery will last longer when you position your camera on a quiet lawn or garden.
Winner: Arlo Pro 5 for its longer battery life.
Security Features Comparison
To be frank, the security features of both camera models are pretty much the same:
They both offer two-way audio systems and integrated spotlight.
You can connect both of them with Google Assistant or Alexa if required.
If you can connect both models with the Arlo Secure Plan, you get several features like storage, AI functions, rich notifications, and many more.
The motion detection capacity is similar in both devices.
Winner: Draw. Both share the same security features.
Price and Availability
I've already told you that Arlo Pro 5 is known as Arlo Pro 5S in the USA. This model is $20-50 costlier than the Arlo Pro 4 model. The price may vary across continents. Both Arlo security cameras are widely available in the US, EU, and beyond.
Winner: Arlo Pro 4 is more budget-friendly.
You can find out the detailed video review of Arlo Pro 4 here:
Arlo Pro 4 vs Pro 5- Which One is the Better Security Camera?
For the home security systems, both Arlo cameras are great. The models support: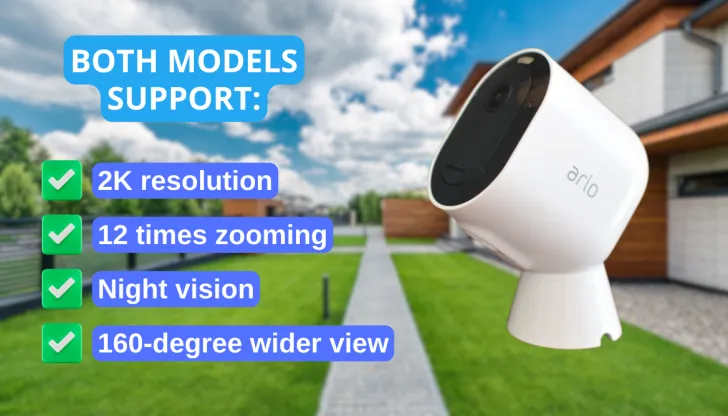 2K resolution;
12 times zooming;
night vision;
160-degree wider view.
Practically, there are no differences between the footage quality in both devices.
However, the old Pro 4 model gives the same video clarity as the new one without costing you more. That's a huge plus point to consider.
Arlo Pro 4 vs Pro 5- Which One Should I Choose?
So the most important question comes now. Which one is the best choice for your home security? My suggestion is as follows:
Go for Arlo Pro 5 if you are buying a new home security camera.
But if you already own an Arlo Pro 4 camera, then there is no need for the update. The extra 40-50 bucks is not worth spending on an identical device.
FAQ
Do The Arlo Pro 4 And Pro 5S Both Use The Same App?
Yes, Arlo Pro 4 and Pro 5S use the same app. The Arlo App is compatible with all the Arlo security cameras.
Can Arlo Security Cameras See In The Dark?
Yes, Arlo security cameras can see in the dark, but you need to enable the night vision feature. When night vision is on, the camera will have a record of IR LEDs. This feature is especially helpful in low-light scenarios.
How Do Wireless Security Cameras Work?
Wireless security cameras work with Wi-Fi networks and save the footage to either cloud storage or a build-in-storage.
How Long Do Batteries Last In Wireless Security Cameras?
Home wireless security cameras can last from 4 to 8 months after one charge. However, the batteries will be drained in some heavy traffic areas much faster.
Conclusion
Now you know the benefits and drawbacks of each Arlo camera? So, which one should you pick for your security system?
If there is no issue with the budget and you want longer battery life, dual-band Wi-Fi, and advanced Arlo security, then opt for the Alro Pro 5S camera.
Sale
Arlo Pro 5S
Arlo Pro 5S: Arlo Pro 5S is a powerful security camera packed with features like 2K higher resolution, integrated spotlight, color night vision, intelligent alerts, and compatibility with Alexa and Google Assistant. As it is the latest version of Arlo cameras, it comes with an updated battery and network.
But if you want a good security device within a limited budget, then the Arlo Pro 4 is enough to go with.
Sale
Arlo Pro 4
Arlo Pro 4: Arlo Pro is a flexible security camera with affordable pricing. It offers 2K resolution, color night vision, integrated spotlight, 160° field view, and an extra storage facility. This device provides quite satisfactory surveillance for the home and office.