If you have decided to become a happy owner of a security camera and are wondering whether do Ring cameras record all the time, you have come to the right place! Read on to learn how Ring camera recording works in detail, and the secrets to how you can make the best use of them.
So let's not wait any longer and dive into the details!
Do Ring Cameras Record All the Time?
Ring Doorbells and Security Cameras do not record video continuously throughout the day. Like Ring Floodlight Camera (Ring Spotlight Camera) these intelligent devices initiate recording only when specific events are detected.
The Ring device will promptly start recording video when these objects enter the security camera's field of view:
You have the option to access Live Video from your doorbell at any time as well. This feature allows users to observe real-time video streaming directly on their smartphones.
Note: This live video stream is not saved or recorded so you will not be able to review or share it later.
Duration Of Video Recording Explained
By default, the Ring camera records for 20 seconds. However, you can change the settings and increase or decrease the recording length. Here are the options: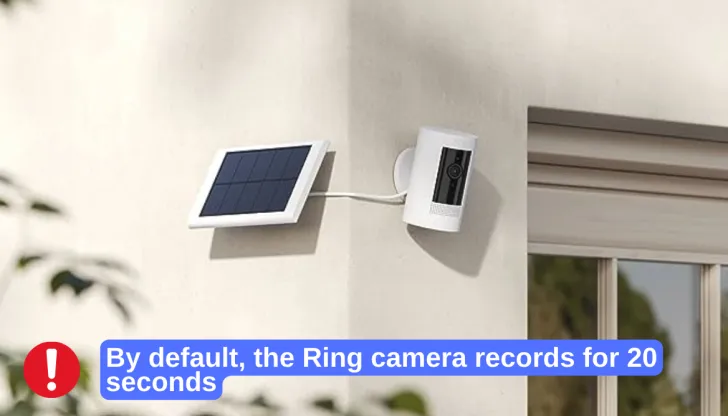 Read Also: How Many Blink Cameras Can You Have on One Module? Revealed!
15 seconds;
20 seconds (default setting);
25 seconds;
30 seconds;
60 seconds;
90 seconds;
120 seconds.
Note: I recommend not to have a longer recording than 25 seconds. If you increase the recording time, it will consume a lot of battery.
Why is 24/7 Recording Not Available? Reason Revealed!
You must be wondering is it not better that ring cameras record continuously? It is not. In fact, it is efficient to only record when there is activity outside. Here are the reasons why:
Read Also: Arlo Pro 4 vs Pro 5: Which One is the Best Security Camera
Efficient Capture: The Ring camera records any movement near your door rather than continuous blank footage. This will save you time in case there is an incident. It will be easy to find and you won't have to go through the live footage from start to finish.
Energy Saving: Prevents constant power consumption hence saving battery life.
Storage Efficient: Saves storage space by not recording unnecessary footage.
Timely Notifications: Whenever Ring security cameras detect a motion, a notification is sent to you on your Ring app. If recorded continuously you will miss out on times you have to be alert.
Note: Don't worry, if ring cameras do sense a movement, that will be captured.
When Does the Ring Camera Record?
Ring camera only records when motion is detected in a pre-determined zone or when someone rings the doorbell of your house. Read below when and how the recording is initiated.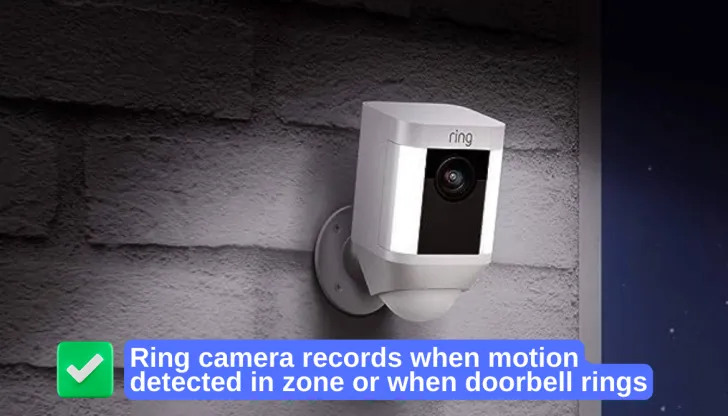 1. Detected Motion Initiates Recording
Most ring cameras are designed to start recording when any form of motion is detected within a specific safe zone on the user's property. It is recommended to install the ring doorbell above 4 feet from the ground. This ensures that the outdoor camera is able to capture the widest view possible.
Here's an interesting video about the Ring Indoor camera and its sample footage.
2. Pressing the Doorbell Turn on the Recording
Regardless of the type of Ring camera system chosen, when the doorbell is activated, the system will automatically record. There are some features that can be accomplished:
A notification will be sent to your phone.
Two-way communication assists you in speaking to the deliveryman and instructing him on what to do in case a package arrives at your door.
If some incident happens the app will help you alert relevant authorities.
For further insights, check out the video.
3. Checking Live View
One thing that both paid and non-paid users can avail from ring doorbell cameras is viewing the live stream. You can simply go to your smartphone ring app and no matter where you are check your door front. You can also communicate with people at the door.
Note: You must know that the live view is not recorded or stored for review later.
Are Ring Cameras Able to Continuously Record with a Protect Plan?
Unfortunately, none of the plans have continuous recordings. Ring Doorbells record footage only when motion is detected. However, it does have Snapshot Capture. It takes images every 30 seconds to 3 minutes throughout the day.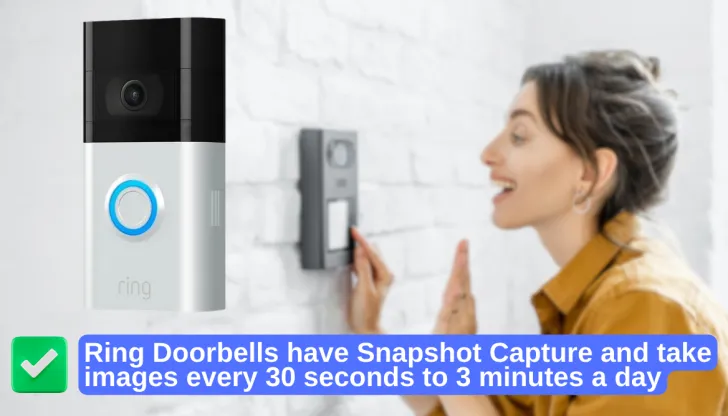 This serves as an efficient method to monitor activity in front of your house. Let's discover other significant features that the subscription offers:
Video Saving and Sharing;
Snapshot Capture;
Alarm Event History;
Alarm Notifications;
Camera Home and Away Modes;
Download up to 50 Videos At Once;
Create home security automation with an Alarm;
Arm and Disarm your Ring Alarm Digitally.
Aside from this, the Protect Pro plan has "24/7 Alarm Professional Monitoring". This means that if the Ring devices detect security threats, breaking or entering they will alert the authorities. It also has "24/7 Backup Internet." This feature keeps the ring cameras online even if home wifi is down.
Important! It is essential to note that video history is for up to 180 Days. It is automatically deleted after this.
Here's a helpful video to learn more about the Ring Protect Plan.
Any Updates on the Continuous Recording Feature?
Ring does offer continuous recording in its wired security cameras. However, Ring doorbells, Ring Spotlight camera, and Ring Floodlight Camera do not have this feature.
The company did announce in 2019 that it will launch 24/7 recordings but did not. The probable reason is that it requires a lot more power than batteries can provide.
How to Access Settings for Camera's Recording Length in Ring Devices?
Changing the recording length is not a difficult thing to do. Here's how I was able to change the recording length of Ring devices in no time.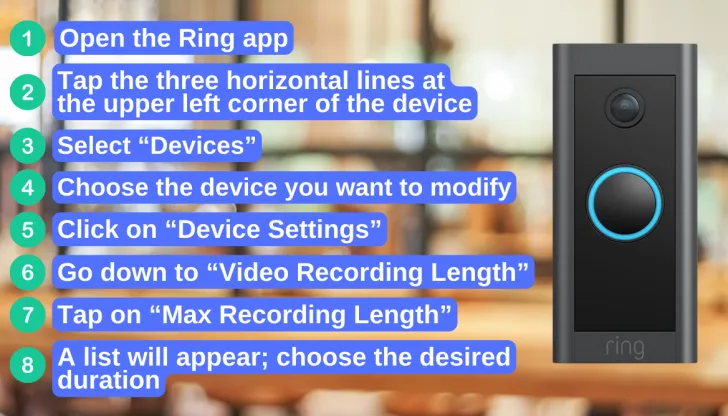 Go to the ring app on your phone.
Tap the three horizontal lines at the upper left corner of the Dashboard screen.
Select "Devices."
Choose the device you want to modify.
Click on "Device Settings."
Go down to "Video Recording Length."
Tap on "Max Recording Length."
A list will appear; from there, pick the preferred duration.
How to Turn on Snapshot Capture?
An efficient alternative to continuous recording is Snapshot Capture. This allows ring doorbells to click images after every 30 seconds or even 3 minutes. Follow my guidelines for an easy setup:
Go to your Ring device app.
Tap on the menu icon (three horizontal lines). You will find it in the top left corner.
From the list, select "Devices"
Then select the doorbell device.
You will now tap on "Device Settings"
In the "Device Settings" menu you will tap on "Snapshot Capture"
Then select the capture interval in the "Snapshot Frequency" list.
Tap on the "Save" and you will be done!
Simple Way To Check the Snapshot Capture History
Viewing the Snapshot Capture history is simple. Follow these steps: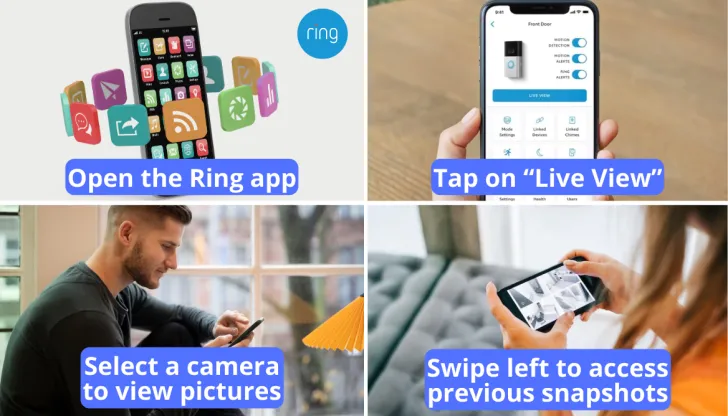 You will go to your ring app.
Then select from your home security camera the device you need to review snapshots from.
Now tap on "Live View".
Swipe to the left and you will find the previously taken snaps.
FAQs
Do Ring cameras light up when recording?
Yes, the ring cameras have a blue LED light that turns on when the footage is recorded. It blinks for 2 seconds and then remains on for as long as it records.
Is Ring always recording audio?
No. The Ring security camera does not always record audio or video. Instead, it has motion detection due to which if any activity or movement takes place it starts recording.
Do Ring cameras record at night?
Ring cameras do record at night. It has colored night vision features as well as black-and-white recordings. It is due to the CMOS sensor that is able to record in the dark.
How far away can a Ring camera detect motion?
Conclusion
The final say is that Ring cameras do not record all the time. Instead, the video recordings are utilized efficiently. That is whenever the sensors detect motion, or any activity on the front door they start to take footage. Although the store footage option is only available in paid plans.
A good alternative to 24/7 recording is the Snapshot feature offered in all 3 paid plans. It takes images of the outside scene every 30 seconds to 3 minutes. The Pro plan even has other options that work around the clock. It includes "24/7 Alarm Professional Monitoring" and "24/7 Backup Internet".