You might be wondering does Blink work with Apple HomeKit? And if so, how to connect them? Don't Worry! This blog post has the answers you want. Let's take a look at how to integrate them and learn about a step-by-step guide towards a better-secured home.
Quick Answer
To answer quickly, Yes the Blink works with the Apple HomeKit. Being able to integrate Blink cameras into your Apple HomeKit ecosystem will provide you with the following perks:
Seamless experience and control;
Well-protected video footage for you and your family;
Added features like iCloud storage, motion detection, and voice control.
But do consider that any software updates could breach and impact the compatibility of the devices. So in order to understand the full intricacies of the Blink and Apple HomeKit connectivity, I invite you to check this guide in detail.
Continue reading to learn how to connect your camera system using both IFTTT and SmartThings and the additional benefits you will get after the synchronization. Moreover, also get insights into the other top choices for security cameras that work with the Apple Home kit. Let's dive deeper into the details!
A Look into Step By Step Guide to Sync Blink Camera with Apple Homekit
You can combine the Apple HomeKit and Blink camera to upgrade and enhance your home security system to work automatically. I will be sharing an in-depth step-by-step guide to show you how. Let's dive in:
1. Leveraging the Power of IFTTT
The IFTTT stands for "If This, Then That". The name is based on the if-then conditional statement used in programming and probability. Centered in SF, California, they provide a bunch of useful devices, apps, and services to users.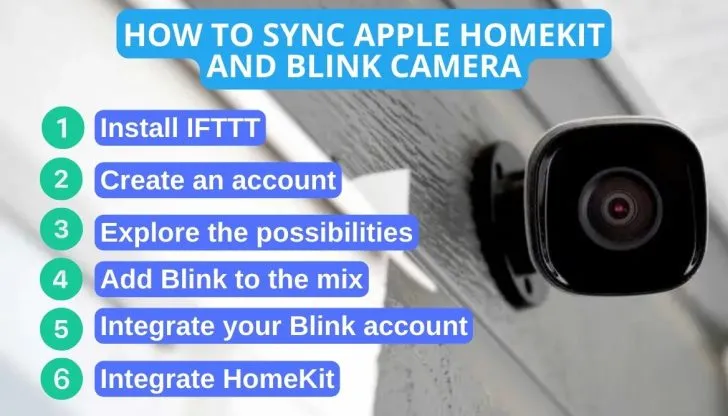 In order to sync up the HomeKit app with Blink security cameras, I recommend you follow these easy guidelines:
Step 1: Download and Install IFTTT: The first step is to download the IFTTT app from your app store. It is available in both the Google Play Store and Apple Play Store. Just search up IFTTT. You'll see the first app on the search list. Go ahead to download and install it.
Step 2: Creating an Account: Once you have downloaded and installed the app. Proceed by launching it and signing up to create your IFTTT account if you are new to it. The user-friendly prompts and guidelines will help you to through the process effortlessly. Otherwise, just use your credentials from your existing account to use for the login.
Step 3: Exploring the Possibilities: After logging in, tap on the "Explore" tab within the app. This is where the magic happens. After you successfully log in, you will tap on the "Explore" tab button found in the app.
Step 4: Adding Blink to the Mix: Now search for the "Blink" with your app and select it as soon as it appears. Then click on "Connect" so that the integration process can be started.
Step 5: Blink Account Integration: Sign in to your Blink account by clicking "Continue." You'll receive a PIN in your email; you need to enter this PIN and click "Grant Access." You will now need to sign in to your Blink account. You can do this by clicking on the "Continue" button.
Step 6: HomeKit Integration: Now it's finally time to connect the Blink cameras with your HomeKit. You need to search for "HomeKit" within the app and tap on "Connect" once it is visible to you.
Step 7: Enhanced Security at Your Fingertips: Congratulations! You have now successfully synced your Blink camera with the Apple HomeKit. This will allow you to conveniently connect and disconnect your Blink home security system through the HomeKit interface.
For more insights, check out this helpful video.
2. Unleashing the Functionality of SmartThings
If you have Samsung's SmartThings app, which essentially controls all of your connected smart devices from one place. This provides you with the ease you need in this hectic life.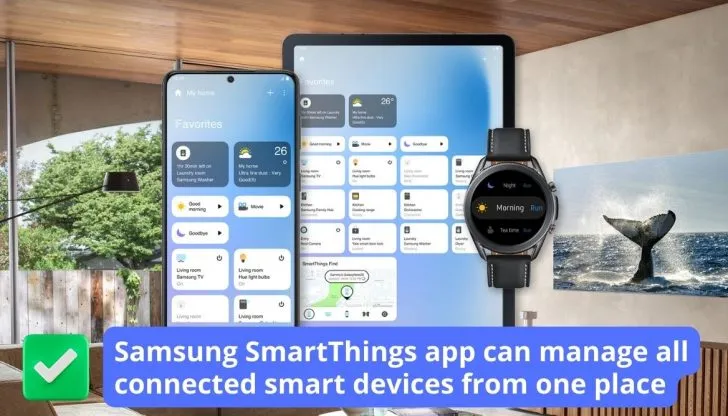 Let's explore the process of linking your cameras to the SmartThings app:
Step 1: Download SmartThings: To begin, let's start by visiting your device's App Store. You can search for the "SmartThings" app on both the Apple App Store and Google Play Store. Proceed to download and install it just as you would with any other app.
Step 2: Account Creation: Once you have installed it, you need to launch the app and create an account. This process will be quite easy and will ensure that you will be able to take control of your smart devices.
Step 3: IFTTT Integration: Once this is done, you will need the IFTT app to complete the synchronization. Now go and download the app "IFTTT" and install it.
Step 4: Setting Up IFTTT: After the installation process, you need to create an account if you haven't done so already and click on the Explore button.
Step 5: Connecting with SmartThings: Search for "SmartThings" within IFTTT and establish a connection by signing into your SmartThings account. You will see "SmartThings" within the IFTTT's explore menu. By logging into your "SmartThings " account, you will be able to establish a connection between them.
Step 6: Pairing Blink Devices: The next thing you need to do is locate your Blink cameras system within the SmartThings app and pair up with it.
Step 7: Integrating with HomeKit: Now you need to find the "HomeKit" option within SmartThings and connect it with your Blink system.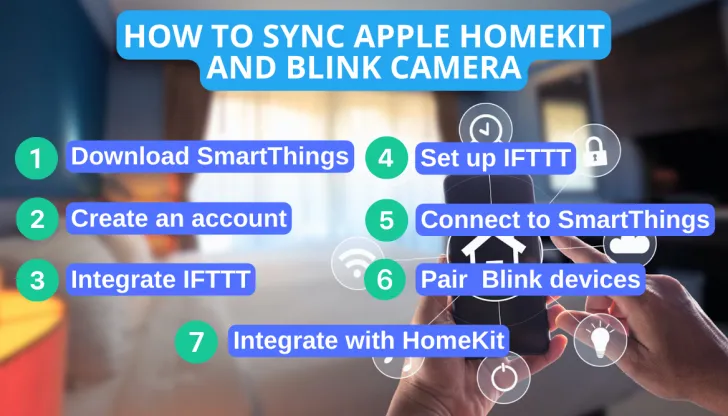 By following the above steps, you will be able to integrate your Blink camera system and Apple HomeKit app without any hassle. Whether you choose the IFTTT or SmartThings, your security system will reach new heights in terms of usability.
An Insight Into Blink Cameras Characteristics and HomeKit Functionality
The ability to synchronize your Blink camera system with the powerful Apple Home app gives you a wide variety of functions. Let's explore what they are: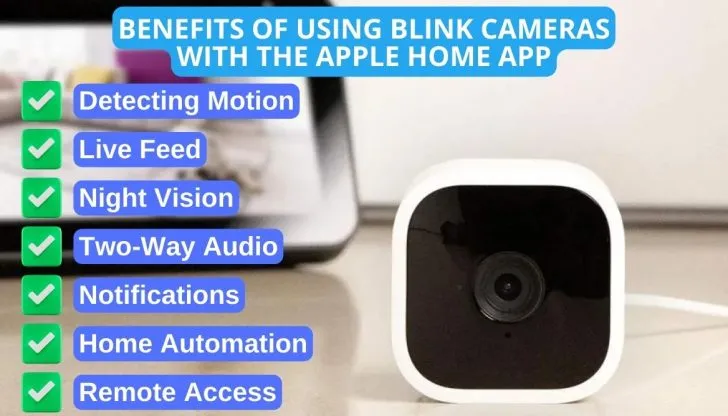 1. Detecting Motion
The camera can detect even the slightest movement with the motion detection feature built into it. This innovative technology can scan the surroundings and send a notification if any movement is detected. You are informed on your app (logged into your Apple device).
2. Live Feed
If you want to access the live feed or monitor real-time then the Apple HomeKit can make this happen. Simply check the Home app on the connected Apple device to view the occurrences around the camera.
3. Night Vision
Blink cameras are capable of NV (night vision) even in low-light conditions. This feature is enabled in the Home App when you integrate your Apple device with the app. You can now monitor high-definition streaming anytime and anywhere.
4. Two-Way Audio
The Home app allows you two-way communication by using your connected Apple device. Once the Blink cameras are integrated with the Apple HomeKit, you can upgrade this function and gain access to live conversations with the person(s) on the other end.
5. Notifications
The synchronization of the Apple HomeKit and your Blink device gives you the convenience of getting notifications on your iOS (phone) or macOS (laptop). If the Blink cameras detect any movement of suspicious activities in its surroundings then it will send you a notification immediately. You will always remain alert to the real-time happenings of your property.
6. Home Automation
The HomeKit allows you to create custom monitoring plans that can increase the efficiency of your security measures. For example, you can automate the following options:
Turn on the lights;
Lock (secure) doors;
Enable video recording as you depart from home/office.
7. Remote Access
The combined usage of the camera system (Blink camera) and Apple HomeKit activates additional perks such as remote control and monitoring.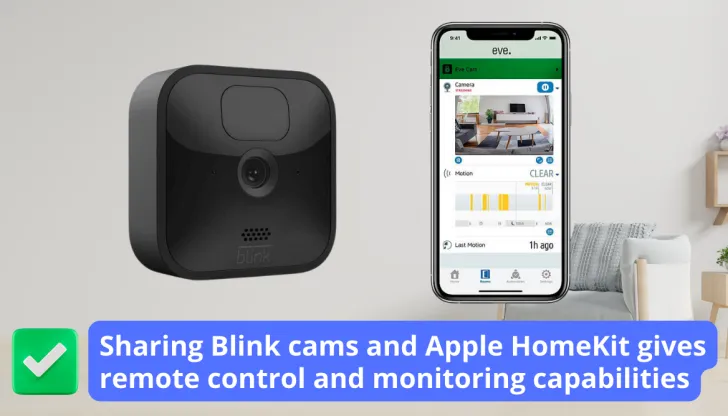 You can either check these options via the Home app or give voice commands (via Siri) to control your security system.
Note: High-speed internet is needed to ensure that your connected Apple device and the Blink cameras are working without any lags or interruptions. You also get remote access if your whole camera system is connected to an ethernet.
How to Use HomeKit Secure Video with Blink Camera System
The Apple HomeKit Secure video is an exceptional feature that secures any recorded video on an iCloud. This way all the media remains safe as a backup that can be viewed anytime via the Home app. The videos are saved in an encrypted format on the connected Apple device, such as:
A Mac;
iPad;
iPhone;
iPod touch.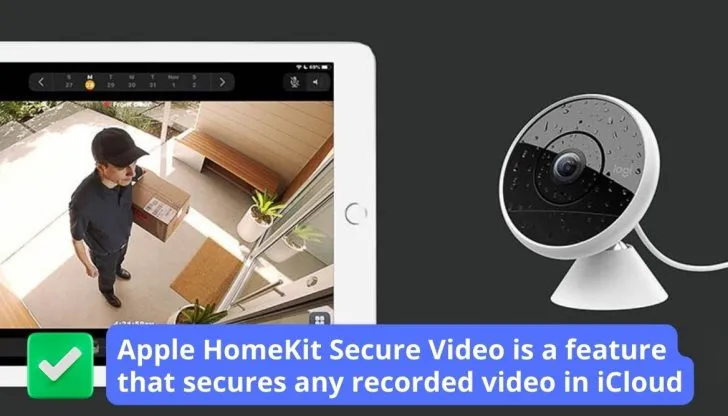 Once you have subscribed to the paid HomeKit Secure Video feature then you have access to added advantages. Aside from secure storage on an online storage (cloud), your data is guaranteed complete privacy and does not occupy the iCloud storage space.
1. Connecting the Security Cameras (Blink) for Consistent Monitoring
Follow the simple steps to complete the process with ease:
On your Apple device, download and install the Home app.
Select the camera you want to integrate by choosing it in the Blink app.
Easily do this via the settings icon. Note: Look at the right furthest corner at the top.
Finally, in the "Smart Home" tab you have to tap the "Apple HomeKit" to complete the process.
By completing the above steps you have now synced and integrated the Blink camera with the Apple HomeKit.
2. Additional Features
The following options will unlock once you have linked the camera (Blink) and Apple HomeKit Secure Video together:
Live streaming: These videos are available to users granted access and you.
Custom Scene Settings: Commands like "Good Morning" or "Away from Home" can be set through compatible devices (via app).
Grant Specific: Uploaded video data can be accessed at home or remotely.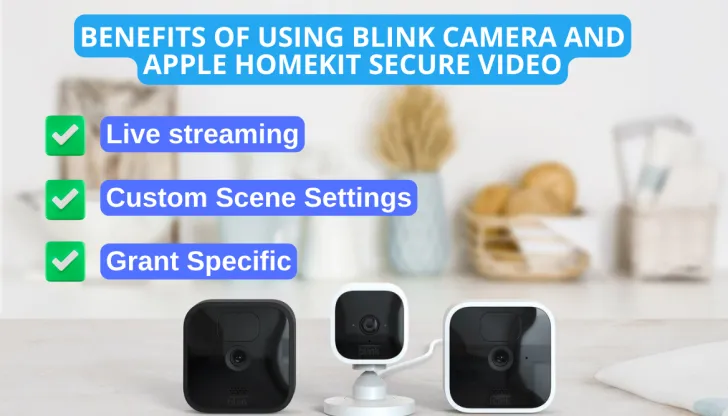 Using the Apple HomeKit Secure Video can improve the security and privacy of your Blink camera, therefore giving you more control over your home surveillance system. The integration and use of Apple HomeKit Secure Video would give you an extra level in terms of security and quick alerts.
Enabling Voice Commands Using Siri for Blink Cameras
You can upgrade your surveillance potential by using the Apple HomeKit. This compatibility will not only allow you to control the camera through devices such as iPhone, iPad, or Mac. You will also be able to use Siri voice commands for interacting with cameras and viewing live feeds.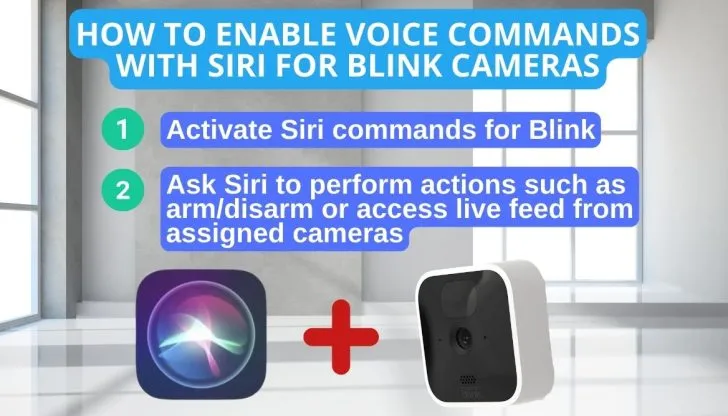 Here's how to sync Siri with your camera system:
Activate Siri commands for Blink cameras by configuring devices in the Home app.
Then, instruct Siri to perform actions like arming/disarming or accessing live feeds from designated cameras.
Here are examples to get you started:
"Show me the front door camera."
"Turn on the living room camera."
"Disarm Blink security system."
You can combine Siri voice commands with Apple HomeKit for automated scenes and schedules. You can also craft and customize scenes and schedules. You can set it to perform multiple actions like turning on lights, door unlocks, and cameras. And with the addition of voice control, you can use only your voice to make it happen.
Blink Cameras Compatibility with Other Smart Home Devices
Let's get started with syncing your Blink cameras with compatible smart devices. This will enhance the protection features for your home or workspace.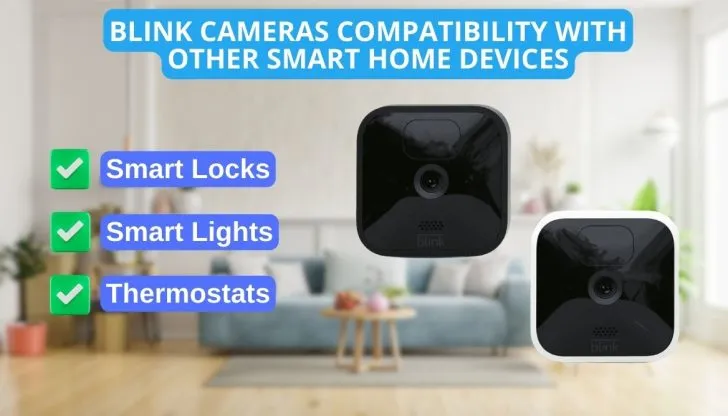 1. Smart Locks
Blink cameras get HomeKit integrated with smart locks, placing them under Apple devices' control whenever the door is locked or unlocked by users. Compatibility is major with smart lock brands like August, Schlage, and Yale to increase security and home intelligence.
2. Smart Lights
Blink interfaces with smart lighting via HomeKit, offering motion-based automation and scheduled control. This includes elevated security in your home in addition to more energy efficient practices pretty much following along brand lines like:
Philips Hue;
LIFX;
Nanoleaf.
This delivers seamless merges into this ecosystem of smarts.
3. Thermostats
Blink interfacing pairings bring cameras paired with smart thermostats via HomeKit letting users adjust temperature based on occupancy or time interval. This lets users finely tune their home's temperature enhancing the dynamic of occupancy and occupied area.
Ecobee Honeywell and Emerson Sensi are among this brand roster for making your space comfy as well as energy-saving.
Finding Out Alternatives Compatible with Homekit
Even though Blink cameras work marvelously with the Apple kit. There are plenty of other security systems that do that as well.
Let's check out some top picks in the competitive market: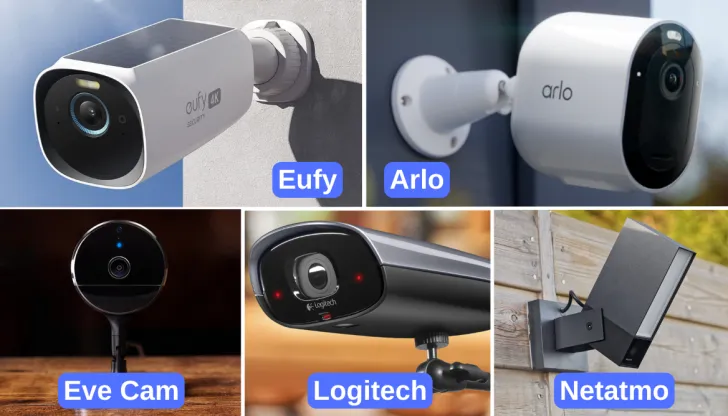 1. Best for Ease of Use: Eufy
If you're looking to find a home security camera compatible with Apple HomeKit, let me introduce you to EufyCam 2. It's not just about storage and battery – it is mostly about making your house like Fort Knox.
Note: It's not only synchronizable with HomeKit – but also Google Home, Amazon Alexa, and IFTTT!
2. Best Long Lasting: Arlo
Arlo's Pro and Ultra models emerge as top options. They are known for their reliability and durability. They pair perfectly with Apple HomeKit and are compatible with Siri's voice commands. And for those who opt for a wired setup, the Arlo Essential Indoor Camera seamlessly bridges the gap to HomeKit compatibility.
3. Best for Tailored Experience: Eve Cam
Eve Cam is another stellar choice. Crafted with the HomeKit in mind, this indoor security marvel invites you to enjoy the live video views and timely alerts you get.
Privacy lies at the heart of its design, so if you are looking for a security kit that is accessible exclusively to you and your family members, then this is the one for you.
4. Best for Video Coverage: Logitech
For seamless Apple HomeKit compatibility, the Circle View is another excellent choice for homeowners. It's got everything from 1080p video that is crisp and a joy to watch and a 180-degree view for the ultimate coverage any camera system can provide.
Note: With the video footage stored on iCloud, your privacy and access to them is untethered.
5. Best for Low Key Appearance: Netatmo
If you want something that is discreet yet stylish. I suggest going for Netatmo's Smart Indoor and Outdoor Cameras. They are also distinguished in terms of HomeKit app compatibility. Adding an extra layer of sophistication, the outdoor camera devices come with a suite of
Intelligent detection capabilities;
Facial recognition;
Vehicle identification.
Important Note:
Here's a pro tip for you:
Before you finalize your security camera choice, dive into the specifications.
Verify, confirm, and double-check the details and compatibility of your chosen security camera with the Apple HomeKit ecosystem.
Investigate how well it syncs with Apple HomeKit. This is to make sure that your integrations and security network are seamless, secure, and convenient.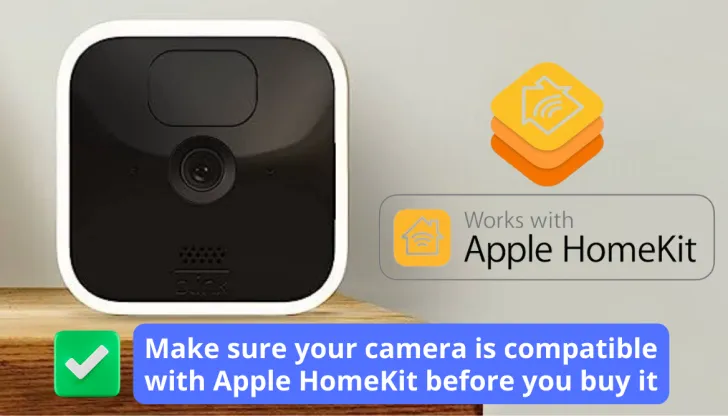 FAQs
Are there any workarounds to connect Blink cameras to HomeKit?
Yes, there are workarounds to connect Blink cameras to HomeKit like using IFTTT and the Smartthings app.
Can I view my Blink camera footage on my Apple devices?
Yes, you can view your Blink camera footage on your Apple devices like iPhone, iPad, and Macbook.
Can I integrate Blink Mini with Apple HomeKit?
No, you can not integrate Blink Mini with Apple HomeKit. The Blink mini is compatible with Alexa but not with HomeKit or Google Assistant.
Do Blink updates or firmware changes impact its compatibility with HomeKit?
Yes, Blink updates or firmware changes can impact its compatibility with HomeKit.
Conclusion
Summing it up, to answer the question does Blink work with Apple HomeKit? Yes, you can connect your indoor security camera via IFTTT or SmartThings app. You need to create an account on either app and synchronize your Blink cameras with them to gain control and access to them.
This will allow you to have a great deal of additional functionalities like motion detection, live video feed, and voice command control. The integration of these technologies with blink security cameras will make your life simpler, safer, and better.
If for some reason, you don't have Blink or it doesn't work for you, there are some alternatives that you can try like Eufy or Arlo. They will work fine with HomeKit.