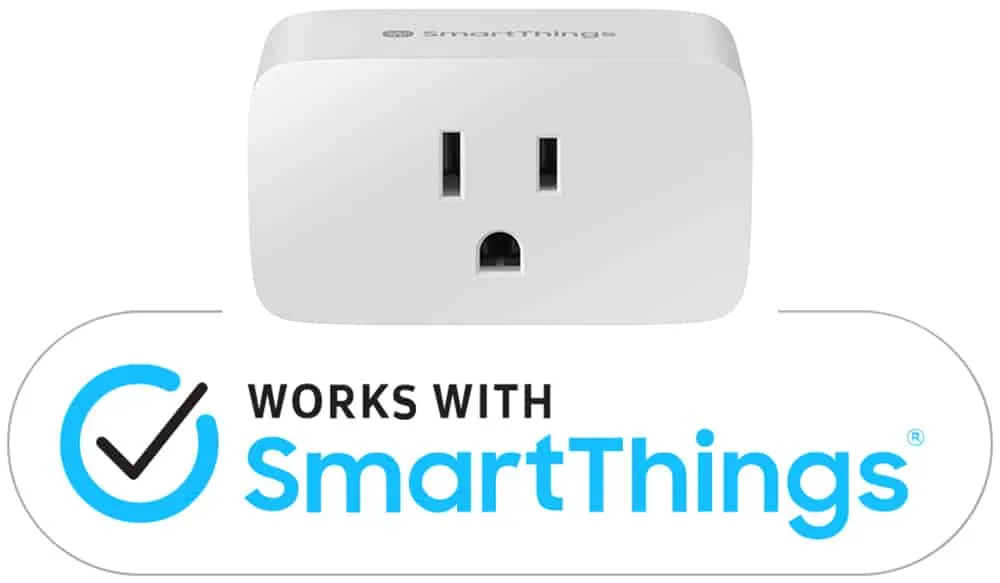 Samsung SmartThings is a fabulous product that works with many smart devices, including smart plugs. This article will cover six highly rated and reviewed smart plugs, as recommended by the Smart Things community. Different smart plugs have different features all at different price points, as such, you have to choose the right one for your household.
The SmartThings Community, or what most people would normally call an online forum, typically refers to smart plugs as "pocket sockets." This is done to help distinguish them from in-wall sockets since different manufacturers can use such a wide variety of terms. If you have questions about SmartThings, I highly recommend taking a look at the community, which can be found here.
What is Samsung SmartThings?
Samsung SmartThings is a smart home platform, with the central piece being a hub, similar to an Amazon Echo or Google Home. It allows you to wirelessly connect through WI-Fi, Zigbee, or Z-wave to a wide range of smart devices, and it helps all these devices work together.
You can add home appliances, TVs, and other Internet of Things (IoT) devices. The SmartThings app is designed to let you view and configure your added devices at a glance. Devices you can control are being added all the time. You can view many of those devices on Samsung's SmartThings web page here.
Without further ado, here are the six best smart plugs you can find that are compatible with Samsung SmartThings. It would be hard to rank them in order. And to be honest, it's mostly a matter of personal preference. Find the one that best suits your needs.
The 6 Best Smart Plugs For Samsung Smart Things
In no particular order, here are the best smart plugs you can get for Samsung SmartThings:
Leviton Decora Smart Wi-Fi Plug-in Outlet
IKEA TRÅDFRI Wireless Control Outlet
Samsung SmartThings Wifi Smart Plug
TP-Link Kasa Smart Wi-Fi Plug
Securifi Peanut Plug
Currant WiFi Outlet
Leviton Decora Smart Wi-Fi Plug-in Outlet
You may think of lights and lighting controls when you hear the name Leviton, but they have made a big splash into smart home appliances. They were early adopters of smart home technology and they produce a lot of great smart devices that are lighting related. This plug, however, does not have to be used to control lights.
Now for the details. The Leviton Decora Smart Plug is a bit bulky but is designed in a way to allow adjacent outlets to be used on a 2-outlet panel. The power-on indicator is also a push-button that can be used to turn on and off the plug, reset it, and program it. The indicator light shines green when powered on, and may also flash yellow or red to indicate certain status messages.
Setting up the Leviton Decora Smart Plug is fairly easy. First, plug it into a wall outlet, then download the Leviton app, register if you don't already have an account, and link the plug to your Wi-Fi by following the steps provided by the app. Here is a quick video review that demonstrates the setup process using the app. This video uses the dimmer version that Leviton produces, but there is also a plug with a ground, designed to be used with appliances.
Setup in SmartThings can be done using the following steps, after setting up the plugin the Leviton app first:
From the SmartThings Home screen, touch the Plus (+) icon and select Device
Select Leviton and touch Outlet or Switch/dimmer followed by the appropriate device
Choose a Location for the device
Choose a Room for the device and touch Next
Tap Click here to enter Leviton credentials
Enter your Leviton account email address and password
Tap Link Your Account
Tap Done
Wait a moment for SmartThings to discover your Leviton devices
Tap Select devices to add (# found)
Select your device(s) and tap Done
Tap Done
Note: Steps were taken from the SmartThings Support site, and has since been removed.
IKEA TRÅDFRI Wireless Control Outlet
IKEA's Tradfri line of devices is aimed at smart lighting and smart plugs, but more devices are being added as time goes on. "Trådfri" is the Swedish word for wireless. Before IKEA launched their "Control Outlet", the price of smart plugs ranged from $20 and up. Every now and again you can find deals for $15 a plug, but IKEA has changed all that with the Control Outlet being only $10.
The Trådfri Wireless Control Outlet is a simplistic design, but slightly different than the standard rectangular smart plug. The plug sticks out to the side, instead of being vertical, which prevents adjacent outlets from being blocked. The Control Outlet features a light that indicates if it is turned off or on.
Setting up the Trådfri Wireless Control Outlet outside of SmartThings is a bit of a pain. First, they tell you that you will need "A Steering device", such as Trådfri Remote Control, Trådfri Motion Sensor or a Trådfri Wireless Dimmer, and secondly, you will need a Trådfri gateway. Pair all of them together, then add the control outlet into the app, and you are all set. Yes, that is about the level of detail IKEA gives you.
The IKEA Trådfri app is a bit basic. Depending on what you are looking for this may be a good thing, or for those that were looking for more, you may be disappointed with the Trådfri app. The home screen of the app shows your home broken down into rooms based on the steering device that was been used to pair it with the Trådfri gateway. Each device can be controlled from this screen. The app does have scheduling and timer options for each device.
Setting up in SmartThings is a bit more simple, although the first step is slightly annoying because you have to find a paper clip or something small enough to slip into the reset hole to start the pairing process. All the details of pairing with SmartThings can be found in this video.
The IKEA Trådfri Wireless Control Outlet is great for the price paid. The smart plugs are simple but very effective. It is a well integrated option with the inclusion of Alexa, Google Assistant and Siri compatibility for voice control.
Samsung SmartThings Wifi Smart Plug
If you're looking for another inexpensive way to turn regular devices into smart home devices, the Samsung SmartThings Wifi Smart Plug is one of the cheapest options. The Samsung Smart Plug is one of the more affordable smart plugs on the market and is produced by one of the most well-known brands in consumer electronics. It offers a few features that are usually only found on more expensive smart plugs, mainly power monitoring and power usage reports.
In addition to being integrated with ShartThings (Duh!) the Samsung Smart Plug also supports IFTTT applets, and it will integrate with other smart devices if you pair it with a SmartThings hub. Also, just to clarify, it does not require the SmartThings Hub in order to work.
Design-wise the Samsung Smart Plug is a compact, rectangular, single-outlet that does not block the adjacent socket. Setup starts by scanning a QR code, which is printed on the side of the plug that faces the wall. It can also be found in the paperwork. Then the typical steps follow: connecting to the plug's temporary network and stepping through the usual steps of tethering the plug to your home network. Setup is a little more difficult because you have to enter a password to connect to the device during configuration. The setup process can be seen by watching this two-minute video
One of the perks of this plug is that you don't need a separate app to set up the smart plug aside from the SmartThings app. The SmartThings app opens to a My Home screen that displays all of the rooms in your home that you have programmed into the app and shows the smart devices associated with each room. There is a plus icon in the top right corner to add new devices. The app allows you to create Scenes, which allow you to control the SmartThings WiFi plug and other connected devices with a single tap. Other companies refer to these as groups.
There are also automations, which allow you to have the plug react to certain triggers. For example, time of day or your location if you use geo-fencing. You can also create automations to have the plug react to triggers from other SmartThings devices if you are using a SmartThings hub. Of course, you don't have to have the SmartThings hub if you are using IFTTT.
If you are looking for a smart plug with energy monitoring and something at a low price, the Samsung SmartThings Wifi Smart Plug is the way to go. It offers many of the features that you find on more expensive plugs, including Alexa and Google Assistant voice control, support for IFTTT, and power usage reporting. It has an affordable price, good performance, and a generous list of features.
TP-Link Kasa Smart Wi-Fi Plug
TP-Link is becoming a household name in the field of smart devices thanks to the quality devices they produce in the Kasa series; the smart Wi-Fi Plug is one of those devices. AS far as design goes, the Kasa Smart Plug is similar to the Eufy, Wyze, and Samsung Smart Plugs. Starting to feel a trend yet? The Kasa Smart Plug has a compact, space-saving design that does not block adjacent outlets.
The TP-Link Kasa Smart Plug offers the most variety in terms of integration with assistants and device controllers, although Apple Homekit is not included in that lineup. For voice control, the plug works with Amazon Alexa, Google Assistant, and, surprisingly, it also works with Microsoft's Cortana voice assistant. It also offers integration with other smart home devices through If This Then That (IFTTT) and Nest compatibility. Given those options, this is one of the most versatile smart plugs.
Setting up the Kasa Smart Plug takes a matter of minutes. You will first need to download the Kasa app. On the main screen, you will see a list of your connected devices. There's a plus button in the top right corner used to add new devices and also view instructions for setting up third-party integrations. Here's a video that demonstrates setting up the TP-Link Kasa Smart Plug.
Directly below the hamburger menu row is a row of tabs for Cameras, Scenes, Smart Actions, and Activity. The Camera and Smart Actions tabs aren't relevant unless you have a Kasa camera or smart home router. The Scenes tab is where you can create custom schedules for multiple smart devices. Samsung uses the same terminology, where-as other companies may call this a group. For example, you can create a scene for specific activities such as coming home, which you can set to automatically turn on all connected lights. The Activity tab keeps a record of actions you've performed. It is basically a log.
Clicking on a specific device brings you to a screen that has options to pull up presets, set schedules, and add timers up to 24 hours. The last device specific option is to activate away mode. Away Mode is an option that lets you simulate occupancy in your house while you are away on vacation or at work by turning connecting devices on and off. It allows you to set an on time, an off time, and the days that it should be active.
TP-Link has a page on their website (located here) that walks you through adding a Kasa smart device into the SmartThings app. It's a simple 5 step process that should only take a minute or two.
Now if you go out to buy a TP-Link Kasa Smart Plug, you may notice that there are two mini models and it's hard to discern the difference. You may find yourself asking: What's the difference between the TP-Link HS103 vs HS105? There are two differences between the TP-Link HS103 and HS105 Smart Plugs. The HS103 has a lower max amperage of 10 amps compared to the HS105, which is 15 amps. The second difference is in appearance. The HS103 uses a grey power button, and the HS105 uses a white power button.
Securifi Peanut Plug
The Securifi Peanut Plug is the smallest device on this list, as it is a round plug that is slightly larger than a single outlet. Don't let its size throw you off though. It is packed with features, including power monitoring. It has a bright green indicator light when powered on. The Securifi Peanut Plug only supports Amazon Alexa in terms of voice assistants. It does offer power monitoring, but users report that it is not completely reliable.
If you are most concerned with power monitoring and care less about size, an alternative is the Currant, which is next on the list.
This smart plug is not natively compatible with SmartThings, meaning you will have to do a few extra steps. Fortunately, they are easy.
Plug Peanut into an outlet.
In the SmartThings app, click add new device.
By default the plug will show up 'Thing', but you can rename it.
Once added in the app, log in to the ST Integrated Development Environment from a computer (search Google for SmartThings IDE).
Log in using your Samsung or SmartThings account
Go to Locations
Click on the name of your Hub
Click on List Devices
Scroll down and click on your newly added Peanut outlet
Click Edit
In the 'Type" field, select "ZigBee Switch"
Click Update
Back in the SmartThings app, refresh the page and test your outlet. You should now see that your outlet has an on/off switch.
Currant WiFi Outlet
The Currant WiFi Outlet is the most stylish, modern looking smart. It comes with two individually controlled outlets that let you know how much power you are using through each one. The Currant Outlet uses artificial intelligence to monitor your power usage and then suggest ways to help conserve energy. It is designed so that orientation can be changed. It lets you switch a plate on the back so it can be plugged into your wall facing either right or left. The plug is also that's positioned so that the Currant doesn't block out the second outlet on a standard two-outlet receptacle.
There are two backlit arrows on the face that are buttons for turning each outlet on and off. Those arrows also indicate which way the outlets are facing, left or right. The Currant is compatible with Amazon Alexa and Google Home, but not with Apple HomeKit. The biggest downfall is that the Currant does not support If This Then That (IFTTT).
The Currant has two communication options: Bluetooth and Wi-Fi radios. I've read a lot of reviews that glaze over the Bluetooth feature, but it is an important feature. You can have one WiFi Currant Outlet and Multiple Bluetooth Currant outlets can be added to your house, which will create a mesh network. This makes it so that your Wi-Fi network is not jammed up by smart plugs. Also, Bluetooth only gives users the option to not have outlets connected to the outside internet, which some users may prefer.
Setup is incredibly easy. Just download the Currant app and create an account. Your plug is automatically discovered, and all you have to do is type in your WiFi password and you're good to go. Here is a review video that shows the setup process.
Setting up Currant in SmartThings is also easy. There is a step-by-step guide with a screenshot on the Currant website that will help you through that setup, so I'm not going to repeat it here when they have done a great job.
Final Thoughts
There are a lot of options for SmartThings compatible smart plugs on the market. If you are unsure, look for the "Works with SmartThings" logo. If it has that logo you should be able to plug it into an outlet, pair it with a SmartThings hub through the app, and you're all set.