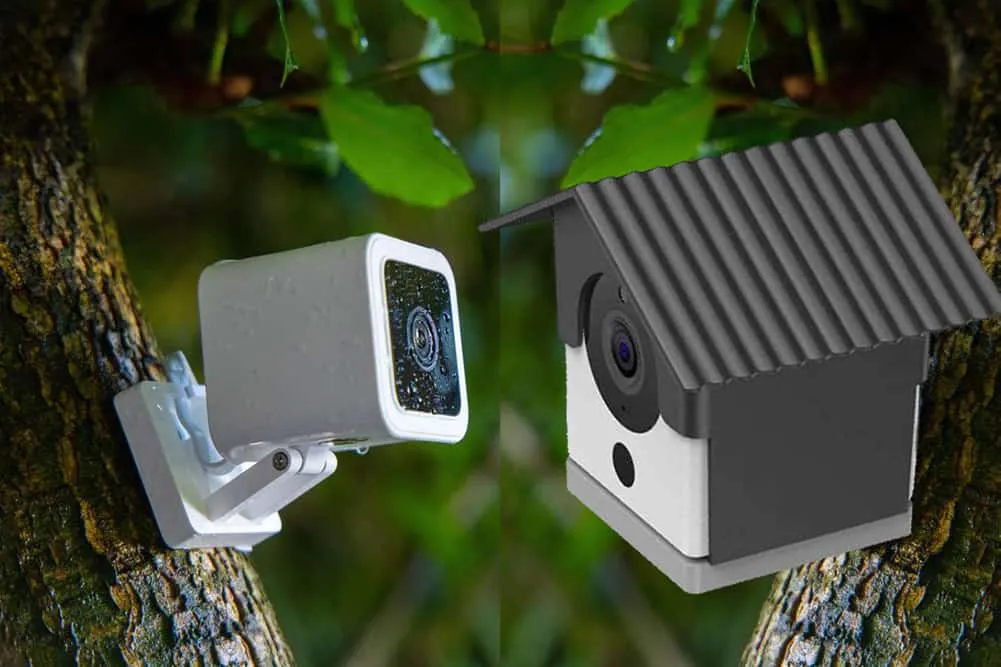 WYZE has revolutionized the smart home industry with its low-priced, but quality products. WYZE continues to innovate and release new products, including cameras for all areas of your house. That raises the question, can WYZE cameras be used outdoors?
WYZE Cam v3 and WYZE Cam Outdoors are weatherproof with an IP65 rating and are designed to be used outdoors. The original WYZE Cam and WYZE Cam v2 are not weatherproof, and are designed for indoor use only. Using them outside will void the warranty.
The WYZE cameras are relatively cheap, and voiding the warranty hasn't stopped people from testing and using their WYZE cams outside. As you can see, using a WYZE camera in an outdoor setting take a little more in-depth of an answer. Allow me to cover how you can use your original WYZE cam or v2 outside, and expand on the details od the two WYZE cameras that were actually designed to be used outdoors.
Made up your mind already and want to buy a WYZE Cam? Here are direct links for the two weatherproof outdoor WYZE cams (affiliate links):
Using WYZE cameras outside
Related Topic: Does SimpliSafe Have an Outdoor Camera? How You Can Use Yours Outside
Certain version are made to be used indoors only, and other version are made to be used indoor or outdoor. Let's take a look at how both version have been used outdoors, and how they fared the elements.
Using WYZE Cam v1 and WYZE Cam v2 outdoors.
The first two WYZE cameras were designed for interior use only, but people really fell in love with the cameras and wanted to be able to use them outside.
There are numerous YouTube videos of people placing them outside their house. Most users placed them under the eaves, where they were decently protected from rain. However, that's not always an option.
The front of the WYZE cam has fairly tight fitting that won't allow water to get in, but the back of the camera is the weak spot. That's where the power and SD cards plug in, and we all know that water and electricity don't mix.
Caution: Electrical shorts can occur when wires are exposed to water, which can potentially cause a fire in the worst-case scenario. I do not recommend using electrical equipment outdoors that was designed to be use indoors.
If you really want to use your WYZE Cam outside, there are weatherproof covering that you can buy online. Here is one example. You can click here or on the picture and it will take you to Amazon.
In my favorite YouTube video on the topic, the guy uses one of these covering to protect his WYZE Cam. He then proceeds to pour water all over it to simulate rain. The covering appears to protect the camera from being damaged by water.
Read Also: Arlo Pro 4 vs Pro 5: Which One is the Best Security Camera
Really though, it would be cheaper to buy the WYZE Cam v3 instead of an old WYZE Cam and a weatherproof housing. Even if you already own an older WYZE Cam, the WYZE Cam v3 is in the $20 range, and still wouldn't' cost you much more.
Using WYZE Cam Outdoors and WYZE Cam v3 outdoors.
The WYZE Cam Outdoors and WYZE Cam v3 were designed to be used outdoors and have a weatherproof rating of IP65.
The WYZE Cam v3 is overall a superior camera than the WYZE Cam Outdoors. It has a better image sensor and night vision. You can actually see in color when using night vision! How cool is that?
Here is a comparison from the last gen WYZE Cam 2.

You can view more comparison on the WYZE Cam 3 product page, found here.
One of the key differences is how they are powered. The WYZE Cam v3 is wired and must be plugged in. The WYZE Cam Outdoors is battery powered. WYZE states that the battery needs recharged every 3 to 6 months.
Here is a video comparison of the two cameras that I found very helpful.
What is the range of the Outdoor WYZE Cams?
One of the key factors of being able to use the camera is having it connected to the internet. The WYZE Cam v3 connect directly to Wi-Fi, but the WYZE Cam Outdoor requires a hub.
What is the range of the WYZE cam outdoor? In real-life settings, the optimal maximum range of the WYZE Hub is 50 feet from the WYZE Cam Outdoor. This accounts for obstacles, such as walls, that the signal has to travel through. The maximum range is 300 feet, with no obstacles or interference.
What is the range of the WYZE Cam v3? The WYZE Cam v3 must be with-in range of your Wi-Fi signal and must have solid signal strength. The internal antenna is not as good as WYZE Cam v2, and will therefore not have the same range. WYZE does not specify a range for the WYZE Cam v3.
Read Also: Do Ring Cameras Record All the Time: The Truth Revealed!