Theft, burglary, and break-ins can be major problems for homeowners. Home security devices with excellent video and audio quality can help solve this. That's why we offer you to check out our comparison between Eufy vs Ring, the two most prominent manufacturers in this industry. Let's dive into the details.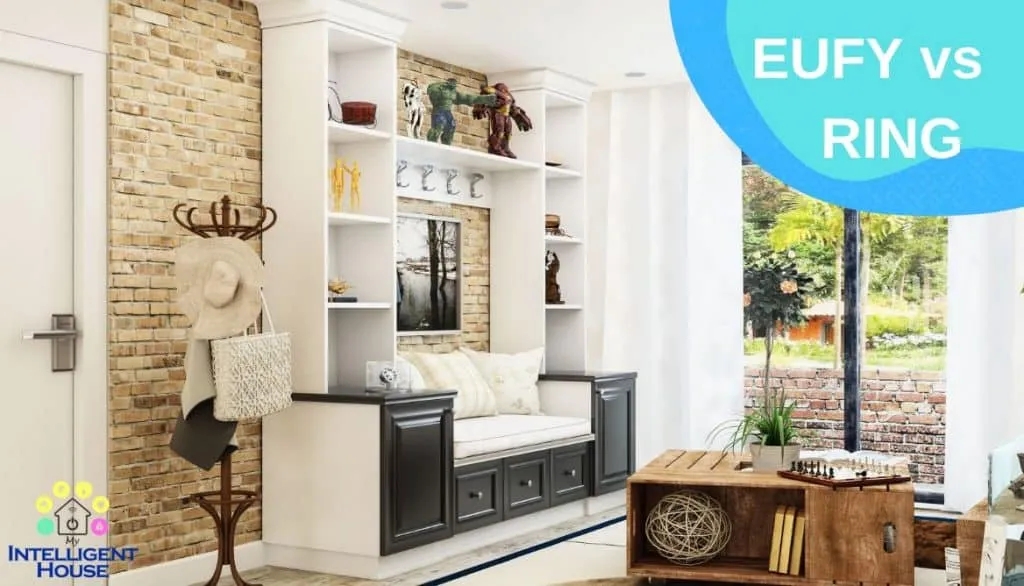 Quick Answer
Eufy company specializes in smart video doorbells, surveillance cameras, robotic vacuums, and other smart devices for the home.
Ring enterprise focuses mostly on producing home security items that may be installed outside, such as cameras, sensors, and doorbells.
Keep reading to learn the similarities and differences between these two brands. Their comparison by categories such as security, video quality, devices' important features, pricing, and subscription plans. And also an overview of popular video doorbell models from both companies. Let's begin!
Eufy Video Doorbell vs Ring Video Doorbell Features And Technical Specifications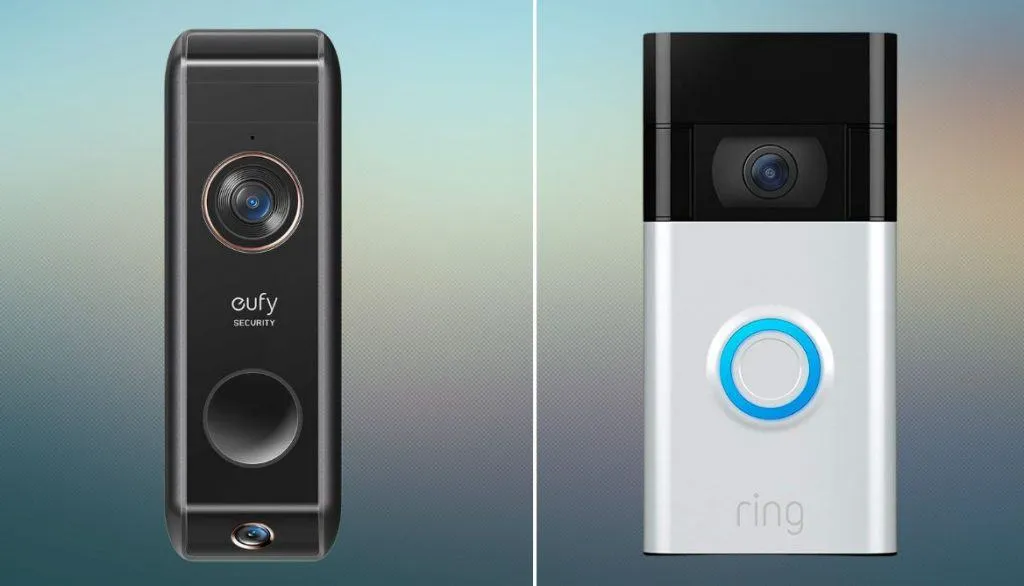 Read Also: Blink Sync Module 1 vs 2: Which One to Buy in 2023
If you want to give a major upgrade to home security then investing in the Eufy doorbell or Ring video doorbell will not be a disappointment for you.
Eufy video doorbell records videos in high definition, and at a very cost-effective price, storage is in an encrypted format, and its bacs up data for a whole month with ease.
The Ring video doorbell is considered best by some homeowners. It offers decent quality HD video recording capabilities, supports Alexa for home automation, can record videos with clarity at night, and detects sounds.
So, what are the differences and similarities they have? Take a look at our comparison chart to learn more details!
Eufy Smart Video Doorbell

Ring smart video doorbell

150° Horizontal, 150° Vertical

2K Full HD (HDR Supported)

Yes (Spotlight and Siren)

Yes (Spotlight and Siren)

Yes (Colored and infrared)

Yes (Colored night vision)

Two-Way audio and noise cancellation

Yes (indoor cam/

video doorbells)

No (only professional monitoring)

Yes, 4GB (USB, EMMC & Micro SD)

Compatible with 802.11b/g/n Supports only 2.4GHz

Compatible with 802.11b/g/n. Supports 2.4GHz and 5GHz

4.49 in. x 1.9 in. x .87 in

Battery, solar, and plug-in

Battery, Solar, and plug-in

Yes (Amazon Alexa, Google Assistant, and Apple HomeKit)

Limited One-Year Warranty

Limited One-Year Warranty

IP 65 Certified (Protection against dust and water jets)

No Official Rating (Water resistant but not waterproof)
Key Differences between Eufy and Ring Devices
Comparing some of the strengths of the Ring and Eufy video doorbells will let us know exactly which one is superior to the other. Let's get started!
Video Quality
The Eufy video doorbell houses a camera that can easily capture video at 2K HD 1080p camera resolution. It provides crystal clear image quality even in low-light conditions. It also features HDR for enhanced-quality recording.
Eufy video doorbell camera possesses night vision capabilities to ensure that the camera can easily record during nighttime. Military-grade encryption ensures that your video data is "unbreachable"! You can control the Eufy video doorbell camera via Amazon Alexa or Google Assistant.
In comparison, the Ring's camera video is 1080p but does not go up to 2K HD quality. It features a 150-degree field of view.
The Ring devices do not come equipped with facial recognition technology, although it can store data for about 2 months with ease. During the nighttime, the Ring doorbells can easily capture video of high-quality.
Product Selection
In comparison to the Eufy, the Ring offers a broader range of products like Ring doorbell, and smart video cameras that will fulfill your home security criteria without any hassle.
Eufy doorbell is a highly cost-effective brand. But the Ring doorbell takes the lead here with versatility and variety.
Key Similarities between Eufy and Ring
Both Eufy and the Ring have some similarities when it comes to their features. And these similarities give you a tough choice when choosing any one of them. Let us make it easier for you to decide after reading about the advantages of each company. Read below:
1. Reasonable Pricing
Both brands offer very attractive prices. Eufy and the Ring are known to offer price tags that will outdo most of the doorbell companies in the market.
The Eufy video doorbell is $40-50 cheaper than the Ring video doorbell. However, do not forget that Ring doorbell has many additional features, so it is unbeatably good for its money.
2. Subscription Plans Unlock Important Features
To unlock the full potential of a doorbell, you would need a monthly subscription to services. Eufy video doorbell is a plug-in-play device. You can simply purchase the device and start using its camera.
The Ring video doorbell has a much more extensive subscription process as compared to the Eufy doorbell which requires you to sign a contract to fully unlock the potential of the doorbell.
And it costs the users about $20.00, which is a big question mark when considering the basic subscription fee of Eufy doorbell, which merely costs about $4.99 only.
Winner: Go with Eufy if you want to save money!
Eufy at a Glance
Eufy is famous for its quality imagery and features that make it perfect as a home security device, such as the security doorbell, security cameras, and smart devices. Let us review it fully to know more about the perks it offers to its user via its features. Learn more now!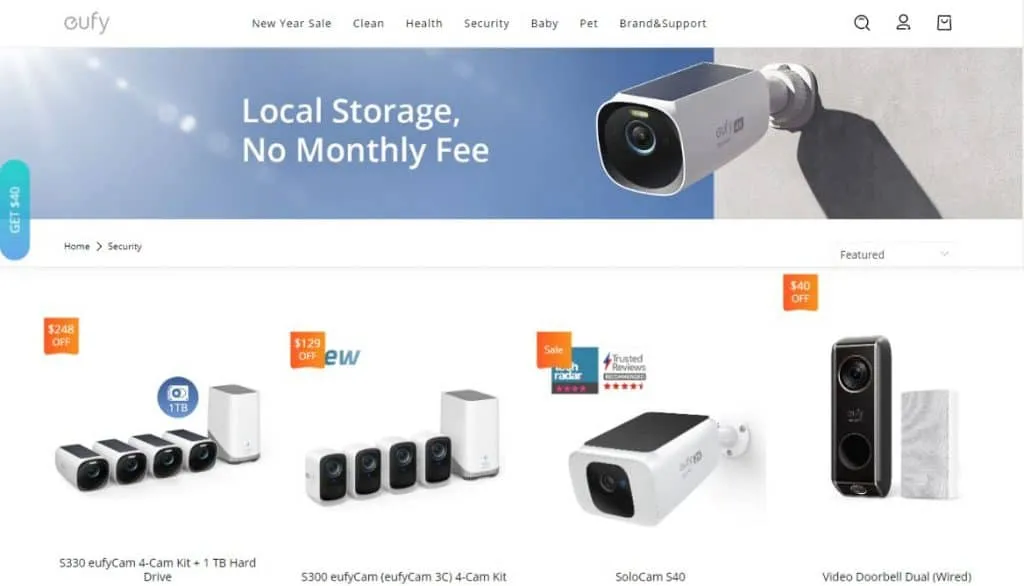 Home Security Products Offered
Eufy offers a smaller range of products to its users compared to other notable brands in the market.
You may select from the two video doorbells that it offers. The Dual model houses two video cameras that ensure there are no blind spots, while the 2K sensor in its high-end lens offers fantastic fine-resolution imagery.
Eufy also has security cameras with a mounting bracket perfect as a smart device fitted with lights to eliminate the need for any other external light source. Their products, such as security alarm systems, motion detectors, indoor surveillance cameras, and entry detectors, guarantee excellent home security.
All Eufy products are capable of recording video in high-definition. Eufy doorbell battery-powered and wired devices offer a large field of view.
Installation
Eufy devices are some of the easiest to install. Security cameras can be easily installed using the mounting brackets, and screws included with the product.
The downside is that the company does not provide professional installation services to its users.
Note: You would need a HomeBase hub to make the cameras functional. And the video doorbells require internet services to send notifications. You can adjust the motion zones by configuring motion sensors.
Home Automation and Smart Home Features
Eufy device is very intelligent in terms of motion sensor/detection abilities. They can easily decipher the difference between human and object movement using advanced motion detection.
Installing the Eufy app will allow you to easily control motion detection via Amazon Alexa or Google Assistant and assign motion zones. You can easily initiate the recording of data with a few simple steps. Here is how you do it:
Set up the HomeBase by connecting the LAN and power cable.
Connect it to the ethernet/wi-fi at your home.
The red light on the HomeBase will turn blue once connected.
In the meantime, download the Eufy app on your phone and install it.
Now you need to add Homebase as a device in your app on the phone.
Scan the QR code given on the Homebase device.
Now press the sync button at the back of the HomeBase to pair it to your phone.
Once added, it will give an audio prompt.
Reset the HomeBase device now so that it updates and configures automatically.
Now you need to add your Eufy video doorbell to your app on the phone.
Scan the QR code on the doorbell.
Once it starts pairing, press the sync button on the Eufy doorbell and it will be done successfully.
Hold the sync button for 2 sec and the Eufy doorbell will prompt with a beep sound.
Now just simply mount the Eufy doorbell on your door and configure the doorbell easily from the app.
Other Benefits
Eufy is a very versatile and value-for-money brand that offers 2560x1920p quality recording. Infrared sensors and night vision allow 24/7 surveillance with ease. You can expand the storage capacity using an external device such as a micro-SD to store videos locally.
Warranty and Trial Period
Warranty is something that Eufy values as a home security company. It offers its customers a 12-month limited warranty, and if you are not satisfied with the product, then a 30-day money-back guarantee is also available to consider.
Fine Print
There are some minor downsides when using Eufy products. The warranty does not cover any damages if the device is stolen. If you are returning the device, then a purchase receipt must be provided.
Also, any damages from external sources, such as temperatures or weather conditions are covered by a 3rd party which may prove to be a complicated process.
What Makes Eufy Stand Out?
A cheaper subscription, excellent quality video, facial recognition feature, high-end product quality, and easy installation make Eufy stand out among all the home security devices in the market.
Ring at a Glance
Ring, as a company, focuses on providing its customers with many home security products. Quality and a variety of choices both are what they focus on. But some more features make them stand out as a brand. Read to learn more!
Home Security Products Offered
Most competitors do not offer customized plans when purchasing security devices, but this is not the case with the Ring. When purchased as a full package, the Ring offers better value for money for all devices.
As a bundle Ring video doorbell, sensors, cameras, detectors, security lights, and other security devices will help you easily save some bucks. The pricing, estimated to be around $199.99 to $600, is quite reasonable compared to its competitors.
Installation
The best thing about Ring products is that the mounting brackets, screws, and a tool is included in the box of the product which makes the installation process super easy for you. If you face any issues, the company offers professional assistance.
The only downside is that Google Assistant is not compatible with their devices. However, self-monitoring is available and can be integrated into any of the subscription plans.
Home Automation and Smart Home Features
The Ring doorbell phone app makes it easier to configure the devices installed in your home. You can even take help from Amazon Alexa to give voice commands to the devices, set reminders, and automate multiple devices at a time.
Other Benefits
Ring offers security solutions to any sized property easily as they have a vast product selection catalog. Also, motion detection features send you an instant alert if there is any movement and the plus point is that you do not need a monthly subscription for this feature.
Warranty and Trial Period
All Ring products come with a one-year limited warranty and lifetime theft protection. A 30-day money-back guarantee can be availed if the product is not to your liking or according to your requirement.
Fine Print
The cameras in the security device provide impeccable quality footage. But, the battery-operated ones are only capable of recording 30 seconds of footage in the inbuilt memory chip.
While the wired ones can record 60-second short video clips that can only be uploaded to the cloud storage.
What Makes Ring Stand Out?
Ring values its customers, and it always offers value-added services to its customers. With various devices, they can satisfy a client with any budget range. Most of their products are highly ranked by users as being the best compared to their market competitors.
Eufy vs Ring – FAQ
How does Eufy compare to Ring?
Ring and Eufy have significant differences in their price tags. Other major differences are the intelligent system, quality of the video, storage capabilities, compatibility with Alexa and Google devices, and free cloud storage. Eufy wins easily!
Is Eufy cheaper than Ring?
Yes! The Eufy products are almost $40, much cheaper than the Ring.
What is better than Eufy?
Arlo offers high-end video recording options and excellent smart home integrations to its customers. It is a better option than Eufy!
Is there a camera better than Ring?
The Eufy cameras are better than Ring in terms of video quality. The Ring can only record videos at 1536p HD quality. Eufy captures footage at 2K full HD quality and provides crystal clear quality.
Read Also: Arlo Pro 4 vs Pro 5: Which One is the Best Security Camera
Conclusion
Eufy and Ring are brands that offer fantastic features to their customers. Features such as two-way audio quality, quality of the video, motion detection, NV recording capabilities, ease of installation, cheaper subscriptions, and pricing are some perks you will have a hard time finding in products of other brands.
The article highlighted some of the major qualities of both brands. And we also shed light on some key similarities and differences that further refined the level of understanding of both brands.
Which brand did you find suitable for your home security needs? Did the information in the article help you choose the best brand and buy their products e.g. Eufy video doorbell or Ring video doorbell? Let us know in the comments section.