Who makes Element TVs and where are they manufactured? Are they reliable and worth buying? If you want answers to these questions, I invite you to check out my detailed review so you can make an informed decision. Let's begin!
Quick Answer
Element TVs are:
Made by Element Electronics, a private company based in Winnsboro, South Carolina.
Was founded in 2007 and started producing TVs in China.
In 2014, it opened an assembly plant in the US, where some of its LCD boxes are constructed with components imported from China.
Element TVs are designed to offer a quality viewing experience at affordable prices.
They come in various sizes and models, ranging from LED and Ultra HD TVs to Smart and 4K TVs.
Read Also: Is Onn a Good TV? 7 Reasons To Help You Decide
Continue reading as I will explore their pros, and cons, and dive deeper into the manufacturing process, ownership, and quality of Element TVs. Moreover, will find answers to some frequently asked questions that you may have about this brand.
The Intricate Magic of Element TV Manufacturing
The company has its headquarters in Winnsboro, South Carolina, where it also operates an assembly plant. Let's dive into further details:
A Look into the Assembly Process
Let's take a look at the history of the assembly process: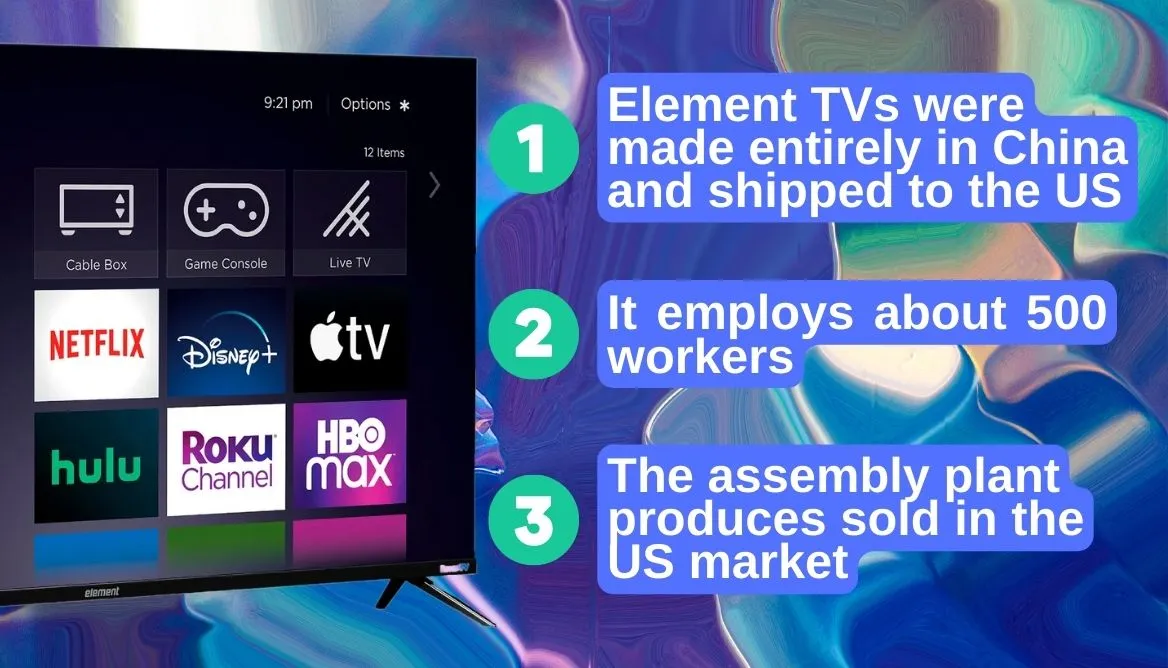 Initially, Element TVs were made entirely in China and shipped to the US.
Due to logistics issues and distribution costs, the company decided to open an assembly plant in the US in 2014.
It employs about 500 workers.
The assembly plant produces the Element product devices that are sold in the US market.
Not all of them are made there. The majority of them are still produced in China and distributed to other markets.
A Look into the Components
While some of the Element TVs are assembled in the US, their components are still made in China.
These include the:
Screens
Circuit boards
Speakers
Remote controls
Other parts that go into making a TV.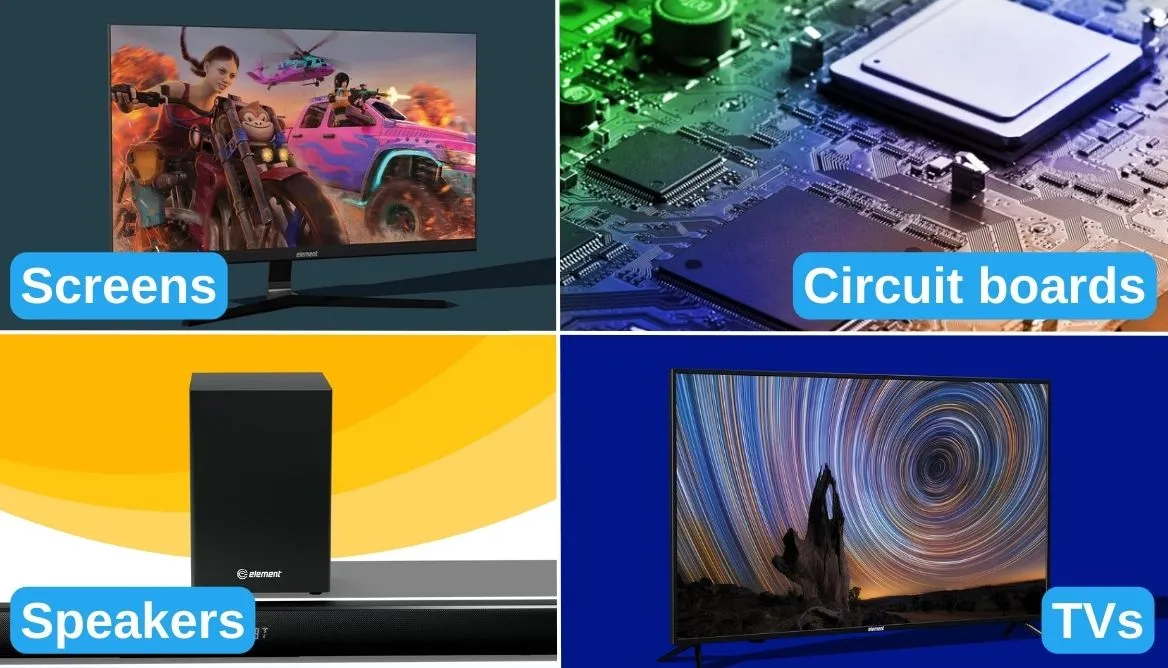 The parts for assembly are imported from China and then assembled in the US plant or shipped directly to other markets. Therefore, these are not entirely made in the US, but rather assembled with Chinese parts.
Behind the Brand: A Closer Look into Element TV Ownership
Element Electronics is a private company. The company was founded by Mike O'Shaughnessy 2007, who is also its CEO.
He is on a mission to provide every home with access to TVs with the latest technology at affordable prices. His American brand has been recognized for its innovation and commitment to customer satisfaction.
The company claims to be "One of America's Fastest-Growing TV Brands" and has won several awards for its products and services.
Company Legacy
Element is an independent company that has been making electronics for a very long time. It is not affiliated with any other TV brand Westinghouse TV or manufacturer like Seiki TV.
It operates autonomously, makes Element TVs, and is well-known for its innovative goods, which have been featured in several journals and websites.
Best Lineup of Element TV
It is a brand of budget-friendly televisions known for their simple designs and decent picture quality at reasonable prices. Their lineup includes everything from curved to flat-screen TVs in different screen sizes, but no matter the size or model, one can expect good performance at an affordable price.
Check out their excellent picture quality through the ElementElectronics website. Here's some insight into the best models:
Element 70″ Class 4K UHD LED Roku Smart TV HDR
It is a TV with excellent picture quality, Smart HDR, and the ultra cinema experience at home offering: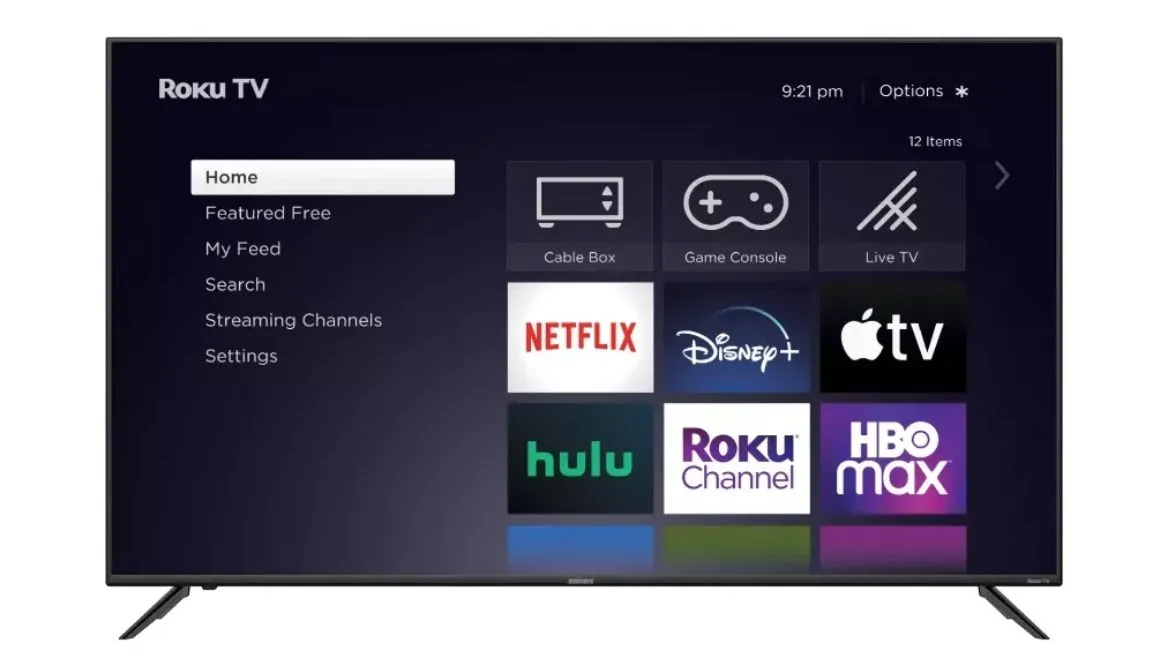 An expansive 70-inch Ultra 4k Screen
Breathtaking HDR technology to provide the clarity
Built-in Roku TV for you to stream unlimited movies and TV shows
Simple user-friendly design
Element 32″ Class (720P) LED HDTV
A device that brings you value, functionality, and excellent performance. It offers the following features:
A 720p resolution of the 32-inch TV Screen with crisp and amazing picture quality
An 8ms response rate for the seamless TV motion
Includes 3 HDMI, one USB, and one VGA port for greater connectivity
A sleek, modern design to fit your living space
Discovering the Element's Unmatched Technology
Element TVs are the best in quality and affordability. They have various sizes, resolutions, and features to suit many different needs.
Screen size ranges from –22, 32, 40-inch, 48-inch, or bigger. Some of the common features include :
HDMI ports to connect your favorite devices.
Wi-Fi connectivity to stream content from built-in apps or the Roku TV platform.
Dolby Audio for clear and powerful sound.
QLED technology for excellent color and contrast.
Local dimmer zones for adjustable lighting and depth.
Element TVs do give an acceptable performance for most consumers looking for a plain and user-friendly TV. Even though they are not made to compete with luxury brands like Samsung, Seiki TV, or Sony TV.
Read Also: Is a Samsung Smart TV an Android TV? What's The Difference?
Read Also: LG TV Plus: What It Is, How It Works, and How to Connect It to the TV
Some Important Considerations:
As I said before, Element TVs have the great following features:
Roku platform,
QLED color,
Local dimming zones,
Dolby Audio, and
Wi-Fi connectivity.
But remember, they are also not without drawbacks. Here's what I found so you have the utmost clarity: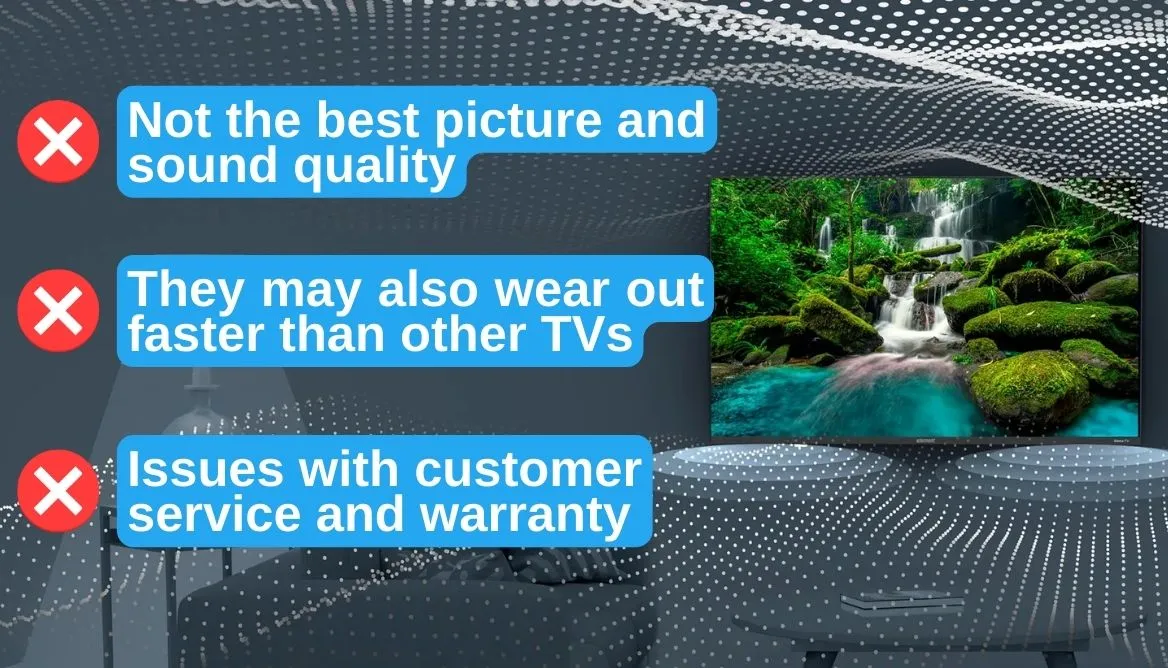 They may not have the best picture quality and sound quality compared to other brands.
They may also wear out faster than other TVs, especially if you use them for heavy tasks like gaming.
Moreover, some consumers have reported issues with customer service and warranty.
Element Brand TV: Is it a Smart Choice?
Some Element TVs are Smart TVs, while others are not. It depends on the model you choose.
It offers two types of Smart TVs:
Those with built-in Roku TV platform and
Those with built-in streaming apps.
With either type, you may access tens of thousands of streaming services and channels, like:
Netflix,
YouTube,
Hulu,
Amazon Prime Video, and others.
You may use the:
Roku TV mobile app,
Google Assistant, or
Amazon Alexa
to control your TV with your voice.
However, there are some differences between the two types of Smart TV market.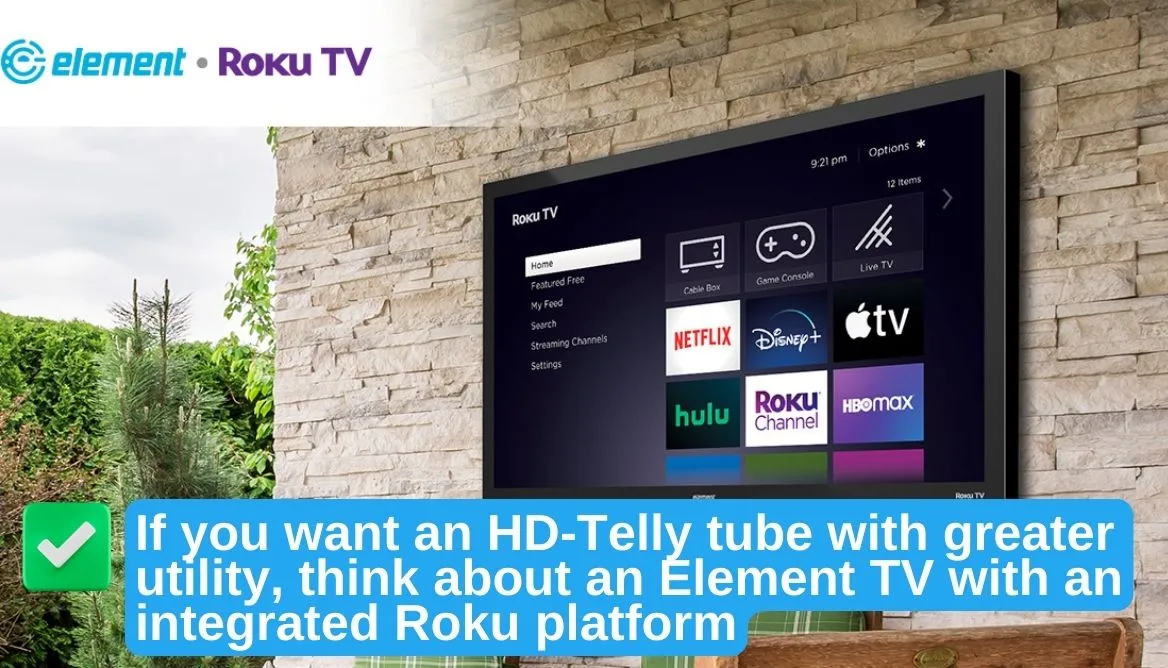 The Roku platform is more up-to-date and user-friendly than the built-in streaming apps.
It also has more content options and features than the built-in streaming apps.
For instance, you can use Roku Search to find what you want to watch across various channels and services.
You may use Roku Feed to get updates on your favorite TV series and movies.
If you want an HD-Telly tube with greater utility and versatility, think about an Element TV with an integrated Roku platform. But if you prefer a Smart TV with very basic streaming capabilities, pick one with built-in streaming apps.
Overall, it is a good TV brand.
Frequently Asked Questions
Are Element TVs Made by Samsung?
No, Elemet Tvs are not made by Samsung. They are separate companies. Element TVs are made by a company called Element, Inc., which is based in California.
Which TV Brand is Better TCL or Element?
TCL or Element is a tough choice. They are very similar and good tv brands that have curved screens and can connect to devices using Wi-Fi, but TCL has a better picture quality than Element.
Are Element TVs Made in the USA?
Some Element TVs are made in the USA, while others are made in China. It depends on the model you choose. In 2014, Element opened an assembly plant in Winnsboro, Carolina, where it assembles some of its TVs using components imported from China. However, most of its TVs are still manufactured in China and shipped to other markets.
What Universal Remote Works with Element TV?
Most universal remotes work with Element TV, as long as they have the right codes for the brand. You can find the codes for your universal remote online or in the manual that came with it. Alternatively, you can use the code search feature on your universal remote to find the right code for your Element TV.
Is Element an American Company?
Yes, Element is an American company. It is owned by Element Electronics, a private company headquartered in Winnsboro, South Carolina. The company was founded in 2007 and has been producing affordable and quality TV brands ever since.
Conclusion
So now you know that Element TVs are made by U.S. company Element Electronics. It is a good TV brand and has its own production in both the States and China. These TVs are a great choice for anyone looking for quality devices at a budget price.
They offer various TV models with different features, such as 4K resolution, smart TV functionality, and QLED technology. If you are interested in buying one, you can check out their website or browse their products on Westinghouse TV.
Do you own an Element TV or are you planning to buy one? Let me know in the comments below!