Have you ever faced issues with your Hisense TV, and you wanted to know how to reset Hisense Roku TV? Resetting is an easy-peasy job if you know the right way to do this.
Don't waste time and let's dive deep into the answer!
Quick Answer
Facing issues with your Hisense TV and don't know how to fix it? Well, why not try resetting? You can choose between these two options.
Soft Reset: Soft reset is the process of closing all applications and then restarting the television. It is used to solve simple issues of smart devices. In this process, you shall not lose any of your data.
Hard Reset: Hard reset, also known as factory reset, means deleting all sorts of stored data and starting the TV like a new one. When a soft reboot fails, a hard reset is the best alternative to choose.
I recommend that you consider what is the difference between Roku TV and A Smart TV
Now I am going to explain to you the processes. But let me tell you something else first.
How Long Does It Take to Reset Hisense Roku TV?
Resetting Hisense TV can take from a few seconds to half an hour. It depends on the complicacy of the problem and the type of reset you are going to run.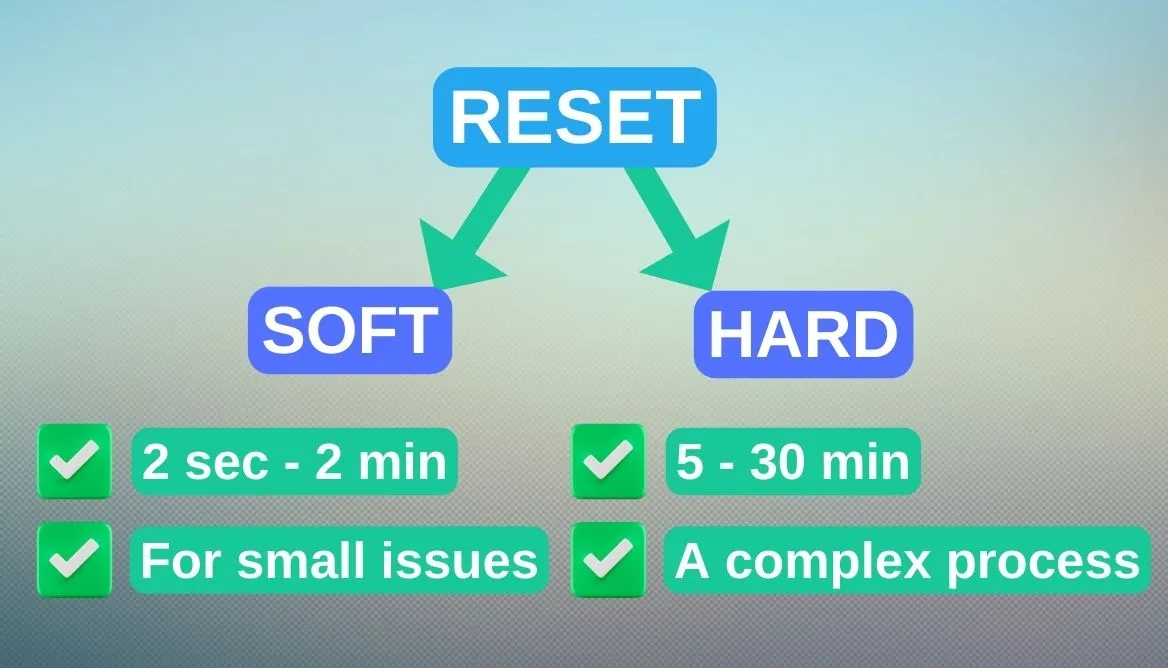 How Long Does It Take to Soft Reset?
A soft reset can take only a few seconds to a few minutes:
This process cannot solve bigger issues, so it doesn't require much time.
Once it is started, it will automatically take its time and come to a fresh start.
How Long Does It Take to Hard Reset?
The hard reset process can take five minutes to half an hour:
It's a complete and complex process of removing data and restoring the fresh mode.
The good part is that Hisense Roku TV will run a self-diagnosis to discover the underlying issue.
Then it will solve it and reset the device.
If the found problem is small, it will take only five to ten minutes. But if it requires fixing several issues, the reset process will take ten to thirty minutes.
You don't have to be present while the process continues. Now, let's dive deep into the reset methods.
What Are The Ways To Reset Hisense TV?
To be honest, there are a lot many ways to reset Hisense Smart TV. But the following three are the most common.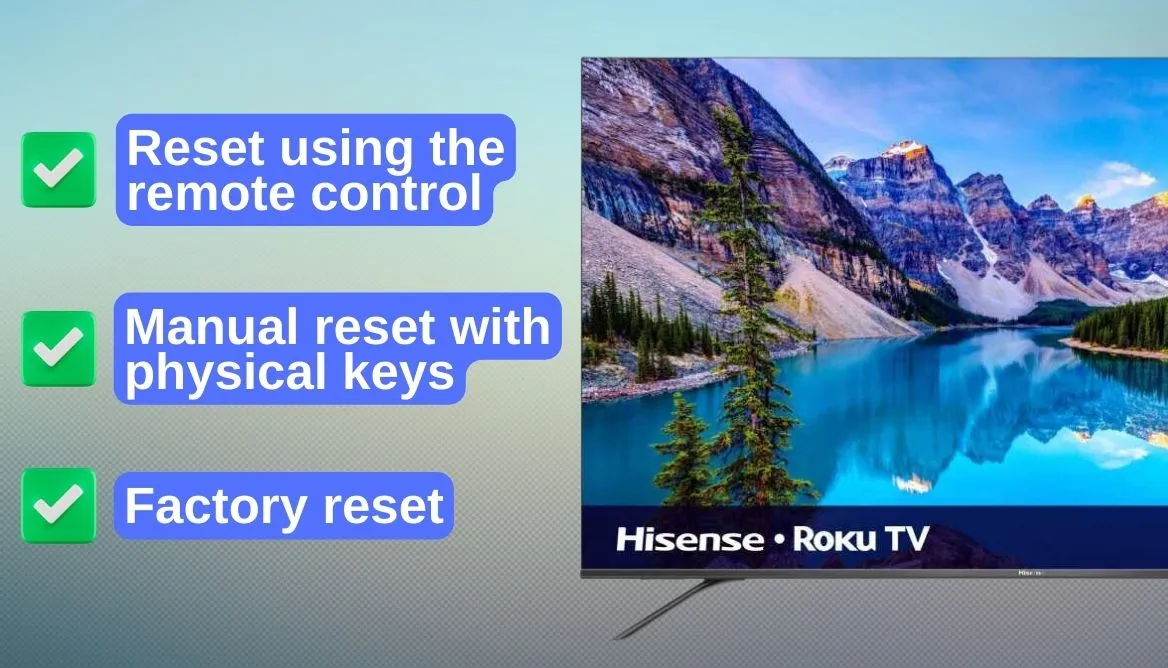 Reset using the remote control
Manual reset with physical keys
Factory reset.
The last one is the most common procedure. Each method has its pros and cons. But which method is the best and most convenient? You can decide that by yourself. Let me tell you about each method in detail.
How Can I Soft Reset Without a Remote?
What if your Hisense Roku TV remote simply isn't functional? Well, there is a resetting process that doesn't require any remote. Follow these simple procedures.
Cut off the electric supply.
Disconnect any gadget.
Click the power button and hold it for half a minute.
Resume electricity.
Turn the TV screen on.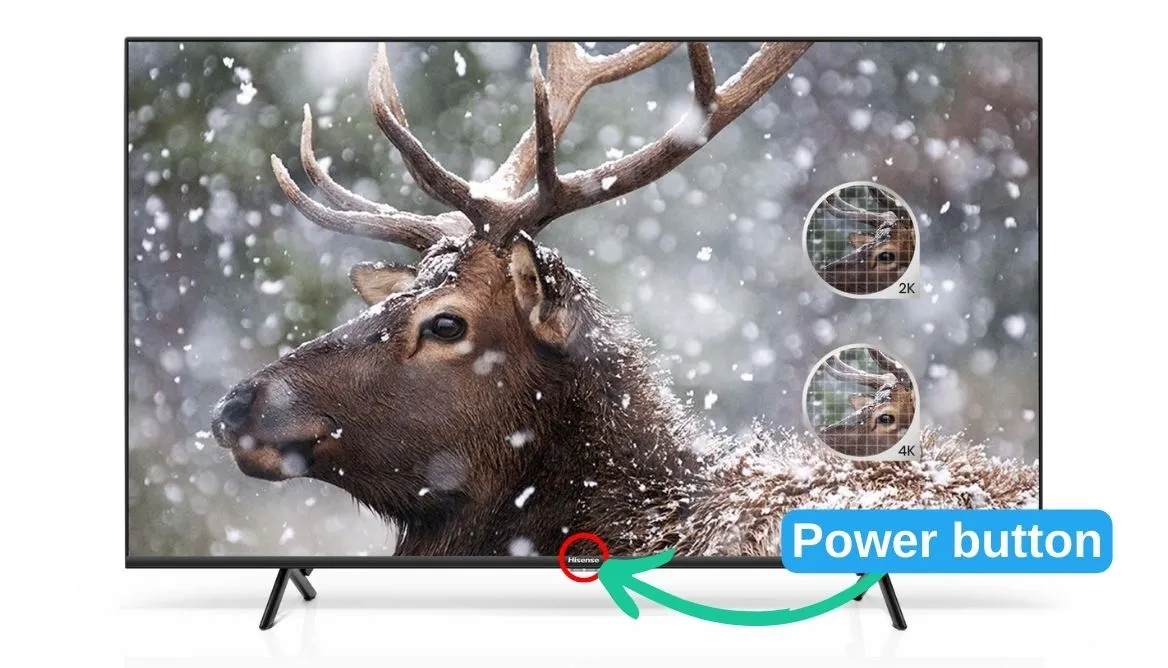 The process can be short or lengthy. It depends on the issue of your TV. Once complete, the TV will now be ready for use. Remember, unlike a hard reset, a soft reset doesn't remove your data.
How Can I Soft Reset With the Remote Control?
It is perhaps the easiest way to solve problems. You just need the Hisense Smart TV remote. You need to follow some easy-breezy steps.
First of all, start the Hisense Roku TV.
Next, click the Menu button and find out the Support option.
Find the self-diagnosis option and start the diagnosis.
Then press the Reset option.
Give the PIN number.
Try the default 0000 number in case you don't know the PIN.
Voila, now your TV will reset itself. Give it a few moments, and you will get your TV fixed.
How Can I Factory Reset Hisense Android TV?
When a soft reboot doesn't work, factory resetting Hisense Smart TV is the best option at hand. The method is similar to the previous two. Let's start!
First, click the Settings Menu from the top-right corner of the Hisense TV screen.
Then find the device preferences option and click it.
Next, you need to click on the Reset option.
After that, click the Factory Reset Option.
You shall be warned with the "Erase everything" option. Click the OK button.
Then input the security PIN.
Finally, your Hisense Android TV will be ready within 30 minutes.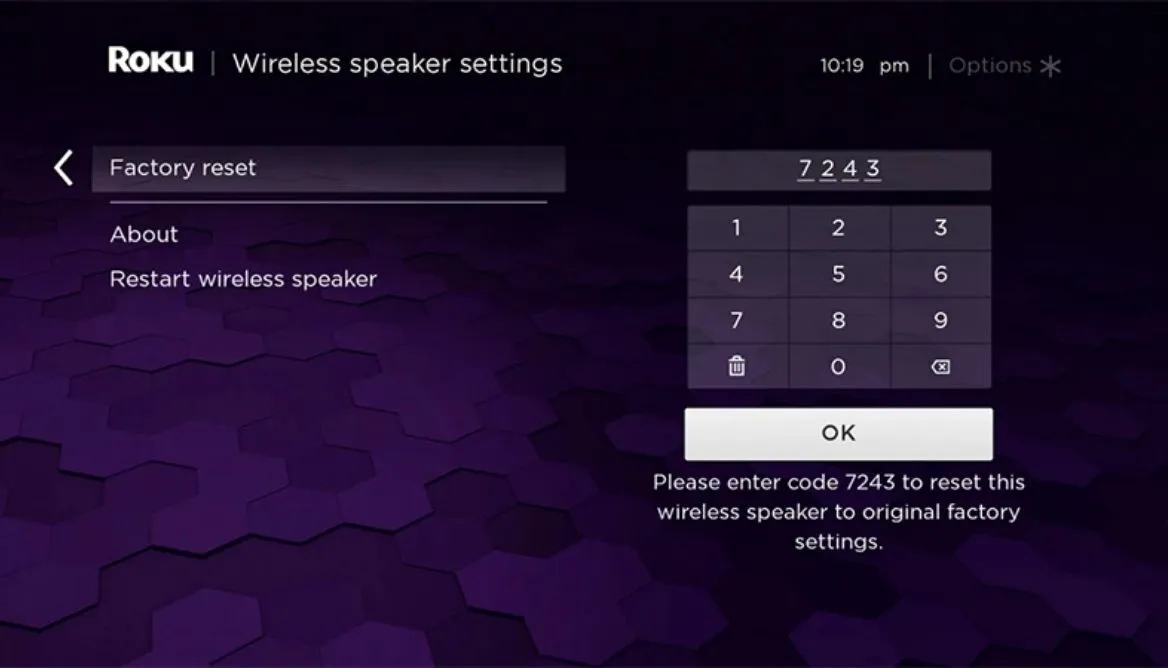 If everything goes well, your Hisense Roku TV will be new again.
How to Hard Reset Hisense TV Manually?
Manual hard resetting is another good option to resolve issues with a Hisense Smart TV. You might need a pen to press the smaller buttons. And, it is not comfy to look at the back and front of the TV again and again.
However, let me point out the steps one by one.
First, look where the physical buttons are and take a pen.
After that, you should click the Home Button with the pen.
You should find the Main Menu and press that.
Then scroll down and press on the Setting option.
Next, you have to press the System button.
After that, you need to click the Advanced System settings.
Then you will find the Factory Reset option.
Choose the Factory Reset Everything button.
And now, you just need to wait. The Hisense Roku TV will return to the default setting.
Alternative Way To Reset Hisense TV
All the previous methods may seem boring to you if you are a tech freak. Don't worry, we have found a comfy solution to reset Hisense Roku TV with a mobile application.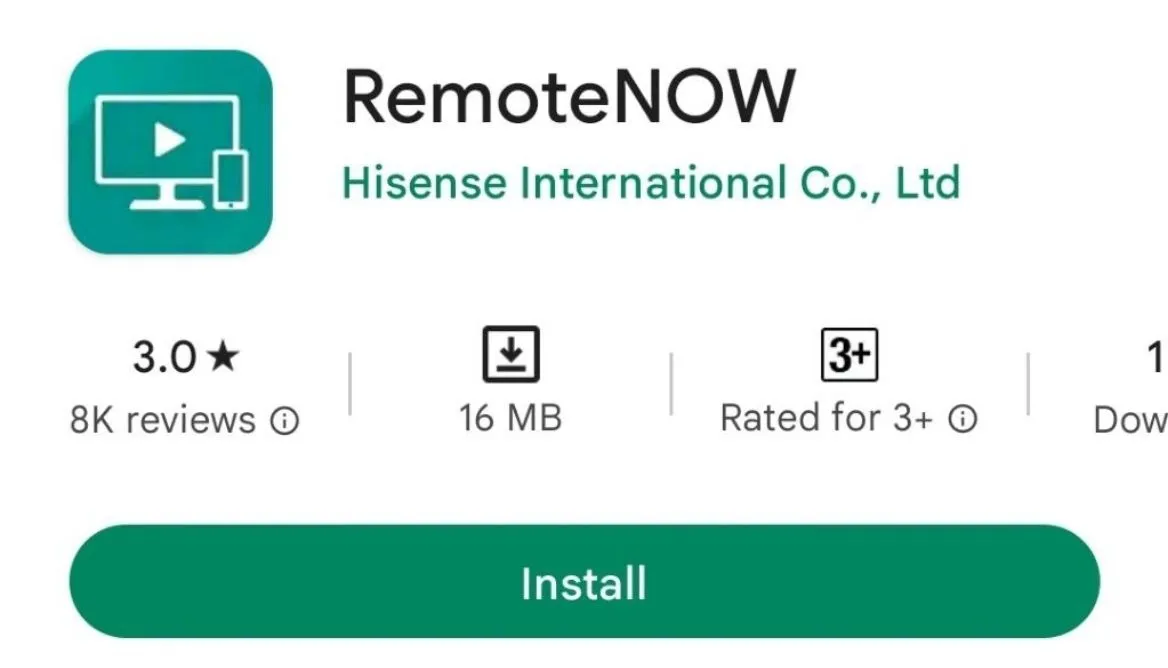 First, download the Hisense Remotenow App.
Then open the app and create a new account there.
Connect the App to your TV. You might require to give info about the Hisense TV models.
Hisense Remotenow App will ask for a PIN. You can see the PIN on the TV screen.
Input the required security PIN and pair the devices.
Next, go to Settings Menu.
Now you need to select the Device Preferences option.
Then touch the Reset option from your phone.
Remember that your Hisense Roku TV and your smartphone should be on the same network. Now the television will be reset to factory settings. This convenient process might take a couple of minutes to complete.
Troubleshoot Issues With Hisense Roku TV
While you reset your Hisense Roku TV, there are a number of problems that come with the factory settings. Though they are easy-peasy to solve, they will take a good chunk of your time.
So, after a reset, make sure that all the settings are okay. If you see any of the following problems, you should take action.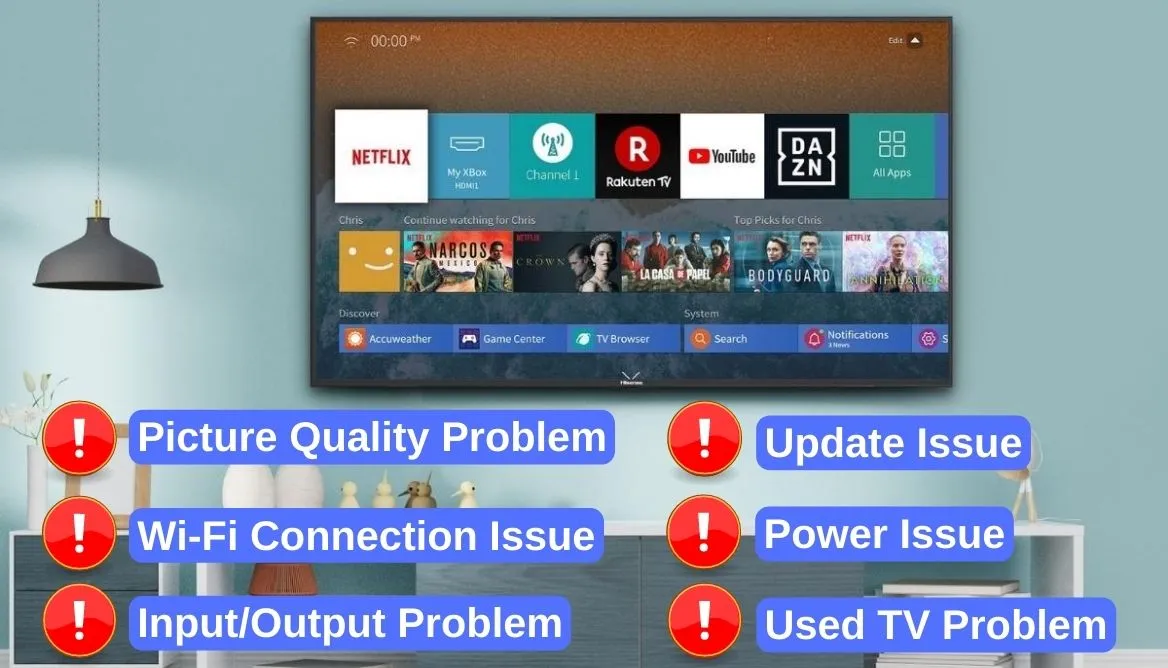 1. Picture Quality Problem
If you face a picture quality problem with your Hisense Roku TV, resetting it might greatly help. Follow the flow chart.
Home > Main Menu > Settings > System > Factory Reset > Erase Everything/Yes.
When the TV turns on, you shall find the quality to be good. But remember that resetting will wipe any trace of previous data.
2. Power Issue
Power cycling is an easy method to deal with power issues:
First of all, you should unplug the cord from the electric outlet.
After a minute, connect the cord and let your Hisense TV restart.
It can resolve the issue within a minute.
However, if this doesn't work, you have to reset your television.
3. Input/Output Problem
A frequent problem with Hisense Roku TV is the input/output problem. Well, it happens because of outdated software or wrong settings. You can fix the issue with the same factory resetting your TV. Follow the same steps:
Home > Main Menu > Settings > System > Factory Reset > Erase Everything/Yes.
In the ideal scenario, your device would download the required software by itself. However, you might need to manually install them if it doesn't work.
4. Update Issue
In Hisense Smart TV models, you must install the latest software. Well, sometimes your TV might face some trouble after updates. If you face such an update issue, I suggest a reset process to solve it.
5. Wi-Fi Connection Issue
It is another common problem with Hisense devices. The possible cause of frequent Wi-Fi disconnection is a bad router:
Check if the router is okay or not.
If the router is okay, you should disconnect the Wi-Fi and then reconnect.
Try a factory reset if these tricks don't work. You can follow the same process as described in the previous sections.
6. Used TV Problem
We all know that a used Hisense Android TV has some stored data. Before you start using this device, I always recommend erasing everything:
The previous user's data should be wiped out.
Then you need to configure the TV as per your own preference.
Factory reset is the best way to start your journey with a used Hisense TV.
What if Resetting Doesn't Help?
It is near impossible to solve every single problem by resetting. That's why you need to take help from a professional service provider.
The Customer Service of Hisense is a responsive one. You should contact them to fix any severe issues. I recommend trying a full reset before calling them.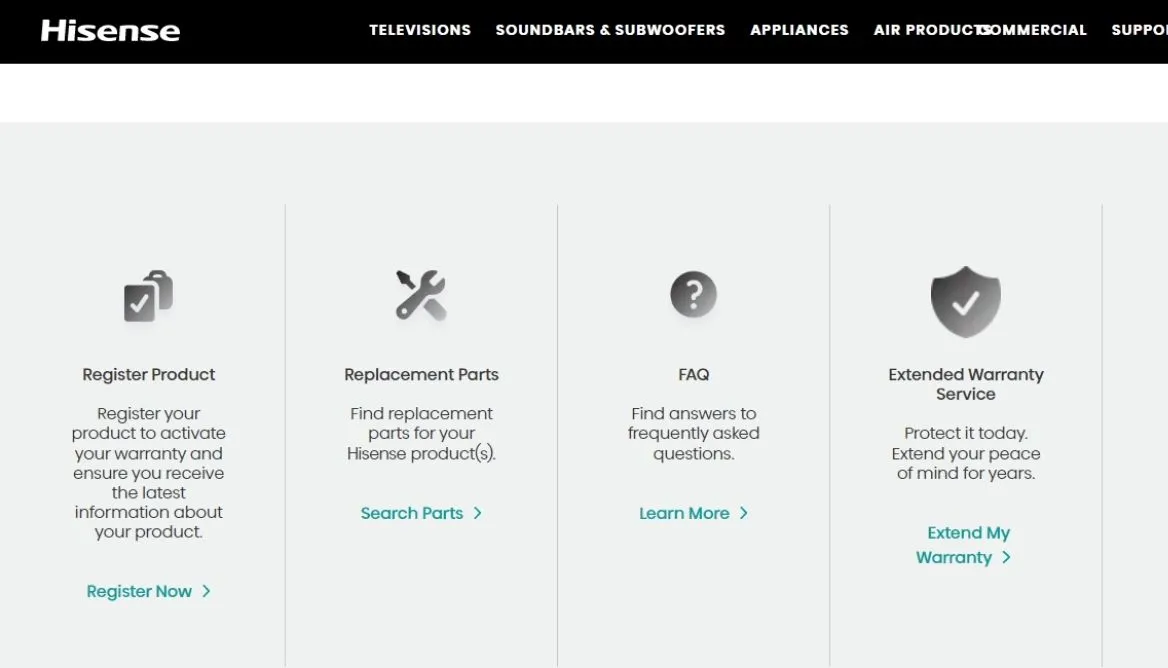 Read Also: Does Samsung Smart TV have Chromecast? How do I use Chromecast on my Samsung TV?
Frequently Asked Questions
How Do I Reboot My Roku TV?
For Reboot your Roku TV you need to press the following buttons on the Roku remote control: Home>Settings>System>Power>System reboot/restart.
Where Is The Reset Button On a Hisense TV?
In most Hisense TVs, the reset button is on the left side of the back part. You can find it near the HDMI port.
How Do I Manually Reset My Hisense TV?
For manually reset of your Hisense TV you should find a reset button on the back. You need to press it with a pen or something similar for a few seconds.
Conclusion
So you now know how to reset your Hisense Roku TV. Don't forget to back up important data before you start the process. And make sure the power and the network connection are not interrupted during the process.
Tell me what problem you are facing now in the comment section. I would like to give you a solution. Adios, buddy!