Many individuals throughout the world are quite concerned about home security. Guard devices with affordable pricing and professional monitoring can help you solve all your problems. Check out our Eufy vs Arlo comparison, two of the best industry-leading security brands. They both offer a wide variety of devices to provide your home protection. Let's dive into the details!
Quick Comparison
Two of the most well-known and extensively used security systems on the market nowadays are the Eufy smart-home devices and the Arlo home security cameras. Both options come with their own particular set of pros as well as cons, but they both provide an outstanding return on investment.
Either Eufy or Arlo can serve as your new home security system if you're searching for something that's simple to install, trustworthy, and packed with useful alternatives. Continue reading this article to learn about key differences and similarities, along with the pros and cons between the two brands.
Eufy at a Glance
While Eufy is most known for its inexpensive tech goods, they also produce high-tech home security options. Although Eufy offers a limited number of smart home security options, all of those they do provide are straightforward and simple to set up and use with good battery life.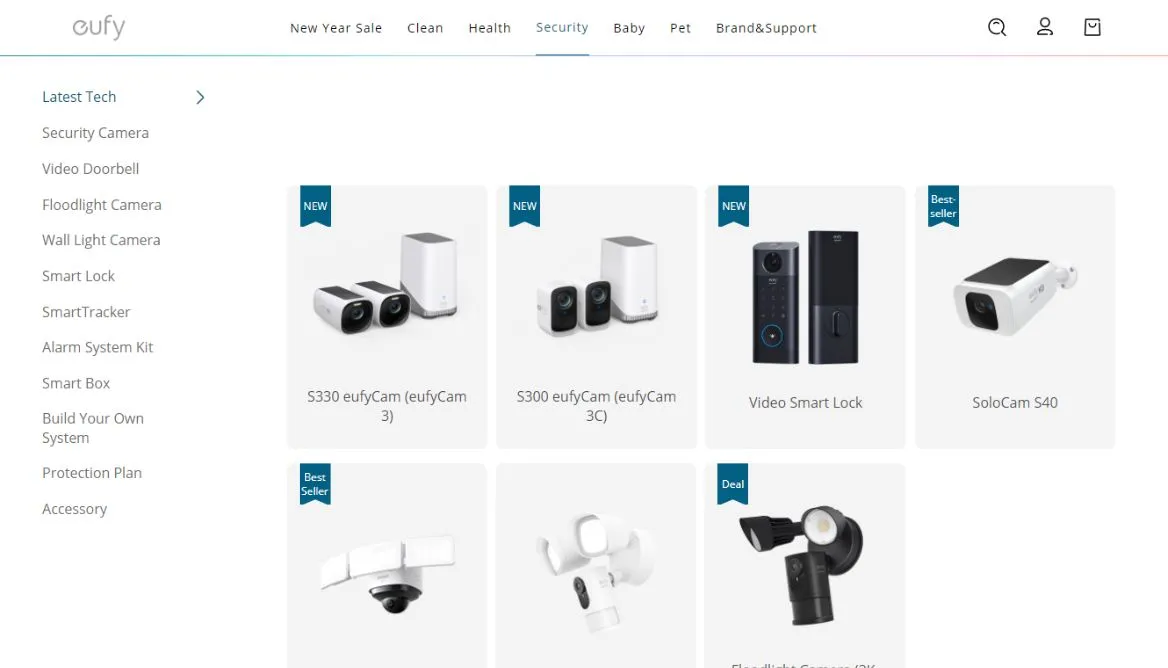 The company also provides a variety of protection alternatives, including many types of night vision surveillance cameras, burglar alarms, and electronic door locks.
Pros
The Multitude of Camera Setups
Built-in Storage on Most Cameras
Pet Dog Home Security Cameras
Motion Detectors
Variety of 2k Video Options
Cost-Effective Professional Monitoring
Cons
Doesn't Support 4K Resolution
Minimal Smart Home Integration Options
Need Cloud Storage Subscription
Limited Selection of Products
Limited Abilities for Monitoring
No Professional Installation Service
Arlo at a Glance
Arlo is a well-known brand of home security systems and products. Numerous versions come equipped with in-built night vision capabilities and two-way audio, earning praise for their dependability and excellent battery life (even when used in cold weather).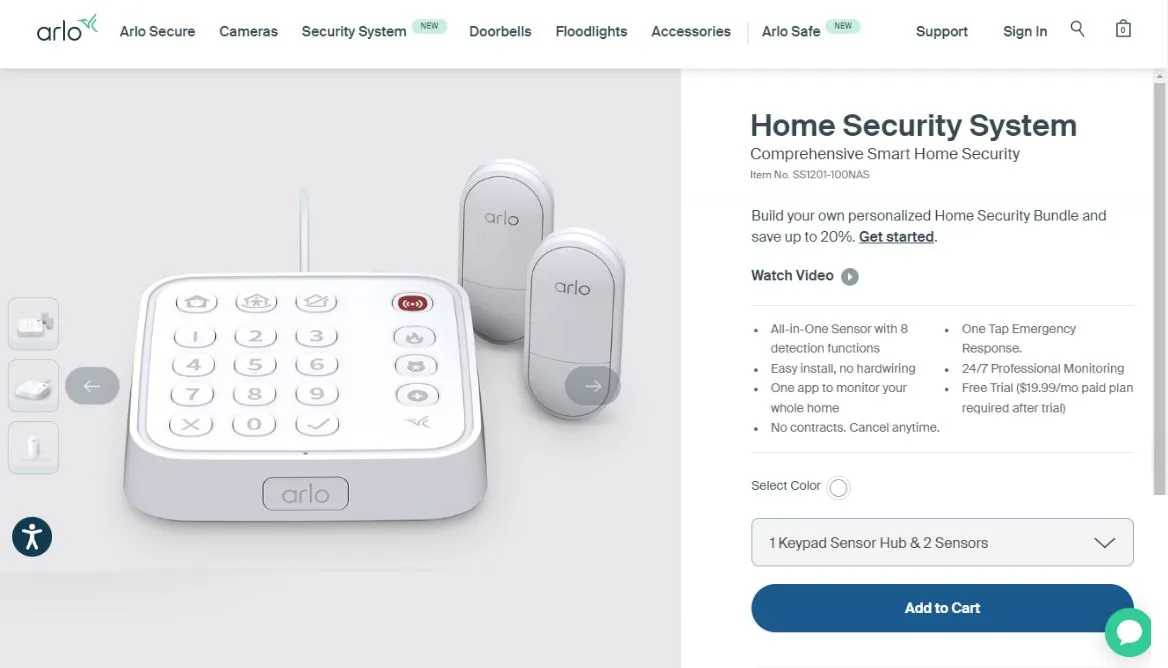 Arlo offers a selection of home security cameras, but every one of its products is intended to work together to assist you in developing a protection system that is uniquely suited to your needs.
Pros
High-Resolution 4K Cameras
Widely Available Cameras
Wireless Security Cameras
Cost-Effective Built-in Night Vision Options
Maintains a Constant Monitoring
Third-Party Smart Home Integration
Cons
Membership-Only Facial Recognition System
Shortened Battery Life
Not Flexible When It Comes to Customizing Placement
Narrow Viewing Field
Professional Monitoring Not Available
No Built-in Storage
Eufy vs Arlo: Key Differences
Eufy and Arlo have key distinctions between the two: offered home security products, prices, professional monitoring, video and audio capabilities, free cloud storage, important legal information, and further benefits.
1. Home Security Products Offered
Eufy has a decent selection of home security devices, such as wired security cameras, floodlight cameras, video doorbells, smart locks, home alarms, and home security systems.
Whereas, Arlo has a selection of home security products that are more restricted than that of its competitors, including wireless cameras, floodlight cameras, video doorbells, and home security systems.
2. Pricing
When it comes to pricing both Eufy and Arlo are very dissimilar. However, they both serve individual and add-on packages. Let's find out which one is more affordable!
Arlo
The following table covers each and every Arlo camera that can be purchased currently. As can be seen, the Arlo Go 2 is the device that carries the highest price tag. The price for this model is 249.99 dollars. On the other hand, if you're looking for a device that gives you a lot of bang for your buck, the Arlo Ultra 2 is a solid option to consider.
The incredible 4K resolution, high dynamic range, and color night vision are all included in the Arlo Ultra 2 wireless security camera.
Moreover, if you're looking for a do-it-yourself home security system, go no further than Arlo. Cameras and other components of the Arlo camera system are also available separately or as add-ons. As an illustration, the Arlo Ultra alone will set you back $299.99, but bundled with two more Arlo cameras you can have complete protection for just $799.99, saving you over $100.
| | | | | |
| --- | --- | --- | --- | --- |
| | | | | PRICE OF THREE CAMERA KIT |
| Arlo Essential Indoor Camera | | | | |
| Arlo Essential Wireless Security Camera | | | | |
| | | | | |
| Arlo Go Wireless Security Camera | | | | |
| Arlo Pro 3 Security Camera | | | | |
| Arlo Pro 3 Floodlight Camera | | | | |
| | | | | |
| | | | | |
Eufy
Eufy offers a wide variety of options for home surveillance cameras. All of their available models would take up too much room in the table below. Thus, we've made it clear which models may function independently of a HomeBase.
That is to say, all you need is a router, an internet connection, and a mobile phone to start using these cameras. These cameras may also be integrated into a Eufy security system.
The SoloCam E40 is a weather-resistant, cordless security camera for the outdoors. A resolution of up to 2K is supported. Installation is simple, as we've already stated, you don't need a HomeBase station.
As far as the overall idea, Eufy's cameras are a little less expensive than others out there. The price may vary from $39.99 to $159.99 depending on the model you select. Kits for Eufy-connected devices, which include three cameras, cost between $239.99 and $299.98; however, some of the cameras require the HomeBase in order to function.
| | | | | | |
| --- | --- | --- | --- | --- | --- |
| | | PRICE FOR HOMEBASE AND ONE CAMERA PACKAGE | PRICE FOR HOMEBASE AND TWO CAMERAs PACKAGE | PRICE FOR HOMEBASE AND THREE CAMERAs PACKAGE | PRICE FOR HOMEBASE AND FOUR CAMERAS PACKAGE |
| | | | | | |
| | | | | | |
| | | | | | |
Based on the data above, Arlo's newer version of products is more expensive than that of Eufy's. But in the end, it all depends upon your budget and your security needs. We recommend you go with Eufy as they serve comparatively better and have a much simpler process!
3. Professional Monitoring Security Cameras and Systems
Both Eufy and Arlo continue to dominate the market, thanks to their professional monitoring systems. They have the best solution for your security needs. Let's check the details below!
Eufy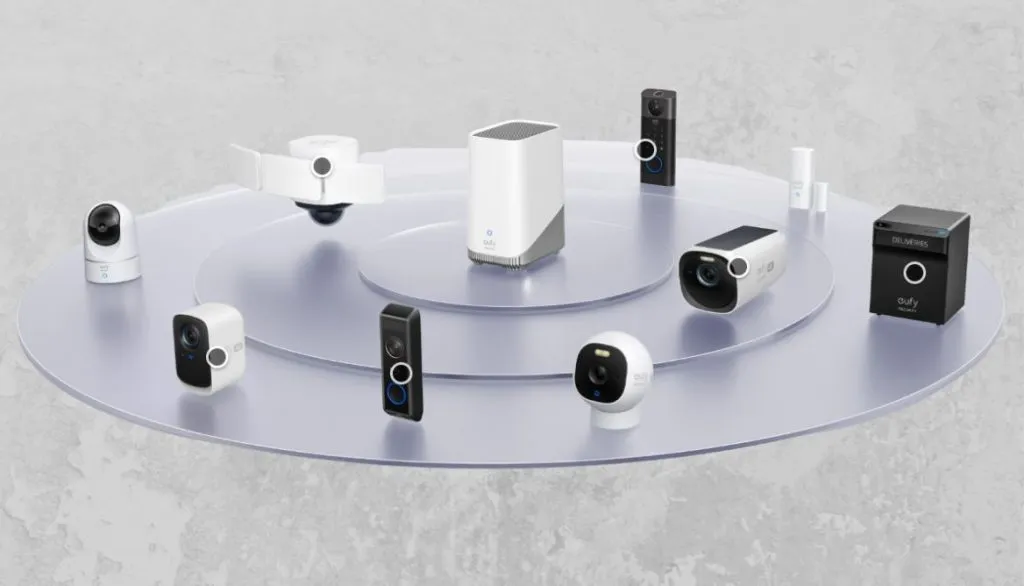 Built-in local storage on most Eufy cameras allows for up to three months of recording time. Access to cloud storage and expert monitoring is an unnecessary luxury. Eufy offers two paid subscriptions, Basic and Plus, for professional monitoring. There is a per-camera fee for the Basic package, but up to 10 cameras are free with the Plus package.
Eufy has round-the-clock support. The central station will contact you in the event of any action while you're away. If they are unable to contact you or have your permission to do so, they will send assistance to your location.
Arlo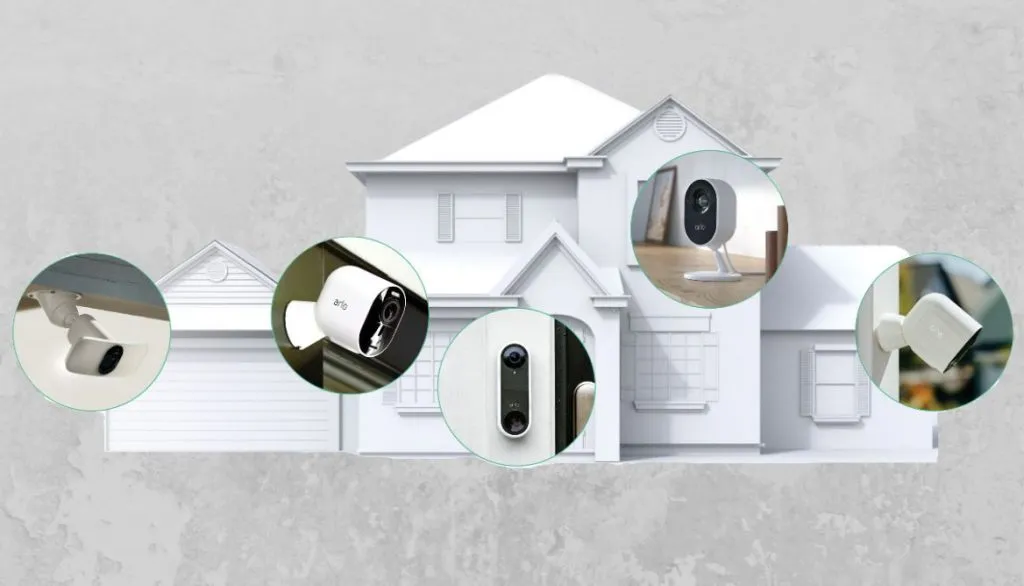 Arlo provides a way to get help quickly in case of an emergency when you avail of their Secure Plus package.
Arlo is a do-it-yourself home security system, so it doesn't come with any sort of 24/7 monitoring. Arlo, however, has what they call "Secure Plans" available. Cloud recordings, video archives that go back 30 days, smart alerts, and features like enhanced object identification and package tracking may all be accessed with a paid membership to the service.
Their two main plans to subscribe to along with the Secure Plus Package are Premier and Elite. Pricing for each camera in the Premier Plan begins at $2.99 per month, while the Elite Plan costs $4.99 per month.
Accordingly, both companies provide options for expert surveillance. Their monitoring system has been in high demand and customers are highly satisfied. It's your turn now to choose the best plan!
4. Video and Audio
The audio and video quality of Eufy and Arlo's security cameras are roughly equivalent.
We've tested a wide variety of devices from both companies, and we've never had anything except crystal-clear video and unobstructed audio. We prefer Arlo's video and audio recording capabilities to those of Eufy for a few reasons.
The first is that it has 4K recording capabilities on certain of its color night vision cameras, but Eufy does not. These are perfect if you need to position the camera high enough to get a bird's-eye view of a large region without sacrificing image quality.
The second difference is that some of Arlo's cameras have spotlights so that color footage may be captured both during the day and at night vision; Eufy only does this on its mains-powered Floodlight Cam, which is quite large in appearance.
5. Security Camera Built-in Local Storage
Despite the fact that neither of these companies calls for membership. The built-in storage of most Eufy cameras is capable of holding up to three months' worth of footage. However, the fact that Arlo only makes its cloud-storage options accessible through its premium subscriptions.
Check out the following subscription options if you're interested in enhancing the capabilities of your home security system in any way. Both of these businesses provide a comprehensive selection of services and products that can assist you in achieving a greater degree of safety and protection.
Examining the two tables that follow will help you choose which provider delivers the most suitable solutions for your system.
Arlo Plans
$2.99 – single camera

$9.99 – unlimited cameras

$14.99 – unlimited cameras
The Secure Plus Plan might be an excellent fit if you own a 4K camera. Besides being 4K-ready, it also has an SOS button in case of an emergency. In contrast, the Secure Plan may be a decent alternative if you only care about the bare minimum of features and can make up with a 2K resolution.
Eufy Plans
| | | |
| --- | --- | --- |
| | | |
| | | |
| Storage (paid separately) | | |
| | | |
| | | |
| 24/7 Monitoring and Dispatch | | |
| Custom Monitoring Settings | | |
| | | |
In the event of a break-in, fire, medical emergency, or theft, Eufy's 24/7 Monitoring and Dispatch function ensures a response within 10 seconds. When assistance is required, the "Tap to Dispatch" function automatically calls for it. However, more work on your part within the Arlo app is required.
Since Arlo can record in 4K resolution and keeps a 30-day video archive, it has a minor advantage here. In this way, you'll have a clear picture of what's going on at home. You may also count on the emergency response function.
6. Fine Print
You can return any Eufy product for any reason within 30 days after purchase. The company also offers a limited warranty on its products. There is a 12-month to 18-month warranty period for smart lighting. We stand by our security products for a full 12 months, and we back up our accessories for 30 days.
Whereas, the Arlo limited warranty period will start on the day of purchase. There is a 12-month warranty on the hardware from the date of purchase. Damage sustained during transport, storage, handling, accident, or improper usage will void the warranty.
Other Benefits
Take a look at other important Eufy and Arlo benefits.
Eufy
Security systems from Eufy can protect your entire house. You may obtain a full 360-degree perspective of your property by combining their outside and inside night vision cameras. Detection of people and animals may be made with artificial intelligence in some cameras, which can greatly cut down on false alarms.
One of Eufy's cameras' greatest advantages is that it may be used without the assistance of a professional monitor, unlike competing manufacturers. If you don't want to pay a monthly fee, you can monitor your own cameras.
Arlo
The Arlo cameras not only provide high video quality, but they also automatically detect motion and zoom in on interesting details. Some security cameras even include artificial intelligence functions like enhanced object detection that can tell the difference between a car driving by and a person waiting in front of your door.
Eufy vs Arlo: Key Similarities
Eufy and Arlo, along with having key differences as mentioned above, also have many features in common. From app and smart home integration system to DIY installation and no contracts or subscriptions. Let's dive into the details of it to learn what holds them similar to each other!
1. App and Smart Home Integration
Both Arlo and Eufy feature user-friendly applications that let you check in on your cameras and doorbells in real time and examine recorded footage, the latter of which is only possible with the Arlo app if you have an Arlo Secure subscription.
Their systems will also send you detailed alerts on your mobile device that include a snapshot of the suspicious behavior that triggered them.
In addition to utilizing your phone, you can also use the best smart speakers to have a conversation with anyone inside the camera's field of color night vision, and the finest smart displays can show you what's going on in real-time.
Arlo app stands head and shoulders above the competition because its home security cameras and video doorbells are compatible with not only Amazon Alexa, Google Assistant, and Apple HomeKit, but all three.
Some, but not all, of Eufy's cameras work with Amazon's Alexa and Google Assistant. The Eufy Indoor Cam Pan & Tilt 2K, Eufy Indoor Cam 2K, eufyCam 2/eufyCam 2Pro, and eufyCam 2C/eufyCam 2Pro that are linked to a Eufy HomeBase 2 support HomeKit.
2. DIY Installation
Security cameras from both models are simple to set up and come with manuals and instructions that walk you through the process of tailoring your home security system to your specific needs.
3. No Subscriptions or Contracts
You may use Eufy gadgets without signing an agreement or subscribing to a plan. Even without a membership, you have access to helpful features like Local AI Detection and all cameras offer Local Storage. A paid membership plan is available for those who want access to premium features.
Arlo devices may be used without signing up for a subscription service. Free of charge, you may take use of 4K video streaming, two-way audio, and motion detection. It goes without saying that an Arlo 4K camera is required for this to work.
Is Eufy or Arlo Right for You and Your Home?
Look at the reasons why you should choose Eufy or Arllo.
Eufy is the go-to option for you if you are looking for:
Lower Cost of Ownership
Multiple 2k Video Options
Built-in Storage
No Monthly Fees
No Contracts or Subscriptions
Arlo is the go-to option for you if you are looking for:
Motion Detection Features
Two-Way Audio Communication
Person Alerts
Color Night Vision
Third-Party Smart Home Integration
Eufy vs Arlo – FAQ
Did EUFY copy Arlo?
Somehow yes! Despite having copied several features from Arlo, Eufy improved upon them in key areas like recording quality and app performance. In addition, if you'd prefer a camera that doesn't upload its footage to the cloud storage, Eufy is a fantastic option.
Is Eufy a Chinese company?
Indeed it is! All of the Eufy cameras are manufactured by a Chinese company named Anker.
Is the Eufy camera any good?
Yes, it is worth investing in it! The most impressive features include:
Lower Cost of Ownership
Noise Level Detection
Two-Way Audio
Adjustable Motion Zones
Can Eufy cameras be stolen?
Conclusion
We have determined that this comparison of Eufy vs Arlo provides consumers with several alternatives. Nonetheless, Arlo is a great option if you value high resolutions, as its cameras are capable of recording in 4K. Cameras from Eufy often have a continuous recording capability and offer 1080p or 2K resolutions.
You may also use cameras from both companies without signing a contract. However, if you need amenities such as video history, professional monitoring, or cloud storage, you will need to set aside more funds.
So, which brand you liked the most after evaluating both of them in detail? Let us know about your choice in the comment section below with a specific reason to help out others too!!