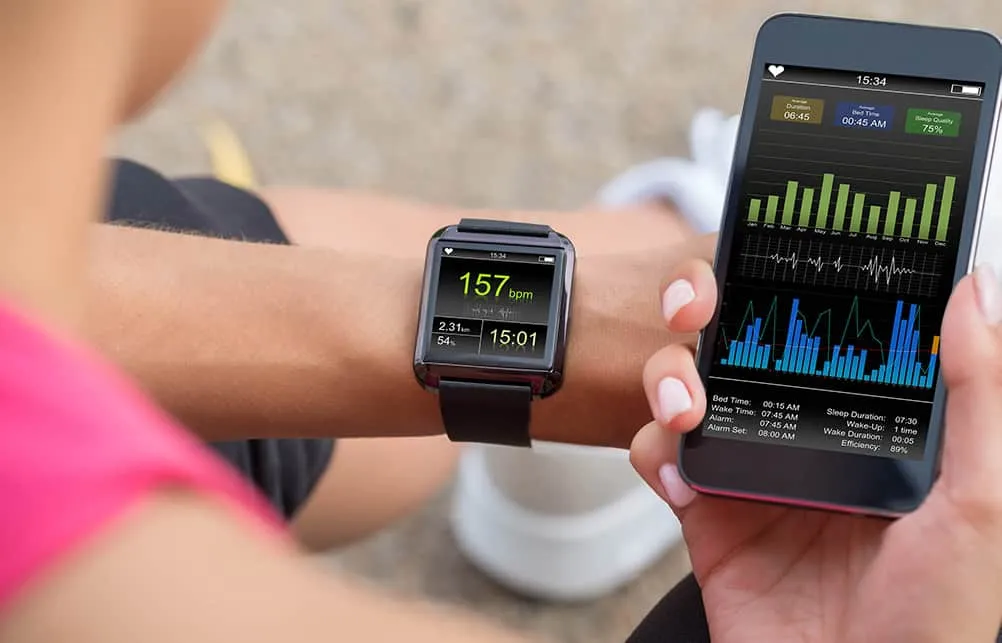 Those of us that don't mind wearing something around our wrist know how convenient a smartwatch can be. For those of us who have become unaccustomed to wearing a watch, and perhaps even for those of us with a smartwatch, we may not know all the features and benefits of a smartwatch.
In General, Smartwatches are capable of doing everything a smartphone can, as well as using sensors (such as heart rate) to collect data that smartphones are not capable or collecting from your pocket. Smartwatches can also provide quick and easy access to app notifications on your phone.
I've compiled a list of all the smartwatch features I could find. Keep in mind, that not every smartwatch has every single one of these features. You may have to research out which watch fits your needs. The top end models should have most of these features mentioned.
Clock Features
Time/date
GPS Time Syncing (or Cell Tower)
Automatic
daylight-saving time
Alarm clock
Timer
Stopwatch
Sunrise/sunset times
Standard Smart Features (Things you would expect from a smart phone)
App store compatibility (downloadable watch faces, data fields, widgets and apps)
App Notifications
Text response
Phone response: answer or reject phone call with text (Android™ only)
Calendar
Weather
Music Control
Music Storage
Find Your Phone (and vice versa with finding your watch )
Camera Remote Control
Smartphone pairing compatibility (iPhone, Android, etc)
NFC Payments (Hold your phone/watch to payment terminal to complete payment)
Wireless charging
Solar Charging (Just extends battery life, but does not keep up with full battery consumption)
Heart & Health Monitoring
Heart Rate (constant monitoring by wrist)
Daily Resting Heart Rate
Abnormal Heart Rate Detection Alerts
Respiration rate (Know your breathing rate 24×7)
Blood Oxygen Saturation (Usually measured by a Pulse Oximeter)
Stress Tracking
Relaxation reminders and breathing strategies
Sleep Monitoring (Advanced sleep metrics & suggestions)
Hydration (keep track of how much water you drink)
Menstrual Cycle
Heart & Health Monitoring When Exercising
Heart rate zones
Heart rate alerts
Maximum heart rate
Heart Rate Reserve (HRR) (the difference between your Maximum Heart Rate and Resting Heart Rate)
Recovery time
HR Sharing (Share your heart rate with paired devices)
Respiration rate (during exercise)
Location & Activity Tracking Features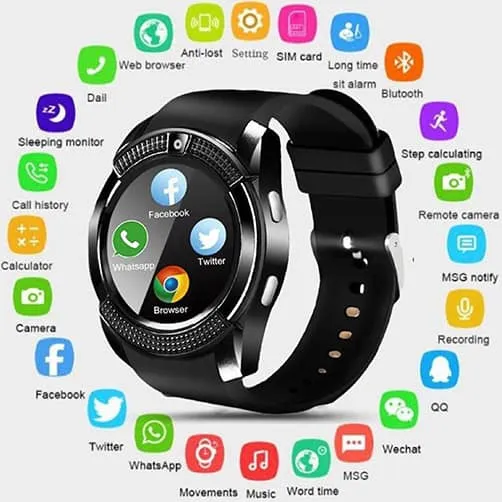 Read also: Garmin Vivoactive 5
Step counter
Movement reminders
Daily Activity Goals
Calories burned
Elevation changes (counts steps/floors climbed, hills hiked)
Distance traveled
Intensity minutes (measure high intensity workouts vs low intensity such as walking)
Activity Identification (identify periods of movement that match familiar exercising patterns such as biking, running, swimming, walking)
Sync with activity trackers (such as Fitbit)
Activity profiles (Sets your smartwatch up for a specific activity. Changes screens, etc.)
Activity Specific Features
In addition to the basic activity tracking we have all become used to, smartwatches have to ability to help us track and manage specific activities, such as going to the gym, or even golfing.
General Activity
GPS speed and distance
Customizable activity profiles
Automatic Pause (Stops tracking automatically if you take a break.)
Interval training
Downloadable training plans
Lap Counting (Automatically count laps for certain activities.)
Heat and altitude performance adjustments
VO2 max
Training Status (lets you see if you're training effectively by tracking your training history and fitness level trend.)
Training Load (your total training load for the last 7 days calculated from estimated EPOC)
Training load focus
Training Effect (measures the impact of an activity on your aerobic and anaerobic fitness)
Audio prompts
Start & Finish times
Virtual Partner
Course guidance
Round-trip course creator (running/cycling)
Activity history
Gym
Workout routines
Workout animations (show the specific exercise to perform)
Counts Reps & Sets Automatically
Running Features
Adjustable based on run type (Outdoor Running, Treadmill Running, Indoor Track Running, Trail Running)
GPS-based distance, time and pace
Vertical oscillation and ratio (the degree of 'bounce' in your running motion and the cost-benefit ratio with stride length) (with compatible accessory)
Ground contact time and balance (shows how much time, in the running motion, your foot is on the ground rather than in flight and lets you check your running symmetry) (with compatible accessory)
Stride length (real time) yes (with compatible accessory)
Cadence (number of steps per minute)
Performance condition (after running 6–20 minutes, compares your real-time condition to your average fitness level)
Lactate threshold (through analysis of your pace and heart rate, estimates the point where your muscles start to rapidly fatigue) (with compatible accessory)
Run workouts
Race predictor
Foot pod capable
Cycling Features
Alerts (triggers alarm when you reach goals including time, distance, heart rate or calories)
Courses
Cycle Map (routable cycling-specific street map)
Adjustable based on cycling type (Biking, Indoor Biking, Mountain Biking, Triathlon)
Bike lap and lap maximum power (with sensor)
Race an activity
Compatible with Varia Vision™ (head-mounted display)
Compatible with Varia™ radar (rear-facing radar)
Compatible with Varia™ lights
Other Speed and cadence sensor support (various Bluetooth Smart sensors)
Swimming Features
Adjustable based on swim type (Pool Swimming, Open Water Swimming, Swimming/Running)
Open-water swim metrics (distance, pace, stroke count/rate, stroke distance, calories)
Pool swim metrics (lengths, distance, pace, stroke count, calories)
Stroke type detection (freestyle, backstroke, breaststroke, butterfly)
Time and distance alerts
Pacing alerts (pool swim only)
Countdown start (pool swim only)
Pool swim workouts
Critical swim speed
Underwater wrist-based heart rate
Heart rate from external HRM (real-time during rests, interval and session stats during rests, and automatic heart rate download post-swim)
Golfing Features
Preloaded courses from around the worldwide
Yardage (front, middle and back of green)
Yardage to layups/doglegs
Automatic Measures shot distance (calculates exact yardage for shots from anywhere on course)
Digital scorecard
Game stat tracking (strokes, putts per round, greens and fairways hit)
Green View with manual pin position
Hazards and course targets
Handicap scoring
TruSwing
Round timer/odometer
Club tracking compatible (requires accessory tracker placed on club)
Other Outdoor Recreation
Available outdoor recreation includes: Hiking, Indoor Climbing, Bouldering, Climbing, Mountain Biking, Skiing, Snowboarding, XC Skiing, Stand Up Paddle boarding, Rowing, Kayaking, Surfing, etc.
Point-to-point navigation
Bread crumb trail in real time (Know how to get back home)
Back to start navigation
Elevation tracking
Distance to destination
Barometric trend indicator (Know if a storm is coming in)
Vertical speed
Total ascent/descent
Preloaded topographical maps
Preloaded ski resort maps
GPS coordinates
Seasonal Hunting & Fishing calendars
Projected waypoint estimates
Sun and moon information
Tidal information
Sensors
Here are the sensors used to make the calculations and provide the information in this list.
GPS (Outside of US may use GLONASS or Galileo for location tracking)
Heart Rate Monitor
Barometric altimeter
Compass
Gyroscope
Accelerometer
Thermometer
Pulse Ox Blood Oxygen Saturation Monitor
Ambient Light
Read also: Garmin Fenix 8
Additional Information
This list was compiled using information from the following smartwatch manufacturers. Each link goes to their smartwatch website.