Are you searching for the best BlueAir air purifiers? Join me as I compare BlueAir 311 vs 411 to settle which is better for your space. I will cover 8 different features to extract the result for you. Let's not waste time and go ahead!
Quick Comparison
To get the gist of what makes the two air purifiers different read the following points.
The BlueAir Blue Pure 311 Auto:
Is made for a medium-sized room up to 388 sq. ft.
It has a faster cleaning rate than the 411 Auto.
It is comparatively twice the cost of BlueAir 411 Auto.
The BlueAir Blue Pure 411 Auto:
It is made for small spaces up to 190 sq. ft.
It cleans smoke, dust, and pollens but takes longer than the Blue Pure 311 counterpart.
It is better to buy if you are on a budget.
Do not forget to scroll down to the sections below as I have shared an in-depth review about weight, cleaning abilities, special features, and the pros and cons of each.
Comparison Table of the Two Air Purifiers
In order to help you perfectly know which air purifier has an edge over the other, I have made the table below. Establish the room size you need to use it in and then select the model accordingly. Let's have a look.
| | | |
| --- | --- | --- |
| | | |
| | | |
| | | |
| Clean Air Delivery Rate (CADR): | 250 CFM for Dust and Smoke, 244 CFM for Pollen | 107 CFM for Dust, 96 CFM for Pollen, 123 CFM for Smoke |
| | 2 (Pre-filter and Carbon Filter) | 2 (Pre-filter and Carbon Filter) |
| | | |
| | | |
| | | |
| | | |
| | | |
| | | |
| | | |
| | | |
| | Air Quality and Filter Change | Air Quality and Filter Change |
| | | |
| | | |
| | | |
| | | |
Merits and Demerits of Blueair Blue Pure 311 Auto Air Purifier
Let me tell you what is great about Blue Pure 311 Auto and what I do not like much about it.
Blue Pure 311
Here is the list of its plus points, and things that I am not the biggest fancier of:
Benefits
Auto-fan Speed Sensor: It is able to adjust the fan as needed to keep the air clean.
Three-Part Filtration System: It comes with a washable fabric cover, activated carbon filter, and interior filter for maximum removal of airborne particles.
Elegant Design: With five color options to suit different styles. The modern design goes with most rooms.
LED Air Quality Monitor: You can get live feedback on the quality of the air. It's easier than ever to know when it's time to replace and clean filters.
Low Noise levels: Do not worry about any disturbance. The Blue Pure 311 auto air purifier does not relatively make as much noise.
Drawbacks
Huge Demand: Due to the high demand, it can take a longer wait time for the product to arrive. Check various vendors for availability.
Pricey: If compared to other air purifiers on the market in the "budget" line, you might find it expensive but the brand is a reliable one.
Not Adjustable Fan Mode: It means you can't customize the fan speed other than the auto feature.
Merits and Demerits of Blueair Blue Pure 411 Auto Air Purifier
Let's go over the plus points and minus points of BlueAir Blue Pure 411 Auto.
Blue Pure 411 Auto
Reading the following will let you know what are the benefits and drawbacks of this appliance:
Benefits
Compact and Lightweight Design: It is portable and easy to carry. You can use it in other rooms.
Works Well for Small Spaces: Do not invest in a heavy-duty air purifier. This unit works amazingly in a small room. The pet dander, dust, smoke, and pollen are cleared in no time.
Easy to Operate: The control panel is made with user-friendly operating in mind. Just press the single button for power and it will start filtering.
Budget-friendly: BlueAir blue pure 411 Auto air purifiers have a lower price point than other models. Use this to clear the air of small areas while you save money.
Drawbacks
Cylindrical Design: While the model looks extremely stylish, it can trip over with a slight nudge.
Small Coverage: It is only effective in rooms that are 190 sq. ft or smaller.
1. Cleaning Area They Can Cover (Room Coverage)
The primary distinguishing factor between the Blueair 311 and 411 is the extent of coverage offered by each unit.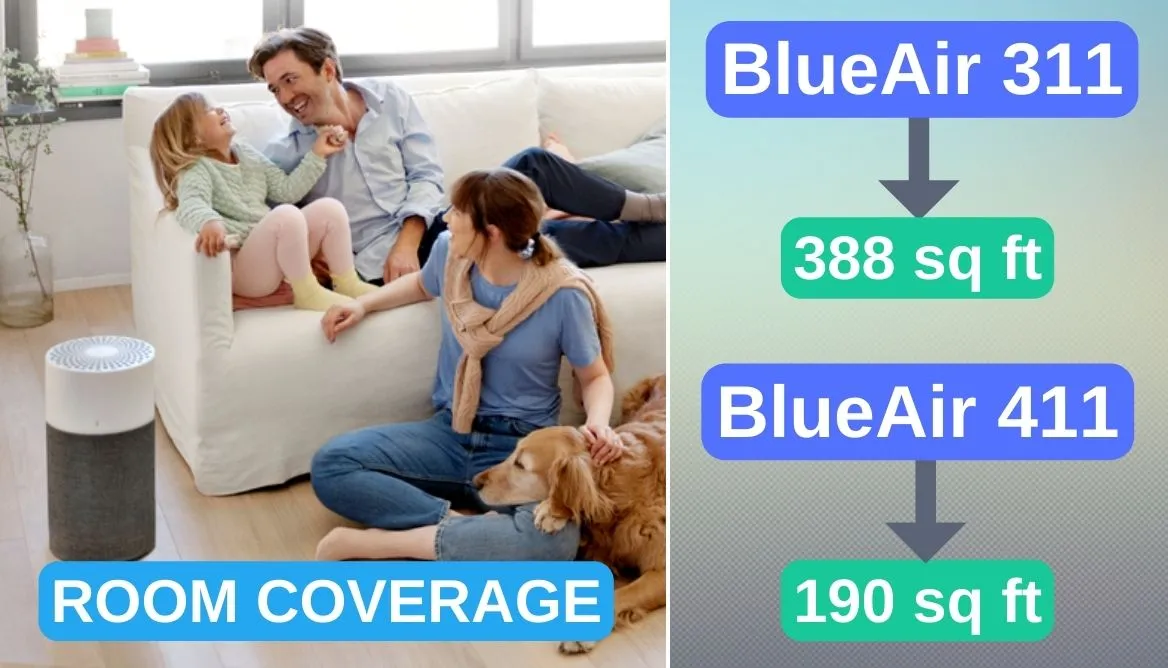 BlueAir 311 can cleanse an area of 388 square feet. Plus a ceiling height of up to 8 feet. Please note that it is bigger and costs more than the 411 auto.
The BlueAir 411 can only cleanse rooms that are 190 square feet or less. Keep in mind that this model is not effective in areas beyond this size range.
Winner: The 311 covers more room.
2. Cleaning Air Delivery Rate and Air Quality
The 311 Air Purifier has better CADR than the 411 variant. Here is the reason why 311 is more advanced than the 411 model.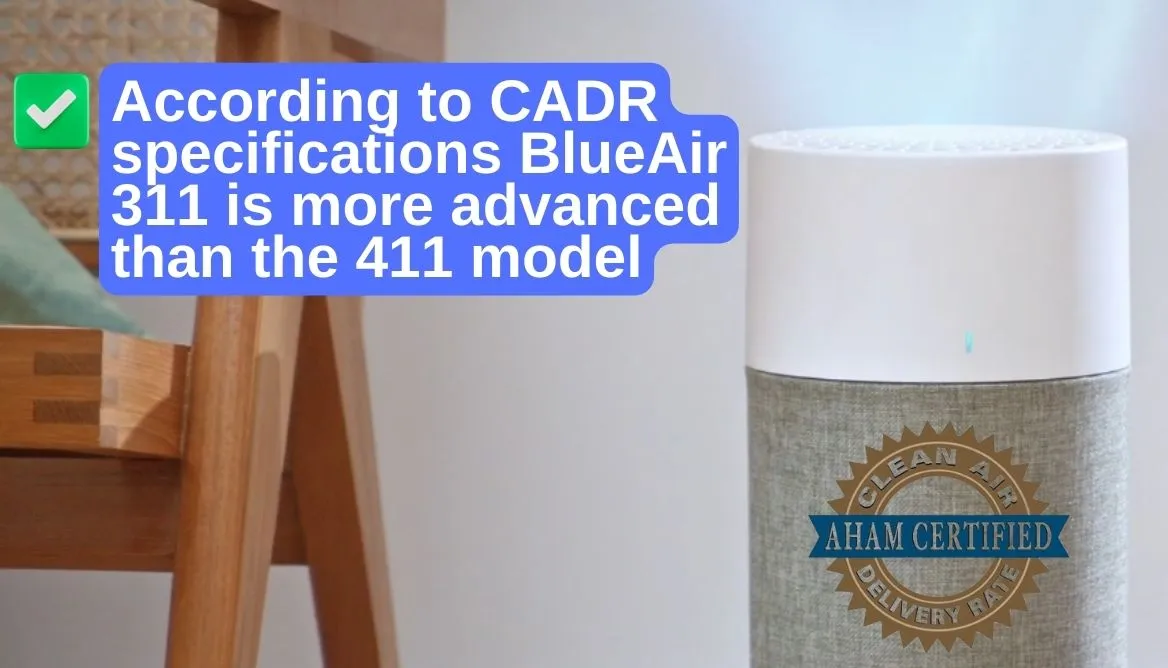 The 311 has a CADR rating of 250 Cubic Feet Per Minute for Smoke and Dust. While for Pollen it is 244 Cubic Feet Per Minute.
The 311 unit also consists of a larger main air filter than the 411.
The BluePure 411 has 123 Cubic Feet Per Minute for cleaning smoke particles. It is almost half of the 311 Air Purifier. While for Dust it is 107 Cubic Feet Per Minute and for Pollen, it is 96 Cubic Feet Per Minute, a visible difference.
Winner: The 311 cleans more air, much faster.
3. Energy Usage (Watts)
The BluePure 311 eats up more power than the 411. It's understandable as 311 is made for large spaces and mid-size spaces. View the specs below:
The 311 Auto uses up to 35 Watts, 120V.
Whilst the 411 variant utilizes up to 10 Watts, 120V.
Winner: The 411 model will save you more money. You can still go for 311 as it won't be consuming a lot either.
4. Buzzing Sound
If the low noise level is a preference for you, please purchase the 411 variant because it makes less buzz. View the numbers below:
BlueAir 311 makes 23 lowest to 53 highest decibels.
BlueAir 411 produces 18 lowest to 48 highest decibels.
Winner: Choose 411 for less annoyance.
5. Indicators and Additional Features
The 411 auto and 311 auto each have Air's Quality and Filter Change indicators. These does not have: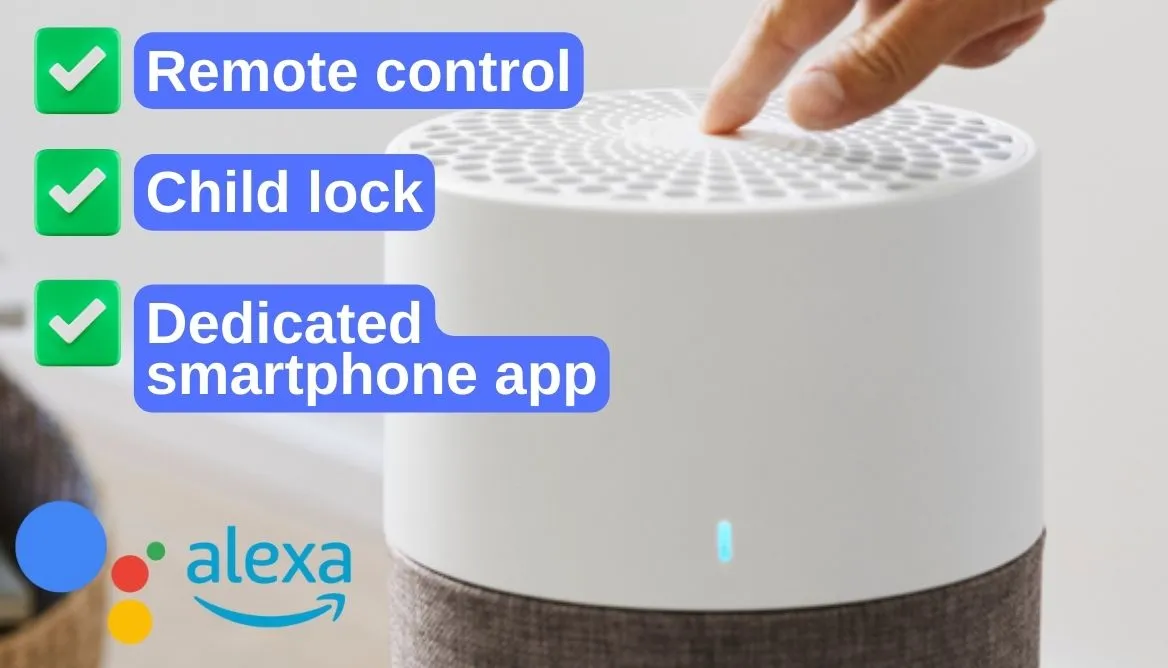 Remote control
Child lock
Dedicated Android or iPhone app
Compatibility with Google Assistant and Alexa
Winner: Both models are the same when it comes to the smart features.
For more insights about Blue Pure 311, watch this detailed review.
6. Dimensions, Built, and Weight
The Blue Pure 311 is bulkier and bigger than the 411. Both models haven't wheels for transportation. Here are their weight and dimensions:
The Blue Pure 311 has a size of 10.2 x 10.2 x 20.4 inches and weighs 6.8 pounds.
The Blue Pure 411 has a size of 7.9 x 7.9 x 16.7 inches and weighs 3.8 pounds.
Both devices have available color schemes: blue, pink, grey, silver, and green.
Winner: If you have a tight space then go for the 411 variant.
For more insights about Blue Pure 411, watch this detailed review.
7. Guarantee and Safety
Both Blue Pure 311 and 411 have a 1-year warranty and the following certificates:
AHAM Verified
CARB
Energy Star
Verified Zero Ozone
Additionally, the 411 also has a Quiet Mark certificate.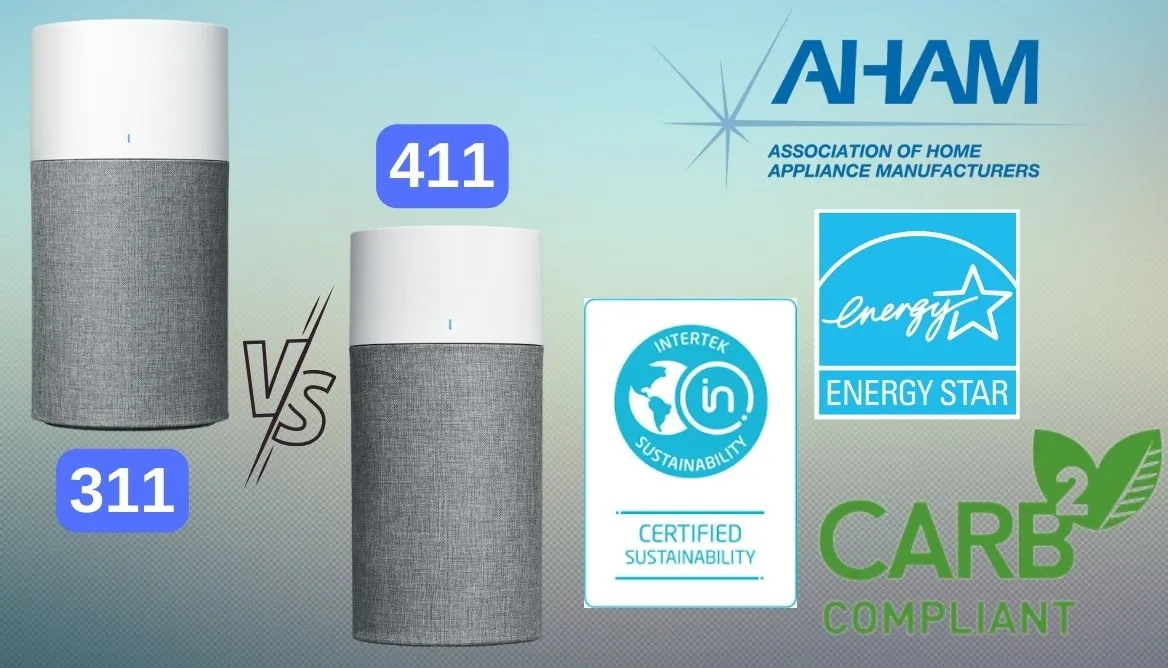 Winner: Both purifiers have a 1-year warranty and certifications.
8. Cost
The price of variant BluePure 311 is higher than that of 411. It is also justified as the former has more cleaning rate. Here are the prices on Amazon.
BluePure 311 is for $339.50
BluePure 411 is $139.99
Winner: When it comes to the purse, 411 wins. Although, 311 costs more, it provides better value.
Are There Any Similarities Among Them?
The two Air Purifiers are quite very similar when it comes to features. Here are the notable ones:
Each air purifier consists of an auto mode. It means that according to the air dirt condition, the fan's speed is auto-adjusted.
In cases where the air is bad, the air purifier reaches its highest setting.
In the case where the air is good, the air purifier reaches its lowest speed.
These two air purifiers have a 360-degree design.
Both of them have 3 layer air filter system.
The BlueAir Blue Pure 311 and 411 air purifiers have auto and manual modes.
The particle Sensor is 2.5 PM in both of these.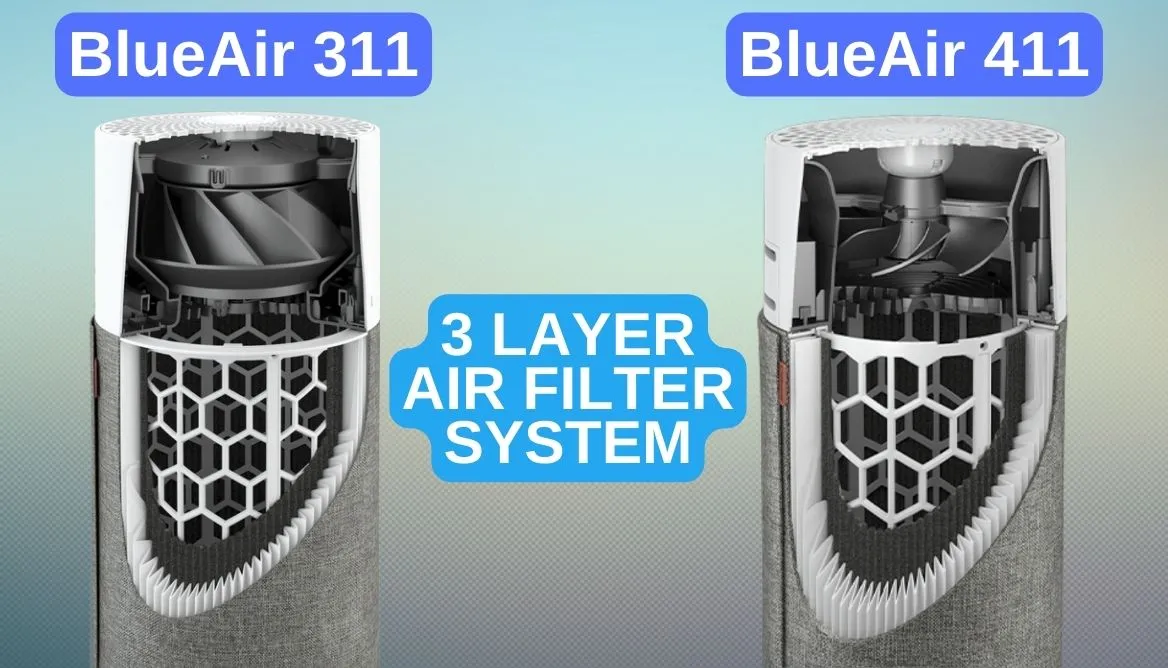 My Verdict
In my opinion, the BluePure 311 by BlueAir should be bought instead of the 411.
BluePure 311
My take is due to the following reasons:
The 311 unit can cover a larger space (up to 338 square feet) than 411 (190 square feet)
The Cleaning Rate of Blue Pure 311 is more than Blue Pure 411. This means that I can get rid of pet smells and pollutants faster with 311.
Although BlueAir Blue Pure 411 it is also a good choice.
BlueAir Blue Pure 411
Please opt for BlueAir Blue Pure 411 if you have the:
A smaller room,
A tighter budget,
Need an appliance that produces less buzzing sound for peaceful sleep and lounging.
Read Also: Blueair 121 vs 211: Which One is the Best for Your Needs
Read Also: Best Air Purifier for Home: Top 7 Units of 2023
FAQ
What is the difference between Blueair 311 and 411?
The difference between BlueAir 311 and 411 is that the former is bigger in size and weight. The 311 also costs more but it can clean a larger room than 411 and at a faster rate.
Does the Blueair 311 have a HEPA filter?
The BlueAir 311 has a HEPASilent main filter in it. It also has a prefilter as the first layer to catch the large particles.
Does Blueair 311 produce ozone?
The BlueAir 311 does not produce Ozone. It is CARB certified/tested hence you do not have to worry about harmful gases in the house.
What is the difference between Blueair 411 and 411+?
The difference between BlueAir 411 and 411+ is that the latter has a white metal case that helps the filter to say in place. So you can use the appliance without the prefilter. Blue Pure 411 auto has a sensor that can detect the amount of air dirt and adjust cleaning accordingly.
Conclusion
To summarize, BlueAir 311 Auto is built for medium-sized rooms. It cleans faster but can be costly if you are looking for affordable options only. The BlueAir Blue Pure 411 is less expensive however use it only in small rooms for effective cleaning.
Meaning both Air Purifier offerings by Blue Air are great. Make your selection according to your preference and requirement.