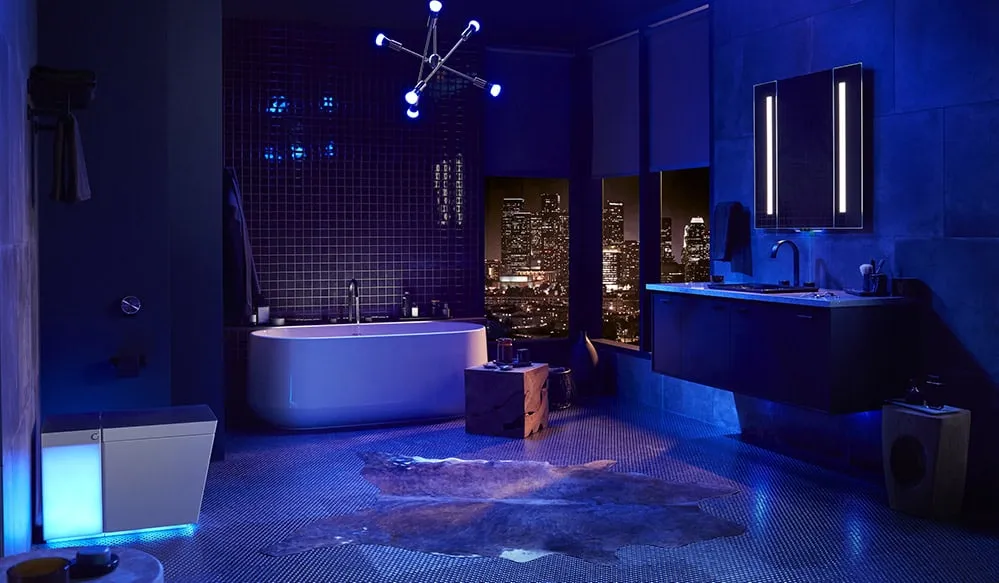 The bathroom is often one of the last places people thing to have smart devices. A smart bathroom can really add value to your house though. My goal here is to provide you with some great ideas that will turn your bathroom into a one of the best rooms in your house, as well as one of the smartest.
Smart Showers
A smart shower can do things that you never even imagined or thought possible until recent years. Smart showers offer some very real benefits over a standard shower and add a lot of convenience.
You are probably wondering what are those benefits. Well, let me tell you. Users can set their preferred water temperature, which shower nozzles they want on (Yes, you can have more than 1 shower head), shower duration, and more through the smart shower's control unit, smartphone app, or through voice command, although not all options can be controlled by voice at this time.
The smart temperature control also adds a measure of safety. Since the shower controller sets the water temperature to the exact temperature, it can help prevent scalding hot water. In fact, you can set it to not go above a certain temperature and the controllers have a built in temperature limit as well. This feature helps protect those who may not know better, such as your little ones.
I did the research and found that their are only two smart shower controllers on the market and ready for consumers; the U by Moen and the Kohler Konnect system. Both are well respected names in the plumbing industry.
Read also: Garmin Vivoactive 5
U by Moen
U by Moen is a WiFi/cloud-based digital shower system that offers mobile connectivity. I think U by Moen is the most consumer friendly and best adapted for smart use, meaning it can easily be controlled from your smartphone. I also think that the control unit looks better than the option from Kohler, but that is more of a personal preference. As you can see in the picture, it has an elegantly designed, easy-to-understand controller with a 5-inch LCD screen.
Moen touts the following features of U by Moen.
Voice Activated: Control the shower with just your voice using Alexa Google Assistant, of Apple Homekit. You can even tell it what temperature to set the shower to.
App Control: Download the U by Moen smartphone app to personalize and control your shower from your smartphone. Through the app you can
Create up to 12 personalized shower presets, including name, greeting, outlets, temperature, shower timer and notifications.
Turn on your shower from bed and have the shower pause once it warms up to your desired temperature, saving time and water until you are ready to step in
Customize system wide settings such as outlet icons, which WiFi network the system is connected to, language and time zone
Customize & Save: Set the shower just the way you like it, from temperature all the way to the length of the shower. Your ideal shower. Save your settings and get the perfect shower every time.
Another noteworthy feature is that you can pause water flow. Start your shower from the app and pause it to avoid wasting water (and time). If you're not inside the shower yet, it can automatically stop the flow of water once it reaches your desired water temperature. It will let you know that your shower is ready via app notification or an on-screen message.
If you want to find out more about U by Moen, check out their website here. They even have a demo controller, and smartphone app demo to get an idea if you like it or not.
Kohler DTV+ with KOHLER Konnect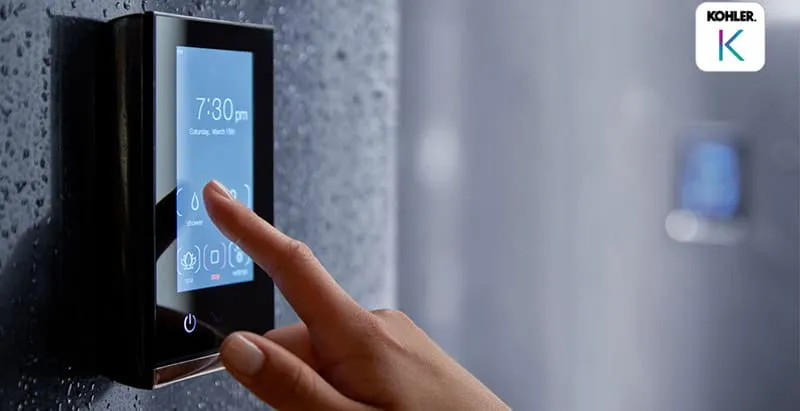 This Kohler system is the main competitor to U by Moen, although their marketing seems more targeted at plumbers than at the actual end consumer.
Just like U by Moen, the Kohler system can precisely set the right temperature, control each shower component, or create presets for personal preferences.
What sets Kohler apart is its ability to control up to 4 elements: water, music, steam, and lighting. The downside to Kohler is that it only allows 2 "zones" for the parts that use water, like the shower heads and body sprays. U by Moen allows up to 4 zones.
Kohler suppors Google Assistant and Amazon Alexa, but does not support Apple Homekit. The steam (DTV+ Tandem Steam Adapter Kit), music (SoundTile® Speakers), lighting, and shower components are all sold separately. IF you check out Kohler's website for Smart Showering, as can be seen here, and click on learn more, it takes you to a product page that sells individual components. That is why I say it's more targeted towards the people installing the equipment instead of the ones actually using it.
I will say a major benefit of the Kohler Konnect system is that they intend to ingrate the whole bathroom, from the shower to the toilet, to the mirrors, and beyond (such as the kitchen). That was you can control everything all from one app.
Smart Mirrors
Smart mirrors are an ever increasingly popular product that allow you to charge your phone, play music, get skin assessments, and more. Many of the mirrors have diplsays built in to them so you can view the weather, emails, and news all while getting ready. Just look, touch or use your voice.
Lighting
Most smart mirrors come with adjustable lighting – a great feature to use the mirror for grooming and doing your makeup. When shopping for smart mirrors, pay attention to the mirror's standard lighting—some may be more warm, which is great for daily use, while some might have more white light that's specifically designed for makeup application.
Fog Resistance
De-fogging your mirror after a shower can slow down the time it takes to get ready for the day. Without fog-resistant functions, you'll need to wait for the bathroom to air out or wipe the mirror down and leave streak marks. Fortunately, this is a feature that many smart mirrors have. The fog-resistant technology keeps the mirror clear and dry so you can get ready quickly after your shower.
Touchscreen Displays
The most high-tech smart mirrors have displays built-in. What happened while you was asleep? YOu can view the news. Do I need an umbrella? You can view the weather. What meetings do I have today? You can view your schedule for the day. You have a lot to keep track of. Let your mirror help. Smart Display Mirrors help you be more prepared and in control of your day.
One of my favorites is the Séura Smart Display Mirrors.
Smart Toilets
Yes, you read that right, a smart toilet. Toilets have come a long way in the past few years as smart technology makes its way further into our homes. My favorite smart toilet is part of the Kohler Konnect system, which I mentioned earlier in the smart showers section.
Kohler's most advanced smart toilet is the Numi 2.0, although their website promises that more smart toilets are on the way. The toilet features mood lighting and built in speakers. These can be controlled through the remote, app, or through voice commands.
You can now control your toilet with only your voice. The Kohler Numi has Amazon Alexa built-in to it. In addition to playing music from the speaker in your toilet, to adding things to your shopping list, you can also command that your toilet be flushed, or you can have the seat start warming up.
That's right, the Numi has heated seats, and the temperature can be controlled through the remote control. In addition, their is a foot warmer that blows warm air on your feet. There is also a motion-activated, hands-free opening/closing of seat and cover, that can be adjusted for distance sensitivity.
Take a look at the touchscreen remote control here to get an idea of all the features you can control.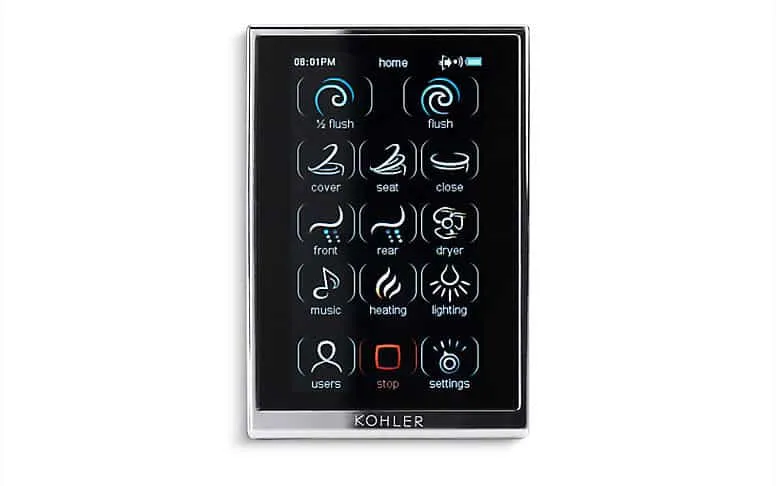 Also, here is a list of feature of the Numi, from the Kohler website.
Compact, streamlined one-piece intelligent toilet with integrated personal cleansing.
Elongated bowl offers added room and comfort.
Comfort Height® feature offers chair-height seating that makes sitting down and standing up easier for most adults.
Motion-activated, hands-free opening/closing of seat and cover.
Dual flush offers a choice of 0.6 or 1.28 gpf (2.2 or 4.8 lpf).
Advanced bidet functionality with self-cleaning wand, precision air dryer, and deodorizing filter all in one.
Heated seat and foot warmer.
Ambient lighting with eight colors and three programming options.
Power-save mode monitors usage and adjusts heated seat settings to save energy.
Emergency flush supports up to 100 flushes during power outage.
2-7/8″ (73 mm) trapway.
Advanced bidet functionality with self-cleaning wand, precision air dryer, and deodorizing filter all in one.
Syncs with devices enabled with BLUETOOTH® wireless technology including smartphones, MP3 players, tablets, and laptops located up to 33 feet away.*
Touch-screen remote control with magnetic wall-mount docking/charging station.
Dual-flush technology allows you to choose between a full- or partial-flush.
The BLUETOOTH® word mark and logos are registered trademarks owned by Bluetooth SIG, Inc. and any use of such marks by Kohler Co. is under license. Other trademarks and trade names are those of their respective owners.
The Kohler Numi is the throne made for royalty. Its touch-free and self-sanitizing, allowing you to stay as clean as possible, with it's built-in bidet, drying fan and self-opening and closing seat and lid. The Numi toilet combines unmatched design and technology to bring you the finest in personal comfort and cleansing.
Smart Scales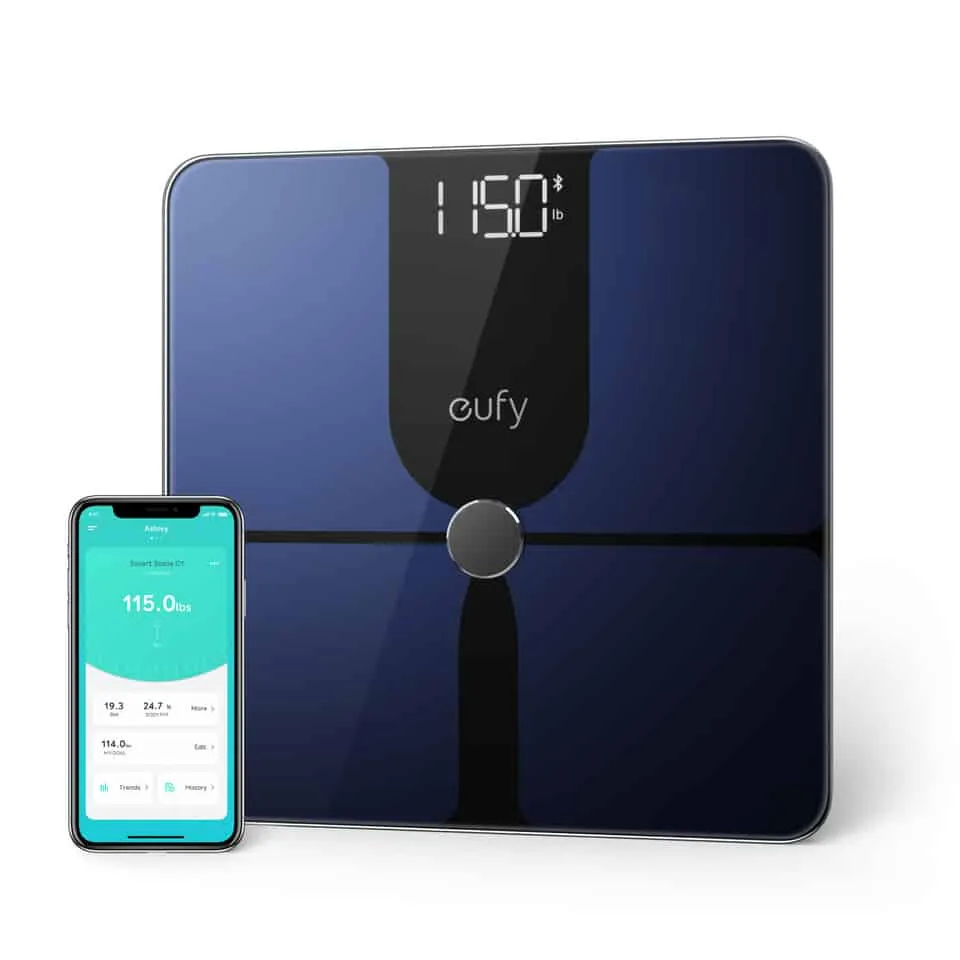 Read also: Garmin Fenix 8
Smart scales offer far more than just a measurement of your weight. You can monitor the progress of your training with precision and get feedback on your BMI. These smart scales can provide you with a more complete picture of your body, help you with weight loss, track your body weight over time, and measure how much fat and muscle you have.
Hooking up to your smart scales in-app allows you to make better use of this data and to see visual charts to help you hit it harder or treat yourself when you hit your goals. The added kicker is that most smart scales look great too. They make a superb addition to any design-driven smart bathroom and a refreshing change from those massive hunks of metal you end up tucking away in the closet rather than leaving on display.
In case you don't know what a smart scale is, a smart scale is a scale that uses a wireless connection to sync all of the metrics it records about you to a health app on your phone such as the Fitbit app, Google Fit or other fitness apps or websites. As I mentioned, many of these bathroom scales have sensors to measure body fat percentage (including BMI and visceral fat), muscle mass, bone mass, heart rate and more fitness measurements and data, in addition to weighing you.
There are many great smart scales to choose from, such as the Eufy Smart Scale, Withings Body Cardio, Garmin Index, and Fitbit Aria 2. If you use some sort of fitness tracker, such as a Fitbit, I would recommend making sure that the fitness tracker and the scale are compatible with each other, making it easier to track your fitness information.
All of these smart scales go way beyond the information you can gather from a typical digital scale, or analog if you still have one of those. All of the scales I listed can measure your body composition, weight, and BMI. This is done by using an electrical current that travels from the scale's sensor through one leg and down the other leg. It measures how much resistance that current encounters and then uses a mathematical formula to estimate how much fat, muscle and bone makes up your entire weight. This is called "Bioelectrical impedance analysis"
While this feature is useful, it isn't always reliable for sensing lean mass versus fat. Consumer Reports tested the accuracy of many scales that measure BMI and body fat percentage and found that most didn't hit the mark compared to a Bod Pod, a computerized, egg-shaped device that measures your weight and volume to determine your body density and calculate your percentage of body fat.
Data inaccuracies when it comes to fat percentage can be affected by many factors, including if you are sick, retaining water weight, recent exercise, and more. One of the most influential factors is where you carry your weight — if your chest and arms are slim, but you have more fat and muscle in your pelvis and legs, it might incorrectly calculate your overall body fat percentage.
All that to say, take anything beyond the weight measurement with a grain of salt.
Smart Toothbrushes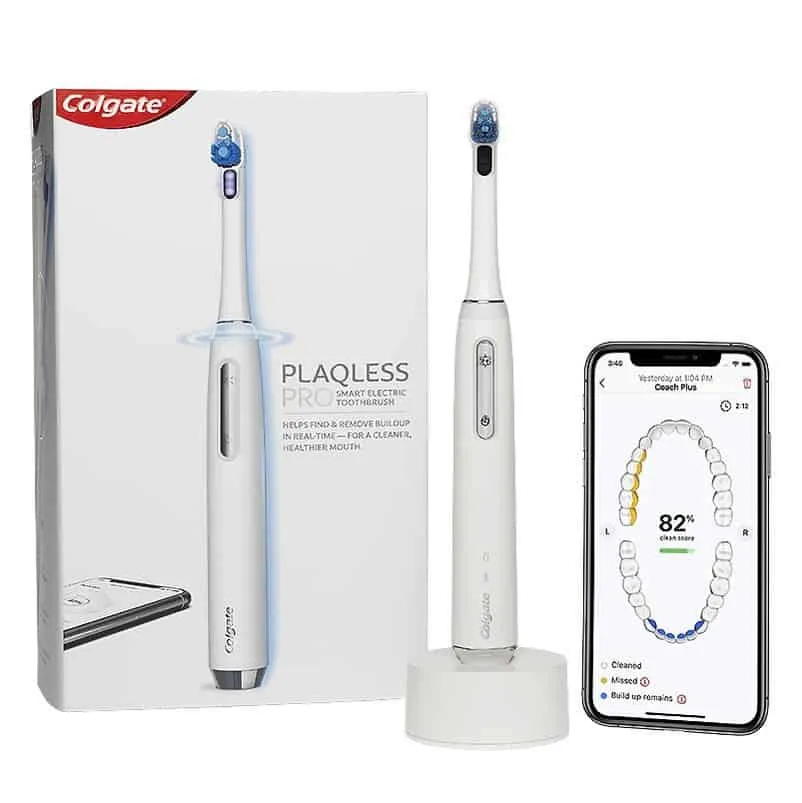 This is a tiny smart gadget, but it may be one of my favorites! But why do we need a smart toothbrush? First of all, electric toothbrushes have already been proven to remove more plaque than a standard manual toothbrush according to dental studies. Also, toothbrushes with timers have also increased how long people brush their teeth.
Okay, there is the case for electric toothbrushes, but what about smart toothbrushes? Think about how you brush your teeth. Hopefully for most people it starts with every day, at least twice a day. How much time do you spend on each section of your teeth: your molars? the inside facing part of your teeth? your canines and bicuspids, and all the teeth in between? Are you brushing all of them long enough?
Or do you tend to spend a bit of time brushing the cheek-side of your molars, some on your front teeth, and kind of gloss over all those teeth in between? Do you really brush the lingual sides of your teeth well enough? Do you apply enough pressure? Too much?
Do you even know how you brush your teeth?
Smart toothbrushes are like having a personal tooth brushing trainer that will keep your teeth health, plaque under control and maximize your oral health.
Smart toothbrushes have sensors in the head of the toothbrush that send information on your brushing habits to an interactive app on your smartphone. The toothbrush records all sorts of data including brushing times, how long you brush different areas of the mouth, how much pressure you apply, what angle you hold the brush at, etc. The app lets you know all of these data points and sometimes is able to provide suggestions for improvement.
The biggest downside is that smart toothbrushes are pretty expensive, considering that you can get a manual toothbrush for a a few bucks. However, you are likely to get good use out of this investment, both in terms of the product and in terms of health.
Summary
These smart devices are will make any bathroom a great smart bathroom, but they are just the tip of the ice berg. Let us know what you are doing to make your bathroom smart.