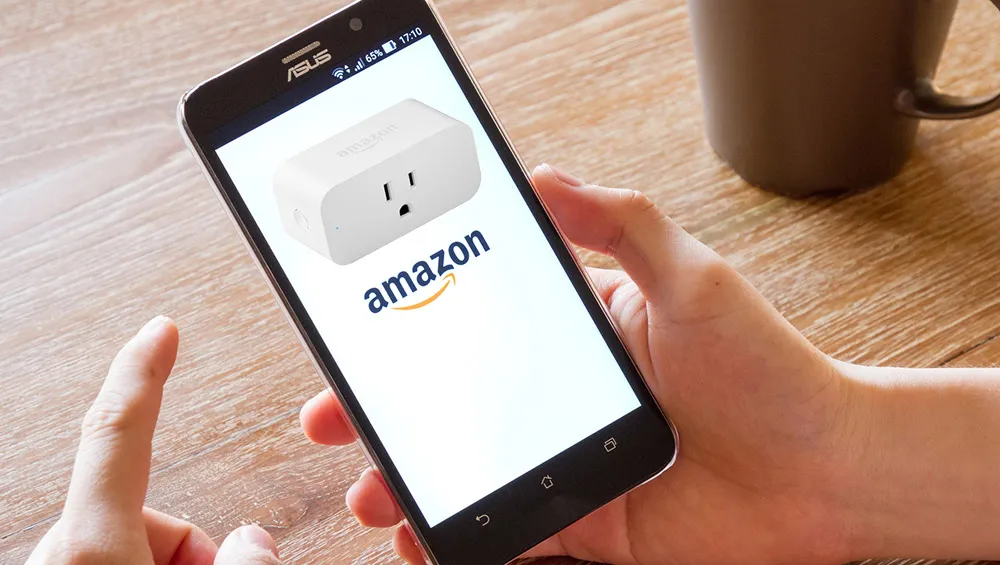 Many of the appliances and fixtures available today have built-in "smarts." Our HVAC units are controlled by smart thermostats (see my recommendation here), and are lights have been replaced with smart bulbs. However, what about our older devices in our home that we may not want to replace, but would still like to have the functionality of a smart device? That's where smart plugs come into play. Just get a smart plug, and you can turn that lamp into your homes automation and control it remotely, all with very little effort.
Just about anything that plugs into a traditional wall socket, as long as it doesn't draw too much current, can be upgraded to a smart home device. This gives you the power of remote control, scheduling, setting timers, and monitoring the power usage of the device. Most smart plugs can even be controlled with a voice assistant, such as Google Home or Amazon Alexa, allowing you to turn on the device with just your voice.
Here are the six best smart plugs you can find on Amazon. I tried to rank them in order, but to be honest, it's a matter of personal preference. Find the one that best fits your needs.
6. Eufy Smart Plug Mini
You may have never heard of Eufy, but they are owned by the better known company Anker. Anker is still gaining in popularity, but they are known as a consumer electronics company that produces items such as headphones, charging cables, and the like. Anker is a Chinese owned company.
Now, about the actual smart plug. The Eufy Smart Plug Mini has a compact, space-saving design that allows adjacent outlets to be used. Eufy's plug comes with scheduling and power-monitoring options, but does not allow real time power monitoring. Eufy works with Google Home Assistant and Amazon Alexa, but not with Apple's Homekit.
Setting up the Eufy Smart Plug Mini is easy. First, plug it into a wall outlet, then download the EufyHome app, register if you don't have an account, and link the plug to your Wi-Fi by following the steps provided by the app. Here is a quick video review which demonstrates the setup process using the app.
The app allows for setting scheduling intervals, as well as timers. The timer ranges from 1 minute up to 23 hours and 59 minutes. Might as well call it a full day. The last on/off feature is called Away Mode, where you can set a window of time in which the plug will randomly turn on and off in order to simulate someone being home. This is great for when you go on vacations.
The Eufy Smart Plug Mini's power monitoring allows the user to view daily averages as well as total consumption intervals for 7-day, 30-day, 90-day and 365-day periods in energy consumption (kWh) and total runtime (hours). One of the least useful features is an energy bill tab. It will show you the estimated cost of the device plugged in based on 11 cents per kwh. This is a fixed number, and not adjustable by region. I expect this will be changed in future updates, as this should be a simple back-en update to the app.
Pros
Quick Setup Time
Supports Google Home and Amazon Alexa
Fast Response Time
Energy Monitoring
Cons
1 Outlet only
No IFTTT Integration
5. Wyze Smart Plug
Wyze jumped into popularity when it introduced it well-built, fully featured smart camera at a affordable price. They now offer a smart home starter kit which includes their camera, a smart bulb, motion sensor, a door sensor, and two of their smart plugs.
Similar to the Eufy Smart Plug Mini, the Wyze Smart Plug has a compact, space-saving design that also allows adjacent outlets to be used. In fact, the Eufy and Wyze Smart Plugs look very similar, except the Wyze has more squared edges. The Wyze plug comes with scheduling and timing options, but does not have power monitoring. Wyze works with Google Home Assistant and Amazon Alexa, but not with Apple Homekit.
Setting up the Wyze Smart Plug is as simple as following the step-by-step instructions in the Wyze app. The process does require the phone to connect directly to the Wi-Fi on the smart plug in order to configure the plug. Here is a video unboxing that walks completely through the setup process, as well as demonstrating some of the features included in the app.
The app allows for setting scheduling intervals, as well as timers. The last on/off feature is called Vacation Mode, where the plug will randomly turn on and off in order to simulate someone being home. IT current'y does not allow the user to set a time window for when vacation mode turns on and off the lights. Getting to the schedule is slightly elusive, as the video demonstrates that you have to click the right place to get to it.
The Wyze Smart Plug is available as a two-pack directly from Wyze for just $15 (as of date of publication). They are marked up a few dollars on Amazon (click here to see current price). That's by far the cheapest price for a well built smart plug. Wyze provies lots of value with the Wyze Smart Plug two-pack. It's cheaper than any other respected brand, even if you just need one smart plug.
Pros
User Friendly App
Supports Google Home and Amazon Alexa
Fast Response Time
Supports IFTTT Integration
Cons
1 Outlet only
No Energy Monitoring
4. Samsung SmartThings Wifi Smart Plug
If you're looking for an inexpensive way to turn regular devices into smart home devices, the Samsung SmartThings Wifi Smart Plug is the second cheapest option compared to the Wyze Smart Plugs. The Samsung Smart Plug is one of the more affordable smart plugs on the market and is produced by one of the most well-known brands in consumer electronics. It offers a few features that are usually only found on more expensive smart plugs, mainly power monitoring and power usage reports.
The Samsung Smart Plug also supports IFTTT applets, and it will integrate with other smart devices if you pair it with a SmartThings hub. Also, just to clarify, it does not require the SmartThings Hub in order to work.
Design-wise, similar to the Eufy and Wyze plugs, the Same Smart Plugs is a compact, rectangular, single-outlet that does not block the adjacent socket. Setup starts by scanning a QR code, which is printed on the side of the plug that faces the wall. It can also be found in the paperwork. Then the typical steps follow: connecting to the plug's temporary network, and stepping through the usual steps of tethering the plug to your home network. Setup is a little more difficult because you have to enter a password to connect to the device during configuration. The setup process can be seen by watching this two minute video
The SmartThings app opens to a My Home screen that displays all of the rooms in your home that you have programmed into the app, and shows the smart devices associated with each room. There is a plus icon in the top right corner to add new devices. The app allows the you create Scenes, which allow you control the SmartThings WiFi plug and other connected devices with a single tap. Other companies refer to these as groups. There are also automations, which allow you to have the plug react to certain triggers. For example, time of day or your location if you use geo-fencing. You can also create automations to have the plug react to triggers from other SmartThings devices if you are using a SmartThings hub. Of course, you don't have to have the SmartThings hub if you are using IFTTT.
If you are looking for a smart plug with energy monitoring and something at a low priced, the Samsung SmartThings Wifi Smart Plug is the way to go. It offers many of the features that you find on more expensive plugs, including Alexa and Google Assistant voice control, support for IFTTT, and power usage reporting. It has an affordable price, good performance, and generous list of features.
Pros
SmartThings Compatible
Supports Google Home and Amazon Alexa
Fast Response Time
Supports IFTTT
Energy Monitoring
Cons
3. TP-Link Kasa Smart Wi-Fi Plug
TP-Link is becoming a household name in the firled of smart devices thanks to the quality devices they produce in the Kasa line-up; the smart Wi-Fi Plug being one of those devices. AS far as design goes, the Kasa Smart Plug is similar to the Eufy, Wyze, and Samsung Smart Plugs. Starting to feel a trend yet? The Kasa Smart Plug has a compact, space-saving design that does not block adjacent outlets.
The TP-Link Kasa Smart Plug offers the most variety in terms of integration with assistants and device controllers, although Apple Homekit is not included in that line up. For voice control, the plug works with Amazon Alexa, Google Assistant, and, surprisingly, it also works with Microsoft's Cortana voice assistant. It also offers integration with other smart home devices through If This Then That (IFTTT) and Nest compatibility. Given those options, this is one of the most versatile smart plugs.
Setting up the Kasa Smart Plug takes a matter of minutes. You will first need to download the Kasa app. On the main screen, you will see a list of your connected devices. There's a plus button in the top right corner used to add new devices and also view instructions for setting up third-party integrations. Here's a video that demonstrates setting up the TP-Link Kasa Smart Plug.
Directly below the hamburger menu row is a row of tabs for Cameras, Scenes, Smart Actions, and Activity. The Camera and Smart Actions tabs aren't relevant unless you have a Kasa camera or smart home router. The Scenes tab is where you can create custom schedules for multiple smart devices. Samsung uses the same terminology, where-as other companies may call this a group. For example, you can create a scene for specific activities such as coming home, which you can set to automatically turn on all connected lights. The Activity tab keeps a record of actions you've performed. It is basically a log.
Clicking on a specific device brings you to a screen that has options to pull up presets, set schedules, and add timers up to 24 hours. The last device specific option is to activate away mode. Away mode is a option that lets you simulate occupancy in your house while you are away on vacation or at work by turning connecting devices on and off. It allows you to set an on time, an off time, and the days that it should be active.
Now if you go out to buy a TP-Link Kasa Smart Plug, you may notice that there are two mini models and it's hard to discern the difference. You may find yourself asking: What's the difference between the TP-Link HS103 vs HS105? There are two differences between the TP-Link HS103 and HS105 Smart Plugs. The HS103 has a lower max amperage of 10 amps compared to the HS105, which is 15 amps. The second difference is in appearance. The HS103 uses a grey power button, and the HS105 uses a white power button.
Pros
Simple Setup
Supports Amazon Alexa, Google Assistant or Microsoft Cortana
Robust App
Compact Design
Supports IFTTT Integration
Cons
1 Outlet Only
No Energy Monitoring
2. Belkin Wemo Insight Switch
The Belkin Wemo Insight is the first smart plug on this list where the design varies from a rectangular shape, and looks more like a square. While is may look more modern, it is rather bulky in the sense that it does not allow adjacent outlets to be used. The power-on indicator is larger making it easier to see. The indicator light also shines green when powered on.
The Belkin Wemo Insight is the first on the list that supports all three major voice assistants: Google Home, Amazon Alexa, and Apple Homekit. In the Wemo App, you can program the Wemo Insight to turn on and off at sunrise, sunset, or at specific times of the day, on either a daily basis or on individual days of the week under the Rules tab.
Power usage tracking is one of the stand out features of this smart plug. Belkin was very thorough in it's design. Through the app,you are presented with real-time and average data for power draw, usage time, and operating cost for whatever device you've plugged into the Switch, all at just a glance. Dig a little deeper into the app settings, and you will find that you can adjust the energy billing rate and the power draw threshold it uses to determine whether a device is on or in standby mode. Those who really want to track power usage over time can output the data from the app to a CSV file, allowing data nerds to crunch the data however they wish.
If you are not interested in power monitoring, but care more about size an alternative is the Belkin Wemo Mini. It doesn't have power monitoring, so you would be trading power monitoring for size, allowing other outlets to not be obstructed..
Setup of this smart plug is a little cumbersome. To connect to the plug from the smartphone app, Belkin requires you to connect to a special WeMo Wi-Fi signal coming from the plug itself. Ideally, you connect your smartphone to that WeMo network, then use the app to sync your phone with the plug, and then you're free to hop back to your regular Wi-Fi network. Users have reported that this doesn't always go smoothly. Here is a video of the setup process.
Pros
Fairly Quick Setup
Supports All Major Voice Assistants (Google, Amazon, Apple)
Fast Response Time
Supports IFTTT & Nest Integration
Energy Monitoring
Cons
1 Outlet only
Bulky Design
1. Currant WiFi Outlet
The Currant WiFi Outlet is the most stylish, modern looking smart. It comes with two individually controlled outlets that let you know how much power you are using through each one. The Currant Outlet it uses artificial intelligence to monitor your power usage and then suggest ways to help conserve energy. It is designed so that orientation can be changed. It lets you switch a plate on the back so it can be plugged into your wall facing either right or left. The plug is also that's positioned so that the Currant doesn't block out the second outlet on a standard two-outlet receptacle.
There are two backlit arrows on the face that are buttons for turning each outlet on and off. Those arrows also indicate which way the outlets are facing, left or right. The Currant is compatible with Amazon Alexa and Google Home, but not with Apple HomeKit. The biggest downfall is that the Currant does not support If This Then That (IFTTT).
The Currant has two communication options: Bluetooth and Wi-Fi radios. I've read a lot of review that glaze over the Bluetooth feature, but it is an important feature. You can have one WiFi Currant Outlet and Multiple Bluetooth Currant outlets can be added to your house, which will create a mesh network. This makes it so that your Wi-Fi network is not jammed up by smart plugs. Also, Bluetooth only gives users the option to not have outlets connected to the outside internet, which some users may prefer.
Setup is incredibly easy. Just download the Currant app and create an account. Your plug is automatically discovered, and all you have to do is type in your WiFi password and you're good to go. Here is a review video which shows the setup process.
Pros:
Quick Setup
Intuitive App
Supports Google Home, Amazon Alexa
Fast Response Time
Energy Monitoring
2 Outlets
Bluetooth Mesh Network for Expandability
Cons:
How to Choose the Best Smart Plug
Now if you have made it this far and are still having a hard time deciding which smart plug you should go with, consider these functions:
Max Power: Do you plan to use a high power device? Perhaps something with a motor? Check the smart plug's max load to see how many amps it uses and what it can and can't be used with. Compare it to the amperage of the device you plan to use it with. Lights and smaller smart devices draw about one amp or less, TVs can draw about three amps depending on age and size, and more powerful devices, such as air conditioners, draw 15 to 20 amps.
Also check that the device is UL listed. It should be prominently displayed on the box and on the unit itself. If not, avoide it.
Lastly, don't overload a smart plug! This is a fire hazard.
Voice Assistant compatibility: Most smart plugs work across multiple platforms, but it's a good idea to check if the smart plug you are considering works with Amazon Alexa, Google Assistant, Apple Homekit, or any other assistant you use.
Power tracking: It's not a necessary feature, but some smart plugs help monitor how much power (and money) you are using.
Physical size: Can you stack your smart plug with another plug in a standard 2-plug wall outlet?
Indoor vs. outdoor: Make sure to get an outdoor certified smart plug if you want to use it outside. All of the smart plugs on my list are rated for inside use, but if you need an outdoor smart plug, I recommend the TP-Linkk Kasa Smart Outdoor Plug (Link to Amazon here).
Hub requirement: All of the smart plugs I listed do not require a hub, as they are all Wi-Fi, but some smart plugs use Zigbee or Z-wave and will require a hub to use.