If you are longing for clean, allergen-free indoor air, the best air purifier for home can get this done for you. But, how to choose the right device? For this purpose, I invite you to read this detailed review of the top purifiers and make an informed decision. Let's get started!
Quick Answer
In order to find the perfect air purifier for home, assess the following basic factors:
Air Purification System: Evaluate the filtration you need. Go for HEPA filters to capture airborne allergens, such as mold spores, pollen, dust, and pet dander. The carbon filter will remove odor-inducing particles while UV light is used to disable viruses and bacteria.
Room Size: Consider the size of the area in your home where you intend to use the air purifier. Look for a model with a recommended coverage area that matches or exceeds it.
Noise Level: Check the decibels on night mode and the highest setting of the air purifier. It is important so you can place them in your bedrooms, and nursery during sleep hours. A loud device will disrupt your peace.
Keeping all the above things in mind, I believe Levoit Core 300S, BLUEAIR Blue 211+, and Honeywell HPA300 are great air purifiers to keep at home. But, that's not the end of the list. Continue reading to learn about the positives and negatives of the 7 best purifiers and important considerations before buying. Let's dive in!
Best Air Purifier for Home: Comparison Chart of 7 Top Models
The table listed below has all the essential details:
1. Pre-filter,

2. H13 True HEPA filter,

3. High-Efficiency Activated Carbon Filter

1.Pre-filter,

2. Carbon Filter,

3. and True High-Efficiency Particulate Air Filter

1. Pre-Filter,

2. Deodorization filter,

3. True HEPA filter




1. Fabric pre-filter,

2. True HEPA,

3. Carbon-activated Filter

1. Pre-Filter,

2. H13 True HEPA Filter,

3. Custom High-Efficiency Activated Carbon Filter

1. Fabric Pre-filter,

2. Main filter (Particle + Carbon filter)

1. Pre-filter,

2. H13 True HEPA filter with Activated Carbon filters
1. Best Overall: Levoit Core 300S
Levoit Core 300S
Review its advantages and disadvantages to learn why it's at the top:
Pros
Powerful 360° air circulation keeps the air clean from allergens and reduces strong household odors.
The VeSync App lets you track filter life, create schedules and look at potential wildfires on an in-app map near your residence.
You can also check air quality history and current status, and control multiple Levoit devices in different rooms of your home by the App.
It costs only $150, considering the features it offers that is an amazing value for money.
You can use the "Display Lock" to disable the setting, preventing accidental changes.
Cons
For pets, customers need to buy another filter.
300s is a powerful air purifier, designed to effectively remove allergens and pollutants. It can be customized with specialized HEPA filters. The smart features, include Wi-Fi connectivity and voice control compatibility for hands-free operation if you are busy with the house chores or cradling your baby. It has been a Wirecutter Pick due to its quietness, price, and accessibility.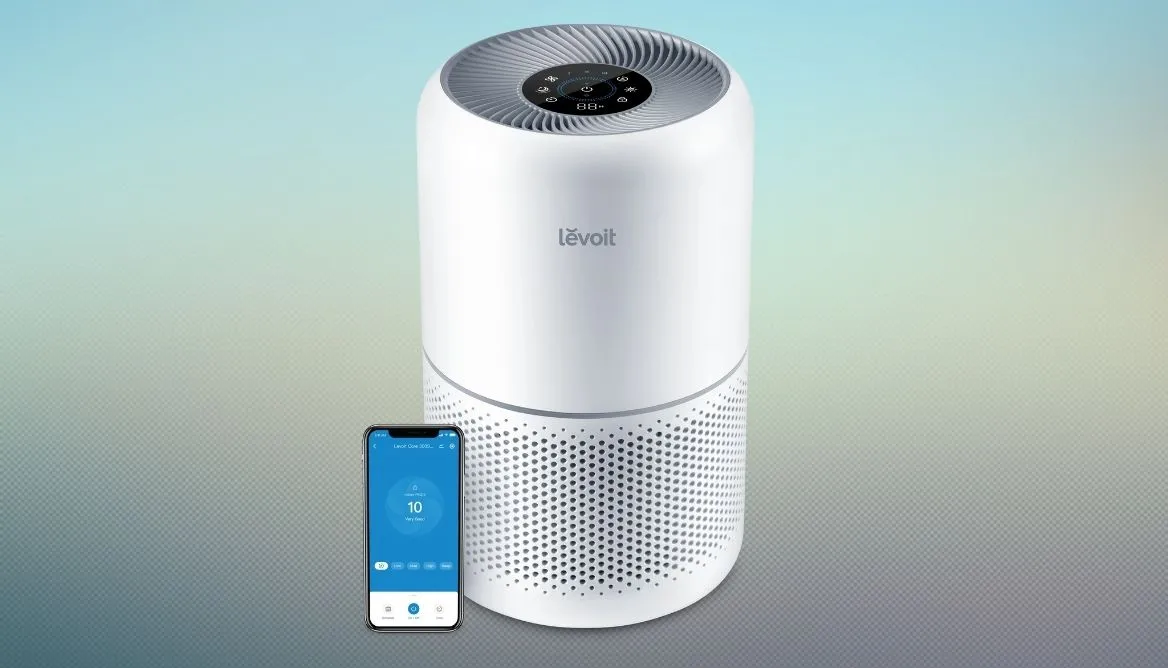 Features
Listed below are the incredible features of this unit:
Auto Mode also includes additional modes such as Quiet or Efficient Auto mode.
VortexAir™ increases the air purifier's power and efficiency, distributing more clean air throughout the home.
QuietKEAP™ Technology shock pads increase abrasion resistance, extending the life of the motor and reducing noise levels to as low as 24 dB.
AirSight™ Plus Technology scans surrounding air and provides real-time air quality updates.
Specs
| | |
| --- | --- |
| | |
| | |
| | Dust: 140 CFM/Pollen: 145 CFM/Smoke: 141 CFM |
| | Pre-filter, H13 True HEPA filter, High-Efficiency Activated Carbon Filter |
| | |
| | Energy Star Certified, FCC Certified, ETL Certified, CARB Certified |
| | |
| | 8.66"D x 8.66"W x 14.17"H |
| | |
Recommendation: The Levoit 300S is a recommended choice for those seeking cleaner indoor air. Its effective filtration system includes a true HEPA filter that eliminates allergens and pollutants. The added convenience of smart features like auto mode, sleep mode, and voice control make it a top choice. Although there are not a lot of color options so you will have to compromise on that.
2. Best Allergen Removal: Honeywell HPA300 HEPA Air Purifier
Sale
Honeywell HPA300 HEPA Air Purifier
Let's examine its upsides and downsides and see what makes it better than the competition below:
Pros
Ensures effective air purification by delivering 5 air changes per hour.
Convenient indicator light signals when air filters require cleaning due to blockage.
The True HEPA filter requires replacement only once in 12 months, minimizing maintenance expenses.
The auto mode detects indoor pollutants and automatically adjusts the fan speed accordingly.
Genuine Honeywell pre-filters, priced at $29.99, are easily accessible and have a lifespan of 3 months.
Cons
Due to its high coverage, it consumes a lot of power to operate.
The HPA300 is a mighty air purifier known for its efficient performance and massive coverage. Its True HEPA filter effectively captures and eliminates airborne particles with ease. An activated carbon pre-filter targets odors, ensuring that no pets or cooking smells linger in the house. With a high CADR rating of 300, it swiftly enhances indoor air quality.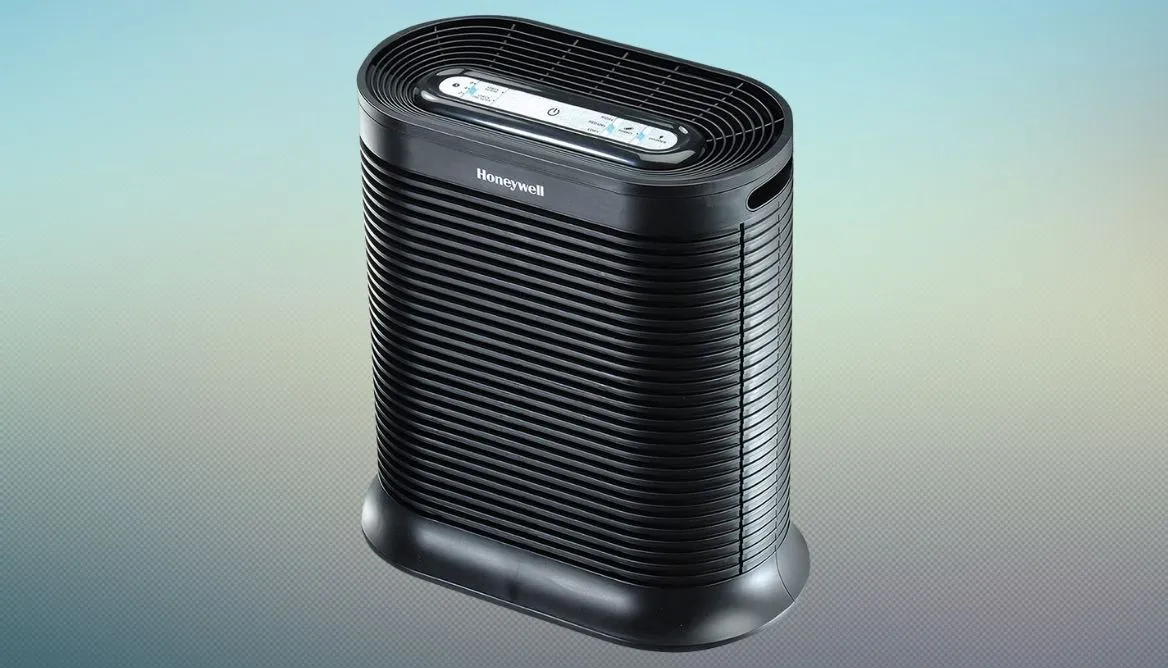 Features
Let's check out its amazing features:
Three Air Cleaning Levels and a Turbo Clean setting to adjust according to the cleaning needed.
Odor Remover cartridge to tame the unpleasant smells of pets, cigarettes, grills, etc.
An automatic shut-off timer with 2, 4, or 8-hour so you can leave it on while you do chores.
Specs
| | |
| --- | --- |
| | Honeywell HPA300 HEPA Air Purifier |
| | |
| | Dust: 300 CFM/Pollen: 300 CFM/Smoke: 300 CFM |
| | Pre-filter, Carbon Filter, and True High-Efficiency Particulate Air filter |
| | |
| | AHAM Verified, Energy Star certified, ETL Listed, CARB certified |
| | |
| | 20" L x 22.8" W x 10.8" H |
| | |
Recommendation: The HPA300 has impressive coverage and a clean air delivery rate hence it cleans multiple rooms of apartments at once. You can rely on it to remove volatile organic compounds and stubborn smells due to the Odor Remover cartridge. Although you should run it on auto mode to conserve energy and manage electric bills.
3. Best Ionic Air Purifier: Coway Airmega AP-1512HH
Coway Airmega AP-1512HH
Let's have a look at the hits and misses of this unit:
Pros
The air purifier effectively purifies the air by refreshing it five times.
The air quality sensor provides precise detection of the concentration of indoor air pollutants.
Easily wash a pre-filter at home. While carbon filters have a lifespan of six months, and HEPA filters can be used for one year.
The fan motor automatically shuts down if the front cover is abruptly opened. Making it safe for kids and house pets.
Cons
You can not control it with Smart home Devices like Alexa.
The Airmega AP-1512HH is a compact and efficient air purifier designed for home use. It removes pollutants and allergens, ensuring a clean living environment. Its auto mode adjusts cleaning speed based on air quality, while the ionizer captures additional pollutants. The AP-1512HH is energy-efficient with an Eco Mode for low-pollution hours.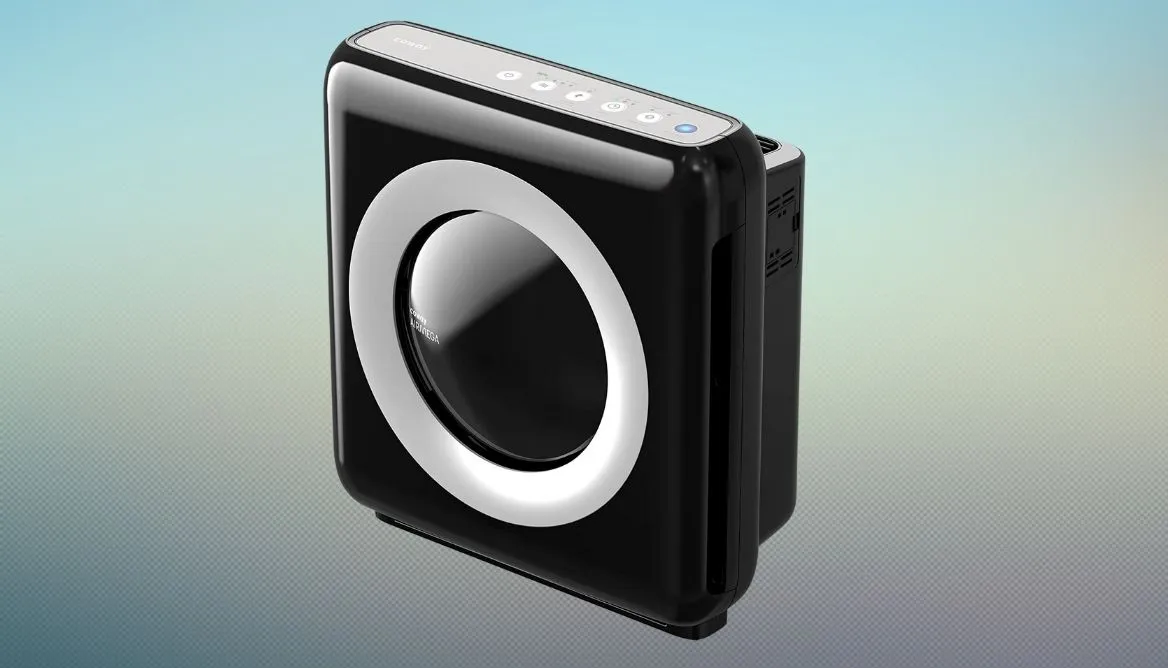 Features
Take a closer look at its standout highlights below:
Auto mode manages the cleaning speed of the air purifier based on the air quality
Ionizer captures pollutants that may not be caught by the HEPA filters, enhancing the effectiveness of the filtration system.
Eco Mode reduces purifier activity during low-pollution hours. Resulting in low electricity bills and ambient noise.
Specs
| | |
| --- | --- |
| | |
| | |
| | Dust: 240 CFM/Pollen: 240 CFM/Smoke: 240 CFM |
| | Pre-Filter, Deodorization filter, True HEPA filter |
| | |
| | Energy Star, CARB certified |
| | |
| | |
| | |
Recommendation: Coway's AP-1512HH is an excellent True HEPA air purifier with an added Ionizer mode to enhance purification. Hence it is much loved by the users. The filters are washable so maintenance is not costly. It has all the necessary features such as sleep mode, Eco mode, and Auto mode so one does not miss out much. Except for the voice and remote control.
4. Best Coverage: BLUEAIR Blue Pure 211+ (Non-Auto)
Sale
BLUEAIR Blue Pure 211+ (Non-Auto)
Let's examine the strengths and weaknesses of this purifier:
Pros
The washable pre-filter enables the convenient removal of pet hair and dust particles stuck on it.
The device can be powered by both AC and DC sources enabling portability and flexible usage.
Certified by CARB to meet ozone safety standards, meaning there are no health risks for housemates.
Cons
It does not have an auto mode so you have to monitor it from time to time.
The 211+ is a notable air purifier offered by the Blueair brand. It boasts a gigantic coverage of 540 sq. ft in only 12.5 minutes. You only need to keep an eye on one single button to operate and check the filter life status. It can tackle pollutants and allergens with ease making sure your indoor atmosphere is completely safe.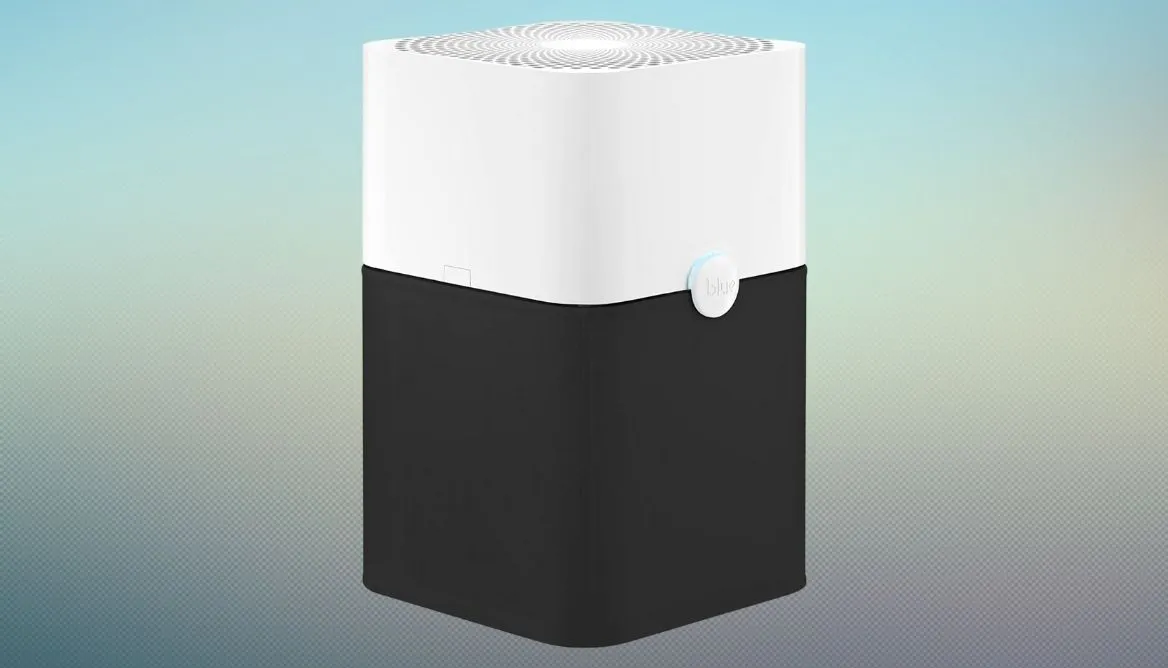 Features
Let's check out the features of this device:
SmokeBlock Filters can be added on for places that experience frequent wildfires, toxic gasses, smog, and odors
The HEPASilent technology enables quiet operation while maintaining high efficiency in air purification.
The Swedish-styled body enhances the aesthetic appeal of any room. You can choose from 5 color options.
Specs
| | |
| --- | --- |
| | BLUEAIR Blue Pure 211+ (Non-Auto) |
| | 540 sq. ft. (12.5 minutes) |
| | Dust: 350 CFM/Pollen: 350 CFM/Smoke: 350 CFM |
| | Fabric pre-filter, True HEPA, and Carbon-activated Filter |
| | |
| | Energy-Star Certified, AHAM Verified, CARB approved |
| | |
| | |
| | |
Recommendation: BLUEAIR Blue 211+ is a high-performance for improving poor air quality. The coverage is terrific considering the power consumption is reasonable on the highest setting. Meaning you can leave the air purifier running. It does not have an auto mode so you will have to manage the fan speed yourself.
5. Best Features: Levoit Core 400S
Levoit Core 400S
Explore the merits and drawbacks of this model:
Pros
Create customized schedules for the air purifier to match with family's daily routine.
Dedicated HEPA filters for Pets Allergies, Toxins Absorption, and Smoke Removal so you can choose the cleaning you need in your home.
The VeSync app enables control of the purifier through your smartphone from anywhere.
Works with Google Assistant and Alexa, allowing voice commands for operation in case your hands are occupied.
Cons
The highest setting is noisy as it is the most powerful one.
The Levoit 400S Air Purifier utilizes HEPASmart technology to capture 99.97% of airborne allergens. It tracks and reports real-time pollution through an advanced air quality sensor.
It also comes with a sleep mode that dims the control panel light and lowers noise. The purifier includes a programmable timer, and easy-to-clean filters, and is compatible with voice control services for added convenience.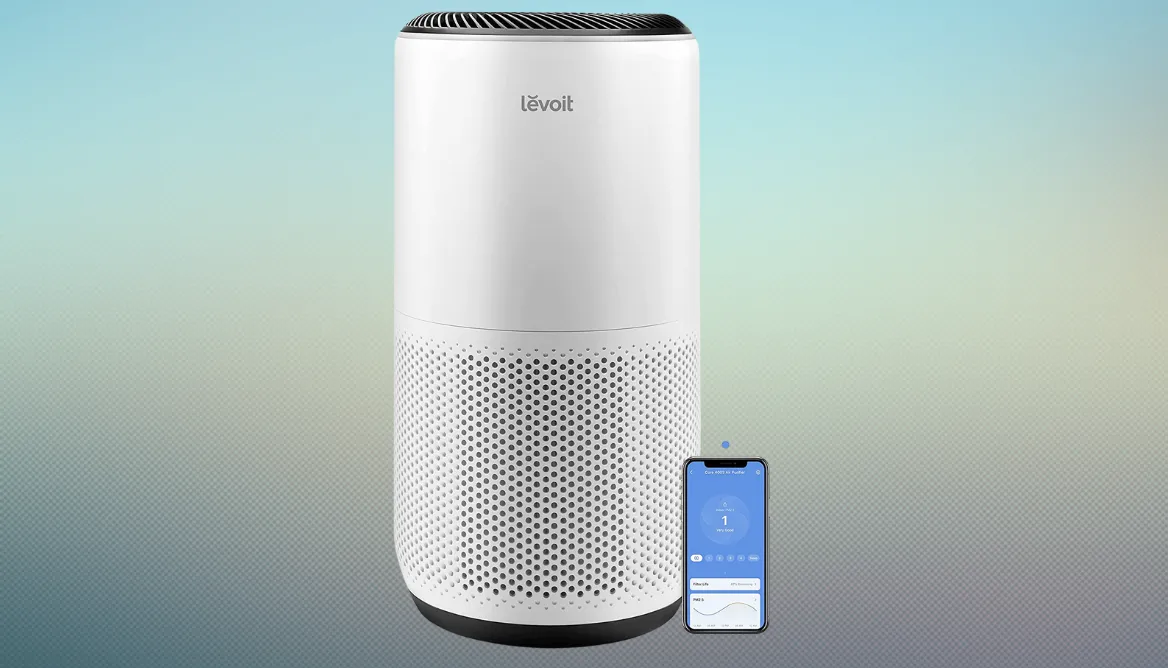 Features
Dive into its standout features and highlights to see what makes it truly amazing.
AirSight Plus Technology is utilized to increase air purification efficiency.
ARC Formula decomposes molecules and neutralizes household odors to ensure no odd smells remain.
Air quality indicators with color codes keep you informed about the air you're breathing in the house.
Specs
| | |
| --- | --- |
| | |
| | |
| | Dust: 260 CFM/Pollen: 260 CFM/Smoke: 260 CFM |
| | Pre-Filter, H13 True HEPA Filter, Custom High-Efficiency Activated Carbon Filter |
| | |
| | Energy Star and FCC certified, ETL listed |
| | |
| | 10.79"D x 10.79"W x 20.47"H |
| | |
Recommendation: If you are looking for a high-tech equipped air purifier then Levoit's 400S is the right call. It has an air quality indicator, timer, filter replacement reminders, and Wifi Connectivity to control all of that. The coverage is sufficient for larger rooms although on the highest setting, it can be a bit noisy.
6. Best Quiet Operation: BLUEAIR Blue Pure 311 Auto
BLUEAIR Blue Pure 311 Auto
Let's assess the benefits and limitations of this device:
Pros
Tests prove that it can capture 99.99% of SARS-COV-2 in at least a 640ft³ in an hour.
360-degree air intake so you can place it anywhere in the room without compromising performance.
Can be upgraded to a SmokeBlock filter for enhanced removal of smog, or particulate matter released by wildfires.
Cons
It does not have a timer.
The Blue 311 Auto is a compact and stylish air purifier designed to improve indoor air quality. It consists of a HEPA filter that is designed to be 45% more effective yet 67% less noisy.
It pulls in air pollution from every direction and can even capture viruses such as SARS-COV-2. The auto mode shifts between fan speeds according to the particulate matter present and displays the air quality status by an LED light.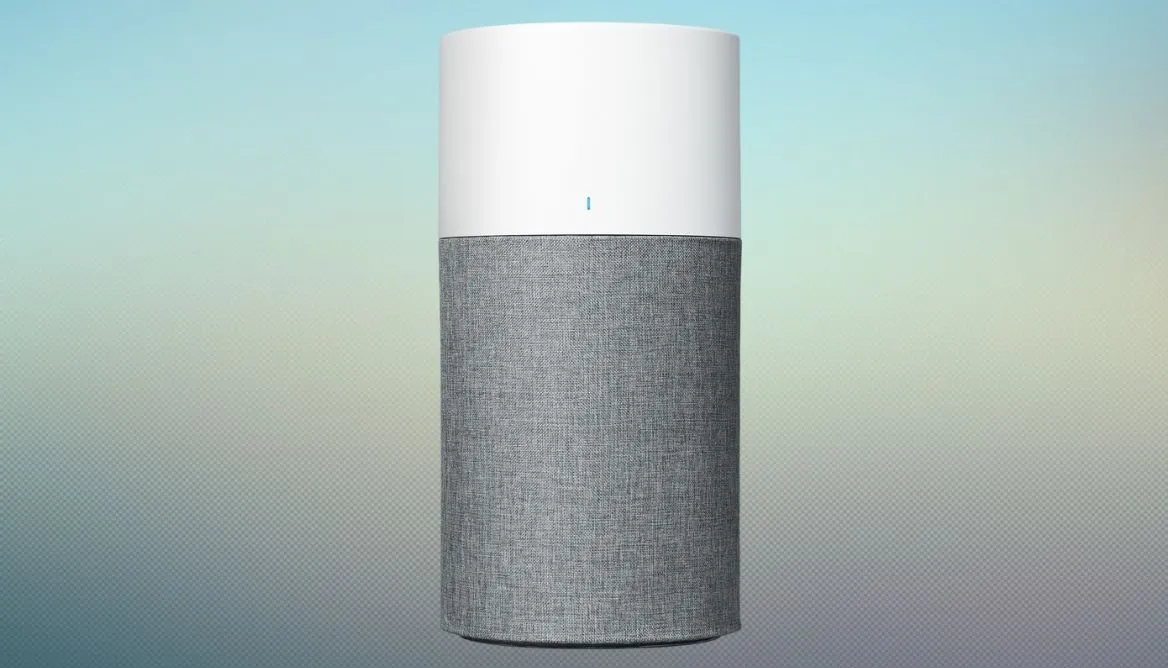 Features
Let's explore the features of this purifier:
Single-button design to turn the air purifier on/off or check the air quality monitor.
Choose between Boost mode, Everyday mode, Night mode, and Auto mode for the cleaning you need.
Five premium fabric pre-filters so the air purifier can match the interior design of your home.
Specs
| | |
| --- | --- |
| | BLUEAIR Blue Pure 311 Auto |
| | |
| | Dust: 250 CFM/Pollen: 244 CFM/Smoke: 250 CFM |
| | Fabric Pre-filter, Main filter (Particle + Carbon filter) |
| | |
| | AHAM Verified, Energy Star Rated, CARB Approved, Zero Ozone Verified |
| | 2 years of warranty coverage |
| | |
| | |
Recommendation: Unlike Most air purifiers Blue 311 Auto has HEPASilent dual filtration which cleans the air without disturbing your peace or compromising on the purification. The coverage is good enough for medium rooms. Although make sure to monitor run time as it does have a timer.
7. Best Warranty: Alen 45i Air Purifier
Alen 45i Air Purifier
Consider its strong and weak points below:
Pros
Offers 4 customizable Medical-grade H13 HEPA filters (Pure, Fresh, VOC/Smoke, Odor) to meet your individual needs.
The Forever Guarantee makes it the safest investment.
Control and monitor multiple Purifiers via the Alen Air app. You can also receive filter replacement notifications and air quality status updates through it.
Continuously monitors the air quality in your space and automatically adjusts the fan speed according to the airborne particles.
Cons
It releases cool air which can be uncomfortable for cold climates.
Alen 45i Air Purifier is a multi-stage filtration system that captures and eliminates airborne particles, allergens, and odors. It provides a personalized and peaceful environment due to customizable settings and quiet operation. The App connectivity gives filter replacement reminders and control from anywhere. The noise level is kept low to ensure undisturbed lounging making it a great air purifier overall.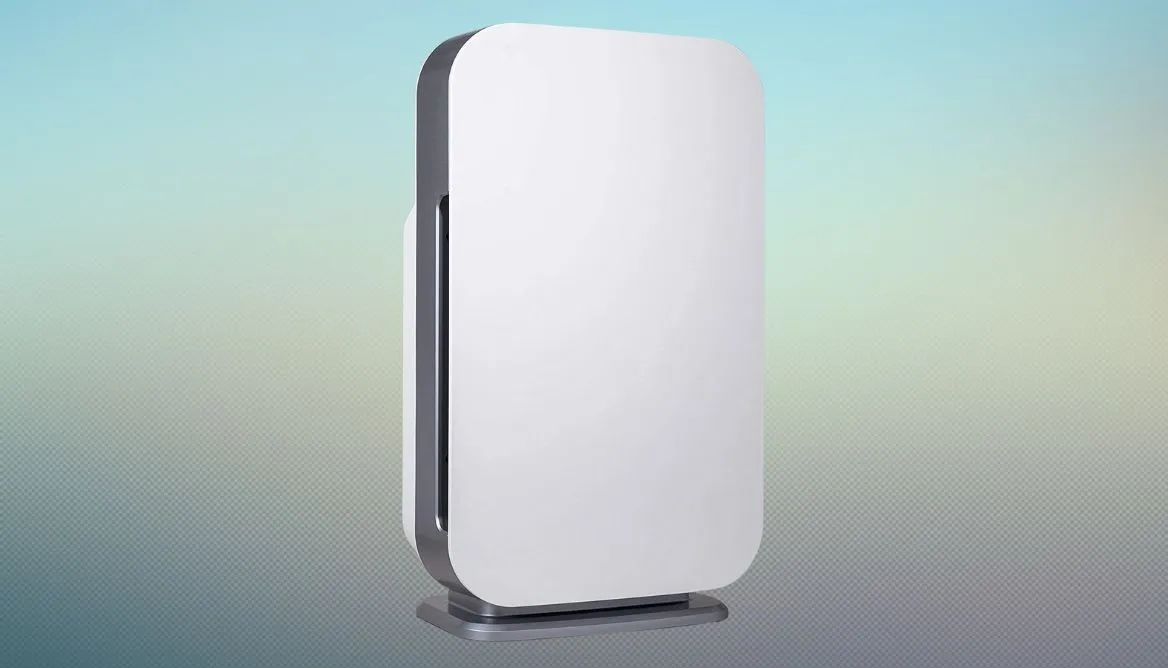 Features
Listed below are the amazing features of this unit:
Promote deeper sleep by emitting soothing Pink Noise.
Color-coded ring light displays air quality. (Blue, Green, Orange, Red, Purple.)
Has 6 designer panel options to add an elegant touch to your home interior.
Specs
| | |
| --- | --- |
| | |
| | |
| | Dust: 208 CFM/Pollen: 230 CFM/Smoke: 194 CFM |
| | Pre-filter, H13 True HEPA filter with Activated Carbon filters |
| | |
| | SleepScore Validated, Energy Star Rated, CARB approved |
| | |
| | |
| | |
Recommendation: HEPA air purifiers are a huge investment and require monthly or annual maintenance. Alen's giving a Forever Warranty is for buyer's peace of mind for house owners. The high clean air delivery rate is noteworthy while its exterior has an elegant finish that will complement the house's living rooms. Be mindful that it might cool the room so run it less in severe winters.
My 5 Parameter Criteria to Test Air Purifiers
Suggesting a purifier for home usage seeks responsibility. Therefore, I made sure that my picks are better than other air purifiers. Listed below are important parameters I considered before selecting the device. Let's check the out!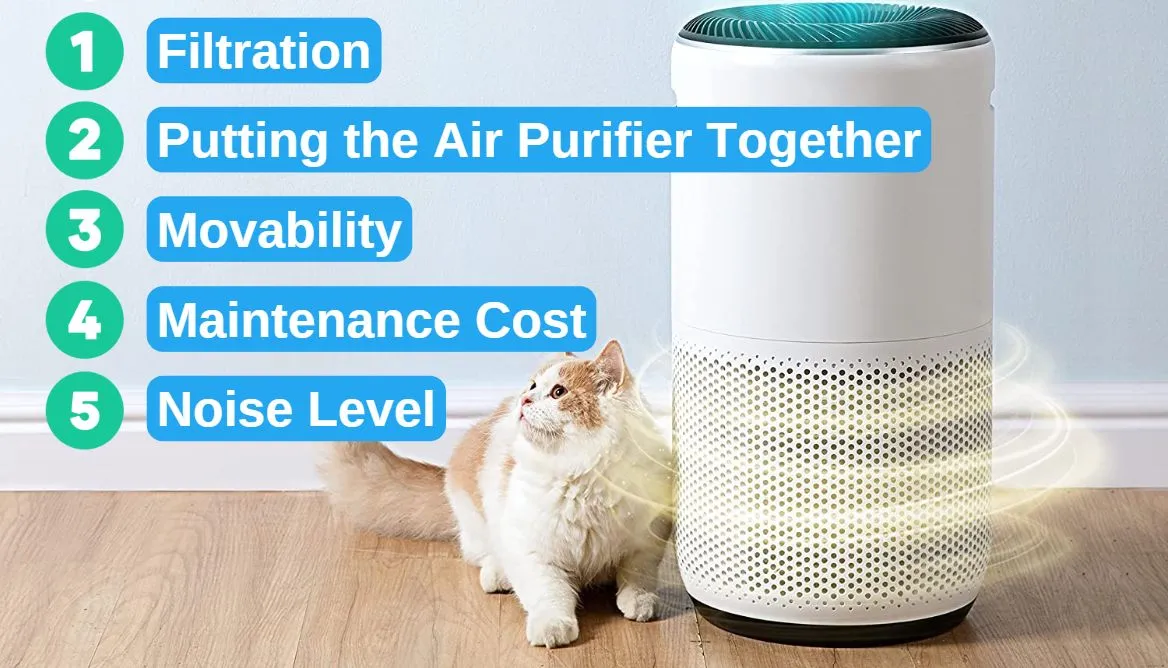 1. Filtration
The following steps are how the purification ability of each machine was tested:
The air purifier's effectiveness was assessed by burning incense in a 200-square-foot room with closed windows and doors.
The units were set on auto mode or the highest setting.
Using an air-quality monitor, I took measurements of VOCs, and particulate matter every 15 minutes.
The remaining contaminants were evaluated after a two-hour period.
Recommended room sizes in my guide assume an eight-foot ceiling and four air changes per hour (ACPH).
2. Putting the Air Purifier Together
I noted down the time from unboxing the air purifier to getting the unit operational. It included app connections. Steps that were unusual or confusing were recorded. In most cases, setup involved removing the packaging and plugging in the unit, typically requiring five minutes or less.
3. Movability
To evaluate the portability of the air purifiers, I tested their ease of carrying by moving them around my house. Models weighing more than 20 pounds or proving challenging to move received lower scores. Fortunately, the majority of units were designed for easy transportation and featured handles, ensuring convenient mobility.
4. Maintenance Cost
To assess the long-term costs of air purifiers I looked at the costs of Replacement Filters. These steps provided insights into the financial implications of owning an air purifier beyond the initial purchase price:
Examined the cost of a year's supply of filters.
Checked the availability of filters beyond the manufacturer's website for price comparison convenience.
Second, I calculated the Electricity Consumption. Here is how:
Used a smart plug to measure power consumption over a 24-hour period.
Replicated normal operating conditions and maintained the same setting used during the purifying tests.
Gathered data on power consumption to evaluate the ongoing electricity costs associated with each unit.
5. Noise Level
To evaluate the noise levels of air purifiers and their impact on everyday activities, I measured the sound by:
Utilizing a sound meter to measure noise output.
Recording measurements from a distance of four feet.
Noting the noise levels on both the highest and lowest settings of each air purifier.
Then, I assessed whether the air purifiers' noise was distinguishable from the ambient noise in the environment.
I found out that on low settings, the majority of units produced noise levels that were indistinguishable from the existing background noise.
Best Air Purifiers List: How to Pick for Your Home
When you are in the market for HEPA air purifiers, the thumb rule is to look at the following factors: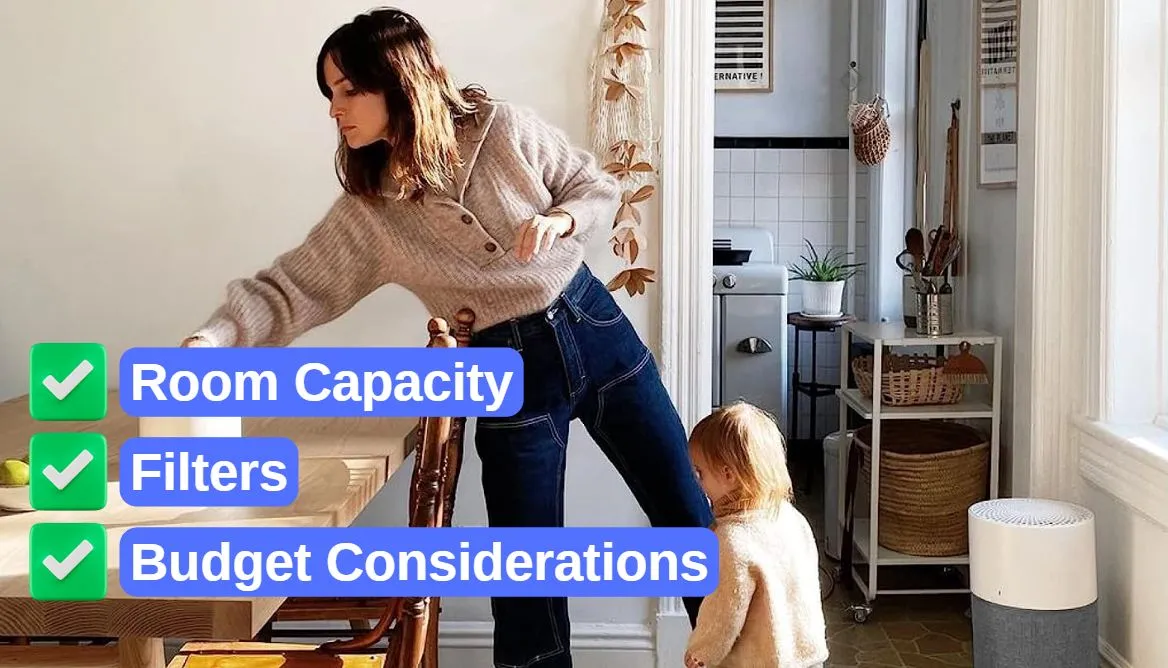 Room Capacity: Determine the square footage of the area you want to cover. Then, choose an air purifier that is suitable for that specific room size. Avoid purchasing a smaller unit to save money, as it may result in inadequate performance.
Filters: The best air purifiers come with multi-filtration systems. They need to have HEPA, Carbon, and Prefilter to effectively clean particulate matter. An add-on filter or Ionizer mode can help with extra purification.
Budget Considerations: Factor in the cost of replacing filters. New ones are needed every 6 months and so investing in an air purifier with reasonable filter replacement costs is important. Oftentimes subscriptions are offered by the company with discounts.
An Insight Into 4 Kinds Of Purifiers
High-Efficiency Particulate Air (HEPA) air purifiers are equipped with multiple filters. Understanding each of their function can help you purchase ones that solve your problems. Let's learn: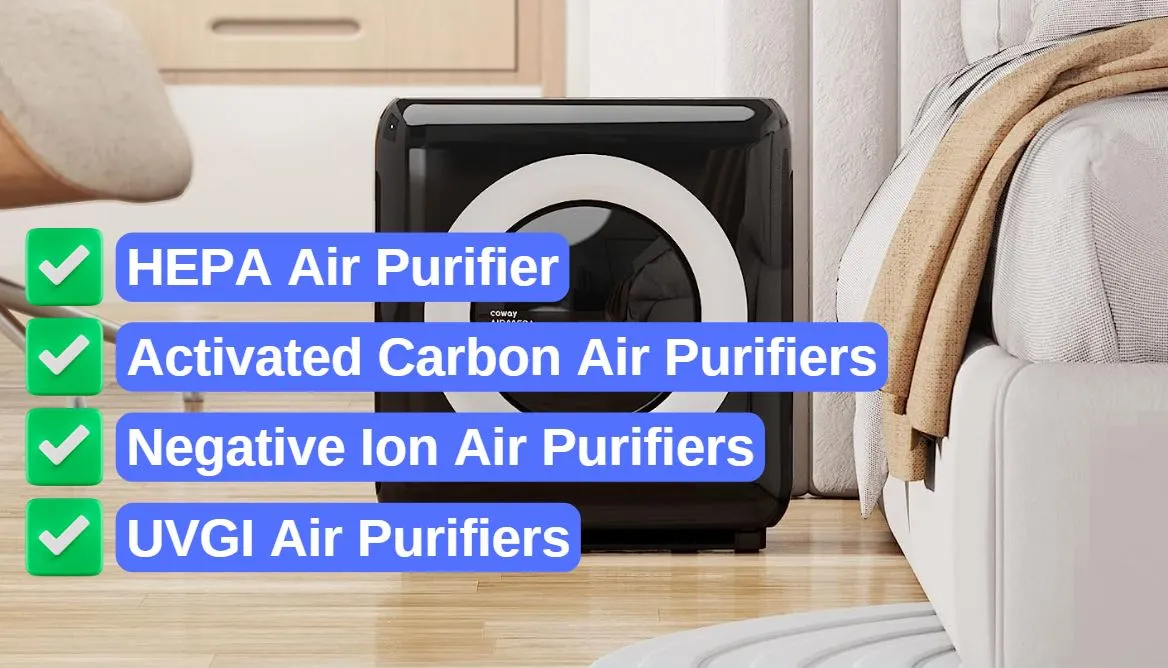 HEPA Air Purifier: This filter can capture particles as small as 0.1 microns. It is able to trap pollen, pet dander, smoke particles, and more.
Activated Carbon Air Purifiers: Activated charcoal is a porous sheet. It is able to trap odor-producing gases or VOC in the house air. This also includes smells from pets, BBQ, or any other unpleasant ones.
Negative Ion Air Purifiers: These purifiers release negatively charged particles which engulf the airborne allergens and weigh them down to the floor or surface. This clears them from the air.
UVGI Air Purifiers: Ultraviolet germicidal irradiation" air purifiers work like HEPA air purifiers, which use fans to clean the air quickly. But UVGI air purifiers have an ultraviolet light that kills germs and makes the air cleaner.
Do You Need A Purifier to Improve Home's Air Quality?
Air Purifier is a necessity for many as opposed to luxury. Learn how it can benefit your family members:
Air purifiers can be essential for people living in areas with wildfires, smog, or poor air quality.
Purifiers can be beneficial for those with asthma or allergies as it eliminates dust, pollen, and pet hair.
They can trap COVID-19-causing viruses, and other bacteria to reduce airborne diseases.
Air purifiers can make a significant difference by clearing harmful VOCs which can cause irritation in the lungs or eyes.
These machines can remove odors trapped in the house released by pets, smoking indoors, cooking, etc.
For more information, check out this detailed video.
Read Also: VOC Air Purifier: Check Right Now Top 7 Great Models!
Read Also: Best Air Purifier For Dust Mites: Top 10 Models for Health
Read Also: Dyson HP01 vs HP07: Which is a Great Air Purifier for Your Needs?
Read Also: Best Air Purifier with a Washable Filter: Great 11 Models for Healthy Air
Read Also: NuWave Oxypure Smart Air Purifier Reviews: The Only
FAQ
Do air purifiers really work?
Air purifiers do work very well. When you turn them on you will notice a significant reduction in odor, smoke, dust, and other pollutants in the air. This helps lowering allergy risk and improves overall health. Studies have proven that it is beneficial for asthmatic and cardiovascular patients.
Will the air purifier clean the whole house?
The air purifier can clean a whole house. It depends on the room size and the coverage of the cleaning machine. Many air purifiers such as BLUEAIR Blue 211+ and Honeywell HPA300 can refresh the air in an area as big as 2250 sq. ft to 2592 sq. ft in an hour.
Conclusion
When buying an air purifier for your home you must consider the sizes of the rooms. Make sure that it is AHAM Verified so that the advertised area coverage is legit. Be clear about the problems you need to cater such as allergens, viruses, and odors in order to choose the correct filtration system. Then look for important features such as Auto mode, and sleep mode to manage power consumption.
My personal recommendation is Levoit Core 300S a smart air purifier, because it offers great value for money. The custom filters increase cleaning efficiency. It is packed with features such as monitoring by the mobile app, voice control by Alexa, and filter replacement reminders.
Which product did you like the most for your home and why? Let me know in the comments.
Levoit Core 300S
The Levoit 300S is a remarkable smart air purifier that offers convenient features such as a timer, voice control, and an impressive Clean Air Delivery Rate, making it ideal for medium-sized rooms. With its affordable price point, it presents a fantastic value and has become a personal favorite among users.