Are you looking for NuWave Oxypure Smart air purifier reviews to know if it is worth buying? Getting ahead of ourselves I want to say that if you are interested in getting the best air purifier from the market now, you should pay attention to this device.
Dive deep into this article where and I will cover the features, advantages, and drawbacks of NuWave Oxypure. So, let's get started!
A Quick Answer
NuWave Oxypure is a top-notch and powerful air purifier that can provide fresh, pollution-free air. Being optimal for both small and large rooms, it has an eco-friendly mechanism and durable performance. Here are the top features of this lucrative device.
Washable filters mean no maintenance cost.
Wi-Fi connectivity makes it easier to control remotely from the mobile app.
Six different odor levels and fan speeds.
Continue reading to know what benefits you will get from NuWave and at what cost.
An Overview Chart
NuWave Oxypure Smart Air Purifier

14.2 x 14.2 x 26.3 inches

Ozone filter, Stainless steel pre-filter, Bio-Guard filter, HEPA+Carbon filter

Ozone filter, Stainless steel pre-filter, Bio-Guard filter--20 years

HEPA+Carbon filter--1 year

Dust-346, Pollen-369, Smoke-332

Virus and bacteria removing efficiency:
NuWave Oxypure Pros and Cons
NuWave Oxypure
Like all purifiers, NuWave Oxypure has some advantages and disadvantages. Let me list them for you.
Pros
Five-in-One efficient filtration system that removes the tiniest particles.
Easy filter set up and simple maintenance process.
The six different fan speeds provide faster air cleaning and odor removal.
Wi-Fi and smartphones enabled app connectivity to provide remote access.
360-degree air circulation and air intake.
Special eco mode for power saving and auto mode for hassle-free operation.
The high CADR rating offers the utmost VOCs, dust, and pet dander removal.
Cons
It is an expensive product.
The irritating noise level in turbo mode.
Heavyweight and larger size.
Massive Area Coverage of Up to 1,200 Square Feet
Perhaps the best part about the Nuwave Oxypure smart air purifier is its massive area coverage within half an hour. Let me tell you how you can benefit from this purifier.
This purifier can clean up to 1200 square footage of larger rooms, while others can clean only half of it.
You don't need to buy two or three different purifiers for different rooms, as one purifier would be enough.
The integrated wheel makes it easier to move across different rooms and floors.
It can improve air quality in all rooms, be they small, medium, or large.
Do you know why the Oxypure smart air purifier can provide cleaning for such a huge space? Well, it is because of its high-efficient filter unit. Let's dive deep into some details.
A Five-in-One Filtration System
Yeah, you read it right. Nuwave Oxypure has five filters in one purifier to offer the best possible air quality. Each filter has its own specific capacity to keep the air fresh and healthy. It's time to tell you about the filtration one by one.
1. Bio-Guard Filter:
This is a high-rating filter installed in NuWave Oxypure. It has several amazing features. Let's have a look.
The Bio-Guard filter is designed to deal with particles of smaller sizes
It removes small particles of 0.09 microns easily.
The normal filter can clean only 0.3-micron particles, not to mention their mediocre efficiency.
It does not require yearly change as it can provide service for up to twenty years.
2. Stainless Steel Pre-Filter
The stainless steel pre-filter is something that NuWave prides itself on. It also has a distinct role in improving air quality.
It is a reusable filter that can last up to 20 years.
As it is made of stainless steel, it accumulates specks of dust that you need to wash regularly.
It usually deals with pet dander, pollens, and larger particles.
3. Ozone Filter
The third filter in NuWave is the Ozone filter. Let's have a look at its role.
As the name suggests, the task of an ozone filter is to remove ozone components from your rooms and office.
It can last more than a decade. So, there is no need for yearly change.
While humans can tolerate 70 ppb (parts per billion) of ozone gas, this filter brings down the level to 1 ppb.
4. HEPA Filter+Carbon Filter
Last but not least, the fourth filter is a combo of HEPA and Carbon. It is a highly effective combination.
HEPA filter and Carbon Filter are effective in removing all sorts of dust, debris, allergens, VOCs, and whatnot.
It has a distinct ability to remove odor from the air.
HEPA-Carbon filters require a yearly change.
NuWave gives an extra HEPA-Carbon combo with the package.
The best part about these filters is their long-term service. You don't have to pay huge bucks every year, nor do you have to bear the hassle of replacement.
A replacement HEPA filter will cost you no more than 60 bucks. That's a fair bargain, isn't it? However, you must wash and clean the filters regularly to increase longevity.
Six Different Fan Speeds and Odor Control
What I really like about this smart air purifier is its six different fan speeds, from low to high.
You have a whisper-quiet mode when the air is least polluted.
There is a turbo mode to filter heavy-polluted air.
And there are four different speeds in between whisper and turbo modes that you can adjust according to the dust level.
The auto mode is helpful when you don't have time to change the settings manually.
The NuWave Oxypure smart air purifier even senses bathroom air fresheners for its highly effective sensor. Moreover, it has a superb display to tell you how polluted or bad the air smells. The versatility of settings helps you adjust the fan speed levels. When visitors come over to your pleasant home, they will get fresh air from now on.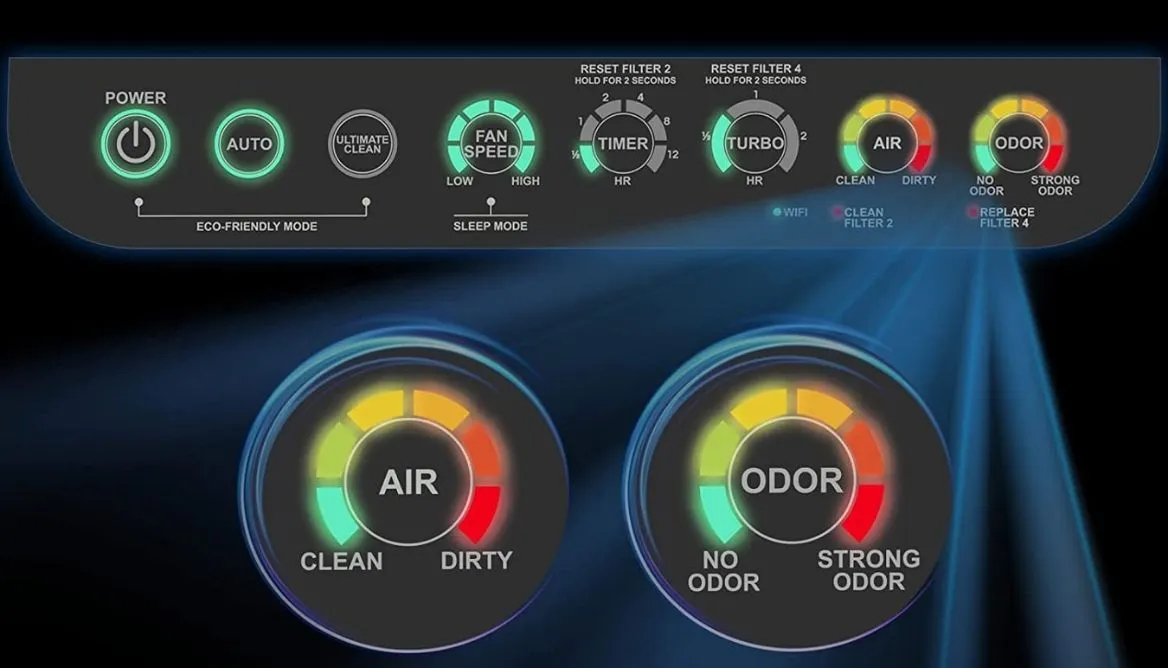 Effective Bacteria and Mold Removal
I have seen people with allergy symptoms who face breathing issues. If your room is prone to bacteria or mold growth, only a handful of air purifiers can help you effectively. And I am sure NuWave Oxypure is one of them. But how this air purifier is different from its competitors? Let's find out.
It removes bacterial agents, mold spores, and pet dander within two hours of detection.
The filters capture these unwanted molds and bacteria and kill them.
While cleaning the filter, you won't be exposed to any of the airborne allergens through dirty air sensors or filters.
All these make this product an ideal device for removing molds and bacteria.
Energy-Saving Eco Mode
The eco mode in NuWave Oxypure is designed to save energy and run the purifier at lower energy consumption. The auto mode uses more energy than the eco mode. Eco mode is best for less dirty places, and auto is suitable for more dirty places. Let's sum up.
The eco mode in this air purifier uses a lower fan speed to save energy costs.
It increases the fan speed if the pollution level rises. However, it is not much effective in extremely dirty environments.
The long-term usage of this device won't soar up your monthly bills.
The environment gets better at a cost-effective bargain.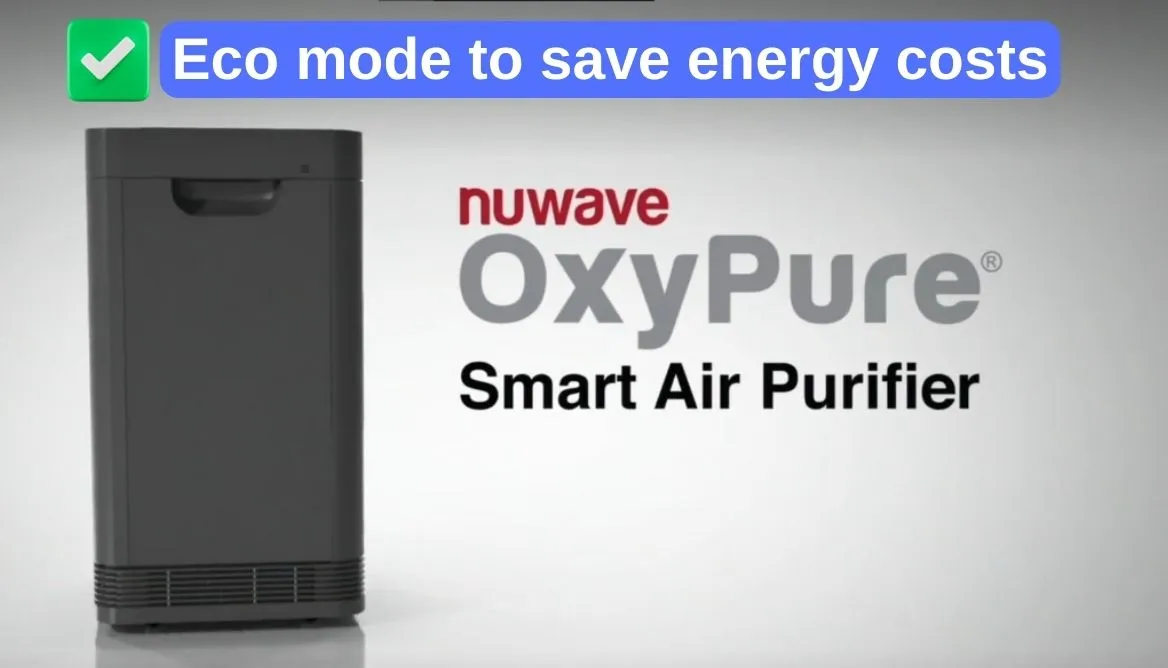 I have found this feature really amazing. I don't need to think much about the bill even if I run the device for long hours daily.
Easy-Breathing 24/7
Breathing in dust-ridden and odor-infested areas can cause serious lung diseases. The airborne allergens, pollens, and danders stimulate various health issues. But NuWave Oxypure smart air purifier deals removes all the harmful elements from the air.
Therefore, breathing is safe and sound while this device is around you. You can use it 24/7 for refreshed air quality. However, you should run the whisper mode to decrease the noise level when using it at night.
You can check a real-time review of this purifier here:
Easy-Breezy to Use
This air purifier is one of the easiest ones to use and control. Let me explain why.
The digital display indicates the air quality and lets you know the odor level.
The eco mode and auto mode provides automatic control over the device.
The NuWave Connect app is accessible through a Wi-Fi connection. That means you can control the purifier remotely with your smartphone or tablet.
With just one simple touch, you can change the settings as per your needs.
Zero Negative Ions
There is some research suggesting negative ions to be beneficial for human health. However, it is not proven, and there is a strong possibility that the ions can actually harm your health. Some claim that negative ions produce unwholesome ozone.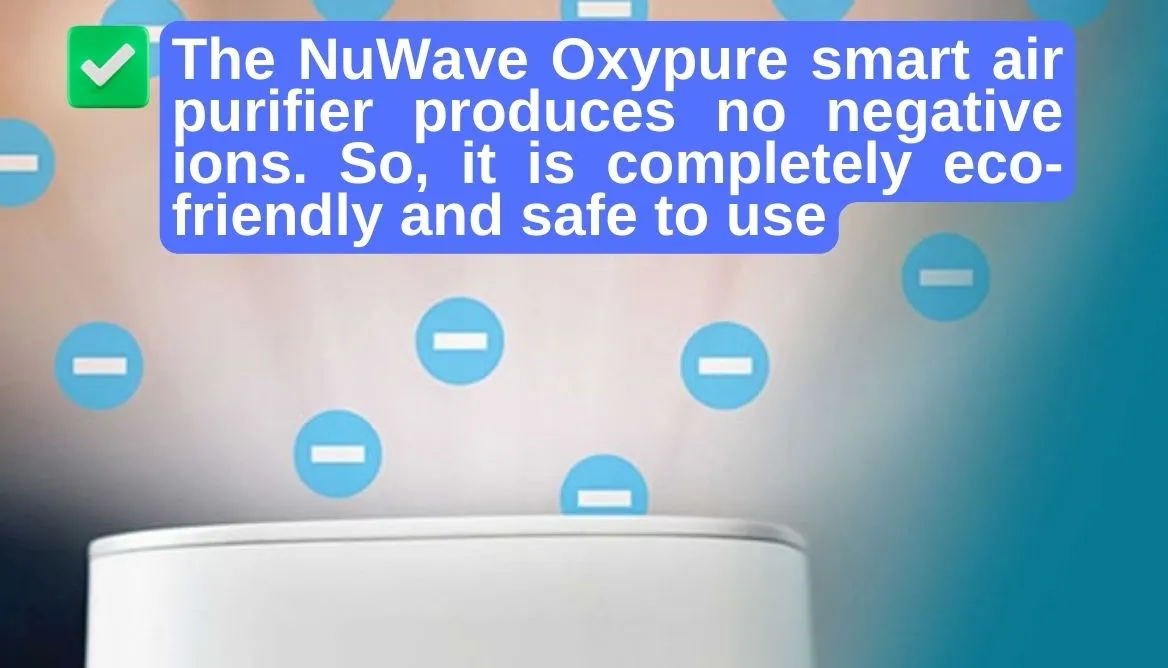 And air purifiers with negative ions consume more energy than usual. The NuWave Oxypure smart air purifier produces no such ions. So, it is completely eco-friendly and safe to use.
Room Size and Cleaning Time Ratio
Have you ever thought about how much time does NuWave Oxypure take to clean your room? Well, this air purifier can cover a huge chunk of space within a short time. And the Air Changes per Hour (ACH) rate is also pretty good. Let me give you an estimation of the room size and the required time for its cleaning.
| | | |
| --- | --- | --- |
| Room Size (in Square foot) | Air Changes Per Hour (ACH) | |
| | | |
| | | |
| | | |
| | | |
| | | |
| | | |
So, a 1200+ square feet space is cleaned from airborne contaminants twice within 30 minutes. A 500 square feet room will take only 13 minutes to get 5 ACH. NuWave Oxypure smart air purifier can be an ideal device for bedrooms, living spaces, and office rooms. I like the fast cleaning benefit it offers.
Maintenance Cost and Filter Replacement
The maintenance cost of this air purifier is affordable and within everyone's reach. Here is a rough estimate of the money you need to spend on this product.
Electricity bills: You might get puzzled to hear that the monthly bill for using this air purifier is no more than 5-6 dollars. However, the bills may vary according to your area's rate. There is an eco mode to reduce power consumption.
Filters replacing: Three important filters do not require changing. The HEPA filter and the Carbon filter need yearly replacement. They come as a combo costing around 50 bucks. You can purchase them in bulk quantity to get considerable discounts.
Moreover, if you face any problem with the air purifier, you can claim the warranty service within the given time. So maintaining this device is an economical bargain.
A Certified Air Purifier
It is crucial to buy certified products because it tells you whether the products have gone through careful inspection or not. Is NuWave Oxypure a certified air purifier?
Yes, it is. Two of the finest agencies EPA and CARB have certified for NuWave. That means you can expect international standards from this device.
Warranty
While air filters from different brands offer one or two years of warranty, NuWave Oxypure prides itself in a three-year-long warranty service.
However, the limited warranty does not cover any damage, and the service from unauthorized repairmen would make the warranty void.
Those who would purchase the filter directly from NuWave LLC can claim 1 year VIP warranty.
If you ever need to claim the warranty service, you need to send a mail to help@nuwavenow.com or call 1-877-689-2838.
You can read the detail of the warranty here.
Recommended reading: Best Air Purifier for Home: 7 Great Models for Healthy Air
Read Also: VOC Air Purifier: 7 Best Models for Healthy Air
Frequently Asked Questions
How long does the NuWave OxyPure filter last?
Most NuWave Oxypure filters can last up to 20 years. Only the HEPA-Carbon filter requires replacement every year.
Does the NuWave OxyPure remove dust particles in the air?
Yes, NuWave Oxypure eliminates almost all the dust particles from the air.
Where is NuWave OxyPure made?
The NuWave Oxupure is designed in France, developed in the USA, and assembled in China.
Does the air purifier really work?
The air purifier works pretty well in removing unwanted dust, debris, and allergens. However, no filter can eliminate 100% dusty particles.
Conclusion
Air purifiers are great devices for eliminating harmful airborne contaminants, viruses, bacterial agents, odors, and whatnot. NuWave Oxypure is a lifetime investment for your smart home, as there is no hassle of frequent filters change.
However, you need to wash the local active filters at regular intervals though. The maintenance will ensure its long-lasting service.
NuWave Oxypure
NuWave Oxypure is an excellent air purifier for durable and effective air cleaning performance. Its five-stage filtration, fast, responsive cleaning, and six different fan speeds have made it an optional purifier for dust, debris, pollens, bacteria, and mold removal.