Are you also one of those people who can't decide between Winix 5300-2 vs 5500-2? Let me help you with that. Check out this comparison guide to know their important differences and similarities.
Also discover detailed pros, cons, and features of each device, to determine which appliance is a better pick for your needs. Let's get started!
Quick Comparison
Both Winix 5300-2 and Winix 5500-2 are excellent air purifiers with great features. Let's take what they have in common:
A 4-stage filtration system.
Same dimensions, weight, and coverage area.
Come equipped with smart sensors.
But what makes them most different from each other? Let's take a look:
The Winix 5500-2 comes with an AOC washable carbon filter, whereas the 5300-2 does not have this feature.
Similarly, the 5500-2 also has a remote control for better feasibility, unlike its competitor.
But that's not enough to make the ultimate decision. Continue reading as I will be comparing both of the product lines in great detail covering their pros, cons, similar features, and their differences. Let's dive into the details!
Winix 5300-2 vs 5500-2 Comparison Chart
I will start by giving you a visual comparison between the key specs of each model. So you can see for yourself what both of the units have to offer:
| | | |
| --- | --- | --- |
| | | |
| | | |
| | | |
| | | |
| | | |
| | | |
| | | |
| | | |
| Volatile organic compounds Sensor: | | |
| | | |
| | | |
| | | |
| Filter Replacement Indicator: | | |
| ACH (Air Changes per Hour): | | |
| CADR (Clean Air Delivery Rate) for: | 243 (Dust) /246 (Pollen) / 232 (Smoke) | 243 (Dust) /246 (Pollen) / 232 (Smoke) |
| Washable Fine Mesh Pre Filter: | | |
| Washable AOC Carbon Filter (Advanced Odor Control): | | |
| Activated Carbon Filter (Odor Absorption): | | |
| | | |
| | | |
| | | |
| | | |
| | | |
| | | |
Here we see many shared commonalities between them and also some minor but crucial characteristics which set them apart.
Now, let's move on to the pros and cons of these cleaning devices.
Winix 5300-2: Upsides and Downsides
Sale
Winix 5300-2
Listed below are the pros and cons of this purifier:
Upsides
It utilizes a pre-filter, True HEPA filter, advanced odor control (AOC) carbon filter, and PlasmaWave technology to capture and neutralize various pollutants.
Compared to other air purifiers in its class, the 5300-2 offers a competitive price point without compromising performance.
Comes in 5 operation modes: Sleep, Turbo, High, Medium, and Low.
Safe to be used around babies and nurseries as is AHAM verified.
Downsides
Lack of washable AOC carbon filter.
Does not come with a remote control, meaning you need to manually adjust the settings on the purifier itself
Next up I have a quick overview of the benefits and drawbacks of the 5500-2.
Winix 5500-2: Upsides and Downsides
Sale
Winix 5500-2
The 5500-2 also comes with its own set of advantages and disadvantages:
Upsides
It includes a washable AOC carbon filter, which can save on replacement filter costs in the long run.
The pre-filter with fine mesh is also washable to eliminate any airborne particles.
With the provided remote control, you can conveniently adjust the settings from anywhere in the room, enhancing the ease of use.
ACH of 4.8 changes per hour tested on tobacco smoke.
Downsides
This is generally priced slightly higher than the Winix 5300-2, which may impact budget-conscious buyers
After I have shared with you the pros and cons of these models, it's time to delve into the remarkable features they have in common:
Shared Functionality and Features of Winix Air Purifiers
Winix air purifiers come equipped with several essential features that contribute to their effectiveness in purifying the air. Let's take a closer look at the key features common to both the 5300-2 and 5500-2 models.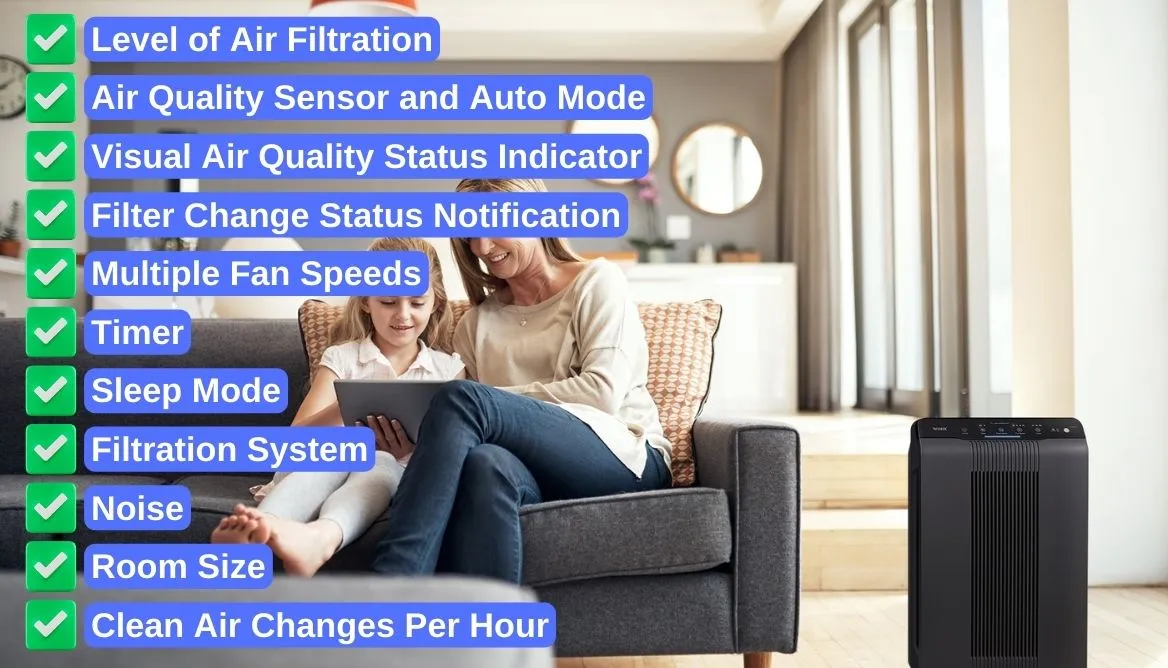 1. Level of Air Filtration
One of the primary functions of an air purifier is to filter out contaminants and improve indoor air quality. Both the Winix 5300-2 and 5500-2 models offer exceptional air filtration capabilities.
They utilize a 4-stage filtration system, consisting of:
Pre-filter,
A carbon filter, and
A True HEPA filter,
PlasmaWave Technology.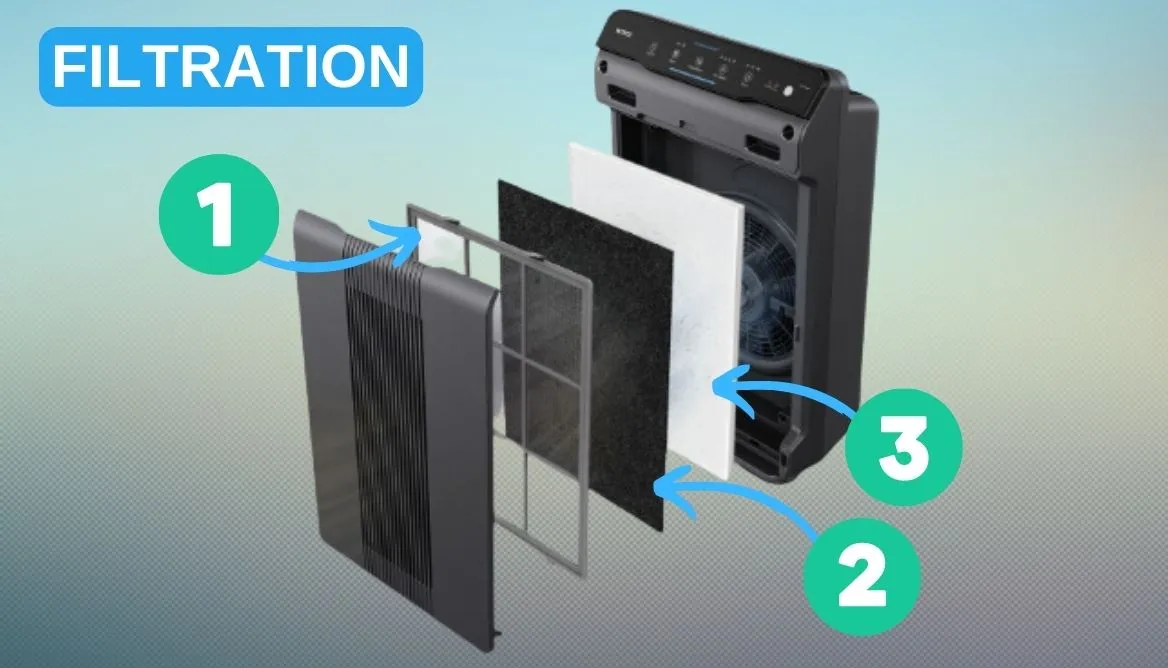 This multi-layered approach ensures the removal of various particles, including dust, pollen, pet dander, smoke, and even microscopic allergens.
The only difference between the two is the introduction of the washable carbon filter in the latter model.
2. Air Quality Sensor and Auto Mode
To provide efficient purification of air, the Winix air purifiers boast impressive technology with an air quality indicator and an auto mode.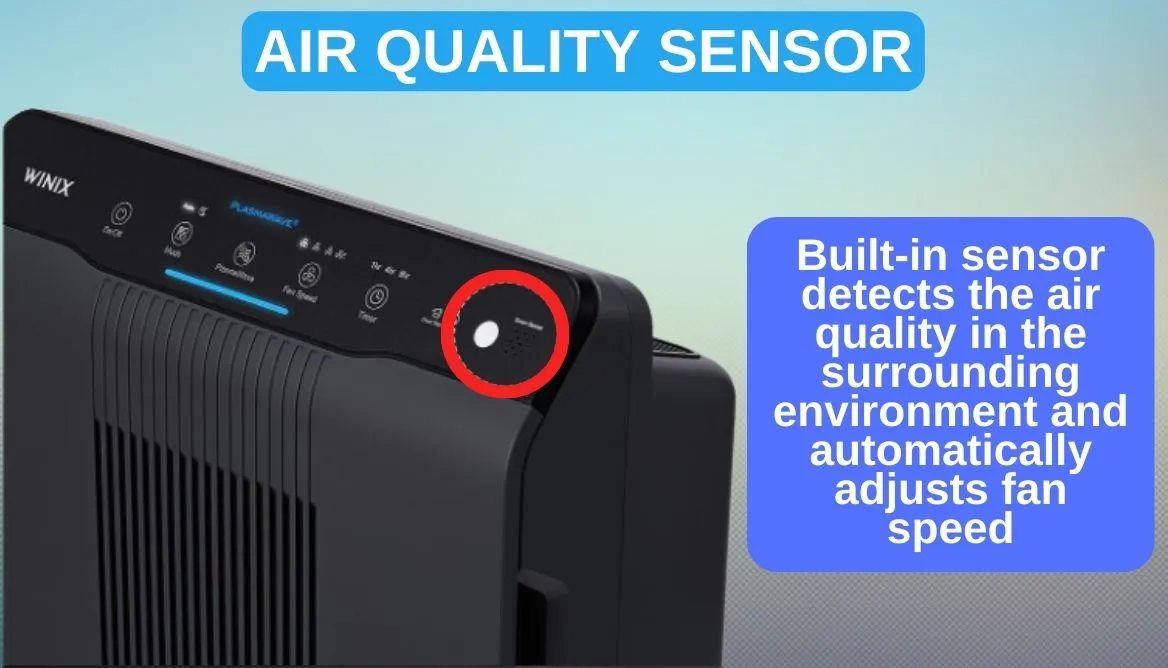 The state-of-the-art built-in sensor detects the air quality in the surrounding environment.
When it senses the increase in pollutant levels and decrease in the quality of air, the purifier automatically adjusts its fan speed to effectively remove pollutants.
With its air quality indicator, you can rest easy knowing that the unit will automatically adjust to provide optimal air. Without the hassle of manual adjustments every time your air gets polluted.
3. Visual Air Quality Status Indicator
Both models feature a visual air quality status indicator. This indicator provides real-time feedback on the current air quality by displaying different colors or light patterns.
For instance:
Green indicates good air quality,
Red indicates poor air quality.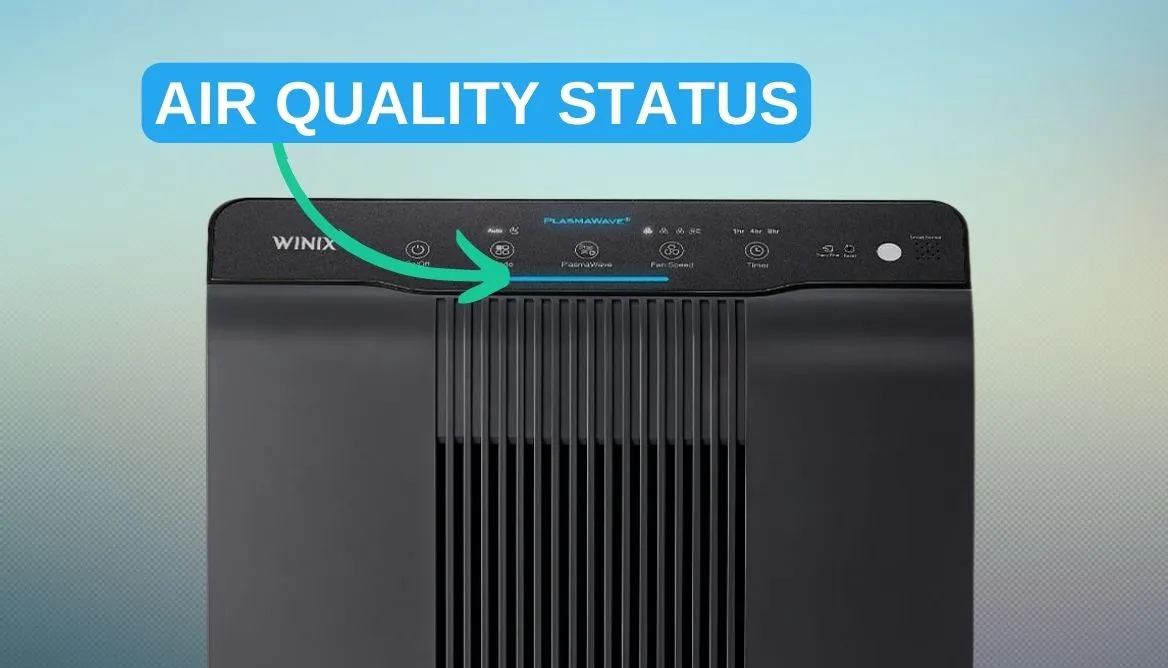 This visual indicator allows users to monitor the air quality at a glance and take necessary actions accordingly.
4. Filter Change Status Notification
Maintaining the air purifier's filters is crucial for optimal performance.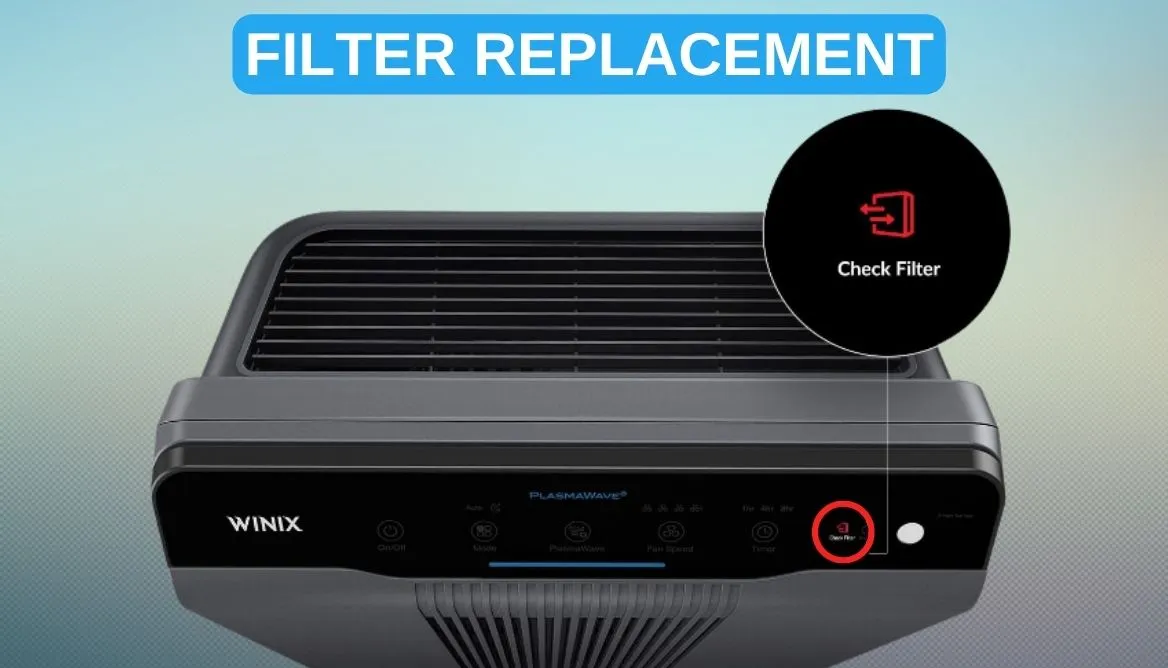 The Winix air purifiers address this by providing a filter change status notification.
When it's time to replace the filters, the purifier will alert you, ensuring that you can maintain the filtration efficiency without any guesswork.
5. Multiple Fan Speeds
Both models offer multiple fan speeds, allowing you to adjust the airflow according to your preferences. Whether you need rapid purification or a quiet operation during nighttime, the Winix air purifiers offer flexibility to cater to different situations.
6. Timer
The inclusion of a timer function allows you to set the operating duration of the air purifier. You can schedule the device to run for a specific period, ensuring energy efficiency and convenience.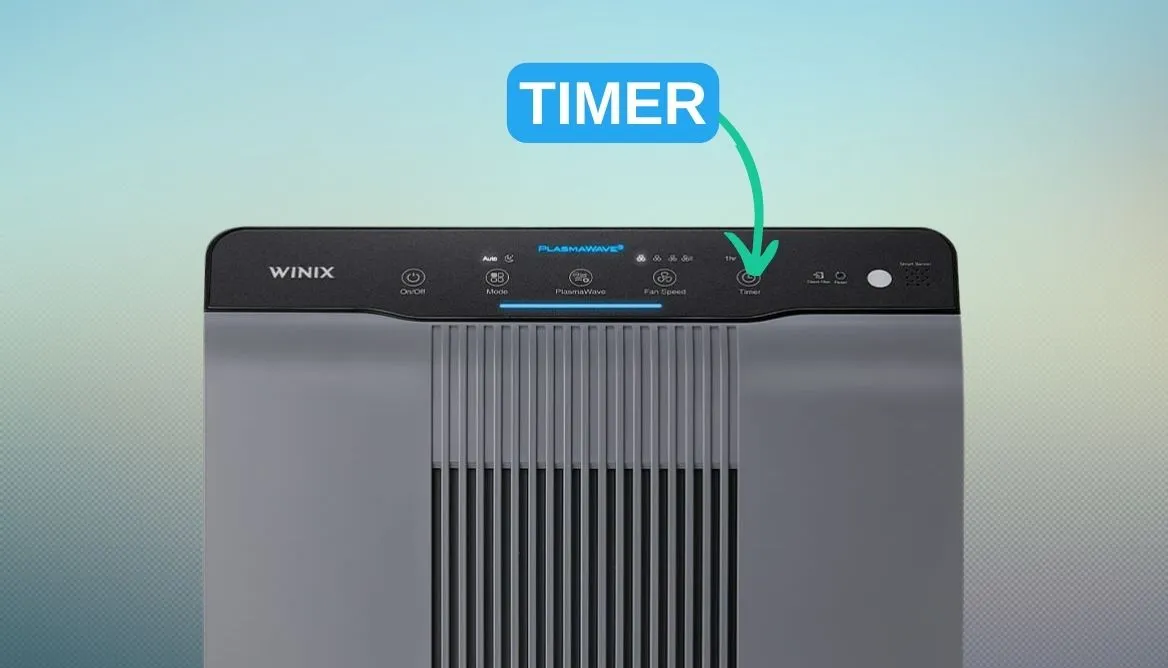 7. Sleep Mode
To provide a peaceful environment for a good night's sleep, the Winix air purifiers feature a sleep mode. This mode:
Reduces the noise level
Dims the lights
Creates an optimal sleeping environment without compromising air purification effectiveness.
8. Filtration System
Both units use the same set of filters, including true HEPA filters and an activated carbon filter.
These filters are essential for maintaining the air purifier's performance and should be replaced periodically.
The replacement frequency may vary depending on usage and environmental conditions
9. Noise
The Winix 5300-2 and Winix 5500-2 are designed to operate quietly, particularly in sleep mode.
However, like any air purifier, the fan will generate some noise when running at higher speeds.
Both of the air purifiers produce a noise of 27 dB at the lowest setting.
At the highest setting, the noise increases up to 58 dB.
Nevertheless, the noise level is generally considered acceptable and shouldn't cause significant disturbance during regular use.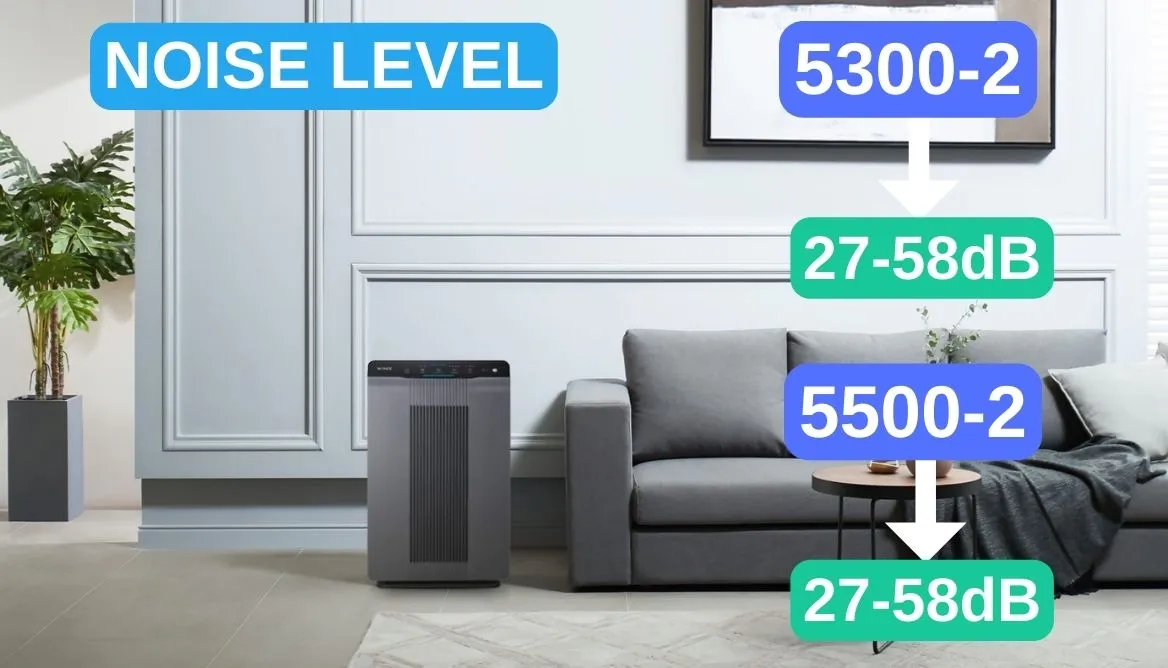 10. Room Size
When it comes to coverage area, the Winix 5300-2 is suitable for medium to large-sized rooms up to a certain square footage, while the Winix 5500-2 is also designed for medium to large-sized rooms. Both models provide adequate coverage for bedrooms, living rooms, and offices, ensuring efficient air purification throughout the space.
11. Clean Air Changes Per Hour
Both purifiers share the impressive feature of providing 5 clean air changes per hour.
This remarkable capability allows them to efficiently purify most medium-sized spaces in a short span of time.
Clean air delivery rates of 243 for dust, 246 for pollen, and 232 for smoke, for both models, show that both of them are effective in removing pollutants.
Now, I will examine how the 5500 differs from the 5300 model:
What Sets Winix 5300 vs Winix 5500 Apart: A Guide to Their Distinct Features
When comparing these purifiers, there are several key differences to consider. Let's examine these differences in various aspects.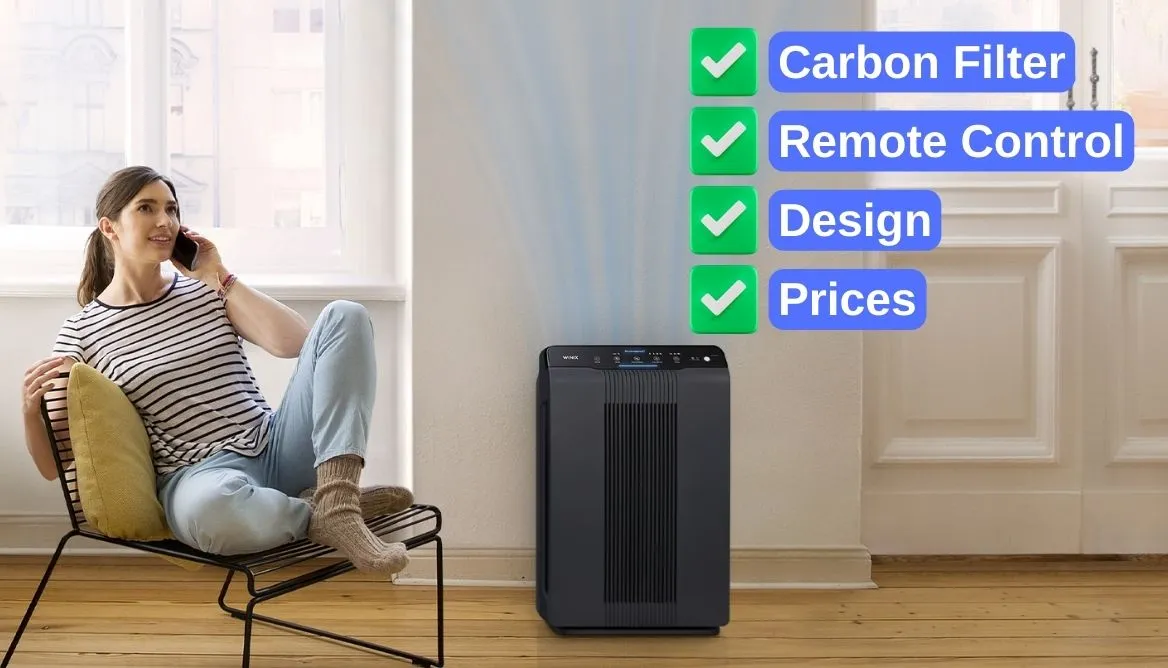 1. Carbon Filter- For Eliminating Odors
The carbon filter allows for the removal of odors and unpleasant smells. It can absorb next pollutants from the air, making your room fresh and pleasant:
Volatile organic compounds,
Gases,
Cooking smells,
Pet odors,
Cigarette smoke,
Odors.
Both of the Winix purifiers have an activated carbon filter, So what makes them different?
The Main Difference in Carbon Filter
Well, the 5500 comes with a washable AOC (Advanced Odor Control) carbon filter, which is more advanced and consists of larger pellets of carbon coated with a specific type of material.
The washable AOC carbon filter of the 5500 is more powerful than the activated carbon filter of the Winix 5300. It has several advantages over the other one in terms of:
It has a larger surface area capturing more pollutants.
It saves money in the long run as you don't need to replace the filters.
Capable of removing stronger odors and smells.
Winner: If you want a more powerful and durable carbon filter that can handle stronger odors and VOCs, you might want to choose the Winix 5500-2.
2. Remote Control -Providing You With Ease of Access
The presence of remote control can add convenience and ease of operation to an air purifier. When comparing the two, only the Winix 5500-2 comes with a remote control included.
The remote control allows users to adjust the settings and fan speeds without having to physically access the control panel of the air purifier.
This feature can be particularly useful when you want to make changes from a distance or while relaxing in your preferred spot.
Winner: If you don't want to go through the hassle of getting up to your device to change the settings then definitely go for the 5500-2.
3. Design
In terms of design, there are minor differences between the Winix 5300-2 and 5500-2 models. While both have a sleek and modern appearance,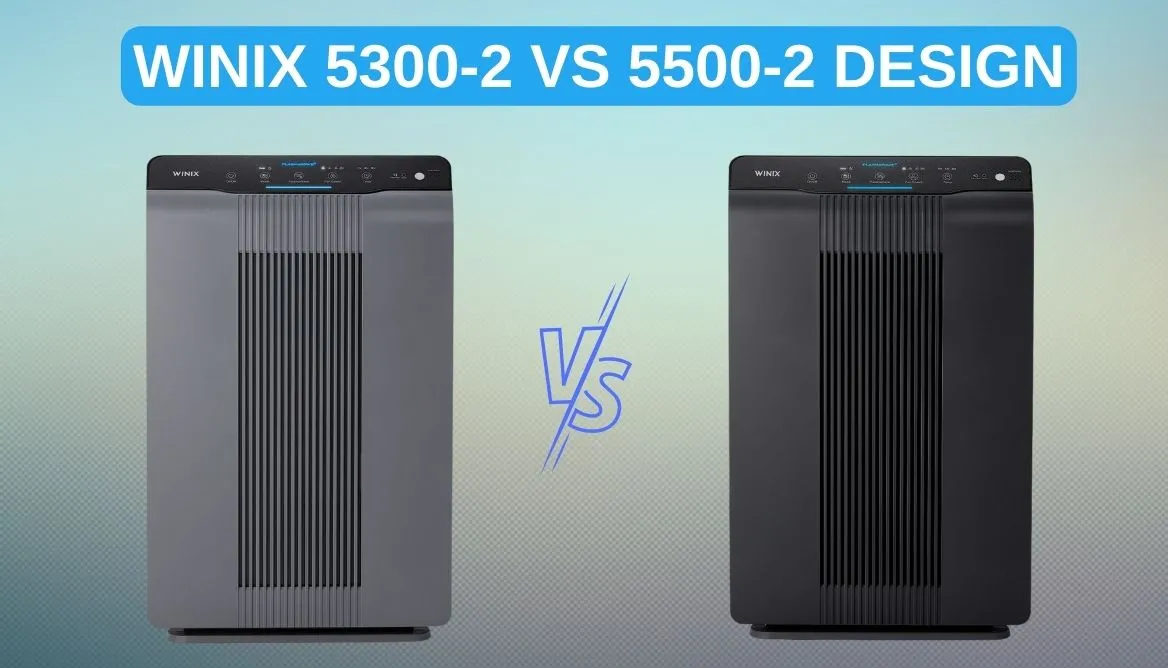 The Winix 5500-2 has a slightly updated design with a black control panel, adding a touch of elegance to its overall look.
The 5300-2 comes in a grey look which is almost the same.
Winner: I personally prefer the black unit but I will call it a draw as it ultimately comes down to your preferences in terms of color choice.
4. Prices
Both of the models have a slight marginal difference in the prices. The 55002 Winix air purifier comes with a higher price tag as it features an additional:
The washable filter system,
Remote control.
Winner: If you are looking for a highly efficient air purifier, I would recommend paying the extra cost for the 5500. But if you want to save some bucks, the more budget-friendly option would be choosing the 5300-2.
Warranty
Both the Winix 5300-2 and Winix 5500-2 models come with a manufacturer's warranty of 2 years:
This warranty provides coverage for any defects in materials or workmanship that may arise during the specified period.
It offers peace of mind and ensures that you can seek assistance or a replacement if any issues occur within the warranty timeframe.
Certifications
The manufacturer's products are backed by the following recognized authorities: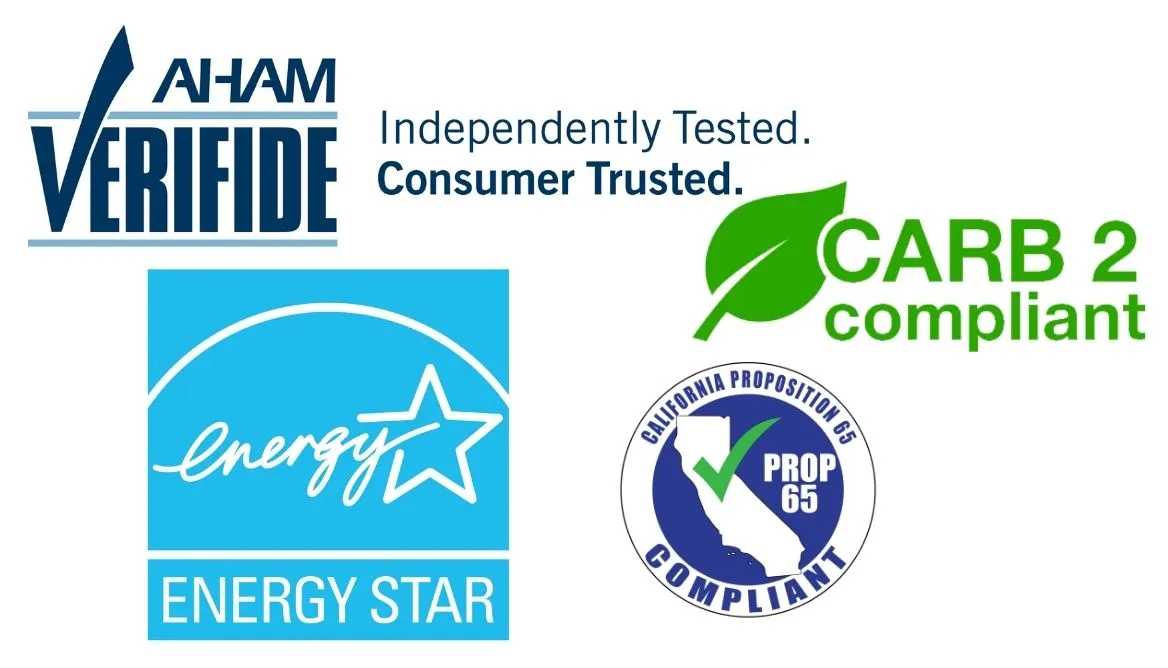 1. AHAM Verified
Both purifiers have received the AHAM Verified certification.
AHAM (Association of Home Appliance Manufacturers) is an independent organization that tests and certifies the performance and efficiency of home appliances, including air purifiers.
The AHAM Verified seal assures consumers that the air purifiers meet the organization's rigorous standards.
2. CARB
CARB (California Air Resources Board) certification is specifically relevant for products sold or used in California, where strict regulations are in place to reduce air pollution.
Both units have obtained CARB certification, indicating their compliance with California's air quality standards.
3. Energy Star
The Energy Star certification signifies that an appliance meets or exceeds energy efficiency guidelines set by the Environmental Protection Agency (EPA).
The Duo have received the Energy Star certification, indicating their energy-saving capabilities.
4. Prop 65
Prop 65 refers to California Proposition 65, a law that requires businesses to provide warnings about potential exposure to chemicals known to cause cancer, birth defects, or other reproductive harm. The Winix 5300-2 and Winix 5500-2 air purifiers are Prop65 certified, ensuring compliance with the law's requirements.
Final Verdict
Taking all of this into account, the Winix 5500-2 definitely is the superior choice among the two and I highly recommend it. Here's a quick breakdown:
So in this competition Winix 5500-2 wins confidently, thanks to its features and ease of use.
Read Also: Dyson HP01 vs HP07: Which is a Great Air Purifier for Your Needs?
Read Also: Best Air Purifier for Home: 7 Great Models for Healthy Air
FAQ
What is the difference between Winix 5300-2 and 5500-2?
The main differences between the Winix 5300-2 and Winix 5500-2 include the design, carbon filter, remote control, and price.
Do Winix 5500 and 5500-2 use the same filters?
The Winix 5500-2 has a washable AOC carbon filter. It has more pellet carbon material for better purification.
Does the Winix 5300 produce ozone?
No, the Winix 5300-2 and Winix 5500-2 utilize PlasmaWave technology, which neutralizes pollutants without generating harmful ozone.
Conclusion
The final say is that both purifiers have the same CADR, filtration process, remarkable Plasmawave technology, and great coverage parameters. Nevertheless, the Winix 5500-2 has a slight edge over its counterpart.
As it comes with a washable AOC carbon filter, VOC smart sensors, and a remote control bringing ease to your life while doing everything the 5300 can.
Sale
Winix 5500-2
Offers superior filtration equipped with a washable AOC filter. Effectively removes odors and any unpleasant smells. With coverage of 360 sq ft. and smart sensors, this purifier is the one to go for. Breathe easy and invest in your health today!
If you want to save some bucks and don't mind the control setting change by manual mode, I would say go for the 5300-2.
Sale
Winix 5300-2
Offers 4-stage filtration technology with plasma wave ionization. Excellent for medium-sized rooms of 360 ft. Dual smart sensors with energy-efficient sleep mode so you can rest easy with cleaner fresher air!