Vizio TV not connecting to Wi-Fi – it is a common problem, which at least once faced by the owner of this device. The solution depends on the reason why it occurred. Stay tuned and I will detail the causes and easy solutions to get your TV working properly again. Let's dive into the heart of the matter!
A Quick Answer
If your Vizio TV is not connecting to Wifi, the problem might be in your TV, in your router, or with your ISP. Here is a glimpse of what you can do as solutions.
Updating the latest software.
Factory reset the Vizio TV.
Using a wired ethernet connection.
Replacing the Wifi module.
Changing the settings.
These are common troubleshooting options. I will discuss other solutions as well in the following section. So keep reading!
Recommended reading: How To Connect a Vizio TV to Wi-Fi Without Using a Remote?
Troubleshooting Guide for Vizio TV Not Connecting to WiFi
If your Vizio TV won't connect to Wifi, there can be a lot many reasons behind the scenario. We shall discuss every possible problem and its solutions one by one. So, let's get started.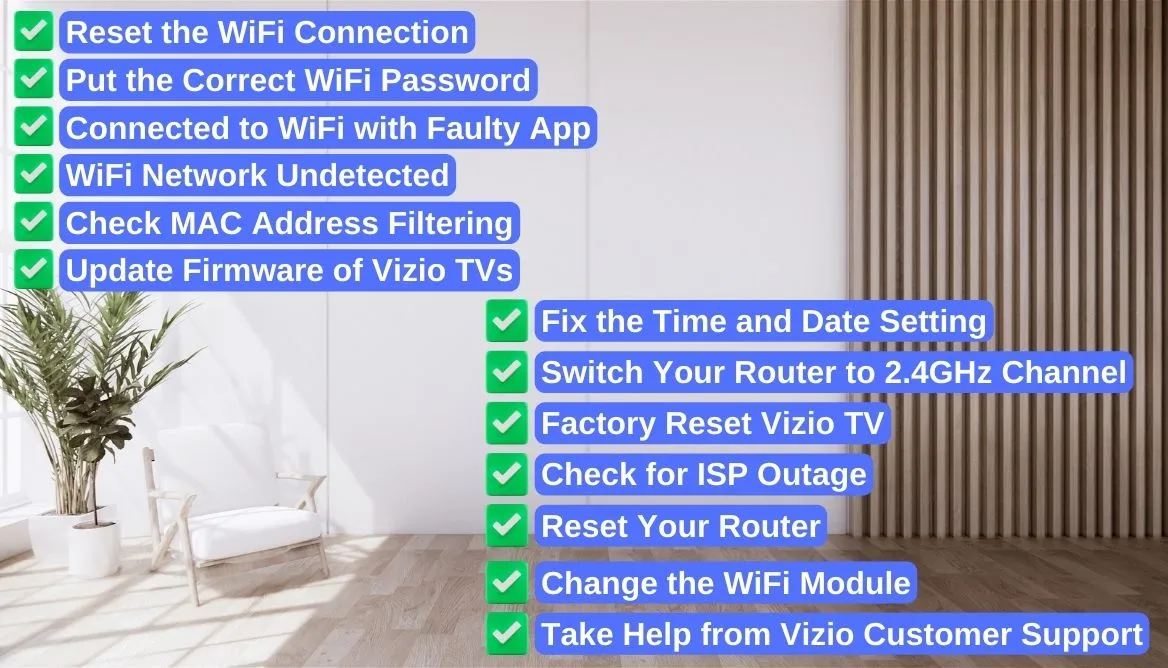 1. Reset the WiFi Connection on Your Vizio Smart TV
When your Vizio TV is not connecting to the home Wi-Fi network, the first thing that you should try is to power cycle and reset the TV. If your TV has got problems with transient memory, this process will solve the issue. So let me tell you how to power cycle Vizio TV.
First, you need to unplug the power cable.
Then press the power button for ten to twenty seconds. Note that you need to press the physical power button, not the Vizio remote control.
Keep the smart TV out of power for half an hour or more. It takes some time to finish the leftover powers.
Then put back the power cord and power on the TV.
Power cycling is a soft reset TV process that can deal with simple issues. But let's dive deep into some complex problems.
2. Put the Correct WiFi Password
Though it is not a common phenomenon to have a faulty password, it happens sometimes. The WPS setting might get failed, and the passcode is perhaps getting wrong. So you need to input the password manually.
At first, go to your Router and press the WPS button.
If the Wi-Fi router logins itself without any password, then there's no problem with the router.
If it requires a password, input that manually.
Recheck the password before the final submission.
If there's any problem with the password, it will be solved.
3. Vizio TV Connected to WiFi with Faulty App
Sometimes the Wi-Fi network is connected to the Vizio smart TV but doesn't work. Well, it is also a common problem stemming from faulty DNS and IP addresses. It may occur due to the Manual IP address set by the TV seller. You can fix Vizio TV by changing the settings.
First, take the remote control and go to the "Setting" option.
Then click the "Network Setting."
Next, click the "Manual Setup" option and click the "DHCP settings."
If it is On, change it to Off. Then put 8.8.8.8 as the Google DNS server.
If the DHCP is Off and turn it On.
If everything goes fine, the app will work perfectly. Before running the Vizio smart TV, you must restart the TV.
4. WiFi Network Undetected by Vizio TV
Most of the time, the router is the main culprit behind your Vizio TVs not detecting the wireless network. However, there can be some more reasons, and now we will go step by step to solve this.
Check if the router is on or off. Green LEDs show that your router is active and functional. Otherwise, you need to reconfigure it.
Ensure there is no network obstruction between your TV box and the router.
You need to make sure it's not your TV's Wi-Fi card problem. Check if there are other devices connecting to the WiFi network or not.
Some Vizion TVs might have weaker Wi-Fi cards. You might test by setting up your TV and router as close as possible.
If all of this fails, then it is a safe bet that your Vizio TV is most probably causing this trouble.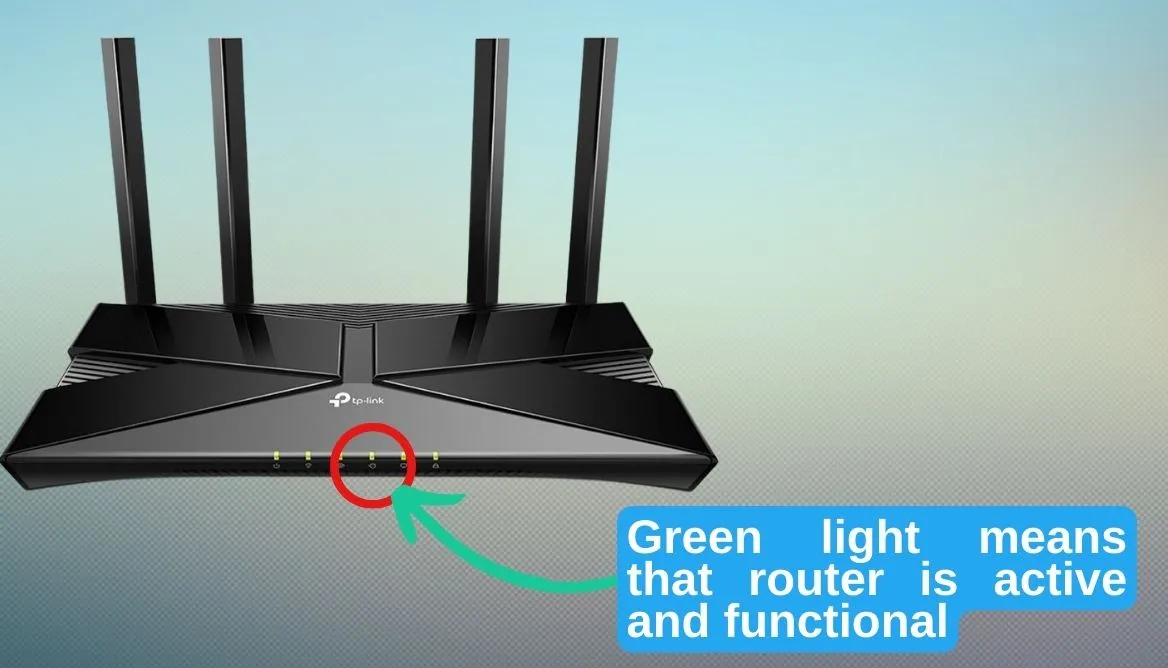 5. Check MAC Address Filtering in Your Router
Media access control access or MAC access is a unique way of barring unwanted devices from connecting to Wi-Fi. Sometimes kids switch on this setting in Vizio TVs without knowing much. If you just switch off the MAC filtering option, the Wi-Fi connection will be restored. Follow these simple steps to do so.
First of all, log in to your wireless router.
Then click on the Expert setting or, on some devices, the Advanced setting.
Select the MAC filtering option.
Now you need to turn it off.
Hopefully, if the problem with the router is resolved, the internet connection will be back.
6. Update Firmware of Vizio TVs
If you face random connection drops, your first try should be updating to the latest Vizio firmware.
Thanks to the patch updates, you will see many bugs disappear every time.
All the latest Vizio Smart TV models have a built-in auto-update system.
You can cross-check if the default auto-updates are on.
Important! You have to be cautious while updating the firmware. You should make sure that your TV is turned off but still plugged in. Otherwise, it will corrupt the installation or even not turn on completely.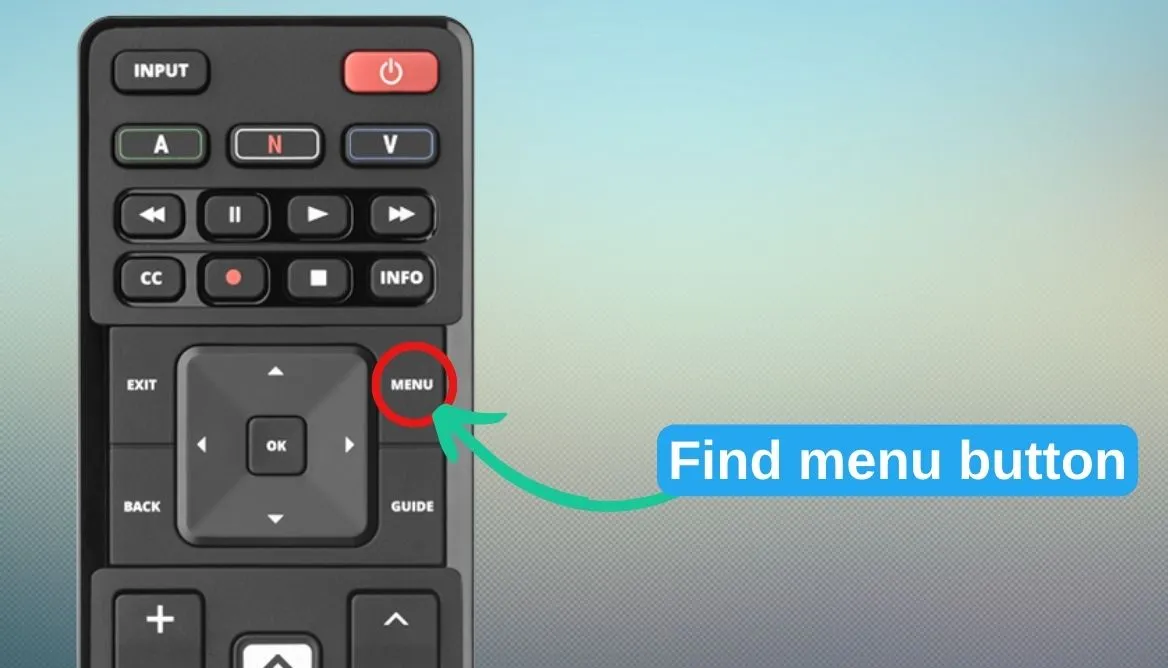 However, Vizio TV owners of old models can update the TV's firmware by following some simple steps.
Tap the Menu button from your remote
Head over to System or Admin & Privacy
Finally, click and confirm the 'Check if a new update is available' option. Your work is done.
Now It will download and install automatically. It will take two restarts in this process.
7. Fix the Time and Date Setting
If your Vizio TV's time and date are not up-to-date, your IP address will expire and disrupt the Internet connection to your router. This is because the router automatically assigns your IP address depending on the time and date. IP addresses contain a lease expiration system, which expires after assigned years.
And this causes malfunction when your TV's time is set to years ago. This is a common phenomenon not only on Vizio TVs but also on other electronic devices. To fix this issue, simply head to the settings of your TV menu and manually update the time and date.
8. Switch Your Router to 2.4GHz Channel
2.4GHz channel is ideal for your Vizio Smart TV. If you are connected with 5 GHz, you may face some connection issues. You can select or confirm 2.4GHz easily by following the steps: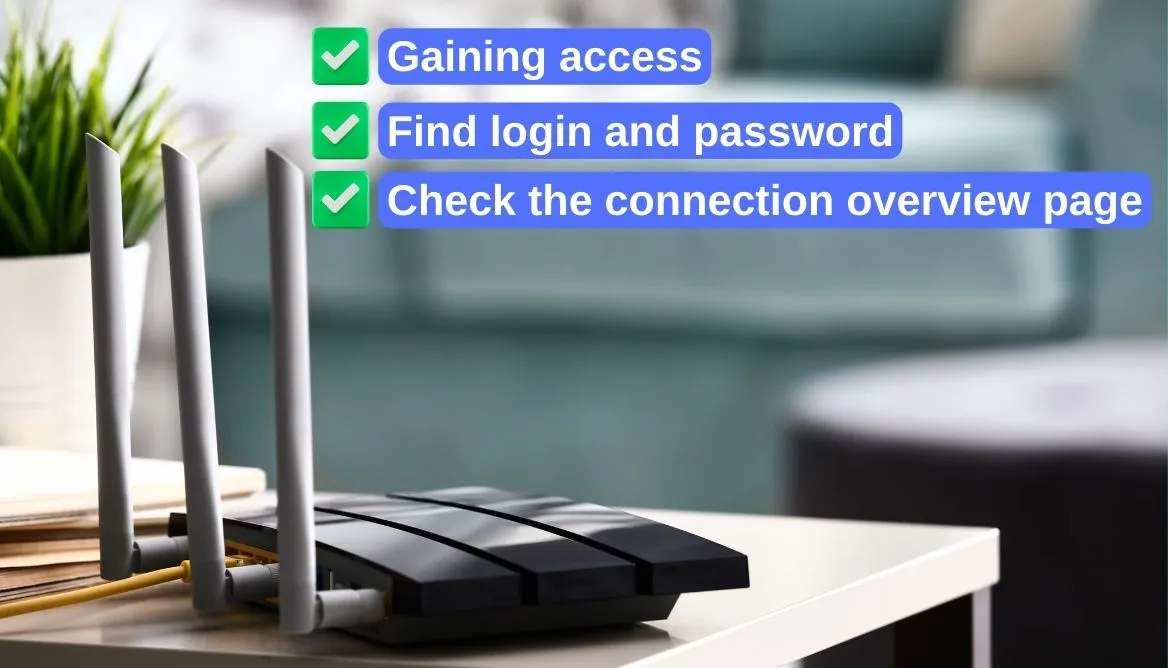 Gaining access: As a fast step, you need to access your router's setup page. While connected with the Wi-Fi, visit 192.168.1.1 from any browser on your PC or Phone. Note that most routers use this address as their default address. If it's not working for you, you are just a Google click away. Just search for your router's brand name + IP address.
Find login and password: Next, locate the label attached to your router, and you will find the login and password for your setup page. Remember, the password is different from your WiFi password.
Check the connection overview page: If it has a dual connection channel of both 2.4GHz and 5GHz, change it to only 2.4GHz. You can do this by accessing the Advanced Settings menu.
9. Factory Reset Vizio TV
Factory Reset Vizio TV should be a last trick on the sleeve if other methods don't work. A factory reset will clear memory and any personalized data. You can perform the factory reset vizio tv using the remote control or manually. Let me discuss both.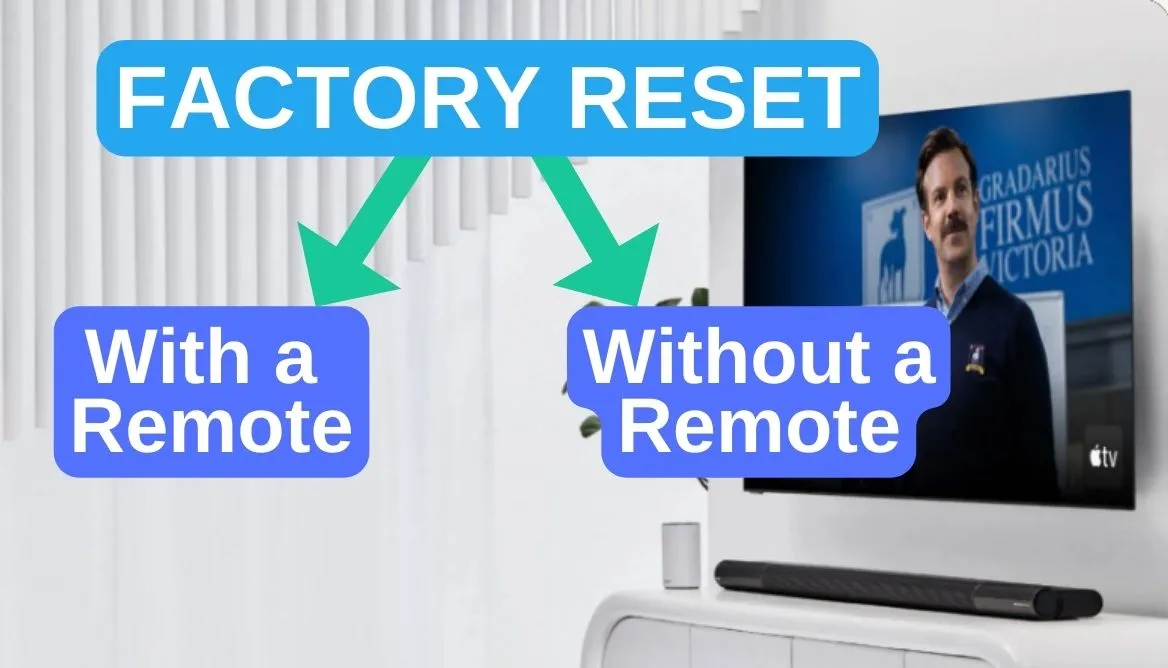 With a Remote
For factory reset with remote, follow next:
Power on the TV first.
Click on the Gear icon on the remote.
Scroll down and locate the System option and tap on it.
Pick the 'Reset & Admin' option from the menu.
Click on 'Reset TV to Factory Defaults'
If it asks for a password, enter 0000.
Check this video for better instruction:
Without a Remote
For factory reset without a remote you should:
Hold down the power button for 10 seconds.
Select Menu option.
Scroll down to System.
Select the Reset & Admin.
Select 'Reset TV to Factory Defaults'.
Finally, it will restart and boot up the startup menu. Now, you can personalize the settings and connect to the home WiFi network.
Watch this video for a better understanding:
10. Check for ISP Outage
Sometimes your Internet service provider may have an outage due to technical issues. What you need to do in such a case is to check the internet connection with other devices. If other devices connect to the Wifi network, then there is no problem with the internet service provider.
But if all devices are not getting the wireless network, then surely your ISP is having an outage. You need to call your ISP to know about the outage and the possible time of resuming service.
11. Reset Your Router
You can do soft and hard resetting of your router. I would recommend you try the soft reset first. If it doesn't work, then you can go with the hard reset.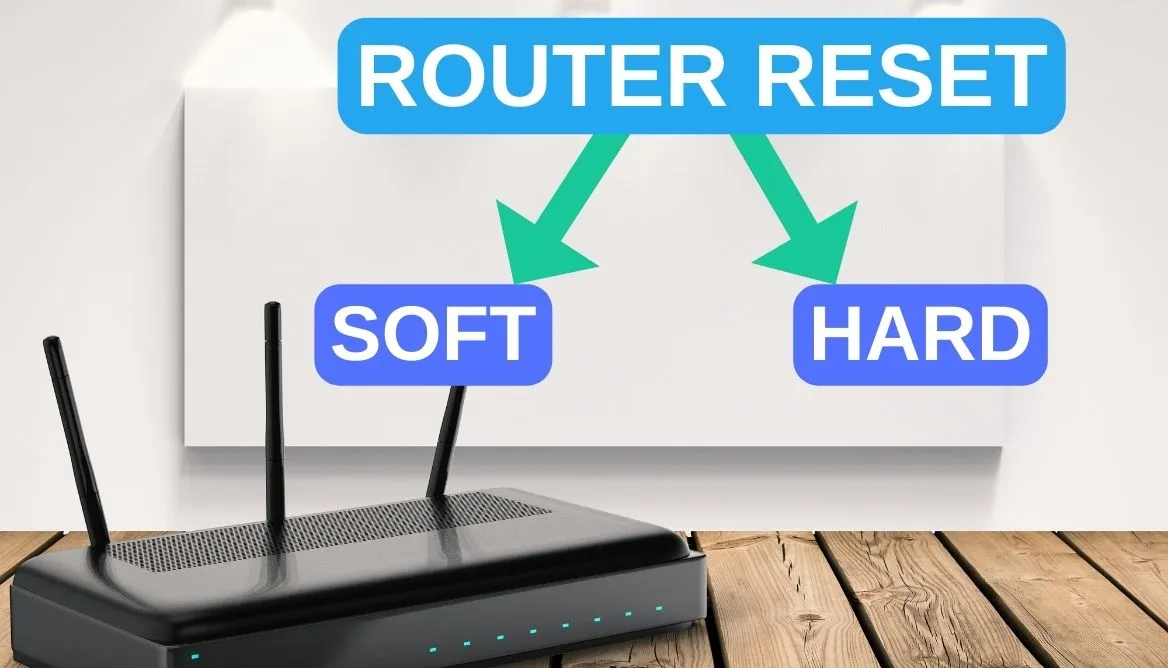 Soft Reset
For soft reset you should:
Unplug the router from the wall socket.
Wait about a minute, and then plug back in.
Hard Reset
For hard reset make follow:
First, take a paper clip
Press on the tiny reboot hole on the back of your router.
Then hold for 15 sec. It should reset automatically.
Remember that hard resetting will delete your personalized setting. It will reset to the factory default, and you need to set up the router again.
12. Change the WiFi Module
If there is an invalidated Wi-Fi module, your Vizio TV won't connect to Wi-fi. What you need to do is to replace the module with a screwdriver. Follow the steps below:
First, remove the back panel.
Disconnect the wired connection of the Module from the main board.
Unscrew the Wi-Fi module.
Replace it with a new one.
Connect the wire back to the main board.
Though it is an easy-breezy DIY job, you can take help from professionals. Also, note that changing the module will make your TV's warranty invalid.
13. Take Help from Vizio Customer Support
If any of the methods haven't worked out, you should contact Vizio customer support.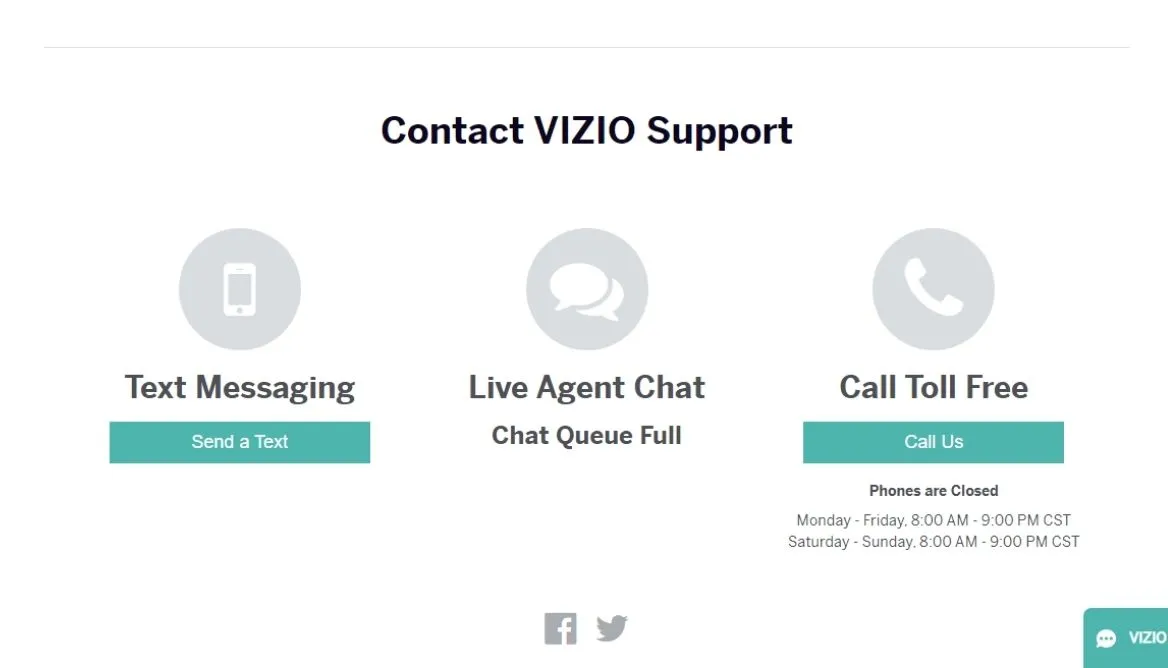 You can reach the official website here.
You will get live chatting, text messaging, and call support options.
Or you can just call this number: 844-254-8087.
However, if your TV model is not more than one year old, you can claim the warranty service. You can request the warranty claim here.
Make Sure Your Internet Connection Is Fast
Wi-Fi connection with slow bandwidth will come to nothing if the required speed is not met. Be it Vizio TV or not, the Wi-Fi speed must be more than the minimum. I have listed here an estimated speed for some streaming services. Have a look.
You can check your Internet speed through various available apps. If the speed is not enough for the streaming service, you should contact your internet provider.
WiFi Alternatives for Vizio TV
There are several Wi-Fi alternatives for Vizio TV. I am discussing here three alternatives.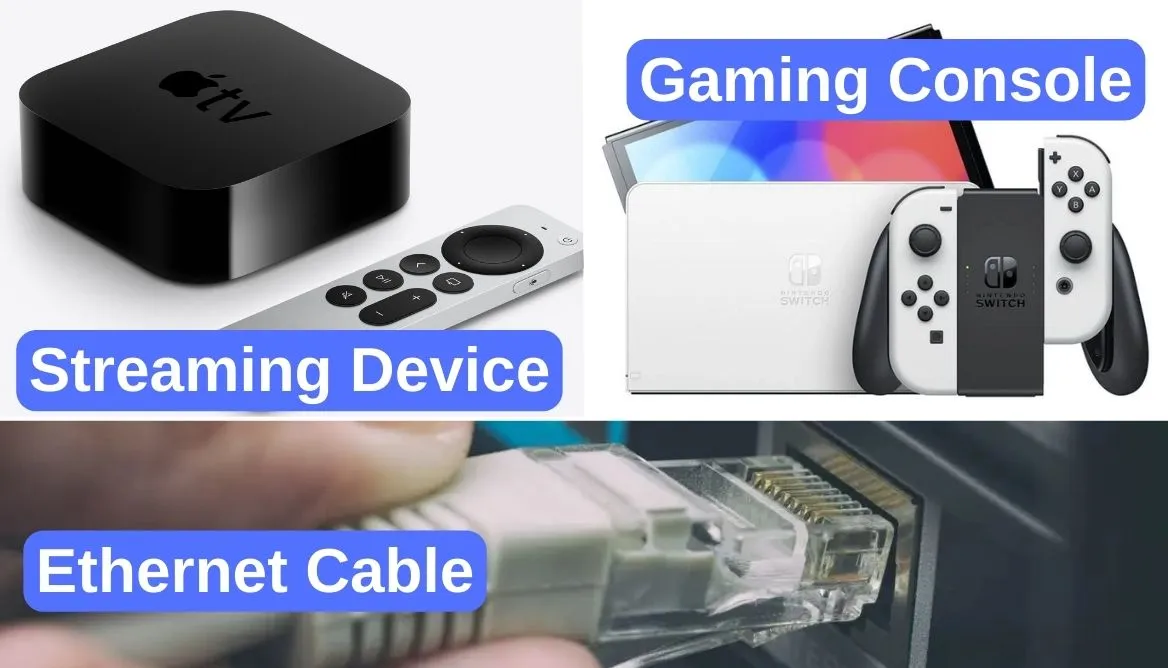 1. Ethernet Cable or Wired Connection
An ethernet cable is an awesome way to connect any device with Wi-Fi. A wired connection provides a stable network that will work as long as the router is okay. I bet you shall get faster internet if you use an ethernet cable.
2. Gaming Console
A gaming console is another good alternative to Wi-Fi. If you have Xbox Series or even the PS5, you can stream better with them.
3. Other Streaming Devices
Last but not least, I would recommend using streaming devices as an alternative. They will permit you to stream your desired show when connected to the Vizio Smart TV. You can try Fire TV or Apple TV models for this venture.
How to Connect Older Vizio TV to WiFi?
An older Vizio TV won't connect to Wi-Fi as smart TVs do. What you need to do is to get the WiFi connection manually.
First, get an adapter (Chromestat or Firesticks would do).
Read the instruction of the adapter.
Then connect the TV's wireless adapter to the HDMI port.
Follow the given manual if you face any issues. The TV screen will show you what to do next.
How to Connect Vizio TV to WiFi Without Remote?
You can connect to Wifi even without the remote. In such a case, you need to have a smartphone with the IR blaster facility. Follow these simple steps:
Install an app like TV Remote or Roku App from the play store.
Use the app as a remote control.
Moreover, you can use a USB keyboard in the TV port.
You can use the Enter Key and the Direction Keys for navigating.
Remember, older Vizio TVs won't support smartphone apps.
Read Also: Samsung TV Won't Connect to Wi-Fi Network: How to Fix Quickly
Read Also: Roku TV Not Connecting to Wi-Fi: How to Fix in No Time?
Frequently Asked Questions
Why won't my TV connect to my WiFi?
There may be a problem either with the TV or with the Wifi router. Try restarting both of them.
How do I get my Vizio TV to work on WiFi?
You need to connect your Vizio TV to the Wi-Fi. Take the remote and follow these steps: Menu>Network>Netwrok Conncetion>Select your Wi-Fi name>Enter the Password>Confirm.
Conclusion
So you now have a comprehensive idea of how to fix Vizio TV not connecting to Wifi issue. Before you start solving the issue, try to find out the exact cause of the problem. It will help you to save time.
Make sure the TV and router settings are okay and your TV has the latest software installed. Try a soft reset and power cycle first to get the Wi-Fi connection. If they don't work, go for a factory reset and Wi-Fi module change. Also, don't forget your saved settings will be gone if you factory reset the TV.