"Is Philips a Good TV Brand?" The company has years of excellent reputation along with many loyal customers. But, if you are specifically interested in their Tvs, I invite you to dive down into this review covering features and drawbacks and find out if they are worth the purchase.
Let's begin right now!
Quick Answer
Philips offers a wide range of television models and is toe-to-toe with other brands. It includes every feature desirable:
The variety in image quality is LED, OLED, and 4K Ultra HD. Screen sizes range from 24 inches to 75 inches.
Their TVs are available with built-in Google TV and Roku TV.
Meaning easy access to popular streaming services like Netflix, Hulu, and Amazon Prime Video.
They are also compatible with Amazon Alexa and Google Assistant.
The borderless designs make them an attractive addition to any room.
Their signature, exclusive element is the Ambilight technology.
Read Also: Who Makes Element TVs? 5 Essential Things About Brand
But before you make a final decision, read on to know about specs, maintenance tips, and some problems.
Best Philips TVs Specs
To fairly evaluate if the Philips TVs are the same as market-leading brands, I have listed the specifications of flagship models. Looking at the facts below, it can be safely stated that Philips is no less. Make your judgments.
| | |
| --- | --- |
| | |
| | 4K UltraHD (3840×2160 pixels) |
| | |
| | |
| | |
| | |
| | |
| | |
| | |
| | |
| | Digital Noise Reduction, MPEG artifact reduction, Dynamic contrast, Film mode, Blue stretch, Game Mode, Custom Color management, HLG, 120 PMR |
Upsides of Philips TVs
It is now established that Philips is a good tv brand, but that is not all to support the claim. There are many more cool benefits. Check them out: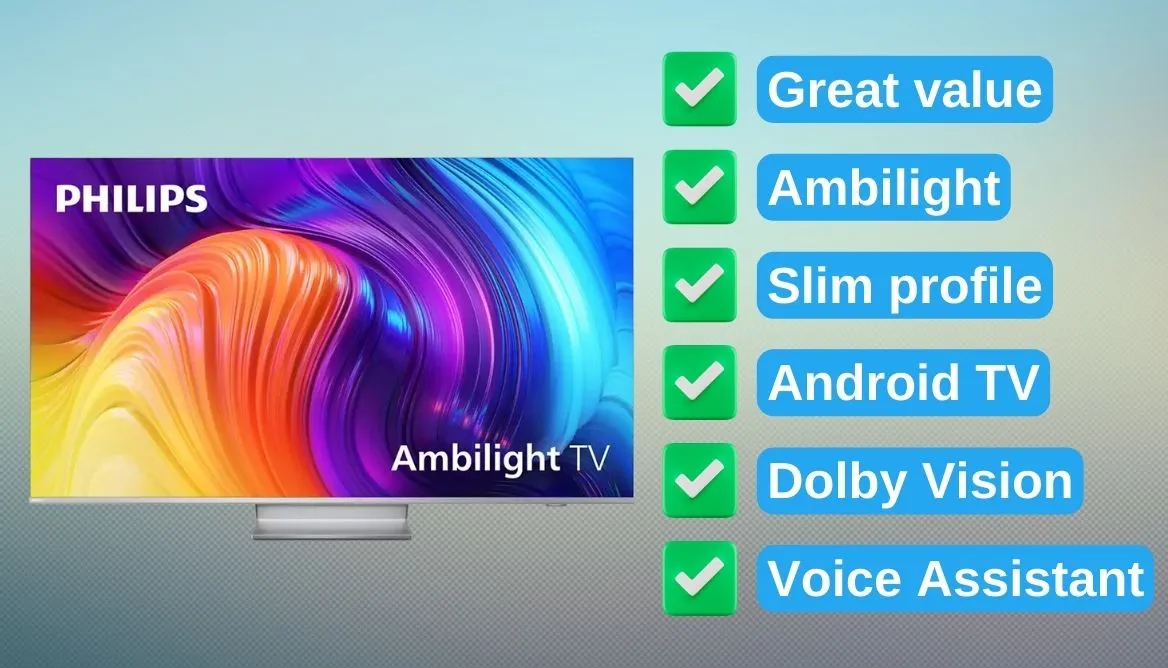 Great value on a Low Budget: You can get a Philips TV at a significantly cheap price than brands such as Samsung, Sony, LG
Ambilight: Get an immersive viewing experience as the TV's back projects colors on your walls.
Slim profile: Borderless designs and thin bezels for the best gaming experience.
Android TV: Access the Google Play store and utilize 5,000+ apps for any thinkable tasks and funs.
Dolby Vision: Philips TVs are good in a wide range of colors and excellent contrast.
Voice Assistant: Only say the name of the movies and leave it to Alexa or Google to play them on.
Downsides of Philips TVs
To make an unbiased and correct decision about Philips being a good Tv brand one should closely assess the cons: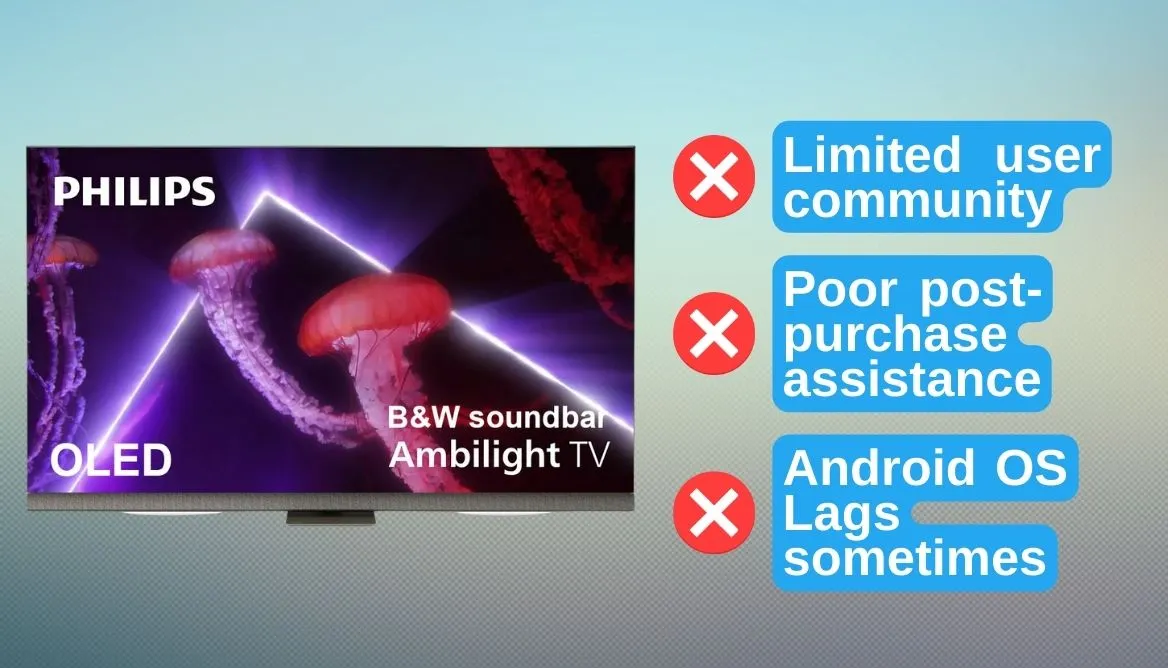 Limited User Community: Philips TV buyers are fewer in number than Sony, Vizio, and Samsung. If one requires basic trouble-shooting help then a simple Google search will not give results.
Poor Post-Purchase Assistance: Complaints of inattention and no follow-through have been reported by some customers.
Android OS Lags sometimes: UI can lag sometimes. You can reduce this by turning the animation from "1.0" to "0.0" in the Developer Settings.
Philips TV Resolution and Picture Quality
Philips TV consists of a range of models with an aspect ratio of 16:9, variants of OLED TVs, and different resolutions:
HD (1280×720 pixels)
Full HD (1920×1080 pixels)
4K Ultra HD (3840×2160 pixels)
What makes these special from the rest of the television industry is that their price points are much lower.
Smart TVs Features (Android TV, Google TV, ROKU TV)
From sound to screen, Philips TV is loaded with smart features. Even if your pocket does not allow a bulky one, you won't be missing out on anything. Their smallest, least-priced units consist of:
Wi-fi (Wireless LAN 802.11a),
HDMI ports, and
ROKU TV.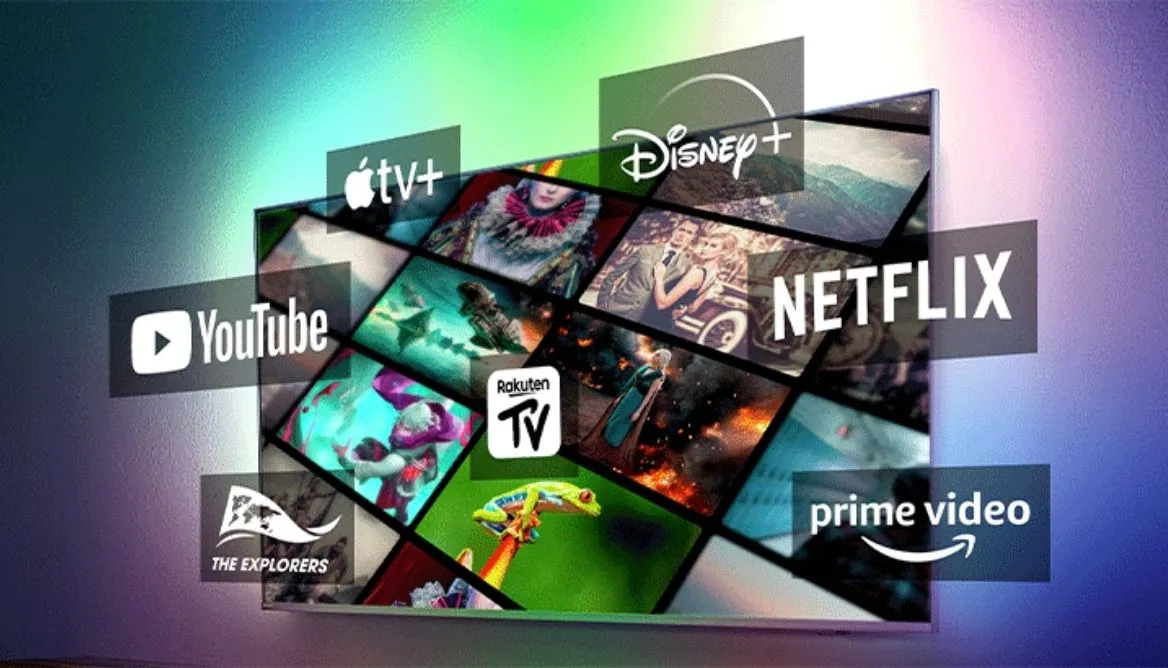 On the other hand, Google TV has Wi-Fi LAN (802.11ac MIMO). Comes with preinstalled:
Youtube
Netflix
Prime Video
Discovery+
Tubi TV
Additionally, it has a built-in chrome cast, Pause LiveTV, Bluetooth 5.0, and USB Recording.
Read Also: What Is the Difference Between Roku TV And A Smart TV?
Coolest Function: Ambilight
Philips TVs have LED lights on their back. These project onto the surrounding wall. The colors correspond to the visuals on the screen. Watch the video to know how amazing it can be. It has four customizable modes:
How to Prolong the Lifespan of Cable Ports?
The cable ports of Philips TVs are generally sturdy, but it is advisable to handle them with care to ensure their longevity. It is recommended to:
Avoid placing excessive stress on these ports.
You can use extension cables or hubs for devices that are frequently swapped. This way they won't absorb any impact resulting from unplugging or tugging.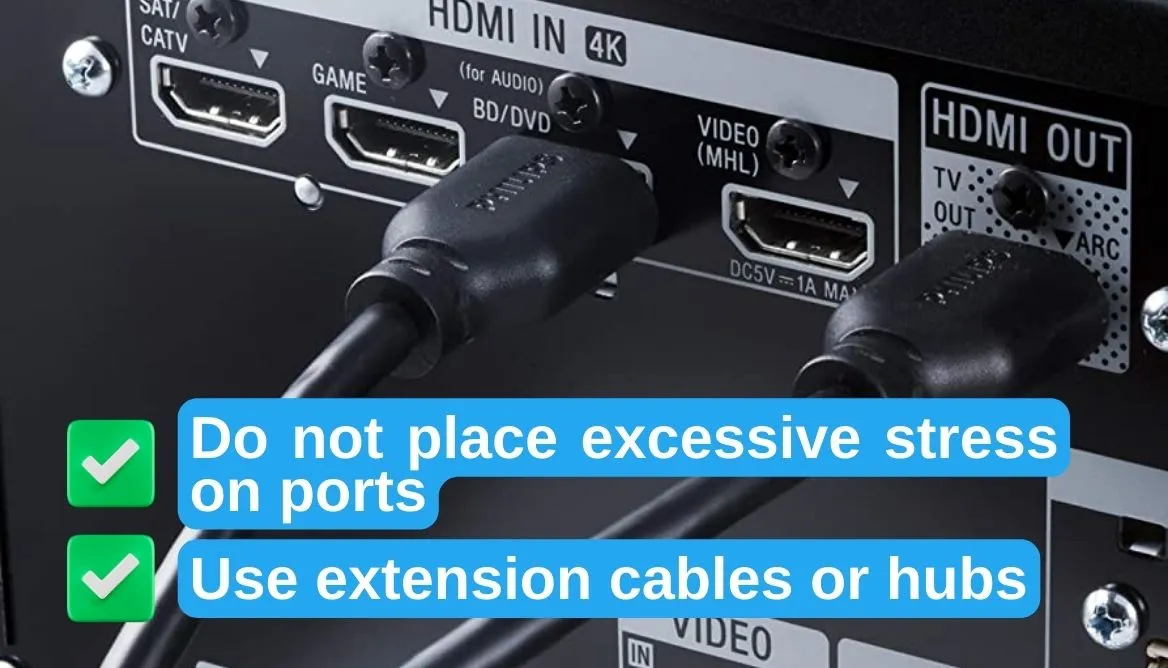 Where does it Stand in Terms of Market Price?
Philips TVs offer impressive features and quality at a reasonable price. A higher-priced television may have more in comparison but the value for money here is unmissable. As you can see:
Their gigantic 75-inch, 4K UHD TV costs $598 at Walmart. Whereas same-sized Sony Class costs $1598 or even $2298.
The 65 inches Phillips costs $348 while the LG cost $476.
This makes Philips a great option for those on a tight budget. Consider this a good brand if you're looking for an affordable and reliable TV.
How Many Years Can I Use It For?
Philips TVs typically have a lifespan of anywhere from 40,000 to 100,000 hours, which equates to roughly 4.5 to over ten years of use. Proper care of your TV is key to achieving the upper end of this range. It will also prevent any burn in screen quality.
Read the list below to know how you can expand its life.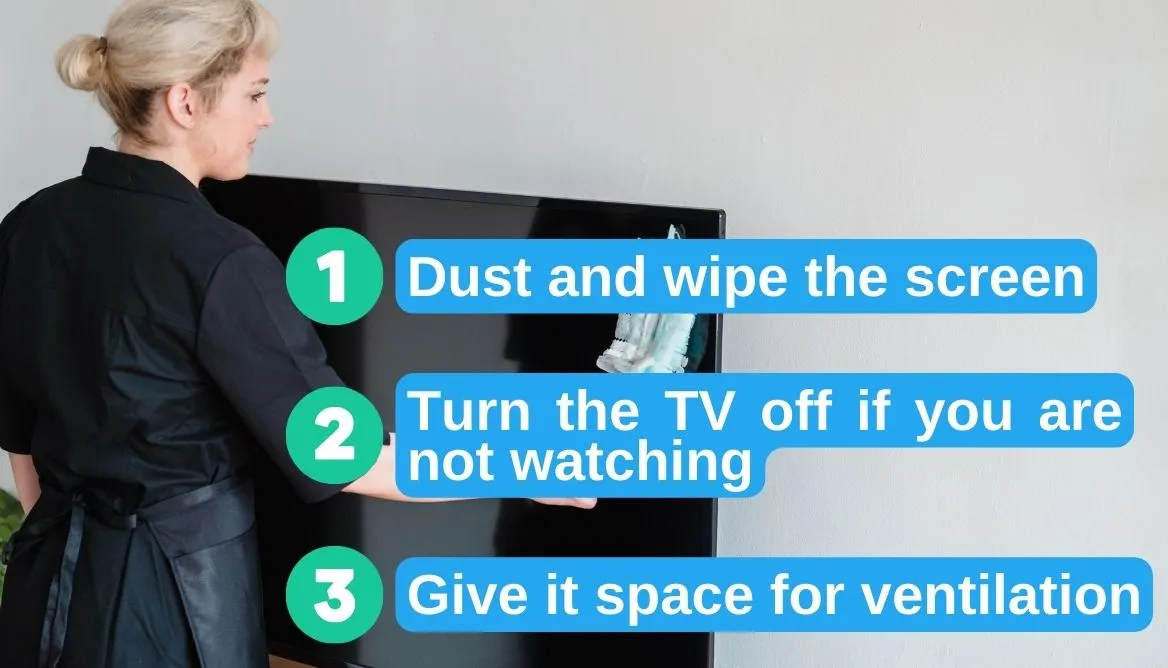 1. Dust and Wipe the Screen
Regularly dusting your TV to prevent accumulation of dust that can damage the screen and reduce ventilation. Use our tips to do so:
Use a microfiber: cloth to wipe the TV.
Gentle motions: so you do not scratch the LED screen.
Wipe in a Single Direction: Circular or back-and-forth strokes can also cause lines.
2. Turn the TV off if You are not Watching
It is advised to turn off the television when not viewing.
Prolonged use can speed up the degradation process, causing the backlights to burn out faster.
Additionally, please make use of power-saving features, such as timers. This will ensure that the TV turns off automatically in case you forget.
You can even use a smart home system to do that.
3. Give it Space for Ventilation
It's important to make sure your TV is properly ventilated. It will prevent overheating and extend its lifespan. Keep other devices that release heat away and:
Leave at least two inches of space behind the TV
Four inches on the sides to allow for proper air circulation.
You can mount the TV on the wall. It provides adequate ventilation and will even eliminate the risk of knocking it over. But if you're using a cabinet:
Make sure it has adequate space for airflow
Consider using cooling fans.
Do Philips TVs Have any Design Flaws?
Generally, Philips TVs do not pose any significant problems for their users. Having said that, some individuals may encounter certain issues. Such as: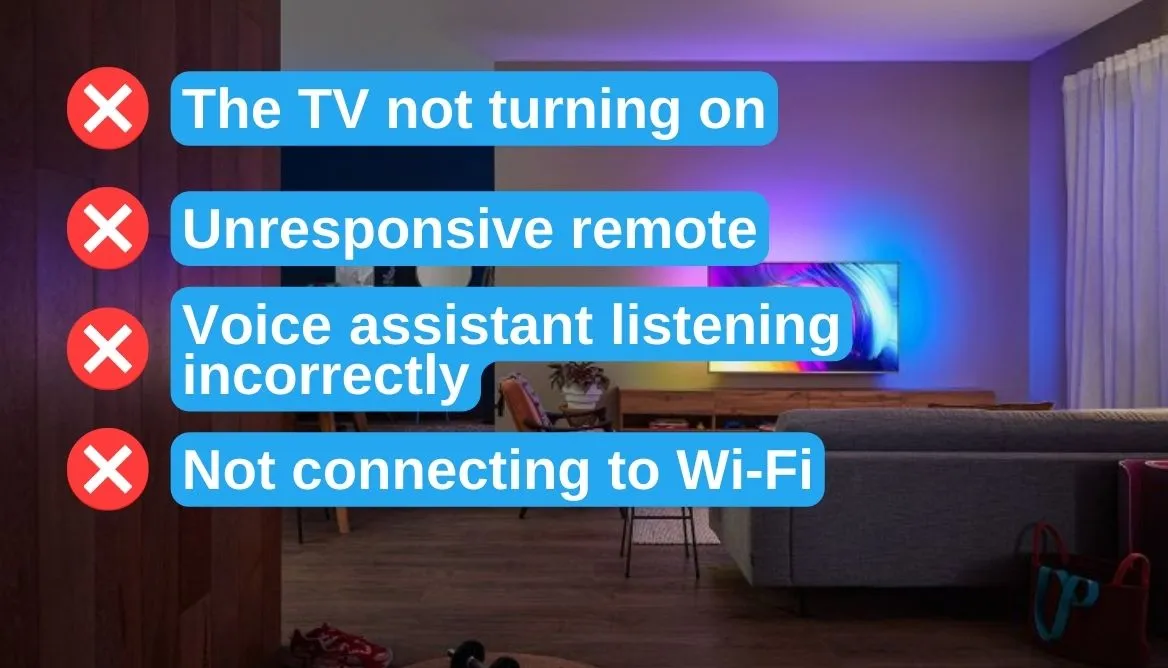 The TV not turning on,
Unresponsive remote,
Voice assistant listening incorrectly,
Not connecting to Wifi.
These are not common enough to be classified as defects in the design. Any issues that may arise with Philips TVs are similar to those that one might experience with other brands. The only exception is some Android 8 TVs were not able to stream videos in 4K.
Does it Come with a Warranty or Buyer Protection?
The warranty period for Philips TVs is 12 months from the date of purchase or arrival at your address. This is offered on limited parts and labor. If you purchase it from vendors such as Walmart it is possible that they have additional third-party and 30-day free returns.
Best Placement and Usage for Philips TVs
Philips TVs can be used in various settings. Yet, there are specific areas where they are best used. Such as: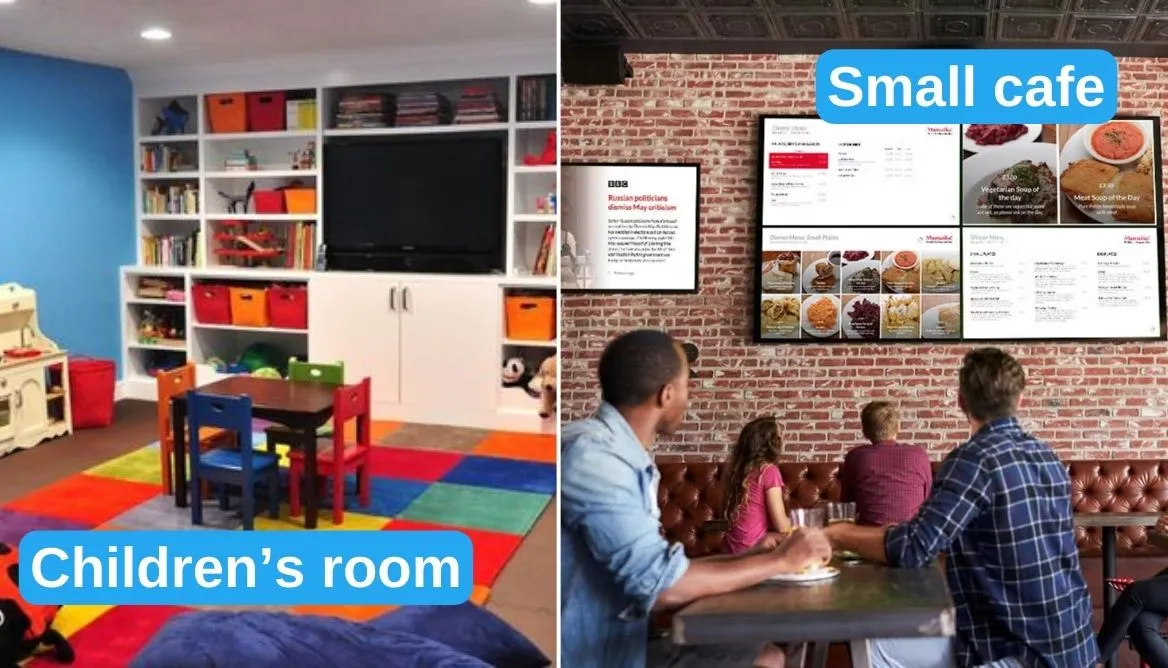 1. Children's Playing Area and Room
Children should spend time watching educational and engaging programs. But young ones being playful can damage the screens. In this case, you should go for an inexpensive option. Philips has the perfect solution for you.
They are affordably priced, and the screen is big enough for children to view comfortably from across the room.
2. Shops and Small Cafes
Philips TVs are also perfect for commercial settings such as retail stores and restaurants. You want to entertain customers and provide them with reasons to stay at the cafe more. Put on a football match or news to keep them hooked.
It's possible that your business is small or new. No worries do not make a hefty purchase instead get a Phillips.
Tips to Get the Best Viewing Experience with Philips TV
To enhance your television-watching experience, here is what you should do:
When setting up a new TV, take the time to adjust the colors and sharpness to your personal preference. This will enhance the image quality.
Make sure your TV is set at the perfect eye level.
Do not place it against windows or light sources. The reflection will interrupt the view.
Get a soundbar or external speakers to enhance the audio.
Avoid bugs or security issues by periodically installing software updates.
FREQUENTLY ASKED QUESTIONS
Are Philips TVs made by LG?
Which TVs have the best quality?
4K OLED TVs are known to have the best quality display. You can pair it with Dolby Vision on a 50-inch or bigger screen for greater results.
What company makes Philips TV?
The company that makes and markets Philips TV is TP Vision. It has professional displays, LEDwalls, and TV sets are all under it.
Which brand of TV lasts the longest?
Brand of TV that last the longest are LG, Sony, and Panasonic. You can also trust Sharp, Vizio, and Philips if you need a more affordable option.
Conclusion
If one studies the TV brand market, Philips stands as a second-tier. Nonetheless, it is a good brand. At much lower rates, it provides all the desirable functions. There is a huge selection of screen resolutions such as OLED TVs, 4K UHD, Full HD, and HD.
Android and Play Store can let you download the apps. All the streaming sites are available so you won't miss your favorite shows. Set the mood with Ambilight. Share with us if you think it is worth the money, considering all it offers.