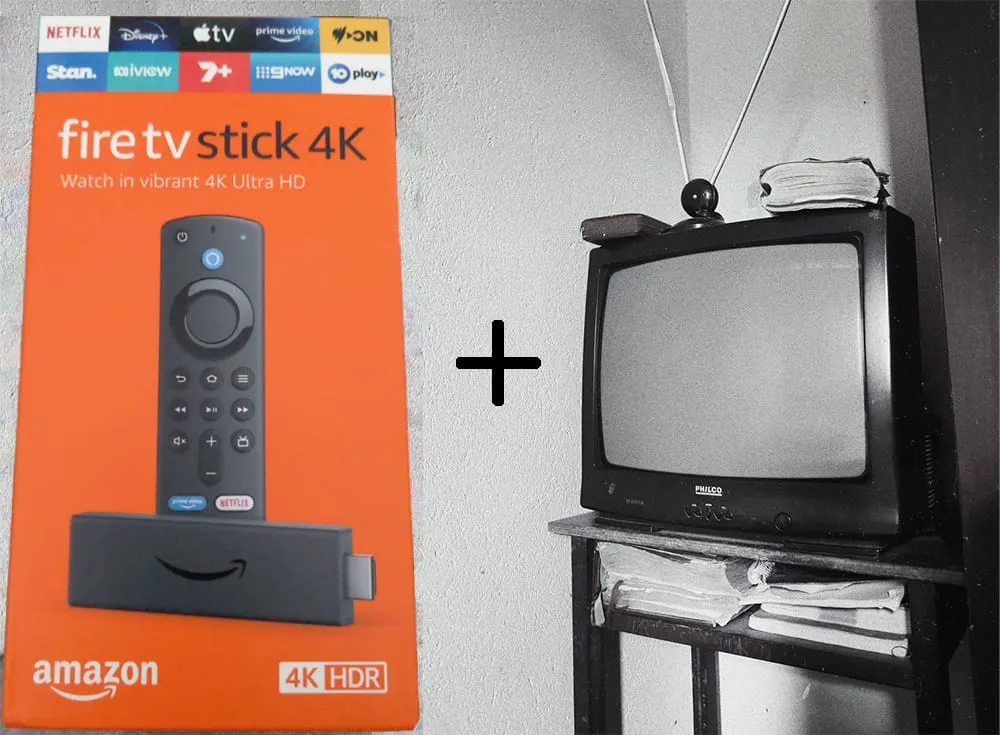 Smart TVs dominate the market these days. It's rare to find one without an of internet connection and a set of selected apps from their chosen app store. What do you do if you have an older TV that works perfectly fine, but want to use certain features that a Smart TV offers? One solution is using possibly using a FireStick.
Can you use a Firestick on an older, regular non-Smart TV?
Firesticks can be used on older, non-smart TV sets. Firesticks require the TV to have a HDMI port and for the TV to be a HDTV with at least 720p resolution. Adapters can be used if the TV does not have an HDMI port, but they are not recommended.
Just because it can work, doesn't mean you should and we will delve into that in this article. On the flip side, one of the great things about using a Firestick is that it turns your regular TV into a Smart TV. After all, the main difference between a smart TV and a non-smart TV is that a smart TV is internet connected and capable of running apps.
Does a Firestick make your TV smart?
Perhaps you were in the store and saw the Smart TVs all lined up and demonstrating their "Smart" features, such as streaming from an app. You walked a little bit further and saw streaming sticks, and it got you thinking. Why would I need a new Smart TV if I could buy a streaming stick?
Smart TVs connect to the internet and allow you to stream services directly on your TV without any extra cables or devices required. Installing a streaming stick on your TV, such as Amazon's Firestick, will give you all the features of a Smart TV but you will have the extra cables.
Installing a Fire TV Stick will give you a TV that "runs" Fire OS. The TV isn't actually running it, Fire OS is running on the streaming stick and just being displayed on the TV. It's like connecting a monitor to a computer, only this computer has a very specialized purpose.
Related Content: How To Connect a Vizio TV to Wi-Fi Without Using a Remote?
What are the requirements for using a Firestick on my TV?
These are Amazon's Firestick (Gen 2) requirements in regards to the TV:
"System requirements

High-definition television with available HDMI input, Internet connection via Wi-Fi, a power outlet

TV compatibility

Compatible with high-definition TVs with HDMI capable of 1080p or 720p at 60/50Hz, including popular HDCP-compatible models"

Source: Amazon
Which Firestick should I use on my Non-Smart TV?
Amazon has a whole series of Fire TV devices, starting with the Fire TV stick described in this article, the Fire TV Cube, and finally Smart TVs called Fire TVs that run the Fire OS.
The Fire TV stick is all you need if you plan on plugging it in to an older TV. There are a few models of Fire TV Sticks; a 1080p version and a 4K version. Of course, there are other differences, but they do not matter for the purposes of this article.
Since you are using this on an older TV, you would need the 1080p version. There are no 4K TVs that are not Smart TVs. You can get the cheapest Fire TV Stick available, which is the Fire TV Stick Lite.
The difference between the Lite and the regular is in the remote. The Fire TV Stick Lite model remote does not have TV controls and will not be able to control power or volume on your TV. If this is something that matters to you, go one step up and get the regular Fire TV Stick. Here are some Amazon (affiliate) links to both versions.
How do I connect my fire TV stick to my non-smart TV?
If your TV doesn't have an HDMI input, you can buy a HDMI to A/V converter to use your Fire Stick with component cables. I'm not going to put a link though because I really don't recommend doing this. You should think about upgrading your TV for a far better experience.
Using converter boxes reduces image quality and introduces delay.
If you have a flat screen TV that you may have bought right before smart TV's came into popularity, than that should be okay to use. The important parts are that the TV has a nice picture with 1080p resolution and at least 1 HDMI port. The TV doesn't have to have a lot of functionality built into it like a Smart TV does.
Once you have that sorted out, make sure you have Wi-Fi internet available by your TV. The Fire TV Stick will use the internet to stream content.
Steps to connect fire TV stick to a non-smart TV
Connect your Fire Stick to power by using the supplied USB cable.
Plug the Fire Stick directly into an outlet using a USB adapter.
Connect your Fire Stick to the HDMI port on your TV.
For the most part, it doesn't matter which HDMI port you use. If it doesn't fit, make sure to use the extension cable which is also included in the box. This is actually recommended for better Wi-Fi signal.
Change your TV Input to the HDMI input where the Fire TV Stick is connected.
Using your television's remote, select the input that matches the HDMI port you plugged your Fire Stick into (e.g. HDMI 1, HDMI 2, etc.). When you have selected the correct display, you will see output from the Fire TV Stick.
Follow the on-screen instructions for connecting your Fire Stick to your Wi-Fi network.
From here on out you can use the remote included with the Fire TV Stick.
Connect your Fire TV Stick to your Amazon account.
The Fire TV Stick will give you on screen prompt of what you need to do
After you have finished the setup, take some time to explore. You can install apps like Netflix, Hulu, Disney+, and HBO Max. You will have to create an account for each streaming service, and not all of them offer free content.
Conclusion
If your regular, old, non-smart TV is pre-HD, I would seriously recommend biting the bullet and buying a HDTV or 4K TV to replace it. You might be surprised at how cheap they are now, and the jump in picture quality over that old technology makes quite an astonishing difference. Plus, the new TV will likely be a Smart TV and have all the smart functions built in, but still give you the option of using a Fire TV Stick if you desire.