Are you also one of those people who can't decide between Blueair 121 vs 211? I got you! To make your decision process easy, I invite you to check out this ultimate comparison between the Blueair top appliances. Let's explore both devices and choose the one best suitable for your needs!
Quick Answer
This is how both the renowned purifiers differ from one another:
Coverage area: Blueair 211 comes with a recommended coverage of 540 sq ft. On the other hand, Blueair 121 is capable of purifying up to 620 square feet.
CADR Rating: The 121 variant has the highest CADR ratings as compared to the other model.
Filter: Blueair 211 offers an additional layer of filtration with the smoke top filter.
But, there's more to the comparison. Continue reading to learn more about how these two purifiers differ in terms of features, pros, and specs. Let's dive into the details!
Comparison Chart
| | | |
| --- | --- | --- |
| | | |
| | | |
| | | |
| | | |
| Room Coverage (square feet): | | |
| Delivery Rate of Clean Air (cubic ft/min): | | |
| | | |
| | | |
| | | |
| | | |
| Upgradable carbon filter: | | |
| | | |
| | | Best in terms of affordability |
| | | |
Blueair 121 Pros and Cons
Sale
Blueair 121
Take a look at the advantages and disadvantages of the amazing Blueair 121:
Pros
Exceptional filtration performance, capturing 99.97% of airborne particles.
Whisper-quiet operation, ensuring a peaceful and undisturbed environment.
Compact and sleek design, blending seamlessly with your home decor.
Energy-efficient, reducing electricity consumption and saving you money.
Easy-to-use manual controls for hassle-free operation.
Cons
Lacks automatic features.
Blueair 211 Pros and Cons
Sale
Blueair 211
Let's check out the positives and negatives of this unit:
Pros
Powerful filtration system, eliminating 99.97% of airborne particles.
Low noise levels, ensure a peaceful indoor air quality environment.
Wi-Fi connectivity and mobile app control for convenient operation.
Integrated display showing real-time air quality feedback.
Cons
Lower CADR Rating as compared to 121.
Higher filter replacement cost.
What Set These Blueair Air Purifiers Apart
Let's see how the two blue air purifier models are different from each other: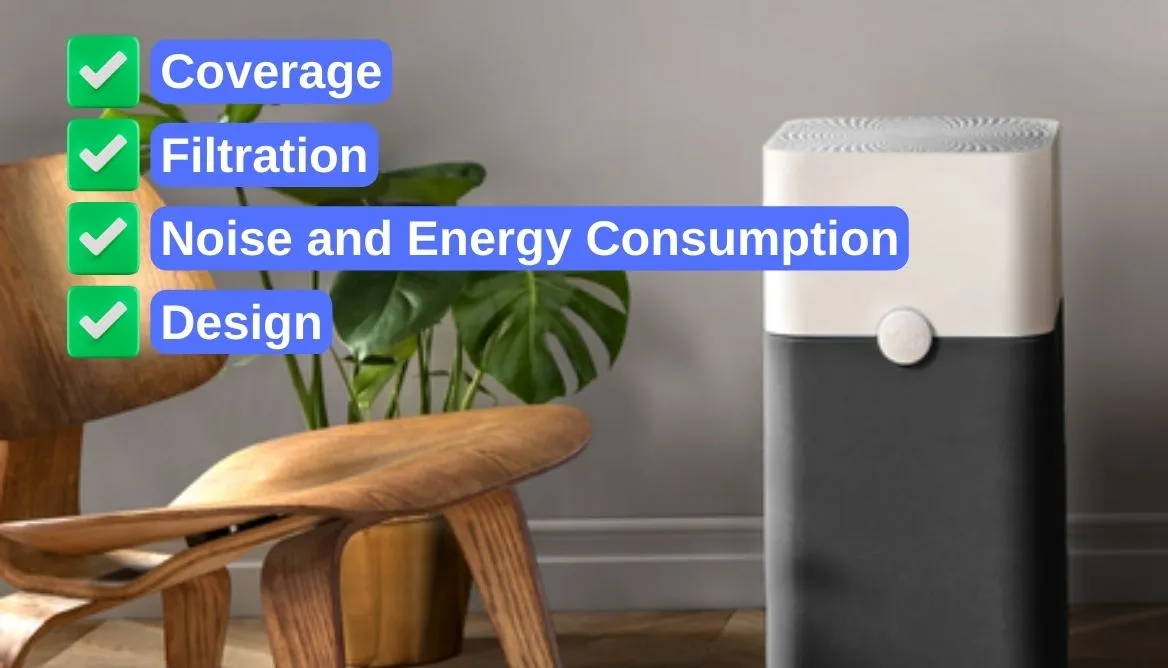 1. Coverage
One significant difference between the duo lies in their coverage capabilities.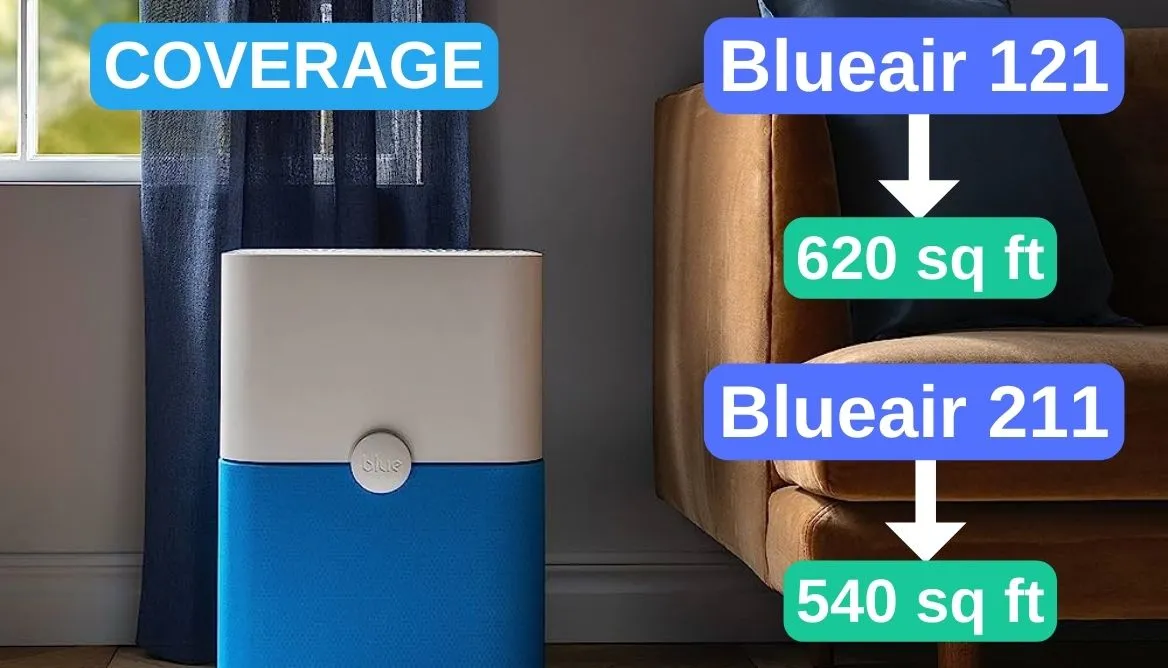 The Blueair 211 is designed for smaller spaces, with a recommended clean air delivery rate of up to 540 square feet (400 CFM).
On the other hand, the Blueair 121 is engineered to purify larger rooms, offering coverage for spaces up to 620 square feet.
Winner: The 121 takes the lead by providing more coverage.
2. Filtration
Here is a breakdown of the filters used in each of the models and their purposes: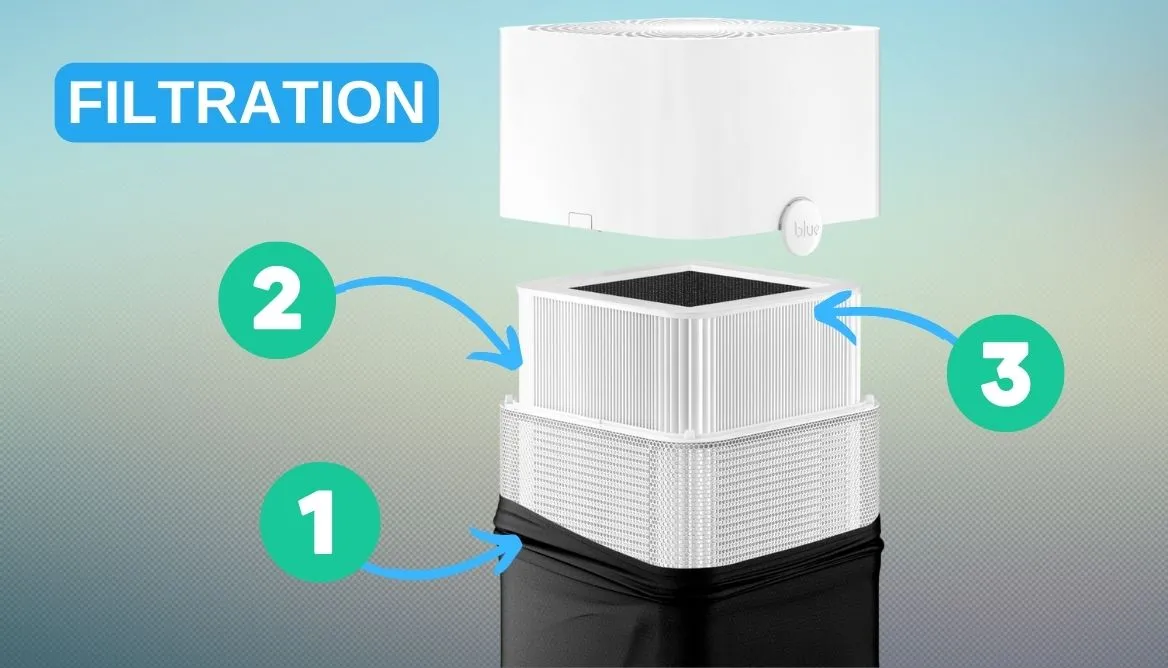 The Blueair 211 and 121 utilize a three-stage filtration system.
It incorporates a particle filter that captures larger particles and allergens, followed by an activated carbon filter.
The particle filter is used to eliminate minute particles.
The activated carbon filter works to eliminate odors, smoke, and volatile organic compounds, providing cleaner and fresher air.
These advanced filtration systems in both models contribute to reducing airborne pollutants and allergens, promoting a healthier living environment.
But, there's a difference between the duo as 121 features an upgradeable carbon filter which increases the overall efficiency.
Winner: Both the Blueair purifiers have the same three-stage filtration providing cleaner air. But the addition of an upgradeable carbon filter gives an edge to the 121 variant.
3. Noise and Energy Consumption
When it comes to noise and power consumption, both models are designed to be low-noise and energy-efficient.
The noise levels of these models are between 31 – 56 dB(A).
Also, the power wattages of both units are 30-61 watts.
Winner: There is no clear winner as both have the same values. However, it is important to note that 121 has more reachability by consuming the same power as its counterpart which gives it an edge.
4. Design
In terms of design, the Blueair 121 and Blueair 211 showcase their unique aesthetic and build.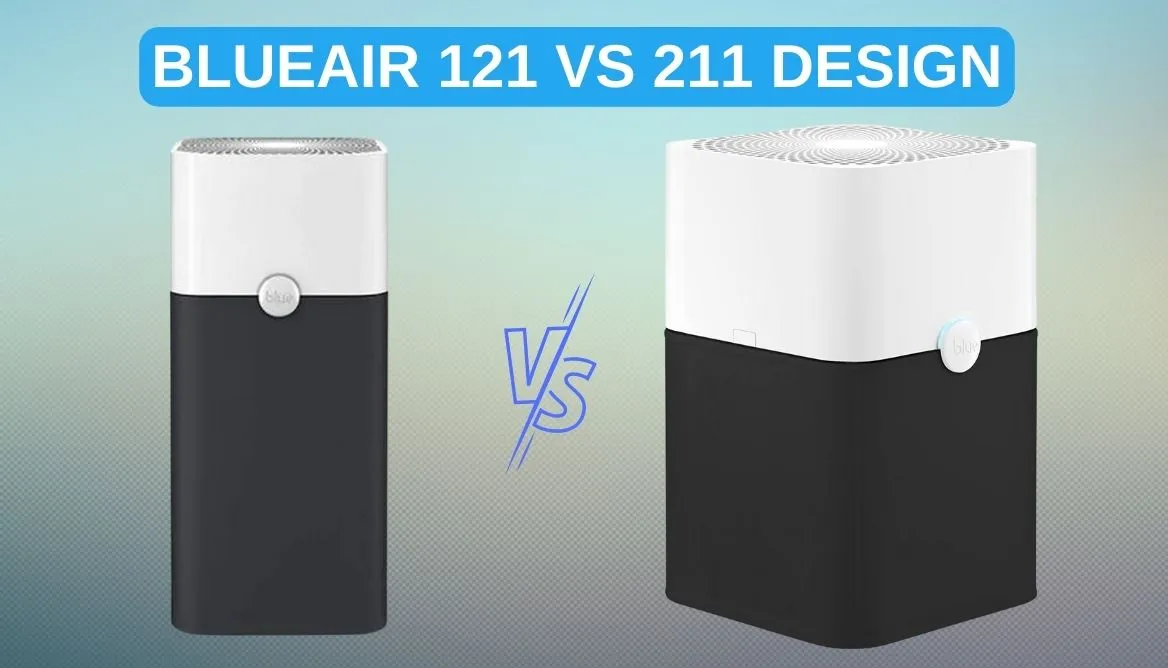 The Blueair 211 features a compact and sleek design, making it suitable for smaller spaces and blending seamlessly with various room decors. It weighs only 7 kg.
On the other hand, the 121 is slightly larger in size but retains a modern and stylish appearance, making it an ideal choice for extra large-sized rooms. This heaver design is 8.3 kg
Winner: Both have a box-shaped design and come in the same colors. The 211 has a better build design and weighs less making it a winner in this category.
Similarities in Blueair Blue Pure 121 vs 211
These are some of the functions and features they have in common are: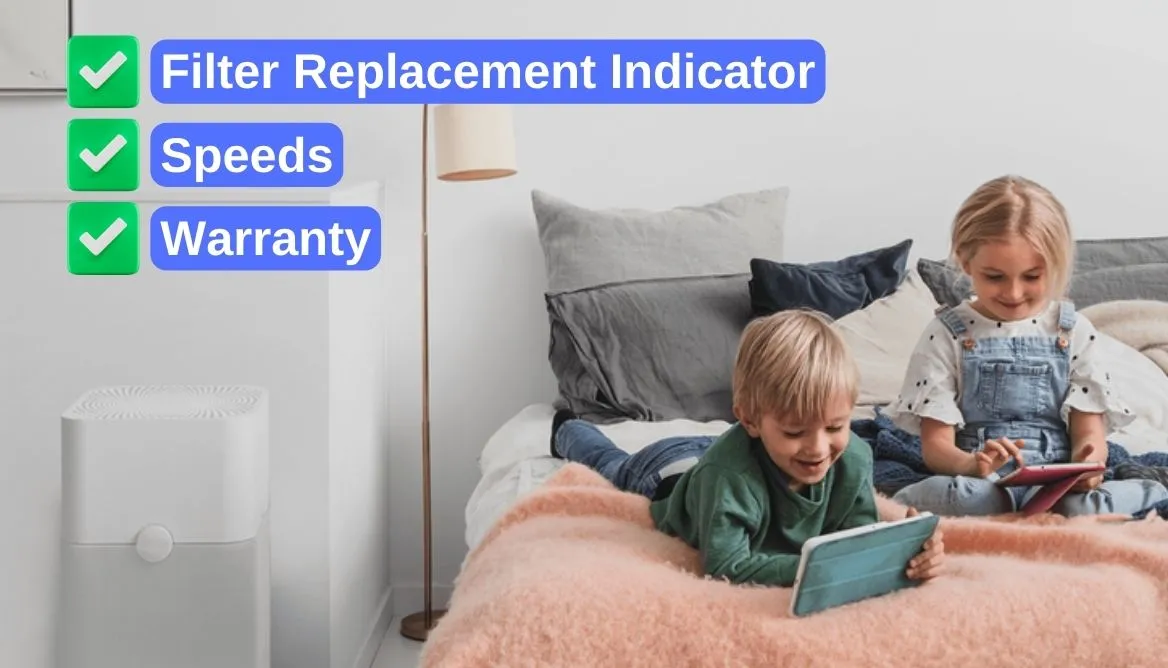 1. Filter Replacement Indicator
Blueair 121 and Blueair 211 incorporate a helpful filter replacement indicator feature.
This indicator notifies you when it's time to replace the electrostatic filtration, ensuring that the air purifiers continue to operate at their optimal efficiency.
Regular filter replacements help maintain the air purifiers' performance and prolong their lifespan, ensuring long-term effectiveness.
Take a look at this informative video of the 121 model to see how it performs.
2. Speeds
The Blueair 121 and Blueair 211 offer multiple speed settings, allowing you to customize the air purification process according to your specific needs. These speed settings enable you to adjust the airflow intensity based on:
The room size;
Pollution levels;
Personal preferences.
To learn more about the Blueair Blue Pure 211's speed settings, you can watch this helpful review.
3. Warranty
Both models come with a 1-year limited warranty:
It ensures protection against manufacturing defects or malfunctions within the specified period and peace of mind.
The warranty coverage reflects the brand's commitment to product quality and customer satisfaction.
Read Also:
Blueair 311 vs 411: Which One is the Best
Best Air Purifier for Home: Top 7 Units of 2023
FAQ
What is the difference between Blueair 211 and 211+?
The difference between Blueair 211 and 211+ is that the 211+ model comes with an improved and upgraded version of the carbon filter. This filter removes VOCs, cooking smells, pet odors, and mold with greater efficiency.
Does Blueair 121 have a HEPA filter?
Yes, Blueair 121 has a HEPA filter. It uses the HEPASilent technology that combines electrostatic and mechanical filtration to capture 99.97% of airborne particles as small as 0.1 microns.
What is the difference between Blueair 211+ and Blueair 211+ auto?
The difference between Blueair 211+ and Blueair 211+ auto is that the Blueair 211+ auto has an integrated particle sensor that automatically adjusts the fan speed according to the air quality in the room.
Do air quality sensors available in these types of models?
No, air quality sensors are not available in these types of models. Only the Blueair auto models have air quality sensors that display the air quality status using LED lights
Is Blueair 211+ a true HEPA filter?
Yes, Blueair 211+ is a true HEPA filter. It also uses the HEPASilent technology that combines electrostatic and mechanical filtration to capture 99.97% of airborne particles as small as 0.1 microns.
Conclusion
It is very important that you buy the best Blueair air purifier among the two choices. As this will help you live in nice clean indoor air. Do look at the recommended coverage area, noise levels, and filtration system before buying. Make sure that these features match to what your needs and preferences are.
If I had to choose I would choose the 121 models as it has a higher CADR rating and more coverage air flow which I need to clean up my 3-bedroom apartment.
Sale
Blueair 121
Air Purifier
It is an amazing purifier for extra large rooms. It comes with true HEPA filters to reduce noise and provide cleaner air with air quality indicator lights. Its Particle and Carbon filter is capable of eliminating any smells in the house.
But if you want to go save some money and will be using it for smaller rooms then I would highly recommend the 211.
Sale
Blueair 211
Air Purifier
It has a friendly one-button design with easy filter replacement. It is ideal for large living rooms, family rooms, and playrooms. It comes with automatic LED dimming.