Are you looking for the best air purifier for the bathroom? You are in the right place! Bathrooms are places that contain unpleasant odors and molds which can make you feel gross and also harmful to your health. Therefore, finding a perfect purifier is crucial to tackling such issues.
For this purpose, I invite you to check out this review based on the 7 best models to tackle bathroom pollutants, odors, and mold spores. Let's begin!
Quick Answer
An air purifier is a great way to eliminate bathroom smells, pet dander, dust mites, and germs. But it is essential to consider the following factors before putting your money in a purifier:
Size of bathroom;
CADR of the purifier;
Type of filter like HEPA, Activated Carbon filter, Pre-filter, or UV-C;
The noise level.
However, how to find a device that ticks all the checklist? Don't worry! Continue reading, and I'll tell you the 7 best air purifiers for bathrooms in detail. Also, I'll share a detailed buying guide to help you make a well-informed decision. Let's dive into the details!
Best Air Purifier for the Bathroom: Comparison Chart of 7 Top Units
The below-given table enlists some important details you should check out:
1. 3-stage True HEPA filter,

2. Activated carbon,

3. Pre-filter

1. BioGS HEPA filter,

2. Pre-filter,

3. Activated carbon

1. 5-in-1 HEPA filter activated carbon,

2. UV-C light

1. HEPASilent filter,

2. Pre-filter,

3. Activated carbon

1. True HEPA (H13) filter,

2. B4-pure filter|

1. HyperCaptive filter system

1. HEPA filter with activated carbon
1. Best Overall: Levoit Core 300S
Levoit Core 300S
Let's have a look at the benefits and drawbacks of the 300S:
Pros
It features powerful filtration that helps to tackle bathroom mold and odors.
Very little or no noise to avoid disturbance.
A compact size that makes it easy to place.
Wi-Fi connectivity and on/off control from a mobile device are two of the many convenient extras.
Cons
It might be costly to replace the filters.
The Core 300S packs a powerful punch and may do wonders for your lavatory. This unit's activated carbon filter will remove odor-causing gases and VOCs (volatile organic compounds). Moreover, the purifier sensor can feel the air quality change for as low as PM2.5 and adjust the fan speed. The smart app connectivity is bigger plus in this price bracket.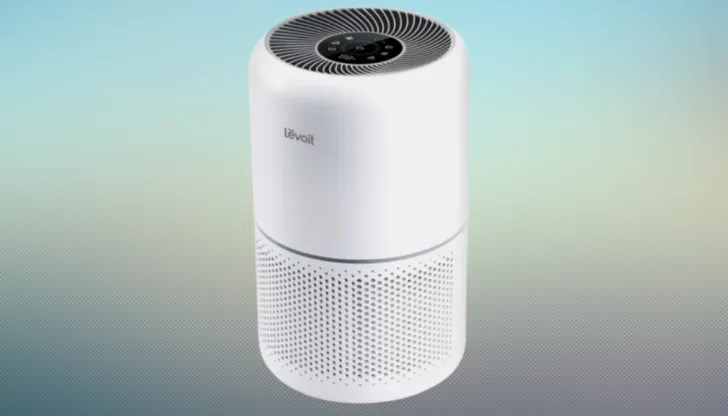 Features
The following are the features of this unit:
It contains a High-Efficiency Particulate Air (HEPA) filter that can remove up to 99.97 percent of airborne particles, making it ideal for use in a bathroom.
An activated carbon filter and VortexAir Technology eliminate unpleasant odors, leaving a fresh, clean aroma in the restroom.
It is Energy Star certified. Works on a DC motor which helps to save electricity costs.
Specifications
Let's explore the specs of the 300S:
| | |
| --- | --- |
| | |
| | Area coverage: 219 sq. ft. |
| | 3-stage True HEPA filters with activated carbon and pre-filter |
| | Smoke 141 CFM, Dust 140 CFM, Pollen 145 CFM |
| | |
| | |
| | |
| | |
Recommendations: The Core 300S is a great choice for those who wish to enhance the cleanliness of their bathroom's air. It has become one of my favorites because of its compact size and effective filtration of odors and pollutants. Moreover, it also offers smart connectivity making it a complete package. However, keep in mind that the filters of this purifier need to be changed more often, thus causing a mild strain on your pocket.
2. Best For Quad Stage Filtration: Rabbit Air BioGS 2.0
Rabbit Air BioGS 2.0
Here are some of the pros and cons of the GS 2.0:
Pros
It has an exceptional filtration system that screens out any remaining smells or germs from the bathroom.
It doesn't make much noise because of its high-tech BLDC motor.
The BioGS HEPA and Charcoal-Based Activated Carbon filters have an average life span of two years.
Cons
Some customers didn't like bright panel lights.
The BioGS 2.0 is a purifier that cleans the air in the bathroom effectively, thanks to its BioGS technology. Moreover, its filters last longer, so there is less changing hassle involved. People with asthma or allergies can benefit from its 4 stages of filtration. Lastly, this purifier is backed by 5 years of warranty, proving a value-for-money device.
Features
The following points enlist the features of the unit:
The carbon filter, made of activated charcoal, removes bad smells very well.
The gadget works well and quietly because it has a BLDC motor.
Energy Star means that the air cleaner uses as little electricity as possible.
Specifications
These are the specifications of Air BioGS 2.0:
| | |
| --- | --- |
| | |
| | |
| | BioGS HEPA filter with pre-filter, activated carbon, and negative ion generator |
| CADR (Clean Air Delivery Rate): | Smoke 136 CFM, Dust 149 CFM, Pollen 162 CFM |
| | |
| | |
| | |
| | |
Recommendation: Ornamented with the newest technology – BioGS Technology- this purifier can super-efficiently remove the strongest smells in the bathroom. On top of that, its 4-stage filter will ensure that your toilet is clear of even the smallest particles. Not only this, but the model's filtration system is strong enough to purify the air of 5000 cubic feet in 30 minutes. Just remember it has a bright panel so you can use a small cloth to cover it if you don't like it.
3. Best for Sanitization: Germ Guardian AC4300WPT
Germ Guardian AC4300WPT
Here are the positives and negatives of this purifier:
Pros
The device's HEPA filters can screen particles as small as 0.3 microns.
The PetPure filter treatment, with the addition of antifungal medication, is useful for preventing bacterial growth.
It has UV-C light that, combined with titanium dioxide used for eradicating harmful microorganisms.
Cons
There is no automatic setting to control the airflow.
The AC4300WPT is a purifier that helps reduce allergens and odors in the bathroom thanks to its pre-filter. Its 5-stage filtration process and UV-C light can eliminate 99.97 percent of environmental contaminants. Moreover, it's aesthetically pleasing and low profile, so it won't stick out in your bathroom.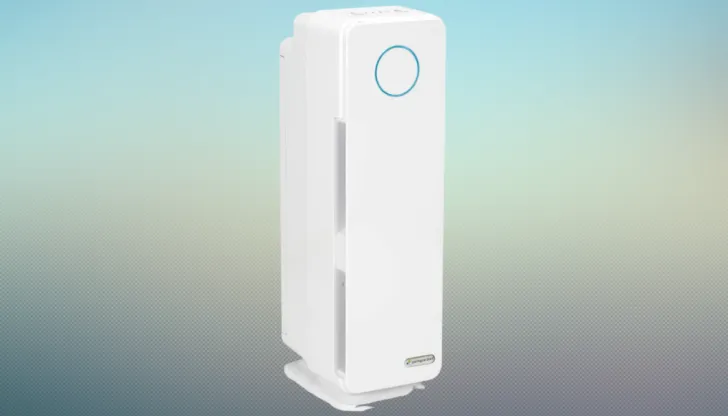 Features
Listed below are the features of this unit:
A smart timer may help you set the cleaner to run for 2, 4, or 8 hours.
It features an Activated Charcoal Filter that helps to tackle bad odors.
New particle-filtering technology in the filter captures most airborne dust and dirt.
Specifications
The specs of the purifier are given below:
| | |
| --- | --- |
| | |
| | |
| | 5-in-1 HEPA filter with Pet Pure antimicrobial treatment, activated carbon, and UV-C light |
| | Smoke 99 CFM, Dust 107 CFM, Pollen 116 CFM |
| | |
| | |
| | |
| | |
Recommendation:
If you're looking for a simple yet very functional
air purifier
for your bathroom, go no further than this Germ Guardian device. It not only captures dust particles but also removes the scents from the air because of its Titanium Oxide filter. This device is ideal for capturing microbes of every size. However, keep in mind that it has no automatic setting.
4. Best Portable Purifier: Blueair Blue 411 Auto
Blueair Blue 411 Auto
Let's take a look at the machine's excellent and poor points:
Pros
Its fan's speed can be programmed to alter quickly based on its surroundings.
The purifier comes with a Blueair app for measuring air quality on the fly.
Its usage is affordable as it requires so little electricity.
Cons
Filters need to be replaced more than the other models.
If you want to experience pure air in your bathroom, the 411 Auto is the purifier to pick. It automatically adjusts the filter's power to ensure the air quality inside is as excellent as possible. On top of that, the device is CARB certified, which means that you don't have to worry about ozone production.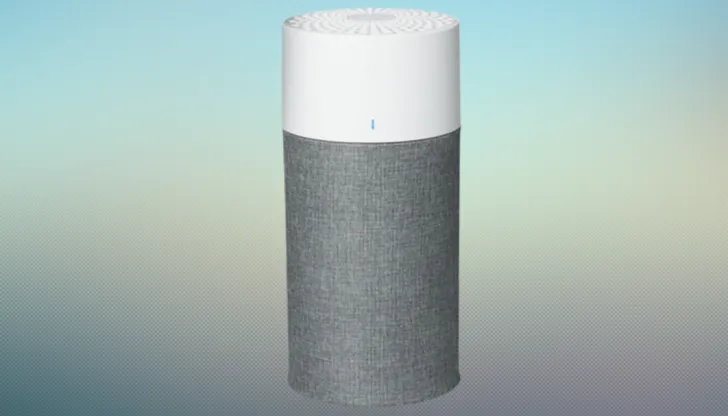 Features
The following are the features of the air cleaner:
Its HEPASilent technology employs mechanical and electrical filtration to suck up microbes.
The smart auto mode will automatically adjust the fan speed if the outside air quality changes.
It is featured as one of the best purifiers when it comes to energy consumption. It operates at 2W only at the lowest settings.
Specifications
Listed below are the specs of this unit:
| | |
| --- | --- |
| | |
| | |
| | HEPASilent filter with pre-filter and activated carbon |
| | Smoke 123 CFM, Dust 107 CFM, Pollen 96 CFM |
| | |
| | |
| | |
| | |
Recommendation:
The 411 Auto is an
excellent choice for bathroom air purifiers
that are tiny, powerful, and simple to use. Pet owners and anyone sensitive to odors or allergies will appreciate it. The downside is that its buttons are stiff and not very user-friendly.
5. Best Customizable Filter: Alen FLEX Air Purifier
Alen FLEX Air Purifier
Let's have a look at the pros and cons of this unit:
Pros
This purifier has more than one filtration option for dust, pets, and odors.
It also has an ionizer that can capture solid and gas particles.
The FLEX is great for saving money and helping the environment because it uses little energy.
Cons
It lacks an air quality detector.
The Alen FLEX modifies is a traditional bathroom air purifier that ensures a clean and germ-free bathroom environment. It comes with different filters – Pure, Fresh, Pet, and Heavy Odor filters- each having a unique alumina layering. An included HEPA filter can eliminate 99.97% of airborne bacteria and viruses. Its filters also have a long lifetime, functioning reliably for 8-12 months.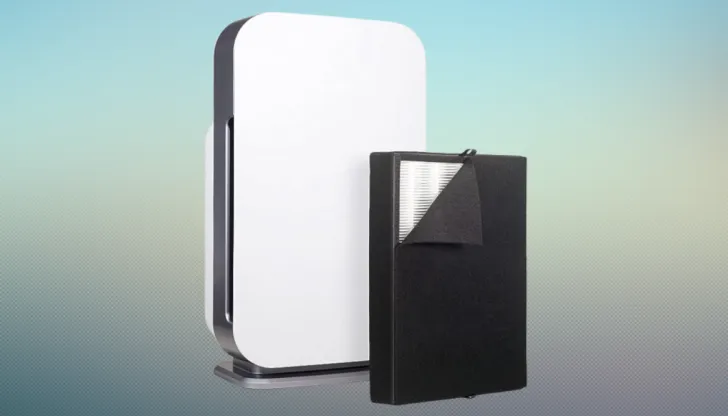 Features
Let's have a look at the features of the purifier:
The decibel level may be as low as 39, thanks to WhisperMax technology.
It has earned the Energy Star label, guaranteeing its efficiency and reliability.
The device is effective against molds and a range of bathroom viruses, including rhinovirus.
Specifications
The following are the specs of this unit:
| | |
| --- | --- |
| | |
| | |
| | True HEPA (H13) filter, B4-pure filter |
| | Smoke 191 CFM, Dust 208 CFM, Pollen 230 CFM |
| | |
| | |
| | |
| | |
Recommendation:
If you're a homeowner searching for a versatile and high-performing bathroom
air purifier
, going with the Alen FLEX will be a smart choice. From allergens to pet danders, this purifier has a range of applications in your bathroom. Not only this, but its enhanced ionizer can trap odors, fungus as well as bacteria from the washroom. On the downside, you will be missing an air quality detector.
6. Best for Airborne Particles: Coway Airmega AP-1512HHS
Sale
Coway Airmega AP-1512HHS
The following are the pros and cons of this purifier:
Pros
It has a washable pre-filter that extends the unit's life, avoiding the need for costly maintenance over time.
The purifier boasts a simple yet attractive appearance.
A combination of air filtration and UV-C light helps sterilize the bathroom.
Cons
For complete purification, you have to rely on max settings.
The Airmega AP-1512HHS is a straightforward and compact air purifier that may transform your bathroom into a hygienic haven. The UV-C light, activated charcoal filter, and HEPA air purifier contribute to its outstanding performance. Furthermore, an automatic mode and associated mobile app allow you to monitor and control the air quality in the bathroom from anywhere.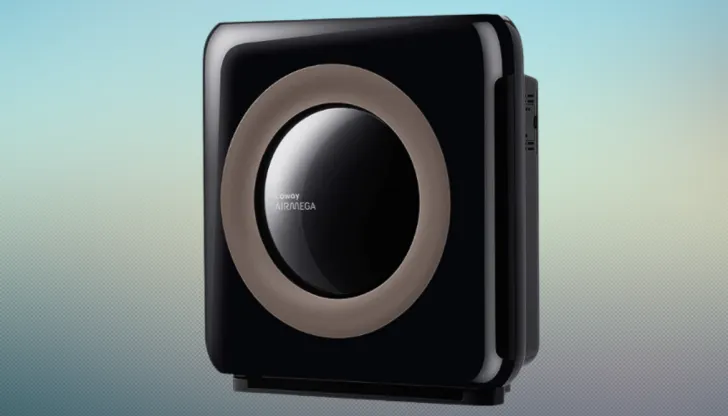 Features
Let's have a look at the features of this product:
This device uses Vital Ion Technology to produce negative ions that attach to and eliminate airborne pollutants.
It is graded to clean ozone from the environment.
Timer setting to set the operation for one, four, or even eight hours.
Specifications
Listed below are the specs of Coway Airmega:
| | |
| --- | --- |
| | |
| | |
| | HyperCaptive filter system |
| | Smoke 210 CFM, Dust 246 CFM, Pollen 240 CFM |
| | |
| | |
| | |
| | |
Recommendation: The AP-1512HHS is a wonderful pick for any bathroom if you're looking for a powerful air purifier. It has a 3-stage filtration system that filters invisible particles along with mold spores. If you value effective air purification, it is ideal for generating a clean and pleasant bathroom atmosphere. But do remember that its power comes from higher electricity consumption.
7. Best for Small Bathrooms: Smart Air S
Smart Air S
Let's take a look at what's good and bad about the machine.
Pros
It is an effective cleanser since it readily removes odors, dust, and allergens.
The controls on the air filter are simple to operate and allow you to customize the settings.
Because it takes up little space, it may be placed practically anyplace in the bathroom.
Cons
It lacks a pre-filter which overalls affect the filter life.
The timer function is also missing.
The Smart Air S cleans and refreshes the air in the bathroom. It is simple to use and customizable. Since the gadget has a compact size, it takes little space. As an added plus, this product consumes less power, lowering energy bills. Lastly, it offers 360 degrees of cleanliness thanks to its movable filters.
Features
The following are the features of the air purifier:
It has a LED screen that also serves as the device's touchscreen input.
It doesn't create much noise, mostly operating at 30 dB.
This air cleaner is tiny and portable, making it ideal for usage around the home.
Specifications
The specs of Smart Air S are given below:
| | |
| --- | --- |
| | |
| | |
| | HEPA filter with activated carbon |
| | |
| | |
| | |
| | |
| | |
Recommendation: For enhancing the bathroom environment, I can recommend the Smart Air S with ease. Its large coverage gives it a plus. But remember that you have to keep an eye on your filter and rely on manual operation as there is no timer.
Why Should You Invest in a Bathroom Air Purifier?
Are bathroom air purifiers necessary? Your answer could be a no, as you spend little time in the bathroom. But let me give you clarity on this topic.
The EPA says many people are affected by indoor pollution as compared to the outdoors. Thus, enhancing indoor air quality in every space, including the bathroom, makes sense.
You should use a purifier for these reasons: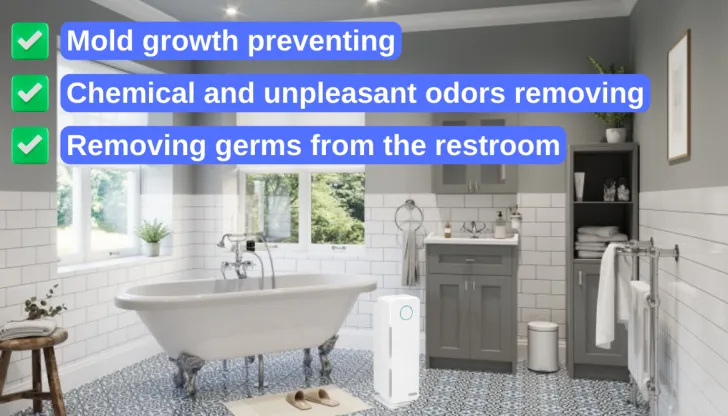 The bathrooms are humid and hot: Many substances can generate mold and mildew. An air cleaner reduces humidity and germs, preventing fungal growth.
The washrooms smell: Cleaners, personal care products, and people generate bathroom scents. VOCs in the cleaning chemicals may also generate these scents. The purifier's activated carbon filter may remove smells by absorbing these smells.
Restrooms can harbor germs: Bacteria, viruses, and fungi exist in these places. These microorganisms can cause diseases and infections. A UV-C light or air cleaner ionizer kills these microorganisms.
So, do you really need an air purifier in your bathroom? The answer is yes if you want a cleaner and fresher bathroom for your health and well-being.
5 Important Considerations While Buying a Purifier for Bathroom
Here are some things I would recommend to consider when selecting the finest air filter for your bathroom: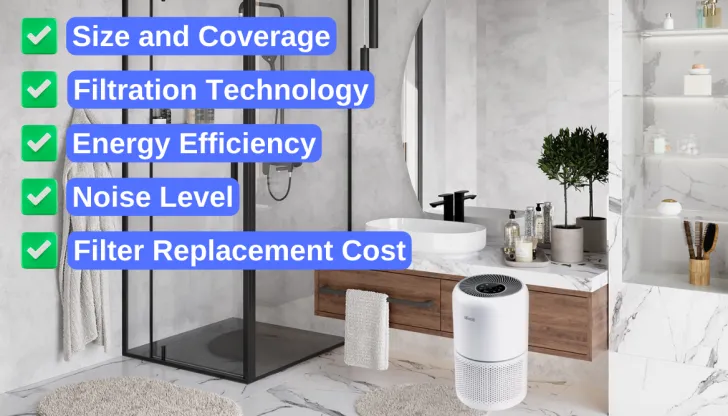 Size and Coverage: Consider how much room you need to clear and select an air filter that can handle it. Look for smaller ones that will fit in a medium-sized room.
Filtration Technology: Choose a device with a HEPA filter because it effectively removes pollutants, allergens, and other microscopic particles from the air. Consider selecting one with activated carbon filters if you need to eliminate odors.
Noise Level: Because washrooms are generally quiet, choose an air filter that generates little noise, ideally under 50 decibels.
Energy Efficiency: To consume less power and save money, acquire a purifier that uses less energy.
Filter Replacement Cost: When creating a repair budget, consider how much new filters will cost and how frequently they need to be replaced.
In short, Installing an effective air filter in a bathroom may significantly impact the air's cleanliness. However, you must first research to get the most suitable one for your bathroom.
FAQs
Should you put an air purifier in the bathroom?
Yes, you should put an air purifier in the bathroom. It can assist in cleaning poor air quality by removing odors, allergies, and other impurities.
Will air purifiers get rid of the poop smell?
Yes, air purifiers can get rid of the poop smell. They have an activated carbon filter that can effectively eliminate poop and other bathroom odors.
Will an air purifier help with urine smell?
Yes, an air purifier can help with urine smell. It can trap and remove foul particles, including urine odor, in the air. It will make your bathroom smell much nicer.
Read Also:
Best Wall-Mounted Air Purifier: 7 Excellent Models for Your Home!
Best Ozone-Free Air Purifier: 12 Recommend Picks Compared
Conclusion
Summing up, while looking for the optimum purifier for your bathroom, HEPA filters and activated carbon technology should be at the top of your list. Also, consider how large an area you want to clean, how noisy it will be, and the energy it will save you when selecting the purifier. While smart features can enhance your experience, these should be your least preferences when buying an air purifier.
After my experience and usage, I'd recommend the Levoit Core 300S. It is a wonderful choice if you want something portable that works silently in your bathroom. It can remove germs and tackle odors in the bathroom with ease.
Levoit Core 300S
The Levoit Core 300S is an excellent affordable air purifier that has a compact size and good coverage of 219 sq ft which is enough for every bathroom size. It has a low-noise operation. Moreover, the smart features are a plus.