Ring Alarm is a smart and outstanding home security system. It offers various levels of safety that you can monitor and ensure with a smartphone. But The Ring doesn't manufacture door looks. So, you will need a Ring-compatible door lock. Let's explore the top-7 best options right now!
A Quick Overview
Unfortunately, not all door locks are compatible with the Ring security system.
Only locks with Z-wave technology are suitable to work with Ring. Moreover, Grade 1 locks are optimal for a smart home.
How do you choose the best lock? Here I have selected the 7 best Ring-compatible locks for your convenience. Continue reading to get the suitable one for you.
Ring Compatible Door Lock – A Comparison Table
If you don't want to go through all the hassle of choosing, glance at the following table and choose your one. Here we go:
Now it's time to analyze each lock in detail. Let me start with a Google product.
Google Nest x Yale Lock is one of the best door locks today that can be compatible with the Ring Alarm System. It's highly responsive and easily accessible.
You need to give a voice command to control this lock. Pretty comfy, isn't it? With this lock, a smart home is no longer a concept but a reality.
Google Nest x Yale Smart Lock Specification
I suggest you take a look at the specification of the Google Nest x Yale Smart Lock:
Google Nest x Yale Smart Lock Features
Now let's find out the extraordinary features it offers.
Google Nest x Yale offers Keyless entry to your room using an LED keypad.
You can lock and unlock your door from anywhere with the Nest app and Nest Connect.
It has a smart alarm system to notify you about possible intrusion and tampering.
It has an auto-lock feature, passcode access, one-touch locking, etc.
When Privacy mode is on, the keypad won't work, and your home becomes virtually inaccessible.
Google Nest x Yale Smart Lock Pros and Cons
Now let me briefly put the positive and negative sides of this lock:
Eufy Security S230 is another Ring-compatible smart lock with all the smart features. It works with Z-Wave technology so that you gain 6 methods to access your home.
You can use a passcode, fingerprints, voice control, Wi-Fi, Bluetooth access, and physical keys.
Eufy Security Smart Lock Specification
Now discover the specification of the Eufy Security Smart Lock:
Eufy Security Smart Lock Features
Let's now dive into the amazing features it offers. Let's see what is so unique about this lock:
Eufy S230 has a faster fingerprint system with a 98% recognition rate.
Eufy App allows you to control entrance and leave from virtually anywhere.
You can get access with different methods, be it using voice commands or passcode.
It is BMHA certified and can withstand heavy sunshine and rain.
Passcode provides keyless entry to trusted guests and family members.
Eufy Security Smart Lock Pros and Cons
See, there are some incredible features. Now let me give a short brief about the advantages and disadvantages.
Yale Assure Lock SL is one of the slimmest and most aesthetic-looking Ring smart locks on the market today. The Z-Wave Plus technology in this lock provides a better security system and wireless access through your phone.
Yale Assure Lock SL Specification
I bring to your attention a specification of the Yale Assure Lock SL with Z-wave:
Yale Assure Lock SL Features
What's interesting about this is you can create scheduled, temporary, and permanent access codes. But the magic doesn't stop there. Let's see some other features:
Yale Assure Lock SL is totally key-free and compatible with most door hardware.
You can lock and unlock Yale Assure lock from anywhere using Z-Wave Plus.
The lock has a 9V backup charger in case you are locked out for a dead battery issue.
You can create different codes for different people in this smart lock.
It offers responsive voice control and a fast tamper alarm.
Yale Assure Lock SL Pros and Cons
The features are quite satisfying, right? So, let's move on to the pros and cons.
Schlage Encode offers a mixture of traditional and innovative designs in their locks. With Schlage connect, you can easily connect and control your front door without being present.
This lock has four different colors to choose from. But let's find out why Schlage Encode is the bargain you should go for.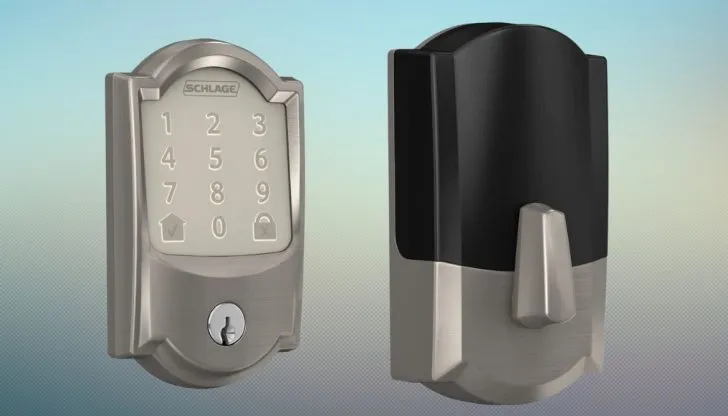 Schlage Encode Smart Wi-Fi Deadbolt Specification
Let's discover Schlage Encode Smart Wi-Fi Deadbolt specifications:
Schlage Encode Smart Wi-Fi Deadbolt Features
There are some interesting qualities in this lock. Let's have a glance:
Schlage is famous for its durable and long-term use, and this model is no different.
The lock is smaller in size, so suitable to fit in most doors.
You can use both manual key or Voice command apps for controlling.
You can create and give up to 100 access codes to guests and friends.
The lock has built-in Wi-fi that auto-connects and operates.
Schlage Encode Smart Wi-Fi Deadbolt Pros and Cons
So we know the features of the Schlage Encode Smart Wi-Fi Deadbolt. Let me tell you the pros and cons now.
Schlage Connect smart deadbolt is a shining star in the home security industry with its Z-wave compatible door locks. It uses S2 security encryption that provides better safety.
But how does this smart lock connect with the Ring Alarm base station? Well, you need to set up the base station first.
Schlage Connect Smart Deadbolt Specification
Take a look at the Schlage Connect Smart Deadbolt:
Schlage Connect Smart Deadbolt Features
But what are the fascinating features you can get from Schlage Connect? Let's see.
Schlage Connect has a built-in Alarm system to ward off any potential threat.
The touchscreen of the external keypad is resistant to fingerprints so that no miscreants get your fingerprint.
Schlage Connect offers a highly secured encrypted S2 system with easy connection to Ring Alarm.
You can create up to 30 different access codes with this door lock.
It has a responsive auto-lock feature that can work in extreme weather conditions.
Schlage Connect Smart Deadbolt Pros and Cons
Now let me tell you some of the pros and cons of this smart lock.
Kwikset SmartCode 916 is another wonderful smart lock suitable for your front door. Kwikset is the number 1 lock brand in the US, and their service dates back to the late 1940s.
SmartCode 916 also offers Z-wave plus tech to connect wirelessly with various devices. Here you shall get a mixture of traditional and innovative ideas.
Kwikset SmartCode 916 Z-Wave Plus Deadbolt Specification
Let's take a look at the Kwikset SmartCode 916 Z-Wave Plus Deadbolt specifications:
Kwikset SmartCode 916 Z-Wave Plus Deadbolt Features
Let's dive into the main features:
Kwikset SmartCode 916 has SecureScreen Technology to prevent identifying fingerprints by looking at the screen.
It has a one-touch locking facility that works with a motorized, smart WiFi deadbolt.
You can easily check the door status and lock and unlock the door remotely.
It offers three distinctive designs to let you choose your favorite one.
You have the option to auto-lock the door after 30 seconds of leaving.
It has a Smartkey Security as a backup in case the device fails.
Kwikset SmartCode 916 Z-Wave Plus Deadbolt Pros and Cons
Apart from these features, SmartCode 916 has some advantages and disadvantages. Let's have a glance.
Down the line comes our last smart lock Kwikset 888 SmartCode. It is another outstanding door lock with smart features and innovative designs. And it can work with Ring App pretty fast. You can enter and leave your smart home with a web device.
Kwikset SmartCode 888 Smart Lock Specification
Let's check the Kwikset SmartCode 888 Smart Lock specification:
Kwikset SmartCode 888 Smart Lock Features
It has similar features to SmartCode 916. Now let's see what you get more here.
You get fast notifications if someone locks or unlocks your door.
The 888 SmartCode has 5 digit keypad and a lock button for better security.
It has SmartKey technology to re-key within seconds.
This lock has a Z-Wave 500 chipset for secured encryption of codes.
You get a master code for additional security.
It can auto-turn on the room heating system or AC.
Kwikset SmartCode 888 Smart Lock Pros and Cons
You see, Kwikset smart locks have incredible features. But now, let's check the pros and cons of this 916 model.
Why Should You have Ring-Compatible Smart Lock?
A smart home is incomplete without smart locks. And there are a number of reasons why you should have locks that work with Ring. Some are:
Ring offers a sense of security to your home.
You can virtually control whoever enters your home.
Ring Alarm prevents sneaking thieves by notifying you.
You don't need to carry troublesome keys now.
When you are absent from home, you can give access to guests and friends to enter.
Which Smart Locks are Compatible with the Ring Alarm System?
Ring provides you with better home security. But which smart lock work with Ring Alarm?
Smart locks with Z-wave compatibility can work with the Ring alarm system. Z-Wave is a wireless technology that connects different smart devices.
Normal locks do not work with Ring. That's why we have selected the above smart locks.
What to Look for in Ring-Compatible Smart Locks?
You have to look for two main things in a smart lock. They are:
Better Security:
Smart locks should provide better security, shouldn't they? Well, for utmost security, you should go for a Grade 1 lock certified by BMHA or ANSI. Grade 2 locks are suitable for mediocre safety. But it is better to avoid Grade 3 locks.
Compatibility:
Ring-compatible smart locks should have the facility to integrate into any smart hub. Also, it must have multiple ways to open the door. For example, when you have forgotten to bring your phone with you, you can enter using a passcode or fingerprint. So, alternative unlocking is advantageous in smart locks.
Amazon Key Compatibility
Well, many people trust Amazon Key Smart Lock Kits. But it has certain drawbacks. The door must have the following:
Standard rectangular deadbolts.
Separable lock and handle.
Width between 1-3/8″ and 2″.
Locking mechanism without pull, push, or lift.
Editor's Choice
Yale Assure Lock SL is one of the best smart locks that work with Z-wave technology. It may seem a bit pricey, but every penny you spend is worth spending with such a premium product.
Best Budget-Friendly
Google Nest x Yale Lock is a tamper-proof, advanced lock with some extraordinary features. The price is mediocre, but the performance is excellent. So, it's the best choice for budget-conscious buyers.
Best Value
Schlage Connect Smart Deadbolt is the best-value-for-money door lock. The product is durable, and the price is affordable – a great combination.
FREQUENTLY ASKED QUESTIONS
Conclusion
So, now you know what properties should have the best Ring-compatible smart lock. A couple of tips I'd like to give you in the end: keep extra batteries for emergency use, and be sure your door is of standard size and works with the Ring system.
By the way, which door lock do you consider suitable for you? Let me know in the comment below.