The Ecobee Smart Thermostat vs Ecobee 4 is a difficult choice as both have excellent quality. They are designed to reduce energy consumption and increase efficiency through temperature-regulating features.
Check out which of them has voice control capabilities, Bluetooth, and smart sensors. Closely comparing their features and highlighting the various exclusive qualities will help you to decide which one is the best choice. Let's dive into the details!
A Quick Comparison
The Ecobee smart comes with a built-in Alexa voice assistant, so you can voice control your thermostat directly from the device. Ecobee 4 offers remote room sensors to monitor temperatures in different rooms and geofencing. Also, it automatically adjusts the temperature when you enter or leave the home.
Sale
Ecobee Smart Thermostat
Keep your home comfortable and cozy while saving 23% of energy with the Ecobee Smart Thermostat.
Both thermostats offer energy monitoring and 7-day programming options, but the Ecobee smart also has multi-zone support, automatic away settings, and auto-schedule learning.
Ecobee 4 Thermostat
Control and manage the temperature of your home with ease with the Ecobee 4, and save 23.5% on energy!
Read on to learn about the features(e.g voice control, smart sensor, etc), DIY installation guide, specs, and design, and find out the real winner between Ecobee thermostats.
Ecobee Smart Thermostat Vs Ecobee 4 Comparison Chart
Ecobee Smart and the Ecobee 4 have some very interesting traits. Although some of them might be similar still there are some major differences. Here is a table to provide technical details about the products!
| | | |
| --- | --- | --- |
| | | |
| | | |
| | | |
| | | |
| | | |
| | | |
| | | |
| | | |
| | | |
| | | |
| | | |
| Accurate Temperature Reading: | | |
| | | |
| | | |
| | | |
| | | |
| Built-In Speaker & Microphone: | | |
| | | |
| | | |
| | | |
| | | |
| Alexa Calling & Messaging: | | |
| Smart Things Integration: | | |
| Power Extender Kit Compatibility: | | |
| | 802.11 b/g/n/ac (supports 2.4Ghz and 5gHz) | 802.11 b/g/n/ac (supports 2.4gHz) |
| | | |
| | | |
| | | |
| | | Glossy white with light blue accents |
| | | |
| | | |
Ecobee Smart Thermostat and Ecobee 4: Key Distinctions
Below we have listed some notable differences between Ecobee devices to make it easy for you to select the best suited for your needs. Learn more about them!
Alexa Calling: Ecobee Smart Thermostat has Alexa Calling whereas the Ecobee 4 does not.
Spotify: Ecobee 4 does not support Spotify while Ecobee Smart supports it.
Room sensors: Room sensors are present within the Ecobee 4 box, while the Ecobee Smart has a new type of sensor called a Smart sensor that is capable of wider viewing angles and has an extended battery life.
Bluetooth Streaming: Smart Thermostat available stream Bluetooth connection. The Ecobee 4 does not permit this.
Pricing: The Ecobee 4 is more expensive compared to the Ecobee Smart.
Wi-Fi Frequency Bands: The Ecobee Smart Thermostat can connect to your wireless network using 2.4 and 5.0gHz. The Ecobee 4 can connect only through the 2.4gHz
Similarities of Ecobee Smart Thermostat and Ecobee 4
Both the Ecobee share some same features too. Here is everything you need to know:
Scheduling: They feature a seven-day customizable programmable scheduling.
Voice control: The thermostats support voice control capabilities with compatible devices.
Remote Access: They are Wi-Fi enabled, allowing for remote access from any device.
Compatibility: Compatibility with Google Assistant, Amazon Alexa, and Apple HomeKit is integrated into both devices.
Motion Sensor: Both thermostats feature a motion sensor to detect when no one is home or when someone is present.
Display Output: A display of the current set temperature and humidity levels on the unit can be found on both devices.
Control: Both thermostats allow users to control the settings and monitor energy usage remotely via an app.
Screen: They have a similar LCD screen that displays all the settings and daily routines.
Warranty: You will get a two-year limited warranty for both devices.
Certifications: Both thermostats offer an Energy Star certification that ensures efficient heating and cooling operation throughout a home.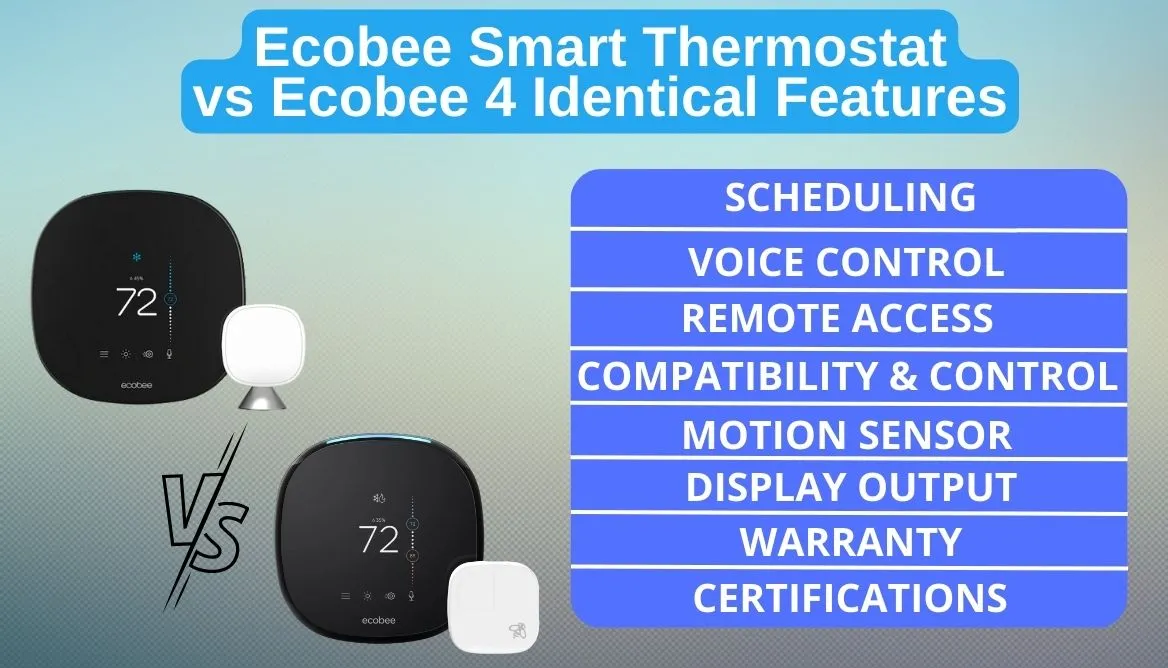 Ecobee Smart Thermostat and Ecobee 4: Energy Reports and Energy Saving
The Ecobee 4 and Ecobee smart provides monthly energy reports to the user. This way you can do an in-depth analysis of the energy consumption and adjust your device settings. Check out some of the facts below!
The Ecobee Smart offers average energy savings of 23% compared to non-programmable thermostats, while the Ecobee 4 offers up to 23.5% in energy savings.
Both devices come with customizable scheduling options for adjusting your temperature settings and helping you conserve energy costs.
Additionally, the Ecobee Smart can show you a breakdown of the temperature and humidity levels of each room throughout the day and the Ecobee 4 can provide more detailed energy consumption stats.
Winner: Ecobee 4 saves 0.5% more energy than Ecobee Smart Thermostat so it is the winner here!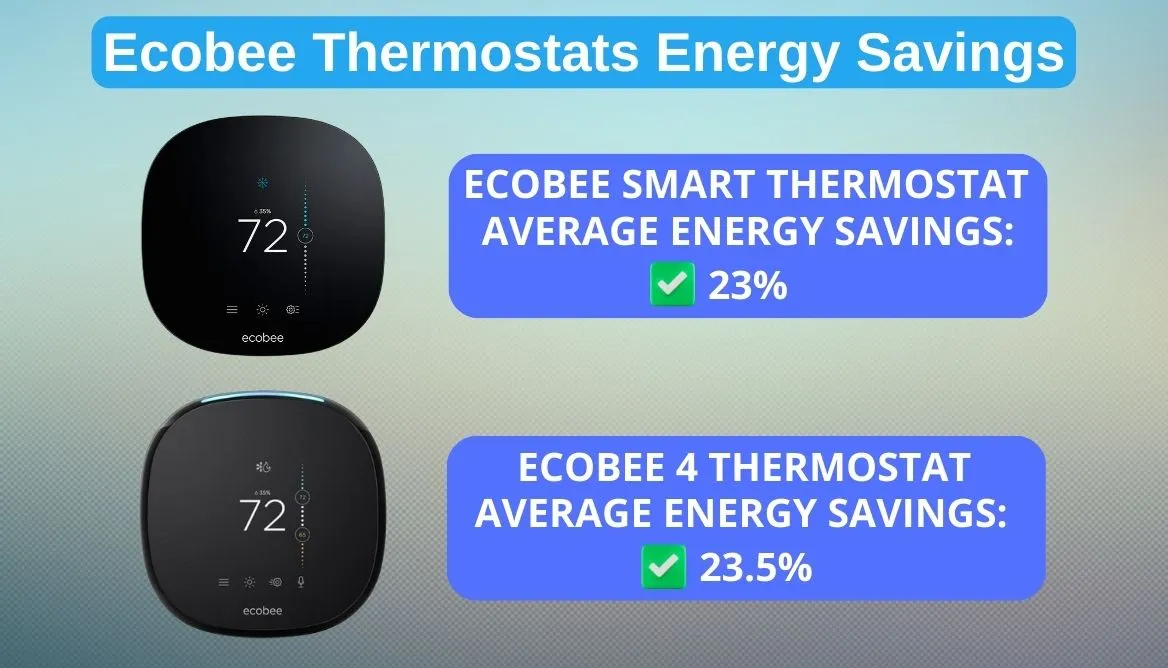 Ecobee Smart Thermostat vs Ecobee 4: Ecobee Mobile App
The Ecobee mobile app allows you to easily control, customize and monitor your thermostat anytime, anywhere. Have a look at the top highlights of the mobile app.
With the Ecobee app, you can get access to mobile alerts, personalized scheduling options, and more, all in one place.
You can check the power consumption of thermostats. For example, the Ecobee Smart uses an average of 0.525 kWh/month while Ecobee 4 uses an average of 0.540 kWh/month.
Both thermostats are designed to help you save on energy costs, and with features such as customizable scheduling with voice control, you can maximize your energy conservation.
Winner: There is no winner here since both devices can be controlled with the Ecobee app.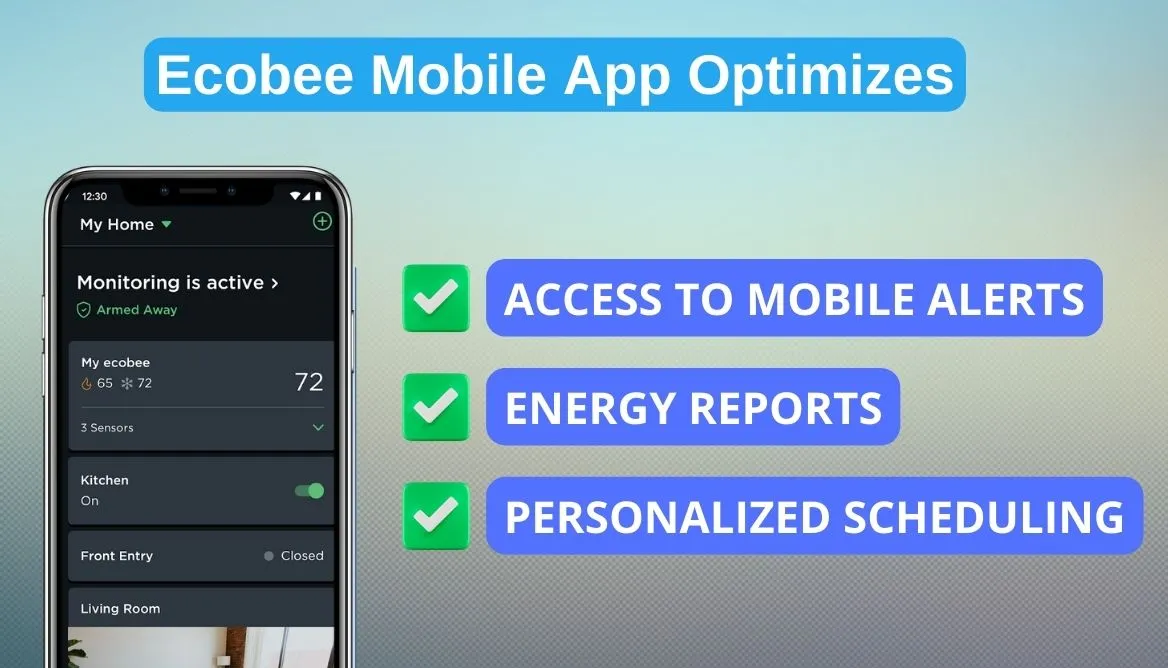 A Multitude of Sensors are Equipped with Thermostat
The thermostat has a multitude of sensors that are built into them. Each smart sensor has a certain function to fulfill and collectively they are designed to facilitate the user. There are a total of 4 main smart sensors in the Ecobee thermostats and they are listed below with their function!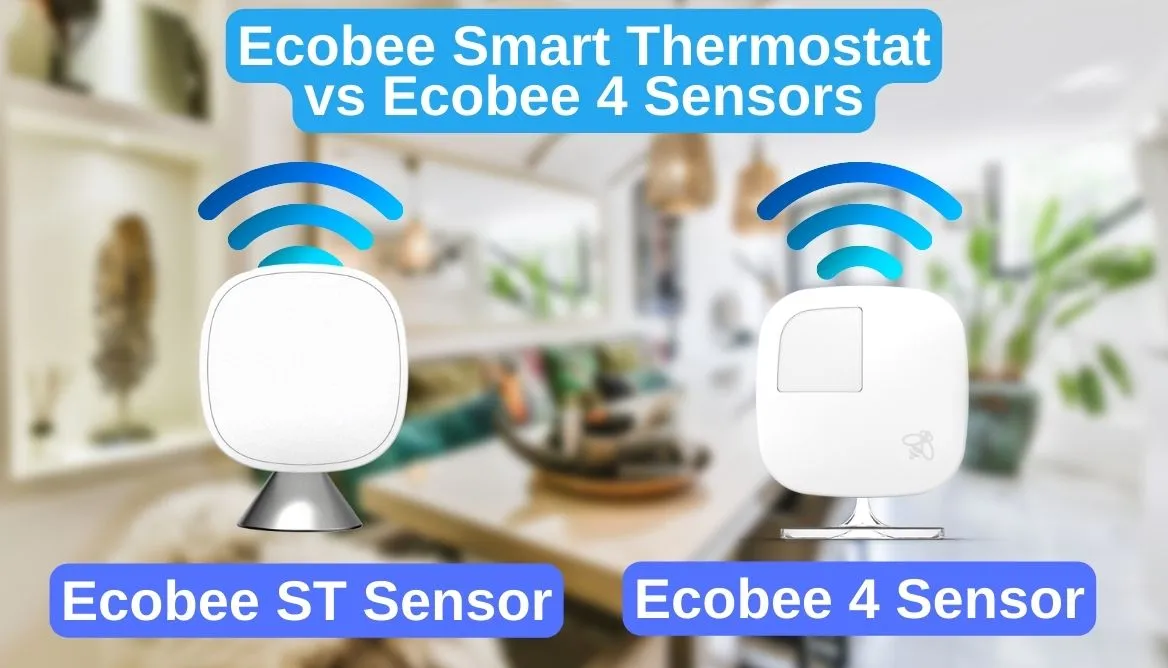 Occupancy Sensor Detects People in a Room!
This type of smart sensor detects the presence of people in a room and adjusts the temperature accordingly. They can be used to limit unnecessary energy usage, as well as provide comfort in rooms where people are present.
Enhancing Comfort via Temperature Sensors
These sensors (smart sensor) measure the temperature in each room and give feedback that helps the thermostat to maintain the desired temperature. They are useful for rooms with different temperature needs, as well as for calibrating the thermostat for accuracy.
Sale
Humidity Sensor Help Regulate Environment
This built-in smart sensor measures the relative humidity in each room, giving feedback that can help the thermostat maintain an ideal humidity level. Humidity sensors make a big difference in comfort and energy efficiency.
Motion Sensor Detect Movement
Motion sensors detect movement in a room and can be used to activate or deactivate certain functions. They can be used to trigger lights, sounds, or temperature settings, making them a great way to customize the user experience.
Ecobee 4 Thermostat
Control your home temperature effectively and save your money with an Ecobee 4 Thermostat.
Winner: Both thermostats are good and have the right set of sensors to create comfort in your home while saving energy.
Dimensions and Appearance
The Ecobee Smart is a rectangular black device with rounded corners. The Ecobee 4 is a glossy white, circular device with a flat bottom and an LED light ring. Both devices have a very sleek and trendy look. Below are some more appealing details about both devices!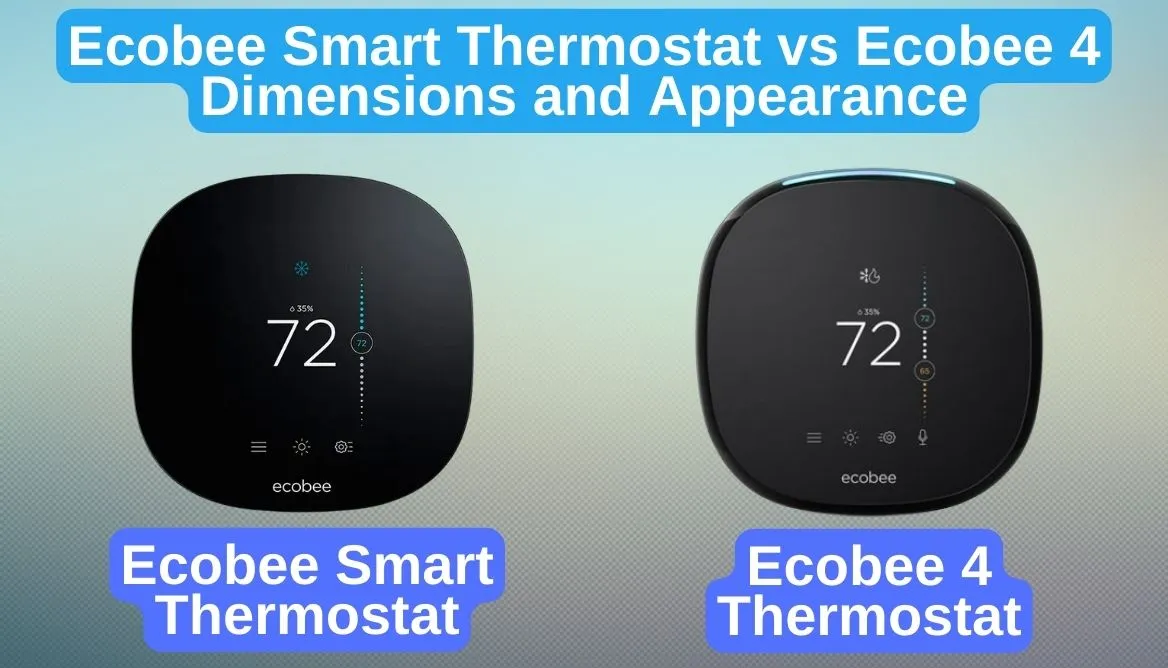 Ecobee Smart Thermostats Dimensions and Layout Specs
Moving on from the features and functions of the device, let's take a closer look at its size and design specifications.
Size: 3.93 by 4.57 inches
Shape: Rectangular, with rounded corners
Screen: 3.5-inch full-color LCD
Here is a video about some customer reviews to make things crystal clear!
Ecobee 4 Dimensions and Layout Specs
The Ecobee 4 has been designed with excellent functionality. Let us dive into the size and design specifications to help you understand it even better.
Size: 4.29 by 4.29 inches
Shape: Circular, with a flat bottom
Screen: 3.5-inch full-color LCD with LED light ring
You can also check out this video for added information!
Making Your Home Smarter: Integrating Smart Home Devices!
Smart Home Devices integrated with Ecobee Smart and Ecobee 4 via voice control are numerous. Although, Ecobee 4 may not support as many devices as the Ecobee Smart. Here is a list of devices that both thermostats can integrate with, find out below!
| | |
| --- | --- |
| | |
| | |
| | Nest Protect Smoke & CO2 Monitor |
| | |
| | |
| | |
| | |
| | |
| | Nest Cam Indoor and Outdoor |
| | |
| | |
Follow Me: A Built-in Innovative Feature
This feature of Ecobee thermostats allows for personalized temperature control based on room occupancy. The built-in occupancy sensor and temperature room sensors built into the device help to gather data related to the current temperature.
The thermostat then self-regulates the temperature of each room according to the user's preferences.
An example: The kitchen typically has the highest temperatures among all the other rooms in the house. So, the system will turn on the AC and maintain a pleasant environment when you are in the kitchen.
This helps ensure comfort and energy efficiency by only cooling occupied rooms. It can be integrated with a smart vent system to direct the airflow to only one room.
The thermostat then self-regulates the temperature of each room according to the user's preferences.
Winner: It is a tie as both devices have this feature!
Bluetooth and Spotify Connect: Does Your Thermostat have these?
The Ecobee Smart Thermostat has additional features such as Bluetooth technology and Spotify Connect compatibility.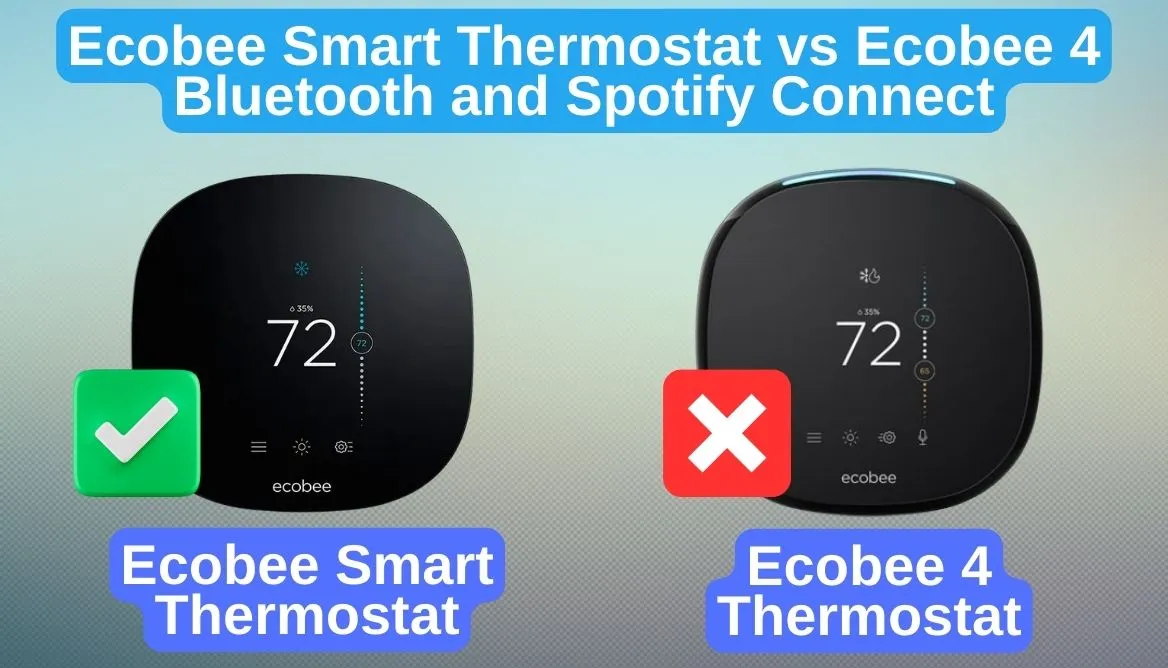 Bluetooth Streaming
Using Bluetooth, you can wirelessly connect the smartphone to the thermostat and play music.
Spotify Connect
It allows you to stream music or connect an existing stereo system via the Hi-Fi adapter. Premium subscriptions may be required depending on location.
However, ad-free songs are available on the subscription.
Winner: The Ecobee Smart Thermostat! It has the advantage of having both features while Ecobee 4 doesn't have them.
FAQs
What is the difference between Ecobee 4 and 5?
The difference between the Ecobee 4 and Ecobee 5 is that Ecobee 4 is a newer model and is less expensive but does not have the smart sensors that the Ecobee 5 has.
Does Ecobee save energy?
Yes! Ecobee saves energy by using a variety of smart sensors to identify and monitor energy use in your home. The app then uses this information to help you reduce energy consumption by setting reminders and creating schedules to adjust your thermostat or lights.
A Quick Step-by-Step Installation Guide
Here is a step-by-step guide for installing Ecobee thermostats. Check it out and make the task easy and carry out a DIY project with ease!
Step 1: Turn Off the Main Power
Before beginning, turn off the circuit breaker to the house to ensure safety.
Step 2: Take Off the Faceplate of the Old Thermostat
Remove the old thermostat faceplate and note the ports where the wires are connected. Take a picture or draw a diagram for reference.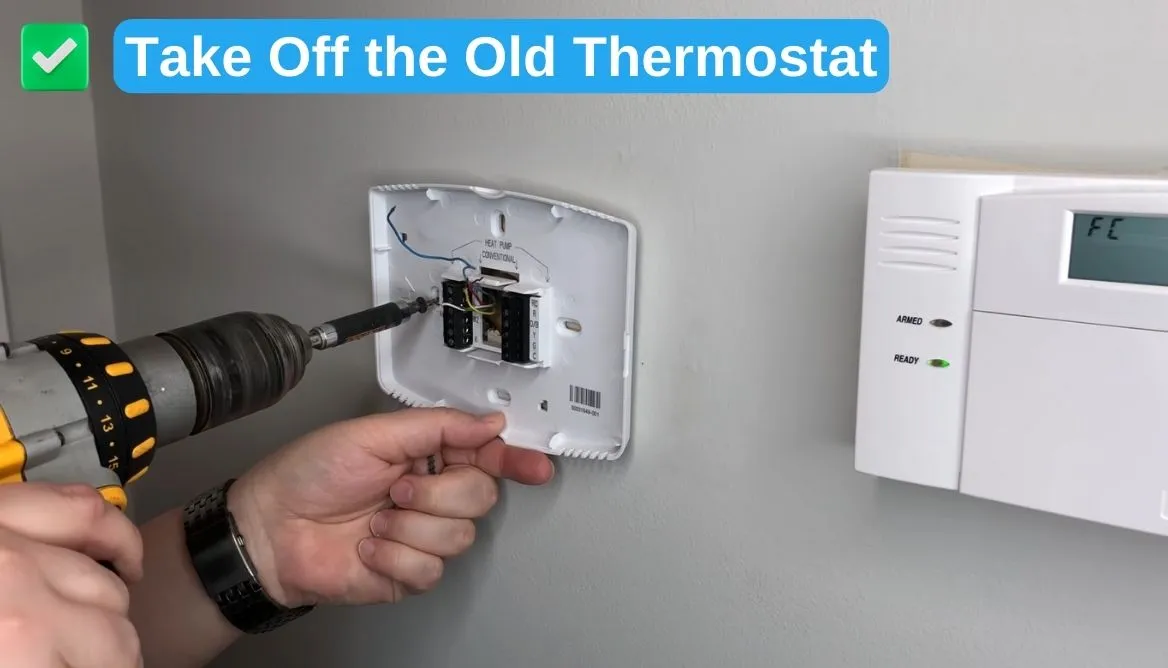 Step 3: Prepping the Wall
Follow these steps to get started with wall preparation:
Remove the wiring from the backplate and then remove the old backplate from the wall.
If desired, paint or patch any holes in the wall behind the thermostat mounting location.
If you plan to use a wall plate, press the Ecobee backplate into the wall plate and snap it into place.
Step 4: Install the Backplate
Mount the backplate to the wall using the drywall anchors and screws provided. Pull the thermostat wires through the access hole.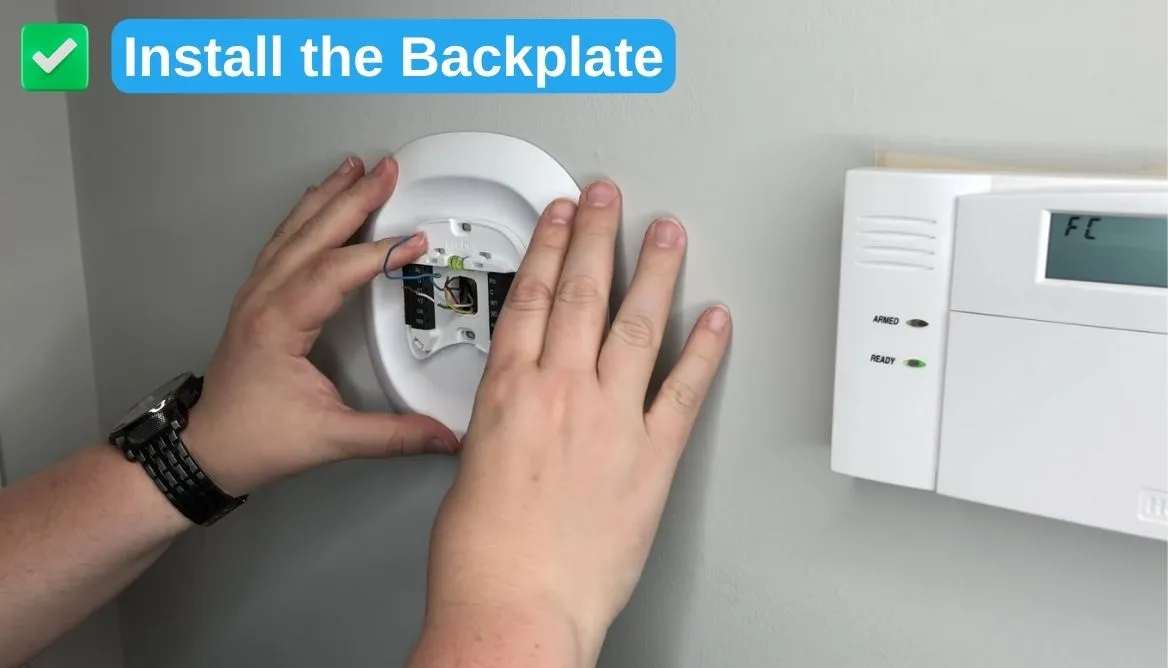 Step 5: Attaching the Wires
Connect the wires to the corresponding ports on the new thermostat.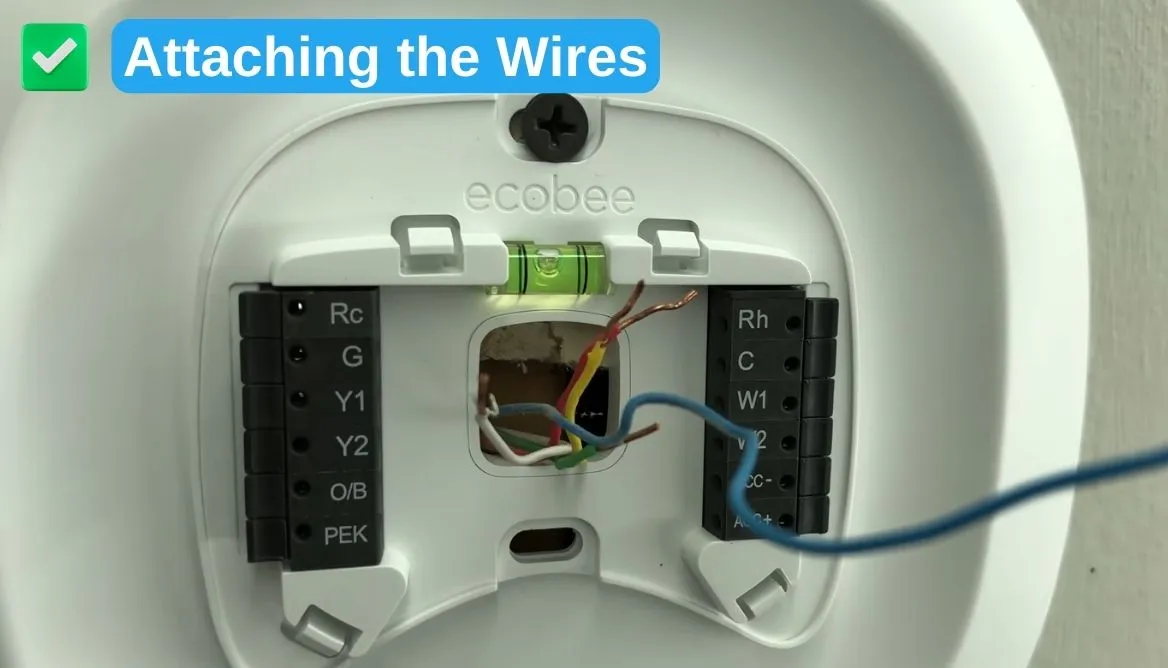 Step 6: Thermostat Installation
Press the Ecobee thermostat into place over the backplate until it snaps into place.
Step 7: Resuming the Power to the House
Restore power at the circuit breaker and the thermostat should light up and continue the setup.
For a better understanding of the process, check out the video guide:
Final Verdict
Ultimately, Ecobee Smart Thermostat and Ecobee 4 are both great options. They efficiently control the temperature by offering customizable scheduling, energy monitoring, voice control, remote room sensors (smart sensors), and more.
But, I definitely recommend Ecobee Smart Thermostat because it offers compatibility with popular voice assistants like Amazon Alexa, Apple HomeKit, and G-Assistant. And also provides a sleek and user-friendly way to control your home's temperature.
Sale
Ecobee Smart Thermostat
Enjoy a comfortable temperature in your home while saving energy by 23% with Ecobee Smart Thermostat. Don't miss your chance to get it at a bargain price!
Did you like the Ecobee Smart or Ecobee 4 and which feature do you find the most preferable? Share your opinion in the comments section down below!