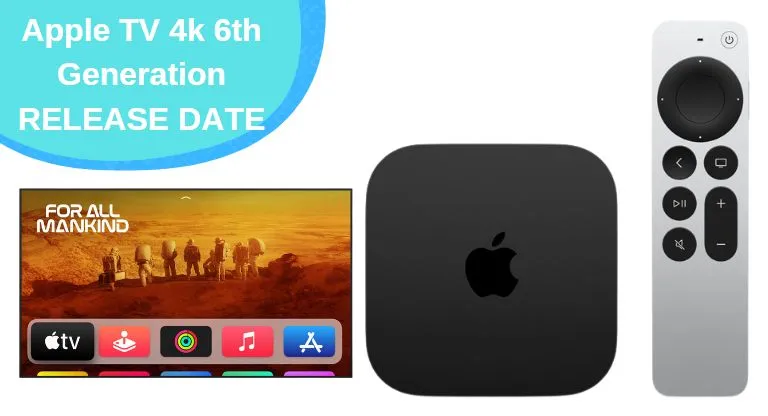 Rumors say that this year Apple will present an updated set-top box Apple TV 4K. The latest version of this device was released in 2022. It had a new processor and an upgraded Siri Remote. Obviously, the company will not stop there and will manufacture the next version of its set-top box with advanced features.
Now Apple fans are waiting for the 6th generation Apple TV to come out. Let's talk about when the new version should pop up in the near future and whether we should expect Apple TV 4k 6th generation in 2023.
Related Article: Apple AirPods Pro 3: Release date
The Release Date of the Apple TV 4k 6th Gen
Before making predictions about the release of Apple TV 6, you should take a look at the history of the different versions of the media player coming out to understand their designations. So, the chronology of the release of Apple TV boxes is as follows:
1st generation: January 9, 2007
2nd generation: September 1, 2010
3rd generation: March 7, 2012
3rd generation Rev A: January 28, 2013
HD: October 30, 2015
4K (1st generation): September 22, 2017
4K (2nd generation): May 21, 2021
4K (3rd generation): November 4, 2022
We see in 2022 the latest version of Apple TV 4K (3rd generation) was released. Therefore, it is too early to talk about Apple TV 6, because the next version will be Apple TV 4K (4th generation).
We wrote another article about the new version of Apple TV 4K (4th generation).
If you don't have time to wait, you can buy the latest model now. It will be the right decision – it is recognized as the best set-top box in the Apple TV series.
Apple TV 4K Wi‑Fi with 64GB
The latest shows, movies, sports, and live TV, all in one place
More ways to enjoy your TV with Apple Arcade, Apple Fitness+, and Apple Music
If we talk about Apple TV (sixth generation), then there is every reason to believe that the work on the new version of the device is already underway. But so far there is no information about the new TV set-top box.
If you want to be among the first to know about the release of Apple TV 6, subscribe to the newsletter of our site, and you will definitely not miss anything out.
Frequently Asked Questions
Is the Apple TV 4K the 6th generation?
The new Apple TV 4k is the sixth generation Apple TV, it still has the Apple TV 4k name.
What's special about Apple TV 4k?
The Apple TV has Apple TV+, Apple Music, Apple Fitness+, and, of course, Apple Arcade with the possibility of streaming apps. The best pictures and high audio quality are guaranteed.