Choosing between the newer models Levoit 400S vs 600S air purifiers can be a tough choice. Both are top contenders when it comes to cleaning medium to large rooms.
Today I invite you to dive into this ultimate comparison made between these two models to find out the winner. So, let's get started!
Quick Answer:
These two products feature amazing performance and functionality. For instance:
3 step filtration technology
Auto mode
Smart App Sync
Inbuilt Air Quality Indicator
But how does the 400S differ from the 600 one? Is it better? Does the 600S come with new innovations? Well let's find out:
The 600S has better CADR and higher efficiency for cleaning larger rooms.
But the 400S provides you with lower maintenance costs and lower power consumption.
So which one to choose? Continue reading below to find out how the two of these Levoit product lines compare with each other based on CADR, filtration quality, unique features, and most importantly purification power.
Comparison Chart
| | | |
| --- | --- | --- |
| | Levoit Core 400S Air Purifiers | Levoit Core 600S Air Purifiers |
| | | |
| | | |
| | 260 CFM (cubic feet per minute) | |
| | Pre-filter, True HEPA Filter, Activated Carbon Filter | Pre-filter, True HEPA Filter, Activated Carbon Filter |
| Filter Replacement Indicator: | | |
| | | |
| | | |
| | 5 fan speed– Sleep Mode, Low Mode, Medium Mode, High Mode, and Turbo Mode | 5 – Sleep Mode, Low Mode, Medium Mode, High Mode, and Turbo Mode |
| | | |
| | | |
| | | |
| | | |
| | | |
| | | |
| | | |
| | | |
| | | |
| | 10.8 x 10.8 x 20.5 inches (27.4 x 27.4 x 52 cm) | 12.3 x 12.3 x 23.6 inches (31.3 x 31.3 x 60 cm) |
| | | |
| | | |
Detailed Review of Levoit 400S
Though a compact futuristic-looking device, this product can clean up to 400 square feet of your living space. It is also small enough to fit wherever you deem fit. It features a three-stage filtration system. This not only removes the micro-biomes, bacteria, germs, and dust but also removes dust, cooking smells, and pet dander.
Levoit 400S
Some of the pros and cons of this model are the following:
Pros:
Smart Application Vesync is ideal for everyone to control devices from their smartphones.
Air Quality Sensor enables automatic adjustment of the fans according to the pollutant level.
Colored Ring Light to visually show you the indoor air quality at the top of your device.
Sleep mode not only reduces your energy bills but also is quite enough to enjoy a restful sleep.
The timer function controls the no. of hours you want it to run.
Child Lock feature to prevent your children or pet from accessing.
Cons:
Lower CADR than newer models
Don't think the 400S is powerful enough for your larger rooms? Well, I have got you covered. Featuring a bigger and more powerful product from the same company, we have the Levoit Core 600S. Let's see what this model has to offer:
Detailed Review of Levoit Core 600S
Having this larger and bigger device may just be the right fit for you. This cleaner can cover up to 600 square feet of coverage space. It also features a higher CADR rating of 410 cubic feet per minute.
Levoit Core 600S
These are some of the pros and cons one should know:
Pros:
It features most of the same technology including an air sensor, Vesyncc App, child lock, sleek design, automatic timer mode, etc.
It has a higher performance than the 400S.
Can clean large rooms in no time.
It can remove more pollutants in lesser time.
Cons:
High power consumption than the 400S.
Costs more for filter replacement.
An Insight Into the Shared Features
Before I dive into what makes them different, let's look at some of the features they have in common.
Here is a list of a few of them.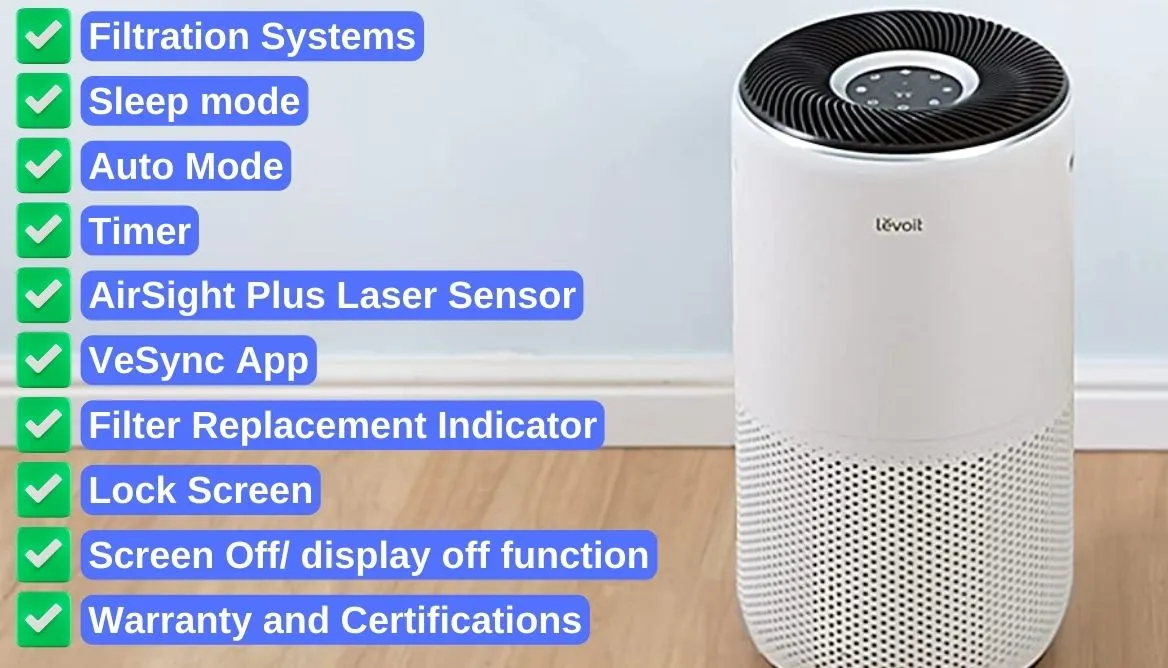 1. Filtration Systems:
Both cleaners use a three-step process for filtering air. This enables them to get rid of 99.97% of the airborne pollutants in your room. From pet dander to cooking smells, from dust, VOCs to bacteria. These filters do it all!
The following are the three types of filters used in these models.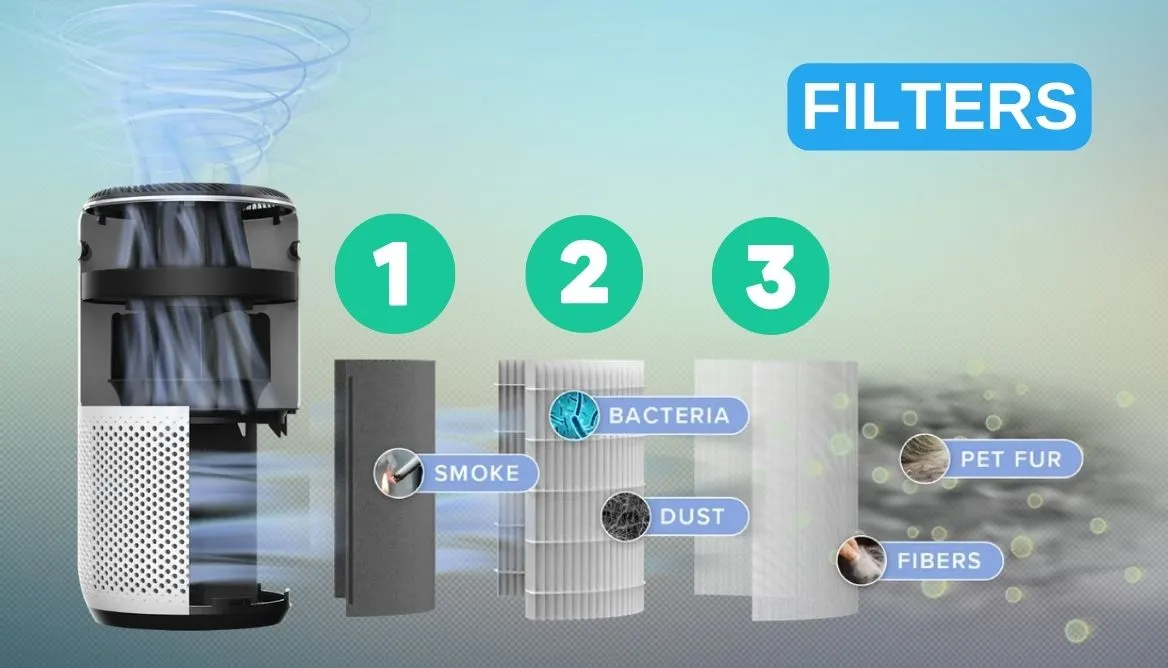 1. Pre Filter
It works as a primary filter to capture large airborne particles such as:
It also helps to prevent the HVAC system from clogging while they are running. This way, it prolongs the air filter's life.
2. A True HEPA Filter
This is very effective in removing most of the air particles' impurities. They remove;
Pollens,
Germs,
Bacteria,
Viruses,
Spores,
Dust,
Smaller airborne pollutants.
These filters help capture particles that are smaller and get through the initial primary filter to help reduce respiratory infections and asthma symptoms.
3. Activated Carbon Filter
The filter containing activated charcoal is the third sieve to absorb.
Smoke,
Cigarette smell,
Cooking odor,
VOCs,
Harmful Gases.
It greatly helps in freshening your home environment and getting rid of toxins.
2. Sleep mode
This option makes your air purifier run as quietly as possible for you to enjoy a peaceful sleep.
Both Levoit air purifiers have this feature.
The sleep mode runs the fans at the lowest speed possible.
To enable sleep mode: Simply turn it on by pressing the sleep mode button on the control panel, using the VeSync app or voice control.
3. Auto Mode
The auto mode on both devices helps you save time and the hassle of setting up your air purifier yourself.
The auto mode enables you to:
Uses a smart laser dust sensor to scan the surrounding air.
Based on the quality of the air, it will accordingly adjust the fan speed.
The PM 2.5 value shows the number of particles detected by the device.
This mode makes sure that you are surrounded by optimal air at all times.
This also helps you in reducing costs as it automatically shuts down when the air quality is good.
4. Timer
This is one of the perfect smart features Levoit has to offer for busy people with tight schedules. This air purifier characteristic provides the flexibility and convenience to adjust your devices for how long and how often you want to.
This allows you to set running time from 1 to 12 hours.
You can optimize its schedule according to your need.
The app helps you set the turn-off and turn-on timings that suit you.
5. AirSight Plus Laser Sensor
Levoit Core 600S and 400S both have this sensor. This indicator allows you to monitor the air level pollutants in real-time.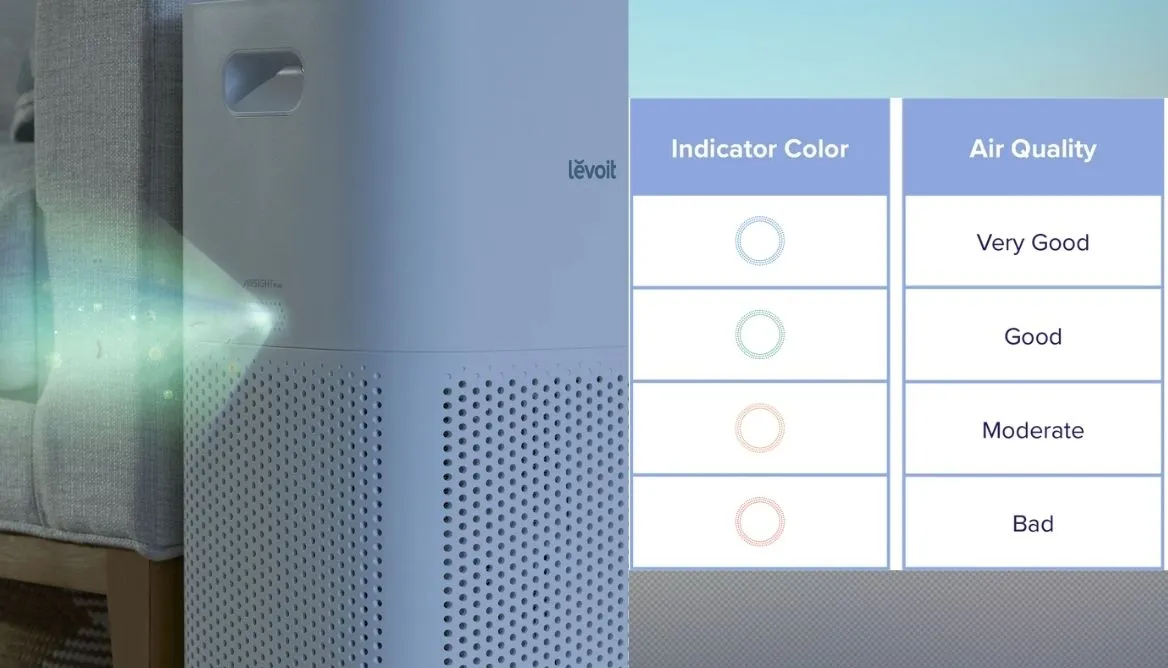 You can also monitor the PM 2.5 level and air quality index on the Vesync App.
You also get a notification when the indoor atmospheric quality level decreases.
It is a color-coded ring on top to show you air level quality.
It changes from:
Green (Good),
Yellow (Moderately Unhealthy pollutants levels),
Red (Unhealthy air levels).
6. VeSync App
The app provided by the Levoit Core Series is available on both iOS and Android.
Can be connected to Google Assistant™ and Amazon Alexa.
You can give easy hand free commands to the device.
You can also add other Levoit devices to your app to control them.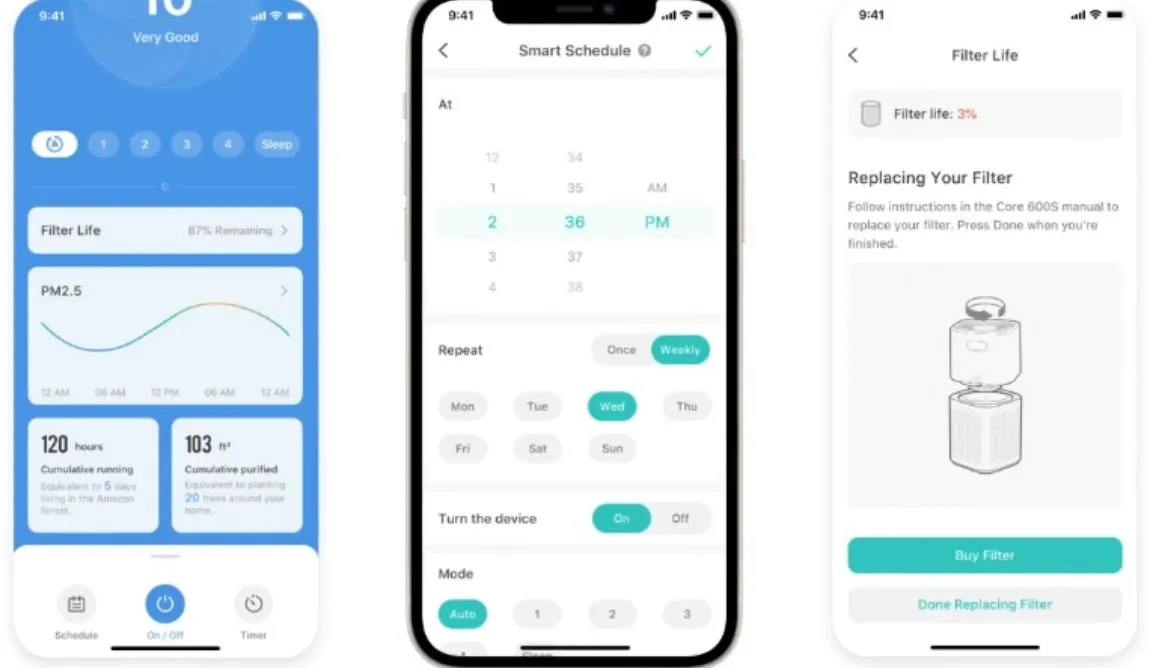 7. Filter Replacement Indicator
These rest indicators give out an alert on your air purifier for when it is time to change the filters.
Depending on the air quality, the filter might need to be replaced earlier.
You can check the remaining filter life on the app as well.
The filters last up to 12 months on usual.
You can also order new filters from the Vesync App
8. Lock Screen
This safety measure in both devices is placed to ensure any accidental changes to the settings are not made.
To turn on the lock screen smart features you should:
Press and hold the display off button for 3 seconds.
The lock screen indicator will light up and the display will show a lock icon.
Pressing this button again will turn off the lock screen feature so that you can use all your buttons on the control panel except for the display off button to adjust settings.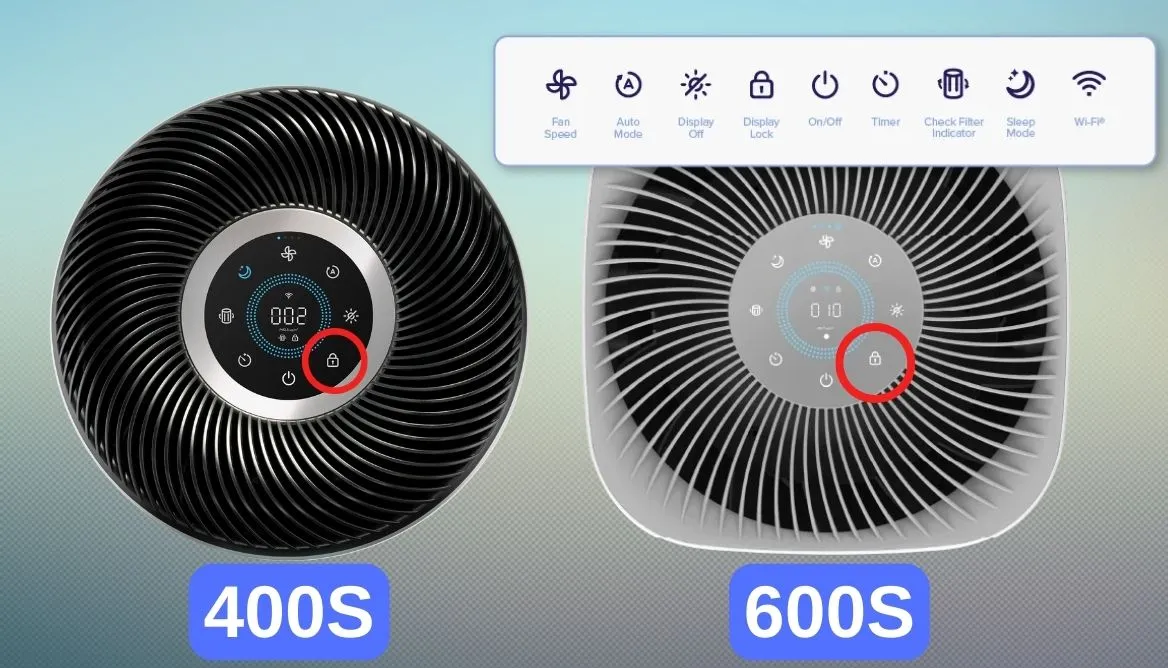 9. Screen Off/ display off function.
This is also one of the handy smart features in the air purifier to allow you to turn off the display screen.
If you prefer a darker room while sleeping, you can turn off the display.
Press the display button for 3 seconds on the device.
Or you can also turn off the display by tapping on the display icon on the app.
There is also an option to turn on night mode where the device will automatically turn off the screen after a certain time.
10. Warranty and Certifications
Levoit Air Purifiers are backed by a 2-year limited warranty that ensures you will get the highest quality product from us. The warranty covers defects in material or workmanship under normal use and maintenance.
The Levoit S series air purifier has the following certifications.
FCC: Federal Communications Commission
CARB: California Air Resources Board
ETL: Electrical Testing Laboratories
Energy Star: Environmental Protection Agency
What Features Set Them Apart?
These are both smart air purifiers that use a three-stage filtration system to remove various pollutants from the air, such as dust, pollen, smoke, odors, and VOCs. They also have many advanced features, such as an:
Air quality sensor,
An auto mode,
Sleep mode,
A smart app, and
A display-off function.
But how do they differ from each other, and which one is better for your needs? In this next section, I will compare these two air purifiers in terms of their physical characteristics, operation costs, and power consumption. Let's begin: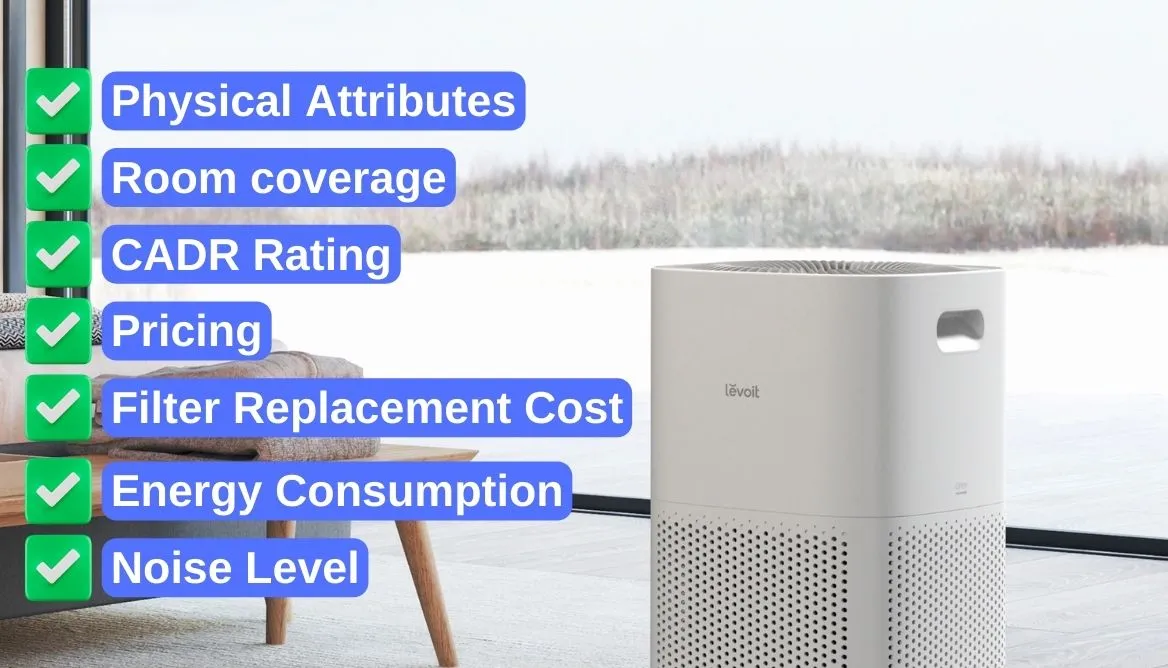 1. Physical Attributes:
This is the first difference you'll notice between the two air purifiers. The 400S has a more cylindrical shape, round corners, smaller in size.
While the 600S exhibits a more rectangular shape, and round corners, bigger in size, and 2 pounds heavier than the 400S.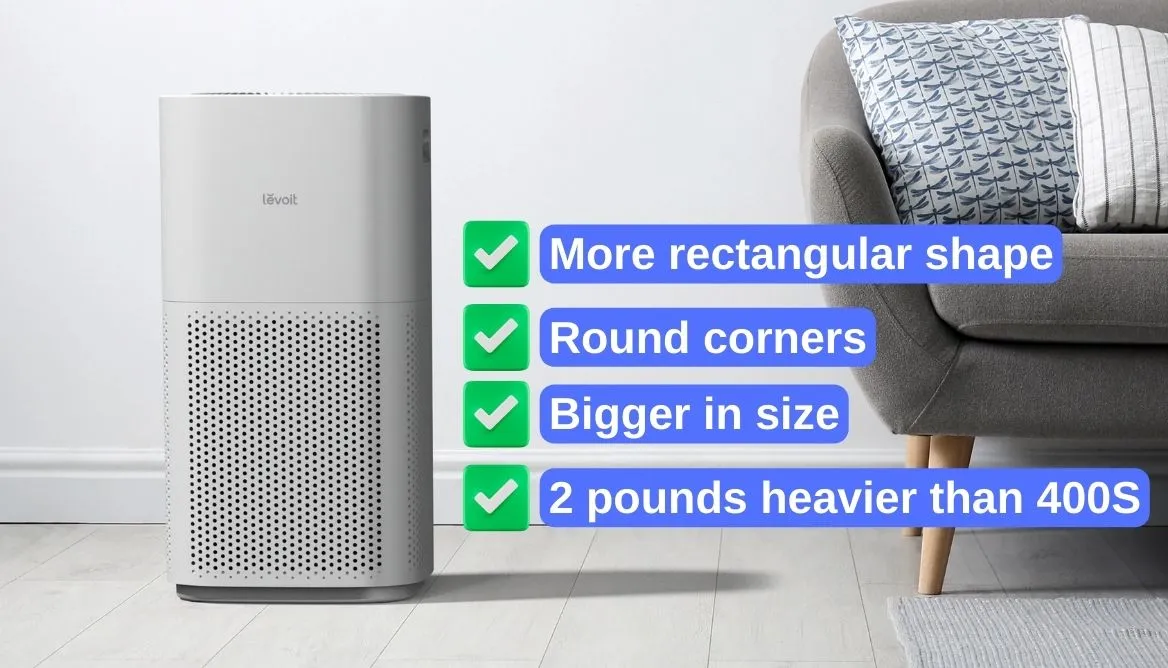 Both of air purifiers have:
Handles for portability,
Control panel on top,
Touch buttons,
LED indicators.
Have a look at this detailed comprehensive contrast in this video here.
2. Room coverage:
While both are great options to suit your needs. The Core 600S can cover an area of up to 635 square feet while the 400S covers around 403 square feet in a room.
This means the 600S can clean much large room spaces such as living rooms, kitchens, open spaces, etc., while the Core 400S is ideal for smaller spaces such as bedrooms, offices, studios, etc.
Winner: The 600S has better and bigger area coverage, thus taking the lead in this domain.
3. CADR Rating
This is how the CADR differs in both.
The CADR for 400S is 260 CFM.
The CADR for Levoit Core 600S is 410 CFM.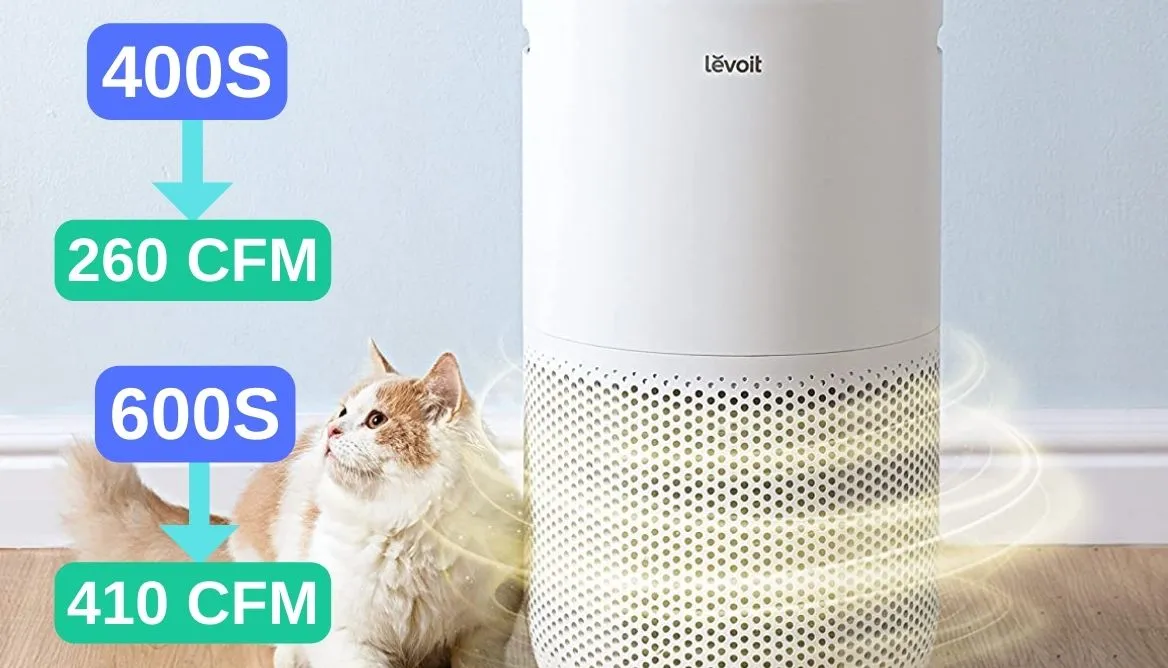 This translates into a 600s air purifier cleaning more air than the 400 on the same settings.
Winner: The Levoit Core 400S is a good option for anyone looking for a simple and efficient air purifier, but the 600S offers even better performance by taking the lead.
4. Pricing
Here is how they compare regarding the purchasing cost:
The 400S cost around 219 dollars
While the Levoit Core 600S retails at $299.
Winner: When it comes to pricing, the winner is 400S making it a budget-friendly option.
5. Filter Replacement Cost
The cost of filter replacement for each of the air purifiers is as follows.
The Levoit 400s: The cost is around $50 per filter.
The Levoit Core 600s: This cost $60 per filter.
Winner: The devices use the same filter; the only difference is the size. Since the 600S provides a bigger filter size, it is more expensive than the other. Thus, the 400S is a more cost-effective option.
6. Energy Consumption
The Levoit Core 400S and the Levoit Core 600S differ in power usage. The Core 600S has a higher power consumption.
The 600S consumes around 49W at its highest fan setting.
The 400S on the other side, uses less energy of 38 W.
Winner: The 400S air purifier uses less energy. Thus, regarding power consumption, the 400 takes the lead. But do remember, the 400S delivers lesser coverage and airflow than the Levoit Core 600s.
You can look at how they compare with each other in this video.
7. Noise Level
This is how the two models compare in noise;
At the lowest setting, the 400S makes a sound of 42 dBA
While the 600S of 43.9 dBA.
Now this isn't that much of a difference. But how do they compare with the highest fan speed turned on?
59 dBA for the 400S model and
68.5 dBA for Levoit core 600S
Winner: The 400S model is much quieter when it operates at the highest setting. Thus making it the winner in this regard.
Now that I have given you a detailed review based on each of the parameters, it's time to choose. Here are some factors to consider to help you with your decision: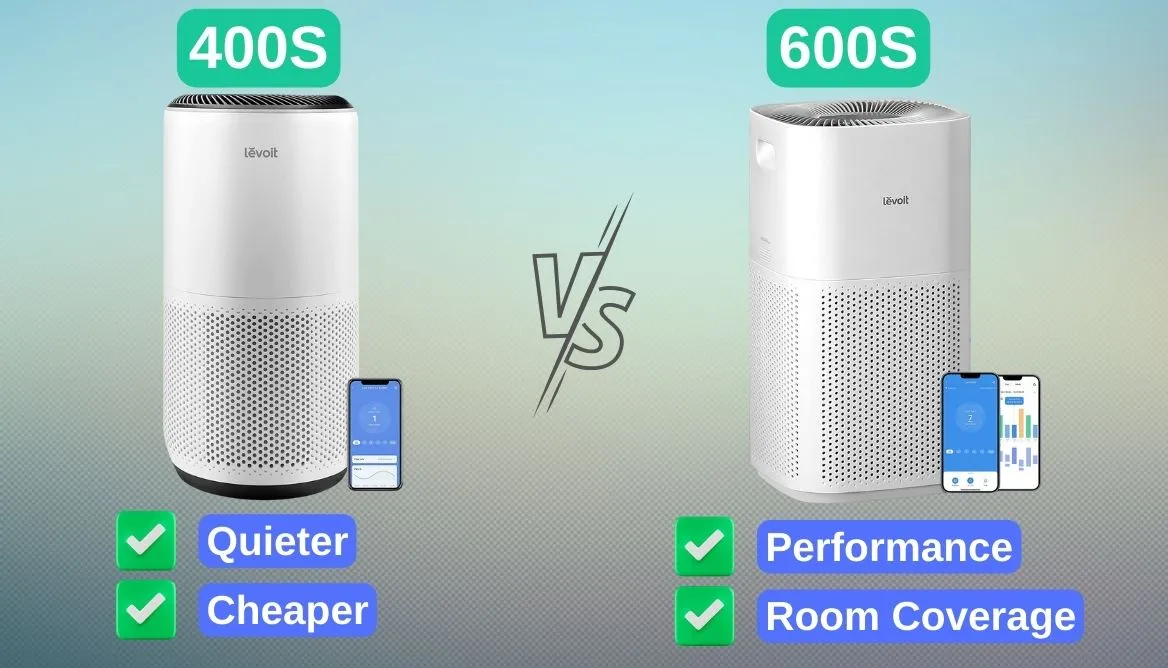 Levoit Core 400S Air Purifier: Is It the Best Choice for Your Room?
Here's when should you choose the Levoit Core 400S:
Quieter: If you are looking for a low-noise level appliance, I would recommend choosing this model. As it provides lower decibels even at the highest speed setting. It is safe to say the 400S would be a much better choice.
Cheaper: If you want to opt for a budget-friendly option. The 400S provides a much better cost reduction for your annual maintenance bills. This is due to the fact the filters are much cheaper than the Levoit Core 600S and it consumes less power.
Levoit Core 600S: Is it The Better Choice For You?
Here are two reasons why I would suggest the 600S air purifiers over the 400S:
Efficiency and Performance: With a higher CADR rating, the Levoit Core 600S models clearly are a more powerful option out of the two.
Room Coverage: The device also provides more coverage of 635 sq ft compared to 403 for the other model.
FREQUENTLY ASKED QUESTIONS
Does the Levoit 600S produce ozone?
The Levoit 600S does not produce ozone.
How long does the Levoit core 400S filter last?
The Levoit Core 400S filter lasts for 12 months.
Is Levoit core 400S ozone free?
Yes, the Levoit Core 400S are ozone free.
How much power does the Levoit 600S consume?
The Levoit Core 600S consumes 49 W of power.
Read Also:
Levoit 400s Review: Upsides, Downsides, and Key Features
Levoit 300s vs 400S: Which One is the Best For Your Needs
Levoit Core 200S vs Core 300: Which Is the Winner
Levoit 600S Review: Is It Worth It In 2023 Revealed!
Levoit 600S Review: Is It a Great Air Purifier for Your Needs
Conclusion
I have gone through the detailed comparison between the two air purifiers. Both are excellent products with amazing specs and features.
I would personally suggest getting the 400S as it is best for medium-sized rooms and comes with the same technology as the other one. The plus side would be the reduced cost of the filter replacement and the power usage per month.
Levoit Core 400S Smart Air Purifier
This air purifier is compact and affordable. It can clean air with 99.97% efficiency in rooms up to 400 sq ft. It has a smart sensor with voice control and quiet operation. It also has a sleep mode and off display option for good sleep.
If you don't think spending an extra hundred bucks would be an issue, then definitely go for the Levoit Core 600S.
Levoit Core 600S Smart Air Purifier
This air purifier is more powerful and effective. It can clean air with 99.99% efficiency in rooms up to 600 sq ft. It has many smart features. It also has an auto mode and a lock mode.