Have you ever been out shopping in a store or eating in a restaurant, and noticed the big lockboxes they often use to keep people "locked out" from changing settings? Perhaps it got you thinking about how you could lock your smart thermostat at home. Specifically, your Ecobee smart thermostat?
Can You Lock Your Ecobee Smart Thermostat? Ecobee Smart Thermostats can be locked by using a PIN Code. The PIN code can be set only at the thermostat and cannot be set from the app. The PIN code can be used to control access to the whole device, or specific features.
I imagine you don't want a big lockbox around your Ecobee, although I also imagine that might be needed to protect the Ecobee from the kids sometimes. Now that you know it can be done, let's take a look at how it is actually done, and what features can be locked.
Again, you will need to be at your Ecobee Thermostat, as you cannot set up the PIN code from the Ecobee app.
How to Lock Your Ecobee Smart Thermostat?
Setting up a PIN code is a quick and easy process. If you're familiar with the Ecobee interface, you'll be able to set up a security PIN from memory just from glancing through these steps.
Open the Main Menu
When you walk up to the Ecobee thermostat, it will change from the Stand-By screen to the Home Screen. To open the Main Menu, you will need to tap on the icon that looks like three parallel lines, located in the lower-left corner
Select "Settings"
You will need to scroll down in the Main Menu in order to find the Settings option. It is the second from the last option.
Select "Access Control"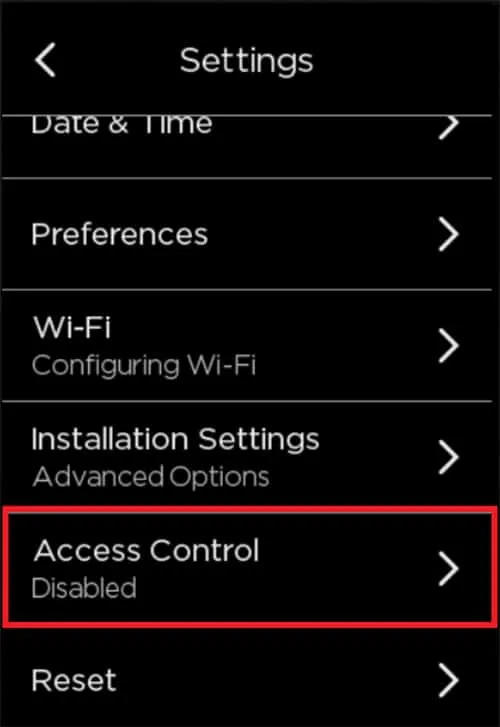 Select "Enable Access Control"
It may say "Enable Security Code" depending on your version of the firmware.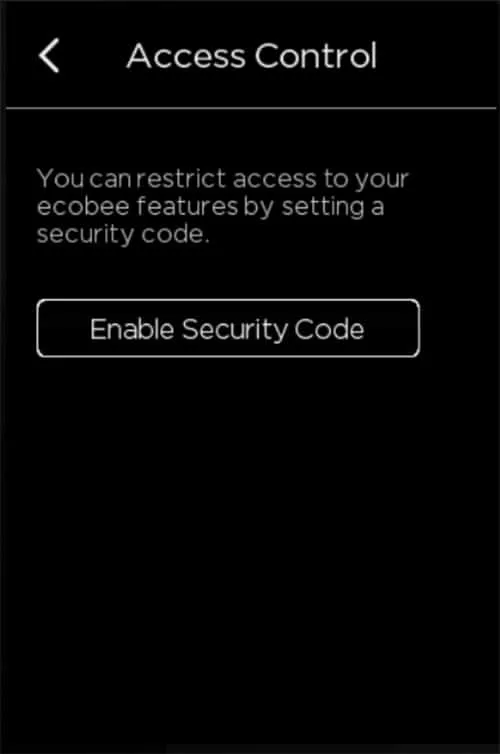 Enter a 4-Digit PIN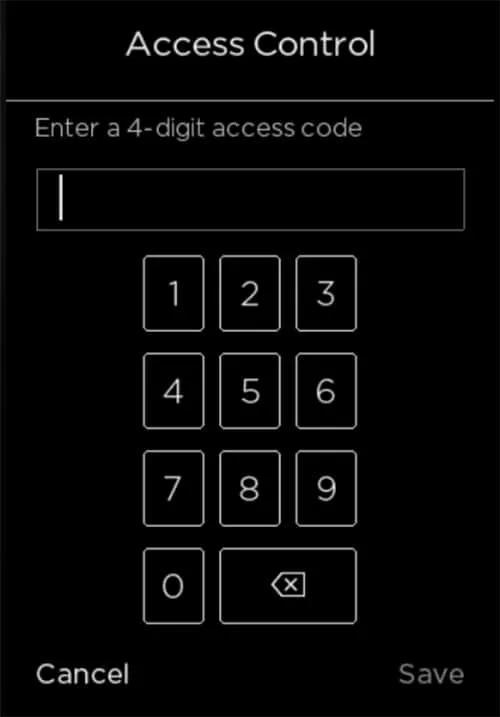 A keypad will display on the Ecobee so that you can enter the 4-digit pin, which Ecobee calls an "access code".
The numbers are not hidden after you type them, so make sure that no curious kids or unwanted eyes are watching you.
Since the numbers are displayed, it makes it easy to double-check that you did indeed type the PIN correctly. Make sure it is what you want because this is the only time you enter it before it is set.
Select Save
Once Save is selected, the security code is set. It will be active after the Ecobee goes back to standby mode.
Select which features will require a PIN
Once you select save in the previous step, Ecobee will display an options menu to select which features require a PIN.
The options are:
All
Temperature & Quick Changes
Schedule
Vacation
System & Settings
Select the Back Arrow until you reach the Home Screen
Let's take a minute to look at those options from step 7 because it wasn't completely obvious to me what they all meant the first time I took a look.
When "All" is selected, it will put a checkmark next to all 4 other options.
When "Temperature & Quick Changes" is selected, users will not be able to change the temperature or make and "Quick Changes". Okay, that is obvious, but what are Ecobee's Quick Changes?
Ecobee Quick changes can be accessed from the Ecobee's Home screen by clicking the icon in the lower right that has an icon with three bars and a gear. On the quick changes screen, you can quickly set the Ecobee to be in Home mode, Away mode, or turn on the fan.
The rest of the access control settings block out exactly what they say they do.
When "Schedule" is selected, this will prevent users from making any adjustments to your Ecobee's schedule on the thermostat
When "Vacation" is selected, a user cannot create a vacation schedule or adjusting any pre-existing vacation schedule.
When "System & Settings" is selected, users cannot change the system mode (Heat & Cool modes), nor can they adjust any of the Ecobee's settings.
Commonly Asked Questions About Ecobee Access Control
Here are some common circumstances that people often have questions about when setting up and using a PIN on the Ecobee.
Can I set a range of allowable temperature changes or does it lock out manual changes completely?
This can be accomplished by setting the temperature ranges under the Preferences Menu and putting an Access code on the System & Settings. Here is the Ecobee Support page that can help you set the preferred temperature ranges.
This would only let users set the temperature between the allowed range, and they wouldn't be able to modify the range without the access code.
Can access control be enabled or disabled from the iPhone app or Android app?
No, the access control setting can only be accessed on the thermostat itself or by logging into your account on a web browser at Ecobee.com
Is the Access Control pin stored on the Ecobee, or in the cloud? Can I still enable/disable Access Control from the Ecobee thermostat if my internet connection is down?
The Access Control pin is stored on the Ecobee. You can change the access control on the thermostat without an Internet connection.
How to Unlock Your Ecobee Smart Thermostat?
If your Ecobee is locked, it can be unlocked by entering the correct access code. The Ecobee will return to locked status once it enters standby mode.
Here are the steps if you want to disable the access code.
Open the Main Menu
Select "Settings"
Select "Access Control"
Select "Enter the existing code"
Select "Change Security Code"
Select "Delete the existing code"
Select "Save"
The Ecobee will now no longer require a PIN to access any settings or any other menu.
How Do I Reset My Ecobee Access Code?
The more important question is what if you forgot the access code and need to change something that you are now locked out of? Ecobee has you covered.
How Do I Reset My Ecobee Access Code? The Ecobee access code can be reset by logging into your account on the Ecobee website, going to the access control screen under settings, and selecting disable. A new access code can then be enabled if desired. Alternatively, Ecobee support can release the code after confirming your account details.
You do NOT have to reset your entire Ecobee Thermostat!
I Googled this question and was shocked that the snippet was instructions for Factory Resetting your Ecobee! Please, you don't have to do this. The good news is you would probably need the access code in order to do this.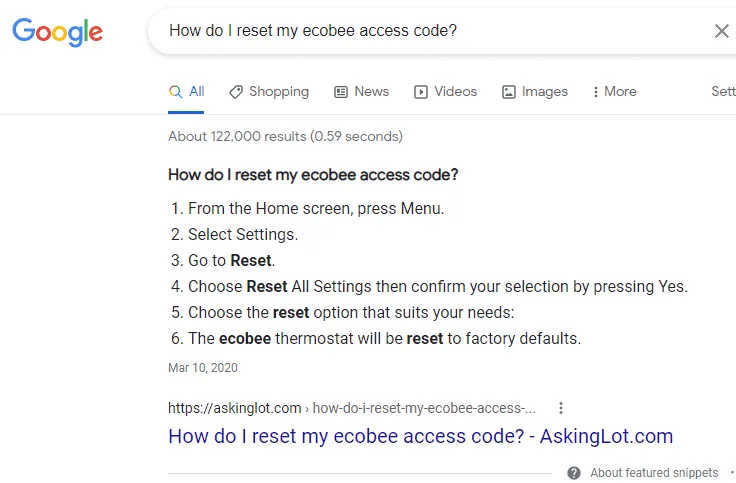 Disabling your Ecobee's access control is actually really easy, as long as you remember your account password. If you have forgotten both your access code, and account password, you can select "Forgot Password?" to go through the password reset process.
Once you are logged into your account, simply go to Settings -> Access Control, and select "Disable". That's it. You will now have access to your Ecobee again, and it will still have all of its settings.
Conclusion
You should now be able to confidently set up an access code for your Ecobee Thermostat, as well as lock and unlock your Ecobee using that code. In the event you forget that pin, it's just a minor inconvenience to disable it from your Ecobee account in a web browser, and create a new access code if needed. This is all security-related, so Ecobee does not allow any access control settings to be controlled from your Smartphone.