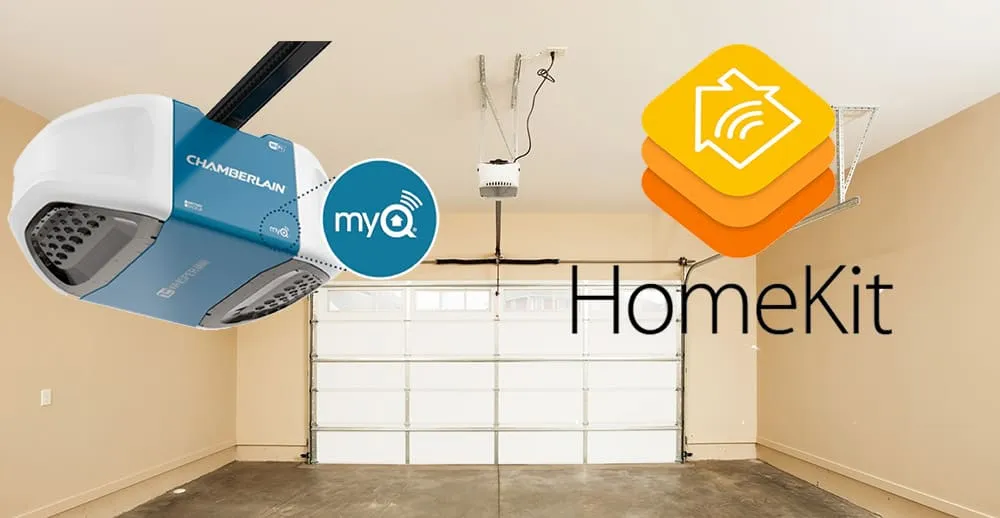 The Apple Homekit app Home Kit allows you to connect all your smart devices to a single control source; the Apple Home app..
It would be awesome if every smart home technology could work with the Apple Homekit, but that's not the reality of things just yet. This limitation raises questions like; what devices can be used with the Homekit? Does MyQ work with Homekit?
Liftmaster/Chamberlain's MyQ garage door opener can be connected to Apple Homekit and controlled with Siri by using the MyQ Home Bridge. A MyQ Smart Garage Hub, or a Chamberlain or LiftMaster garage door opener with MyQ is required in addition to the HomeBridge.
This will give you the capacity to control your garage doors alongside other devices that are compatible with the Apple Homekit app, as well as many other uses, which I will cover.
You can purchase the MyQ HomeBridge on Amazon by clicking the image below, or using this link(affiliate) You can see the current price immediately below the image.
If you also need the MyQ Smart Hub to open your garage door, you can purchase it on Amazon by clicking the image below, or using this link(affiliate). You can see the current price immediately below the image.
Now that you know that MyQ and HomeKit are compatible with each other, you may be wondering what you need to do to set it up, and what all you can do after integrating MyQ with HomeKit. If you already have it setup, are you able to figure it out? Keep reading and I'll show you what all you can do..
Do I Need a MyQ Home Bridge?
The MyQ Home Bridge is needed to connect your MyQ Smart Garage Hub or MyQ Smart Garage Opener to Apple HomeKit. Home Bridge can control up to 16 MyQ devices.
MyQ Home Bridge is a replacement for the old Chamberlain Internet Gateway. Home Bridge adds HomeKit compatibility.
If you use another smart assistant, such as Google Assistant or Amazon Alexa, you do not need the MyQ HomeBridge. MyQ can connect directly to Google assistant or Alexa without the Home Bridge
How Do I Use MyQ With Homekit?
Below are detailed steps on how to use your Liftmaster MyQ garage door control system with Apple Homekit.
1. Ensure You Have A Compatible Apple Device
How can you use an Apple resource without an Apple device? Apple keeps pretty tight control over their ecosystem. Apple Home app is not something that can just be downloaded on the internet; you must use an Apple device.
Your options are:
iPod Touch
iPhone
iPad Pro
iPad Air
iPad Mini
Apple Watch
Mac
Apple TV 4th Gen
HomePod
The mobile devices must be running iOS 10 or newer to access Homekit. This includes iPhones, iPads, and iPods. THe Home app was added to the MacOS starting with macOS 10.14 Mojave. .
Important Note From Apple
Note: Secure HomeKit-compatible products such as door locks, motorized doors or windows, security systems, and garage doors are not controllable by Apple TV. You must use an iOS or iPadOS device to control those devices.
Adding a Home Hub is important if you want to control your HomeKit devices while you're not at home, share access, and add automation.
There are a few options you have for a Home Hub. Your options are:
4th-generation Apple TV with tvOS 10,
a HomePod,
or an iPad running iOS 10 or later.
2. Install The MyQ Garage Door Controller
You have to install the MyQ smart garage hub, or a MyQ enabled garage door opener..
Here are the links for your convenience.
MyQ Smart Garage Hub: Click Here (Amazon)
MyQ Garage Door Opener: Click Here (Amazon)
You only need one of the two devices above. The second link provided, the one for the garage door opener, is for the actual unit that opens and closes your garage door. If you don't need a new garage door opener, just get the hub.
However, with the smart hub you will have a separate unit that you will have to install next to your garage door opener. This is something to take note of if having extra wires might get on your nerves.
Install The MyQ Home Bridge
This is the piece of equipment that actually allows you to connect MyQ to HomeKit. The MyQ Home Bridge comes with mounting hardware, like the Smart Garage Hub, but the Home Bridge can also be placed in a room near the hub.
Installing and Setting up the Home Bridge is a very similar process to setting up the Smart Garage Hub. Here are the steps.
Open the MyQ app
Open the Menu by Clicking the Top-Left Menu Icon
Click Device Management
Wait for Discovered Devices to appear
Select the new device under discovered devices
Select Yes on the pop-up screen to begin the connection process
Transfer settings from MyQ Hub (Or pair with MyQ Garage Door Opener)
How Do I Control MyQ With Siri?
MyQ can be controlled by SIri once a MyQ Home Bridge has been installed. Voice commands can be used to open, close, and check the status of your garage door.
Here are examples if you have named it "Garage Door". If you have your door named something else, replace "Garage Door" with your name.
Siri Voice Commands to control your MyQ
Check status: "Is my Garage Door open?"
Open Garage: "Open my Garage Door"
Close Garage: "Close my Garage Door"
Conclusion
MyQ is a great technology that has changed the way we control our garage doors. There is no easier way to control your WiFi-enabled garage door opener. Thanks to Homebridge, you can control your MyQ garage door from the Home app, have the garage door open and closed based on your location, or based on a schedule. These useful tools explain why MyQ is becoming more and more popular.