Blink cameras have become one of the best, affordable security systems on the market. They are easy to set up and can send notifications to your phone as well as save clips to the Blink Cloud.
The Blink Mini camera is the most affordable camera in the Blink line-up and matches many of the specs of the Blink Indoor camera. So you may be wondering, what's the catch? One of the differences is in how the Blink Mini is powered.
Does Blink Mini Have A Battery? The Blink Mini indoor camera is not battery-powered and is solely powered through the micro-USB port on the back. A micro-USB cable and power supply are included in the box. The Blink Mini will not turn on or function without being connected to a USB power supply.
The fact that the Blink Mini camera is not battery-powered makes it unique from all the other Blink cameras, so let's explore this topic a little more.
Read Also: How Many Blink Cameras Can You Have on One Module? Revealed!
Is There A Battery In The Blink Mini?
Okay, so you know that the Blink Mini is not battery powered, at least by replaceable batteries. What about an internal rechargeable battery that is charged when plugged into the USB power supply?
Is There A Rechargeable Battery Inside The Blink Mini? The Blink Mini does not have any batteries, internal or external. There are no rechargeable batteries inside the Blink Mini. The Blink Mini will only operate when powered through the USB port.
Related Topic: Do Blink Cameras Use SD Cards? Do They Use USB Thumb Drives? Your Options For Local Video Storage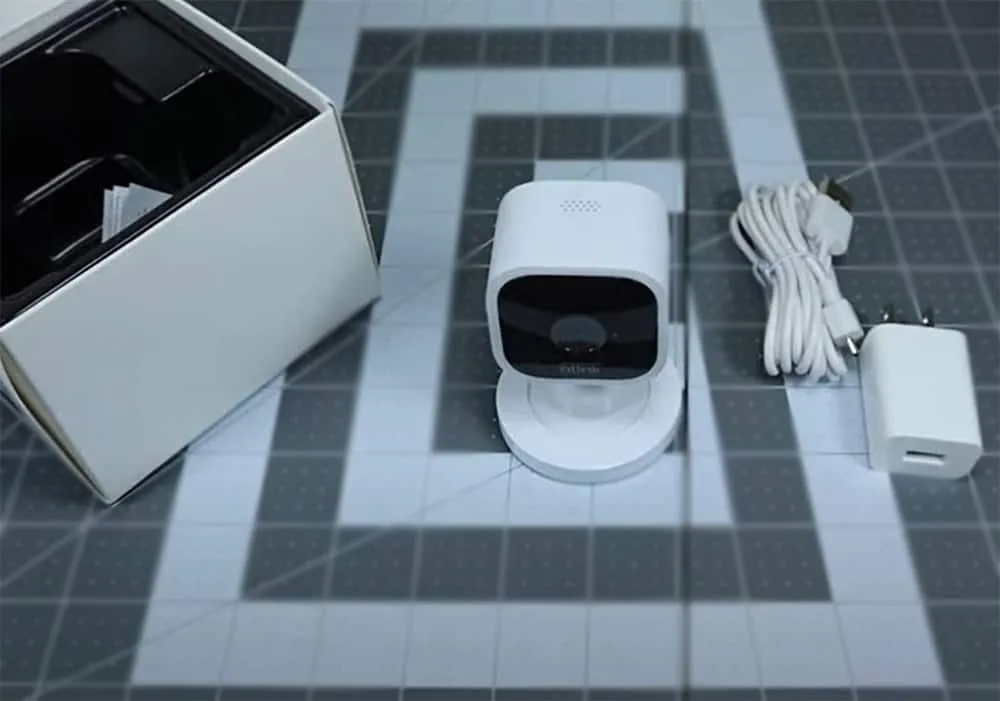 What Does Blink Mini Camera Plug Into?
There are lots of reasons why someone might not have the manufacture supplied wall adapter. Perhaps it got lost or broken, and you need a replacement.
Here is what the Blink Mini Camera was designed to plug into.
The Blink Mini camera is designed to plug into a Micro-USB connector and be powered by a 5-Volt (5V), 1-Amp (1A) Power Adapter, for a total of 5 Watts (5W).
This is what a typical USB power supply provides. If you search "usb power adapter," this is one of the first results Google will show you. If you see a power supply higher than 5 Watts, or more than 1 Amp, that is okay.
The important part is to get a power supply that is 5 Volts. If the power supply is slightly more than 5 Volts (I wouldn't go higher than 8), that's probably okay, but you do run the risk of frying the internal circuitry of the Blink Mini.
Here is the Amazon Choice for the USB power supply that meets these specs:
Specs for the Blink Mini, and all of Blink's other products can be found on their website here.
Does Blink Mini Need To Be Plugged In?
In case I haven't been clear enough already, let me answer the battery question slightly differently.
Does Blink Mini need to be plugged in? The Blink Mini camera needs to be plugged in for it to power on and perform its functions. It does not have batteries and will immediately turn off when unplugged and disconnected from the power supply. The Blink Mini does not require cables for any purpose other than power.
Perhaps you were thinking about how other Blink cameras, like the Blink Indoor and Blink Outdoor, require the use of the Sync Module. One of the unique features of the Blink Mini is that it does not have to use the Blink Sync Module.
The Blink Mini connects directly to Wi-Fi, although you can connect it to the Blink Sync Module 2 if you want to store clips locally.
If you would like to learn more about Blink Mini and the Sync Module 2, check out my article Can I Use Blink Mini Without A Subscription? Is A Subscription Required?
Read Also: Arlo Pro 4 vs Pro 5: Which One is the Best Security Camera
Blink Mini Cable FAQ
I hear many questions about which cables can and cannot be used with the Blink camera since it is the only Blink camera that requires a power cable to be used. Here are some of the most common ones that I hear.
What Cable Does The Blink Mini Use?
The Bink Mini is the only Blink camera that requires a cable to be used.
The Blink Mini has a Micro-B USB port on the back and uses a USB cable with a Micro-B connector at one end and a USB Type-A connector at the other end designed to plug into a power supply.
These are standard USB sizes, and you probably already have one of these cables laying around the house. There is one of these USB cables included in the box when you buy a Blink Mini.
How Long Is The Blink Mini USB Cable?
Speaking of the included cable, I hear people asking how long is the included cable that comes with the Blink mini?
The USB cable the comes with the Blink Mini is exactly 2 meters long, or about 6 and a half feet. Blink offers a 3 meter (10 ft.) that can be purchased separately.
The 10-foot cable for the Blink Mini is an excellent option for folks who want to mount the camera near the ceiling, where the 2 meters one isn't quite long enough.
There are also long aftermarket USB cables that can be purchased. I don't have personal experience with these, but they're a good option when the nearest power receptacle is far away. The longest available run is about 6 meters long, or about 20 feet.
Although, I think this might be a situation where the Blink Indoor would be a better option. Long power cords dissipate power as the electricity flows through them, so shorter cables are generally better options.
This is what Blink has to say about using third-party solutions:
Some third party manufacturers claim to be compatible with Blink products, such as solar panels or "weatherproof" USB extension cables. Third party power solutions are not supported because of the various problems and safety issues that may arise.

Blink Support: Can I power my cameras with a USB cable or solar panels?
Related Topic:
Can I Use Blink Mini Without A Subscription? Is A Subscription Required?
Arlo Pro 4 vs Pro 5: Which One is the Best Security Camera