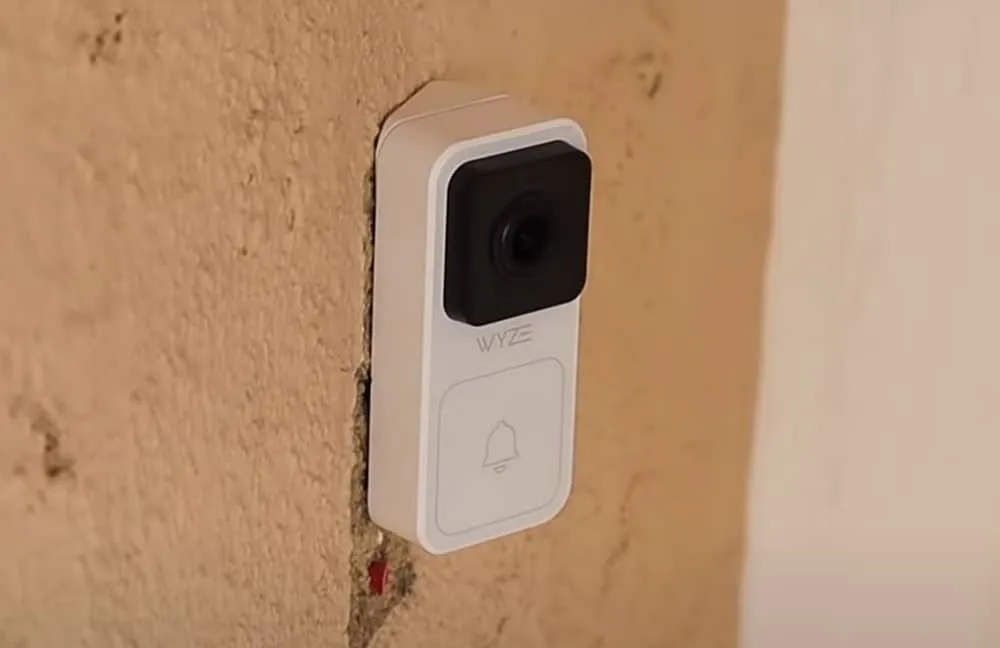 Smart video doorbells are replacing traditional doorbells on homes across America, and the world. There are various versions that work off existing doorbell power, or that are battery powered. Does the WYZE video doorbell require an existing doorbell?
The WYZE video doorbell can be used without an existing doorbell, but must be supplied with power. The WYZE video doorbell was designed to use existing doorbell wiring, but an external power supply or USB power supply can be used instead.
Now that you know it can be done, you are probably wondering how to do it. I'll go through the details in this article on how to get it done, and what your options are.
Wyze Doorbell Power Requirements
It's important to know about the power requirements before we get started. If not properly followed, things could get dangerous. Supplying too high of a voltage could result in fire, electric shock, or your house burning down. So please, make sure you use an appropriate power supply.
What voltage does WYZE doorbell use? WYZE video doorbells require a minimum of 16 Volts, with an acceptable range of 16 – 24 Volts. Alternatively, a 5 V USB power supply can be used. The WYZE video doorbell requires 10 Volt-Amps of power, meaning at most 2 Amps are required when powered with 5 Volts.
The WYZE video doorbell is designed to these specifications because that is what a typical doorbell transformer supplies.
I mentioned that the WYZE Doorbell can be powered using USB instead of the power terminals on the back. There is a micro USB port located directly above the power terminals. It is under a plastic plug that you will have to remove.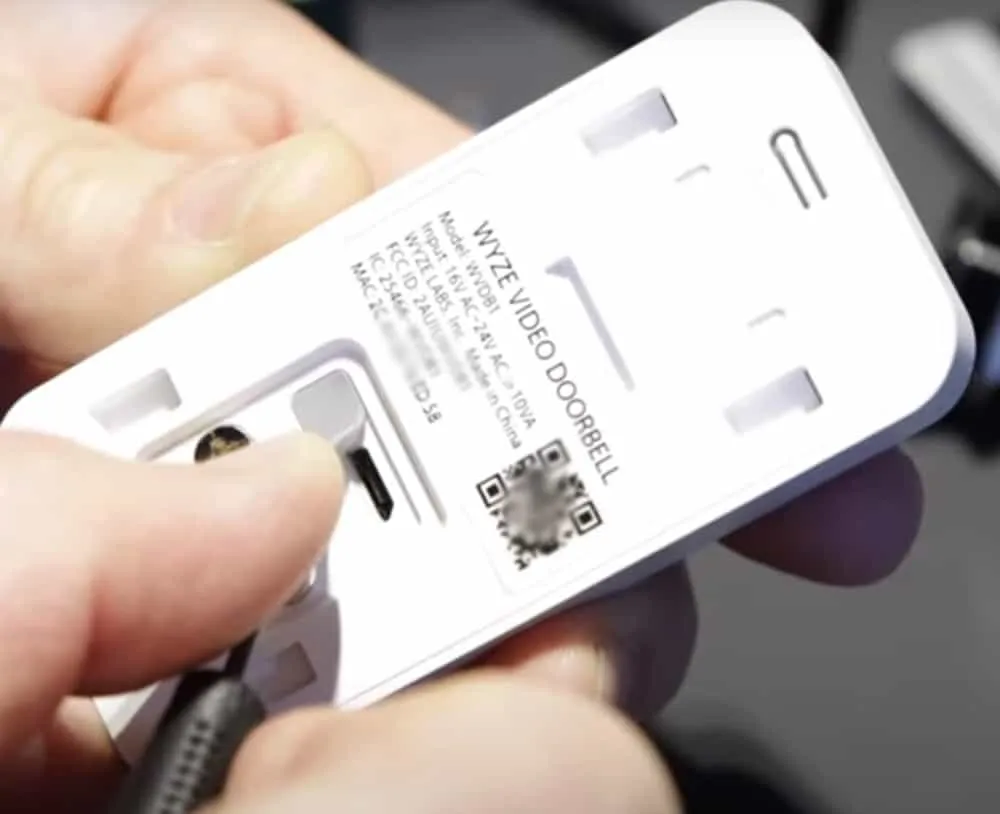 Chances are you have a USB power supply laying around your house, meaning you can use your WYZE Doorbell camera anywhere that is near an outlet. More on that later. If you do use a USB power supply, make sure that it is 5 V (Most are), and rated for at least 2 A (Amps) or more.
There are a ton of suitable power supplies on the market, but here are a few options that you can choose from.
This power supply has a 24 foot long cable, so you can have enough to run it from the outlet to the doorbell location.
Here is a USB power supply if you prefer to go that route. Note, if you just search amazon for "5V USB power supply", the Amazon choice is a 1 Amp power source. This is not enough power, which is why I did not choose it. Try searching for "5V 2A USB power supply". Here is an option that will work.
How To Install Wyze Doorbell Without Existing Doorbell
Hopefully you have your power supply in hand now. If not, that is step 1
Purchase an appropriate power supply to power the WYZE Video Doorbell
Run the power cable front the wall outlet to the install location
Don't plug in the power supply until the WYZE Doorbell is installed and connected to the power cables. You run the risk of shocking yourself if you do.

You can use the WYZE doorbell anywhere since you are providing your own power. Here are a few examples of how you can run the power supply if you plan to install the doorbell in a location where doorbells would normally be found.
I know this next video is for Ring video doorbells, but it's the same thing with WYZE. And yes, you could use the Ring Plug-in Adapter if you wanted. I think it cost more than necessary.
Follow the remaining steps from the WYZE Doorbell Installation Guide
You can find the WYZE Doorbell Installation Guide here.
Plug in the power supply
Once power is turned on, the WYZE doorbell will boot up and enter pairing mode. It will say, "Ready to connect", and the bell on the front will flash with an orange light.
Other Uses For WYZE Video Doorbell
I've mentioned that the WYZE Doorbell can be used anywhere when you are using a portable power supply, such as a USB power supply. It doesn't have to be used as a video doorbell. What you basically have is a device with two way audio, and one way video.
Here are some ideas for other uses of the WYZE video doorbell.
Baby Monitor
Monitor Elder Family members
The bonus of using a doorbell for a monitor is that the person can press the doorbell button if they need anything.
Customer notification, if you own a business
Have you ever been to a business that had a bell sitting on the front desk that you had to ring to get service?
Now what if the business replaced the bell with the WYZE video doorbell. Now when customers push the doorbell, you will be instantly notified and can communicate with the customer so that they are not left standing and wondering whats going on and how long till they're going to be helped.
The doorbell doesn't have to be permanently fixed to the side of the RV either. I picture plugging in the doorbell when your RV is parked, and running the USB cable through a window or through the doorbell.
You could use some sort of temporary mounting to secure it next to the door, or you could place it on a table. Hopefully you're not in a place where you have to worry about it being stolen.
Can Wyze Doorbell Use Existing Chime?
There are many users that are happy with their existing doorbell chime and do not want to use the external chime that comes with the WYZE video doorbell.
The WYZE video doorbell does not work with the existing in-house chime that are powered through the same transformer as the doorbell.
The assumed reason that WYZE would design the doorbell this way is to keep cost down. Typically, when a standard doorbell button is pushed, the circuit is closed and power at the doorbell is lost momentarily in order to ring the chime.
WYZE does not have an internal battery, so it requires that the chime be bypassed. (You will notice that bypassing the chime is part of the setup instructions.) If WYZE lost power, it would turn off, and then turn back on once power was restored, which would cause the doorbell not to "know" that someone had pressed the doorbell. See the problem there?
Competitors like Ring and Nest have internal batteries which power the doorbell through this momentary lapse. It's also one of the reasons they are more expensive. THey have to pay for the design, and the extra parts required. How many of you already know that batteries aren't cheap?!
Your current options for when someone rings the doorbell are:
Not have a chime, just use the app
Install the WYZE Chime in a power outlet
Have Amazon Alexa or Google Assistant notify you