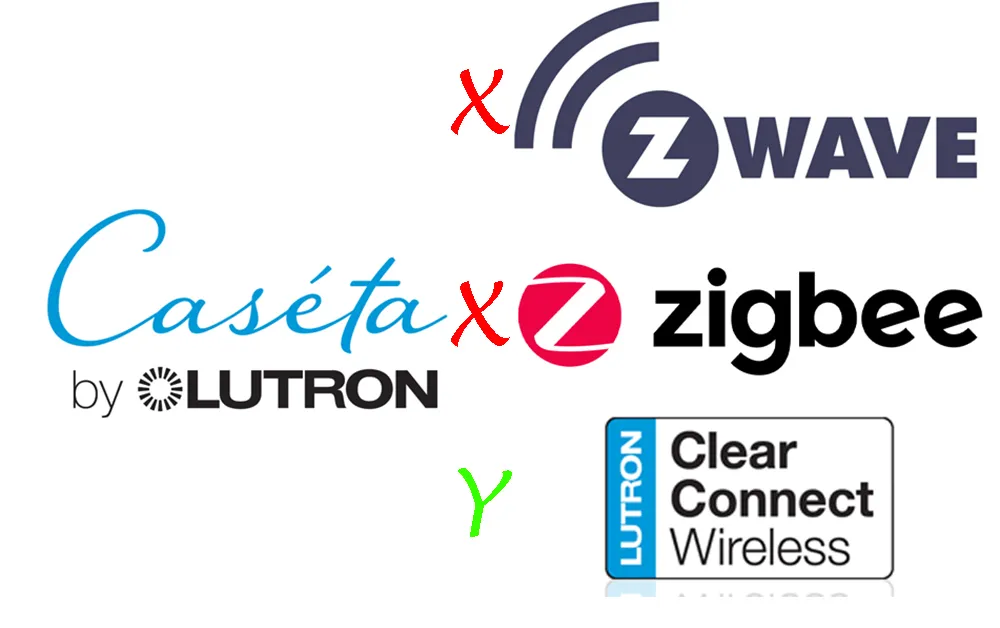 Lutron is a highly reputable company, and well established in the industry. Many users, when asked about their Caseta setup, will say, "It just works." One of the main reasons is how the devices talk to each other. Does Lutron Caseta use Z-Wave or ZigBee?
Lutron Caseta does not use Z-Wave or ZigBee, but instead uses their own patented, proprietary wireless protocol which they call Clear Connect. Clear connect creates a mesh network, which connects to a hub. The hub then connects the network to your home network through an ethernet cable.
Lutron is an industry leader, and they put a lot of time and effort into providing the best products. That includes their choice of RF communication. The remainder of this article discusses why Lutron decided to choose their own network, as well as more details on that network.
Related Content:
Does Lutron Caseta Work with Google Home? Setup & Connecting Are Easy!
Does Alexa Work with Lutron Caseta? Setup Instructions & Voice Commands

What technology does Lutron Caseta use?
Lutron was producing smart home devices before most of us had even heard about it. In 1997, Lutron released what they called "RadioRA". Most people didn't have WI-Fi- back then, so these devices used a two-way radio to create a lighting control system for the whole house.
Related Content: The Best Apps to Control All Your Smart Home Devices
Today, Lutron Caseta devices uses Clear Connect Type-A technology, a patented proprietary RF protocol. Devices create point-to-point connections and are capable of connecting to another device and directly to the Smart Bridge hub. Clear Connect does not create a mesh network.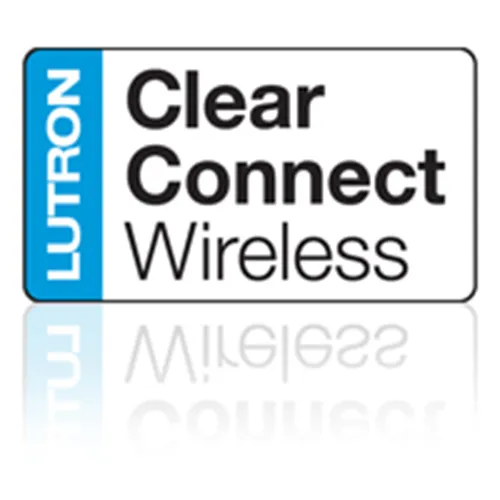 Clear Connect Network Types
First, I want to make sure there is no confusion. There are two different version of Clear Connect that different Lutron Series use: Clear Connect Type-A and Clear Connect Type-X.
Lutron Caseta devices use Clear Connect Type-A.
In 2019, Lutron acquired a company called Ketra. Later on, Lutron announced that these devices use Clear Connect Type-X. The Lutron series of devices that use Clear Connect Type-X is called "Ketra"
Clear Connect is Lutron's overall standard for ultra-reliable wireless devices. They refer to the two-types as sub-types (Type A and Type X). The two different sub-types are for different application-specific situations, and where the device is intended to be used.
Lutron has a whitepaper available here that describes their Clear Connect protocol.
That whitepaper also mentions why they chose to use 434 MHz. To sum it up, there is little interference, the FCC rules are favorable for their intended use, and lower frequencies are better at going through walls. (That's why you always here the Bass notes, and not the high notes when that car with music blaring drives by.)
Clear Connect Type-A
Lutron actually has licensed RF spectrum in the 400mhz range. Also, Type-A is not a mesh network. (Type-X does use a mesh network.)
Lower frequencies such as this have excellent wall penetration and distance. Lutron Clear Connect RF protocol is fast and incredibly reliable.
What frequency does Lutron Caseta use?
Lutron Caseta devices operate at 434 MHz under FCC regulation 15.231. Lutron refers to this as their Clear Connect Type-A solution.
Lutron plans to continue using Clear Connect Type-A because it is good for "low-density, non-uniform networks with both powered and battery-operated devices."
Clear Connect Type-X
Clear Connect Type X is designed for "more dense deployments of small form factor, high-performance lighting with more sophisticated features." Think Business and industrial application. Not exactly residential, although there are a few smart bulbs that could be used in their Ketra line-up.
Clear Connect Type-X is a mesh network, that operates at 2.4 GHz.
Is Lutron Caseta a mesh network?
Lutron Caseta devices do not use a mesh network, but rather uses more of a tree network topology. Caseta devices connect point-to-point, which form branches. The branch may connect to a Smart Bridge if Lutron App control is desired.
If you are interested in sticking with Lutron and desire a mesh network, check out the Ketra line of devices. It's more commercial focused than residential, but you may find something that fits your needs.
Related Content: How Much Does a Lutron System Cost? Why Is Lutron So Expensive?
What frequency does Lutron Caseta use?
You know by now that Lutron has its own proprietary communication system. Here is a little more information about the frequency
Lutron Caseta devices use Lutron's Clear Connect RF technology which operate at 434 MHz and follows Part 15 of the FCC regulations. Lutron products brochures sometimes indicate a range of 431 – 437 MHz.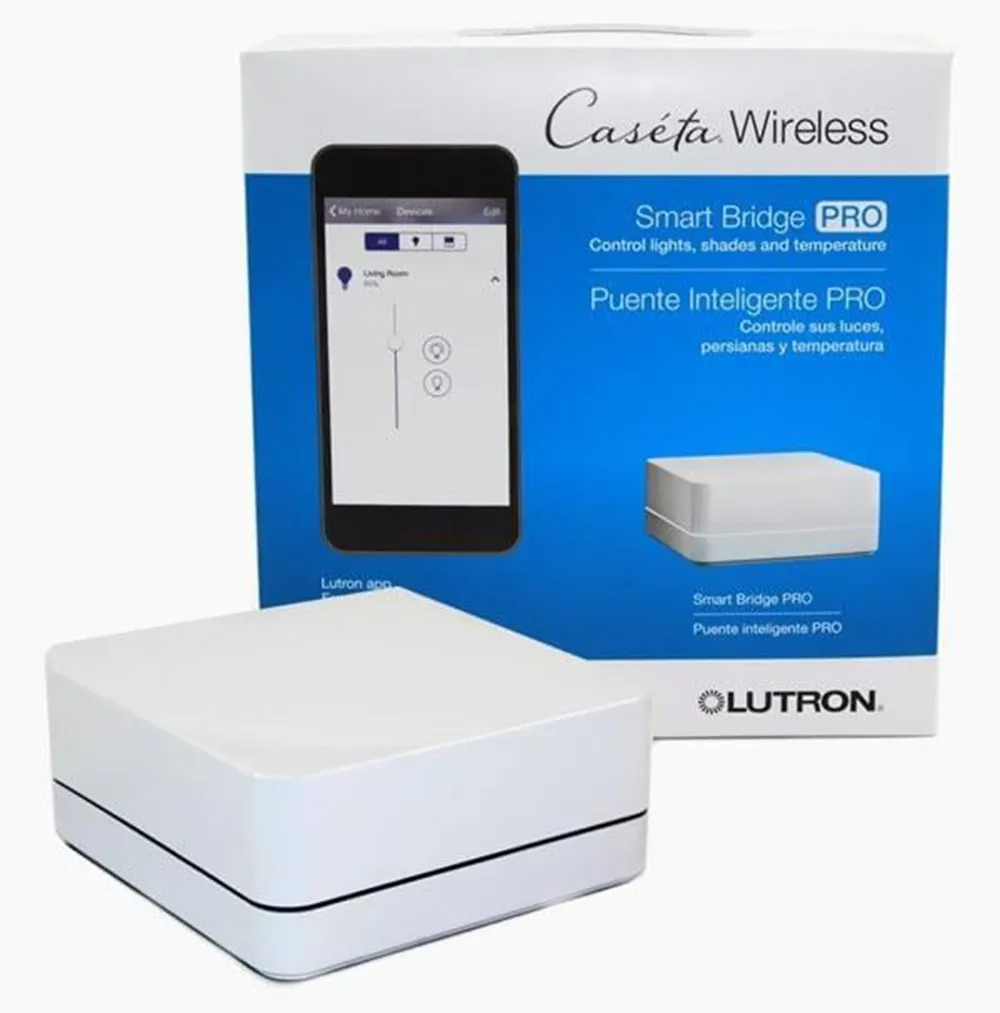 Lutron Integration
Since you were wondering if Lutron Caseta uses ZigBee or Z-Wave, perhaps you were looking for ways to integrate Lutron with your home system.
To integrate Lutron Caseta with other home automation systems you will need the Smart Bridge Pro. Do not confuse the Pro version with the non-pro Smart Bridge, as this does not allow third-party integrations.
Once you have the Lutron Smart Bridge Pro setup, you can integrate with a whole host of popular smart systems, including IFTTT, SmartThings, Wink, and the all three of the big Voice Assistants. Given these integrations, you can create just about any home automation you desire.
IF you are interested in a smart home starter kit, here is what I recommend: Best Smart Home Starter Kits
These integrations mean that you have a way to integrate ZigBee or Z-Wave devices in your smart home setup as well as being able to support the Lutron devices.
The Caseta website states the the Smart Bridge Pro must be bought through a Lutron distrbutor or professional installed, but you can buy the Smart Bridge Pro 2 online at Amazon. The link is below with the current pricing.
You an see a current list of Lutron Caseta integrations by visiting their website here.
Will Lutron Caseta Clear Connect Interfere with ZigBee or Z-Wave?
If you've made up your mind that you still want two protocols running in your house, you may be worried about the two interfering with each other. That is the great news about Clear Connect Type A.
Lutron Caseta will not interfere with ZigBee or Z-wave, regardless of the number of devices on either system. Clear Connect, the RF technology that Caseta uses, was intentionally chosen because of low interference.
I specifically call out Clear Connect Type A because it operates at a different frequency than Clear Connect Type X. Clear Connect Type A operates at 434 MHz, and Clear Connect Type X operates at 2.4 GHz.
Now if that 2.4 GHz sounds familiar to you, it's because that's the one of the two main frequencies that Wi-Fi operates at and that most Wi-Fi enabled smart devices use. It's possible that Clear Connect Type X could result in some interference.