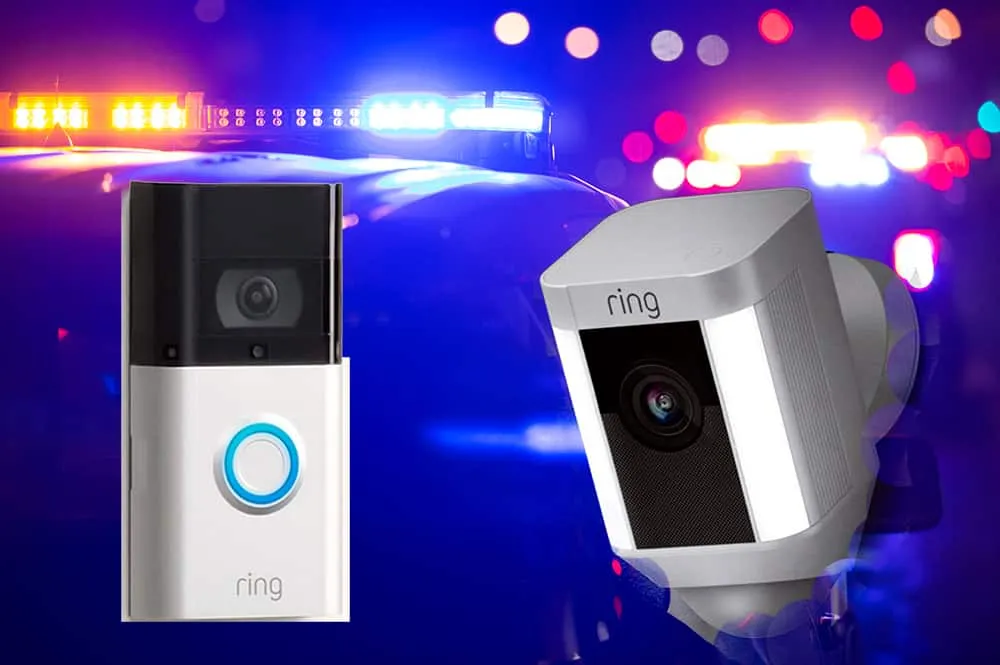 Ring Alarm is one of the hottest home security systems on the market right now because it is an easy-to-use, affordable security system that adds a layer of safety to your house or business. Since Ring is an alarm system that works with emergency responders, the question arises: does the Ring monitoring center call the police?
When an alarm is triggered, the Ring monitoring center will call police, depending on the type of alarm, if you are subscribed to the professional monitoring service, named Ring Protect Plus. Ring will attempt to contact you first before contacting police, except when a Duress alarm is triggered.
There's more than meets the eye here. If you want to learn all the details about how Ring works with the police, keep reading. You'll know whether Ring Alarm is connected to the police, whether the police see your camera and some pros and cons of the system.
In regards to the different alarm types and how Ring responds to those alarms, Ring maintains a support page explaining their alarm response plans. You can find that page here.
Is Ring Connected To Police?
Ring Alarm is not directly connected to the police. The security system works like a traditional alarm system by monitoring your house for certain situations detected by the sensors. If a break-in happens, the Ring Alarm will notify the Ring Monitoring Center, and they will call the police for you if the proper conditions are met.
The Ring security system has three basic modes:
Disarmed: When you're home and want to walk in and out without triggering the alarms.
Home: When you're inside the house and want to walk freely, only sensors that detect entry and exit are activated.
Away: Complete system activation outside and inside the house.
You can set up the alarm to go off within 0-180 seconds of motion detection. In case of a break-in, fire, CO2 leak, or flooding, your Ring app will send you a notification. You can also install a Panic Buttons inside the house to trigger an alarm quickly. The type of alarm triggered can be set using the Ring app.
As far as the monitoring options are concerned, the free plan, included just by using Ring, provides you with Live View and motion-activate notifications, which helps you monitor your house. In this plan, you can't record videos or have Ring monitoring notify the police. You have to take care of things yourself..
Ring does have a basic plan, but it does not include the monitoring service. Its main feature is adding video history.
The Ring Protect Plus subscription is $10/mo or $100/yr for an annual purchase. This plan allows you to record videos and provides 24/7 professional monitoring. Furthermore, you'll need a permit to dispatch the police. When you sign up, the permits team from Ring will email you with all the details. In some states, Ring will take care of obtaining the permits. In others, they'll show you how to get them yourself.
For more details on the plans Ring offers, check out their webpage here.
In a nutshell, Ring Alarm devices themselves aren't connected to the police directly. The Monitoring Station at Ring will call the police in an emergency, but only if you're a Protect Plus plan subscriber.
Can Police See Your Ring Camera?
Another common question about Ring and police interaction is if the police can view what your Ring cameras are seeing. I'm not a legal expert or police insider, but here is my understanding.
There are two ways police can obtain access to your camera recordings. You either share it with them, or they get a court order. Accessing your camera is similar to entering your home; the police need a search warrant first. Ring won't share your camera with the police without a court order. The police can only view your camera in case of an extreme emergency when there's no time to get a court order.
Usually, the police request this footage to aid in ongoing investigations. So, if the police believe that your camera will help them solve a crime, they'll request to view your camera.
Outside of a court order, Ring will not share your camera footage without your consent. If you do share footage in the Neighbors app by Ring, then it is considered public information and police can access it without asking you first.
Ring itself won't view your camera without your consent. You can also give access to people you trust if you choose. And you can share your videos publicly on the internet through the Neighbors app by Ring.
The police can view your videos on the Neighbors app. And you can respond to requests for information by sharing your videos. But participating in the Neighbors app is optional. And you can opt-out of receiving request notifications when the police are investigating.
All in all, the police can't access your Ring device or see your live video stream. They can't view your video recordings unless you respond to a request on the Neighbors app or they obtain a court order.
Furthermore, the police can't access your personal information, including your name, email, and location, except when you respond to a request on the Neighbors app. Then, your contact information will be visible to all, including the police.
Benefits Of Using Ring
Compared to its competitors (Wyze, SimpliSafe, NestADT), Ring Alarm has a mid-range price. Given that you can install it yourself without additional installation costs, it's considered affordable. And you get a 30-day free trial of the Protect Plus plan with your new installation.
The Ring Alarm also integrates with many other smart home devices that use Z-Wave.. The Ring Alarm Base station has a Z-Wave radio built in. One example that is very convenient is the integration with Smart Locks. You can have your Ring system be armed or disarmed when you lock or unlock the door. Ring also integrates with Alexa and Amazon Echo devices.
If you already have a security system in place, it will be easy to upgrade. Not that you will reuse any parts, but you will have a good idea of where you need to place the new hardware.
In case of a power outage, Ring Alarm has a 24-hour backup battery.
Lastly, you can customize your system to fit your house. can expand your system regardless of your house's size. Ring is adaptable, so you can take it with you if you move.
Downsides Of Using Ring
There are a few downsides to using the Ring Alarm system.
Just like any alarm system,, you may trigger a false alarm as a new user. This could lead to a fine from police if you don't promptly respond to Ring's calls. You must be careful moving around when the system is active. You can't just run outside when the Ring is armed in Home mode. In the event of a false alarm, you may get calls from Ring even when everything is fine.
For a sophisticated monitoring system, it doesn't provide facial recognition technology. I see some people use this with other video doorbells since the technology allows you to identify visiting friends and family.
However, Ring has taken a stance against facial recognition, which I respect. It's a matter of privacy, although Ring doesn't explain their viewpoint. If you want to view the page where Ring states their viewpoint on the topic, you can click here.
Ring is very reliable, but as with any alarm system, you can't rely 100% on Ring working 24/7. You still need to remain vigilant. There's no fool-proof security system. Sometimes, you may need to call 911 yourself. The alarm system is there to help.